As life is returning back to normal, people are forming amazing healthy habits, one of those healthy habits includes cycling. Riding a bike is an amazing form of relaxation, exercise and so much more than that. There are different types of bikes that you can try on the road but today we will be talking about Electric Trikes, and some of the best in the market at that! This is the kind of 3-wheel bike that you would not want to miss out on!
Electric Trikes(Also Known As An E-Trike) are there to make sure that you have an amazing workout with minimal effort, as you get older, health becomes the most vital aspect to focus on. As you become of age, workouts will be necessary but where to get that strength that you had when you were younger?
Constructed with an electric motor (Most are charged with a lithium ion battery), these tricycles are powerful and are the source of spectacular rides. With Electric Trikes you have two options to go for, either use the pedal-assist mode or use the trike as a regular moped. Ease of usage is one of the best advantages of Trikes, you can use these bikes however you want! Full-on throttle mode also seems amazing for people that want more speed and action. IceBike (All Rights Reserved) has compiled some of the best adult electric tricycles for you!
You must also know that Trikes For Kids is also out there, you can also choose to get a balance bike for your toddler.
Advantages of An Electric Trike
When you get an Electric Tricycle, you can enjoy the following benefits:
Amazing Workouts With Minimal Effort
They Help The Environment In Getting Healthy
Affordable Price Tags
Commuting Made Easy and Fun
There Are A Lot Of Options!
Amazing Workouts With Minimal Effort
People want a healthy life, they want to have perfect bodies and live stress-free. Sculpting a healthy lifestyle takes time, commitment, and effort, although there are some tools that help you achieve these goals with minimal effort. Riding the electric trike is good for not just commuting but also for your health. For these goals, having a big wheel tricycle for adults is very necessary and also beneficial. An adult trike is going to make you feel a lot younger! Some might even want to go with an E Bike instead of our tricycles, we don't blame them!
Cycling helps you achieve your fitness goals and everyone can enjoy it, from youngsters to people of old age. How much should you cycle though? On an average scale, if you cycle for 2 hours per week, that should be really good and you will start seeing the results in your body. Although if you can go more then that also works out, electric cycles allow you to enjoy workouts with less strain and almost no chances of injuries.
You can start riding these electric bicycles at a lower intensity if it is the first time and then work your way to the harder training programs. Pedal-assist mode is a mode that can be enjoyed by both adults and old people.
They Help The Environment In Getting Healthy
Taking care of the environment is as important as taking care of one's health. In this era, people are getting more and more concerned about their environment, they want to make it safe for themselves and their children. Vehicles and motorbikes emit harmful gas that damages the environment. Electronic vehicles on the other hand, like the trike, are beneficial for the environment.
These electric trikes are powered by lithium-ion batteries, normally they last around 2-4 hours and can cover up to 70 kilometers if you charge the bike fully. Statistically, an average normal car can release up to two tons of carbon dioxide a year. Plus, they don't even take that much parking space.
Electric cycles (E-Bike), on the other hand, are advancing to another level. They are 100% eco-friendly, now these bikes are powered by solar batteries and even regenerative batteries- batteries that charge themselves. These electric bicycles are the future!
Affordable Price Tag
Electric Bikes and Electric Cars function the same way as normal motor cars and bikes but they are not classified as the same. Since they are not classified like that, they do not require any kind of license to operate. This decreases the overall cost, but different countries are going to have different requirements so be sure to check that out.
You can easily get an electric tricycle for $200, but the quality will be questionable. If you want the best quality electric trike with the best performance and features then the price will go north of $1500 so be ready for that. Getting these electric trikes is worth it, and they don't even require that much maintenance, think of them as a one-time payment.
Commuting Made Easy and Fun
Commuting without the right vehicle is bland and boring, that is why you have the electric trike. With these trikes, you can easily reach your destination without being tired or sweaty. Trust me, showing up to work drenched in sweat is not going to leave a very good impression.
While using the pedal-assist electric trike, you can enjoy a higher pedaling speed without sweating. These trikes are also armed with extra cargo space, so if you feel like shopping, you can always go and shop with your new electric trike. Just like Fat Bikes, they bring back the fun of commuting!
There Are A Lot Of Options
There are going to be a lot of riders with a lot of different riding styles. Luckily, there are a lot of options when it comes to the electric trike, no matter what kind of rider you are, you will be able to find the best trike for yourself. It does not matter if you need a trike for work or commuting, the perfect one will be waiting for you!
Best Adult Electric Tricycles Reviewed in 2023
An Electric Trike is great for commuting, shopping, going for adventures, or just plain riding. These are great alternatives to cars and motorbikes, and you won't even sweat while using them. Since you are looking for them, we have found the perfect adult electric (E Bike Alternatives) trikes for you. In this list, you will find all sorts of amazing electric trikes, there is something for everyone here (All of them have been certified with almost perfect customer reviews). Let's start with our list!
1. Editor's Choice: Addmotor Motan Electric Trike Review
The Addmotor Motan is the best trike that we could find for adults. It has a huge load capacity and gets you 55 miles of usage on a full charge. You can use the dual baskets for shopping if you like, there are plenty of options that you can explore with the Motan Electric Trike. It can easily be the best electric tricycle ever!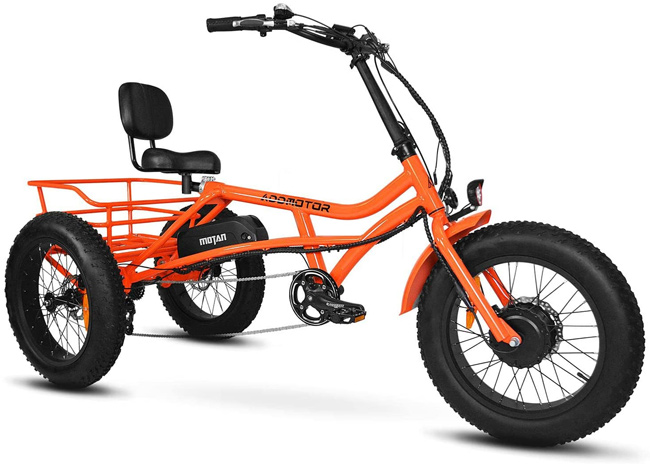 Price: MSRP $2,999
The Addmotor Motan is one of the best Electric Trike to go for and it tops our list. It has a long-lasting battery (Impressive battery power) and will give 55 miles of usage on a full charge. The 750-watt motor is amazing, to say the least, users of this trike can achieve a maximum of 22 miles/hour. Thanks to the powerful front wheel, there are almost no discrepancies in performance.
Almost anyone can use the Motan, it has a 350 pounds weight capacity which is stunning. So may it be larger adults or normal ones, they are absolutely going to love using this trike. The trike comes with storage baskets already installed, there are two of them actually, one in the back and one in the front.
With the Kenda 24" tires you will always have a comfortable and relaxing ride, free of disturbances (The Fat tires make sure that users always feel comfortable). The led headlight is also great and luminous, you will just need to have a stock of AA batteries for the taillights.
Advantages:
Large Load Capacity
Dual Baskets For Storage
Kenda Tires
Powerful 750-Watt Battery
Can Cover 55 Miles On A Full Charge
Disadvantages:
Lacks A Proper Rear Suspension
AA Batteries Required For Taillight
Editor's Choice: The Addmotor Motan is an amazing trike that everyone will love. I fell in love with the overall construction and design, it even has brilliant features to back that smooth performance. The 750-watt battery will allow you to climb steep hills and enjoy amazing speeds.
---
2. Pedego Mineral Blue Electric Trike Review
This here is a trike that just soothes the eyes whenever you see it. The mineral blue color is aesthetically pleasing and the trikes also feel amazing to ride. The LCD and charging option allows for even more fun on the road. It also offers a very smooth and stable ride thanks to the powerful front wheel.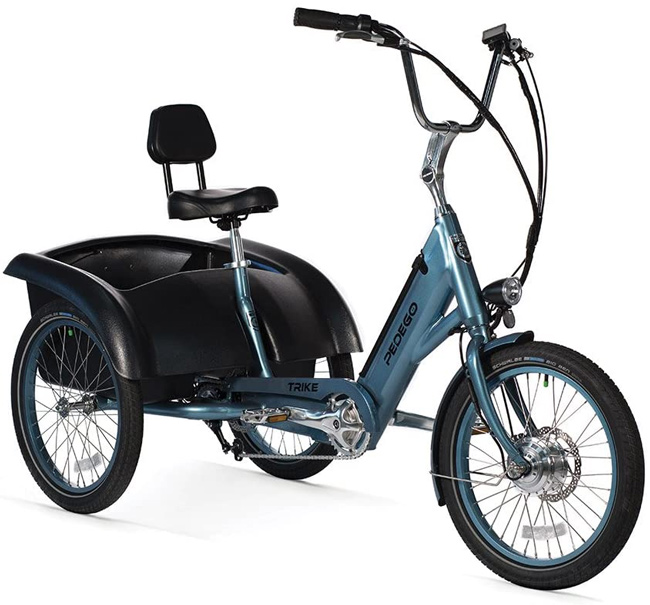 Price: MSRP $3495
The Pedego Mineral Blue Electric Trike is an aesthetically pleasing choice to go for, you are definitely going to love the design of this trike. You can use the Pedego Mineral for normal commuting or grocery shopping, basically, you can use this trike for almost anything. There is a big storage basket in the rear to accommodate everything.
The durability and accessibility of this trike are off the charts, it even comes installed with an integrated LCD display, which we really loved. The LCD Display shows the speed, and battery life and even has a USB charger so you can keep your appliances at full power. Another great feature of this trike is the safety rating, the headlights and taillights are very luminous.
This trike comes installed with a brushless motor, although the design is 250W, it can only push out a maximum speed of 13 miles/hour which isn't that impressive. Plus, you will also have to assemble this trike when it arrives, better have a buddy ready with you for it (Putting together the front wheel isn't going to be that much of a problem). If you want to use this trike during the nighttime then the led headlight will illuminate your path effectively.
Advantages:
Robust LCD Display
Lower Center Of Gravity That Promotes Stability
Perfect Safety Rating
Disadvantages:
Maximum Speed Is Mediocre (13 MPH)
Assembly Required Upon Arrival
Why I Like It: The Pedego Mineral Blue Trike is a banger if you want the perfect design and color. The LCD Display is something that you will really love, plus there will be no need to stress over your appliances as you can charge them on the go thanks to the USB charger attached.
---
3. Fat Tire FTR-100 Electric Recumbent Trike Review
This is an amazing trike with sturdy construction. The carbon steel frame and the front wheel will make sure that you have an amazing ride without any kind of problems. It has a 750w powerful motor that ensures 28 MPH. Most electric tricycles are not built like this one.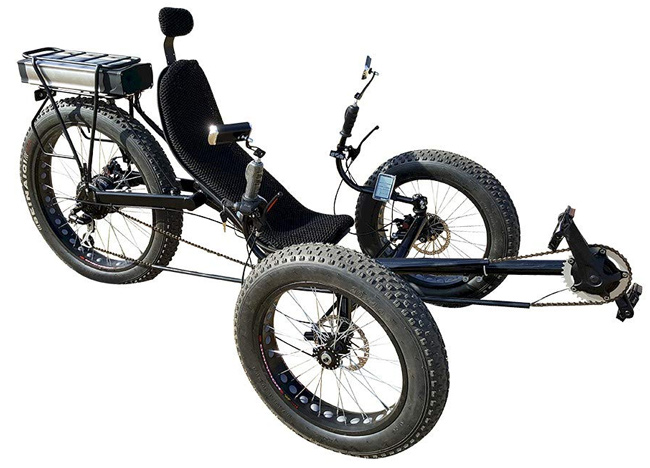 Looking for something different but also unique? Then you need to try out the Fat Tire FTR-100 electric trike, this here is a trike known best for its durability and construction. The high carbon steel frame makes sure that you enjoy a smooth ride no matter what, but the best part has to be the cushioned fiberglass seat which just maximizes comfort. The safety features are also commendable, users will always feel relaxed and comfortable.
This trike has a max load capacity of 360 pounds (Great weight capacity) and with the powerful 48v 750watt brushless rear hub motor, it can push out a maximum speed of 25 miles/hour which is pretty impressive to see in a trike.
On a full charge, you can get 50 miles of usage, thanks to the lithium-ion battery, but be vary as charging to the max takes a while (8 hours). As other trikes go, you will have to assemble it when it arrives at your doorstep and that would take hours. This is still one of the best trikes to go for in the market currently.
Advantages:
Durable Construction
Extreme Comfort- Thanks To The Cushioned Fiberglass Seat
Powerful 750W Motor
Disadvantages:
Charging To The Max Takes Time
Assembly Requires Hours To Finish
Why I Like It: The Fat Tire FTR-100 is a brilliant trike, best known for its comfort and powerful motor. You can enjoy 50 miles of range on a full charge, taking this trike everywhere will feel like a charm.
---
4. Liberty Electric Trike Review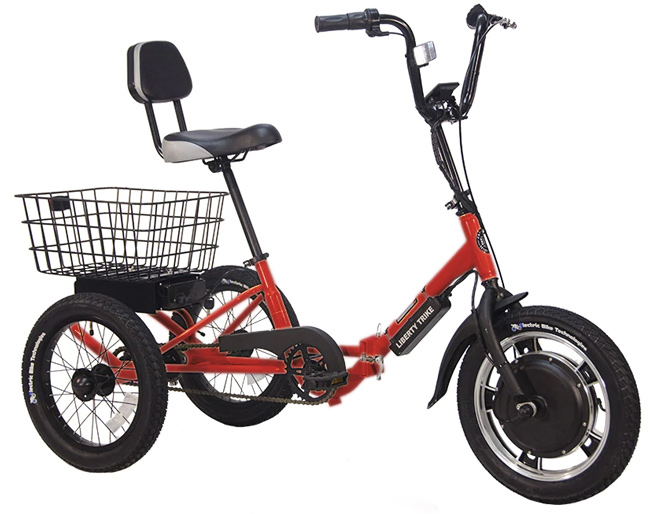 This trike comes with a twist throttle, making it very fun to use (The front wheel design is very impressive). Although this is a spacious trike, you will have to get to the slow speed it offers. It is an exceptional electric adult tricycle.
Price: MSRP $1598
The Liberty Electric Trike is a really good option to go for if you travel a lot. You can fold it easily, and then it shrinks down to a reasonable size. Just because it folds easily does not mean that this trike is mediocre, it has a powerful 750w motor that is integrated with a twist throttle.
Comfort and durability are again the main priority here, the trike feels very spacious, and the seat is comfortable thanks to the durable backrest.
There are two things of concern here, the top range that you can enjoy is 15 miles (On Full Charge) but that varies with the load the bike has on it. The weight capacity is 400 pounds, which is great but that affects the overall speed so this is where you will have to be careful. The less the weight on the bike, the more speed you will be able to experience.
Advantages:
Comfortable Design
Powerful Motor With Integrated Twist Throttle
Spacious Seat
Disadvantages:
Top Speed Is Very Low (12 MPH)
Range On Full Charge Isn't That Much (15 Miles Of Usage)
Why I Like It: The Liberty Trike is the best for storage options, it can fold easily and you can take it with you for more fun-filled adventures. It has a powerful motor that is integrated with a twist throttle, this is the best bike for adventures.
---
5. Emojo Caddy Pro Electric Trike Review
The Emojo Caddy Pro Electric Trike is perfect for adventures. May it be steep inclines or declines, the Caddy Pro can handle anything you throw at it.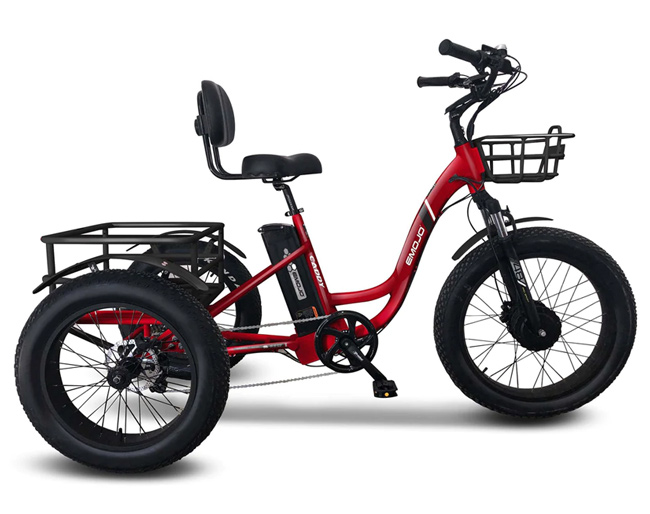 Price: MSRP $2899
The Emojo Caddy Pro Electric Trike is oozing with quality features and components. From just one look, you can see that the Caddy Pro has high-end features, hydraulic disc brakes, and a seven-speed transmission. With this kind of transmission installed, you can easily climb any kind of hill and steep inclines. The front wheel also helps a lot with inclines.
The trike is constructed with a durable frame, it can easily withstand 320 pounds of load capacity. The fat tires are installed so that you can enjoy riding on any kind of terrain without disturbances. The rear basket is there so that you can haul loads of groceries whenever you want.
Emojo Caddy has a powerful 500W motor, and believe me when I say powerful because it can give you 35 miles on a full charge. The max speed that you will be able to enjoy would be 20 miles/hour.
Advantages:
7-Speed Transmission
Hydraulic Disc Brakes
Load Capacity Is Exceptional (320 lb)
Fat Tires Allow Adventures On All Kinds Of Terrains
Disadvantages:
Lacks A Reverse Function
Requires Assembly
Why I Like It: The Emojo Caddy Pro is a high-end trike with even amazing components. The 7-speed transmission allows you to climb steep hills and enjoy a powerful performance. The robust back support is there to provide loads of comfort.
---
6. MotoTec Electric Trike Review
The MotoTec Electric Trike is a budget-friendly option that you can opt for. It offers good performance, while armed with a powerful 800-watt motor. This is easily on the list of the best electric tricycles.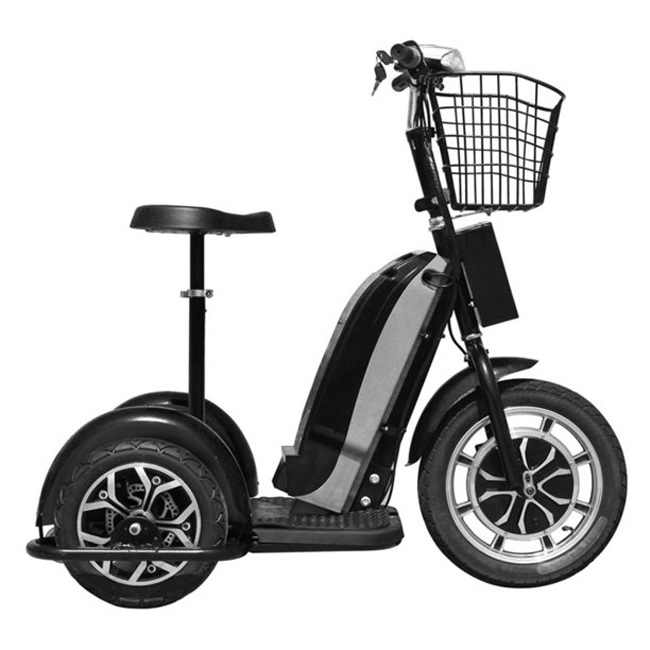 Price: MSRP $932
The MotoTec Electric Trike is a great budget-friendly choice, it is even packed with amazing high-end features that users will enjoy. The first big feature is the powerful 800W motor installed in the trike, it gives a maximum speed of 25MP. If you are looking to get a trike for your parents or just senior citizens then this would be perfect as it features a pedal-assist mode, and there is going to be a minimal manual operation.
The bright LED lights work perfectly and increase the safety rating of the trike. With the large storage basket, you can take the MotoTec for grocery shopping.
This trike has a powerful motor as we discussed but it only gives you 17 miles of usage on a full charge. You have to credit the quick charge though!
Advantages:
25 MPH Top Speed
Best For Hauling Groceries
Powerful 800W Motor
Features A Pedal-Free Design
Disadvantages:
Not Enough Range On Full Charge (17 Miles)
Max Capacity Weight Isn't Enough (240 lb)
Why I Like It: Everyone loves electric trikes but not everyone can afford $2000-$3000 on them. The MotoTec offers an amazing budget-friendly choice that is packed with high-end features.
---
7. eDrift UH-ES395 Fat Tire Electric Trike Review
We had to add this one to the list, after all, it won the Anti-Theft award. This trike has amazing features, that include a powerful hydraulic disc braking system and front wheel.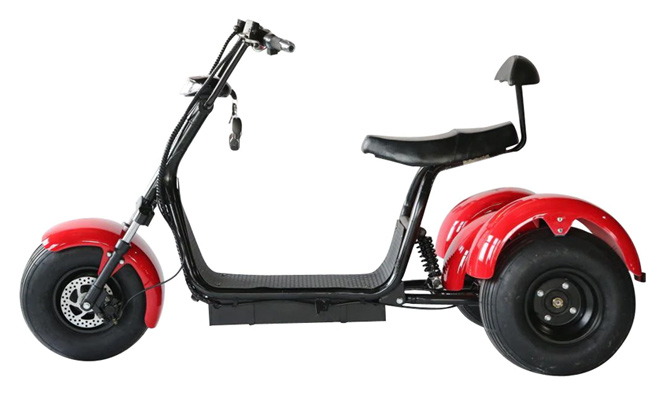 Price: MSRP $1597
This trike won the award for Best Anti-Theft technology. The keyless award function works wonders here, and the built-in alarm will certainly scare away every person keeping a tab on your trike.
The hydraulic disc brake system is there to make sure that you have a smooth experience riding this trike. The other commendable features are the front suspension and 1500W motor, not a lot of electric trikes are installed with a powerful motor like that. The ultra-wide tires make sure that you can ride on any kind of terrain under any kind of weather.
On a full charge, this trike will give you a maximum range of 20 miles. Although it charges quickly, taking only two hours. There is also an upgrade feature, if you want more range, you can always swap out this battery for an even more powerful one.
Advantages:
Powerful Hydraulic Brakes
Smooth Rides Thanks To The Front Suspension
Amazing Stability
Disadvantages:
Lacks A Storage Basket
Range On Full Charge Needs To Be Upgraded
Why I Like It: The eDrift UH-ES395 is known for its comfort and accessibility. You will be able to enjoy smooth rides on all kinds of surfaces under any kind of weather.
---
8. Buzz Bikes Cerana T Review
If you are looking for an electric trike exclusively for seniors then the Buzz Bikes Cerana is going to work wonders. The step-thru frame is amazing for mounting, and it even has a remote keyless start function.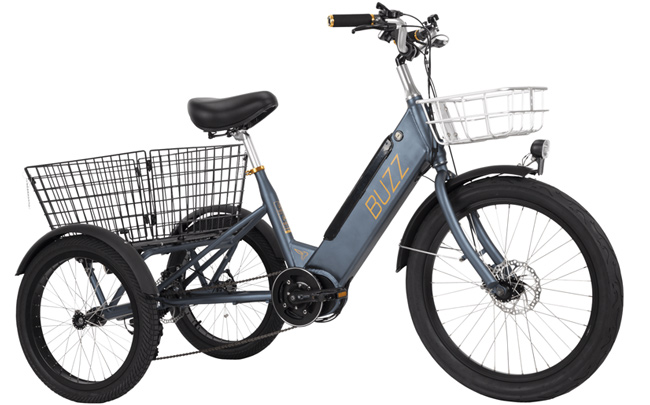 Price: MSRP $1699
For all the seniors out there, there cannot be a better electric trike than the Buzz Bikes Cerana T. It is also for easy mounting and usage thanks to the step-thru frame. It is great for shopping as it features a front and rear shopping basket. One thing I did not like was the 350W motor which is at the lower end, but you can still reach a maximum speed of 20 MPH. Keep this in mind though, this here is a trike that you cannot use for climbing.
Although the Cerana T is the brand's only electric trike, the quality is unmatched. The headlight is powerful enough for night adventures and with the large tires, it offers a very stable and smooth ride. No matter how many bumps or cracks are on the road, this trike will provide an amazing experience. Best for seniors!
Advantages:
Features A Vibrant LCD Screen
Step-Thru Frame
Amazing Comfort
Best For Grocery Shopping
Accessible For Seniors
Disadvantages:
Inferior Battery
Not Recommended For Climbing
Why I Like It:.
Buy It Here
Why I Like It: The Buzz Bikes Cerana T is one of the best trikes for seniors. It features a step-thru frame that promotes easy mounting and accessibility. With the front and rear shopping baskets, you can haul as many groceries as you want.
---
9. Viribus Tricycle Bike for Adults Review
The Virbius Electric Trike is another budget-friendly option that you can try. It has a very good storage capacity, with a sturdy carbon steel frame and front wheel.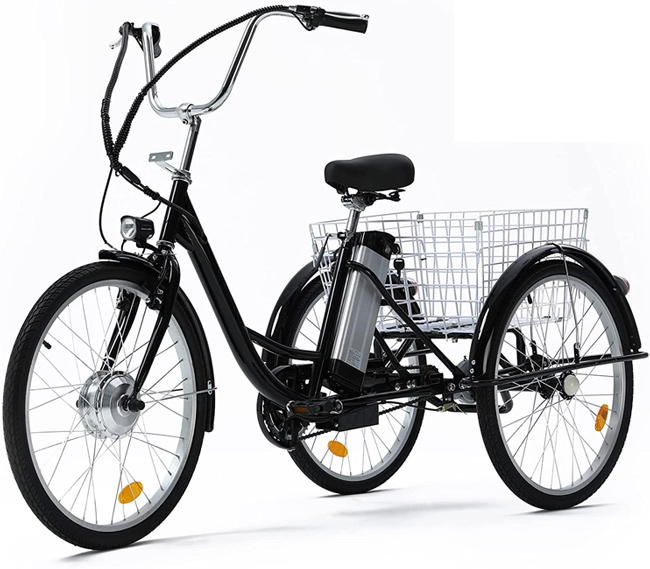 Price: Starting at $899
This here is another good option for seniors but not the best one. You can expect that with this price tag, there would be a sacrifice on the performance and features end, it is exactly like that. There are three different riding options that you can try out though.
Keep in mind, that as this trike is for seniors, it is not built for faster speeds or hill climbing. If used for just normal commuting, then this trike would work just fine.
This trike features a 250W engine that is powered by a 36V battery. The whole construction of the trike allows for a weight capacity of 300 lb but there's a catch, you won't be able to hit top speed if maximum capacity is used.
Advantages:
Comes In Different Sizes
Strong Carbon Steel Construction
Features A Good Storage Capacity
Disadvantages:
Inferior Battery
Pedal-Assist Mode Isn't Optimized
Why I Like It:.
Buy It Here
Why I Like It: The Viribus trike offers a good experience for seniors, there are a lot of features that could use an upgrade at this price point, and it offers fair performance. The three different riding options are the best part of this trike.
---
10. Burch Fat Tire Electric Tricycle Review
You should not miss out on the Burch Fat Tire Electric Trike, it is quite famous in the market. It has a pedal-assist mode and comes with two cargo baskets.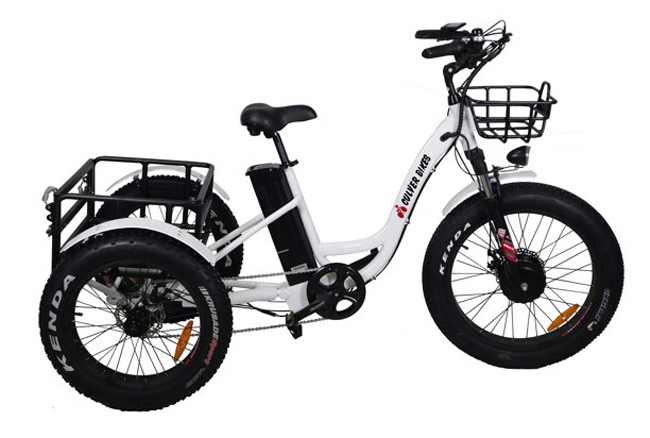 Price: MSRP $2599
The Burch Fat Tire Electric Trike is amazing, it has a sleek design and very strong construction (Including a sturdy front wheel). With the fat tires installed, you can easily maneuver over all kinds of terrain with minimal effort. You just have to think about it and the Burch Fat Electric Trike will take you there, there are almost no limits with this beauty.
With the two cargo baskets, you can even use this beauty for grocery shopping. The 500W of power allows you to enjoy a max speed of 20 MPH. On a full charge, you will also be able to enjoy 35 miles range. The weight capacity is 320 lbs making it a great option for larger adults and seniors.
Advantages:
Powerful Headlights
500W Motor with 35 Miles Of Range
Suitable For Any Kind Of Terrain
Disadvantages:
Charging Takes Time
Assembly Is A Bit Difficult If Done Alone
Why I Like It: The Burch Fat Tire Electric Trike is one of the really good and sleek options to go for. With the fat tire design, you can have adventures anywhere you want.
---
The Best Features To Consider In An Electric Trike
Buying an Electric Trike for the first time seems very fun, but the process is riddled with problems. There is not just one thing that you have to consider but many, thankfully we did all the necessary research for you. In some ways, the adult tricycles are also like recumbent bikes, they are anything but stationary. Consider all of these aspects if you want to get an amazing 3-wheel bicycle.
Here are all the important features that you need to look out for when getting an electric trike.
Battery Life and Range Are Very Important
If you have seen an electric trike before then you would have noticed that they have rechargeable lithium batteries, at a certain point they charge themselves, but to what extent? If you will be going for long distances then you will need a full charge and will also need to recharge the trike often. Even an E Bike is going to have the same energy requirement.
Make sure that the trike has a powerful battery (long battery life) that offers a good range of mileage and maximum speed.
Speed and Motor Go Hand In Hand
Some people will use electric trikes to fulfill their need for speed while some will just use them for normal commuting. You need to decide first how you want to use them and then go ahead. A powerful battery will make sure that you enjoy a good maximum speed. If your trike has a reverse button then be sure to count yourselves as the lucky ones!
Go for trikes that offer good throttle systems and that can go twice as fast as the normal speed.
Safety Is A Must
This is a feature that you should never go, as it is consistent with everything you buy, may it be cars, trikes, or bikes. A high-quality braking system is a must in electric trikes, a front, and rear suspension system will also make the ride comfortable and safe enough for you.
Anti-slip tires are a new concept but they make sure that your trike does not get stuck in snow or other kinds of debris.
Are you still stuck between getting a Trike or a Recumbent Bike? Click here to know the main differences between a Trike and a Recumbent Bike!
Recap
Electric Trikes are getting famous like wildfire, they are accessible and have amazing features. They can be enjoyed by anyone, from little kids to seniors, and they are never short of fun. We discussed all sorts of advantages that people can enjoy when they use electric tricycles.
From the list, our top choice for electric tricycles is Addmotor Motan Electric Trike. It has the best battery, and the best features, and offers exceptional performance. Do try it out!
In our list, there is an electric trike for anyone, just be sure to try them out. We also went through the information that is important in choosing the best electric trike for yourself! If you have any other questions then be sure to comment below!
There are plenty of topics of interest that you can find at IceBike (All Rights Reserved)
Also Read:
---