The Bike Size Calculator is a quick and easy tool to find the correct bike frame size that is right for you. Choose the kind of bike you are interested in and then enter your measurement(s).
Bike Frame Size in Inches:
Bike Frame Size in Centimeters:
Your matching frame size is:
Other suggested frame sizes:
When you decide on buying a new bike, it is very essential that you pick the right size for yourself. Well, there are loads of adjustments that you can make to your bikes like the stem, the seat post, saddle, and even the crank length. Although you should know that each and every adjustment you make will affect the performance and feel of your bike. So, if you end up buying a too small or too big bike, it will never feel quite right!
In this guide, we will tell you all about Bike Size Calculators, the ultimate tool you need to find the perfect bike size/frame. Bike Size Calculators will help you calculate the perfect bike size for you depending on whatever kind of measurements you have. You just need to put in some of your measurements like inseam and height, also choose the type of bike you need after!
Note:
You should know that road bikes and mountain bikes are completely different kinds of bikes, and their measurements will also differ. Bikes produced in the USA are measured in inches, while some European brands like Haibike and Lapierre use centimeters. Sometimes the measurements of road bikes and mountain bikes are going to differ and that is when you can use their simple conversions. At IceBike we have included measurements in cm's to help you out even more!
How to Use Bike Size Calculator
After you enter the required information (type of bike and your measurements in either Imperial or Metric units), you'll see the recommended bike frame size for you. The results are easy to understand and provide a brief definition of the recommended size.
Using the calculator step-by-step:
Choose the kind of bike you are interested in.

Road Bikes
Mountain Hardtail & Full Suspension Mountain Bikes
Cyclocross & Gravel Bikes
Touring Bikes
Fitness & Hybrid Bikes
City Bikes
Urban Bikes

Enter your measurements (inseam, height) in either Imperial or Metric units.
Click on the "CALCULATE" button to find the correct bike frame size that is right for you
Measure your leg inseam: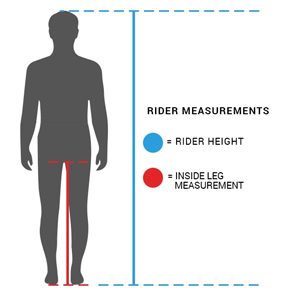 To measure your leg inseam, start by removing your shoes and standing upright with your feet positioned about 6-9 inches (15-22 cm) apart. Then, use a measuring tape to measure the distance from the floor to your crotch, as shown in the image above.
Can We Use The Same Measurements For Women's Bikes?
When you compare specific women's bikes to other unisex bikes their frame sizes might differ but that's it. All of them have the same size whatsoever! The reason behind different frame sizes is that women have short upper bodies as compared to men. In specific women's bikes, you will notice that they have short top tubes, this limits the reach and as a result, women don't have to stretch out that much.
You have nothing to worry about though as it doesn't affect the saddle height of the bike. Our calculator is recommended and well-adjusted for any kind of bike.
What To Do If You Are Stuck In-Between?
In some scenarios, the bike size calculator will suggest two different sizes. This means that both the sizes are best for you but that seems confusing, doesn't it? Here's what you should do when you are stuck in-between sizes:
The first thing that you need to notice is how long is the reach of the bike, it is affected the length of your arms and trunk length. The length between your hips and shoulders is known as trunk length. The longer the length the better!
If you have a short length then the best scenario for you would be to go for the shorter trunk length.
Does Size Matter For Different Types Of Bikes?
Different type of bikes is going to have different sizes, some times the bike type and brand is going to matter. As we have discussed before, road bikes are measured in centimeters while mountain bikes are measured in inches. This doesn't matter much because our calculator gives the necessary quotation for each and every type of bike in their dedicated measurements.
There are some bike manufacturers that also design their bikes in sizes like Small, Medium, Large, and Extra Large. For more information, you can contact our bike specialists anytime!
Here are some of the bike size charts that you can use!
Standard Mountain Bike Size Table
Mountain bikes are best known for their amazing off-road performance. Choose them if you want to go on hardcore adventures and off-road tracks. You should know that mountain bikes have very flat handlebars and wide tires. Some of the high-tier models also come constructed with suspension that can be used for additional comfort and grip. If you do not have the inseam length on hand the following chart will help you find the correct mountain bike frame size:
| Height in cm | Recommended frame size in cm / inches |
| --- | --- |
| 150 – 155 cm | 33 – 36 cm / 13″ – 14″ |
| 155 – 160 cm | 35 – 38 cm / 14″ – 15″ |
| 160 – 165 cm | 38 – 40 cm / 15″ – 16″ |
| 165 – 170 cm | 40 – 43 cm / 16″ – 17″ |
| 170 – 175 cm | 42 – 45 cm / 16.5″ – 17.5″ |
| 175 – 180 cm | 44 – 47 cm / 17.5″ – 18.5″ |
| 180 – 185 cm | 46 – 49 cm / 18″ – 19″ |
| 185 – 190 cm | 49 – 52 cm / 19″ – 20.5″ |
| 190 – 195 cm | 51 – 56 cm / 20.5″ – 22″ |
Standard Road Bike Size Table
Road bikes are best known for their exceptional performance on roads, bike lanes, and other kinds of smooth surfaces. Their handlebars are dropped and they are lighter when compared to other types of bikes. These types of bikes come constructed with narrow tires that let them fit anywhere. If you do not have the inseam length on hand the following chart will help you find the correct road bike frame size:
| Height in cm (inches) | Frame Size (Performance / Racing) in cm (inches) | Frame Size (Triathlon) in cm (inches) |
| --- | --- | --- |
| 155 – 160 cm (61 – 63″) | 47 – 49 cm (18.5 – 19.3″) | 46 – 48 cm (18.1 – 18.9″) |
| 160 – 165 cm (63 – 65″) | 49 – 51 cm (19.3 – 20.1″) | 47 – 49 cm (18.5 – 19.3″) |
| 165 – 170 cm (65 – 67″) | 51 – 53 cm (20.1 – 20.9″) | 48 – 50 cm (18.9 – 19.7 ") |
| 170 – 175 cm (67 – 69″) | 53 – 55 cm (20 .9 – 21 .7″) | 50 – 52cm (19 .7 – 20 .5″) |
| 175 – 180 cm (69 – 71″) | 55 – 57 cm (21 .7 – 22 .4″) | 52 – 55cm (20.5 – 21.7″) |
| 180 – 185 cm (71 – 73″) | 57 – 60 cm (22 .4 – 23 .6″) | 55 – 57cm (21 .7 – 22.4″) |
| 185 – 190 cm (73 – 75″) | 60 – 62 cm (23.6 – 24″) | 57 – 60cm (22.6 – 23″) |
| 190 – 195 cm (75 – 77″) | 62 – 64 cm (24.4 – 25″) | 60 – 62cm (23.6 – 24.4″) |
City Bike Size Chart
City bikes are a noteworthy mixture of racing and mountain bikes, while they do contain the necessary aspects of both, they also inherit the weaknesses. The main focus of these bikes is extreme comfort and very little maintenance. The bikes that you choose can be used for recreational purposes or your daily routines, the choice is seemingly yours! If you do not have the inseam length, following chart will help you find the correct city bike frame size:
| Height in cm (inches) | Recommended Frame Size in cm (inches) |
| --- | --- |
| 150 – 160 cm (59 – 63 in) | 42 – 48 cm (16.5 – 18.9 in) |
| 160 – 170 cm (63 – 66.9 in) | 48 – 52 cm (18.9 – 20.5 in) |
| 170 – 175 cm (66.9 – 68.9 in) | 52 – 55 cm (20.5 – 21.7 in) |
| 175 – 180 cm (68.9 – 70.9 in) | 55 – 58 cm (21.7 – 22.8 in) |
| 180 – 185 cm (70.9 – 72.8 in) | 58 – 61 cm (22.8 – 24 in) |
| 185 – 190 cm (72.8 – 74.8 in) | 61 – 63 cm (24 – 25 in) |
| 190 – 195 cm (74.8 – 76.8 in) | 63 – 66 cm (25 – 26 in) |
Standard Touring Bike Size Table
Touring bikes are comfortable bikes that offer a smooth and relaxed ride for long distances. They might have an uncanny resemblance to road bikes but are actually tougher than them. Additionally, these bikes also come constructed with mudguards and panniers for enhanced protection. If you do not know your inseam length following chart will help you find the correct
touring bike frame size:
| Height in cm (inches) | Recommended Frame Size in cm (inches) |
| --- | --- |
| 150 – 160 cm (59 – 63 in) | 42 – 47 cm (16.5 – 18.5 in) |
| 160 – 170 cm (63 – 66.9 in) | 47 – 50 cm (18.5 – 19.7 in) |
| 170 – 175 cm (66.9 – 68.9 in) | 50 – 53 cm (19.7 – 20.9 in) |
| 175 – 180 cm (68.9 – 70.9 in) | 53 – 55 cm (20.9 – 21.7 in) |
| 180 – 185 cm (70.9 – 72.8 in) | 55 – 58 cm (21.7 – 22.8 in) |
| 185 – 190 cm (72.8 – 74.8 in) | 58 – 60 cm (22.8 – 23.6 in) |
| 190 – 195 cm (74.8 76.8 in) | 60 – 63 cm (23.6 24.8 in) |