Electric Scooters are remarkable, they have opened up new ways of travel thus they are meant to be enjoyed by everyone. By everyone, I mean every kind of person, regardless of their weight. Since technology has advanced so far, the electric scooter industry is also experimenting, similar to the automated vehicle industry. These are environmentally-friendly vehicles, and since the industry is diving into "Uncharted" territory, they are being used by everyone. For them, the market keeps on expanding, it is no longer a small niche, it is a whole industry!
Since the electric scooter industry is expanding, they are also diversifying. This means that Heavy riders are also going to be attracted to the electric scooters. There is a need for heavy-duty scooters, but are there enough scooters in the market to fill in those gaps? That is what we are here for, in this guide, we will be discussing those electric scooters and the information that is necessary for finding an electric scooter for heavy adults.
Related: 15 Best Bikes For Heavy Riders (Updated 2023)
Talking specifically, there are a lot of factors that you have to look after when looking for an electric scooter for heavy adults. An example is motor power and battery life, but we will discuss them later on.
Top Electric Scooters For Heavy Adults Reviewed in 2022
There are many electric scooters for heavy adults out there, but getting to the best one is going to be difficult, especially if this is your first time looking for one. In this guide, we have made the whole process easier for you by listing down some of the best heavy adult electric scooters that you can get right away. These have different builds, features, motor power, and even battery.
Let's discuss them!
1. Emove Cruiser Electric Scooter — Editor's Choice
The Emove Cruiser Electric Scooter is an all-rounder choice for heavy adults. In terms of battery, motor power, and range it is just terrific. I had hoped to highlight one good feature of this scooter but there is just so much going on here.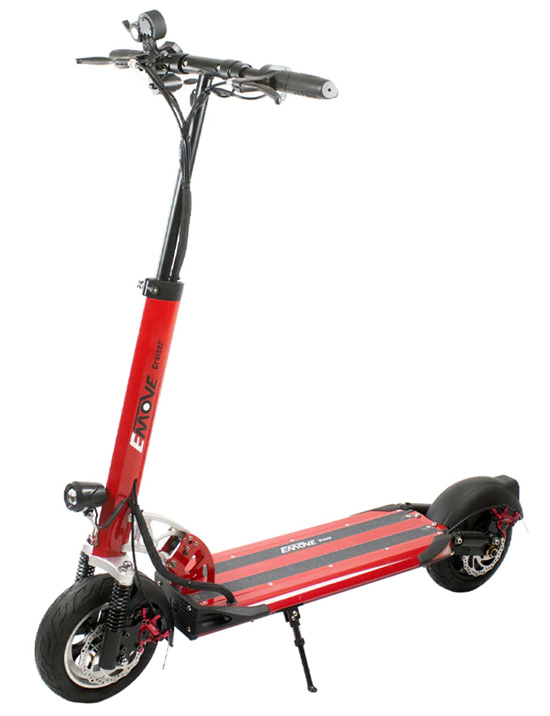 Price: MSRP $1,399
We named the Emove Cruiser Electric Scooter the "All-Rounder". It has all the qualities to be named the best one in the market. For heavy adults, there cannot be a better option than this one, it has all the necessary features and performance capabilities. With that being said, what are the main things that make this scooter special?
Let's start with the maximum weight capacity which is 160kgs (352lb), this is more than enough for heavy adults, and even with that, the amazing performance never changes. Even when the weight limit is fulfilled, the battery never depletes faster, it keeps on being balanced as it should.
With a full charge, the Emove Cruiser will give you a range of 62 miles, that is how far this scooter can go. For some people, this may not be enough, but on a full charge, it still gives a fair range. The Emove cruiser has a built-in motor which is really powerful, there is a power output of 1600W. This is more than enough for steep climbs, and other inclines. The motor power also allows you to enjoy a maximum speed of 25 miles per hour.
What really surprises me is that this scooter is fitted with the signature pneumatic tires, so with them, the chances of getting a flat tire are almost non-existent. You can get the Emove cruiser in a variety of different colors- black, white, and orange. We just wish there were more colors to choose from. Other than that this is an electric scooter that you should definitely get.
Advantages:
Maximum Load Capacity Is Impressive
62 Miles Range Is Good Enough
Installed With Pneumatic Tires
Can Be Easily Folded
Disadvantages:
Takes A Very Long Time To Charge (9-12 Hours)
Not Suitable For Rough Terrain
Editor's Choice: The Emove Cruiser is the best electric scooter yet. It just ticks all the criteria that we set for heavy electric scooters. The load capacity is amazing, it has an impressive range, what else could you need?
---
2. Kaabo Wolf Warrior 11
The Wolf Warrior 11 from Kaabo is the best premium choice to go for. It is an absolute beast, you get quality when you pay to double the average price of an electric scooter. The shock-absorbers and power output are some of the best features of this beast of a scooter.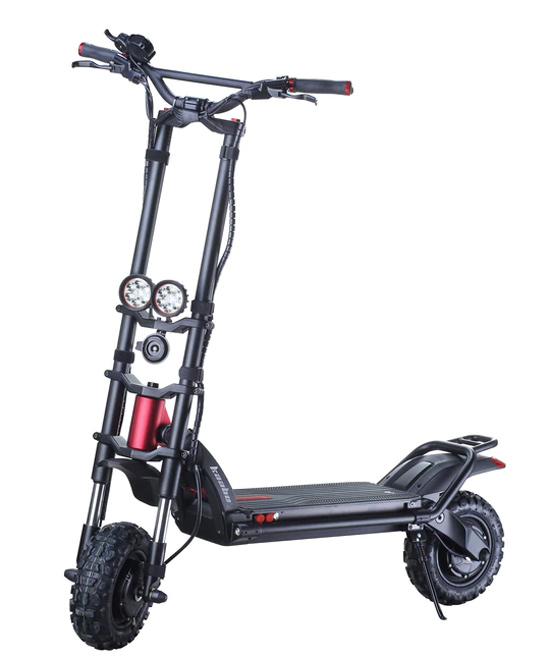 Price: MSRP $2,999
People love spending a lot of money in the search for premium products, if that is your case then we proudly present you the Kaabo Wolf Warrior 11. It is a premium electric scooter for heavy adults, the amazing power output is shock absorbers are the main highlights of this beast.
Let's start with the biggest feature of the Wolf Warrior 11, its motor alone produces a power output of 5400W. That is more than enough for an electric scooter, now you can only guess what kind of performance it would offer. The maximum speed with this beast is almost 50 miles per hour, and it can also easily handle the 30% inclines. If there was any reason to doubt them before, all of that is gone.
We know that we listed the Emove cruiser as the Editor's choice, but when it comes to performance, the Kaabo Wolf Warrior is equal to three Emove cruisers. On a full charge, this beast offers a standard range of 70 miles, which is more than enough for a good leisure time. We recommend getting a 2A charger for this one, with it, you will be able to fully charge this scooter in 7-9 hours.
I was impressed with the motorcycle-grade inverted front shock absorbers, and with the hydraulics. They make sure that the rider will have a comfortable experience, on any kind of terrain.
Advantages:
The 70-Miles Range is Amazing
5400W Power Output Feels Unreal
Comes With an Off-Road Option
Can Easily Be Charged Overnight
Compact Design
Disadvantages:
Maximum Weight Capacity Could Have Been More
Available In Only One Color
Very Expensive
Why I Like It: The Kaabo Wolf Warrior 11 is an amazing premium choice to go for. It is an absolute beast of a machine, the shock absorbers and terrific power output make this a very worthwhile option. If you are comfortable in black color that is.
---
3. Turboant X7 Pro Electric Scooter
For the best value, look no further than the Torboant X7 Pro Electric Scooter. Even with the amazing features, it is still one of the most affordable scooters on the market. They even offer 12 months warranty, even if you experience any kind of problem, it will be fixed right away.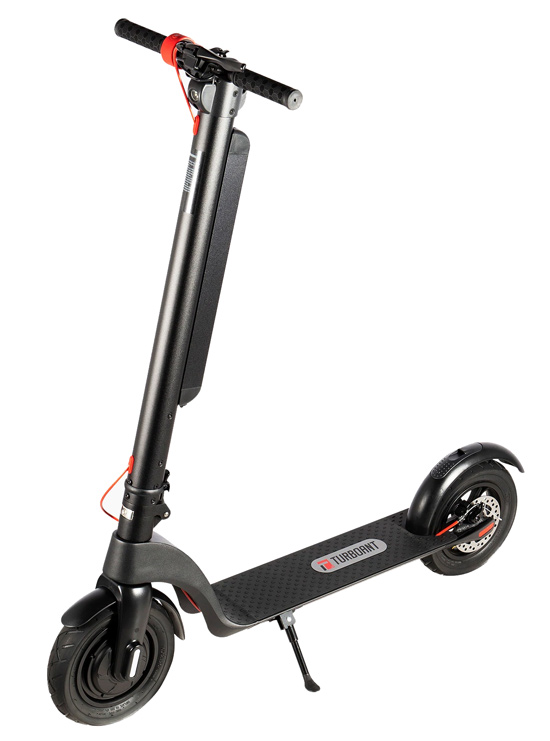 Price: MSRP $549
We can't always go for expensive options, can we? The demand for electric scooters is increasing day by day, many people want to try them out, but many people are also limited by budget constraints. That is why we have included the Turboant X7 scooter on the list, it provides an amazing value for the price. You will be shocked by the decent performance it offers while being this affordable.
The performance of this scooter is good, but there are also some limitations that you need to know about. The motor power isn't that much, it is only limited to 350W. So the riders will not be able to reach that much speed, you can expect a maximum speed of 20 miles per hour. Still, this much speed is enough to travel around the city comfortably.
We talked about speed, the maximum range that this scooter can offer on a full charge is 30 miles. People that want to use this scooter only for short commutes will surely enjoy it. Although if you want to travel over long distances then there are also other options that you can try. The charging time is also quite shorter as compared to other scooters, for a full charge it only takes six hours.
With its compact design, you will see that the scooter can be folded very easily. It even weighs 30% less than the Emove cruiser which is an immediate win. You will be able to carry this beauty with you everywhere, thanks to the slim and compact design. I was impressed to see that even with that light construction, it has a maximum weight capacity of 125kg (275lb).
Advantages:
Affordable
Charges Super Fast (Under 6 Hours)
Lightweight and Compact Design
Impressive Weight Capacity (125Kg)
Disadvantages:
Power Output Is Too Low
Range Isn't Impressive
Maximum Speed Isn't Up To Par
Why I Like It: When it comes to affordability and value, none can beat Turboant X7. It has a lightweight and compact design with an impressive weight capacity.
---
4. Apollo Pro Electric Scooter
With a powerful motor and long-range, this is a good choice for heavy adults. The 24-months warranty shows how much confident the manufacturer is in the product's quality. There is absolutely no reason why you should not try out this banger.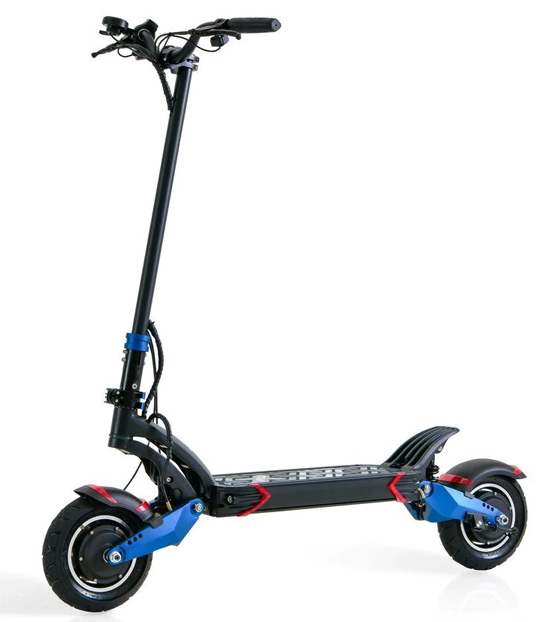 Price: MSRP $2,999
Warranties are great at showing manufacturers' confidence in their products. The Apollo Pro Electric Scooter is one of a kind as it comes with a 24-month warranty, double what you get from the market. Most of the time, people don't even use their warranty, but it is a good deal of confidence.
It offers a power output of 2400W which is really good, enough to carry any kind of adult over a hill or a steep incline. The performance is also worthwhile, you get good enough value for your investment. The maximum weight capacity that it offers is 150Kg which is 330lbs. Comparing it to the other electric scooters on the market, it is 35% cheaper. A really good value for people that are interested in electric scooters.
Let's talk about the range of this scooter, 56 miles is still a pretty sweet deal. Heavy riders are going to enjoy this scooter's experience. If you want to use this amazing scooter then we strongly suggest getting a fast charger, you don't want to be stuck charging this scooter forever. (More than 12 hours)
Sucks that this scooter which is actually named after the Greek God of the Sun would be solar-powered, but it isn't. Well, this is a good suggestion for a follow-up model or even an upgrade. Fingers crossed!
Advantages:
Comes With A 24-Months Warranty
Power Output Is Great (1200W)
Maximum Weight Capacity Is Great (150Kg)
Impressive Range, On A Full Charge It Offers 56 Miles
Charges Under 4 Hours (With Fast Charger)
Easily Foldable
Disadvantages:
Some Cheaper Models Are Better
Without a Fast Charger, It Charges Very Slowly- Takes Around 12 Hours
Why I Like It: This is an extremely capable scooter and is best for people that are looking for an extremely capable ride. The 2 years warranty stands out more than others, and the power output is also great.
---
5. Dualtron Thunder Heavy-Duty Scooter
The Dualtron Thunder is our dreamy electric scooter. The kind of scooter that all of us have been waiting for, it is just packed with some of the best features possible. The range and power output are also very impressive.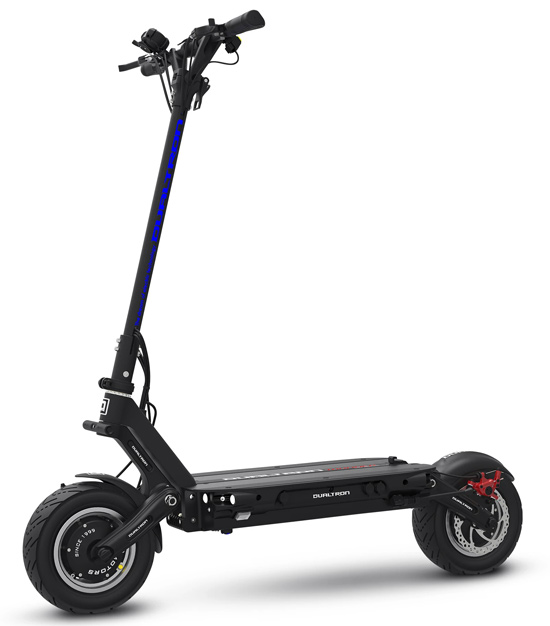 Price: MSRP $3,499
The Dualtron Thunder is easily the scooter of our dreams. With its performance and industry-leading features, it just whisks us away every time we use it. This is what we need from an electric scooter for adults. If you have tried out Dualtron before then you know it is one of the big players in the e-scooter industry, they just make powerful products.
While Dualtron has amazing scooters, the Thunder is what we will be focusing on today. It can easily be titled as the pinnacle of heavy-duty electric scooters, and you should definitely try it out. The company advertises that the maximum weight limit is 265lbs, but if you take out the other factors then you can stretch it up to 330 pounds. Even with that much weight, it would still give an awesome performance.
This scooter also does things very differently, it has dual disc brakes and a hydraulic spring suspension. The Dualtron Thunder is also fitted with 11×4-inch pneumatic tires which are great at absorbing a lot of shocks and road vibrations. With the unique customizable cartridge suspension system, you can adjust the suspension according to your liking.
The range of this scooter also impresses me, it offers 75 miles on a full charge and that is because of the 2060Wg LG 3500 cells lithium-ion battery. No matter what the road conditions are, you will always have an amazing experience.
Advantages:
Offers Impressive Range- 75 Miles
Suspension and Build Quality Is Great
Weight Capacity Is Impressive
Maximum Speed Is Great- 50MPH
Disadvantages:
Heavy Construction
Very Expensive
Why I Like It: The Dualtron Thunder is an incredibly powerful scooter, and if you can afford it then you will have no problems with the performance. If you can withstand the weight, then you should not be going towards any other electric scooter, this will be it!
---
6. Hiboy Titan Pro Electric Scooter
The Hiboy Titan Pro is one of those scooters that is just "Perfectly Right". The climbing ability is what makes the scooter really special.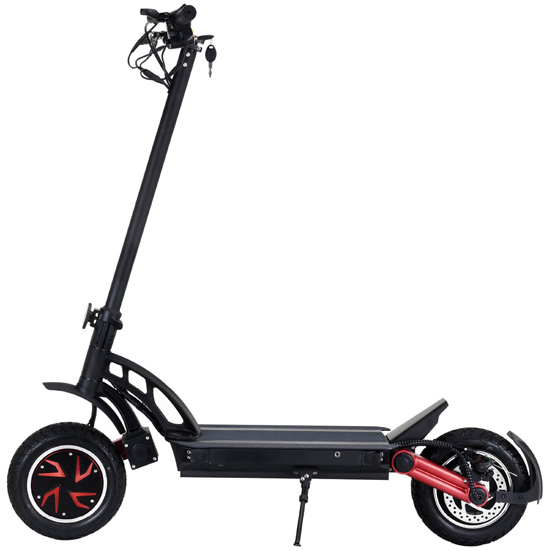 Price: Starts at $1,499
There are some amazing manufacturers out there, many of them have made products that are now just "Perfect". Especially when it comes to electric scooters, there are some products that don't even need an upgrade. That is why we had to review the Hiboy Titan Pro Electric Scooter.
The Hiboy Titan Pro has an amazing weight limit of 286lbs, so adults on the heavier side will be able to enjoy this scooter to the fullest. Fast speed and reliable features are one of the strongest points of the Titan Pro scooter. With the Hiboy Titan Pro, the first thing that people will be able to enjoy would be the climbing ability. This is what people with electric scooters want, they just don't want to have a normal commute. They want to go further, explore new terrains and have adventures and this scooter will allow the riders to have all the fun.
With the dual 1200W motors, there will be enough power generated to climb any kind of hill or climb. With this power, it will feel like a mini motorcycle instead of a scooter. The maximum mileage that it offers is 40 miles on a full charge and you can enjoy a maximum speed of 32Mph. The riders will also be able to enjoy amazing maneuverability, thanks to the 24-inch pedals. This is the kind of scooter that you should not ignore.
Advantages:
Three Different Speed Settings To Choose From
Easily Foldable
Compact Design
Powerful Pneumatic Tires
Disadvantages:
Uncomfortable Handles
Doesn't Come With A Bar Lock
Maximum Speed Could Have Been More
Why I Like It: The Hiboy Titan Pro Scooter is an upgraded version of the former scooter and I am glad to have tried it out. The performance and features are just amazing, it can also be easily folded and carried. The pneumatic tires make the ride very comfortable.
---
7. Apollo Explore Electric Scooter
There can not be a more classy and modern electric scooter than the Apollo Explore. The design might be simple but it is filled with some of the most advanced features.
Price: MSRP $1,349
As you can see, this scooter is named after the Greek God of the Sun, just don't expect it to be solar-powered. Other than that, the Apollo is a modern, and classy electric scooter that presents an amazing ride quality. The design of the scooter might be simple but it is still advanced, we have to see what the Apollo is installed with.
This one is not like most electric scooters, it tries to do things differently and also succeeds. It has powerful air-filled tires, which means comfortable experiences over all kinds of terrain. It is installed with a 1000W motor and it is also a folding electric scooter. No matter what, you are going to love the versatility and portability of the Apollo Explore Scooter.
With the 1000W motor, you can choose between 3 different speed settings. This is certainly not common when it comes to electric scooters. This is a heavy-duty electric scooter from all the fronts, don't mistake it by the name or the build. On a full charge, you will be able to travel up to 32 miles. So if you were planning to take the long scenic route then you can easily do that now.
This scooter provides a smooth, quiet and comfortable performance. So once you try it out, you will not be able to go back. The display device is great, it shows the battery life, BlueTooth connectivity, and much more. The braking system is great, although it would have benefited more from a triple-braking system.
Advantages:
Best For Long Commutes
Dual-Suspensions Allow For Smooth and Quiet Rides
Strong Build Quality
Impressive and Helpful Customer Service
Disadvantages:
Using Gears Can Be Troublesome
Hydraulic Brakes Could Have Worked Better Here
Why I Like It: An Electric Scooter named after the Greek God Of The Sun? Sign me up, but this scooter is also packed with amazing and advanced features. Specifically, this scooter is best for long commutes over any kind of terrain. If they add hydraulic brakes, then this scooter can become unstoppable.
---
Electric Scooters For Heavy Adults-Buying Guide
In this guide, we wanted to tackle the best electric scooters for heavy adults. We listed down some of the best electric scooters in the market that you can go for right now. Although when the discussion arises about how to choose electric scooters for heavy adults, there are a lot of considerations at play.
For heavy adults, the best electric scooter needs to have strong construction, they have to offer a good mileage on a full charge and most importantly, they need to have a very powerful motor installed. There are other factors at play too, so let's discuss them.
Top Speed and Acceleration Matters
The Top Speed and Maximum Acceleration matter a lot when looking for heavy-duty electric scooters. We don't need to go too fast, but it still matters. Think of it like this, a powerful motor and speed are directly connected. While looking for these types of electric scooters, you need this definitely.
A good top speed will help heavy adults make the difficult inclines. If the motor is very powerful, then that will be needed because when the maximum weight is applied to the scooter, the speed and performance will go down. So we need everything at the maximum from the get-go.
Look At The Construction, There Should Be Safety Features
The light and stylish electric scooters are the talk of the town surely, but they are not suited for heavy adults. You want to go for an electric scooter that has a strong and heavy construction (It should not be too much heavy). Durability should be the main priority here, you don't want to go for electric scooters that cannot keep up with you.
If the electric scooter has durable materials in construction then that is even better. A good braking system is also very necessary. Hydraulic brakes are the best ones to go for, if not, then go for a triple-braking system.
A Powerful Battery With Enough Range
An electric scooter with a powerful battery and long battery life will make things a lot easier for you. Go for batteries that are more than what you want. This is needed because when too much weight is applied to an electric scooter, the battery drains much more quickly.
Having excess juice in your battery is better than having no juice. Another thing that you have to know is how much time can the battery be charged. Look for batteries that can be charged very quickly, and if you have to get a fast charger then don't hesitate.
Another piece of information that is necessary is how much miles range is offered on a full charge. For a good experience, the range needs to be more than 30 miles.
Suspension System and Hydraulics
With good performance, there should also be comfort and protection. That is why we need good hydraulics and suspension. The first thing that you need to know about hydraulics is that they increase the weight limit, and those shock absorbers also make the ride much more comfortable. They eliminate vibrations and other kinds of disturbance.
High-end suspension systems are for off-road purposes though. You don't need to pay that much cash if you will only be riding over flat surfaces. Pneumatic tires with spring systems make the whole experience even better, so be on the lookout for that.
More on Electric Scooters:
Recap
Electric Scooters are meant to be enjoyed by everyone, every kind of person. They are a good way to commute and even have wild adventures. That is why we listed down some of the best electric scooters for heavy adults. Not every electric scooter is going to be perfect for you, that is why we made sure that a lot was made available for you.
We have listed down heavy-duty electric scooters for all the budget levels, there are the premium options and then there are the budget options. From the list, the best electric scooter that stands out is the Emove Cruiser Electric Scooter. Features, performance, build quality, this scooter has it all.
When looking for an electric scooter for heavy adults, there are different considerations and factors that you need to look into. We have listed them down for you, this will make your search easier and more feasible. If you have any other queries then do reach out to us in the comments below!