Nowadays you can rent out a car, motorbike, bike, or even an electric bike, but why not try electric scooters for a change? First of all, let's get this one thing straight, scooters are not only meant for kids, but adults can also enjoy them, once you try them out, you are opened to this new world of electric vehicles that you have been missing out on before. Since the electric scooter market is expanding, you have so many more options to choose from!
With the best electric scooters, you have a lot of choices, you can rent them out or purchase them, whatever is feasible for you. Before we get started with our list of amazing electric scooters, it should be discussed why even get these scooters in the first place
Best Adult Electric Scooter- Review 2023
| Best Feature | Bike | Price ($) |
| --- | --- | --- |
| Best Overall | Pure Air Pro (2nd Generation) | 557.08 |
| Best Price | Pure Air Go | 321.35 |
| Best Battery-Saving Features | XIAOMI MI 1S | 489.99 |
| Best For Long Distances | Segway Ninebot Max G30 | 699.99 |
| Best Features | XIAOMI MI PRO 2 | 567.49 |
| Best Design | UNAGI MODEL ONE E500 | 989.99 |
| Best Value | Decent One Max Electric Scooter | 539.71 |
| Best Midrange Scooter | Swagtron Swagger 5 Elite | 329.99 |
| Best Commuting Scooter | Glion Dolly | 499.00 |
| Best Construction | Apollo City | 1,699.00 |
Note: All the prices mentioned are subject to change.
In our Adult Electric Scooter Buying Guide, we have added some of the best scooters that we could find in the market. These scooters offer the best performance and amazing features that you will not be able to find anywhere else. Let's take a look at them here!
1. Pure Air Pro (2nd Generation)- Editor's Choice
Price: MSRP $557.08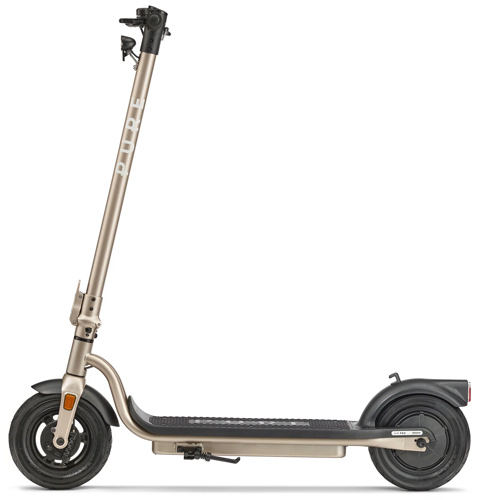 Pure Air Pro Electric Scooter
Trust us on one thing, choosing the best adult electric scooter is not easy. Although with the Pure Air Pro (2nd Generation) the decision-making process was not that difficult. There are a lot of amazing electric scooters out there, they have amazing builds, features, and performance.
The choice is very simple here, the Pure Air Pro (2nd Generation) is amazing, and it is the best electric scooter on the list because it has everything to offer. Pure Electric has nailed the wall once again, this scooter actually won multiple awards and that is rightfully so. Pure Electric listened to all the user feedback, fixed all the problems that persisted in the previous models, and created something truly wondrous.
The Pure Air Pro (2nd Generation) is fitted with the new 500W motor, which means that you are going to have no grievances with the performance and range. What I loved about this scooter is that it offers the best comfort, safety, build quality, and ease of maintenance. If you are looking for the best of the best then this is the scooter to go for.
The main unique factor about this scooter is the IP65 water resistance, with this feature you can use this scooter on all kinds of terrains and during all seasons. I have rolled on it in the rain and the wind, nothing stops this scooter! If you don't mind spending a little more money then I promise that this scooter is going to be worth it.
Advantages
IP65 Water Resistance
Weight Capacity Is Amazing
Strong and Powerful Motor
Better Range
Very Easy To Maintain
Disadvantages
Heavier Construction
Brakes Need Improvement
Lack Of Cruise Control
Why I Like It: The Pure Air Pro (2nd Generation) is an outstanding electric scooter. From the powerful motor to the features, this just stands out in the crowd. It is an all-rounder complete package, and you should have it on your radar.
---
2. Pure Air Go
Price: MSRP $321.35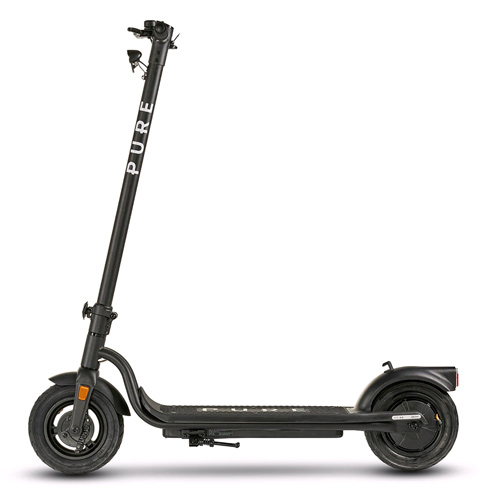 Not everyone can afford Pure Air Pro, which is why we have the Pure Air Go (2nd Generation) for you. This is an entry-level scooter but has all the amazing features that you like in the pro version. Coming to the build quality I found it pretty much the same. The only difference was that it is installed with an inferior motor (350W).
Although the motor is not that powerful, you won't feel the difference until you have to make a climb. Even if there is a lot of weight on the scooter, there will be no dips in performance, that much is guaranteed.
Before you ask the obvious question, yes, the Pure Air Go is also water-resistant, so you can use it any time of the year. The one-year warranty also works really well here, if you have any kind of problem with the scooter, you can always send it back and get a refund. That's what several users have reported on their site.
If you want a good quality electric scooter but lack the budget then you should go for the Pure Air Go!
Advantages
Amazing Price
Water-Resistance
Maintenance Is Easy
Weight Capacity Is Great
Strong 10-Inch Wheels
Disadvantages
Heavier Construction
Inferior Motor
Suffers From Short Range
Why I Like It: The Pure Air Go is exactly like the Pure Air Pro, minus the motor and some design points. If you want amazing quality but lack the finance then there is no better option than the Pure Air Go!
---
3. XIAOMI MI 1S
Price: MSRP $489.99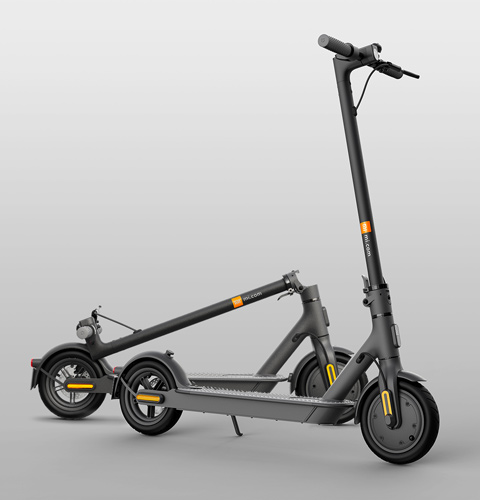 You might be thinking that XIAOMI only makes smartphones but that is incorrect. The company also makes amazing smart scooters, and the MI 1S is enough proof of that. This is the kind of scooter that doesn't offer the highest speed in the market but offers seamless app connectivity. I searched for countless hours to find this one.
With the amazing app installed, you can check how many calories you have burned and how many hills you have climbed. I love the scooter's massive battery life. It means that you can ride to your heart's desire without the fear of being drained. Plus, you can also fold the scooter without any kind of problems.
With the Mi Home app, there are a lot of battery conservation options, which means that you will always be able to go that extra mile.
The speed and acceleration controls are very simple, you will not need a very big manual to understand how the XIAOMI MI 1S works.
Users love the aluminum construction, it is strong and sturdy. Moreover, almost every user has reported that this scooter is foldable very quickly and without any kind of problems.
Pros:
Strong Brand Recognition
Powerful Battery with Advanced Features
Folds Easily
Great App Connectivity
Cons:
Unattractive Design
Pro Model Is Better
Why I Like It: I was amazed to see that XIAOMI also makes brilliant smart scooters, by trying out the MI 1s I became firm on that statement. With the premium aluminum construction and powerful battery, this is a scooter that you should add to your collection.
---
4. Segway Ninebot Max G30
Price: MSRP $699.99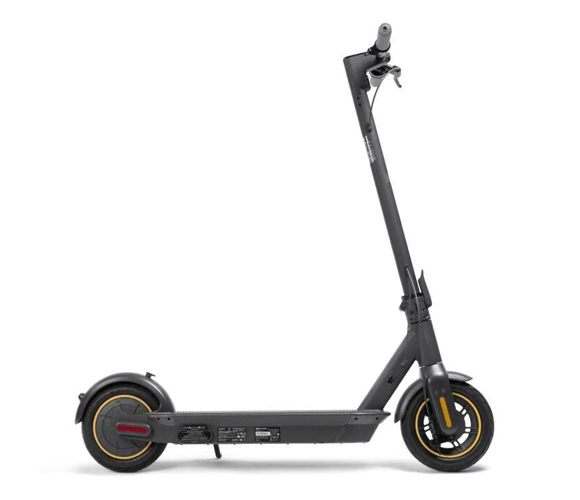 Using an electric scooter, it's natural that one would want to go that extra mile and travel over long distances. With the Segway Ninebot Max G30, you will finally be able to do that. This here is an absolute beast of an electric scooter with all-rounder features and design.
Let me give you a taste of the features that this amazing scooter is packing. Battery life, 15.5 miles per hour speed, LED dashboard, three different speed modes, and cruise control, plus you can also control the different apps that come installed. The scooter also has a hill grade of 20%, which means that you will be able to
With this many features, you might think that this scooter would be carrying an expensive price tag but that is not true. It is affordable, and this means that a lot of people would be able to try out this great smart scooter. Let's not forget the IPX5 water-resistance rating, so even if it is lightly raining, you will be able to enjoy the Ninebot Max G30.
Advantages
Offers A Very Long Range
Brilliant 4 Riding Modes
Amazing Handling
Colored Display With Features
US Versions Are Better
Disadvantages
Heavy Construction
UK Versions are Inferior
Why I Like It: The Segway Ninebot Max G30 is the kind of scooter that you would want for long distances. Plus, the scooter also comes in exciting colors that you can choose from.
---
5. Xiaomi Mi Electric Scooter PRO 2
Price: MSRP $567.49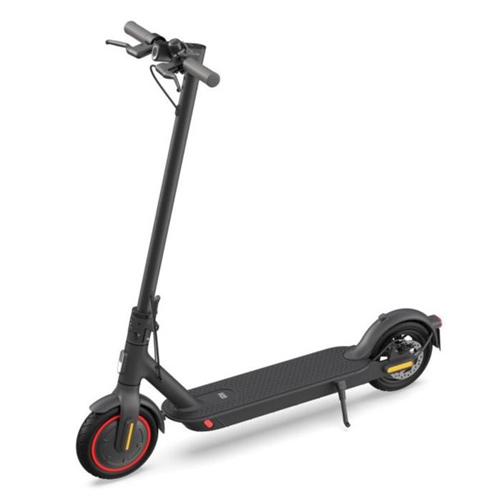 If you want a smart scooter from XIAOMI but also crave the premium features then you should try out the PRO 2. This new one and the previous version of the PRO 2 are used by almost everyone who wants a smart scooter. Chances are that you will only see these scooters in the market and in your neighborhood. This is a very good thing, considering the performance and brand image of XIAOMI.
The PRO 2 is an updated model, let's start from there, all the previous errors and problems have been rectified and it even comes with features that were not present in the previous model. The top speed of 15 miles per hour is really good, the range is 27 miles, and the carrying capacity is 14.2 kg.
The only aspect it lacked was the build quality which I think can be improved by the company. Other improvements include the powerful 600W motor, the improved lighting system (powerful lights), let's not forget the 8.5-inch pneumatic tires. With the performance and feature set, this is easily one of the best electric scooters to date.
Advantages
Strong Brand Image
Great Range (27 Miles)
Powerful Torque
Powerful Battery with Advanced Saving Features
Disadvantages
Unattractive Design
Wheels Could Use An Upgrade
Why I Like It: The XIAOMI PRO 2 is the kind of scooter that you don't come back from, it has all the premium features that you could ever wish for. From the powerful motor to the amazing app connectivity, you need to try out this scooter for yourself!
---
6. UNAGI The Model One E500
Price: MSRP $989.99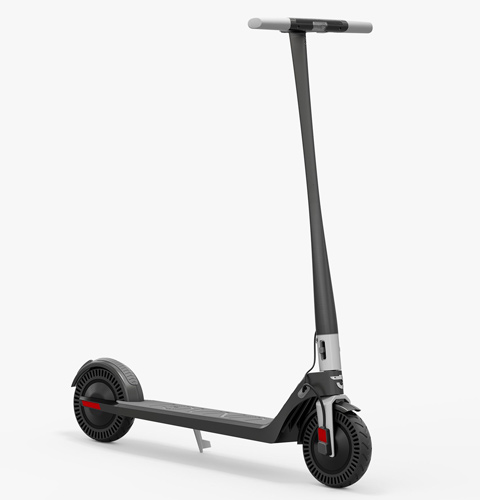 If you are planning on using an electric scooter as the main mode of transportation then you need to consider the UNAGI MODEL ONE E500. It has a sleek and slim design, great travel distance, and even features a powerful battery, what else do you need?
The performance is nothing ground-breaking but it gets the job done, the main aspect that stands out in this scooter is the overall design. Once you start using this scooter, you will be the talk of the town.
The scooter's construction is also unique, it is made from super light and strong materials, the kind of materials that are used in SpaceX projects. Many users reported that they don't even have to worry about the scooter breaking down in the middle of a ride.
While researching this scooter, I came across the fact that the main source of power comes for this from the dual motors that are carefully installed. This is the kind of e-scooter that is both portable and extremely lightweight, so if you wanted to carry it with you, that would be no problem.
With the power generated from the dual motors, you will be able to tackle any kind of climb on your way. A speed of 15 miles per hour combined with a range of 15 miles is a good combination. The color schemes of Cosmic Blue, Sea Salt, Gotham Grey, and Matt Black are also equally intriguing.
Advantages
Amazing Features
Very Fast Performance
Stylish and Sturdy Construction
Lightweight and Extremely Portable
Disadvantages
The Short Range Could Be A Deal Breaker
Why I Like It: The UNAGI MODEL ONE E500 is the scooter that you should go for if you only want to use scooters for transportation. It has amazing features, and offers top-of-the-line performance, what more could you wish for?
---
7. Decent One Max Electric Scooter
Price: MSRP $539.71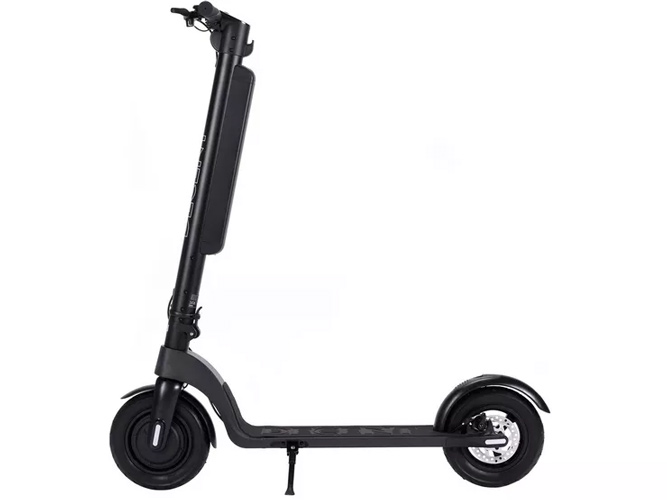 You might have heard about the Decent One Max Electric Scooter, people love its design and performance. The main unique point of this scooter is the removable battery. The battery is actually mounted on the handle, whereas in normal cases it is on the footboard.
The Decent One Max Electric Scooter can be stored indoors, you don't need to always store it in a garage. This is a really good advantage, you can even charge the scooter while you work in your office, think of it like that. Getting this scooter with spare batteries is also good, although those spare batteries might come a bit more expensive than thought.
The ride quality is amazing, to say the least, honestly, I was impressed. The torque is adequate, control is crips and acceleration is also very good. The large 10-inch wheels make sure that the scooter is easy to control and that the rider also enjoys the ride. Go for this scooter if you want the best stability.
Advantages
Installed With A Removable Battery
Powerful 10-Inch Tires
Cruise Control
Fast Performance
Disadvantages
Expensive Spare Batteries
Not Enough Robust
Why I Like It: The Decent One Max Scooter is the kind of scooter that you can always keep with you, there will be no need to store it in a garage. With the amazing feature and performance, you will get used to it pretty quickly. The removable battery is also a really good feature.
---
8. Swagtron Swagger 5 Elite
Price: MSRP $329.99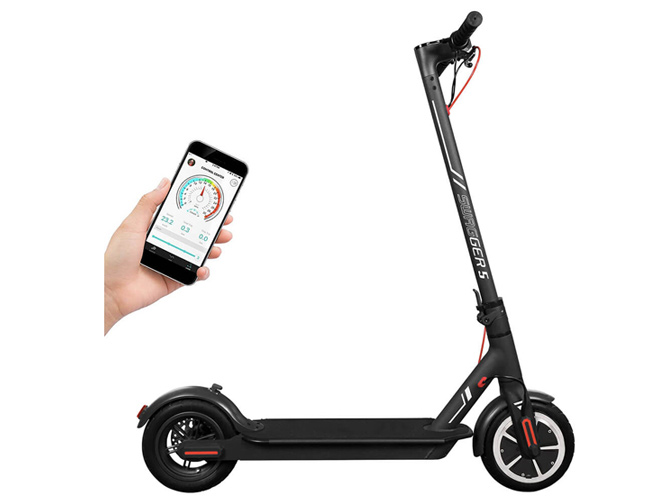 Looking for the best midrange electric scooter? Then we have you covered with the Swagtron Swagger 5 Elite, the performance and the features are absolutely amazing. The top speed of 18 miles per hour is really good, you will also come to love the air-filled tires that enhance the overall performance.
The scooter's motor is not that much powerful as it is only 250 watts but it gets the job done without any kind of hiccups. When compared with the other scooters, I would favor the Swagger 5 Elite's performance any day, and any time.
Although the scooter weighs only 27.5 pounds, it has a carrying capacity of 320 pounds. The shock-absorbent springs are going to protect you from all the vibrations that you will feel on your ride. Installing the Swagtron companion app is a must if you want to monitor the battery consumption and top speed.
Advantages
Affordable Price Tag
Suitable For Large Riders
Swift Performance
Disadvantages
Suffers from Slow Takeoff
Not Suitable For Inclines
Why I Like It: The Swagger 5 Elite is the best midrange electric scooter that you will find. Combined with an awesome performance and shock-absorbent springs, your rides are going to be fun and extremely comfortable.
---
9. Glion Dolly
Price: MSRP $499.00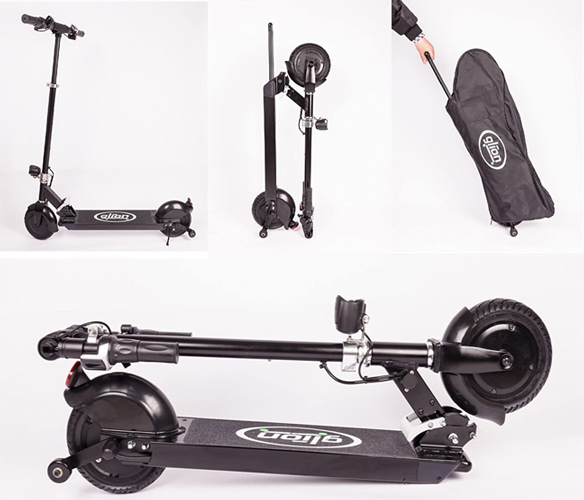 For all the commuters out there, there could be no better choice than the Glion Dolly. The Glion Dolly is the kind of scooter that you should use if you don't want to go by public transportation. One of the best things that I love about the scooter is that it can be folded so easily, and is also very lightweight (27.3 pounds).
The top speed that the Glion Dolly can offer you is 15 miles per hour and a range of 15 miles. It is a fair deal and should be more than enough if you live in a small city.
Since this is a scooter recommended for commuting, you might be wondering about the front and rear lights. The dolly is installed with a very bright headlight and tail reflector, so in the lights section, you will not have to worry about anything. The integrated fenders are also there to protect the wheels of the scooter.
The only thing that this scooter lacks is suspension, and I don't personally like the small hard rubber wheels. Other than that, you will have an amazing time with the Glion Dolly!
Advantages
Portable Design
Bright Headlights
Comes With A Kickstand
Disadvantages
Throttle Is Not Crisp
Small Rubber Wheels Disrupt The Performance
Why I Like It: The Glion Dolly is unlike anything that I have ever seen before. The range is good enough and it can be packed and carried around without problems. Making it the best kind of scooter for commuting. The rubber wheels could use an upgrade though!
---
10. Apollo City
Price: MSRP $1,699.00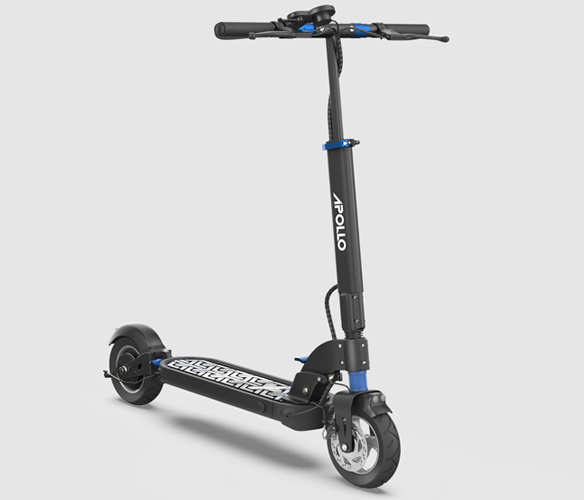 When I saw Apollo City for the first time, I immediately fell in love with it. This is a very unique kind of electric scooter because it comes installed with turn signals, who could have guessed that?! You don't need to hold out an arm while going left or right, just switch on the respective lights.
The Apollo City also comes installed with a powerful 500-motor, which was a surprise. You can easily climb hills and this scooter also comes with a full suspension. The puncture-resistant tires make the ride comfortable and if you have an app installed and connected then you can even customize the kind of performance you want.
Judging by the weight, this is a pretty heavy scooter (57 pounds) so carrying it around will not be a piece of cake. Although with the performance and stand-out features, this is a scooter to absolutely have in your collection.
Advantages
Comes Installed With Turn Signals
Customizable Performance (Only Via Apps)
Very Fast
Powerful Motor
Disadvantages
Heavy Construction
Latch Mechanism Needs An Upgrade
Why I Like It: Apollo City comes installed with turn signals, which makes it way more attractive than most of the scooters on this list. It even has a powerful motor, so you will be able to climb those intimidating hills without any kind of problems. The problem that I had with the scooter was with the latch mechanism, it needs to be fixed and upgraded.
Electric Scooters – Why You Should Get One?
Since you have come here looking for an electric scooter, you might have some idea about them, even if you don't we have you covered. These amazing inventions are very practical, are completely hassle-free and you can even fold them into little packages that can be carried without problems.
You might think of them as a "Last-Mile Solution" but they are so much more than that. If we looked at these scooters a decade back, there would have not been that many options, but things have changed now. The technology is more advanced, and a lot of companies have invested in this innovation, which means consumers have a better option when it comes to electric scooters.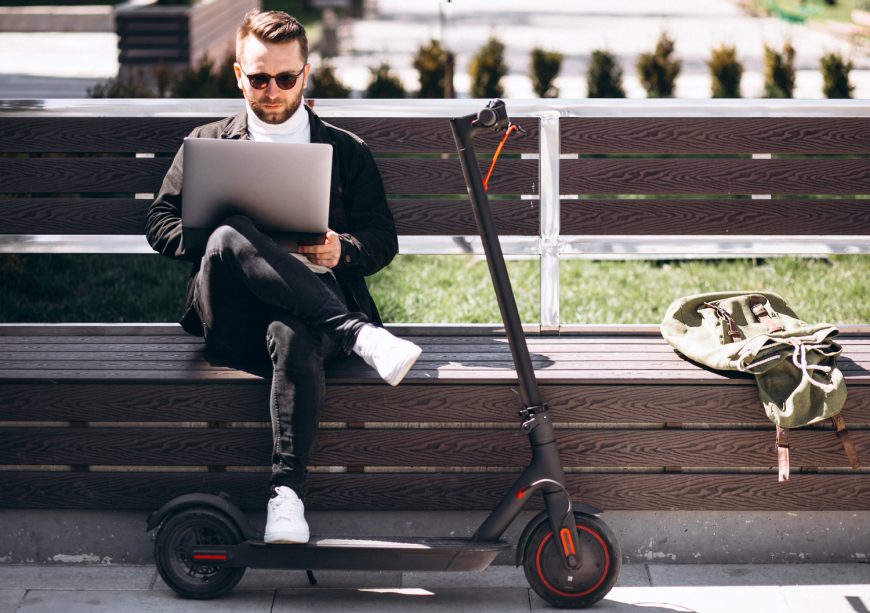 The market situation keeps on improving and with each passing day, there will be more adult electric scooters for you to try out. Riding these scooters is amazing, to say the least, with a full charge, you can push these babies to a maximum of 25mph.
While getting an electric scooter, you might come across this question very often- Are Electric Scooters Even Legal?
This question has a lot to do about your local jurisdiction so we will answer that shortly. While the electric scooter market is clouded in questions there are a few features and amazing qualities that we cannot ignore. We need to acknowledge that they are their popularity is only growing, they are amazingly fun, plus they are more portable than electric bikes, giving you more reason to get them.
Once you take a look at the adult electric scooters, they might look the same but they are not created the same, not even by a long shot trust me. They are different and they are the best personal transport that you can ever wish for.
Difference Between Normal and Electric Scooters?
Normal Adult Scooters and Electric Scooters have a lot of differences, you might think that the only main difference might be an electric motor but that is not how it works. The concept is more about than just the batteries, they are faster, more compact, and also a lot heavier than normal scooters.
One thing is for sure, you will not be able to perform any kind of tricks on them but you will also not have to worry about being slow in traffic. With this torque in your wheels, you will climb on hills and speed through cars without any kind of problems.
Advantages of Getting an Electric Scooter
Once you get an Electric Scooter, you will be able to enjoy the following benefits:
No Permit Prerequisites
Amazing Alternative To Bikes
Compact Designs
Easy Maintenance
Environmentally Friendly
No Permit Prerequisites
These scooters are not as fast as you are expecting them to be but they are amazing to use. With them having moderate speed, they are easier to control than other vehicles and thus do not require a license to use. In order to ride them, you do not need a permit.
Amazing Alternate To Bikes
Electric Scooters are not that much expensive and you won't need gas to operate them as they run on batteries. This makes them an amazing alternative to bikes, you should try them out!
Compact Designs
Electric Scooters are sleek and have unique designs, which makes them compact enough to ride in traffic without any kind of problems. Even if you run into some problems with them, they can be easily fixed.
Easy Maintenance
Electric Scooters have overall sturdy construction, there is nothing complicated about them. You just need to focus on the motor, batteries, and controller. I find their maintenance easier because the components can be taken care of easily without problems.
Environmentally Friendly
Well, this advantage is not a surprise, electric scooters have an environmentally friendly design. Since global warming is rising up, a lot of time has gone into the design and construction of these scooters. Carbon emission is at the lowest with these scooters.
Disadvantages of Getting an Electric Scooter
Once you get an electric scooter, you may become limited by these disadvantages:
Not Suitable For Fitness
Very Limited Carrying Capacity
Expensive Price Tag
Difficult Repairs
Not Suitable For Fitness
As you may know, Electric Scooters require very little effort to ride. You can use them to go anywhere, use them for a daily commute and you still won't sweat that much. If you are thinking of using them for a good workout then that is not going to work as they don't require that much effort.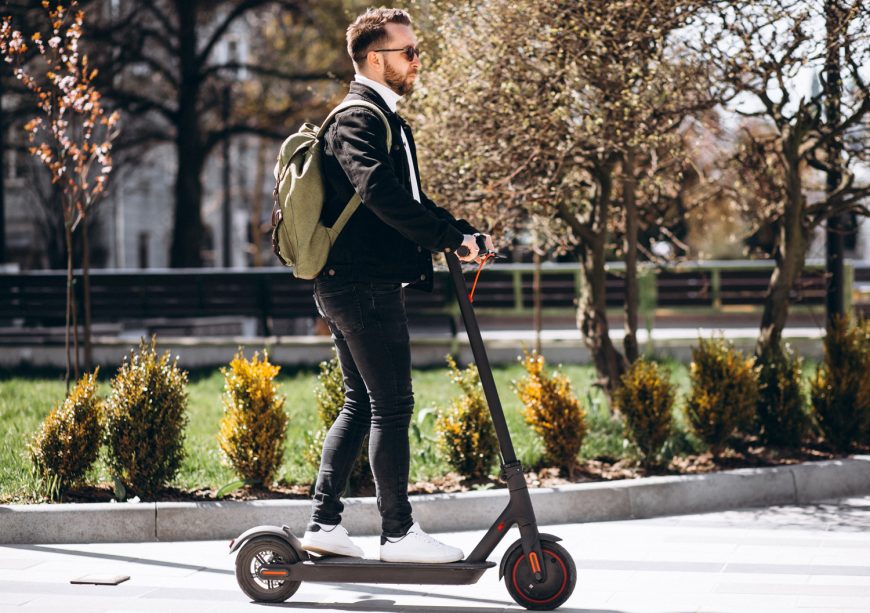 Very Limited Carrying Capacity
Electric Scooters are meant to be used by only one person. This also means that naturally, they don't have a huge carrying capacity, the normal capacity is between 220-260lbs (Depending on the manufacturer). You will be able to carry a normal backpack with you, nothing more than that.
Expensive Price Tag
Depending on the country, the price of electric scooters is going to vary. If you are living in the United States then you can get a decent electric scooter for between $300-$400 and if you go for the fancier options then they are going to cost you north of $1000.
If you live anywhere else than the United States then you are going to pay more than the normal price. This is something that you have to consider when going for an electric scooter.
Difficult Repairs
Battery Life Problems or something wrong with the Pneumatic Tires? Electric Scooters can be maintained easily but repairing them is a whole other thing. Because of their complex designs, the repairing process is very difficult and different from any other vehicle.
Additional Resources
How To Choose The Best Adult Electric Scooters
Now that we have detailed every scooter that we could find fit enough for our audience, it is time to explain the buying guide. It does not matter if you are looking for the best folding electric scooter, the best budget electric scooter, or even the best lightweight electric scooter, because we have got you covered.
When going for an adult electric scooter, you have to pay attention to a lot of aspects, especially if this is your first time. Pay attention to these aspects and you will have the best possible experience with the electric scooters.
Price
This is very obvious, you need to know about your budget, and how much you are willing to spend on an electric scooter. If you can manage somewhere between $100 and $300, that would be okay. You will get a scooter but it will have a very small motor, so don't expect amazing performance from it. The braking mechanism will not be good and don't get me started about the battery.
If you can manage up to $600 or more than that then you can easily have an amazing scooter with all the premium construction and features. The suspension will be tighter, powerful battery, large tires, and fast speed.
Battery Life
The Battery Life matters a lot when going for an electric scooter. Battery life is also combined with the range of the scooter. The higher the Amp Hours (aH) the more you will be able to use the scooter, Amp Hours are used to measure the battery life.
Need For Speed
If you get a very basic electric scooter, then you can max out 15 to 18 miles per hour but that also depends on the manufacturer. If you have opted for a really good scooter then you will be able to enjoy a speed of 25 miles per hour.
Suspension and Tires
While using a scooter, you will need to get used to the bumps on the road. Although if you don't want a jarring ride then go for scooters that come installed with a suspension, they help cushion these vibrations. Even the air-filled pneumatic tires are going to help out a lot here.
Lights or No Lights?
This here is a personal preference, if you want early rides or rides at night, you are going to need an electric scooter with lights, so that you can be seen easily and it will also help you illuminate the way. Make sure that the scooter that you go for has lights and tail lights installed.
[Related: 6 Best Fat Tire Electric Scooters And How To Choose Them]
How We Choose Electric Scooters – Our Methodology
As an avid enthusiast of adult electric scooters, I understand the challenge of finding a high-quality scooter that fits within a budget. That's why I've dedicated countless hours to researching and analyzing the best electric scooters for adults on the market. I've scoured the web for honest reviews and feedback from verified customers, and I've even tested some of the top contenders myself, including the editor's choice.
Using my extensive knowledge of scooter components and their strengths and weaknesses, I've narrowed down the top options that offer the best value for your money. So whether you're a beginner looking to get into the electric scooter scene or an experienced rider seeking an affordable upgrade, you can trust that these scooters have been thoroughly vetted and carefully selected.
Without compromising on quality or performance, these scooters offer features such as excellent maneuverability, top-notch suspension, and a durable design, all at a price point that won't break the bank. So if you're ready to enjoy the ride of your life, these are some of the electric scooters that you must consider.
FAQs
How Do I Know What Size Scooter I Need?
To know the size of the scooter, measure the distance from the ground to your hip height along with your navel height. The right-sized scooter will be the one with a height between your navel and hip.
How Many Watts Is Good For An Electric Scooter?
250 watts are good for an electric scooter. You can comfortably ride on flat terrains with this but if you are planning to ride on steep terrains, you should look for a 400-500 watts electric scooter.
Recap
Adult Electric Scooters are amazing, they are used for recreation and commuting. They act as a great alternative to bikes and even cars if the going gets tough. Some people might think of them as a last-mile solution but they are more than that. In this guide, we included many scooters for you, from the lightweight electric scooter to the electric kick scooter, there is something for everyone here.
We included many, but the best one that we got to try out is the Pure Air Pro (2nd Generation). It has near-perfect performance and features. If you want a top-level product then do try this one!
Apart from the scooters, we also discussed the aspects that you need to consider while getting an electric scooter. If you have any queries then do reach out to us in the comments below!