Kids no matter what age will always love having fun, it is up to us to provide them with the necessary toys and accessories so that they can enjoy themselves. What's the first thing that you think when the word scooter comes to mind? They can be 3-wheeled or even 2-wheeled, what matters is that your child has the utmost fun!
Being a parent, you are the one that has to care for your child's safety and enjoyment, so this means that choosing the best possible scooters is your sole job. In this guide, we have compiled a list of some of the best 3-wheel scooters for kids that you can choose from. There is also going to be some bonus content towards the end!
Best 3 Wheel Scooters for Kids Review and Ranked
Here are the top ten kids' scooters that you must consider when making a decision:
| Scooter | Price($) | Ages |
| --- | --- | --- |
| Micro Mini Deluxe | 90 | 5 Years |
| Micro Mini 3-in-1 Deluxe | 120 | 1-5 Years |
| GOMO 3 Wheel | 70 | 3-5 Years |
| LaScoota 2-in-1 | 70 | 3-8 Years |
| Yvolution Y Glider Kiwi | 59 | 3-8 Years |
| Skidee Folding Seat Adjustable Scooter | 80 | 1-3 Years |
| YBike GLX Cruze Scooter | 70 | 2-3 Years |
| Hurtle 3-Wheeled Scooter | 55 | 1-14 Years |
| Fisher-Price Laugh & Learn Toddler Scooter | 50 | 1 Year |
| Globber 3-Wheel Scooter For Toddlers | 70 | 1-2 Years |
Note: All prices mentioned are subject to change.
Let's get started with the guide!
1. Micro Mini Deluxe- Editor's Choice
Suitable For: 5-Year-Old Kids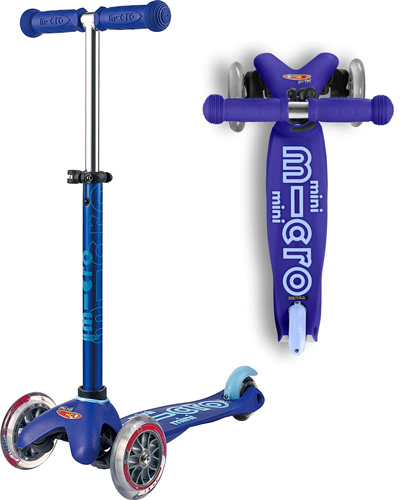 The Micro Mini Deluxe Scooter is my favorite choice from the bunch and there are plenty of reasons to justify that. The design of the scooter is Swiss quality which already makes it top-notch. Kids love colors and you would be thrilled to know that the Micro Mini Deluxe comes in some amazing colors.
Yes, there are more expensive options than this but I am focusing on amazing performance and durability, this is something that Micro promises. The scooter comes in amazing colors. It comes packed with adjustable-height handlebars. I really like the quality of it. I bought this as a gift for my kid's 5th birthday and she absolutely loves it because of the smooth and quiet ride.
I was very intrigued by how Micro achieves such a level of comfort. I found that the foot deck of the scooter is made from reinforced and flexible fiberglass, this makes the scooter absorb the ground resulting in a smooth and comfy ride.
Apart from this, you can also adjust the height of the handlebar, you get 8" of it. According to statistics, this is the lowest handlebar for kids making it more popular and fun to use.
Advantages
Amazing Color Options
Flexible-Adjustable Handlebar
Durable
Amazing Swiss Quality Design
Disadvantages
Age Limit Could Have Been More Flexible
It's Still Pricey
Editor's Choice: The Micro Mini Deluxe topped my list on the guide. It is very easy to use, and kids, are going to love it because of the attractive design and vibrant colors. Don't worry about the durability as this scooter is built to last!
---
2. Micro Mini 3-in-1 Deluxe
Suitable For: 12 Months Till 5-Year Kids

Micro Mini 3-in-1 DeluxeThe Micro Mini 3-in-1 Deluxe is one amazing scooter, consider it the mini version of the Micro Deluxe scooter. Apart from the size, it comes with more advanced features and has the ability to support kids aged 1 to 5. This was one of the main issues with the Micro Mini Deluxe but has been fixed with this scooter!
There is a cute beginner seat on the scooter on which the toddlers can sit and scoot forward and back, it is quite fun! Another setting for the scooter is for learning purposes where the seat can be removed, a very nice initiative by the company.
The scooter also has adjustable handlebars and it comes with two settings. I really like the sitting and standing modes which are quite fun.
It's available in a variety of fun colors and is very comfy and durable. This is one of the easiest and most fun scooters to use, if you want the best 3-wheeled scooter which is also quite flexible and adjustable then definitely go for it!
Compared to the Micro Mini Deluxe, the Micro Mini 3-in-1 is almost the same but the Micro Mini Deluxe is more compatible for 5 years old and above.
Advantages
The Seat And Stand Settings Are Amazing And Help Out A Lot!
Comes In Amazing Color Options
Flexible Handlebars
It Is Very Durable
Offers A Comfy And Smooth Ride
Disadvantages
It Is A Bit Pricey
Too Technical For Toddlers To Operate On Their Own
Why I Like It: I loved the Micro Mini Deluxe but it wasn't perfect, there are some improvements I wanted. Gladly this scooter comes out and becomes a better version of the previous model and fixes all the mistakes. Once you try this one, you will come to love it!
---
3. GOMO 3 Wheel
Suitable For: 3-5-Year-Old Kids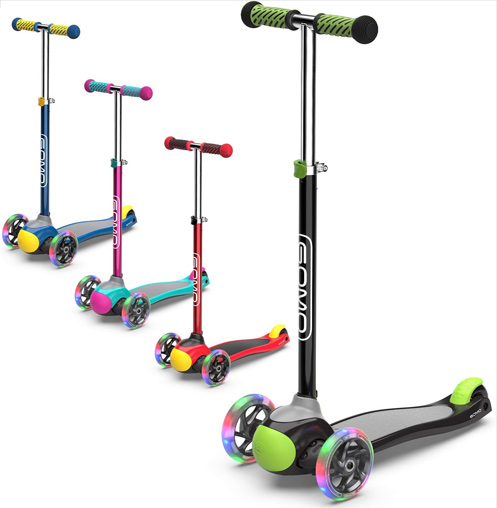 Young riders need to have the best scooters so that they can fully enjoy themselves and look cute while doing that. GOMO 3 Wheel does all of that, it is amazing and comes in the most vibrant of colors. This is a confidence-boosting scooter, it can also offer amazing speed for our young riders, making it a must-have!
It has an easy-to-use brake system and it also has adjustable handlebars. Many users have left feedback that the handles are very comfortable. The GOMO 3 Wheel is one of the easiest scooters to use, the fender brake is very close to the wheel which makes it a delight to use it. If you have kids between the age of 3-5, they are definitely going to love this scooter.
Advantages
Confidence Engaging Offers Great Speed
Easy To Use Brake System
Comfortable Handlebars
LED Lights Wheels
Comes In Amazing Color Combinations
Cons:
It Is A Bit Noisy
The scooter is heavy
Could Scrape Floors
Why I Like It: I love the GOMO 3 Wheel because it is a perfect accessory for young riders. This scooter will not just enhance their skills but also give them amazing speed. The wheels have LED Lights and the color combination is also amazing.
---
4. LaScoota 2-in-1
Suitable For: 3-8-Year-Old Kids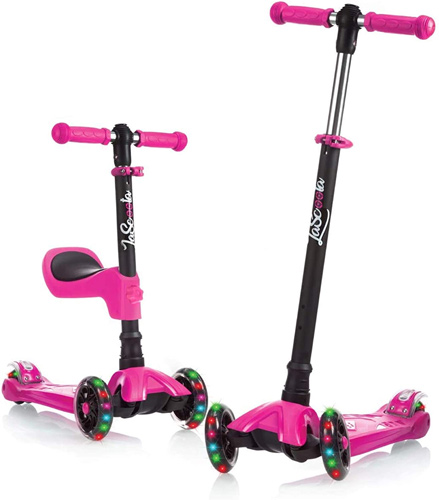 Sometimes when you buy something for one of your kids, the other one would also want it, it is a natural trait. This strongly applies to scooters. LaScoota has that amazing ability to make your child have extreme levels of fun and grow into the scooter. Plus, siblings can share the scooter easily, as it has handlebar adjustment options. Even adults can easily use the scooter, how fun is that?!
What's amazing is that it can be easily shared among siblings. I really liked the LED wheels. These light up wheels convert this scooter into a funky ride. Moreover, the handlebars come with 4 different settings.
The different settings on the LaScoota are very flexible, the smallest handlebar setting might be too big for our kids, which is why I have limited them to kids who are 3 years old. The other setting, which is the setting mode is perfect for young kids like 2-3-year-olds. I was surprised that even some adults could ride the bike easily!
Advantages
Handling Is Perfect
Very Smooth To Maneuver
The Handlebar Can Be Easily Adjusted
Amazing Color Variations
Disadvantages
Difficult For Toddlers To Operate On Their Own
Heavy To Use
Why I Like It: A Scooter that siblings can use together, share, and have lots of fun with is definitely not to ignore. LaScoota might not be the best of the bunch by performance or features wise but its exclusive ability to share makes it a gem amongst others.
---
5. Yvolution Y Glider Kiwi
Suitable For: 3-8-Year-Old Kids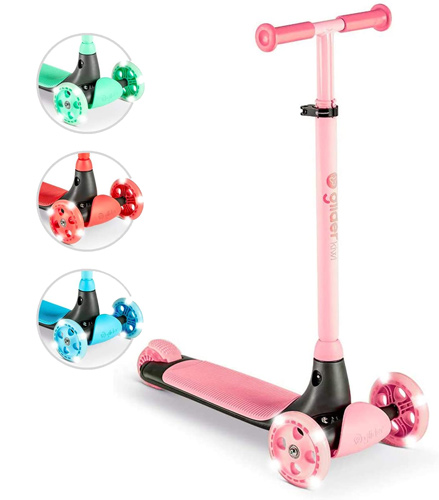 Some kids need to improve their skills before handling big scooters, and a scooter that enhances their skill set is invaluable. Such is the case with Yvolution Y Glider, your kid can ride on it easily, and the legs can be placed without any kind of problem. There are no stability issues with this scooter and that makes it a top choice amongst parents.
The LED lights are super fun, their being glow-in-the-dark was a complete blast with the kids, they would not stop laughing and having fun. I also found it to be extremely lightweight.
All is great with the Yvolution, the different height settings of this scooter make it even more fun. Changing the height of the handlebar could be a little problem but that's it. You can take this scooter everywhere, as the handlebars can be easily removed and stored. Just don't let your toddlers operate the handlebar on their own!
Advantages
Comfortable Handlebar Grip
Easy To Transport
Amazing Wheel and Brake Structure
Disadvantages
The Handlebar Cannot Be Adjusted By Toddlers On Their Own So Parents Must Do That
Sometimes It Becomes Hard To Handle
Why I Like It: A scooter that isn't very hard to handle and also makes sure that you get better at riding is a must-have. The Yvolution Y Glider scooter is one of those good ones, I love it because my kid loved riding it, he was stable most of the time and it ain't that hard to use. Although do know that you would have to adjust the handlebar yourself!
---
6. Skidee Folding Seat Adjustable Scooter
Suitable For: 1-3-Year-Old Kids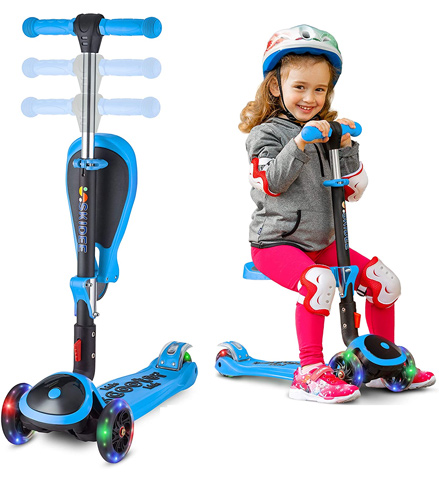 Toddlers love having fun and discovering new places, and new modes of entertainment. It is our job as parents to get them the right modes, which means that they will not just cherish but have absolute fun with. Scooters are immense fun and if you are planning to get one for your toddler then you should take a look at the Skidee Folding Seat Adjustable Scooter.
It comes with a foldable seat which you can adjust according to height. Many users have reviewed that it is extremely durable and tough. It also comes packed with LED Lights.
Having an adjustable seat helps out a lot, you can tinker with it however you want, it also becomes very easy for your child. This is one of those scooters that your child will grow into so you don't need to find another scooter for them. Storing the scooter is also super easy, all you need to do is press a button!
Surprising your child with the fantastic color this scooter comes in is going to be so much fun!
Advantages
Easy Storage
Comes In Amazing And Vibrant Colors
Disadvantages
It Is Heavy For Toddlers To Operate On Their Own
Handling Isn't That Top-Notch
Why I Like It: This is one of the best first scooters to get for your cute toddler, the adjustable and foldable seat is a Godsend. With this scooter, the kids can have lots of fun, and it can easily be stored and transported. What is not to love here?
---
7. YBike GLX Cruze Scooter
Suitable For: 2-3-Year-Old Kids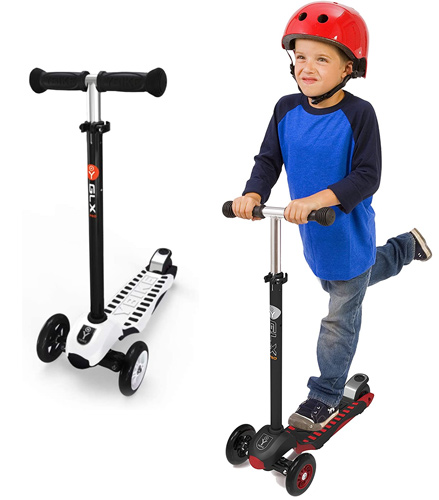 Are you looking for the ultimate scooter for your child for outdoor fun? the YBike GLX Cruze Scooter is going to be one amazing choice. It is a 3-wheeled scooter which means your child will have more balance while riding it, the addition of the easy handle makes it very easy to steer and maneuver.
The curved handlebar is a very unique addition, making it easy for toddlers to handle. There are also large brake pedals which help out a lot. It also comes in amazing and vibrant colors
Toddlers at their age want easy fun, something they can use very easily and have lots of fun while using it. The YBike Scooter is amazing, what makes it more preferable is the addition of the curved handlebar. Kids can use it without any kind of problem.
Then comes the brake pedal, it is large enough to be used by kids, so that means they don't need adult supervision to use the scooter freely. You would really be amazed at the colors the scooter is available in!
Advantages
The Curved Handlebar Works Wonders For Toddlers
You Get Amazing Stability From The Scooter Thanks To The 3 Wheels
Enhanced Durability
Comes In Fascinating Color Options
Disadvantages
The Height Of The Handlebar Cannot Be Adjusted
Storing It Can Become Tedious At Times
Why I Like It: The YBike Scooter makes it onto my top list, because of its performance and features. There are not a lot of scooters that offer the speed and stability this one does. All I can say is, with the amazing colors and accessibility options, this scooter is not to be missed.
---
8. Hurtle 3-Wheeled Scooter
Suitable For: 1-14-Year-Old Kids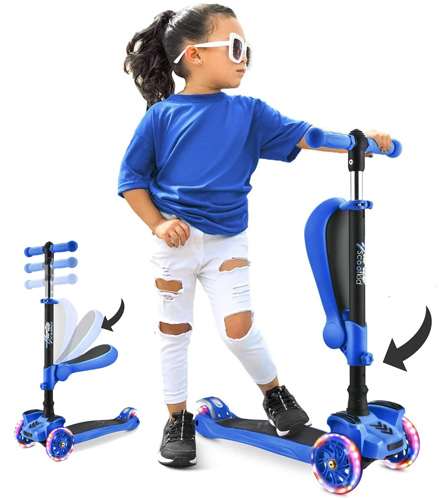 Everyone loves a fancy scooter for their child, especially one that makes them look fabulous! The Hurtle 3-Wheeled Scooter is one of those amazing fancy scooters. No one likes change, especially toddlers and young kids. Once they have gotten their hearts fixed on something, letting go becomes very hard for them.
The Hurtle 3-Wheeled Scooter is the one that will stay with the kids for a very long time, they can use it till they are 14 years old, and that is quite awesome. What's more likable is that the scooter will let your kids grow into it, there will be no need for a replacement anytime soon. You can store and transport it easily.
When your kid will be using the Hurtle 3-Wheeled Scooter, all of your friends and the neighborhood will know it, they will be the heart of everyone! The addition of rainbow colors is also very fascinating, LED Lights will be a fun showcase for the kids.
Storing and transporting the Hurtle Scooter is very easy if the kids are going on a long ride then the addition of the foldable seat works wonders. The rear brake is also very nice to use and provides support.
Advantages
Kids Will Be Able To Use It Until They're 14 Years Old
It Gives The Option To Sit Or Stand While Riding
Steering And Handling The Scooter Is Very Easy
Disadvantages
Toddlers will require supervision while handling the scooter
Sometimes, transporting could become a problem
Why I Like It: The Hurtle Scooter lets your kids enjoy it for a very long time. once they have gotten themselves used to it, there will be no need for a replacement. The inclusion of an amazing handle and brake system makes the scooter loved and cherished. You will find it in a variety of colors!
---
9. Fisher-Price Laugh & Learn Toddler Scooter
Suitable For: 1-Year-Old Kids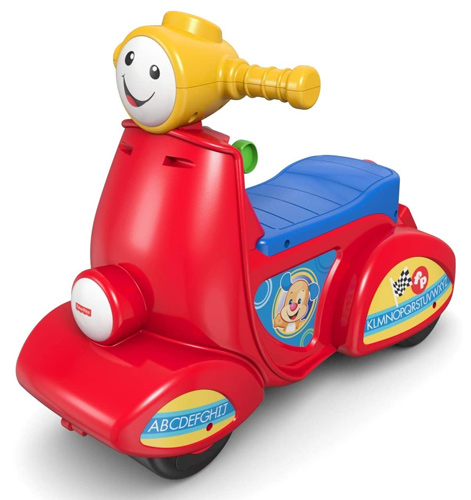 The Fisher Scooter isn't just a normal fun scooter, it is also the one that teaches your very young kids how to steer and handle it, so think of it as a fun teacher too. This scooter is intended for toddlers and comes packed with fun buttons and songs for them to enjoy.
This scooter is a fun and educational all-in-one and comes in amazing colors. With this scooter, your child will have fun and be educated at the same time. The inclusion of the 50 songs makes it very interesting to use the scooter. The kids will learn about shapes, alphabets, and phrases, in one big fun package.
There are stages for these songs and rhymes, so when your child grows, they will have something fun and exciting to look forward to.
Advantages
The Scooter Can Be Used For Entertainment And Educational Means
Is Very Popular With The Kids
Can Be Transported Easily
Very Durable
Available In Fun Colors
Disadvantages
Limited Kids Ages
Will Need Parental Supervision At Times
Why I Like It: We all want our kids to have fun and learn a few things at the same time right? With the Fisher scooter, all of this becomes very much possible. You enjoy seeing your kids have fun and learn about the alphabet, colors, and shapes while doing it. You won't have to worry about getting them a new scooter anytime soon as your kids will grow into it.
---
10. Globber 3-Wheel Scooter For Toddlers
Suitable For:1-2-Year-Old Kids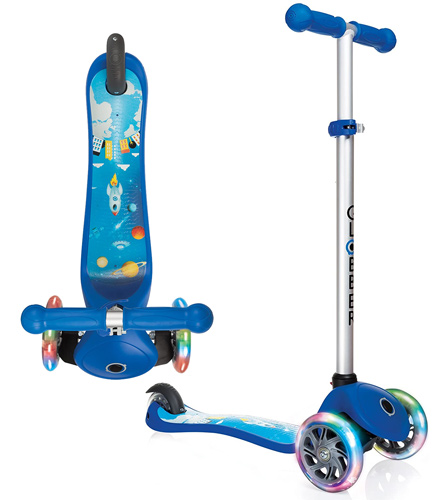 If you have heard about Globber's Toys then you know that their products do not disappoint, all of their toys are meant to be enjoyed for a long time. The same goes for their 3-wheel scooter, which is very much favored among parents and kids. The scooter comes with an adjustable handlebar that you can easily use, even when your child ages. It is a stable ride.
Globber's Toys have made one amazing scooter, that is meant to provide unlimited fun to kids. Once your kid gets their hands on this scooter they will love it and will seemingly grow into it.
Advantages
Adjustable Handlebars
LED Lights Can Also Be Used As A Safety Measure
The Brake System Is Very Reliable
Disadvantages
The Age Support System Could Have Been More Extensive
Tough To Store And Transport
Why I Like It: I always loved Globber's Toys and bought so much stuff from them for the kids. Once I heard about their scooter I just jumped at the opportunity. The scooter is amazing, the kids love it and the LED Lights are a great attraction for them.
---
How To Choose The Best Scooters For Your Child
Looking for the perfect scooter for your kids can be very tiring, but with this guide, that process will become very easy. Scooters are such amazing mediums of fun, they let our kids explore areas, learn new tricks, and develop key motor and muscle skills. That is why the duty falls on us to find amazing scooters for them.
You would be amazed to know that not all the scooters in the market are durable, in fact, most of them would break in a month or so! Some of them don't even have adjustable handlebars or can't be stored and transported.
In order to get the best scooter for your child, here are a few things that you should look out for.
Kid's Scooter Terminology
This Image showcases the various parts of a kid's scooter:
Handle Bar & Grips
T-Bar
Head Tube
Wheel
Forks
Deck
Fender Brake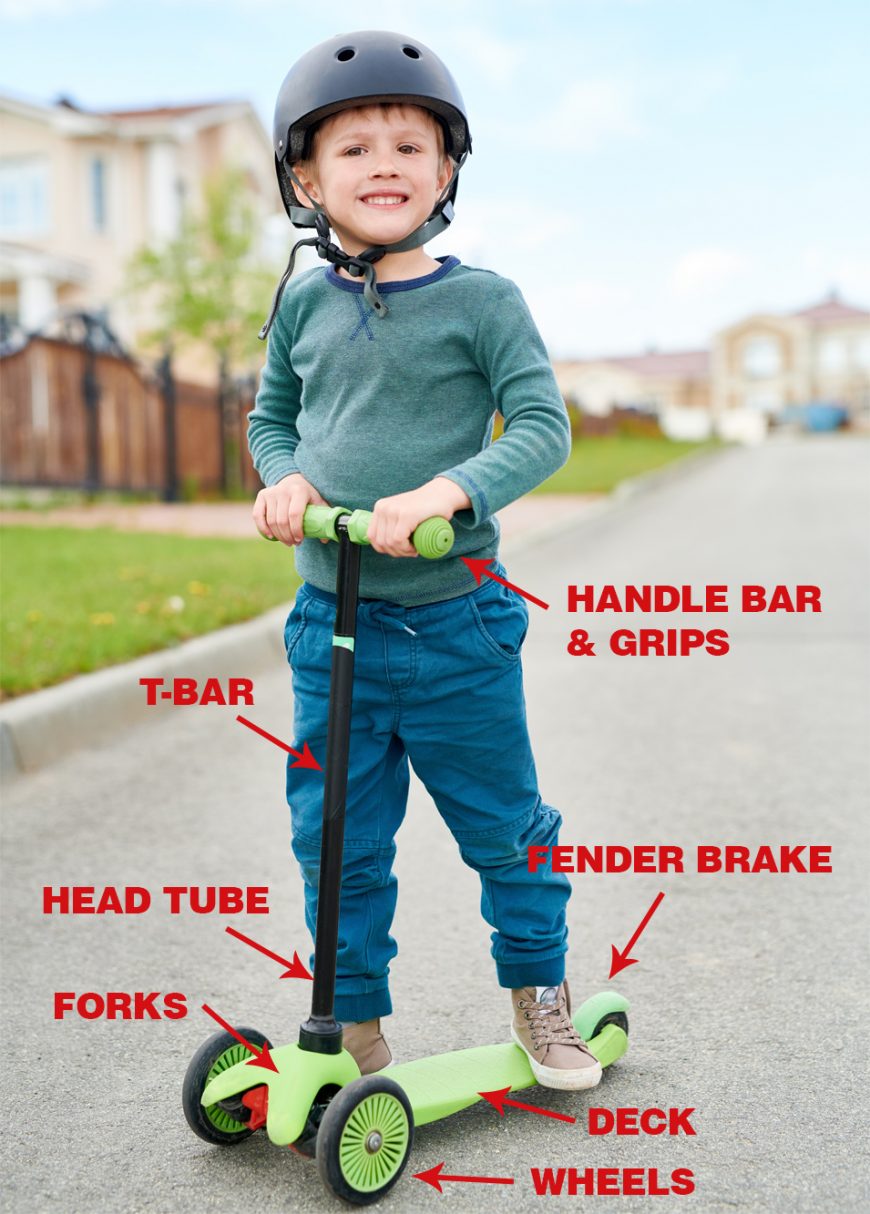 Know The Types of Scooters
Going through the various parts of a scooter is very necessary, it gives us knowledge and will be helpful if we have to repair them sometime. Kids learn from their friends too. seeing their friends enjoy what they don't have makes them very sad, so they come to us the parents to get them the amazing scooters their friends are enjoying.
They will use the weirdest terminology and brand names that seem alien to us. That is why we have to the research on our own. There are basically 4 types of scooters that you will come across:
3 Wheeled- Basic beginner's scooter, a great starting point for toddlers
2 Wheeled- When the kids have developed necessary motor and muscle skills
Trick Scooters- Advanced version of the 2-wheeled scooter
Cruisers- Expert scooters for kids, perfect for young adventurers
Check Out The Handlebars Height Adjustability
Some parents think that having an adjustable handlebar is always necessary, but that is not the case. The best position for the handlebar is to the waist, so the adjustability actually depends on your child. Children will grow ill 5" when they are 2-3 years old so you have to measure their height accordingly and then decide about the handlebars.
Having children that want to share the scooter but are of different heights is also an aspect to consider. Older kids won't like the idea of adjustable handlebars though so keep that in mind.
The Ability To Be Packed and Transported
Why limit the fun to our backyards only? Almost all the scooters that you will buy for your children should have the ability to be packed and transported easily, without it, what's even the point? You should also make sure that they aren't too heavy to transport.
A foldable seat would do miracles if it is included in the scooter, with it, storing it would become quite easy.
Fun Color Combinations Are A Must
What is even the point of getting a scooter for your child if it isn't available in fun and exciting colors and LED Lights? Normal colors like black and blue are fine but what really excites the kids is a combination of vibrant colors. Even if the scooter isn't that good, they will love the aesthetics of the scooter.
Important Features To Look Out For Scooters- (Agewise)
There are going to be some features that you need to look out for when you go out to get the scooters. Depending on the age of your child, those features will change.
For Children Aged 2-5 Years
The Scooter should be very easy to steer, try getting adjustable handlebars
Very safe to use, the scooter should have the ability to avoid accidents
3 Wheeled Scooters are a must, they provide the necessary support
A Narrow foot deck that allows the kids to easily place their feet is necessary
When kids get older, they want scooters that are more exciting, something they can have more freedom with. Scooters become easier if your child has used bikes or skateboards. For your growing child, these are the features that you need.
For Children Aged 6 and Up
The Height of the scooter should be adjustable but not too much, we don't want the kids to try dangerous tricks and acrobatics
Check the wheel size, larger wheels support more speed, while smaller wheels will offer enhanced handling
Wheel type is also very necessary, the common material type is metalcore polyurethane
We need a scooter that will support the increasing weight of your child
Opt for a front deck that is slip-resistant, so kids can enjoy the scooter in any kind of weather
3 Wheel Scooters For Adults
Why should kids have all the fun? Apart from two wheels, 3 Wheel scooters are also meant for adults to enjoy. Scooters are a fun escape for both children and adults. I have fun with my razor scooters all the time, and so should you! You can also get electric scooters which are a whole new kind of fun. If you want to try out them then you know the essential features that you need to look out for.
Easy to steer
Able to handle the weight
Slip-Resistant Deck
Appropriate wheel size and material
Apart from this, the main concept is the same as other scooters. 3 Wheel scooters are for adults that are trying them on for the first time. When they get more confident, they can switch to 2 wheels or cruisers.
Check out the latest and fun adult scooters here.
Read also:
Our Methodology- How We Select The Best 3-Wheeled Scooters
As a parent, I understand the struggle of finding a high-quality scooter that fits within a budget. That's why I've dedicated countless hours to researching and analyzing the three-wheeled scooters for kids and teens on the market. I've scoured the web for honest reviews and feedback from verified customers, and I've even tested some of the top contenders myself, including the editor's choice.
Using my extensive knowledge of scooter components and their strengths and weaknesses, I've narrowed down the top options that offer the best value for your money. So whether you're looking to get into the sport or seeking an affordable upgrade, you can trust that these scooters have been thoroughly vetted and carefully selected.
Without sacrificing quality, safety, or performance, these scooters offer features such as excellent handling, and durable design, all at a price point that won't break the bank. So if you're ready to let your child enjoy the ride of their life, these are some of the scooters that you must consider."
Recap
Scooters are a must-have for children, it is the parent's responsibility to get them the safest and most entertaining option available. Hopefully, with the guide, you will now know everything there is to be known about scooters for both children and adults alike.
Honestly, the best choice of scooter for me is the Micro Mini Deluxe, it might be a bit expensive but it offers quality and top-notch features. Remember, scooters are a necessity for kids, think of them as a great stepping point. The responsibility falls down to us to get the best one for them.