Your kids deserve all the best they can get, including the best bike for their relaxation and personal adventure. You'll agree with me that your kids shouldn't be given a bike that might cause them problems or bring discomfort to them at the end.
Usually, 24-inch bikes are for kids within the age range of 7 to 12. Though, this is still largely dependent on the size of a child. You know, a 6-year-old child could actually have the size of an eight years old. Therefore, this guide will discuss the appropriate bike sizes for your kids.
Generally, this guide is aimed at helping you choose the best bike for your kids, irrespective of their size and gender. So, we have handpicked the best 24-inch bikes from which you can consider buying for your kids. We are here to help!
Boys or Girl's Bikes?
Kids' bikes do not usually come with gender preferences, unlike adult bikes. So, there is no difference between a boy's or a girl's bikes. Though there are various brands that market boy's bikes and girl's bikes, considering the likes of each gender, there are no differences other than in designs.
Even mountain bikes are considered girly when they have feminine designs and colors (pink and purple). And if these bikes have a basket at the back or a doll-baby bike seat, they'll be considered a girl's bike.
But what then happens when your daughter or granddaughter insists on owning a girl's bike? Well, it's simple. You need to ask yourself the following questions when getting a girl's bike:
Is the bike of a feminine design and color?
Is it lightweight?
Will it inspire confidence in my girl?
Will it be safe for her to use?
What Are The Best 24-Inch Bikes for Your Kids?
Are you looking for a 24-inch bike with high-quality and lightweight? Here are our top six picks. We are sure these are the best bike options for your kids.
Woom 5 – Super lightweight, high-quality bike
Prevelo Alpha Four – Perfect for your adventurous kids with its trigger shifters
Frog 62 – A perfectly suited all-purpose bike
Cleary Meerkat 24 – All-terrain tires with trigger shifters
Pello Reyes – Its grippy tires, alongside its disc brake stopping power, makes it perfect for non-pavement rides
Early Rider Belter 24 – Belt-drive for clean maintenance
Below is another set of bikes that you can consider aside from the top 6. The top six are our best recommendations best on their features, but others will do just fine for your kids too.
Guardian Original 24 – Excellent braking system
Ridgeback Dimensions 24
Priority Start 24
Cannondale Quick 24
The Best Budget Bikes for Your Kids
Vitus 24
Trek Precaliber 2
Guardian Ethos 24
Co-op Cycles Rev Cty
Raleigh Redux 24
Without further ado, let's see why they are a great selection.
Best 24-Inch Bikes
1. Woom 5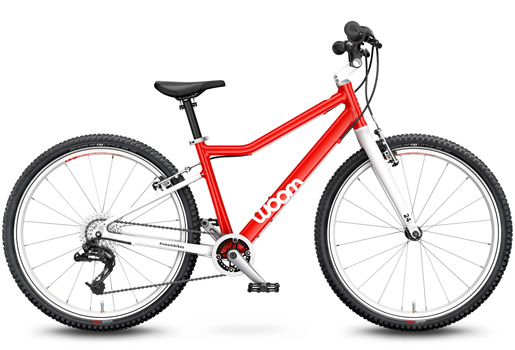 Woom has a brand reputation for kids. Not only do they produce high-quality and durable bikes, but they are also known for their super lightweight products. Woom 5's lightweight aluminum frame makes it easy to ride. It enables your kids to race with their friends down the street safely.
Moreover, getting on and off the bike is easy for the kids because it has a low stand over.
Your kids get to have all the adventure they want to have with the Woom 5. Although it is not a mountain bike, it does long and short distance riding comfortably on any terrain. Whether gravel rail trails or mildly dirt-filled trails, Woom 5 can tackle all. It is highly recommended for your kids.
Key features
Lightweight
Low standover
Grip shifter
Brake levers
Adjustable handlebar
Matching accessories
Pros
It is a very lightweight bike
It has an individually adjustable handlebar
It is very durable
Product specifications
Frame – light aluminum material with low entry and sitting position
Gears – 8 speeds
Wheels – aluminum rims with stainless steel spokes
Handlebar – adjustable
Brakes – V-brakes
Weight – 18.1lbs
Frame – Aluminum
Gear – 8 speed
Weight – 20.3lbs
Brakes – hydraulic
Seat height – 26" – 32.5"
Price – $610
Weight limit – 175lbs
Saddle – fitted
Price – $529
Saddle height – 26.4" – 32.3"
Read our full guide for Best Woom bikes here.
---
2. Frog 62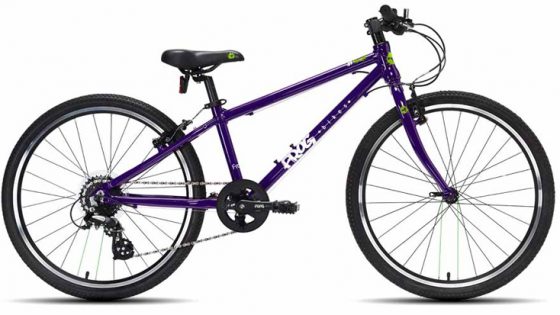 The Frog 62 is a good bike recommended for beginner riders. It is easy to understand and operate. It is very comfortable during rides. It is a mountain bike that builds confidence in kids, even as they ride on aggressive trails.
Moreover, it comes in a variety of colors, unlike the Prevelo Alpha Four. Their colors are all attractive, which is a total turn-on for children. The bike perfectly fits everywhere else, but sometimes the handlebar might seem a bit far for a kid's arms.
Generally, the 24-inch bike is an awesome bike that comes with options for customization.
Key features
Easy-to-reach hydraulic brakes
Wide handlebars
Stable lightweight
Easy pedaling
Internal cable routing
All-terrain tires
Trigger shifters
Pros
It is easy to adjust the saddle
It has excellent resell options
It has high-quality parts like the brakes and gear
---
3. Prevelo Alpha Four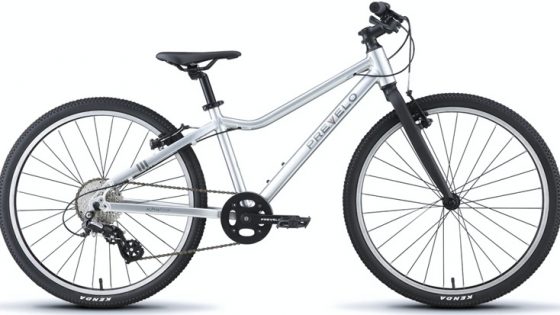 The Prevelo Alpha Four is fun to have, especially with its easy-to-operate gears. It comes in a high quality that calls for attention. It is made for young riders, as it allows easy adjustment of seat height.
It has a wide gear range, and trigger shifters, which is perfect for your kid's adventure. Its geometry inspires confidence as it makes the kids well-balanced. Moreover, it is easy to operate for children, as it has an indicator display. It comes in a package where you only have to install the pedals, handlebar, front wheel, and seat post.
The Prevelo Alpha Four has limited color options, making it seem less attractive to children. Also, some kids find it difficult to operate the trigger shifters. Though trigger shifters do not require as much effort as grip shifters, cyclers need to know how to operate them with lots of practice and skill coordination.
Key features
Lightweight
Tekro brakes
Rubber grip
Balanced geometry
Trigger shifters
Lower handlebar
Pros
Low seat height
Low standover height
Aluminum frame
High-quality parts
Product specifications
Seat height – 25.8" – 31.2"
Weight – 21.2lbs
Gear – 8 speeds
Frame – aluminum alloy
Price -$539
---
4. Pello Reyes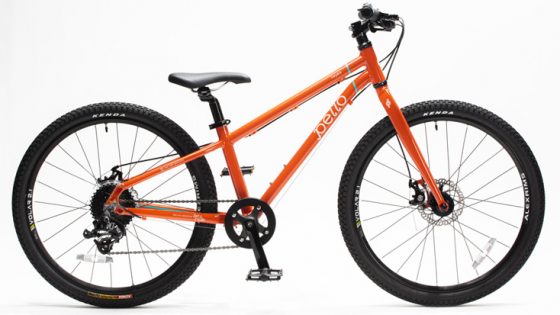 The 24" Pello Reyes is lightweight and can handle almost all kinds of rides. It has a 9-speed trigger shifter that makes shifting easy and fun. The lock-on grip feature allows even smaller hands to handle the break easily.
The Pello Reyes bike can be used as a mountain-specific bike or an all-purpose bike. It helps your kid become the best cycler in no time, as it builds confidence and skill. It is perfect for aggressive dirt riding because of its mechanical disc brakes and wide tires. It has an option of a later upgrade. This is one of its greatest selling points, as it increases your child's fun on trails. Your child will definitely like it!
Key features
Trigger shifter
Mechanical disc brake
All-terrain use
Later upgrade
Padded saddle
Pros
Lightweight frame design
Easy-to-handle trigger shifters
Responsive steering
Its disc brake provides a better stopping power
Product specifications
Seat height – 25.25 inches – 31 inches
Weight – 21.9lbs
Gears – 9 speed
Brake – mechanical disc
Frame – aluminum alloy
Price – $599
---
5. Cleary Meerkat 24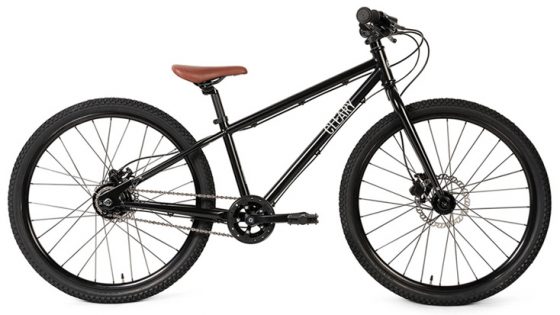 The 24-inch Cleary Meerkat comes with a 5-speed internal gear that brings excitement to your kids. It has a parking space for tools, snacks, water bottles, extra socks, and any other item for an adventure. It has front and back mounts that you could put a basket or rack to pack things into.
The Meerkat 24 also has high-quality parts that are easy to maintain and also inspires confidence in its users. Regardless of the weather, the front and back brakes are very much reliable, assuring your kids' safety.
It has an adjustable seat height that allows you to adjust to your kids' comfort.
Key features
Cleary large grips
Trigger shifters
Stainless steel spokes
All-terrain tires
Leather saddle
Pros
Balanced geometry
Lightweight that makes it easy to handle
Regular click shift
Tubeless tires
Very durable and affordable
Product specifications
Frame – Steel Alloy material
Brakes – hydraulic disc
Gear – 5 speed
Price – $594
---
6. Early Rider Belter 24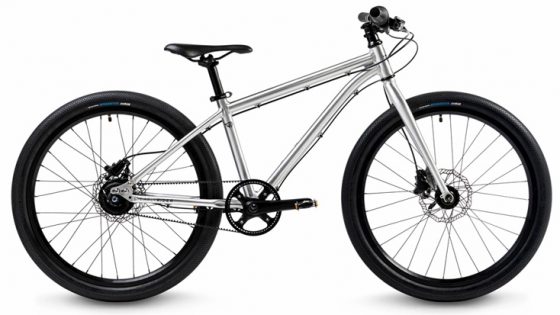 The Early Rider Belter 24 bike is very expensive than others on this list but has high-quality features. Its key feature is the belt drive, rather than the chain, which helps for easy maintenance. The hydraulic disc brake also helps to keep stability even in wet weather.
It has 32 spoked rims to hold the weight of the stress it might pass through. It comes fully packed, just for you to install the handlebars and pedals. It has an awesome gear range.
Key features
Wide tires
Easy-to-handle handlebar
Excellent performance and control
Adjustable belt and wheel alignment
Belt drive
Pros
Wide tires that allow easy movement on non-pavements
Lightweight
It is fast and safe
It offers easy maintenance
Attractive
It is durable
Product specifications
Frame – Aluminum
Gear – 9 speed
Weight – 21.9lbs
Brake – Hydraulic disc brakes
Seat height – 26.1" – 34.8"
Standover height – 24.8"
Price – $899
---
7. Guardian Original 24 -Excellent Braking System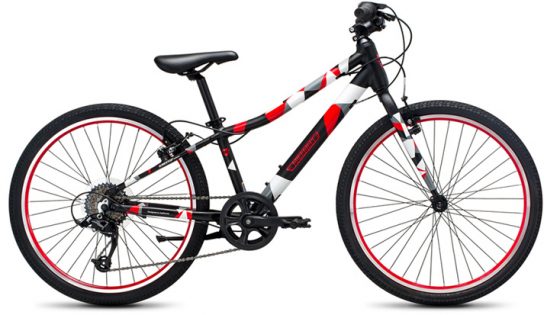 Its budget-friendly version is the Guardian Ethos 24.
Key features
Excellent braking system
Easy reach levers
Grip Shifters
Aluminum frame
Pros
It builds kids' self-confidence as a result of its excellent braking system called SureStop. it is faster and more controlled.
Better balance, and easy to handle.
Designs are kids-approved.
It is durable and reliable.
Product specifications
Frame – Aluminum
Seat height – 25" – 33"
Weight – 23lbs
Gears – 7 speed
Price – $479
---
8. Ridgeback dimensions 24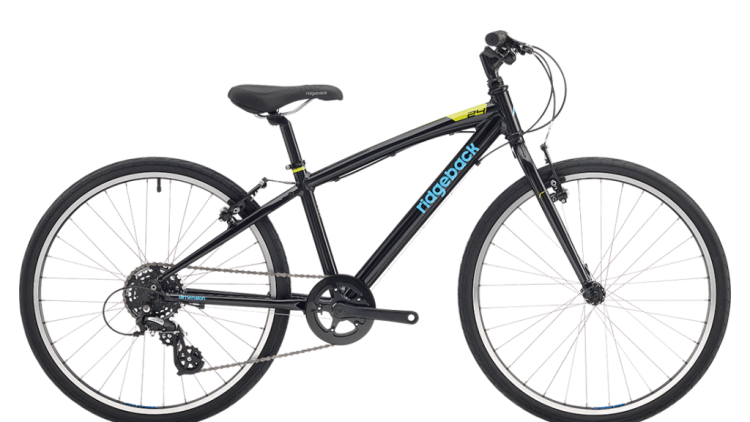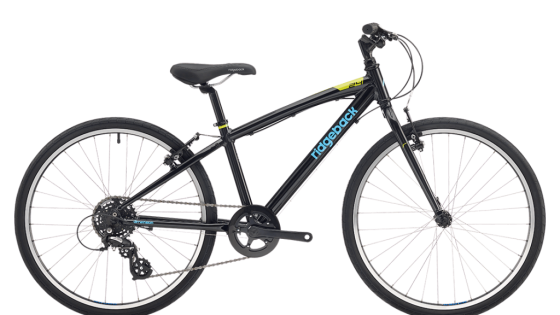 Key features
Lightweight
Aluminum alloy frame
Rim brake type
Pros
Rear rack for keeping tools and other things
Attractive
Product specifications
Frame – Aluminum Alloy
Gears – 7 speed
Handlebar – ridgeback alloy
Weight – 26.1lbs
Seat height – 24.75" – 30.5"
Standover height – 23.5"
Brakes – V-brakes
Price – $450
---
9. Priority Start 24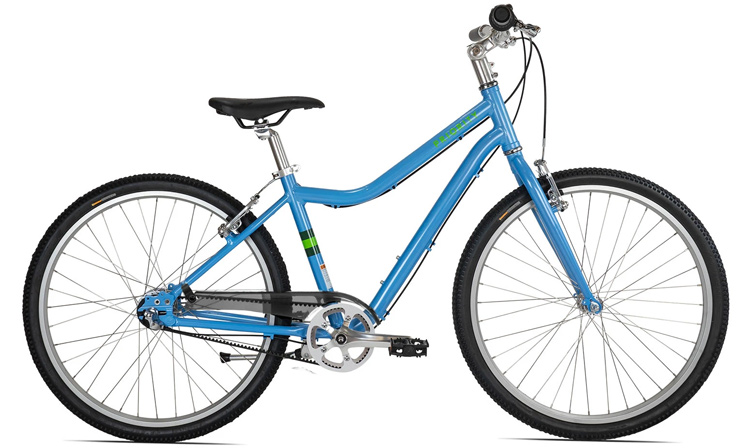 Key features
Belt drive
Internal gear
Easy-to-pull levers
All-terrain use
External-route cables
Pros
Clean belt-drive, and easy to maintain
Attractive colors for the kids
Soft saddle for comfortable riding
High-quality for its price
Soft grips
Product specifications
Frame – Aluminum Alloy
Weight – 23.3lbs
Gear – 3-speed
Seat height – 27" – 34.5"
Price – $399
---
10. Cannondale Quick 24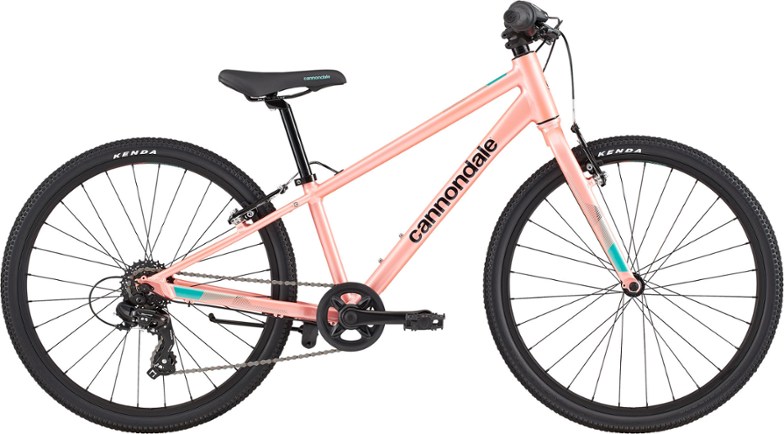 Key features
Lightweight
Aluminum frame
Twist shifter
Steel spokes
Lightweight alloy Handlebar
Brake levers
Saddle
Pros
Stable handle
High-performance bike
Wide-range gearing
It builds self-confidence
Fun for kids
Product specifications
Gear – 7-speed
Frame – aluminum
Weight – 20lbs
Tires – Kenda tires
Brakes – Tekro V-brakes
Price – $420
---
Best Budget 24-Inch Bikes for Your Kids
11. Vitus 24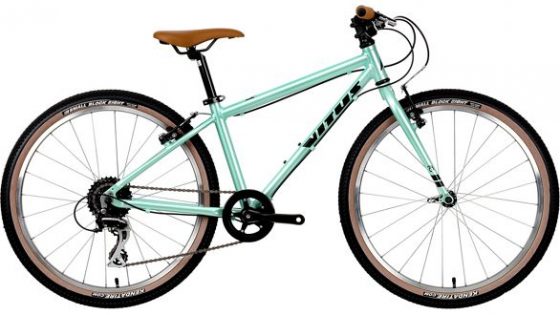 Are you looking for a high-quality bike at an affordable price? Vitus 24 is a strong bike designed to help your child build self-confidence while riding. It is easy to control and operate due to its lightweight.
It is controlled by a trigger shifter that makes it gather speed in good time, though this trigger shifter can be difficult for beginners. Moreover, it has a limited gear range. Its highest gear is lower compared to other 24-inch bikes.
Also, it has powerful V-brakes that control stopping and modulation. It has a balanced geometry that makes riders comfortable while cycling too.
Key features
Aluminum Frame
Wide handlebar
Tekro V-brakes
Wider tires
Padded saddle
Trigger shifter
Pros
Lightweight frame
High-quality parts that provide comfort and safety
Product specifications
Frame – Aluminum material
Brakes – V-brakes
Gear – 8 speed
Seat height – 26" – 32"
Weight – 21.8lbs
Price – $330
---
12. Trek Precaliber 24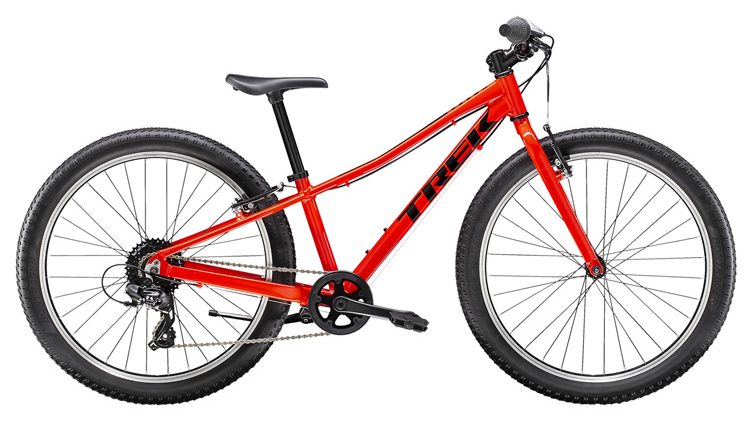 The Trek Precaliber 24 bike comes with decent parts that allow your kid to cycle safely. Some of these components are low-end, like the non-branded brakes. But all the same, it features the looks and feels of a mountain bike.
Your kid can have all the fun they want with this 24" bike on paved and dirt trails in the neighborhood. Though it is not designed for the actual mountain ride, your kid can still have a thrill with what it does in the neighborhood.
It can be gotten at a local bike shop in a variety of four-color options.
Key features
Alpha Aluminum frame
Handbrakes
Suspension fork
Padded saddle
Pros
It has a lower frame that allows your kids to get on and off easily
It comes with four color options
It can be used with or without suspension, which is also not too heavy.
Product specifications
Frame – Silver Aluminum
Seat height – 26" – 30.5"
Weight – 25.5lbs
Gear – 8 speed
Price – $350
---
13. Raleigh Redux 24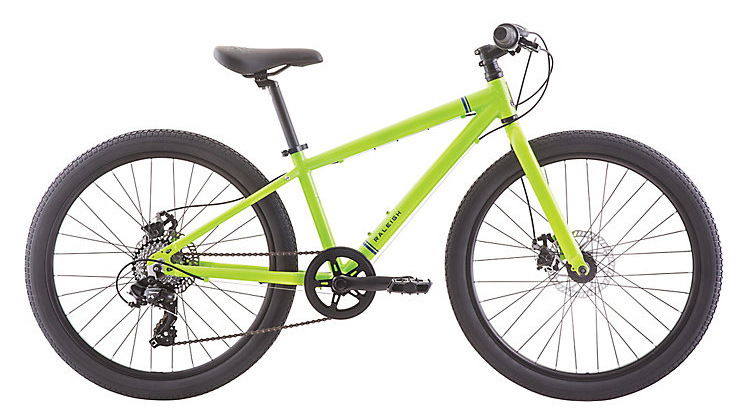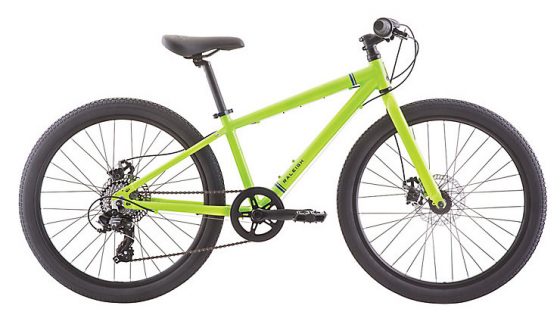 The Raleigh Redux 24 is designed for dirt trails. Its lightweight frame makes it easy and comfortable for children to operate and handle. Its mechanical disc brake makes it easy for the kids to ride in wet conditions.
Its aluminum frame style is durable and makes biking easy for the kids. It also builds their self-confidence while cycling.
Key features
Aluminum frame
Wide tires
Grip shifters
Pros
It is durable
It has adjustable brake levers
Product specifications
Gear – 7-speed
Weight – 24lbs
Seat height – 27.2"
Tire – Kenda Kruiser
Brake – mechanical disc brakes
Frame – aluminum material
Price – $450
---
How Do I Pick the Right Bike for My Kids?
Size
A bike's size is often measured in the size of its wheels, which must be in proportion to your child's size. You wouldn't want your child to have difficulty riding a bike due to its size. Though the focus of this article is 24-inch bikes, you still need to know the suitable sizes for children in various age ranges.
Value for money
Now, you wouldn't want to spend above what you could afford, would you? But rather than just buying a big-box store bike, where you wouldn't get the value for your money, you should buy a used bike.
Meanwhile, 24-inch bikes are almost like the adult sizes, therefore, you should be expecting to spend at least $300, and for other sizes, prepare at least $200. With these prices, you'll definitely get the value for your money.
Age
To pick the right bike for your kid, you must consider their age. Your child's age determines the appropriate bike to buy. 24-inch bicycles are usually for children in the range of 7 to 12. But this is still dependent on your child's body build. Here is another post that provides the age of children with the bicycle sizes recommended for them.
Weight -Key Feature
A major factor in choosing the right bike for your kid is the bike's weight. It determines whether your child will enjoy cycling or not. It also states how far and fast your child will be willing to ride. A lightweight bike is the best recommendation for children's bikes. They are easy to carry and use for children.
Brakes
24-inch bikes have brakes like adult bikes. Since they are for older children, it makes them accustomed to breaks before they start using adult sizes.
There are three types of brakes on kids' bicycles. They are rim brakes, usually known as V-brakes, mechanical disc brakes, and hydraulic disc brakes. V-brakes are the traditional type of brake. They are commonly the ones on bicycles and also the cheapest. Though they work well enough in any condition, a disc brake is recommended for mountain and trail rides. The mechanical brake is easier to maintain than the hydraulic. While the hydraulic disc brake offers the best stopping power and modulation, it is more expensive than the mechanical disc brakes.
Tires
Where would your child be riding their bikes? On pavement, or gravel, or grass? What type of riding will he/she engage in? A fast-rolling tire will catch a ride on pavement. And if a ride is to be done in the sand, mud, etc., you will need a wider tire with some extra tread.
You might choose a bike that does not come originally with the type of tire that's best for your child's type of riding, you don't have to worry about that. You could always buy an extra tire to swap with the original tire on the bike.
Brand reputation
To pick the right bike for your kid(s), it's good to consider brands that mainly produce bikes for children. These brands make available all factors to make your kids comfortable and feel enjoyable while cycling. They prioritize safety and also make it lightweight for kids. Therefore, you should get to know the best kids' bike brands.
Kids Bike Sizes Chart and Table
There are several factors that need to be considered when selecting a bike for a younger person. The first thing you should do is use our very own Kids Bike Size Chart to get an idea of what size of bike and what stage of bike you should be considering.
Check more Mountain Bike Review and Guides:
24-Inch Bikes FAQs
What Age is a 24-inch Bike For?
It is generally for 8- to 10-year-old kids. It is with this bike you begin to get the adult feel. You no longer have a coaster brake on this one, and it comes with gears. It features two hand brakes for both the rear and front wheels.
How Tall Should My Kid Be For a 24-inch Bike?
For a 24-inch bicycle, your child should be 4.5 to 4.9 feet tall. In centimeters, that is about 135 – 145 cm.
How Much Weight Can A 24-Inch Bike Hold?
A 24-inch bike can tolerate a maximum weight of 250 lbs.
Conclusion
If you want your kids to have a perfect start in their cycling lives, then you need to consider buying the best for them. They might have even started, but (un)fortunately, they have grown beyond the bike's size. You need to get another fitting one if you don't want them to lose interest in cycling, which you don't want.
When choosing a new bike for your kid, remember to make sure it is super comfortable for your kid. Are they comfortable with the standover height? Will they be able to hold the handlebars comfortably? Is the seat height comfortable enough? Let their comfort be your priority.