They say that there is no price for an adventure, in some cases that is true, although sometimes that cost really does matter. If you love going on adventures, hilly terrains, or just want the best of bicycles, you must know how much of an importance mountain bikes hold. Getting the first mountain bike for yourself can be an intimidating process, even professionals know that. Getting bombarded with so many options can become tricky and that is when you need expert advice.
Looking for the perfect bike is no easy endeavor, you can easily get confused with the wheel size, hard-tail, and suspension before even jumping into the specifications. After that, the hard question about cost comes around, if you are a newbie then this would be really hard to master because most of the time it can be really confusing to know a bike's real worth.
With our guide, you will be able to choose the best bike for yourself, and that too at the right price. The guide has categorized every kind of bike so there is enough option for everyone.
What Are The Best Mountain Bikes For Beginners?
Below are the 7 best bikes that I will be reviewing.
Bonus Additions
Let's get started with the guide!
1. Trek Roscoe 8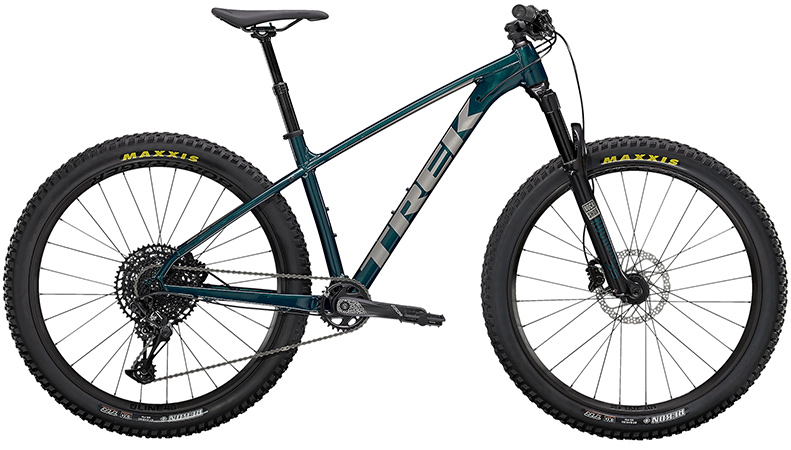 Price: $1,880
Wheel Size: 27.5
Sizes Available: XS, S, M, L, XL, XXL
Product Features:
Amazing geometry of the bike results in great handling
The bike consists of 35mm stanchions
The bike comes with a great dropper post
The Trek Roscoe is our pick for the best overall bike and it certainly lives up to that grandeur. The bike has an amazing wheel size of almost 28 that makes it comfortable and flexible for any kind of rider out there. This is a fast bike that will offer the best performance without breaking the bank, the price is certainly worth it considering the features and performance.
The construction of this bike is exemplary, the exceptional geometry of the bike offers great handling and the frame is made from the signature Gold Aluminium combined with a tapered headtube. This results in amazing steering accuracy while also eliminating the flex in the front.
Let's talk about the construction of the bike, first of all, it does not have any rear suspension. It does consist of a 120mm RockShox 35 fork which is situated at the front, this is combined with the SoloAir spring and Turnkey hydraulic lockout. The cockpit of the bike is protected by the company's exclusive Knock Block, this makes sure that in case of a crash there are no damages.
Don't worry about the handling or performance, the bike consists of 12 gears which will ensure performance. Furthermore, the bike is equipped with SRAM's NX Eagle drivetrain.
---
2. Norco Fluid FS3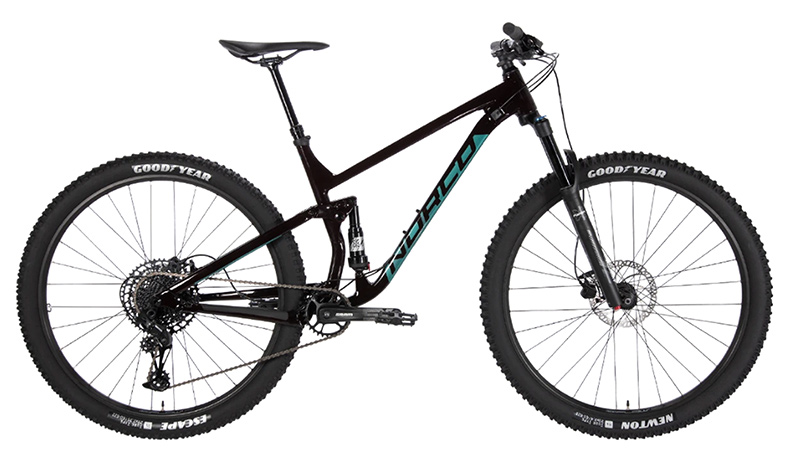 Price: $1,800
Wheel Size: 27.5
Sizes Available: XS, S, M, L, XL
Product Features:
The bike comes with an amazing dropper post
The geometry of the bike offers amazing handling and performance
If you are looking for an amazing entry-level mountain bike, then the Norco Fluid FS3 should be your top priority, and don't worry it won't break the bank. The frame of the bike is 120mm which is then paired with a 130mm, the wheels of the bike are 27.5 so expect amazing performance and handling. The size of the bike makes it accessible to a lot of people, while also making it flexible.
If you are worried about the reliability of this bike then know that the fork and suspension of this bike are made by X-Fusion, which is very trustworthy. Norco Fluid FS3 consists of an SRAM SX 1*12 drivetrain and a TranzX dropper post, all of these are amazing specifications.
---
3. Commencal Meta HT AM Origin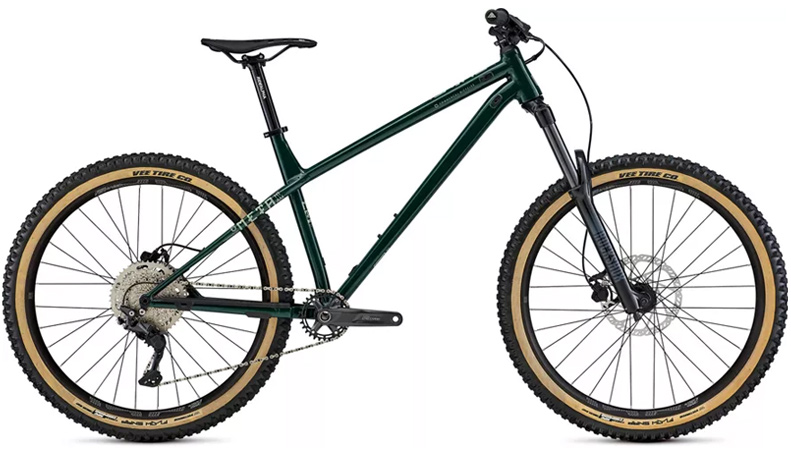 Price: $1,299
Wheel Size: 27.5
Sizes Available: XS, S, M, L, XL
Product Features:
The bike consists of a really big fork
Top-notch geometry
Commencal is known for its direct relationships with its customers, their bikes are sold through its website that offers amazing prices that cannot be matched easily. Their brand confidence is seen in their bikes where performance is prioritized without breaking the bank.
Their Meta HT bike comes under the category of enduro bikes that is because of the 160mm fork and amazing 65-degree headtube angle. Considering taking on an EWS course, the Meta HT has got you covered as it descends smoothly like butter. The exceptional geometry of the bike ensures that you get the top speed with amazing handling.
For the money's worth, the Commencal Meta HT AM Origin is an amazing enduro bike.
---
4. Vitus Mythique VR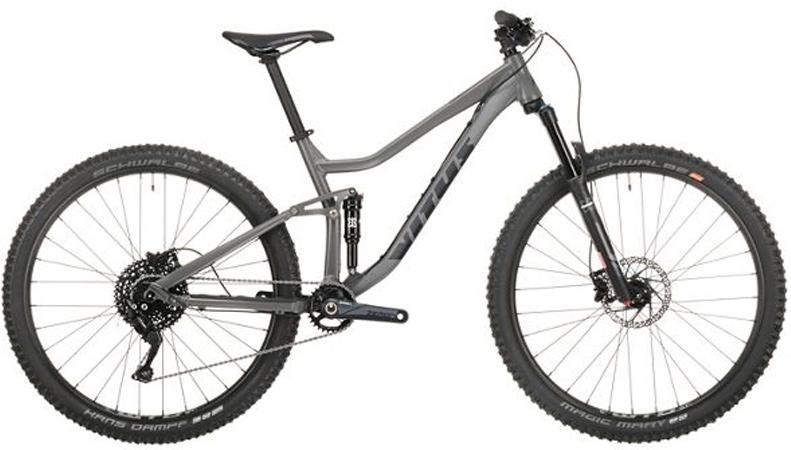 Price: $1,500
Wheel Size: Available in both 27.5 and 29
Sizes Available: S, M, L, XL
Product Features:
You get different wheel size options with the bike
Amazing specifications
If you are planning to get competitive, or just up your game then the Vitus Mythique VR has got you covered. The bike comes in variable wheel sizes of 27.5 and 29, so you can choose according to your preferences.
The Vitus Mythique comes fitted with an X-Fusion fork and shock that ensures a fully shock-absorbing traveling experience. The drivetrain and hydraulic brakes of the bike are exceptional as they are made by Shimano. What makes the bike truly spectacular are the Schwalbe tires.
---
5. Nukeproof Reactor 275 Comp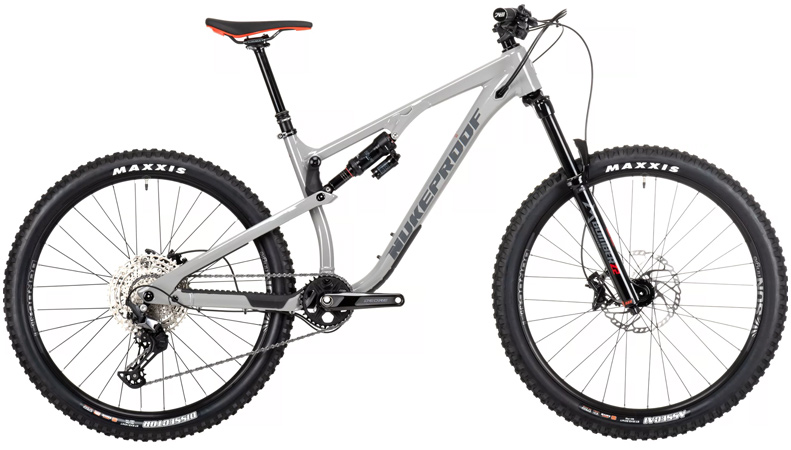 Price: $2,474
Wheel Size: 27.5 and 29
Sizes Available: S, M, L, XL
Product Features:
The bike offers wheel size options
You can adjust the geometry of the bike as you please
The bike consists of the Shimano 12-speed drivetrain which is just amazing
Think of the Nukeproof Reactor 275 as the upgraded version of the Vitus Mythique, it too comes with variable wheel size options. If you are one of those professional racer types then the bike also comes in a 29 wheel option that gives the best possible speed.
This bike is an amazing choice for all-mountain adventures and racing because of the 140mm frame and 150mm from Marzocchi. The Nukeproof reactor is also fully kitted with the Shimano Deore 12-speed drivetrain and M6120 brakes. The cherry on top is the Maxxis tires and the Assegai front tires- which also happen to be the Champion Greg Minnaar's signature tires.
---
6. Vitus Sentier 29 VR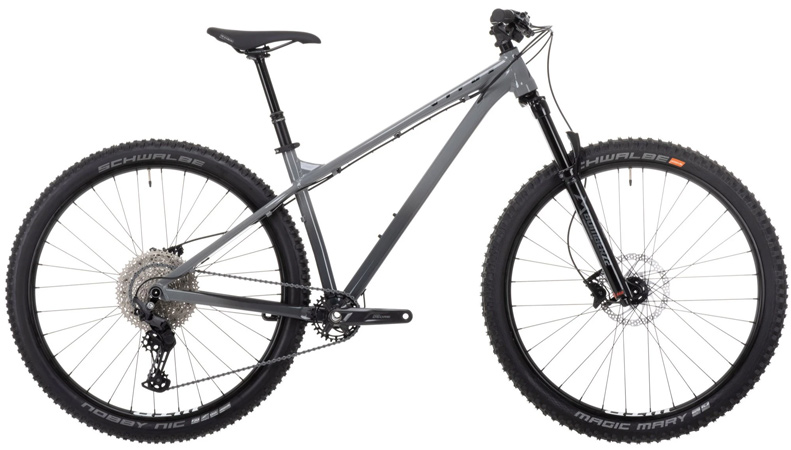 Price: $880
Wheel Size: 27.5
Sizes Available: M, L, XL
Product Features:
The bike has an amazing and versatile geometry
It comes fitted with a Marzocchi fork
Vitus is yet another one of the amazing brands that keep a direct relationship with their customers, so rest assured they have amazing bikes in their portfolio. The Vitus Sentier 29 VR is one of those bikes, the geometry of the bike is amazing and you can fully trust it when things get fast and intense.
The bike is fully kitted with an SRAM 1*12 Eagle groupset and 140mm Marzocchi fork. Expect great handling and speed from the bike.
---
7. Orbea Laufey H30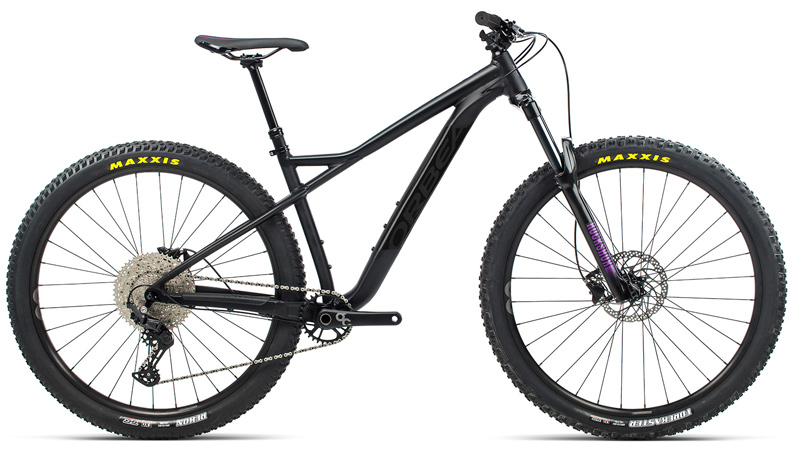 Price:$1,699
Wheel Size: 29
Sizes Available: S, M, L
Product Features:
Comes fitted with a triple-butted aluminum frame
Has Shimano Components
Do you want a really amazing bike for some hardcore trail riding? The best option to go for is the Orbea Laufey H30. This bike features an amazing 140mm fork and dropper post which enables the best performance. The specifications of the bike allow riders to seamlessly enhance their skills without enabling the wear and tear of the bike.
The construction of the bike is very impressive, apart from the triple-butted aluminum frame it comes kitted with a Shimano Deore drivetrain and the Shimano M201 hydraulic disc brakes. Expect amazing grip and handling from the bike that only a handful of bikes can muster up.
---
8. Co-op Cycles DRT 1.2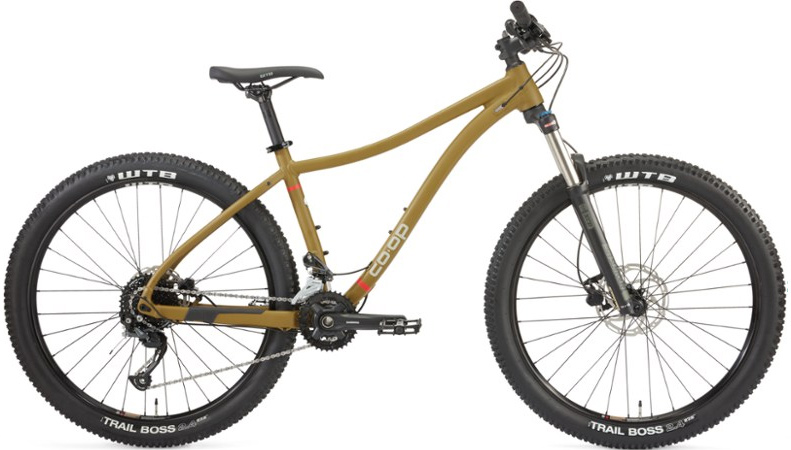 Price: $550
Wheel Size: 27.5 and 29
Sizes Available: XS, S, M, L, XL
Product Features:
Comes fitted with Shimano components
It is extremely lightweight yet is sturdy
Next up we have the Co-op Cycles DRT 1.1, it may sound like a new addition in the market but it is not. This brand has been around for quite some time now, it is owned by REI.com. They are the makers of amazing mountain bikes that are under $500, do check them out.
The DRT 1.1 bike is best suited for professional cycling enthusiasts, you can take it up for some serious trail riding or races, it is completely your choice. You will notice that the bike has a curved top tube, making it an amazing choice for men and women, so you don't have to worry about anything.
Once you use the bike for yourself you will notice that it has amazing features, so it provides more than enough value for its $550 price tag. The bike has a lightweight 6061 aluminum alloy frame, it will surely make all the trail surfaces that you ride on smoother. The DRT 1.1 boosts the performance and confidence of riders in a big way!
One of the exclusive features of the DRT 1.1 is the hydraulic brakes, basically, you will need less power to operate them, which is a relief!
The bike is lightweight (31 lbs) you won't have any problem with carrying it around. Another plus point of the bike is that it requires minimal assembly knowledge, just follow the guidelines on the manual. We tested this bike out thoroughly, so did other users, we came to the conclusion that this bike is easy and very comfortable to use! I don't think that you can get a better deal than this one so check it out!
---
9. Tommaso Gran Sasso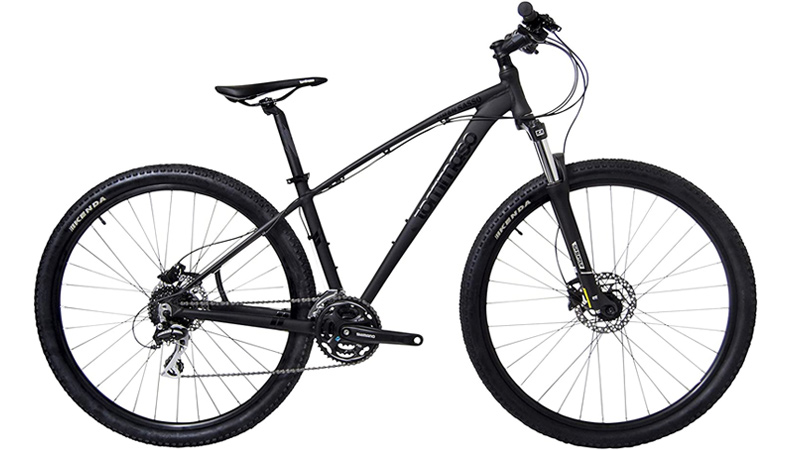 Price: $875
Wheel Size: 29
Sizes Available: S, M, L
Product Features:
The bike comes fitted with Shimano components
The 24-speed drivetrain enhances performance
If you are looking for a great mountain bike but are on a tight budget then the Gran Sasso from Tommaso is one of the best options to go for. With the bike, you seamlessly get 100mm of travel and it even has amazing customization options. This bike is perfect for any kind of singletrack racing or trail riding.
The bike comes fitted with high-end components like the Shimano hydraulic brakes and a 24-speed train to enhance performance.
---
Best Beginner Mountain Bikes- How To Choose The Perfect One?
As we discussed before, getting the perfect mountain bike for you can be very hard at times, especially if it is your first time. Below are some tips that you can follow up to ensure that you get the best bike at the best possible deal.
Choose The Compatible Bike Size
Bike sizes are very important, especially when it comes to mountain bikes. You need to get that perfect size or the kind of size that you will grow into. The frame size of the bike matters, if you are looking to use a bike that will be used for a long time then look for a size that you will grow into.
Check if the bike is the right fit for you, the saddle, the handlebars, wheels, everything needs to be perfect.
Wheel Size Is Very Important
You have many choices for wheel size when it comes to mountain bikes. The standard is 27 but you can also opt for the 29 if you want. If you are looking for a stronger option then I would suggest that you go for the latter as they would become more common in the future. Getting a stronger option results in an amazing performance and also enhances the endurance of the bike.
Learn more: Bike Size using charts 5 easy methods
Bike Types Are Very Important-Choose From Enduro, XC, Trail, and Downhill
If you didn't know, mountain bikes are also further down categorized because of their builds and suspension. They are categorized into Enduro, XC, Trail, and Downhill and you can choose according to your preferences. Each of these types is made for specific terrains and performance capabilities.
If you are planning on racing then the best option to go for are trail bikes, I would suggest researching your type of bike first before purchasing.
Don't Forget About The Suspension
The suspension of the bike can smoothen out the handling and the performance so do consider that while purchasing. It also ensures the balance of the bike, it can be very useful while going on hilly terrains. Go for air-suspension bikes, even if you are a beginner, that would ensure the best performance.
Hardtail bikes with straightforward frames would be one of the best choices for beginners. Although sometimes, fully kitted bikes with amazing components but average suspension also does the trick.
Do Consider The Price Factor
If you are a beginner then the price factor will be very confusing, especially when justifying higher price points. The technique is to get the best possible bike at an amazing price, but while being bombarded with so many options, it can become very challenging. If you have enough money, then choose the bike which suits you the best.
There are good options then there are amazing options, although don't go buying a $500 mountain bike because it is only going to be riddled with horrid parts and will most probably cost you more in the long run (Maintenance expenses etc).
Know that you won't just be paying for the bike alone, you would have to invest in accessories as well. For example, track pump, helmet, shock pump, and pedals. So keep all of that into consideration!
Check more Mountain Bike Review and Guides:
FAQs
What are the best mountain bike brands?
Some of the best mountain bike brands out there are: Yeti, Kona, Cannondale and Trek.
Are Walmart mountain bikes good?
For a budget of a few hundred dollars, they are good enough but don't expect them to compete with the high-tier brands.
What's better Schwinn or Mongoose?
In terms of pricing, Mongoose bikes are amazing. Although if you are looking for lightweight bikes then no one does it better than Schwinn.
Recap
There are countless amazing mountain bikes out there, once you enter the market you would get so lost. The perfect mountain bike will only be defined according to your preferences, our guide is going to point you in the right direction. Do some research, find out what you really want, and then get the best possible mountain bike for yourself.
Remember, you yourself define your perfect mountain bike!