There was a very popular question asked, and that was a decade ago. The question was- will kids be able to ride mountain bikes and will they love this kind of extreme sport? Today, this question can be answered quite easily, kids have grown to love mountain bike riding more than adults now.
Although, in order to pursue your passion, you must have the best tools. In this case, you need to have the best mountain bikes if you want to enjoy the most and also pursue professional events. "My personal opinion has always been that age should never act as a barrier to personal ambitions".
My views are shared within the most popular brands of today, that is why they have invested the top resources to make amazing kids for our young riders. Now, if you go to the market, you will find amazing bikes that are for the adults but in kid's sizes and that are beautiful.
These bikes wouldn't be normal or easy investments and should be taken with extreme research and awareness. The market is filled with bikes and we want you to have the best. That is why we have compiled this guide to showcase the best kid's mountain bikes out there.
Top 10 Kid's Mountain Bikes Ranked
These are the top 10 kid's mountain bikes that we will be reviewing, these bikes have been through the toughest of trails and stand out superior. Let's start!
Editor's Choice- Norco Fluid FS 1 24 "The Norco Fluid is the best of the best and will provide the best memories to your kids"
Best Components- Rocky Mountain Reaper "With great customization options and components, the Rocky Reaper will grow with your kids"
Best Freeride- Commencal Clash 24 "If you have young bike enthusiasts in your home, then the best option to go for is the Commencal Clash 24"
Best Performance- Transition Ripcord "The Transition Ripcord is one of the best countryside bikes for your kids and will offer amazing performance"
Best Design- Canyon Grand Canyon AL 24 "The Canyon Grand Canyon AL 24 maximizes comfort and performance. Having a nine-gear set and great aesthetics, this is a great way to start mountain bike riding"
Best Colors- Vitus Nucleus 24" "The Vitus Nucleus is everything that top dollar can buy, it is a great kid's mountain bike that offers the best performance and color options"
Best Features- Islabikes Creig 24 "Islabikes Creig may not be the cheapest option but it is one great option to get your hands on. Packed with amazing features, it gives raw power to the young riders"
Best Durability- Commencal Meta HT 24 "This is probably the best bike that you can get for your money, Commencal has made yet another amazing mountain bike'
Best Adjustability- Specialized Hotrock 20 "This is another great bike that can tackle any kind of road, trail while being safe and offering amazing handling"
Best Skills Enhancer- Trek Roscoe 20 "This bike is literally designed to boost the kid's confidence and skills, making them much better at riding"
Let's get started with our guide!
1. Norco Fluid FS 1 24- Editor's Choice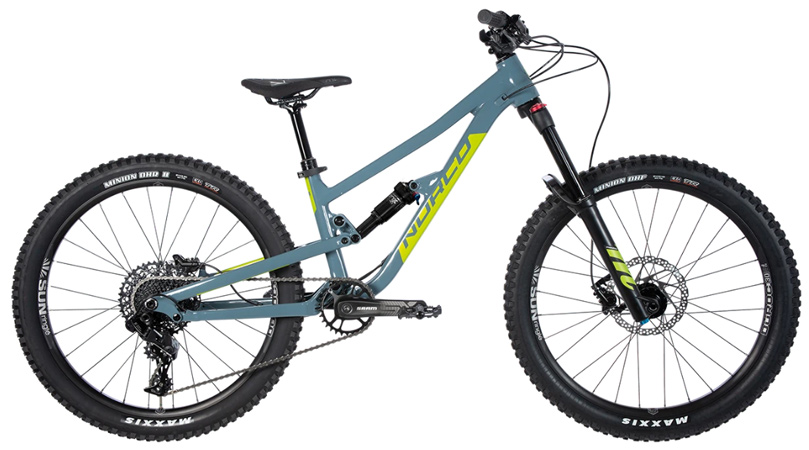 Price: MSRP $2,300
If you know your way around bikes then you would definitely know the worth and name of Norco. They have established themselves as the pioneer of bikes and related products in the industry, when one hears the name Norco they know that the product is going to be of premium quality.
Norco is established in British Columbia and you can imagine the quality control over there. With their amazing addition to the portfolio, the Fluid FS 1 24 is somewhat similar to the Norco Optic if you have used it, this is just a scaled-down version of it. This is one amazing bike for kids aged between 9-12, consider this the best of the best.
Some of the best features of the bike are:
Amazing construction and design, the frame angles are quite impressive
Comes packed with a dropper seat post
Minion tires are exceptional as always
Enhanced durability
Let us talk about the amazing construction first, the aluminum frame of the bike is fitted with two impressive components, first, you have the 120mm Fox Performance FLOAT rear shock, and secondly, there is the Manitou J-Unit Expert 145mm air fork.
All of this comes together to create adequate performance and suspension travel, consider this bike ready and perfect for any kind of terrain out there. The grips and saddle of the bike are fitted and compatible with all kinds of physiques, Shimano's MT500 hydraulic disc brakes make sure that the kids have top-notch stopping power when needed.
Combined with the amazing dropper seat post and Maxxis Minion tires, this is a great choice on all fronts.
Editor's Choice: Norco has never failed to impress me, with each new bike I invest myself more in their brand. The Norco Fluid is yet another example of their brilliance, from the amazing construction to the performance, this is a bike that you should definitely get for your kids.
Read more about Norco Bikes!
---
2. Rocky Mountain Reaper
Price: MSRP $1,950
The Rocky Mountain Reaper is a must-have mountain bike if you want your kid's skills and confidence boosted. The Canadian manufacturers have made sure that the Rocky Reaper grows along with your child so that there is no need for a replacement when they are older.
It comes packed with 24-inch wheel construction and high-shock suspension, ready for every kind of terrain. From the outside, it might seem like all the other mountain bikes in the market, but you will truly feel the difference when you actually ride it, and by you I mean the kids!
Some of the best features of the bike are:
Constructed with amazing brakes, both front, and rear
Customizable wheels
The Geometry is amazing, young riders are going to have so much fun
The Geometry of the bike is quite intelligent and well-made, young riders tend to use the bike from the middle. The rear fork of the bike totally supports this and makes sure that the kids are always comfortable and well-adjusted.
I mentioned that the bike is going to grow with your children, proof is the customizable wheels. You can swap them out for the 26-inch variant so that there is no need for a replacement when your kid grows. The Shimano hydraulic brakes also provide the kind of stopping power needed.
Why I Like It: The Rocky Mountain Reaper promises to be one amazing bike and grow with your child. I was immediately sold with this idea, when kids use a specific item for a prolonged amount of time they get attached to it. This bike stays with your child for a long time and also offers amazing performance. What else could you need?
---
3. Commencal Clash 24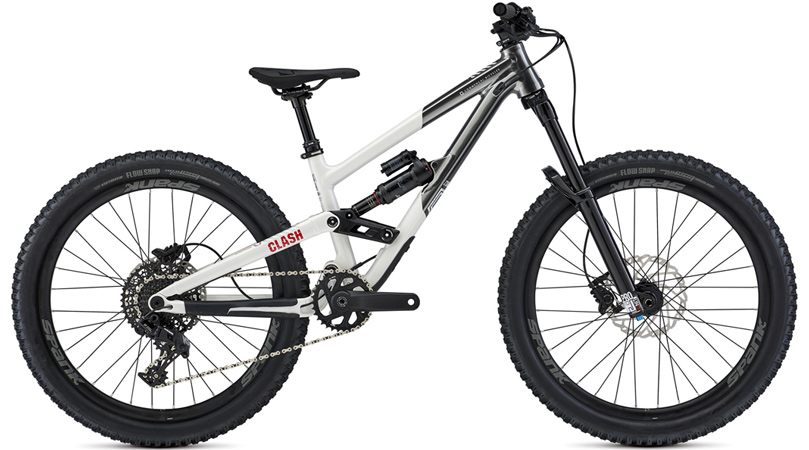 Price: MSRP $2,700
Do you have young riders at home that want to go big and explore the untamed wilderness? The Commencal Clash 24 is the perfect tool for that. Sometimes kids that have ambitions feel restricted with the bikes they have, this damages their willpower and confidence. The Commencal Clash 24 is a bike without limits, it acts as a tool for greatness.
The construction is where the true beauty of the bike lies, the dual-suspension results in 145mm of travel that is just adequate. The front and rear fork are amazing and we can thank Manitou Machete Fork and RockShox for that.
Some of the best features of the bike are:
The Dropper seat-post is top-notch
Amazing geometry and suspension system
Enhanced durability
You might be wondering that although the bike is able to offer so much distance to travel, how is the handling? The robust wheelset constructed makes sure that the kids are always in control of the bike and that there are no accidents. The 24-inch wheels, Vee Flowsnap tires, and Spank Spoon rims make this a bike not to be messed with.
Descent and Ascent both are made easy due to the amazing hydraulic brakes and dropper seat post, the kids will always enjoy the best of handling and speed with the Commencal.
Buy It Here
Why I Like It: The Commencal always has proved to be a bike company that you can rely on, the kids want to test their might? No better bike than the Commencal Clash to help them do so! It has everything that the young riders can dream of.
---
4. Transition Ripcord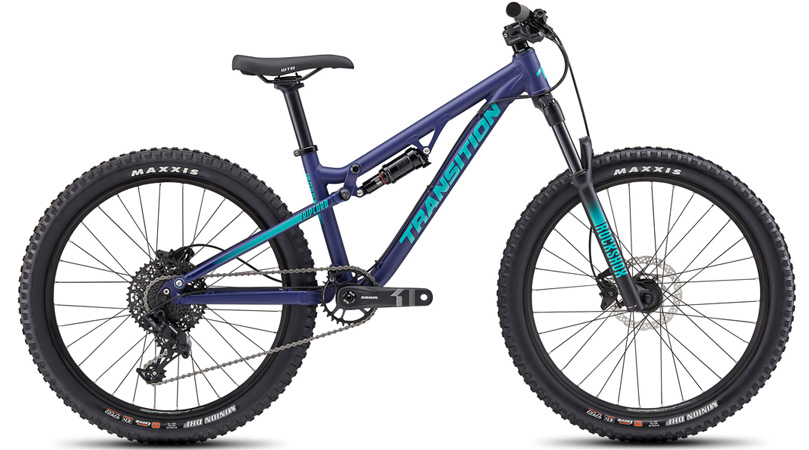 Price: MSRP $1,700
Each Bike Manufacturer has contributed to the industry, some have revolutionized the grip system while some have made brakes more powerful. Transition contributed to making the bike geometry much more fluid and seamless. This only shows how dedicated they for what they believe in and that are the Best Bikes Ever!
Kids these days are looking to land extra big mileages, ascend hard trails, and just the best rider there is. Transition Ripcord is the bike that will help them do that without any kind of obstacles to face. This bike aims for precision and that is why the travel capacity is limited to 100mm. Some of the best features of the bike are:
Amazing Maxxis Minion tires
Great balance between suspension and geometry
Great precision
Amazing shock absorption and durability
You can easily achieve great speeds but the handling is where it gets quite interesting. The 710mm handlebar makes sure that steering is a pleasure for kids and they are always in control. Even it is a technical terrain, the kids would easily be able to conquer it.
The Transition Ripcord is one of those bikes that will not just help the kids grow their skills but also mold them to become professionals.
Why I Like It: Transition has always promised to provide the best and with the Ripcord mountain bike, they have proved themselves yet again. This is a bike that doesn't compromise and delivers the best of the best. Kids are going to love the bike's performance and design. It also comes in different colors for you to choose from!
---
5. Canyon Grand Canyon AL 24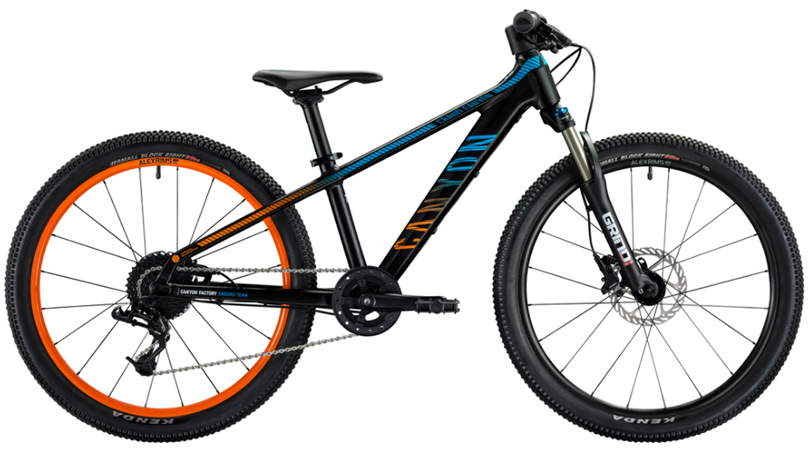 Price: MSRP $990
Now this here is a bike that is made straight out of the inspiration of a marvel, The Grand Canyon, it is even named after that. This bike makes sure that your start into the world of mountain bikes is great and that the riders are also filled with confidence.
The construction of the bike gives the perfect blend of comfort and performance. There is a great, sleek aluminum frame that is fitted with 65mm Grind Air Suspension. The best features of the bike are:
High-end SRAM components
Hydraulic Brakes
Enhanced Durability
Very easy to handle
From the shiny aluminum frame to the SRAM hydraulic brakes, there is everything in this bike that provides a great ride to our young riders. This bike is a great stepping-off point into the world of mountain biking as its power will surprise you.
Why I Like It: A bike that is named after the Grand Canyon Itself? This is a bike that gives amazing vibes from the get-go. With its features and design, it is pure eye-candy and will be a great companion for young mountain bike riders.
---
6. Vitus Nucleus 24"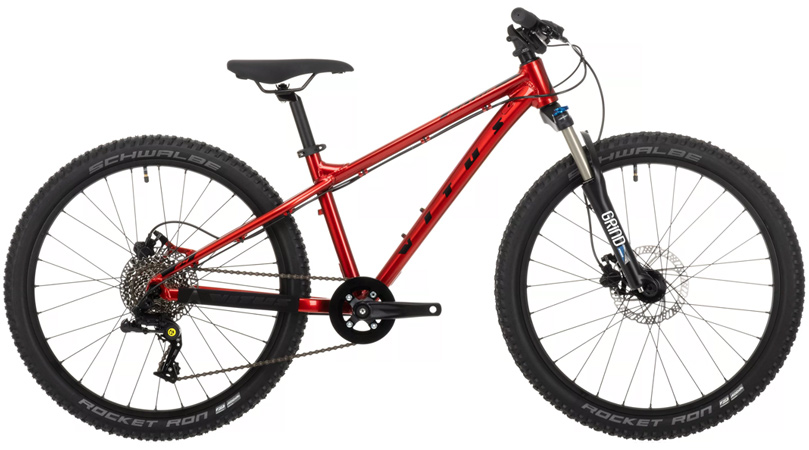 Price: MSRP $599.99
The Vitus Nucleus 24" is made to push boundaries to the next limit. It is recommended by all the professionals, no matter what age you are, this will be a great mountain bike and will work wonders. It pushes the limits of performance and design.
People will find down-graded components at this price range but the Vitus Nucleus still offers premium components. Some of the best features of the bike are:
Powerful disc brakes
Air sprung fork
24" wheels
Amazing durability
If you get this bike, there won't be a need to replace it, as it can easily give you years of comfort and amazing rides. The fact that it even compensates for the price tag and gives high-end features speaks a lot. No matter how you want to use this bike, if it is mountain biking, XC, or trails, this will be the best choice ever.
Why I Like It: Vitus Nucleus immediately catches the attention due to its sleek design. The high-end features for the normal price tag are the cherry on top, it offers performance that only a few bikes in the market can manage.
---
7. Islabikes Creig 24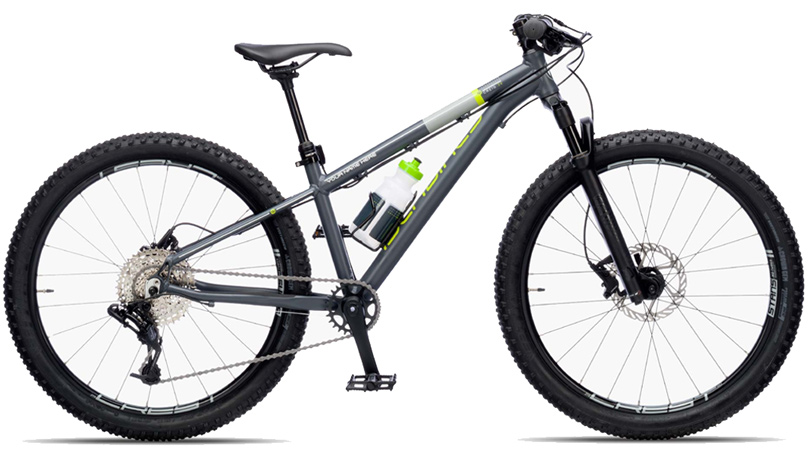 Price: MSRP $1270
Islabikes Creig isn't a cheap bike and frankly, it doesn't need to be, if you want the apex quality then it is going to cost. This is a trail beast by all standards, and it is made to offer you a smooth aggressive ride whenever you want it. It is a lightweight bike but it still offers heavy mountain bike riding.
The Rock Shox Gold 30 air fork combined with the sleek aluminum frame greatly enhances the performance of the bike. Some of the best features of the bike are:
Rock Shox Gold 30 Air Fork
SRAM X4 gearset
Powerful brakes
Enhanced durability
We tested out the Creig almost everywhere and it turned out great, we cannot deny its power. It is a robust machine that screams to be tested out and played around with. Our young riders are going to have a great time riding this hardcore beast.
Why I Like It: Islabike has done it again with the Creig, this is a bike that is not to be missed. The reviews were amazing but I wanted to try the bike myself and it definitely does not disappoint. The SRAM components make sure that the bike performs well and is highly durable.
---
8. Commencal META HT 24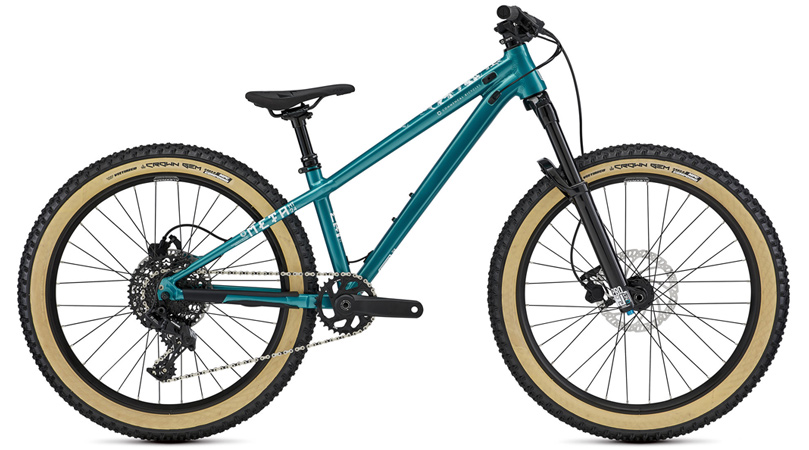 Price: MSRP $1550
Commencal has been making amazing bikes for the last 20 years, being veterans, they have mastered the skill, thus making the Meta HT 24 bike, it is everything that a perfect mountain bike should be. Of course, it is not cheap, but sometimes you have to pay a premium for the best quality.
Commencal is actually known for their mountain bikes so the level of greatness is already expected. Some of the best features of the bike are:
SRAM NX groupset
Triple butted alloy frame
Maximizes comfort
Enhanced durability
These features and more is what you get for your money and you certainly won't be disappointed. The air suspension fork makes sure that the bike handles great and performs well.
This is a bike that is best suited for our hardcore young riders!
Why I Like It: I have always favored the Commencal brand over others, it offers greatness and performance like none other. The whole construction comes together as one to make something amazing and it should be enjoyed by the young riders.
---
9. Specialized Hotrock 20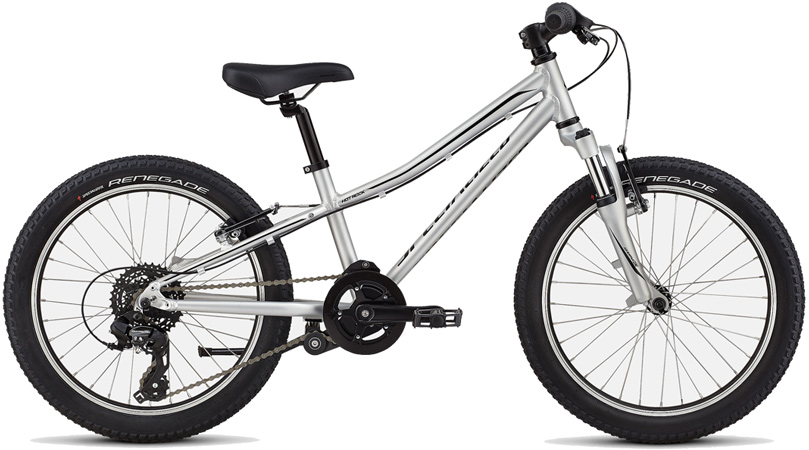 Price: MSRP $450
We think that the Specialized Hotrock 20 bike is a great addition to our list, and the reasons are plenty. This bike is very popular among kids, take this bike along the trails or the normal pavements, it is your choice, it will be best either way.
All I am saying is that the bike is made to handle everything that you throw at it. Some of the best features of the bike are:
Lightweight and durable frame
High-end Shimano components
Available in amazing colors
Construction is what makes the bike what it is, and the aluminum frame of this bike speaks for itself. It is paired up with an SR Suntour XCT-JR fork that promises 50mm of smooth travel. The bike is also filled up with high-end Shimano components especially the 7-speed gear set.
Shifting and tackling any kind of climb is made easy thanks to these amazing feature-set. Expect this bike to grow with your child, there will be no need for a replacement anytime soon.
Why I Like It: I love the construction of this bike honestly, the features and performance are top-notch. Even with the budget price tag, it never compromises on quality. When you get this bike, expect top-of-the-line performance and fun colors.
---
10. Trek Roscoe 20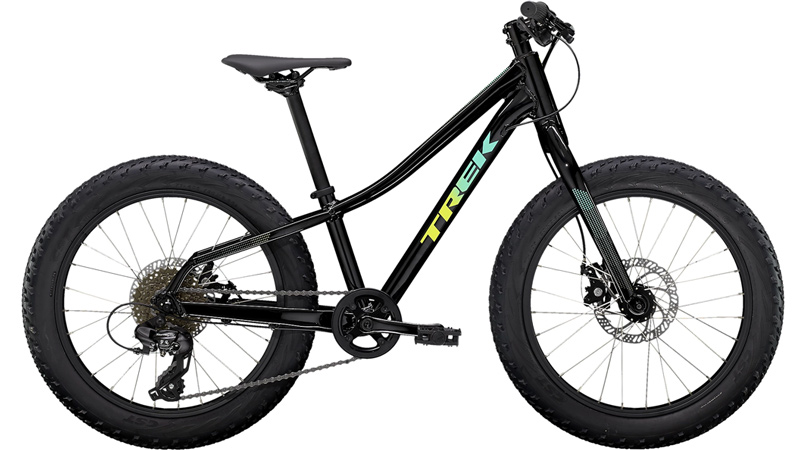 Price: MSRP $479.99
We all need something to push our kids to aim for something greater and bigger, that one thing is their passion. Kids cannot follow their passion if they are not well-equipped, every bike enthusiast no matter what the age needs an amazing bike. Trek Roscoe proves to be that amazing bike that the young generation needs to pursue their dreams.
Some of the best features of the bike are:
Premium Construction
Shimano Components
Dedicated Geometry (For Kids)
Although this is a budget-constricted bike, it shares a lot of traits with Trek's other bikes, especially the high-end ones and designed for adults. The fact that Trek went and made a geometry dedicated for the kids shows that they are very inclined to make an amazing product.
Speaking of high-end components, the Trek Roscoe comes packed with a Shimano 1*8 drivetrain and Tektro mechanical disc brakes. The inclusion of these components definitely makes this bike high-end even if the price point is quite reasonable.
Why I Like It: Premium quality products but reasonable rates? Everyone likes that, and Trek Roscoe 20 is a great example of that. Dedication can be seen right away, this bike ensures that your kids have the best at their disposal. The Shimano components were a surprise but they just add to the brilliance of this amazing bike.
---
Check more Mountain Bike Review and Guides:
Kid's Bike Size Chart
When buying a bike for your kids the first thing you should know is Correct Bike Size, check the our the following chart to get an idea of what size of bike and what stage of bike you should be considering.
| | | | |
| --- | --- | --- | --- |
| Wheel Sizes | Age Limit | Height | Inseam Length |
| 12'' | 2-3 | 2'10"-3'4" | 14-17" 35-42 cm |
| 14'' | 3-4 | 3'1"-3'7" | 16-20" 40-50 cm |
| 16'' | 4-5 | 3'7"-4'0" | 18-22" 45-55 cm |
| 18'' | 5-6 | 3'9"-4'3" | 20-24" 50-60 cm |
| 20'' | 6-8 | 4'0"-4'5" | 22-25" 55-63 cm |
| 24'' | 8-11 | 4'5"-4'9" | 24-28" 60-72 cm |
Above is the kid's bike size chart, it contains all the relevant information needed to make the perfect bike purchase for your children.
For more info check out The Definitive Guide to Kids Bike Sizing
Recap
Mountain bikes aren't just for adults, they are also meant for the kids so that they can enjoy themselves and follow their dreams. Although with that being said, it can be very easy to get lost in the wide range of bikes available in the market, and sometimes we don't even know what to look for and where.
That is the reason for this guide, to pinpoint the best products available in the market. My overall favorite is the Norco Fluid FS 1 24. I don't think there is a bike like this in the market.
All of these bikes have been selected from different categories, some of them are even hybrid and will appeal to a wide range of people. There is plenty to choose from and you will definitely land on something great!
Also Read: Best Hybrid Bikes For Women: Find Top Brands Reviewed And Ranked