You do not need to buy a dedicated woman's mountain bike if you are female. Seriously. It's a myth that men and women need gender separate bicycles. If you take one fact from this entire article, or any article about buying mountain bikes, take this one.
There is no anatomical reason why men and women should ride different types of mountain bike. The only real difference when it comes to men and women and choosing a mountain bike is that, on average, women do tend to weigh less and be shorter than men, and have some obvious anatomical differences in the seating department. Some truths about bikes are universal regardless of whether you are male or female.
What you need is a bike that fits your body properly, feels comfortable to use, and is fit for purpose.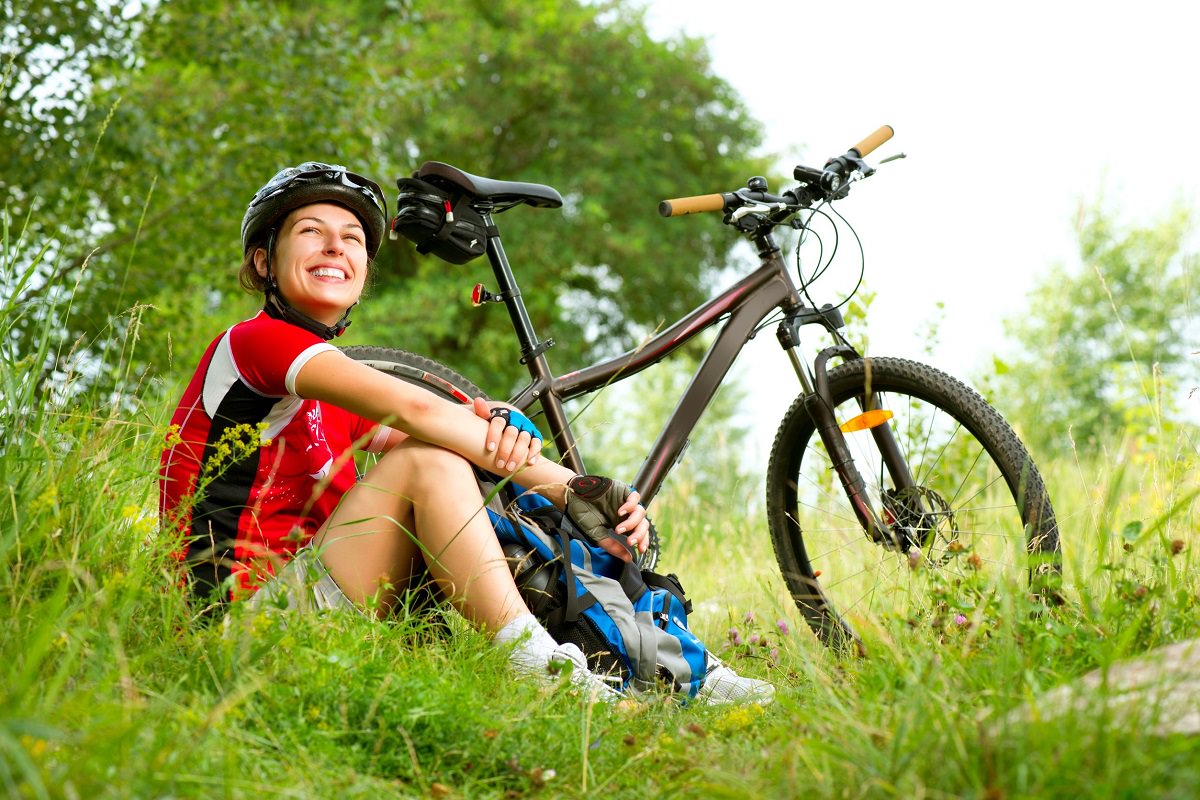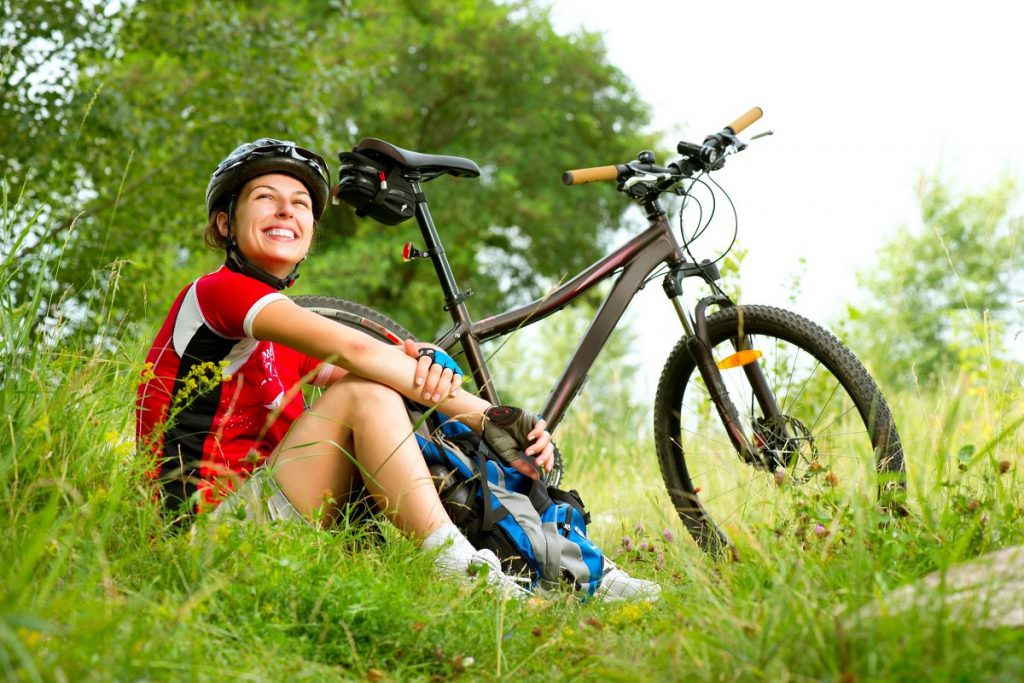 That said, most bike makers do create specific bikes for females. There has been a trend in recent years for bike designers to modify bikes and mould frames to try and fit the female body better.
Some modify their bikes under the idea that females have longer legs, but shorter upper bodies. Other brands change the manner in which female cyclists attach to the bike, i.e. modified handlebars, seats, and pedals.
No one approach is more right or better than another.
Again, it's what feels comfortable for you when you get on the bike yourself. Only you know what feels right. So don't get railroaded down one path or another when choosing your bike.
Related: 15 Best Bikes For Heavy Riders (Updated 2023)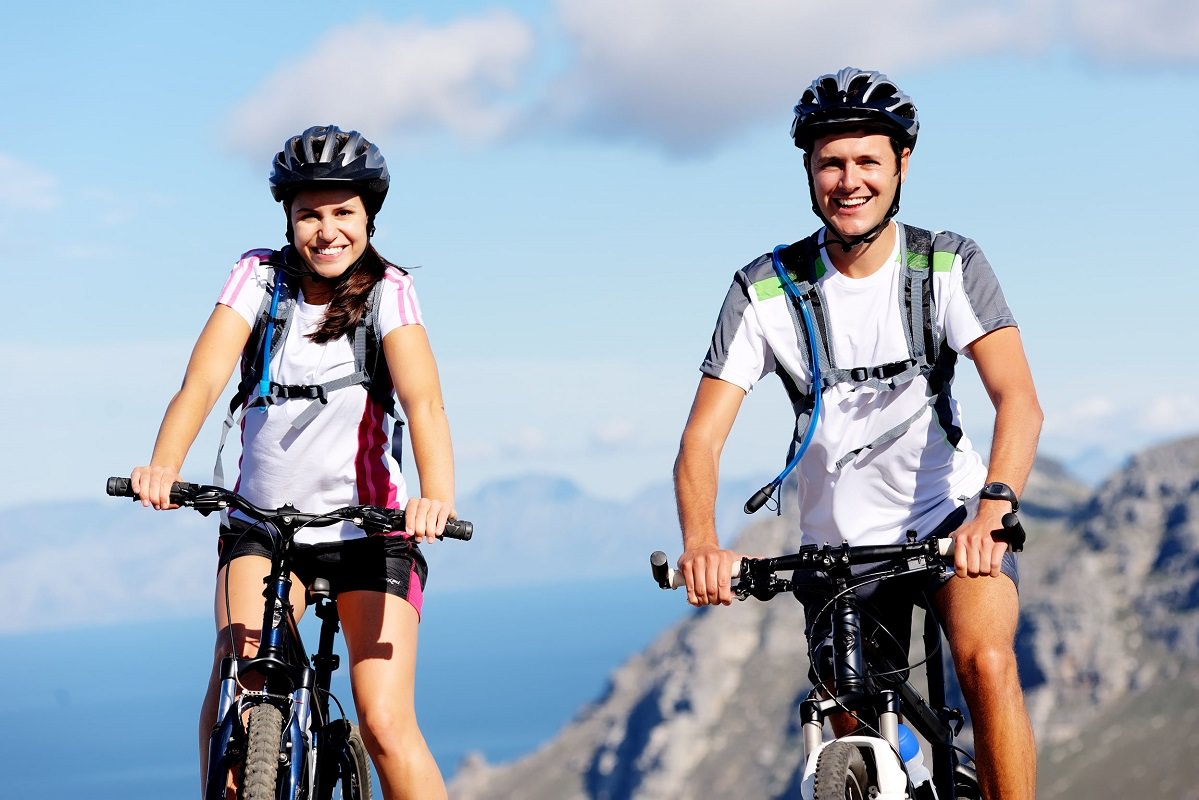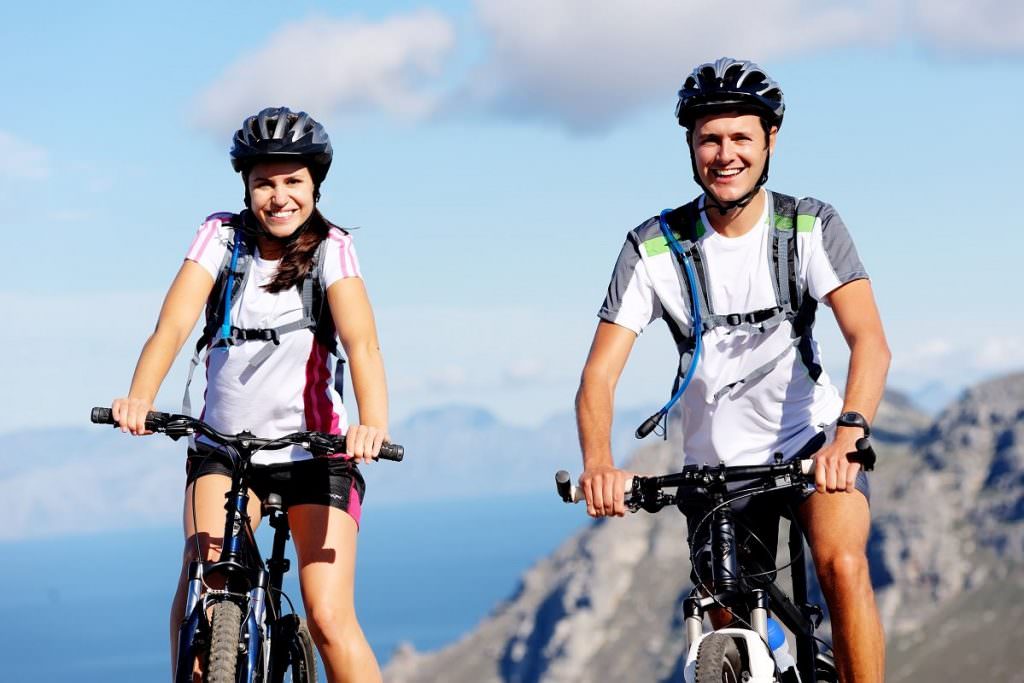 So just what are the main differences between men and women specific mountain bikes?
Really not very much as far as abilities, features, and usability are concerned. The differences are mainly comfort orientated. Some woman's mountain bikes are built with shorter distances between the top of the frame and the seat of the bike based on the short torso/longer leg generalization.
Ladies' mountain bikes also sometimes have thinner tubes and thus lighter frames. In some cases the difference in weight is completely negligible, but it may still be something worth looking at.
Dedicated woman's mountain bikes usually have a different saddle from their male counterparts. They tend to be wider to accommodate the difference between female and male anatomy. If you don't know what the difference is then I strongly recommend getting your hands on some sort of medical textbook and research it.
However if this is the only reason you are considering buying a woman's mountain bike, then you could just buy a female saddle; they are not that expensive. Apart from that, the only other difference is that the handlebars may be shorter in both length and diameter for a more comfortable grip.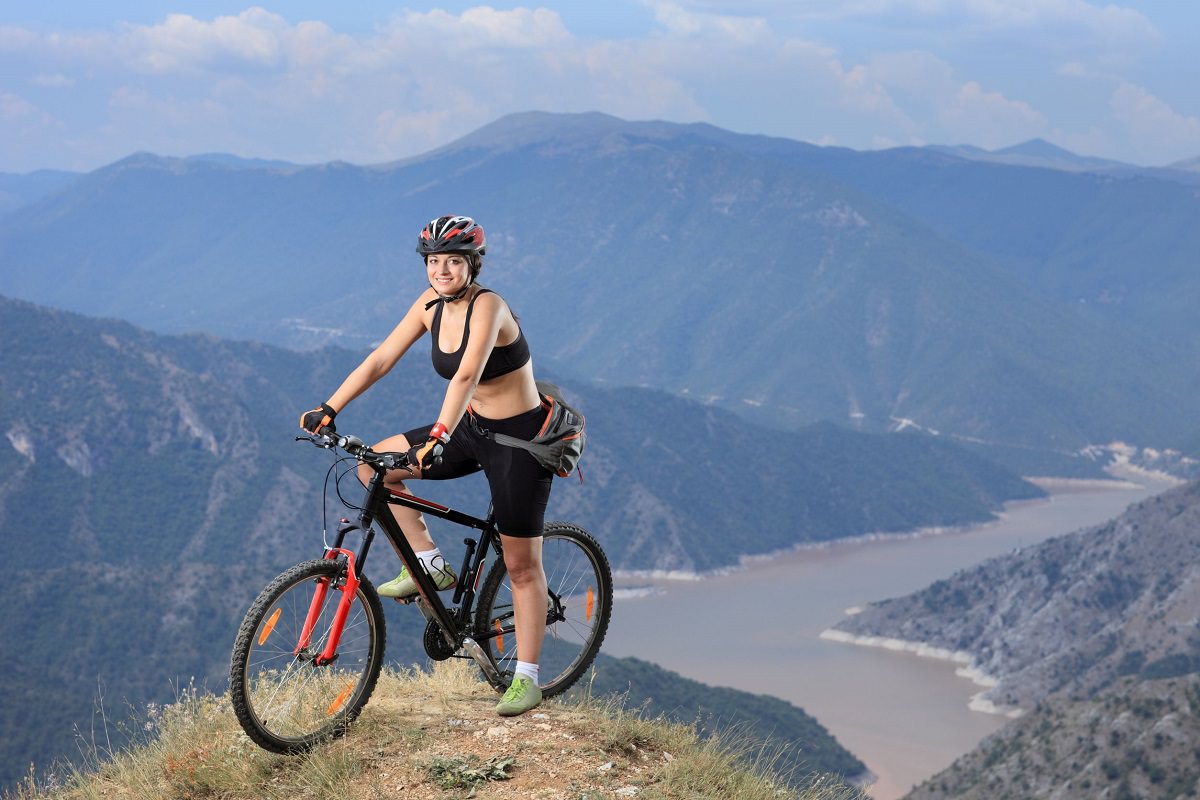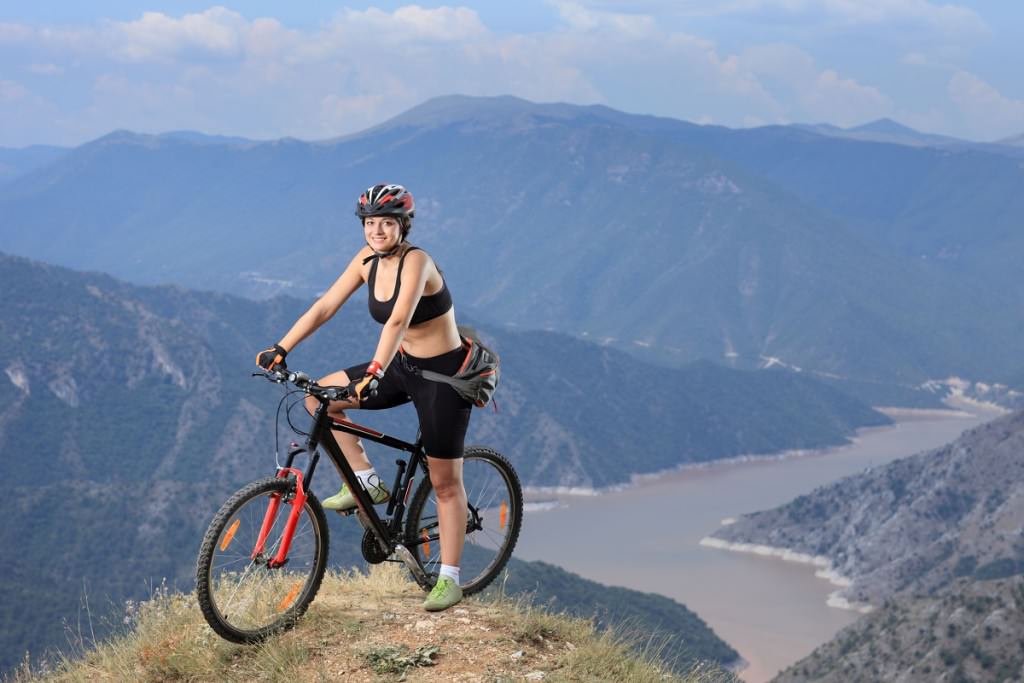 So how do you choose the right mountain bike for you?
Well before you even think about handing over your money, there are a few important things you should really consider.
Where are you going with your bike and your life? Before you rush off to the nearest bike shop you really should take a step back and have a realistic think about what type of biking you intend to be doing, and where you see yourself riding in 6 months' time. This advice is especially true if you're just starting out.If you're thinking about buying a mountain bike to commute into and out of the city, you should at least consider a Hybrid, or even a folding bike. That doesn't mean a mountain bike won't do the job; I commuted on a mountain bike for a long time, and I can tell you it was effective as a mode of transport. I'm just saying it is worth thinking about.
Can I use a mountain bike for commuting? Oh God, yes! That is the defining characteristic of a mountain bike. You can ride a mountain bike virtually anywhere and in any weather. You can cut across fields and parking lots with ease and go from road to dirt trail without losing a beat, which is perfect if you have the option to avoid rush hour traffic.Even if you can't avoid the traffic those big fat tires are great for gripping and balance for weaving in and out of traffic, especially if you've got your laptop slung across your back. It goes without saying that mountain bikes are tough. They're built for barreling down rough trails at speed so trust me, they can handle potholes and gravel along Main Street.
Whatever you do, don't buy a bike for the skill level you have at the moment Instead think about where you might realistically be in 6, 12 and 18 months' time. The last thing you want to do is buy a single gear hardtail mountain bike then find a few months later what you really needed was a full suspension disc brake behemoth championship level mountain bike.Riding a more advanced bike never slowed anyone's improvement, and if anything helps you develop your mountain bike skills faster!
Getting the right fit for you I can't recommend enough going to an outdoor center or someplace similar and hire a bike and an instructor, or bringing a friend/partner/lover/sibling/BFF/frenemy/colleague/parent who has mountain bike experience along with you.Use their knowledge, advice, and experience to your advantage so you have a better idea about the exact type, size and setup works best for you.Of course, you don't have to do this. I didn't when I bought my first mountain bike; but I ended up with a bike that was too small and weighed more than a small island.
You can just buy a bike straight from the shop, but make sure they let you test ride the bike before making a purchase. Sure, riding a mountain bike around a parking lot isn't the same as being out on a trail, but you will at least get a feel for the bike.
It is very important you choose a bike that fits properly. A bike that is too small is harder to pedal and breathe efficiently on, and is more difficult to steer. A bike that is too large is harder to control in a safe manner, and easier to lose control of, which is never good.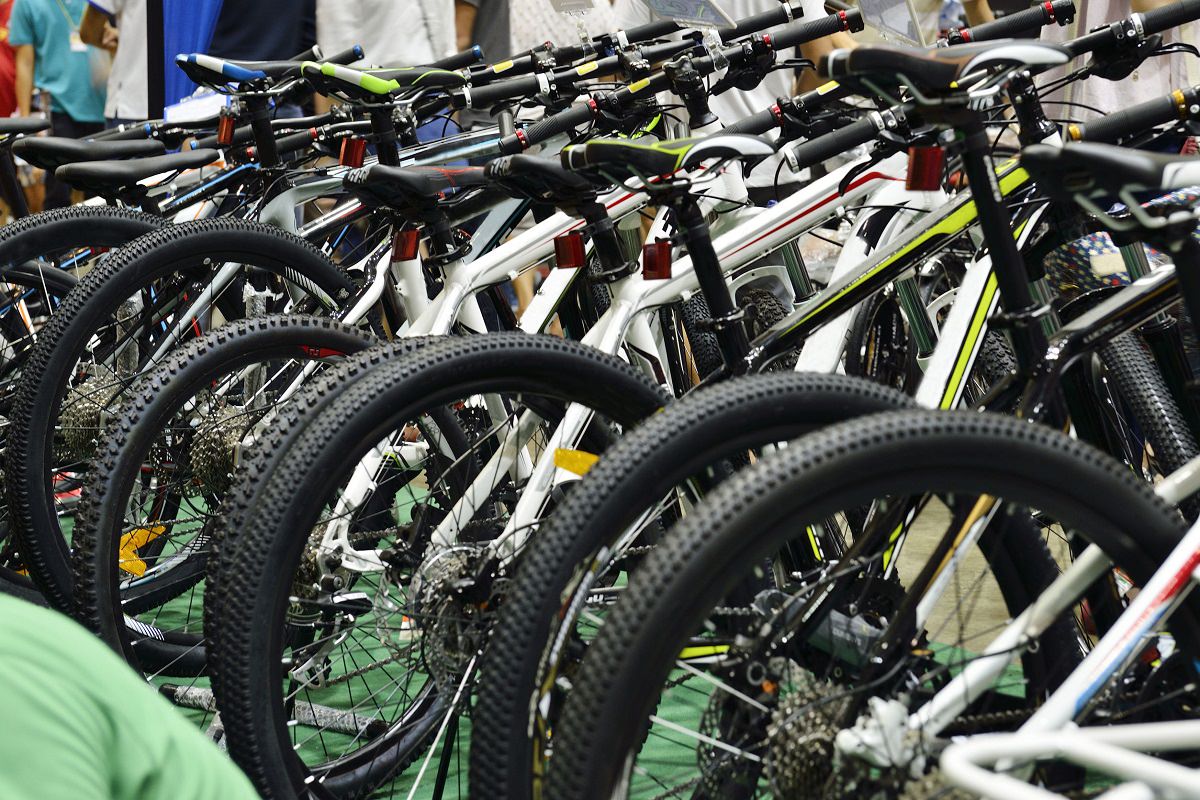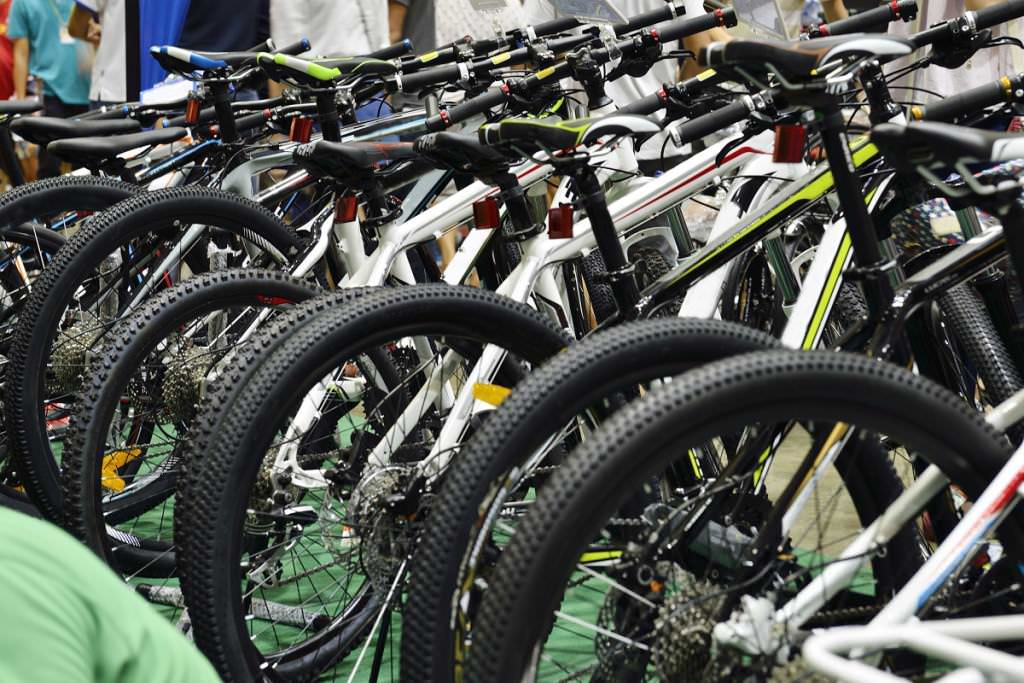 Choosing the right bike
When choosing a new bike, the best place to start (the only place to start) is with the frame. Sometimes it can feel like searching for a needle in a field of needles. The market for mountain bikes is literally flowing with choice, and deciding which one is right for you can be a trial.
When choosing your bike you should be looking for a frame that you can stand over relatively easily with your feet planted flat on either side. When riding, your arms should be able to grasp the handlebars at a stretch that is comfortable and isn't overreaching.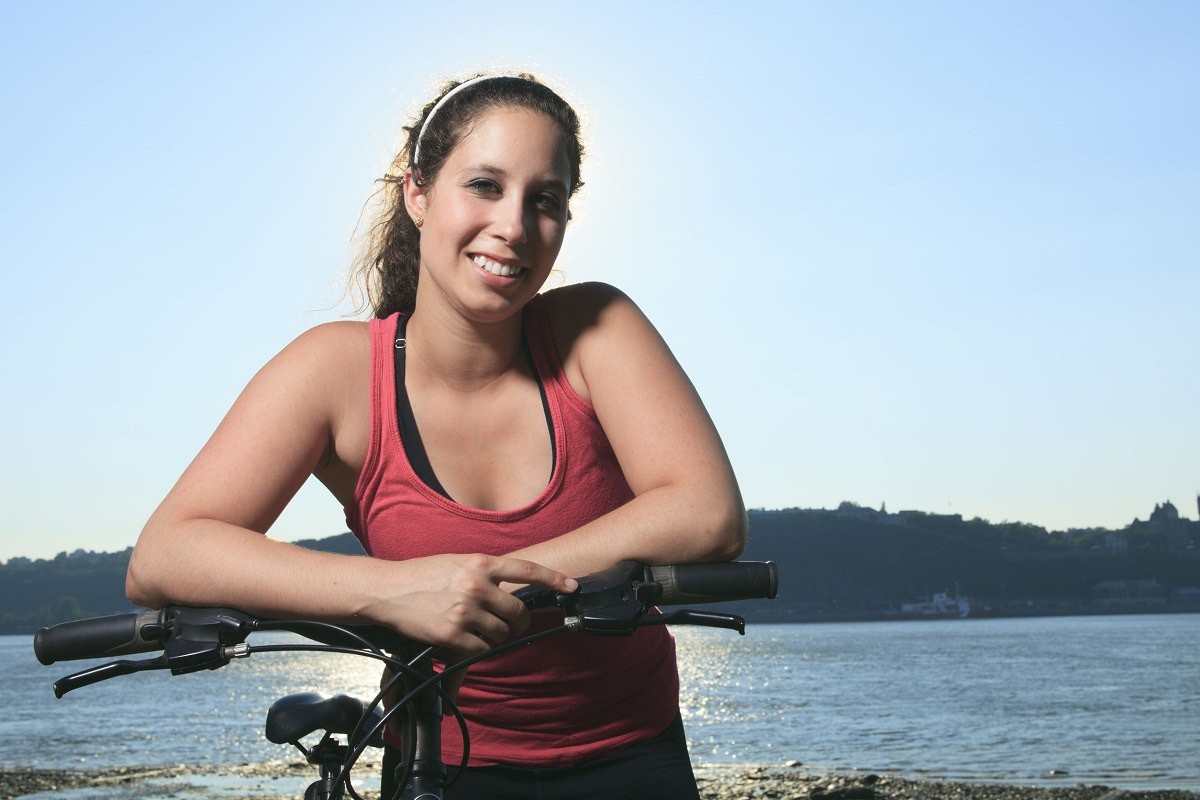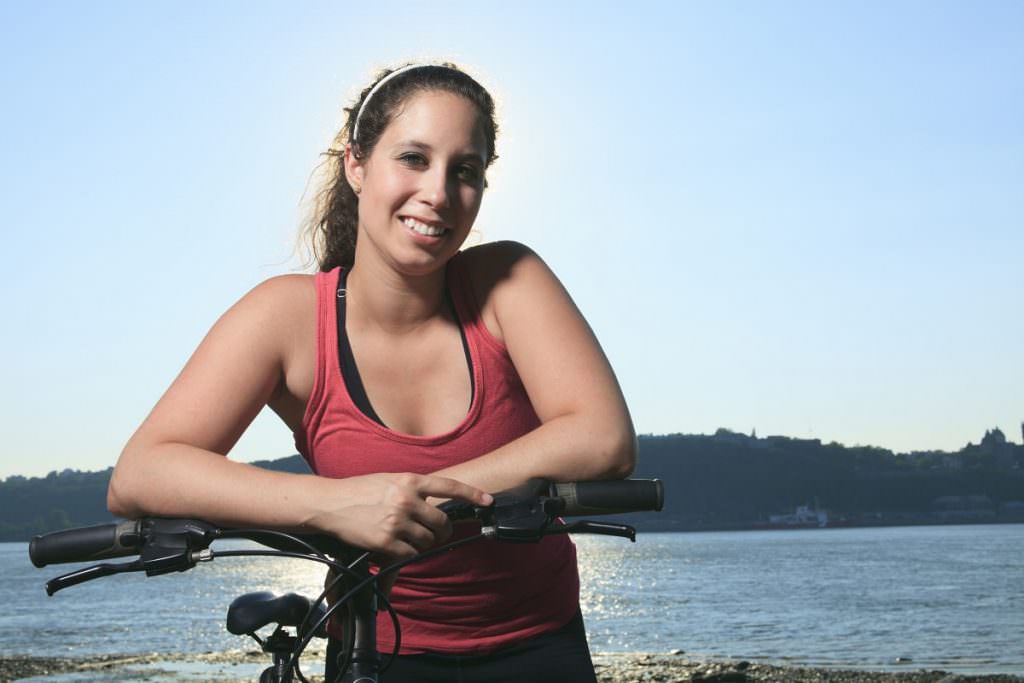 Aluminum or carbon frames?
The lighter the better. Carbon is lighter than aluminum but not by much. Both materials are light, durable, and can take some punishment. While some mountain bikes are still made from steel, they tend to be both cheap, not worth your money, or something of a niche product. Either way, they are best avoided.
In general terms there are 2 types of frames
Hardtails: The type we all know, and either don't come with suspension, or have suspension just at the front; and which if you're on a budget of $500 or less is the probably the best type of bike to get.The more travel, (up and down motion), there is in your front fork suspension the easier your bike will be to control over rough and uneven trails. Most suspension setups come with between 75mm and 100mm of vertical travel. This will tend to make you faster over most terrain and ensure that your pedal to power ratio is effective more of the time.Hardtails can be used on almost every trail and every street going except the really adrenaline pumping near vertical rocky descents down the side of an actual mountain. Personally I wouldn't do that type of riding on any bike in any situation. That type or mountain biking is just straight up dangerous if you ask me.
Full suspension bikes: The type with shock absorbers at both ends of the bike. Talking about the intricacies of full suspension systems can get really complicated really quickly, so I will keep this as simple as I can.Put basically, these days almost all full suspension mountain bikes work well; unless the bike is worth less than $700 overall. If this is the case, then just don't bother with a full suspension setup. Trust me, just don't. If you are limited by your budget, then buy a quality hardtail. You will be miles better off, and you will thank me for this advice.
Personally I wouldn't worry about the where the linkage bars or pivot points on the bike are. Far more important is to consider the type of suspension your bike has. If it is an option on your bike then do go for air shocks. Air shocks tend to offer easier adjustability and are actually better suited to women riders, who in general, are lighter riders.
It's more important that you get your suspension settings correct for you as that will make them easier to maintain and adjust in the long run.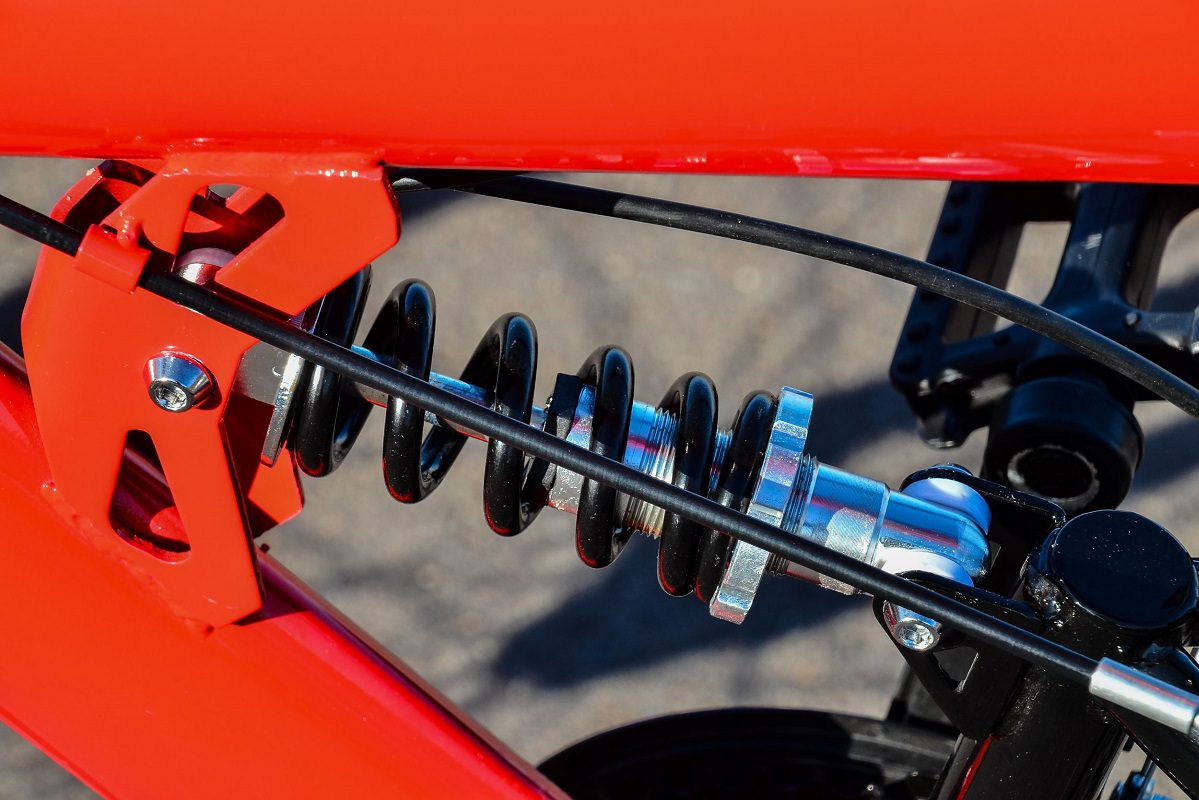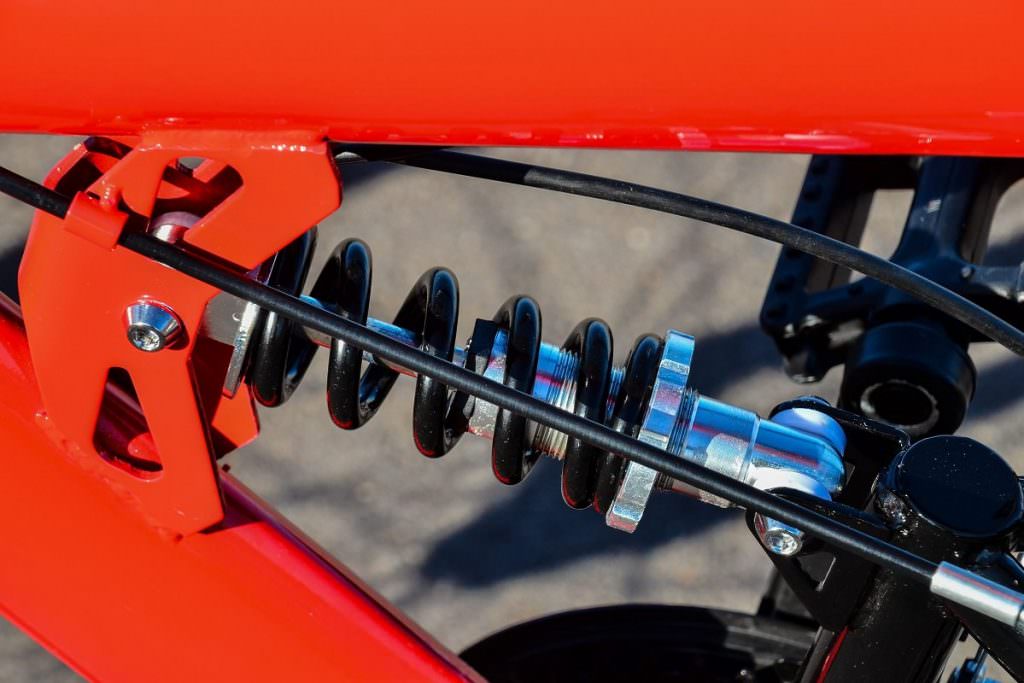 How many gears?
In general, mountain bikes have much closer spaced gears than your standard road bike. While this will make you slower on a long road journey, you will find it easier to pedal up hills and deal with the constant start/stop of commuting. And of course if you intend to use your mountain bike on an actual mountain, you will find the climbing part easier overall.
Brakes
Choosing the right brakes on a mountain bike can make the difference between riding with confidence and determination or being scared and hesitant in everything you do on your bike. You need to be able to trust your brakes, and it should be easy to pull the brake handle. Essentially when you brake, your bike should slow down and stop! If it doesn't then something is wrong!
When it comes down to it, you have 2 choices. Either Rim brakes or Disc brakes.
Rim brakes are perfectly good brakes, but as they are on the outer edge of the wheel can be adversely affected by rain and mud; not so good if you're actually using your mountain bike for mountain biking!
Disc brakes are much closer to the inner edge of the wheel and are more efficient and stronger. The main issue with disc brakes is, again, budgetary. Cheaper disc brakes will be heavier and less accurate.
Wheel sizing
Back in the 20th Century, before Google existed and Kim Kardashian became famous for starring in her own sex tape, mountain bike wheels came in one size. That size was 26". Now there are also 29" wheels, and one in between measuring 27.5", bizarrely referred to as 650B. I don't know why either. I'm just a writer and a mountain biker.
Basically, opinion in the biking world is split between exactly what wheel size is best and which is not. Again, it's really personal preference, and entirely up to yourself.
Conclusions
It's like I said at the start: Choosing the right mountain bike for you comes down entirely to what feels comfortable for you. My wife rides the exact same style of mountain bike I do, just with a smaller frame and a different saddle, and she gets along just fine on it.
When she began her search for the perfect mountain bike she was convinced she wanted a dedicated ladies' mountain bike. It was only after testing several different models that she realized she didn't need one. Her only regret is that it didn't come in pink.