If you are planning an off-road adventure then you are in luck, the market is filled with some of the best mountain bikes for women. Due to their popularity, women's mountain bikes and trail bikes are being produced more, you will even be able to find some of these bikes with enhanced features only for women!
Mountain Bikes are great for a lot of reasons, but one of their key features is that they allow us to have adventures in your local area, you get to explore hidden areas off the beaten path. These bikes present a lot of opportunities, you can take them to climb hills, head into the wild, have a blast around the woods, or just keep it local. The transition of power is also very attractive with these bikes, you actually feel like you're in control when riding mountain bikes, it's just you and the beautiful vistas.
In this guide, we will list down some of the best mountain bikes for women with stellar performance and features. Whether you just got into cycling or have been cycling for a while now, the sheer number of mountain bikes, and enduro bikes, can easily overwhelm and distract you from what you really want. This is why we have done the hard part for you!
Best Mountain Bikes For Women Ranked (2023)
We want you to experience only the best that's why we took our time to compile this list. After more than 25 hours of research, we came up with this exquisite selection of amazing mountain bikes for women. Since we wanted to cater to everyone, there are a lot of different bikes on this list, we hope that you get what you are looking for!
| Bikes | Price/$ | Bike Type | Size Range |
| --- | --- | --- | --- |
| Canyon Exceed CF 7 WMN | 3,199 | Cross-Country (XC) | XS, S, M, L, XL |
| LIV Pique 29 2 | 2,600 | Cross-Country (XC) | XS, S, M, L |
| Juliana Furtado | 5,299 | Trail | XS, S, M |
| Juliana Roubion CC X01 | 8,100 | Enduro | XS, S, M |
| Trek Marlin 5 (Gen 2) | 740 | Hardtail | XXS, XS, S, M, ML, L, XL, XXL |
| LIV Intrigue Advanced | 3,900 | Trail | XS, S, M, L |
| Scott Contessa Scale 930 | 1,699 | Hardtail, Cross-Country (XC) | S, M, L |
1. Canyon Exceed CF 7 WMN- Editor's Choice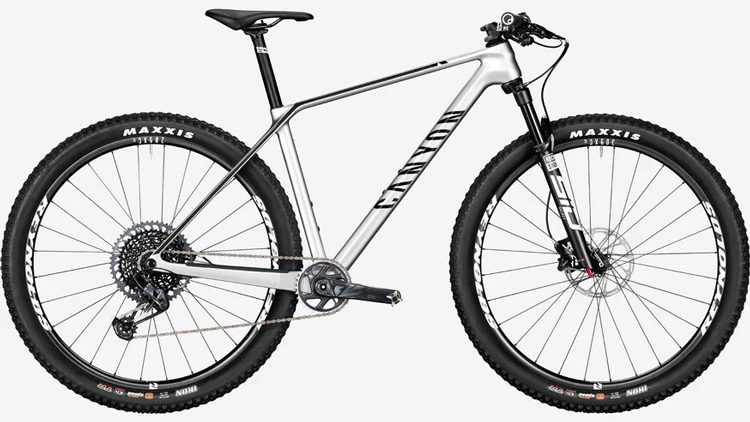 Are you looking for a speedy mountain bike that can handle almost any kind of trail? You are going to feel so much lucky with the Canyon Exceed CF 7. This is a newer model of the series so you can expect a lot of advanced features which will allow you to perform better in the wild. Canyon has done a wonderful job with the Exceed CF 7, it comes with its own saddle, gear ratio, and females can even adjust the handlebar width according to their preferences.
This mountain bike is purely made for speed and the carbon wheels are installed to help you accelerate more quickly. For maximum efficiency, different-sized rims are used for the bike: in the front you have 30mm rims that offer great traction while in the front, the 28mm rims help reduce the rolling resistance. Some of you might be confused with this combination but it really helps in staying upright and moving smoothly regardless of the terrain. After all, this is what everyone wants, right?
Pros:
Perfect Gear Ratio For Women and Contact Points
Different-Sized Carbon Rims Offer Ultimate Handling And Control
Installed With An Impact Protection Unit and Streamlined Seatpost
6 Years Warranty
Cons:
Availability Issues
Some Users Have Reported Fitting Problems
Editor's Choice: Featuring a light and durable frame, the Canyon Exceed CF 7 can handle lightning speed without any setbacks. The bike already comes with a women's specific gear ratio and handlebar width that users can customize even further. This bike can handle all sorts of technical terrains at great speed and that is one of the main reasons why we love it!
---
2. Liv Pique 29 2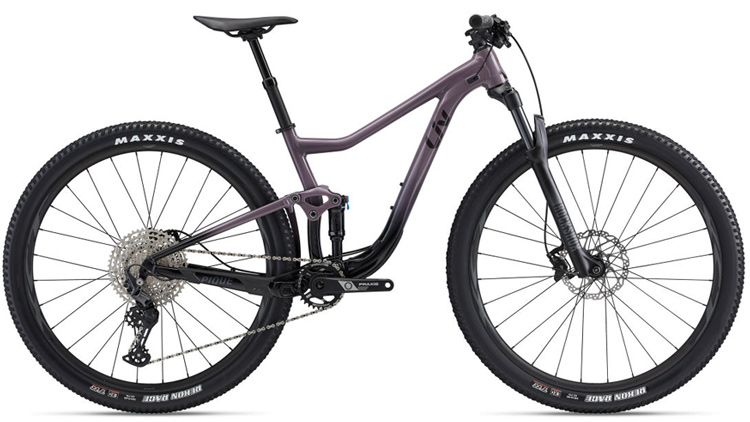 We just can't get enough of the Liv Pique 29 2, which happens to be an amazing full-suspension XC-oriented bike. You can trust this bike enough to fly over all sorts of terrain and that too with 29er wheels and 100mm suspension. The bike is constructed with the ALUXX SL-grade aluminum frame which proves to be very lightweight and durable. This structure is then combined with Boost spacing and 15mm bolt thru-axles, no matter what kind of trail you ride this bike on, it will handle every pressure of XC Racing!
Liv Pique is filled with components, let's take the Shimano SLX 1x gearing for example. There is a wide range of gears that can be used to climb hills, when combined with the Fox 32 Float SC Performance fork, it helps the user stay always in control even on technical trails.
One of the standout features of the Liv Pique is how all the bike models come with 29er wheels, even the XS size. This is something both unusual and empowering, short riders are able to enjoy the same benefits as tall riders.
Pros:
All Frame Sizes Come With 29er Wheels
Lightweight and Durable Frame
Made For Technical Terrains
Comes With Shimano SLC Gearing
Cons:
Limited To Medium Frame Size
Why I Like It: Liv Pique 29 2 proves to be one amazing XC mountain bike, you can use it to master hills and technical trails. With the ALUXX SL-grade aluminum frame, female riders are going to feel very lightweight and be always in control. We wish that it could come in more sizes but that is not enough reason to stay away from this beast!
---
3. Juliana Furtado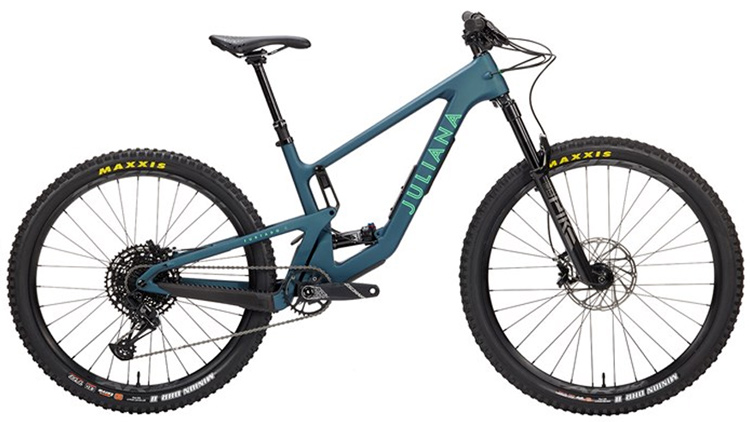 Juliana Furtado is one of the very rare all-rounder trail bikes that you will come across. Juliana, the sister company to Santa Cruz has done a wonderful job designing this beast of a bike, and we want you to experience everything this bike has to offer. It has a progressive geometry that stands out from most of the competition, the slack head angle, and steep seat angle will bring a lot of benefits to users.
We love how the bike pairs 27.5-inch wheels and 2.4-inch Maxxis Minion DHR II tires to provide amazing traction even on wet surfaces. Apart from this, the 130mm rear and 140mm front suspension allow the bike to fly over technical surfaces. Even when put to the ultimate test, Furtado emerged victorious, this is one of the rare bikes that should always be in your collection.
Users are going to fall in love with the flip chain component/feature of the bike as it practically allows you to adjust the geometry of the bike, which can cater to a lot of different riding styles. You can even convert the Furtado into a capable XC bike, depending on the right settings of course!
Pros:
Adjustable Geometry Mechanic
Unique Features For Tall Riders (Spacious Geometry)
Lifetime Warranty For Frame and Bearing
Cons:
Stock Brakes Are Not Powerful (Need To Be Upgraded)
Why I Like It: We all love all-rounder mountain bikes that let us adjust geometry and other notable components. The Juliana Furtado is something that caters to women of all sizes, and it allows them to cruise over chunky surfaces like it's nothing. There is a matter of the brakes though but they can always be adjusted!
---
4. Juliana Roubion CC X01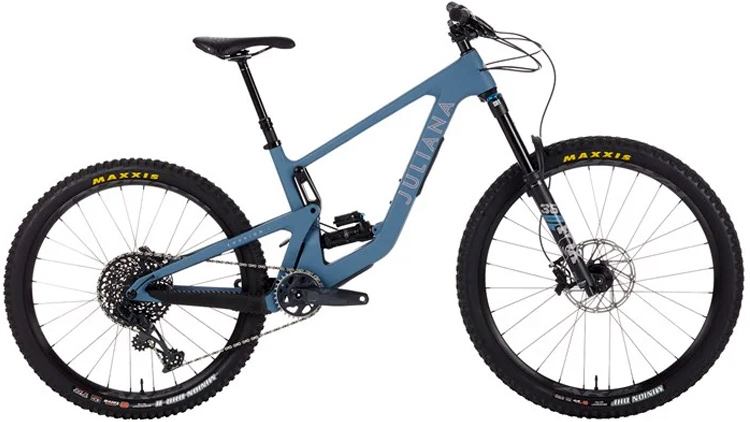 Christened after one of Anka Martin's favored stages, the Juliana Roubion is a brawler mountain bike that does not mess around. This here is a bike that just gets better the harder you push it, it actually pushes you to go beyond your absolute limits. Let's take a look at some of the notable features of this bike, RockShox Super Deluxe Select Ultimate shock (With 150mm travel), RockShox Lyrik Ultimate Fork (With 160mm), and all of this is topped with a 65-degrees slack head tube angle. With these amazing features, even the hardest descents will feel like cutting a cake, you will also be able to tackle the most grueling trails without any repercussions.
Since you are going to be paying a lot for the Juliana Roubion, you will be getting a lot of value, so there's nothing to worry about. Some of the components are highly impressive: SRAM X01 Eagle Drivetrain, Carbon Reserve Wheels From Santa Cruz, and let's not forget about the RockShox Reverb Stealth Dropper Post. With these features, you will experience a stellar race performance like none other.
Juliana Roubion adopts the Santa Cruz Pivot Point (VPP) suspension design to produce amazing results. Users will now be able to find the perfect balance between being rowdy and getting the maximum pedal efficiency. The trajectory of power is going to be fueled by every turn of the pedal. Roubion benefits from a lower-link mounted shock configuration capable enough to meet the heaviest of demands. You don't have to worry about getting to your destination with the Roubion, it feels like a knife cutting through butter, even on the most challenging terrains.
Pros:
Santa Cruz VPP Suspension Design Provides The Ultimate
Filled With Premium Specifications
Tires With 2.8-Inch Clearance
Cons:
Why I Like It: A Brawler Enduro Bike is something that should always be in your collection, the price may be too much but the performance and features are incomparable. Filled with all the latest and premium specifications, the Juliana Roubion packs quite a punch!
---
5. Trek Marlin 5 (Gen 2)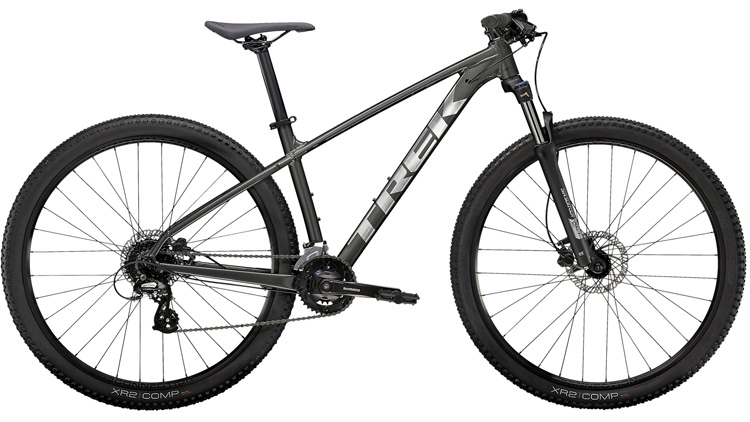 Although Trek isn't offering its specific WSD designs anymore, we are glad that the Marlin is still being updated (Gen 2). This is the kind of bike that offers a very comfortable fit, power transition, stability, and control. This is the kind of all-rounder mountain bike on a budget that women have been waiting for!
You can easily use the Trek Marlin 5 for both commuting and adventures all around the weekend, both kinds of experiences will be extremely fun to have. We love how the bike comes installed with mounts for fenders, a rack, and even a kickstand. While riding the bike, users will always get to experience an upright riding position which adds to their comfort level.
Some of the highlights of this bike are Tektro hydraulic disc brakes which provide smooth and responsive stopping power in every kind of weather, SR Suntour XCE 28 suspension fork to null the nasty bumps on the trails, and the 21 gears for climbing hills effectively. This is a premium experience that you will be investing your money in, completely worth it! We love how the bike comes with short-reach brake levers in small frame sizes, this proves to be a big help for women that have small hands, increasing their control over the bike.
Pros:
Includes Mounts For Fenders, Racks, and Kickstand
Women-Specific Design Offers A Very Comfortable Fit
Short Reach Brake Levers For Women
Cons:
Heavy Fork Is A Big Letdown
Why I Like It: We don't always need to break the band to get an exquisite mountain bike, the Trek Marlin 5 is proof of that. Featuring amazing features and components, this bike provides a stellar performance. You are going to get a lot more than what you pay!
---
6. LIV Intrigue Advanced
LIV Intrigue Advanced proves to be a moderate all-rounder for smaller riders. You can use this mountain bike for almost everything, given that it isn't too intense. You can go commuting on the Intrigue Advanced and have adventures on hills on weekends, a perfect combination! It is constructed with a carbon frame which is both lightweight and durable, lighter riders are also going to love the fine-tuned suspension.
You don't have to worry about the stopping power when riding this bike, it is installed with powerful brakes. There is also ample travel on the suspension for technical terrains. Users also get to experience a comfortable riding position. LIV bikes are known for their amazing attention to detail and women-specific frames that enhance the overall experience.
This bike isn't twitchy at all, which is something you will find rare. Smooth handling and stability are guaranteed which is a big win, especially for smaller riders. If you want to get started but want to have moderate fun then the LIV Intrigue Advanced is the best mountain bike for you!
Pros:
Full-Suspension and Well-Rounded Bike
Lightweight and Durable Frame
Impressive Stopping Power
Covers Moderate Technical Terrain
Cons:
Not Suitable For Intense Action
Doesn't Maintain Speed
Why I Like It: For smaller riders, there cannot be a better mountain bike than the LIV Intrigue Advanced. It is a well-rounded bike with impressive features, users get to experience performance like none other. The frame is lightweight and durable, making it very comfortable for women of almost all sizes.
---
7. Scott Contessa Scale 930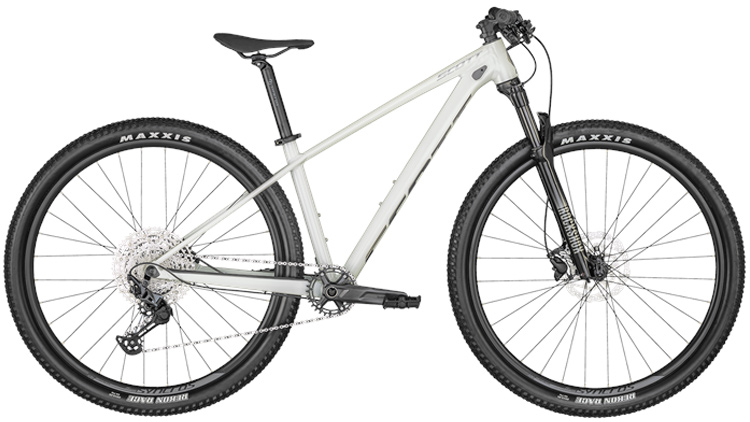 Scott Contessa is a really big deal for me, it made me love Scott Bikes like no other brand. The Contessa provides a unique way of mountain biking and that too without breaking the bank. It is constructed with an aluminum frame, which keeps the bike stable and responsive.
Some notable features of this bike are Shimano disc brakes and a 30t chainring with 10-51t chainring.
You will find the Scott Contessa well-rounded for technical terrain but not too much technical, just keep that in mind. This is a budget-friendly bike with great features but don't expect it to perform miracles. We recommend this bike to people that want to get into biking but don't want to spend a fortune.
Pros:
Affordable Price
Good Fit For Overcoming Obstacles
Cons:
Why I Like It: The Scott Contessa is one of the best budget-friendly mountain bikes that you will come across. It has some impressive components that will make you want to get competitive. Just be mindful not to use this bike for intense technical terrain.
---
How To Choose Mountain Bikes For Women?
Choosing a women's mountain bike can be extremely hard or ridiculously easy, it all depends on your knowledge. You need to know what makes a women's mountain bike different from the rest, failure to do so will just waste your time and your hard-earned money.
We all know that there are differences in the geometry and suspension tuning of these bikes but what more? The special bikes that we are looking for have women-specific contact points: such as the handlebars, saddle, and cranks. This may seem small but these components can make or break the whole experience for you!
Handlebars That Offer More Control
You might have noticed this yourself but handlebars on a women-specific bike tend to be narrower than other bikes, this isn't the same case with mountain bikes. Although if you are going to use mountain bikes for the first time, the handlebars will feel quite wider. The normal size of handlebars for women is between 740mm and 760mm.
Why are mountain bike handlebars wider than other kinds of bikes? Wider Handlebars offer more control than any other type of bike, and in rough adventures, you need all the control that you can get. You want to have that sweet spot of control, there can even be too wide handlebars that will just ruin the experience for you, sometimes they might even seem very hard to control.
We always recommend and advise our readers to try out the bike that they are planning to purchase, and check the handlebars especially, if they feel too wide then just get them trimmed down by your local bike shop. Many women also have small hands, so make sure that the bikes have narrow grips on the handlebars that allow for a comfortable experience.
A Comfortable Saddle Makes The Experience Worthwhile
Another important aspect of women's mountain bikes is the saddle, it is actually the most personal component too. Women-specific mountain bikes will come with saddles that are best suited for the female anatomy, you will actually be able to feel the difference when you sit on them.
These saddles will be more comfortable than saddles on a unisex bike, but that doesn't mean you will be able to actually adjust with it. Since all of us are shaped differently down there, saddles become a very intimate and personal component that we need to pay attention to. Look for saddles that give maximum comfort without any kind of "Intrusions".
If you start experiencing any chaffing or discomfort of any kind then get the saddle fixed or choose another one.
Frame Size Needs To Be Appropriate
Frame Size is a very critical aspect that you need to pay attention to, since women are shorter than men, you need to look for a frame size that fits perfectly. Go for a frame size that matches your height, being comfortable will actually allow you to enhance your bike performance.
Look For A Unique Suspension System
There are some bike manufacturers that just ignore the whole gender system while designing bikes, which is why we don't see a lot of women-specific shocks in bikes. We applaud bike brands like LIV and Juliana that specially tune their shocks in bikes for the comfort of women, this accounts for their lighter weight and these bikes actually absorb the bumps and shocks while being comfortable.
Then there is the case of full-suspension bikes, riders can fine-tune them according to their own preferences. Women will find this feature very useful when trying out different riding styles, especially if they want the experience to be different than others.
FAQs
What Are The Good Mountain Bike Brands For Women?
There are a lot of great mountain bike brands for women but here are our top five:
LIV
Juliana
Cannondale
Marin
Pivot
What Is The Best Mountain Bike Size For Women?
Women's Mountain Bikes usually come in three different sizes: 26", 27.5", and 29". You should go with the size that actually promotes your performance and makes you feel comfortable.
Why Are Mountain Bikes For Women Different?
Women are usually shorter than men, that is one reason. Another reason is that there are some bikes that are made to fit the anatomy of women.
Also Read:
Recap
A women's specific mountain bike can make or break the whole experience for you. Since we are not playing favorites here, we want you to go with the mountain bike that suits you the most and enhances your biking performance. Giving each bike a test drive is what we recommend to each of our riders, make sure that you can actually ride the bike perfectly before purchasing it.
From the list of bikes that we mentioned, the Canyon Exceed CF 7 WMN definitely stands out from the bunch. It has a perfect gear ratio for women and contact points and the impact protection unit takes all the worry out of biking. You really need to give this bike a try!
We also shared information regarding how to choose a mountain bike that fits perfectly for women, there are some critical aspects that you need to pay attention to. Just keep that in mind and your whole experience will go peachy. Be safe out there and happy trails!
---