It is a well-known fact that women have been breaking barriers and shattering records since the dawn of time, this shows that they can conquer almost everything that comes their way. We can see amazing and powerful women performing miracles on two wheels, but that is just the tip of the iceberg. We know that this statement has made your blood flow like crazy but before you start conquering mountains and different trails, there is a crucial element that you need to focus on: Women's Bike Sizes.
Finding the right bike size is equally important as winning a race, which is why you need to make the right choice here.
We know that you might feel intimidated by all the numbers and specs of different bikes but there is literally nothing to be worried about, we have got you completely covered. Although you do need to know that before getting the bike of your dreams, you should know about the size that will suit you the best.
Knowing your bike size just hits differently when it comes to women, why? It is because they are often misunderstood in the realm of cycling, and there are not that many brands that offer exclusive and specific bikes for women, this needs to be changed. There are different ways in which women's bikes are sized and measured and in this guide, we will be going through each and every one of them. There is one important thing that we want to tell you though, there is no need to be intimidated by the technicalities of all this information, once you get the hang of it, everything becomes clear!
Understanding Women's Bike Measurements
Women are built differently than men, and that calls for specialized bikes for them. Understanding one's body is the first major step in finding an amazing bike, may it be a road or mountain bike. I want you to imagine your favorite bike as a musical instrument, each component creates a symphony of motion which adds to the beauty of the bike.
To decode this masterpiece and find the bike that perfectly resonates with your riding style, you need to understand the main details of women's bike measurements. In this section, we will be focusing on the art and science of these dimensions. Apart from this, we will be decoding the secrets of various bike geometries, starting with Frame and Wheel Size!
Frame size refers to the bike's frame height, this is the length of the seat tube from the bottom bracket to the top tube, pretty simple really. Then there is the wheel size, which refers to the diameter of the wheel. In terms of importance, the bike's frame size is much more critical than the wheel size when looking for a suitable bike.
In order to make you understand better, let's give you an example of mountain bikes. Mountain Bike wheels actually come in three sizes: 26″, 27.5″, and 29″. If you have a healthy physique then you may want to choose between 27.5″ and 29″. For very petite women, it is our recommendation to go with 26″ wheels, but the 27.5″ and 29″ wheels are not out of bounds, perhaps they will even fit them better.
You might have noticed that the wheel sizes that we have mentioned have become very popular, if you get a modern mountain bike then there is a very high probability that it might have one of these wheel sizes. Older mountain bikes on the other hand will have 26″ wheels.
Let's talk about road bikes now, they usually come installed with 622 mm diameter (700C) wheels, these are the regular road bikes that we are talking about. If you are a really petite woman then you may want to go with the 571 mm (650C) Wheels for the best possible performance. Planning on getting a commuter bike? Great choice! They are sized the same way as road bikes, so you shouldn't have problems there.
Time for hybrid and cruiser bikes, since they share the properties of both road and mountain bikes, they will also be sized like them. They will be sized in both inches like mountain bikes and road bikes, would be wise to keep that in mind the next time you go shopping!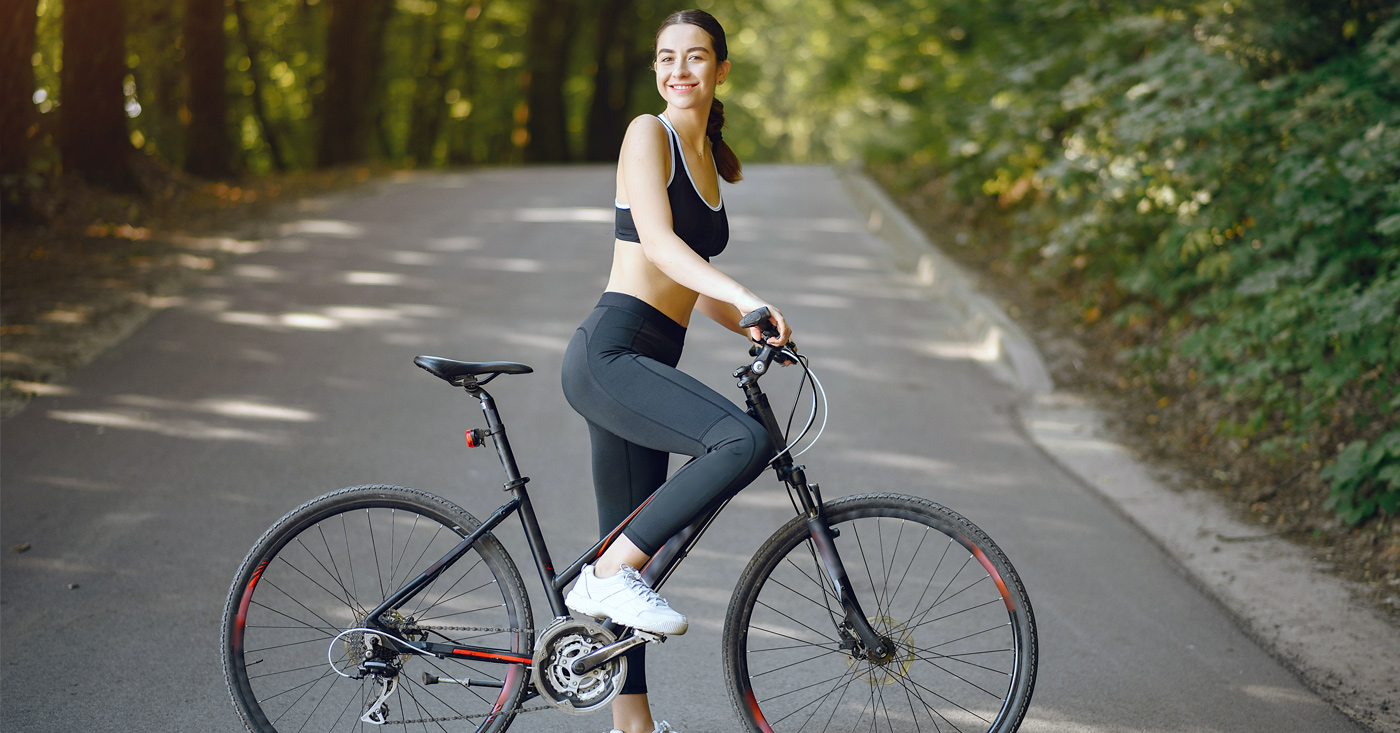 Women's Bike Size Chart: Different Bike Sizes Explained
Women's bike sizes are not that complicated, you just need to understand the different bike types and how they are sized. These different bike types that we are going to be talking about will have varying frame sizes, the frame size will then determine how big or small the bike is and if it will fit you or not. This method is very accurate but unfortunately, not all the bikes are sized this way, but we will explain all of this.
Generally, women's bike frames are measured in centimeters or inches, either this or they come in generic sizes (S, M, L, XL). Although this will not apply to every bike, each bike will have a different sizing option so you need to be on the lookout. Let's start with the different women's bikes and their size charts.
Women's Road Bike Sizes
The first thing that you need to know about women's road bikes is that they are measured in centimeters. What does this represent though? The centimeters actually refer to the seat tube length. Now let's break down the measurements.
You need to understand one thing about these bikes, the smaller the measurements, the smaller the bike will be. With that being said, different brands size their bikes differently, not all road bikes will be sized the same. For accurate information, you will need to visit the website of each manufacturer and check out the sizing options. They always have a size chart for their bikes that will give you the best information about the bike that you fancy. You can go for a city bike or any other tourist bike with the chart sizes that we have mentioned.
For a general guideline about women's road bike sizes, you can refer to the size chart below.
| Rider Height (Feet and Inches) | Rider Height (Centimeters) | Suggested Frame Size (Size) | Suggested Frame Size (Centimeters) |
| --- | --- | --- | --- |
| 4ft 10in – 5ft 1in | 147 – 155cm | XXS | 44 – 46cm |
| 5ft 1in – 5ft 3in | 155 – 160cm | XS | 47 – 49cm |
| 5ft 3in – 5ft 5in | 160 – 165cm | S | 50 – 52cm |
| 5ft 5in – 5ft 8in | 165 – 172cm | M | 53 – 55cm |
| 5ft 8in – 5ft 10in | 172 – 180cm | L | 55 – 57cm |
Note: Please note that these are general guidelines, and some variations may exist among different road bike models.
Women's Mountain Bike Sizes
Mountain bikes are furious machines and they let you achieve the impossible, and when it comes to women's mountain bikes, they are certainly commendable. Women's mountain bikes are mainly measured in inches. This measurement refers to the seat tube length.
Commonly, you will come across mountain bikes that have the following sizes: 15″, 17″, 19″, and 21″. Apart from the inches, they may also come in S, M, or L sizes.
Just like the other bike manufacturers, each will have its own sizing guide, in order to obtain more info, we would advise you that you visit their website. Just choose your favorite bike and then go check the measurements, and you will land on the perfect-sized bike for yourself. As much as these measurements are handy, the sizes mentioned are not universal and may not even apply to some people. In order to get a general guideline, you can refer to the chart below.
| Rider Height (Feet and Inches) | Rider Height (Centimeters) | Suggested Frame Size (Size) | Suggested Frame Size (Inches) |
| --- | --- | --- | --- |
| 4ft 10in – 5ft 2in | 148-158cm | XS | 13-14in |
| 5ft 2in – 5ft 6in | 158-168cm | S | 15-16in |
| 5ft 6in – 5ft 10in | 167-178cm | M | 17-18in |
| 5ft 10in – 6ft 1in and Beyond | 178-185cm+ | L | 19-20in |
Note: Please note that these are general guidelines, and some variations may exist among different mountain bike models.
Women's Hybrid Bike Sizes
Women's hybrid bikes are a mix between road bikes and mountain bikes, they are enriched with the best properties of these bikes while also suffering from some of their limitations. Planning on commuting but also wanting to have a taste of the forest trail? No problem! With amazing hybrid bikes, you can enjoy the best of both worlds without any problems. Women can use the guidelines of road bikes and mountain bikes to land on the perfect hybrid bike.
You can still refer to this chart below for proper guidelines.
| Rider Height (Feet and Inches) | Rider Height (Centimeters) | Suggested Frame Size (Size) | Suggested Frame Size (Inches) |
| --- | --- | --- | --- |
| 4ft 10in – 5ft 2in | 148-158cm | XS | 13-14in |
| 5ft 2in – 5ft 6in | 158-168cm | S | 15-16in |
| 5ft 6in – 5ft 10in | 167-178cm | M | 17-18in |
| 5ft 10in – 6ft 1in and Beyond | 178-185cm+ | L | 19-20in |
Note: Please note that these are general guidelines, and some variations may exist among different hybrid bike models.
Women's Cruiser Bike Sizes
When it comes to women's cruiser bikes, one size doesn't need to fit all the bikes, and this applies to all kinds of bikes out there. I have seen many people who take cruiser bike sizing as an afterthought, although this is something that I don't recommend. Why do we even get beach cruisers, to ride them for as long as comfortably right?
Women can use these guidelines and the following chart for proper guidelines.
| Rider Height (Feet & Inches) | Rider Height (Centimeters) | Cruiser Bike Size (Inches) |
| --- | --- | --- |
| 4'10" – 5'0″ | 147 – 152 cm | 15″ – 16″ |
| 5'0″ – 5'2″ | 152 – 157 cm | 16″ – 17″ |
| 5'2″ – 5'5″ | 157 – 165 cm | 17″ – 18″ |
| 5'5″ – 5'8″ | 165 – 173 cm | 18″ – 19″ |
| 5'8″ – 5'10" | 173 – 178 cm | 19″ – 20″ |
| 5'10" – 6'0″ | 178 – 183 cm | 20″ – 21″ |
Note: Please note that these are general guidelines, and some variations may exist among different cruiser bike models.
Do You Even Need A Women's Bike?
Women's bikes are great, they are specifically suited to the actual needs and body dimensions of women, but do you really need them? Here is what you should know about bikes made exclusively for women.
The feeling of trying out bikes that are actually made for yourself is great, women's bikes let you conquer the inevitable. Some of the distinct features of these bikes are narrow handlebars, shorter top tubes, and even different saddles. There is a greater emphasis on the saddles because they cater to a woman's wider hips and shorter torsos. We want you to be comfortable no matter what, which is why it is very necessary to go for a comfortable bike.
Unisex or Women-Specific Bikes?
This is a very interesting debate that we have had on our hands for a while now. If there are unisex bikes on the horizon, why should you even go for women-specific bikes, I mean what's even the point? Well, the answer to that question is COMFORT.
We ride bikes because of the thrill and the comfort, a bike that doesn't provide comfort is the kind of bike that we should stay away from. If women try out bikes that are specifically made for them and the results are very impressive like they feel more comfortable, have a better performance, and if they handle great, then they should go for these bikes. On the other hand, if all of these qualities are already present with the Unisex bikes then there is no need to go for bikes that are made specifically for them.
Lastly, you need to know that bikes made specifically for women are installed with a step-thru frame. These frames make it very easy to ride the bike while wearing a skirt. Plus, you cannot deny the awesome feminine look of these bicycles!
Women Bike Brands: The Best In The Market
As technology is advancing, more bike manufacturers are actually paying attention to the needs of women and are actively making bikes for them. Previously, the void was filled with Unisex bikes but that is changing now. Here are some of the brands that are producing amazing women-specific bikes.
All of these brands produce stellar bikes for women, once you try them out, you won't have to go for another brand. These bikes are made with love and passion, and most of the design and engineering team consists of professional cyclists. This ensures that the bikes produced are of the utmost quality and made for the highest levels of performance. Sometimes, these manufacturers will install dedicated components, examples could be handlebars and saddles.
Advantages and Disadvantages Of Women's Bike Fit
| Advantages | Description |
| --- | --- |
| Comfort Like None Other | A well-fitted bike provides unmatched comfort, even on long rides. Enjoy an upright riding position, reducing pressure on hands, arms, back, neck, and shoulders. A properly sized saddle minimizes saddle soreness. |
| More Confidence | Comfortable riding boosts confidence, allowing you to take on new challenges. Proper bike fit enables carefree riding, empowering you to explore new cycling opportunities. |
| Better Control | A bike that fits your size ensures better control, especially downhill. Your focus remains on the ride, not on handling an ill-fitted bike, reducing the risk of accidents. |
| Efficiency | Your well-fitted bike, matching your size, enables efficient pedaling. This conserves energy, making your rides more enjoyable and helping you cover longer distances with less effort. |
| Protection From Injuries | Riding an ill-fitted bike increases the risk of injuries due to balance issues and discomfort. Proper bike fit minimizes these risks, allowing you to ride with confidence and safety. |
| Disadvantages | Description |
| Increased Discomfort | Ill-fitted bikes cause discomfort, leading to shoulder, back, neck, and foot pain. Numbness in extremities may also occur due to improper fit. |
| Low-Confidence | Riders may experience low confidence when constantly struggling to control an ill-fitted bike. This can lead to avoidance of biking and feelings of frustration. |
| Difficult Control | Ill-fitted bikes result in poor control, posing risks, especially on rough terrains and hills. Accidents become more likely due to the bike being hard to handle. |
| Reduced Efficiency | An improperly sized bike often leads to issues where your feet don't reach the pedals effectively, hindering pedaling and reducing overall efficiency. |
| Higher Risk Of Injury | Riding an uncomfortable bike diverts your focus from the road, increasing the risk of injury. Pain in wrists, knees, or back may become chronic and limit your riding capabilities. |
Factors To Consider When Selecting a Women's Bike Size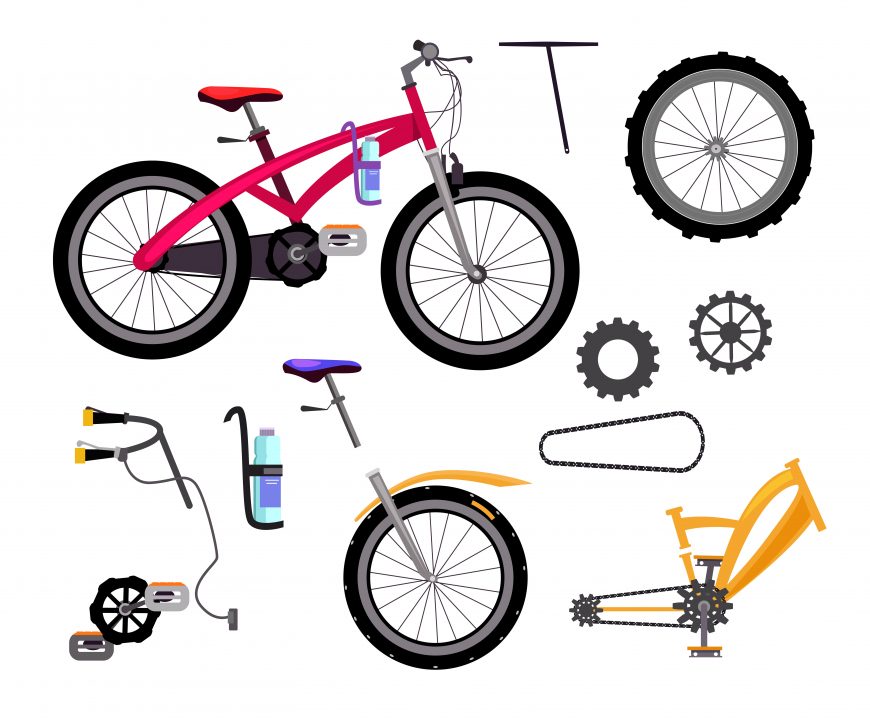 When it comes to cycling, picking out the right-sized bike is going to ensure your safety and comfort while you ride. Here are some factors to consider when selecting a women's bike size:
Wheel Diameter
In women's bikes, there are typically two sizes that you will find on the market. 24" and 26" wheels. This actually indicates the wheel diameter. Now 26" is the size that normally women ride but riding a 24" bike will be more comfortable if you are on the shorter side.
Frame Size
Since the 24" bike has a small wheel diameter, it is closer to the ground as compared to the 26" wheel bikes. The frame is also somewhat smaller, so it is suitable for riders who are short in height (under 5 feet).
It is also more suitable for you if you have a shorter inseam.
Frame Design
The top tube on women's bicycles can be placed anywhere closer to the chain cover or the saddle. A lower-top tube or we can say a lower step-through frame makes it much easier to mount and dismount.
It is not only more comfortable but also very safe. You can just step through your bike, effortlessly without having to swing your leg, get positioned on your saddle and you are good to go.
Forward Pedaling
Forward pedaling indicates that the pedals are not placed directly under your saddle. Instead, they are placed a little forward. This helps you to adjust the bike seat even to the lowest point and still have plenty of leg extension to pedal comfortably.
Seat Placement
Along with forward pedaling, we also have seat placement. If you have a lower seat, it means you can comfortably place your feet on the ground and there will be lower chances of mishaps. This is more useful when you have just started cycling or are not that good at balancing.
Adjustable Components
If the components are adjustable, you can pretty well make the bike fit your needs. Play a little with those adjustments to find what is comfortable for you and that will be exactly what you need. Look for handlebars that are adjustable. Nowadays, you can even adjust the tilt of the handlebars to give you a more upright riding position which is a great feature.
Riding Style
There are different types of riders, and they all have their own preferred riding style. This mostly depends on what kind of riding will you do. Are you a leisure rider or are you looking for more aggressive riding? Your kind of riding style will require a specific bike size and geometry.
Comfort
A bike that fits you well will provide the most comfortable ride. If it isn't comfortable, it's probably not your right size. A well-fitted bike will help you avoid any accidents and injuries.
Test Ride
Keeping everything aside, the most important factor is to take your bike on a test ride. This will help you make sure that your bike is comfortable and allow you to make all the necessary adjustments like the handlebar position or the seat height adjustments.
Why Should You Try Out Different Sizes And Models

Let's face it, you won't know how good it is until you have tried it for yourself. Here are some of the reasons why you should try out different sizes and models before making a buying decision.
Safety
It is definitely unsafe to ride a bike that is not your size. Riding a bike that is either too small or too big for you is dangerous in the sense that it is really hard to maneuver such bikes. This makes you exposed to the threat of an accident.
Comfort
Imagine you are struggling to get along on the road on a bike that is too big for you. Or you are squished in a small bike just trying to reach your destination quickly so that the torment can end. What fun is riding like that? You can ride a well-fitted bike for longer periods of time without getting tired. Your comfort should be your priority, that is why you should try different sizes and models to know if you are comfortable enough.
Cost
Bikes are costly creatures. One that you cannot change as frequently as you would like to without breaking the bank. Getting a bike that is the right size for you will ensure that your money is spent in the right place. It will be cost-effective since you won't have to upgrade frequently. It will also require less maintenance since the probability of mishaps will be low.
Performance
You might be thinking what's performance got to do with my riding performance? Well, Everything. Your performance actually boils down to the bike that you are riding, and I mean more than the brand and type. A bike that fits you well positively impacts your riding performance. Undoubtedly, there are different bikes for different kinds of riding but trying different models and sizes will help you achieve the goal that you have set.
Should You Try Out Professional Bike Fitting?
Think of this as a bonus step, if you want to have a bike with the perfect size, opt for a professional bike fitting. Although this step does not apply to people who have a limited budget, this service is certainly not cheap. Bike size charts will really help out but sometimes you need to go a little extra.
A professional bike fitter will check your measurements and make sure that you get the perfect bike. You can choose between different frames, whether it is a mountain bike frame or a road bike frame. Apart from suggesting frame sizes, there are some services that can even point out full-fledged bikes.
This service won't be available at every shop so you will have to do some digging, we would suggest asking a cyclist friend about it.
How To Know That You Have Got The Wrong Size
If you are thinking like this, you are not alone. It is more common to get carried away while buying a new bicycle than you think. Here are a few clues that will help you know that you have got the wrong bike.
Superman's Riding Style
The first thing to notice is how you are riding. If you are bent and your arms are spread out like Superman swinging from buildings, you have got the wrong size. It will be very uncomfortable to ride like this because it will tire you out and cause fatigue in your core as well as your arms.
The handlebars are supposed to be closer, if they are not, you've probably got it wrong.
Front Hub's Visible?
Another clue to knowing that you have got the wrong size is that your front hub is visible to you. If your front hub is visible while you are pedaling, your reach is wrong. Just look over your handlebars while you are riding and if you can see your front hub clear as day, it means that you lack enough reach.
You are restricted when your reach is in front of the bars and if your hub is visible to you behind your bars that means that you have got too much reach. Your hub should be obscured by the top of your handlebars. You can adjust the stem but if the problem is still there, you have the wrong size bike.
A High Front End?
Another sign of a wrong-sized bike is riding with your arms in the air. Raising your bar might mean more comfort on the bike but if it's too high you will not be able to handle your bike effectively. This will disrupt your bike fit.
If your handlebars are high, try to adjust them. But if you cannot adjust them more and they are still higher than your saddle, you should probably get a smaller bike with a smaller head tube or a smaller frame size.
Seat Post Extension
If you have a lot of seat post extensions, it is probably because you have got the wrong fit. There is a maximum seat post extension line on most of the bikes and if you are riding on that line, it's time to get a bigger bike.
The line means that there is no more room to go any higher and it is dangerous since there is not enough seat post inserted in your frame. So, your seat post lacks the frame's grip.
War Between the Front Wheels and The Shoe
If you are feeling that you are a bit scrunched up on your bike, it's because it is probably too small for you. You will get a lot of toe overlap on your front wheel. This makes turning and cornering very uncomfortable. You might even get a hole in your cycling shoe if this continues!
Now I'm not saying any overlap means that your bike is too small. A little bit of overlap is normal but a lot of overlap- get yourself a larger frame to increase your wheelbase. This will put enough distance between the front hub and the rear hub, setting you free of the treacherous foot overlap.
Knees Fighting The Bars?
Are your knees hitting the bars when you are riding? That's because your bike is too small for you. The right-sized bike will deliver a comfortable ride and a comfortable ride does not involve your knees wrestling with the handlebars.
Setback?
Now, this is where you have versatility. Your seat post can be set forward, set backward, or in line. If you are able to get your setback right, It might be because you have got the wrong bike size.
Ridding With A Big Stem?
Ridding with a big stem may seem cool and manageable in the start but it has a lot of drawbacks too. Firstly, your body weight will not be centered correctly. It will be centered too far from the front which will result in the bike being less responsive while powering down. But this one is really a personal decision, if it works for you, why care what anyone else says?
Tips and Tricks For Ordering Women's Bikes Online
Our suggestion would be to try out the bike before actually purchasing it, but what if you can't do that? COVID-19 is on the rise yet again, this could make it difficult to visit your nearby bike shops. In this case, your only option would be to order the bike online. Don't worry, we have some tips and tricks for that.
Some of the best women's bikes won't even be available at your local bike shop, you will have to order them from the online store. Prior to actually ordering the bike, we would suggest that you take your accurate body measurements (Height, Arm Length, Inseam, etc). Once you are done taking these measurements, compare them with the size chart mentioned on the website. Comparing these measurements should give you an actual idea about the best bike size.
In order to make things even easier, most online stores have dedicated tools that can make the whole process easier. From different sizing tools to online customer support, you can have all the help that you need.
The Ongoing Crisis Of Short Women Riders: What's The Solution?
Women face a lot of trouble finding the correct-sized bike for themselves, the problem is even greater for petite women, but is there a solution for this problem? Here are some of the tips and tricks that petite women can make use of:
Stand-Over Height Is Crucial
Perhaps the most important measurement that you need to know about is the stand-over height. For those that don't know about the stand-over height, this is the top tube height of the bicycle that you have chosen. How will you know about the most comfortable measurement? If you can stand flat-footed over the top tube of the bike then it is a perfect size.
Go For Youth Bikes
Youth Bikes are great and cater to women of almost all sizes. These Youth Bikes are sized between 26″ and 27.5″, just try them out, you won't be disappointed. If you plan on going for these bikes then we would suggest the brands Trailcraft and Woom, they produce some of the best youth bikes.
Try A Custom Frame
Custom frames are a Godsend when it comes to sizing problems, but just like anything, there are some strings attached. If you are just getting into cycling then custom frames are not for you, however, if you are a woman and really love bikes and are currently struggling to find the perfect bike size, then definitely try custom frames.
Go Small
There are some bike manufacturers that offer extra small bike frame sizes for women, so if you are struggling to find that perfect size for yourself, you should definitely try out those brands. When you go looking for these bikes, look for frames with a short top tube, this will allow you to reach the handlebars without any hiccups.
Variety Is The Spice Of Life
Life is incomplete if you don't try out other options, we are talking about bicycles, just in case you were confused. You must have finalized some bikes, it is important to try each and every one of them. Do not choose a bike solely on intuition, you must check if a bike is comfortable enough for you. Having a variety of bikes at your disposal is even better.
Shorter Reach
This is a main aspect that is often left unchecked by a lot of female cyclists. Reach actually refers to the distance between the handlebars and the saddle. You have to aim for a shorter reach, this will allow you to use the handlebars without any kind of problems. An adjustable stem is also necessary, so do look out for these distinct features.
Myths Around Women's Bike Size
Most of the myths have been outdated. Today, Science and research have proven that most of these beliefs are just old wives' tales, but still many of us go around today believing them without asking for any actual proof. Here are a few of the myths:
Lower Top Tube
For many years, It was believed that a women's bike is supposed to have a lower top tube so that women can easily mount it. The swinging of the leg around the bike to get on it was considered to be something only "Men" can do.
However, there is no scientific reason behind this other than some people being "uncomfortable" with women mounting higher-top tubes. Deciding what type of tube is suitable for you depends on your body weight and preferences, rather than your gender.
Smaller-Lighter
Another myth is that women are only able to ride bikes that are smaller and lighter. This assumption was made based on another stereotypical assumption that women are weaker than men and not physically capable of doing things like men. However, this assumption is also false and is nowhere near reality.
Limited Colors
Whoever came up with this myth needs a reality check! It was popularly believed that women's bicycles can only be in certain colors that are more feminine. What color you end up buying should only depend on your liking irrespective of your gender. A bike's color does not automatically restrict it to a certain gender.
A Shorter Reach
Whoever came up with this myth might have not come across a tall woman or simply refused to believe that women can be taller than men! It was generally believed in the past that women have shorted arms and legs as compared to men thus their bikes should have a shorter reach. Nonetheless, it is now proved that the bike's reach should be according to the rider's body proportions instead of their gender.
Durability
In the past, women were only allowed to do limited activities. Their ridding terrains were also limited, and it was believed that women cannot do anything other than casual leisure rides. This is why, it was believed that women do not need durable bikes that can take on rugged tracks. The women's bikes were less durable. This myth has been debunked with women taking on all kinds of tracks and outperforming everyone else!
Narrower Handlebars
In another episode of hilarious assumptions made by some ignorant people, we have the narrower handlebars. This myth was born because some people believed that women have narrower shoulders than men. Safe to say that his myth has been rightly debunked.
FAQs
What Bike Size Should I Get As A Woman?
The bike size that you should get as a woman really depends on your body proportions. It all comes down to your height, inseam, and most importantly your riding style. A bike that is not your right size will be uncomfortable and can even lead to injury when you are riding it. To get a perfectly fitted bike, you can refer to our women's bike size chart or visit a local shop to get your measurements.
Can Women Ride Men's Bikes?
Yes, if you feel comfortable on a men's bike and it fits your size requirements, you can ride a men's bike. However, there is no denying that the physical anatomy of males and females is different. The bikes are designed keeping this difference in mind. This is why you might a women's bike more comfortable. However, if it fits you then you do you!
How Do I Measure My Bike Size?
If you want to measure your bike size, you will need to first measure your inseam. Your inseam includes the area from your crotch to the ground. Compare your inseam with the bike chart to find out your bike size.
Should Women's Bike Have A Specific Geometry?
Yes, women's bikes should have a specific geometry. The reason is that women have different anatomy as compared to men. Bikes with specific geometry for women are made to fit the needs according to that anatomy.
Are Women's Bikes More Expensive Than Men's Bikes?
No, not necessarily. The price of a bike varies according to different things like the Brand, Models, and most importantly the features. Although women's bikes have different components as compared to men's bikes, that does not make them more expensive.
Watch: How To Pick The Right Bike Size For A Woman
Itching to know more about women's bike sizes? Watch this insightful video to know more about the topic!
Recap
To find the right bike, one that is made only to fit you need to understand the women's bike size chart. If you ride a bike that is too big or too small for you, you will not only be uncomfortable but also face some serious health hazards such as pain, weakness, and even fatigue. It may even lead to a fatal injury.
This is the reason why it is so important to know your accurate measurements and find a bike with geometry that fits those measurements. Take help from our guide to make an informed decision about your bike size and enjoy cycling like never before! The right size will deliver the right ride. Happy Cycling!
Also Read:
Ready to find the perfect gravel bike size for your next adventure? Explore our comprehensive Gravel Bike Size Chart
Don't make the mistake of buying the wrong sized Kid's Bike. Explore our Definitive Guide to Kids Bike Sizes now and make an informed decision that will ensure your child's safety, comfort, and biking enjoyment.
---