Have you ever tried a gravel bike before? If not, then there is a lot that you have missed out on. Gravel Bikes are designed to cover everything, you can take them out for long-range racing or for wild adventures in the woods, with these bikes, you will always feel unstoppable!
When it comes to gravel bikes, you can get yourself a race-ready aero model or you can bring out your inner adventurer with the rowdier models, or why not get the best of both, huh? In this guide, we will discuss the various gravel bike sizes and dimensions along with other vital information. We will also share how and why different gravel bikes ride the way they do!
We will be discussing the different geometry and sizing details of gravel bikes along with IceBike's special tips. Let's start!
Gravel Bike Frame Sizes All You Need To Know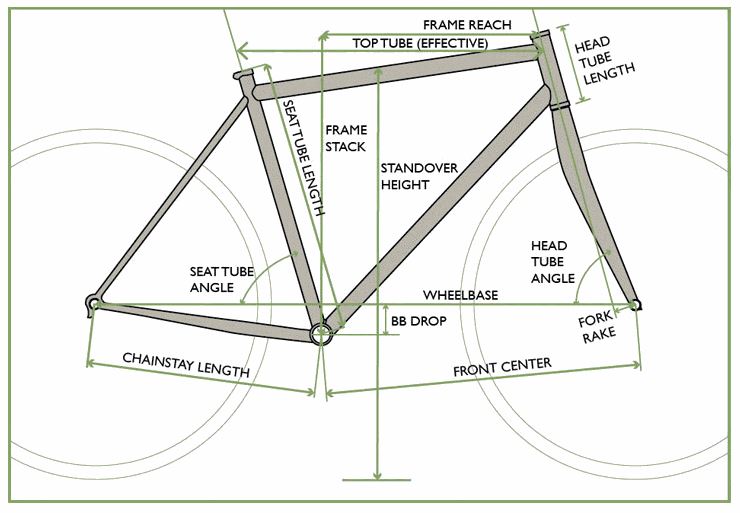 Just like the other bike types, gravel bike frames are constructed from different materials, these include aluminum, carbon, titanium, and steel. A gravel bike frame should be lightweight and sturdy enough to withstand the harshest terrains. You can always get a hybrid frame from one of the local bike shops!
You can also get a decent idea about the pricing of the gravel bike depending on the frame, carbon will be the cheapest while titanium will set you back the most. Each frame type has its own set of advantages and disadvantages, some might go with an expensive frame while some just want something lightweight and easy on the pocket. There is one thing that you need to know about gravel bikes, a higher price will not promise the best quality. There are some amazing yet affordable gravel bikes that will provide an unforgettable experience.
Gravel/Cyclocross Bike Size Chart
A gravel/cyclocross bike size chart is undoubtedly an efficient and effective way to find the perfect bike for yourself, this method is also very advanced in nature. We have decided to create a single bike size chart that will be used for both gravel and cyclocross bikes. The reason behind this decision is fitting, both of these bikes fit the same.
There are some variations in these bikes but that is something that will not be showcased in the size chart. When you measure the difference in centimeters between the bottom bracket and the top of the safety clamp of these two bikes, you can easily see a difference. There are also some differences in the length of the top tube, other than that, they are basically the same.
| Rider Height | Frame Sizes | Measured Frame Sizes |
| --- | --- | --- |
| 4'10" to 5'0" (148- 152 cm) | XXS | 1'54"-1'57" (47-48 cm) |
| 5'0'' to 5'3'' (152-161.5 cm) | XS | 1'6" (48 cm) |
| 5'3'' to 5'6'' (161.5- 170.68 cm) | Small | 1'7" (50 cm) |
| 5'6'' to 5'8'' (170.68-176.78 cm) | Small/M | 1'8" (52 cm) |
| 5'8'' to 5'11'' (176.78-180 cm) | Medium | 1'9" (54 cm) |
| 5'11 to 6'1'' (180-185.9 cm) | Large | 1'10" (56 cm) |
| 6'1'' to 6'4'' (185.9-193 cm) | Large/XL | 1'11" (58 cm) |
| 6'4'' Beyond (193+ cm) | XXL | 1'11" (60 cm) |
NOTE: If you have the correct frame size for your height then other components on the bike can be easily adjusted to fit your needs. Also with most bikes, the handlebars and saddle posts rise and lower.
Calculate Your Gravel Bike Size
You can use this simple mathematical formula to calculate the correct bike size (Works for any kind of bike).
What's the formula? Try out this simple formula and let us know!
Bike Type x Leg inseam = Your frame size (in centimeters)
Here is the formula, explained in three simple steps!
1. Bike Type:
Select Your Bike Type From The Following:
2. Measure Your Leg Inseam:
To determine your leg length, start by taking off your shoes and standing upright with your legs positioned approximately 15-22 cm apart. Next, use a measuring tape to gauge the distance from the ground to your crotch, as shown in the image above.
3. Calculate:
Gravel Bikes: 0.67 x Leg inseam= Your frame size (cm)
For example: If your leg inseam is 65cm and you are looking for the Gravel bike category, the correct size would be 65 x 0.67 = 43.55 cm
Related: Try Our Bike Frame Size Calculator
What Is A Gravel Bike?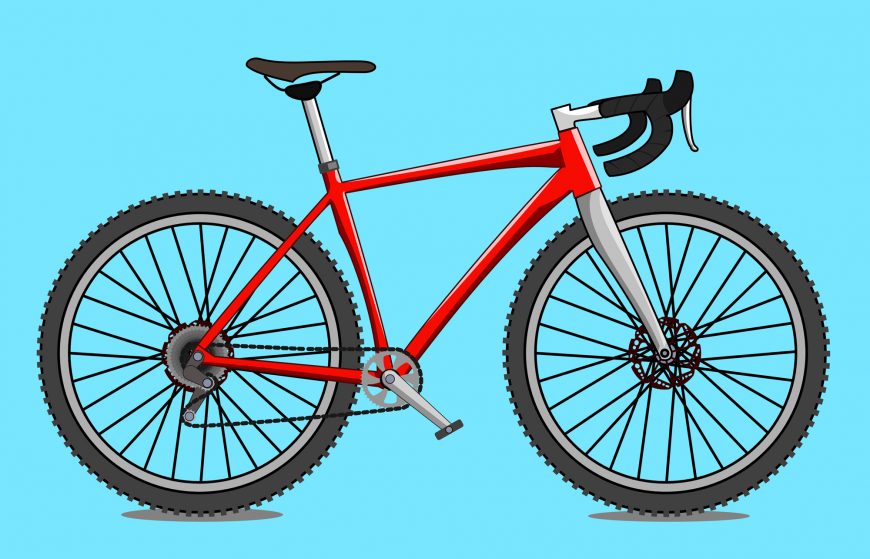 If you don't know anything about gravel bikes then you might have this question on your mind: What The Heck Is A Gravel Bike?
In recent years, gravel bikes have exploded in popularity because of their amazing features and performance. Honestly, it is very easy to see why they are so popular, offering bucketloads of versatility and opportunities for riders to get away from the concrete jungle and into the real wilderness.
A typical gravel bike is a drop bar bike which is basically designed to let you ride over a wide variety of surfaces, now this includes every kind of surface there is. You can think of it as a hybrid between a road and a mountain bike, offering the best properties of both these categories. With the drop handlebars and sport geometry, you can easily hold your speed on the road, pair that with lower gearing and wider tires, you can take the adventure off-road without any kind of hiccups.
Gravel bikes have an in-built multi-terrain capability which allows you to link up routes according to your plans, this means that you can cut through single roads and forest roads seamlessly. The key feature over here is that a gravel bike will allow you to traverse this terrain much faster than a road or mountain bike, which is the whole point. Apart from this, gravel bikes are also best suited for camping adventures, you can load them up however you want.
It needs to be stressed that although all of this may seem very exciting, gravel riding can mean a lot of things depending on which part of the planet you belong to.
Frame Geometry
When it comes to gravel bikes, geometry is a very critical part of their whole construction. Most bike manufacturers now just use different frame sizes rather than breaking them down to the specifications of the bike, this saves them time and also allows them to be efficient in their production.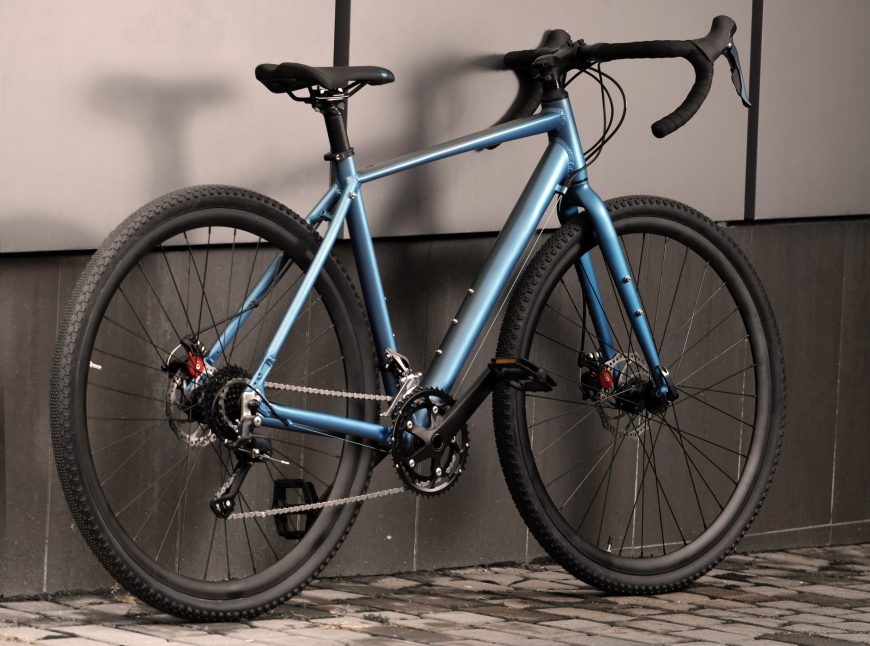 Gravel bikes are similar to road bikes but they also have their own unique differentiations, such as a longer wheelbase and elevated handlebars, these features are not something that you will see in a road bike. You will also come across some gravel bikes that are built to offer an upright riding position, this proves to be very beneficial in long-distance rides. If a gravel bike is built and customized like that, then it can easily be used by the elderly and short women.
Everything may seem great about a gravel bike but the height of the bottom bracket can be a bit of a concern. Most cyclists tend to ignore this but the height of the bottom bracket is going to decide what size gravel bike you might need. This is because there is a lot of difference in the bottom bracket height in gravel bikes, some have a higher height while some bikes have a lower bottom bracket height.
Cyclists need to be very careful when choosing the bottom bracket height since both heights have their unique advantages and disadvantages. A shorter height will enhance bike stability while a higher height will result in better cleaning of the gruff. The choice is yours to make, just be sure to choose the appropriate bottom bracket height that can improve your comfort and cycling performance.
Why Is Gravel Bike Geometry Crucial?
Gravel Bikes are designed in numerous ways: they can be sluggish, unsteady, stable, or sleek. Looks matter as well as the fitting and the most important part of a gravel bike is the kind of geometry it has. You might not notice this at first but the way gravel bikes are actually designed can impact your riding experience, and I say this from experience Ladies and Gents!
Just like any other bike category, the "Gravel" discipline has also boomed in recent years. There is no one kind of gravel bike now, these bikes have been further customized for gravel racing or even bikepacking. Yes! Now you can choose a specific gravel bike that has been made for adventures or adventures.
Now, when you step into a bike shop, you will notice aero-gravel racing machines to steel-built tanks, there is a lot of variety now. The former can handle intense races while the latter is built for rough and rocky terrains. These bikes also have wider tires that make them perfect for luggage-hauling bikepacking adventures. You will notice that both of these bike types will have different geometry, although both of them are practically gravel bikes. It is the sub-category of these bikes that can play a different role, we would advise you to inspect every single component of gravel bikes before you purchase.
Then there are all-rounder gravel bikes that are made for every kind of adventure. You can take them out for racing and bikepacking adventures, no need to shift bicycles for different purposes.
Gravel and Cyclocross Bikes – How Is The Geometry Different?
At the start of this guide, we told you that cyclocross and gravel bikes fit the same, they even look the same but there are still some variations between them. The main difference between them is the geometry, which we will discuss in detail.
Cyclocross Bikes
One of the main differences between cyclocross and gravel bikes is how they are used, cyclocross bikes are for intense racing sequences. Although the racing is for a short time (An hour at max), the intensity is very high. In order to accommodate this sort of purpose, they have steeper head tube angles, a shorter wheelbase, a higher bottom bracket, and a tire clearance enough for 33mm tires.
What do you get from these features? With this combination, you get to ride a bike that is sharp and precise, you can easily navigate around tight spaces. This bike has marge main triangles that come without a sloping top tube, which makes controlling the bike a piece of cake. You are going to love these features once you participate in a cyclocross race.
Gravel Bikes
Gravel Bikes have a different geometry, they feature a longer wheelbase, slacker head tube angle, and a short bottom bracket. These features work great in combination, you can feel the amazing stability of these powerful machines on off-road terrain, especially when it gets really rough.
You will notice that most gravel bikes have an upright riding position, this is because these bikes are made for longer adventures, you can even take them out for multi-day bikepacking adventures alone or with friends and family.
Does Frame Size Affect Geometry?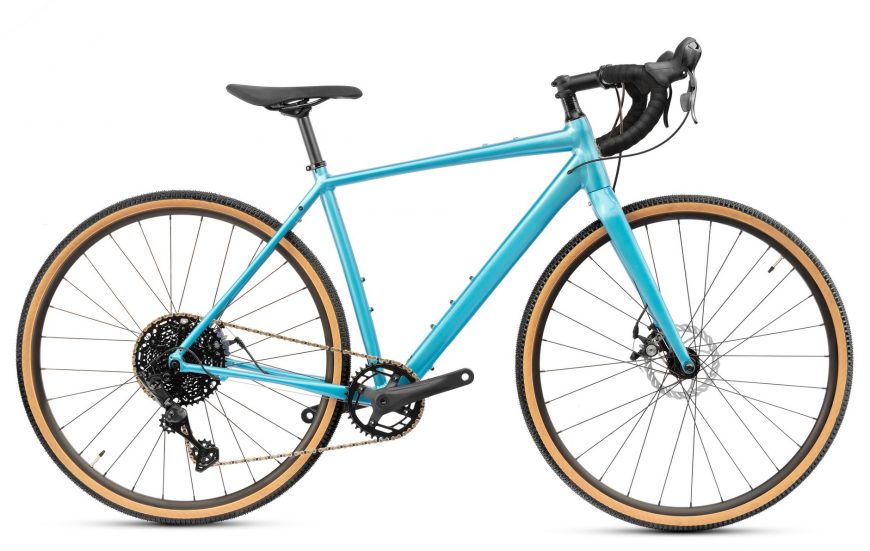 You must be going through different frame sizes now, there is something that you need to know about the geometry measurements. Yes, they are very crucial for the sizing but they also make sure that you get consistent performance and experience in any kind of bike, may it be a large or small bike.
Once you start trying different frame sizes, you will also notice that the angles also start changing. Sizing plays a very big part here, for the small sizes, the head tube angles will tend to get a little slacker and the seat tube angles will get steeper.
In order to make the transition between different frame sizes as smooth as possible, some bicycle brands actually install smaller-size bikes with 650b wheels rather than the usual 700c. How does this help out?
With these specs, the handling remains the same between the different ranges of frame sizes. Toe overlap is drastically reduced and the experience becomes as smooth as possible.
Benefits Of A Well-Fitted Gravel Bike
Here are some of the benefits of a well-fitted gravel bike:
Enhanced Comfort: A well-fitted gravel bike will make sure that the rider is in a comfortable and natural riding position. This will also allow the rider to have longer adventures on their gravel bike without any type of discomfort.
Improved Performance: If you fit your gravel bike properly then your overall cycling performance will improve. Since your body will be in an optimal riding position, it will be able to generate more power and the transition will also be seamless.
Injury Prevention: A bike that is perfectly sized according to your body can prevent you from injuries and fatal incidents. There will no longer be any kind of discomfort while riding your bike and you will actually enjoy the overall experience.
Better Handling: A gravel bike that fits you will allow you better handling, something which won't be possible when you aren't comfortable. Better handling will also allow you to have a grip over rough and technical terrain.
Risks Of Riding An Ill-fitted Gravel Bike
Here are some of the risks of riding an ill-fitted gravel bike.
Consistent Pain and Discomfort: Getting a gravel bike that doesn't fit your body will only lead to excruciating pain and discomfort. There will be unnecessary stress on your body which can easily be avoided with the right-sized bike. If not taken care of, you will experience pain in your neck, shoulders, hands, legs, and everywhere else.
Inconsistent Performance: Once you ride an ill-fitted gravel bike, you will notice reduced cycling performance. Chances are that you won't be able to produce the required cycling power or keep it consistent.
Higher Risk Of Injury: An ill-fitted bike will only increase your chances of injuries or a fatal accident. This results from the inability to control the bike properly, since the bike and rider are not in sync, accidents will occur.
Little To No Confidence: Since you won't be comfortable on your bike, there will be little to no confidence. Lack of confidence while riding your gravel bike will take away all the enjoyment and excitement!
Is There Gender-Specific Gravel Geometry?
This is something that needs to be addressed in an effective manner, just like the other bike types, there is a need for a female-specific gravel bike or gravel geometry. Here are some brands that offer female-specific bikes:
REI: Top selling Gravel Bikes
Juliana: Contains Many Gravel Bikes, Such As Juliana Quincy
Liv: Contains Many Gravel Bikes, Such As Liv Devote
Scott Contessa: Contains Many Gravel Bikes, Such As Addict Gravel 15
Liv and Juliana are one of the rare brands that make women-specific gravel bikes, and needless to say, the quality is top-notch. Apart from this, there are numerous brands that have bikes specifically for women, but they are not exactly built for women, they have unisex bikes that are marketed as women's bicycles. Sometimes, these manufacturers will install dedicated components, examples could be handlebars and saddles.
Just as technology is advancing, cycling brands are also evolving. The future of bicycling is becoming more unisex, the bikes that were once only used by men are now also accessible to women and vice-versa. This can actually lead to a lot of opportunities and benefits.
How To Choose The Best Size For Yourself?
A bike needs to fit you properly, unless you get the perfectly-sized bike for yourself you won't be able to enjoy it fully, and without comfort, what's the point anyway? Getting the right-sized bike will not only give you comfort but it will also make sure that there is a smooth transition of power and efficiency.
One of the first things that you can do here is to get a bike fit with a professional, this will make sure that you actually get the bike that is meant for you. Getting your bike fit with the help of a professional is something that we would strongly advise before you actually spend on your new bike, this just doesn't go for a gravel bike but for every kind of bike, there is. You can try out different sizes to see what suits you the best, and explore as much as you can!
If you found the bike that suits you the best then you can compare its geometry with other bikes and see what options you have. Alternatives never hurt, you might actually land yourself a better deal than before. Comparing raw data is very crucial, and this is something that you have to do yourself!
Related: Bike Size Chart
Watch the following 5 minutes video guide to find the perfect size Gravel Bike:
Gravel Bike Geometry Measurements: Important Factors You Need To Know
Choosing the best gravel bike is not easy, when finding the right-sized bike, you will have to go through different geometry chart measurements. Here are some of the important measurements that you should know about!
Riding Style and Terrain
Your own riding style and preference are going to play a critical part in choosing the best gravel bike, are you a racer or do you just want to have some adventures with your gravel bike? Another important consideration is the terrain that you will be riding on, choose a gravel bike that can handle anything.
Here are some of the terrains that are best for gravel bikes.
Around The Town
If you live in a town or a city and will be using your gravel bike for riding around town while occasionally venturing out onto the trails or forest roads then you can go with any kind of gravel bike. My advice would be to go with a gravel bike with an upright riding position which enhances your comfort, you should also consider opting for flat handlebars rather than drop bars. Your main goal here should be to enjoy the ride, so have the most fun out of it!
Important Tip: If you will be having adventures around town, don't forget to check for mounting points to make space for groceries. You will also need to consider adding fenders for winter commutes and rainy days!
Gravel Riding/Gravel Grinding
Maybe riding around town isn't cut out for you, so you might decide on having some epic gravel adventures. For this purpose, you need to go for a gravel bike that has a more aggressive riding position, lighter frame materials, and drop handlebars for enhanced aerodynamics and different hand positions.
Touring/Bikepacking Adventures
Chances are that you actually want to go touring or have extensive bikepacking adventures, after all, you don't want dust to settle on that shiny camping gear. You need to go for a gravel bike that has loads of mounting points, also, don't forget about a super durable frame. Making sure that your bike can withstand any kind of punishment should be your priority.
Single Tracks and Class 4 Roads
Sometimes you need an intense grinding session, this might motivate you to go off the beaten path and explore class 4 roads, or old logging roads. For this type of riding, you will need a bike that can take a lot of hurt and beating. Luckily, there are some gravel bikes that offer suspension while there are also some that come with full-fledged suspension.
Choose The Frame Material Accordingly
Gravel bikes come in different frame materials, from aluminum to the newly launched magnesium. Here is how the different frame materials can affect the sizing and performance of these bikes.
Aluminum
Aluminum is light, stiff, and easy on the money, you don't need to spend much to get a really good aluminum frame. One of the best things about an aluminum frame is the strength-to-weight ratio, you will get an efficient ride but it won't be that comfortable.
Steel
When it comes to steel, not all of them are made equal. You will come across two different types of steel, one is carbon steel while the other is chromoly steel. Carbon steel is very strong but has a heavier weight as compared to its chromoly counterpart. Chromoly steel on the other point is modern and is also very high-tech, it doesn't come cheap though. You pay a significant amount for it but the strength-to-weight ratio is worth it. As per my experience, steel is one of the softest and most flexible of the different frame materials. If you want to spend a long time on your gravel bike, then you should really consider a steel frame.
Carbon
Carbon frames are great, they are lighter than both steel and aluminum. They can be shaped as per the user's desires to any kind of form. Just like steel, carbon also comes in different quality and price ranges. There is one thing about carbon though, it has a shorter lifespan as compared to aluminum and steel.
Tire Clearance
The best set of tires will make sure that you get the performance that you deserve, which is why you need to consider the tire clearance of gravel bikes first. What are some of the defining features of gravel bikes? There is a greater gap between fork blades, seatstays, chainstays, and greater tire clearance. These features are very different from other sorts of bikes.
The tire clearance of gravel bikes varies from 40mm to 2.1 inches (53mm), sometimes it is even more than that. In order to pass the requirements of the ISO-4210 standards, there is also a 6mm space between the tire and fork on both sides.
While it is possible to fit larger tires than your actual size, we won't recommend that. Doing so will actually affect your mud clearance and could also damage your frame. This is something that you clearly have to avoid, no matter what!
In order to bring out the capability of gravel bikes, wider tires are very necessary. Wider tires will make sure that gravel bikes perform best in wider terrains and also for bikepacking adventures. For racing gravel bikes, the requirements change as tires with a slender tire clearance seem to do the trick.
Head Tube Angle
Head tube angle is another important part of gravel bike geometry that you need to consider. If you use a mountain bike or might have used a mountain bike size chart, then you might be familiar with this term. Either way, let's discuss what it means.
The head tube angle basically determines how much distance the front wheel is in front of you, this impacts the bike's stability. Gravel bikes tend to have a slacker head tube angle, this makes sure that the front wheel is actually more in front of the rider. This proves to be very beneficial for riders, giving them more enhanced stability on rough terrain and on steeper slopes.
Head Tube Angles For Different Gravel Bikes:
Gravel Bikes With A MTB Spectrum: Below 70 Degrees
Gravel Bikes For Racing Purposes: Between 70 and 72 Degrees
Head Tube Length
The next important geometry measurement is the head tube length. This affects the height of the cockpit but the measurement is fixed. Although the measurement is fixed, there is a workaround for it, users can adjust it by adding or removing headset spacers.
If you have a taller head tube then it will give you an upright riding position, but be sure to also consider the fork length as it affects the riding position too.
Bottom Bracket Height
What's the bottom bracket height? The difference between the ground and the center of the bottom bracket is known as the bottom bracket height. This measurement refers to how high the bottom bracket is, this affects the position of the rider's center of mass. A lower bottom bracket height results in a stable ride, especially on rougher terrain, hard braking, and steep descents. If you plan on doing any of the following then we advise that your bike has a lower bottom bracket height.
There is also a concern that comes with a lower bottom bracket height, this will increase the probability of pedal strikes. You need to consider this when tackling off-road terrain.
Bottom Bracket Drop
The bottom bracket drop is also something that you need to consider, but this is a measurement that is not affected by wheel and tire size. This is the vertical difference between the bottom bracket center and a horizontal line that runs between the hubs. It refers to how low the bottom bracket is when compared to the rest of the bike frame.
If the drop is great then this will improve the overall stability but also increase the chances of pedal strikes, you must choose carefully.
Wheelbase and Chainstay Length
The gravel bike wheelbase length is measured between the hubs of the wheels and it determines how the bike will feel to ride. The wheelbase can either be shorter or longer, each has its own benefits and drawbacks.
Shorter bikes are generally more responsive, they are best suited for racing purposes. Then there are gravel bikes meant for longer adventures, and to be used on rougher terrain, these bikes have longer wheel measurements.
When determining the wheelbase measurements, the chainstay length plays a major role. If the tire clearance is greater, then the chainstay should be longer to accommodate it. When the tire clearance is greater, it leads to a stable ride.
Standover Height
The standover height of the gravel bike is another important geometry measurement that you need to consider, although it is often overlooked. It is measured from the ground to the midpoint of the top tube. This height describes how far off the ground the bike's top tube is.
When you go looking for the ultimate gravel bike, you will come across various designs with different standover heights. There will be aero race bikes with high and straight top tubes, there will also be gravel bikes with slanted top tubes, these bikes will be in the MTB spectrum.
In the case of gravel bikes, sloping top tubes are preferred, this enables the addition of an exposed seatpost for the same sizing. This results in a better and more comfortable riding experience.
A sloping top tube is great, although it gives more clearance and adds more maneuverability, it also results in lesser space in the frame's main triangle. If you are planning to take out your gravel bike for backpacking adventures, then you will need to keep this in mind.
Top Tube Length
Another important measurement is the top tube length which you need to consider. This measurement is actually one of the main indicators of sizing, and it is measured from the headset to the seat tube. The measurement of the top tub will depend on the sloping angle.
Cyclists really need to pay attention to the top tube length as it affects the reach of a bike: if it is too short then you will feel cramped on your bike, which isn't something that we prefer. If it is too long, then you will be overreaching for the handlebars, again, something which is not recommended. You need to stay balanced as both of these extremes can cause a lot of discomfort.
Gravel bikes have an upright riding position, which is why it is best to find a bike with a shorter top tube and a taller head tube. A gravel bike for racing purposes will put you in a lower and more aerodynamic position, in the end, all of it will depend on your riding preferences.
Reach and Stack
Let's discuss the reach and the stack, which you need to consider when choosing a gravel bike.
The reach is the horizontal distance between the bottom bracket and the center of the top of the head tube. Then comes the stack, which is the vertical distance between the two points that we have mentioned (For determining the reach).
Although it isn't common, some manufacturers also include the headset in these measurements. Make sure that you pay attention to it when measuring. If you have managed to find a gravel bike that fits you and also has the stack and reach figures then you can take that information and compare it with the geometry of other bikes.
Upright Riding Position
Due to a completely different geometry, a gravel bike will ride more upright than a road bike. How does that help though? An upright riding position will allow you to be more comfortable during your rides and will even make the multi-day bikepacking adventures more fun.
Yes, you won't be fast as directly compared to a road bike but still, gravel bikes don't disappoint. Although you might be sacrificing a few aerodynamic watts, you will be getting a balanced and upright gravel bike position.
Gravel bikes have a shorter reach, slacker angles, and a longer head tube. All of this allows these bikes to perform really well on rough terrain, shifting the weight around also becomes very easy. Sometimes you might feel like going for Cyclocross Bikes (CX Bikes) because of their performance off-road but they have a limited capacity as compared to gravel bikes, this is because of their shorter wheelbase and shallower angles.
For tight corners, there cannot be a better option than cyclocross bikes but gravel bikes do really well on steep descents, bumpy roads, and technical terrain.
How To Measure The Dimensions
You need to know the following terms that are used to measure the dimensions of a bike.
C= Center (Central point)
T= Top (The very top)
B= Bottom (The very bottom)
I= In (In deepest part)
O= Out (Outermost part)
These terms don't need to be used in a singular form, you can also use them in different combinations. You will also have to use different calculation techniques which will result in different numbers. For example, mountain bikes are usually measured in inches, while road bike dimensions will be measured in centimeters. (Gravel bikes are a sub-category of road bikes).
Cyclists will also come across some bikes that will have extensions at the seat tube above the top tube junction, others bikes will just use a seat mast. These variations may prove troublesome when measuring and comparing the bike dimensions.
Important Note: There will be a huge variation between the adult and kid bikes. Normally, manufacturers use the frame size to measure. Kid's bike size depends on the wheel size than on the frame, a bit complicated but you will know what we are talking about.
Related: Kids Bike Size Chart
What Are The Myths Related To Gravel Bike Sizing?
Just like any other type of bike, there are some common myths related to gravel bike sizing. Let's take a look!
Gravel Bikes Should Have A Smaller Size Than Road Bikes
This one is definitely not true, gravel bikes and road bikes have different functions to perform. Since they both have different purposes, they have different geometry. You need to go with a size that you feel comfortable in, now which could be bigger or smaller than a road bike.
For A More Aggressive Riding Position, You Should Always Size Down
We get that an aggressive riding position is very desirable, especially if you want to be a daredevil on your bike, but according to experts, this is not recommended. If you have a small bike and you opt for aggressive riding then it can cause a lot of discomfort and even fatal injuries if you are not careful. You should always go for that size that offers the best combination of performance and comfort.
You Can Use The Same Size Gravel Bike As Your Mountain Bike
You really need to avoid going for this approach, gravel bikes and mountain bikes are built differently. Since both of these bikes have different geometries, you will need to choose a different size for both of these bikes. One size cannot be applied to two different bikes, it certainly doesn't work that way.
You Should Only Consider Your Height When Choosing A Gravel Bike Size
Certainly not true! Height isn't the only factor that you should consider when going for a bike size. You should consider the leg inseam, reach, and other body measurements.
Different Bike Manufacturers Will Have The Same Sizing Chart
This is a very common myth that needs to be debunked once and for all! Sizing charts will actually vary from manufacturer to manufacturer. You should consider the sizing chart of the brand and the bike that you are interested in before making a purchase.
Our Expert Advice On Gravel Bike Sizing
We shared all that we could about the gravel bike size chart, sizing, and the different geometry measurements. Still, there are a few important considerations for you to make.
If you get an amazing gravel bike, chances are that you will use them all year round, rather than one season. So, since you will be using the gravel bike in the winter and also using mudguards, make sure that you have a wider tire clearance. Apart from this, you also need to have a very aggressive tire tread to handle the mud.
Since gravel bikes are famous for backpacking adventures, we think that you will be having at least one adventure with them. You need to know if your gravel bike can actually fit the bikepacking bags. Higher top tubes will result in bigger main triangles, creating more space for your bags. Even if you have a sloping top tube, it will result in a more exposed seatpost, creating space for a larger bag.
Do you care for a comfortable and upright riding position? If you are a person with a short height then this should matter a lot to you. Make sure that your gravel bike has an upright riding position, always test drive first before purchasing the bike.
This might not be very important but you still need to consider it, does the size of the gravel bike make you look cool while riding it? Yes! We heard you in the comments, you actually need to have a bike that makes you look phenomenal while riding.
Toe overlap is a problem that cyclists need to know about. This is when you will hit your foot on the front tire when taking a sharp turn. Thankfully this isn't much of a problem in gravel bikes thanks to the longer wheelbase and slacker head tube angles.
FAQs
Should You Size Up Or Down On A Gravel Bike?
Sizing will actually depend on the rider's personal experience, if you want agility and more performance then go for a smaller size. If you are planning on longer rides and bikepacking adventures then a larger frame size will help you achieve that.
Are Gravel Bikes Shorter Than Road Bikes?
Yes and no! Gravel bikes actually offer a more upright riding position as compared to road bikes, because of this purpose, they have a shorter reach and higher stack.
Can Gravel Bikes Go Faster Than Road Bikes?
Gravel bikes are meant to offer the best properties of both road and mountain bikes. Since they offer the best of both worlds, they cannot go faster than road bikes.
Should My Gravel Bike Be The Same Size As My Road Bike?
Gravel bikes and road bikes are almost the same. They can be the same size while having a few differences.
Recap
May it be a gravel bike or a hybrid bike, you need to get the sizing right for the perfect experience. This is why the bike size charts are at your disposal, as it is an advanced mechanism, and with its help, you can easily land on the right-sized bike for yourself. We made sure to add every bit of necessary information, saving you the trip to the local bike shop.
From the seat tube length to the reach and stack, every bit of geometry measurement is added to our guide. We advise you to take a detailed look at what the experts have to say about gravel bike sizing. Do you still have any questions about the gravel bike size chart? Do let us know in the comments below so we can facilitate you better!
Always remember to ensure proper safety measures before riding!
Also Read:
---