As the cycling season has started, there are going to be a lot of races, both professional and casual, this is the perfect opportunity to get a new mountain bike. While getting a new bike, there are plenty of factors that we have to look into, some people have price points in mind while some have customization in mind, either way, with mountain bikes, the right bike will make all the difference for you.
Although a new mountain bike will be an expensive investment, over the course of years you will fall in love with the choice you made, both hardtail and full-suspension bikes are great, but in the end, what matters is what you really want in the bike, what kind of mountain biker are you?
Choosing The Right Mountain Bike Smartly
If by any chance you score a good Hardtail Mountain Bike, you will find that they are even lighter than some of the best and most expensive full-suspension mountain bikes, this can work really well in your favor if you can use this to your advantage. These kinds of bikes are very simple, as they don't feature a shock and rear suspension, sometimes only a suspension fork.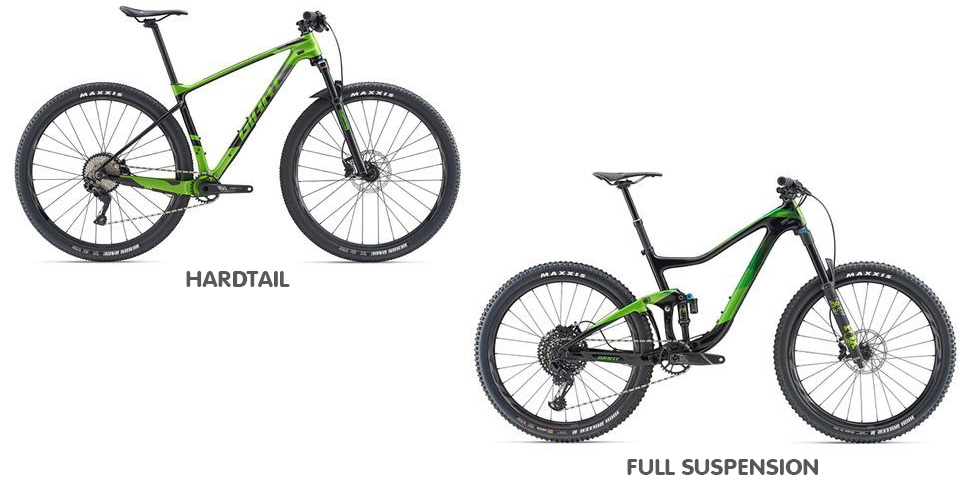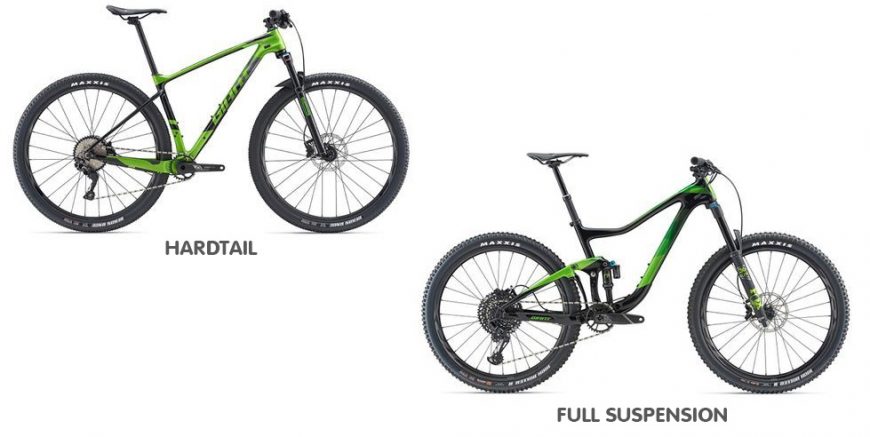 Hardtail tend to be lighter and require less maintenance than a full-suspension bike
As you won't have to spend your hard-earned money on a shock and rear suspension, you can easily use that money to get more parts for your bike, a stronger drivetrain, and better wheels perhaps? The main thing is that you can build yourself a really amazing Hardtail Mountain Bike without spending a fortune, it will get the work done and you will have your fun, but what is the long-term scope of these bikes?
If you want to ride technical trails comfortably then a Full-Suspension Mountain Bike can be an even better investment than a Hardtail, you can customize the wheels however you seem fit but you will not be able to compensate for that fixed rear triangle that Hardtails are known best for. Either way, let's dive into these amazing bikes and see what really sets them apart!
What Are Hardtail Mountain Bikes?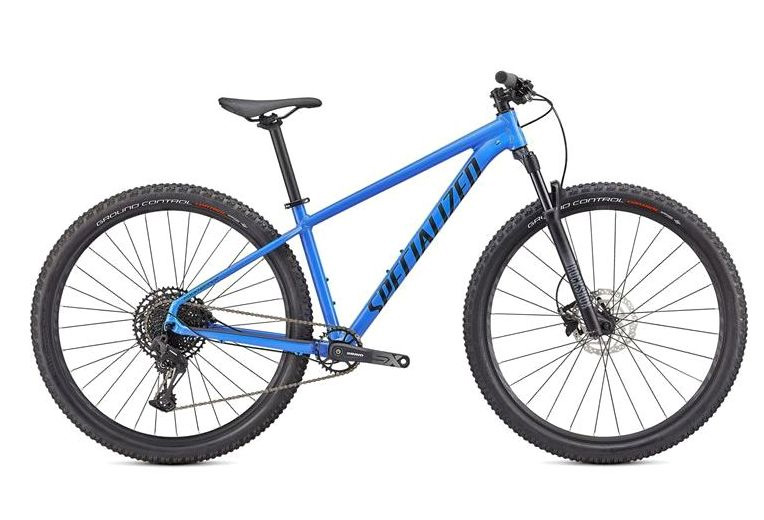 Do you love taking muddy rides, exploring rocky terrains, or just simply want to have a very low bike-maintenance cost? Then your best bet is going to be the Hardtail Mountain Bikes, they offer amazing performance and are also budget-friendly to own and maintain.
If we compare these bikes directly to Full Suspension then there is an absence of shock absorption and linkage bearing, although this loss keeps the maintenance costs to a minimum, riding these bikes can also be hard sometimes.
Your riding style will matter a lot here, do you strictly want the bike for adventures or want to use them as an all-purpose bike? Well, the fun thing with these bikes is that they act as amazing commuter bikes, and with a few modifications, you can use them for touring as well, just make sure that the right parts are equipped.
Hardtail bikes can be unforgiving sometimes, if you have injuries that set you back like leg injuries then it is advised that you look for another type of bike. Although, these bikes can handle a mild descent without any kind of problems.
Different Types of Hardtail Mountain Bikes
There are different types of Hardtail Mountain Bikes that you can enjoy.
Following are all the types:
XC (Cross-Country)
Trail Hardtail Bikes
Electric Hardtail Bikes
Enduro Hardtail Bikes
Jump Bikes
What Sets Them Apart?
There are plenty of features that set Hardtail Mountain Bikes apart, these features also make them useful in specific scenarios.
Some of the defining features are:
Strong Front Suspension Fork
Have Fewer Moving Parts (Lesser Maintenance)
Lighter Design
Rigid Rear Fork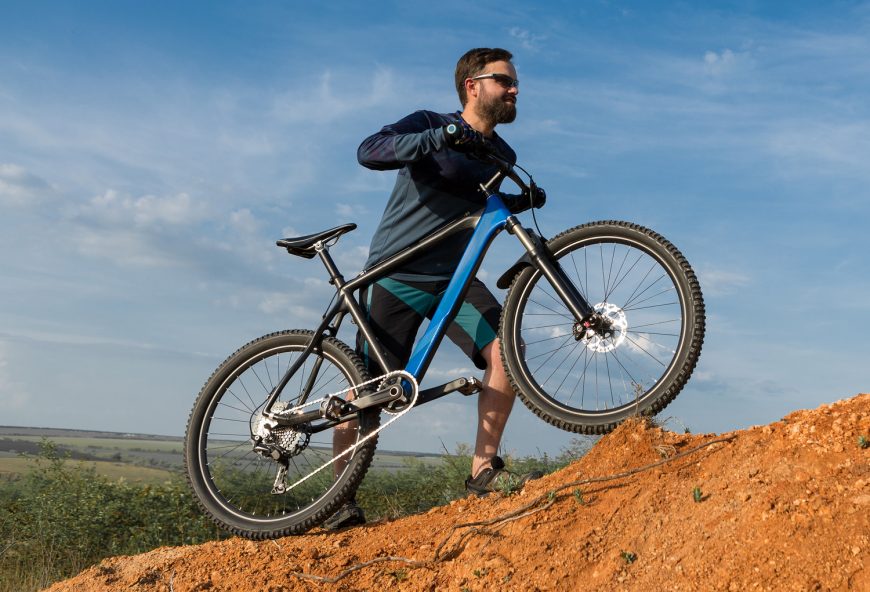 Advantages of Hardtail Mountain Bikes
Apart from the great features that they possess, there are several advantages that you can enjoy when you get a Hardtail Mountain Bike.
These kinds of bikes have many surprising benefits, let's discuss them:
They are very budget-friendly: With the hardtail bikes, there are little to no maintenance costs, you can acquire them without breaking the bank and even customize them further without spending too much on them.
They are extremely versatile: As we discussed earlier, they can be used as a commuter bike as well as touring. There are plenty of customization options that you can enjoy with Hardtail bikes.
Enjoy little rolling resistance: Hardtail mountain bikes have less rolling resistance, which means that you will be able to build and maintain speed very easily.
Lightweight structure: Hardtail bikes have a very lightweight construction, you can control them easily on the road. May it be the trails or on the road, there will always be better maneuverability for you to enjoy. Hardtail bikes generally weigh very lightly so you would have a lot of fun with them.
They are great climbers: If you love to climb hills while riding mountain bikes then the hardtail mountain bikes are great options to go for.
Disadvantages of Hardtail Mountain Bikes
There are great features, and a lot of fun advantages, but there are also a lot of cons that you have to be careful about when getting a Hardtail Mountain Bike.
Let's discuss the different cons of these bikes:
They are very slow on technical trails: Although these bikes can handle the technical trails as full suspension mountain bikes, you would have to take them very slowly through the obstacles.
Less comfortable: As compared to full suspension bikes, the hardtail mountain bikes don't offer that much protection when it comes to shocks and vibrations. There is no better way to explain this but you will feel every jump and turn, your legs and hands will be used to absorb shock.
Less traction: With hardtail bikes, you will not be able to enjoy the best traction possible. The handling is not that great and sometimes there is no contact with the ground at all. Extra precaution will be needed when you will be going for hardtail mountain bikes.
They are very simple: Needless to say but hardtail mountain bikes are not technologically advanced as other types of bikes, their design is still stuck in the past although there are some key areas that they have improved upon.
What Are Full-Suspension Mountain Bikes?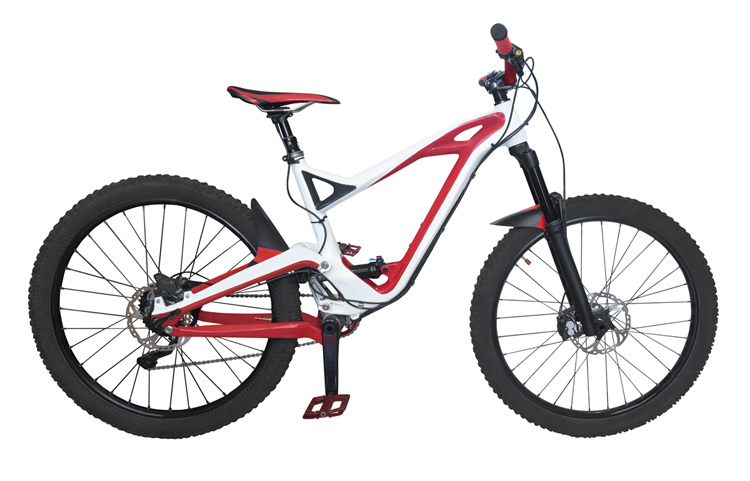 With the full suspension mountain bikes, you will always be protected against every kind of shock and absorption. If you worry about inflicting an injury while riding then these bikes will be our best bet. If you are planning to expand your skillset, and just be better at riding while also being safe then I would say that you should definitely get full suspension bikes.
Full-Suspension Mountain Bikes allow you to ride professionally on the most demanding trails without many problems, with harsh terrains, the training opportunities are also refined. We know that going over the bars (OTB) is a nightmare scenario for every kind of rider. There is a lot of support here, and you will never have to worry while riding a full suspension bike.
Hardtail bikes cannot handle rocky and technical terrain properly but that is where the full suspension bikes come. Your progression will definitely be smooth, even a full suspension bike that offers a short travel distance will be much better than a hardtail that cannot withstand bumps. Although these bikes are not cheap, a good full suspension MTB can cost you north of $2000, but sometimes money is not important when it comes to comfort.
What Sets Them Apart?
Suspension bikes feature a lot of important aspects, these features set them truly apart from a hardtail bike. Let's discuss what those features are:
Two Powerful Suspension Points: Front and Rear Suspension
Powerful Structure
More Technologically Advanced Construction
Better For All Sorts Of Riders Especially Those That Are Not Physically Fit
Advantages of Full Suspension Mountain Bikes
Full Suspension Mountain Bikes grant a lot of advantages, they surely offer a better experience than hardtail bikes.
Here are all the advantages that you can enjoy:
Better Traction and Handling: The first thing that you can enjoy with these bikes is an enhanced level of traction and handling. Even if there is a collision with an obstacle, your bike will be able to roll over. The damping system with these bikes is really impressive. You will finally be able to ride smooth trails.
Comfortable Ride: With the inclusion of a rear shock, all of your rides will be smooth. Even if land on a rough surface, you will always be well-protected. There will also be less fatigue while riding, these bikes are best if you have an issue of joint pain.
Faster Technical Trails: Unlike the hardtail bikes, you can ride quickly through a technical trail, you will not have to worry about the impacts or any other kind of problems.
They inspire more confidence: With these bikes, there is a much better chance of skill progression. There is also a wider margin of error, even if you stumble upon problems, you can always bounce back quickly.
Disadvantages of Full Suspension Mountain Bikes
Now let's get to the not so pretty part of full-suspension bikes, yes, they are amazing machines but not without their own set of disadvantages.
Here are all the disadvantages of full suspension mountain bikes:
Expensive Machines: Full-Suspension Mountain Bikes are expensive to say the least, since they have a lot of technical components, the price point goes way up. A good quality full suspension mountain bike will cost you north of $2500.
Less Efficiency: These bikes are less efficient as compared to hardtail bikes, having all these components makes them prone to errors sometimes. Most of the time, the bottom bracket of these bikes comes down which is not a pretty sight.
Requires More Maintenance: Full-Suspension bikes require more maintenance than usual, so if you don't maintain them often, the performance will drop, to say the least. Also, maintenance does not come cheap, you will need to get certain tools and maybe even take the bike to a professional mechanic.
Not-Beginner Friendly: These bikes are not suitable for beginners, although they do allow you to ride lazily and roughly. Learning the essential skills without that pressure is not possible with full suspension bikes, for example, you will never be able to bunny hop with these bikes.
Durability Is Low: As these bikes absorb shocks and vibrations more, their durability takes a big hit. That is why you have to repair them often. Only get these bikes if you can get them repaired frequently, even though these repairs are hard themselves.
Learn More About Mountain Bikes:
Guides and Tips:
Best Mountain Bikes Reviewed:
Recap
Mountain Bikes are great for having a workout, exploring, or even commuting. There are different mountain bikes that serve different purposes but we had our focus on hardtail and full-suspension mountain bikes, both are equal in their own regards.
Hardtail bikes are best for beginners, and advanced riders alike, although beginners are the ones that benefit the most out of them. All types of riders can enjoy these machines and even learn new tricks and skills if they want to. Body positioning and balance are well-learned with hardtail bikes.
Although if you want some really intense action then full-suspension bikes would be the best option, they will keep you protected. Full-Suspension bikes are heavier in comparison and are even more expensive but they offer amazing ride quality. You just have to keep a focus on your balance, don't need to worry about the obstacles that much.
Both of these bikes have their dedicated advantages and disadvantages and will suit you best in the long run. Just know what kind of experience you want first, go for a hardtail or full suspension, neither of them will let you down!