For mountain bikes, pedals are more than important. We're aware that the market offers a large pool of them, and picking the best mountain bike pedals from these countless choices can be quite challenging.
By using the best mountain bike pedals, your level of confidence is high, and you worry less about having to ride along the roughest terrains. The right ones are there to boost your confidence so that you can securely enjoy the game.
After careful research, we've compiled and split the best in this guide into two categories – flat mountain bike pedals and clipless mountain bike pedals. Whatever category you need, ranging from materials used, pin arrangement to budget-friendliness, we've got you covered.
And if you're not familiar with flat or clipless mountain bike pedals yet, don't worry. We have explained what they are and what you should look out for when getting one.
Flat Mountain Bike Pedals
Flat mountain bike pedals are double-sided, usually provided with additional grip with strategically positioned pins. You can move your feet as you like with flat mountain bike pedals. Most riders prefer flat mountain bike pedals in the technical field.
If you're a newbie, it's not a bad idea to start with flat pedals. It enables you to develop skills that you will not find when you begin with a clipless pedal.
One of your great advantages is that the flat mountain bike pedals give you more freedom. You can slip, slide and adjust on the pedals.
If you're looking to start with flat mountain bike pedals, here are a few things to look out for.
Size: When it comes to mountain bike pedals, size matters. In case you're getting a level bicycle mountain pedal, make sure to go for the one around 100mm in width. It would allow you to find a safe saddle when you're riding.
Pins: Pay special attention to those that permit the pins to be changed or taken out from the underside of the pedal body. You can also change the height of the pin according to your shoes. Grub screws are viewed by numerous individuals as the ideal sort of pins, as their threaded body allows for tenacious levels of grip.
Shape: Do not think that pedals are just alloy plates with pins screwed into them. They are more than that. Getting the perfect shape is an art very few can master.
Hardware: Invest in quality pedals. Pedals go through pressure, are power-washed, and wear off in the long run. Invest in high-quality sealed bearings that will make your pedals last longer than usual.
Clipless Mountain Bike Pedals
Clipless mountain bike pedals are made up of special pedals and attachments that connect to the soles of clipless cycling shoes. To upgrade to a clipless system, you must first select pedals and shoes of your choice.
You can put your foot out at any time with flat pedals. However, with clipless mountain bike pedals, you must always keep your feet attached to the pedals. You can pedal more efficiently without expending too much energy with clipless mountain bike pedals. This means your feet won't be bouncing around on the pedals, and you won't have to adjust them on the road.
If you're going for a long leisure ride, clipless pedals are recommended. When you're about to sprint hard out of the corner, you will be able to put down as much strength as you perhaps can with clipless pedals.
If you are looking to get a clipless mountain bike pedal, here are a few terms you should be familiar with.
Bearings and Bushings: You can discover the direction and bushings between the body of the pedal and the axle. While the bearings can be free fixed cartridges or needle bearings, the bushings are generally lighter. However, the bushings destroy quickly, particularly if water or earth moves beyond the seals.
Float: This is the extent for your shot pivot along the side. Your heel should turn left to right on the pedal. This keeps your knees from hurting.
Cleat: This is the part that mounts to your shoes. Most cleats come in around 60-65g per pair with bolts and hardware.
Stack Height: This alludes to the thickness of your pedals in addition to the cleats. It makes the distance between the axle and your foot. Go for a lower stack height as it causes you to feel more connected with your bicycle.
Platform: This is the body of the pedal. Like flat mountain bike pedals, the size and shape matter as they determine how much stability and support you get. A big platform has weight but gives you a sturdier body to stomp on in those finish-line sprints. On the other hand, a smaller platform has less weight.
Why You Need A Mountain Bike Pedal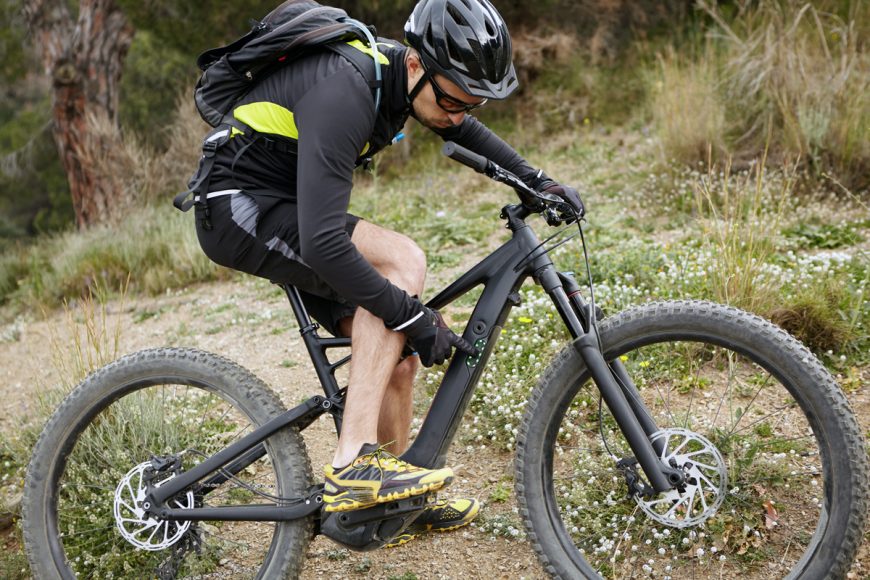 Most mountain bikes come without pedals. There might be two reasons why this is so. One might be that the cost of producing pedals is used on other features of the bike. The second reason is the fact that pedals are rider-specific. This allows riders like you to choose or swap pedals of their choice. Depending on your level of experience and your preference, the pedal you choose is totally up to you.
You need to purchase a bike pedal that fits you in every sense. Let's take a look at how you can choose the best mountain bike pedal.
Selecting the Best Mountain Bike Pedals
Bicycle pedals might look small and insignificant, but they are more important than you can ever think. You have to choose a bike pedal that fits you and your level of experience.
So how do you choose which one to buy? Well, there are a few factors you have to consider when buying a mountain bike pedal, and we will walk you through all of them.
Flat or Clipless?
When choosing a mountain bike pedal, this is the first thing to consider. Do you want a flat mountain bike pedal or a clipless mountain bike pedal?
In case you're an amateur, you can begin with the flat mountain bike pedal. They are more affordable than clipless mountain bike pedals. They are lighter, stable, and have more grip. You do not have to worry with special shoes to use flat mountain bike pedals. Lately, flat pedal innovation has made considerable progress, with critical enhancements in the pins and state of flat pedals and the hold of flat pedal-explicit shoes.
If you're searching for a strong, foot-pedal connection, a clipless mountain bike pedal is your choice. Clipless mountain bike pedal frameworks highlight an extraordinary cleat that is attached to a mountain bike-specific shoe to give you a genuine connection between your foot and pedal. You clip into the pedal by stepping down and let go by twisting your heel to the side.
There are several advantages of using clipless mountain bike pedals. First off, they improve pedal productivity since energy is moved all through the pedal stroke. Also, they keep your feet connected to the bicycle, especially when you're riding on rough terrains.
Combo Pedals
Combo pedals are a combination of mountain bike pedals that have the features of both flat and clipless mountain bike pedals. There are two different styles. One has a clip on one side and a platform on the other. The other type has a clip merged into the platform on both sides so that each is accessible at the same time.
One issue with using a combo pedal is that it is often heavy, and the clips are more difficult to use. If the combo pedal has only one clip on one side, it tends to rotate. The clip side will always point to the ground because of the weight. They are, however, an excellent option if you own a bike that you use for different purposes.
Weight
The weight of the pedal is another vital factor to look out for. While getting a lighter is generally the better choice, you also have to look at the durability factor, which is a common issue for light pedals. Do adequate research before making a choice.
Adjustability
This factor is important, especially if you want to get a clipless mountain bike pedal. You also need to consider the pedal tension settings and the float. Whatever mountain bike pedal you chose to buy, go for one that allows you to adjust to your preferred settings.
Durability and Ease of Maintenance
Durability is one of the most important factors to consider before buying a mountain bike pedal. Always go for bike pedals with smooth bearings that won't need a lot of maintenance.
Mountain bike pedals undergo a lot of stress year after year. When buying a bike pedal, look out for those that can be rebuilt easily or those whose parts can be swapped out.
Also read: Mountain Bike Size Chart.
The Best Mountain Bike Pedals in 2023:
We've selected the best mountain bike pedals available. These bike pedals are the best in the market. We took into consideration the tech, its build, and other important factors. So, without further ado, let get right in.
Best Flat Mountain Bike Pedals
1. HT PA03A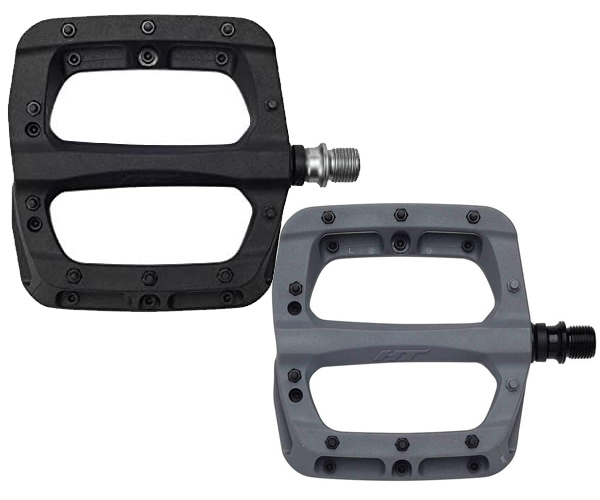 The HT PA03A is light, modest, and solid. They weigh 349g per pair and are extraordinary compared to other flat mountain bicycle pedals available. The HT PA03A has an enormous platform produced using nylon instead of alloy. With 10 pins for every side, you have no issue with grip paying little mind to your shoe choice or conditions.
Despite the fact that the platform is not concave (just like it is on most of the favorite pedals), we found the PA03As to work exceptionally well in all conditions. The ten pins per side (eight replaceable metal and two fixed plastic) are a good length and offer sufficient grip for even the most difficult descents.
The broad platform gives the 8 pins a good grip on the trails. These pedals don't pick up the sole and stick it like others outside, but small adjustments are possible without having to lift your foot directly from the pedal. Also, HT PA03A does not pull your foot.
The platform's generous cutaways ensure that traction is not impaired even if your shoes are caked in mud.
The Chromoly axle is well sealed and runs on a bearing and bushing.
Features:
Weight: 345 grams
Size: 107 X 105 X 18 mm
Spindle: CNC machined CrMo
Pedal Bearings: Dual Sealed Bearing + One Du Bushing
---
2. Nukeproof Horizon Pro Sam Hill Enduro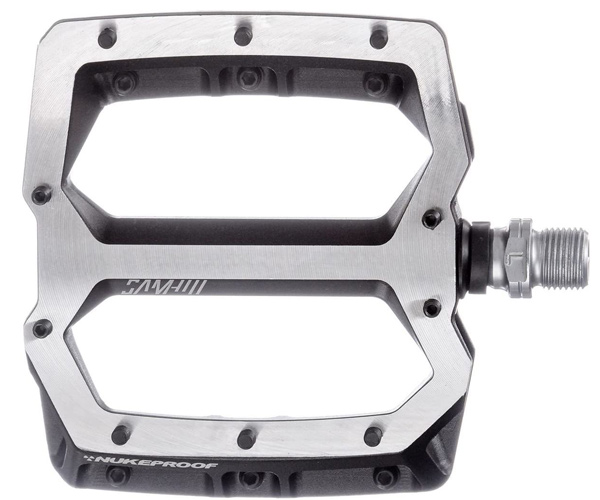 The most recent Nukeproof Horizon Pro Sam Hill Enduro has been adjusted to guarantee that they are suitable for trail and enduro riding. With 10 pins at each side and a curved shape, the Nukeproof Horizon Pro Sam Hill Enduro has been a top entertainer at the most elevated level.
Two sealed bearings and two DU bushings keep the pedals turning, keeping in mind that they are not the most durable pedals out there, but they are cheap and easily replaceable.
You can take Nukeproof as the lowest profile when compared to other flat pedals. Although the Nukeproof platform is not curved enough to cause stress to the feet, it is concave enough to keep the shoes stable.
Here, the pins are bigger than most. So, that they cannot just snap. But not as bluntly and stoutly affect the pure bite in the sole of your shoe. The width of the platform is much less than that of some close rivals. However, this doesn't work as traction is decreased because the level of stock grip is huge.
Features:
Weight: 337 grams
Bushings: 2x DU bushings
Bearings: 4x sealed Z989 cartridge bearings (per pair)
---
3. Burgtec Penthouse Flat Mk5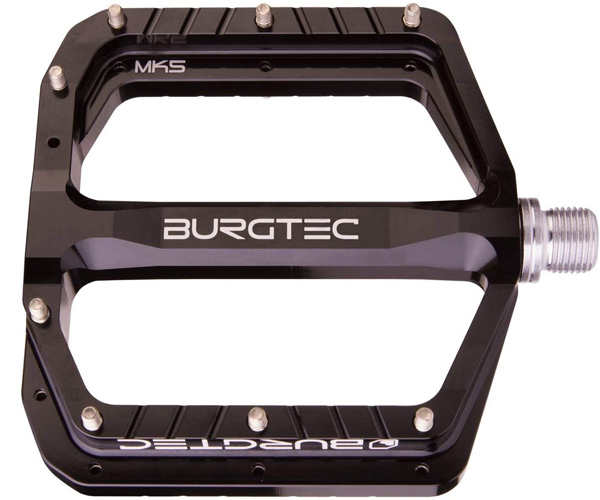 The Burgtec Penthouse Flat Mk5 is extraordinary compared to other flat mountain bicycle pedals in the market. Its pair weighs 382g and is accessible in various tones.
First of all, the platform measures 100 x 102 mm, which is large, but not so large that the pedals are always on rocks paranoid.
Then on each side is the generous 2 mm of concavity into which your feet can mold and stop being rebounded. Due to the especially thin overall depth in the center of the axle, the pedals give the bike a good balance with low sensitivity.
A large amount of traction is provided by the eight 4.5 mm high pins on each side. All of them are located at the edge of the platform, helping to sink in their shoes.
Burgtec has designed high-quality W300 Igus covers with sealed covers and rubber oil seals to increase their life expectancy. It should last a good time when its old pedals have anything to go through.
The Burgtec Penthouse Flat Mk5 is produced using strong CNC machined aluminum. Its enormous surface and pin arrangement give it the most extreme grip for aggressive trail and downhill rides. Its thin, concave platform reduces the diameter of the pins.
Features:
Weight: 382 grams
Platform: 100mm * 102mm
Material: 7075 Alloy
Axle: Titanium
---
4. Burgtec Mk4 Composite Flat Pedals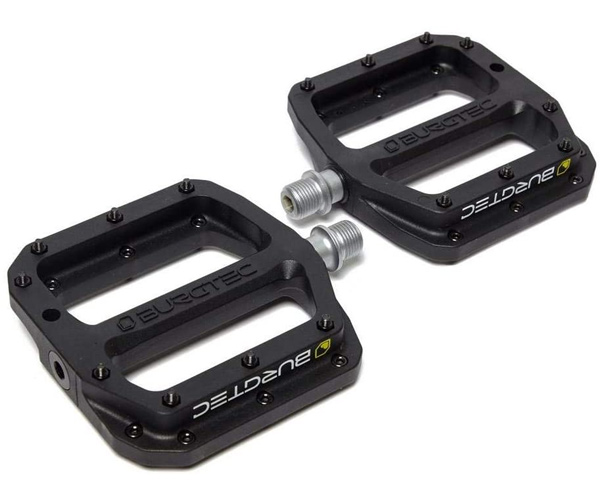 The Burgtec Mk4 Composite Flat Pedals is a concave flat mountain bicycle pedal with a nylon body. It weighs 375g and is bound to get past obstacles. The pins are generally thin, which assists them with burrowing the sole of a shoe.
The Penthouse, designed in the UK, proved robust, durable, and fluid. But some drivers found the stubby axle leading to the platform, which meant that shoes were rubbed with cumbersome shoes. Now, Burgtec has addressed it with an all-new MK V pedal design but with a wider axle. This composite version makes the MK IV version a 5 mm wider position for a broader position based on a 'Boost' retrofit.
A close approximation of the alloy profile is the 16mm high fiber and nylon platform with a 1mm deeper concavity in the center.
Features:
16mm Profile
1mm Dish
Nylon and Fibreglass Body
SCM415 Cromo Axle
All replaceable steel pins
Weight 376g
---
5. HT Supreme ANS10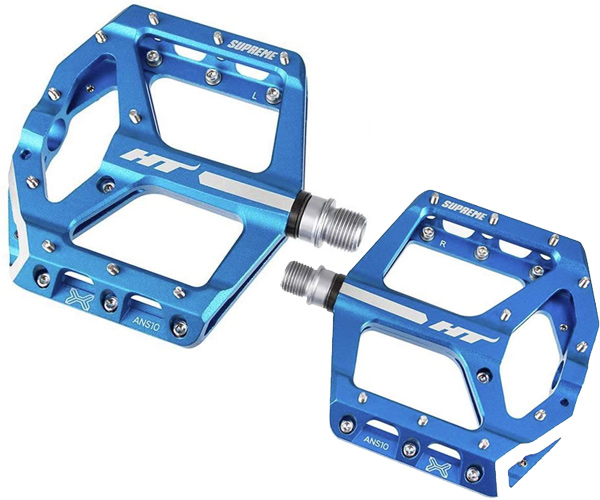 The HT Supreme ANS10 is one of the best flat mountain bike pedals. Its hexagonal design helps brush off rocks easily while allowing you to plant your foot effortlessly even when riding in an unpleasant landscape. It is lightweight at 376g.
The slim platform measures only 100 mm x 100 mm but in size 9 Five Ten shoes it is almost fine because there are no edges, bumps, or limitations to disturb position or prevent your feet from stabilizing over hard ground even on dull and muddy days. Riders with larger shoes can, however, overlap the sides as the platform is not big and the corners are cut off for extra clearance.
The ANS10 Supreme is supplied with a CNC-machined aluminum body and a durable CrMo spindle. The EVO+ bearing system offers longevity, durability, and performance to the internal components. The EVO+ system offers up to 2x better performance than the previous EVO system with the use of German manufactured IGUS bushings and high-quality grass. The unique patent bearing system and design make these pedals thinner and smoother than the others.
It has removable and flexible pins, which add to making the HT Supreme ANS10 grippy.
Features:
Weight: 368 g
Size: 100 x 100 x 16.6 mm
Material: Aluminum Extruded / CNC Machined
Bearings: Sealed Bearings or Igus Bushings
---
6. OneUp Composite Pedals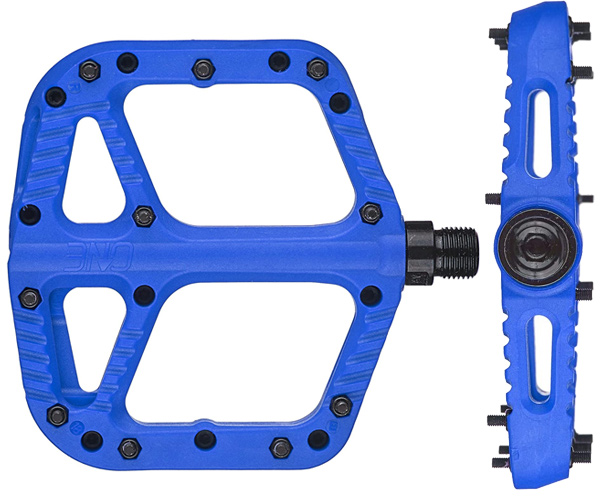 The OneUp Composite Pedals is outstanding amongst other flat mountain bike pedals with a decent grip and strength. It is generally modest, at the same time, has features that are comparable to the expensive flat mountain bicycle pedals available. It is lightweight at 355g a pair.
The grip is one of the best features we noticed. The pedals always provided reliable and predictable grip when they are down, up, or down from the saddle. With FiveTen Freerider Pro shoes they felt very natural. These shoes don't have the adhesive sole, but they matched the OneUp shoes to provide pedaling efficiency and grip.
The shelf is large at 115 x 110, not too large, as it stretches the pedal surface near the crank where the shaft meets it. The OneUp Composite Pedals has a big platform with 10 long removable pins set at the external edges and on the center of the pedal. The platform has angle edges to divert obstructions like rocks.
The best thing about the OneUp Composite Pedals is its grip. Regardless of the hold, the pedals give a solid and unsurprising grasp. The platform is very open. You should expect it to shed mud well.
Features:
Weight: 355 grams a pair
10 rear-loading Steel pins/side, with Nyloc nuts
DU plus cartridge bearing axle system
---
7. Race Face Chester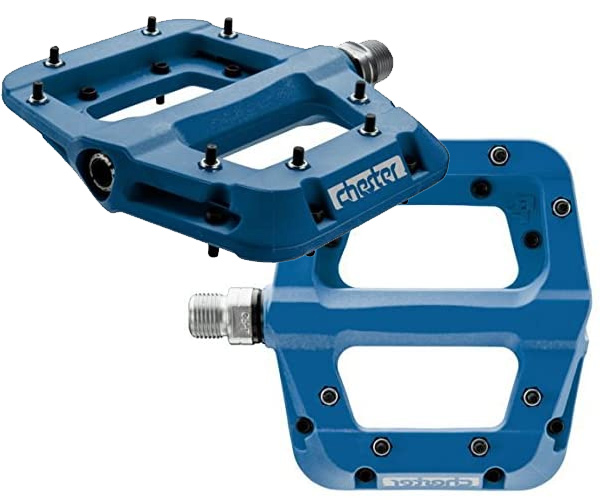 The Race Face Chester is one of the best flat mountain bike pedals in the market. Its plastic body gives good shock absorption and durability against rock blows.
On paper sacks, the Chester has eight adjustable pins on each side. To maintain them, each pin is threaded reverse through the nylock nut. They're a little on the stubby side at only 4 mm in height. By tightening up each stick, you can also take a few additional millimeters. This pulls the head of the pin a bit into the body, but we still have no problems with damage. The handle is not perfect even with the extra length.
The nylon composite body of the Chester is spinning on a completely sealed Chromoly axle with a fully operating bearing/box system. The Race Face Chester is made from nylon with eight traction pins per side. The Race Face Chester is lightweight at 340g.
Features:
Weight: 340 grams
Size: 110 mm long x 101 mm wide x 15-18.44mm thick
Nylon composite body
Chromoly steel axle
Cartridge bearings
DU bushings
---
8. Shimano XT PD-M8140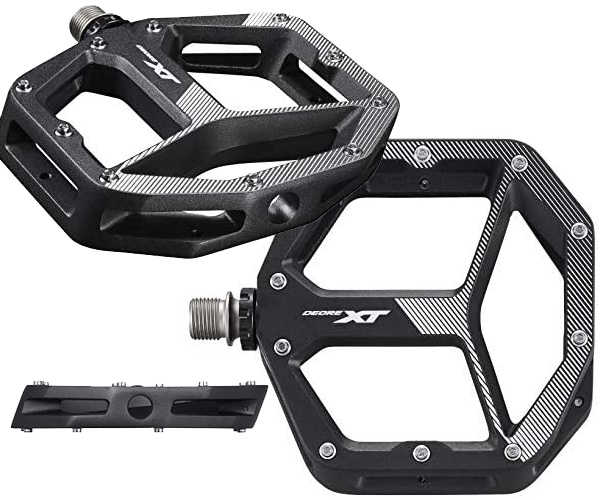 The Shimano XT PD-M8140 is a concave platform with 10 pins per side. The pedals can shed mud well.
The Shimano XT PD-M8140 comes in two sizes. The small-medium is recommended for riders with a shoe size of 36-43 while the larger one is recommended for shoe sizes from 43 and above. The smaller platform weighs 460g, while the larger platform weighs 503g.
The M8040s wide platform is very convenient, and since there is no bulge inside, there is a little more room for your foot right on the sleeve. Thanks to the concave shape and high pins, there is a lot of grip on the tap.
The race to build the thinnest possible pedal seems to have died a little bit, but the M8040s are a little thick for a modern flat pedal with a center measure of 18mm and a leading and trailing edge of 20 mm.
Features:
Spindle Material: CrMo
Pins: 10 adjustable pins per side
Platform: Small/Medium: 100mm x 105mm; Medium/Large: 110mm x 115mm
2 pin length options (long & short) for customizable feel
Optimized platform size (2 options available)
Weight: Small/Medium: 472g; Medium/Large: 514g
---
9. Race Face Atlas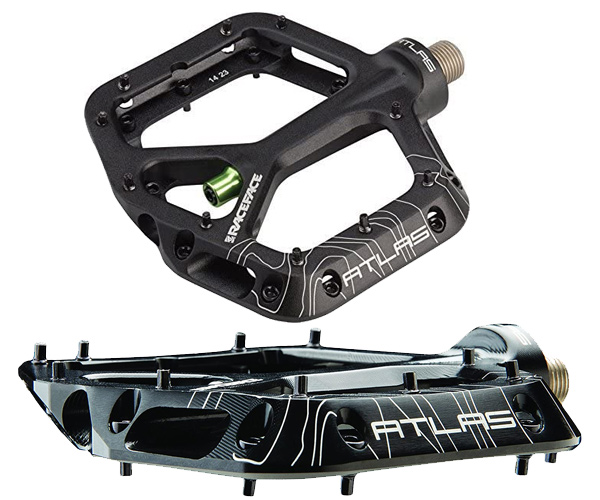 The Race Face Atlas is a 12 mm concave pedal with flares out to 14.5 mm to the edges. It weighs 355 grams with pins on the front angled towards the back. It has a size of 101 mm x 114 mm to give the side better clearance against obstacles.
It uses a larger internal bearing housing, but the body is heavily machined around this area, so the impact on the space for the shoes is minimal. Ten traction pins are easily replaced by threads below and thin enough to actually bite in soils and also slightly slit up forward or backward to stop shoes sliding. The Atlas pedal is extremely good, and even on hard trails, it feels extremely stable on rough tracks. This could sound like a gimmick.
At 12 mm in the center, the curved alloy body is only 2 mm higher on the sides, but there is still a feel of decent concavity and a shallow center for cramping the foot, thereby achieving good stability.
Features:
Material: 6061-T6 Aluminum
Size: 101 x 114 mm
Weight: 355g
Bearings: 4 completely sealed cartridge bearings for each pedal
---
10. RockBros MTB Pedal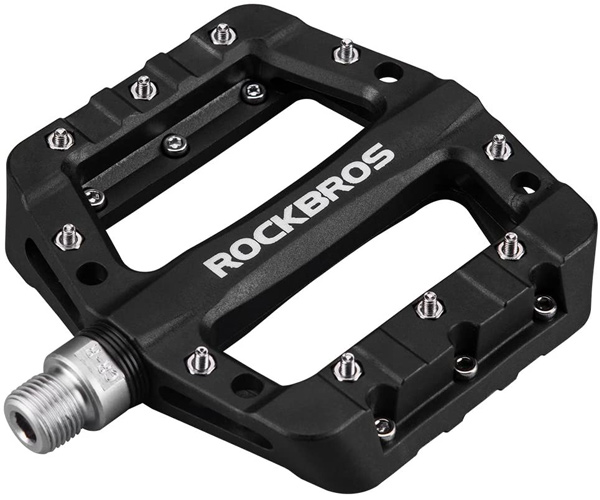 The RockBros MTB Pedal is one of the least expensive flat mountain bicycle pedals on the market. You can get this without using up every last cent. Its anti-skid replaceable pins keep your feet safe, even when the early-season mud is plastering your shoes.
The platform is very huge to fit any measure of foot or shoe, and the pedal surface highlights little pins to help keep your feet set up. The bicycle pedals are especially simple to use and install.
The corrosion-resistant hardware and sealed bearings add to your wet-weather security. Additionally, the abrasion resistance and shock-proofing give you more guarantee for any rough rides ahead.
Features:
Weight: 365 grams
Material: Nylon Fiber
Bearings: Cr-Mo Spindle + DU Bearing
---
Best Clipless Mountain Bike Pedals
1. Shimano M520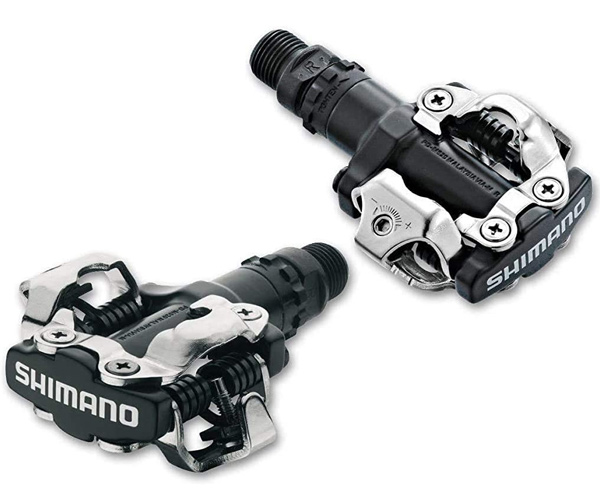 The Shimano M520 is one of the best clipless mountain bike pedals you can get. Weighing 374g, the Shimano M520 lasts longer than other clipless mountain-like pedals. Its axles are heavier though.
The Shimano M520 uses Multi-Release cleats, which allows you to pull out upwards as well as sideways. However, the Shimano M520 has no real shoe support.
Features:
Weight: 374g
Width: 50mm
Float: 4 degrees
Cleat: 4 degrees
---
2. Crank Brothers Candy 3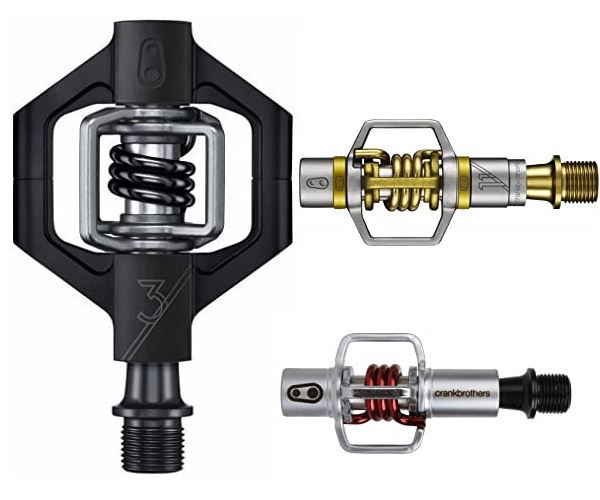 The Crank Brothers Candy 3 is one of the best clipless mountain bike pedals suitable for riders who want a softer release feel. Its mechanism is the X-Wing Eggbeater which rotates freely in the center of the shoe. The Crank Brothers Candy 3 is more expensive than the Shimano M520.
It weighs 356 grams with traction pads. The Crank Brothers Candy 3 also has a Hex key end cap and a double seal system that protects the Enduro cartridge bearings and Igus bushings.
Features:
Weight: 356g
Width: 72mm
Float: 0-10 degrees
Cleats: Standard, premium, or easy release
---
3. Shimano M540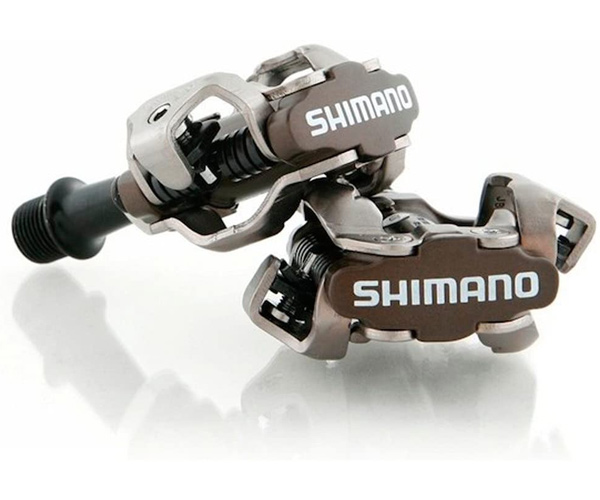 The Shimano M540 can be described as the lighter version of the Shimano M520. It takes the body of the M520 but has a lighter, sculpted axle that saves 11g of weight from each pedal.
In contrast to the M520s, when the M540 stops working, you can't melt and fit in another one. When the system is on the body rather than embedded, the wobble between shoes and pedals is higher on the sides than in most large platform pedals. The M540 has fewer options for clear compared to its competitors since the multi-release is a lot less predictable than a simple, improved buoy design.
Features:
Weight: 352g
Width: 50mm
Float: 4 degrees
Cleats: 4 degrees (multi-release)
---
4. Ritchey Comp XC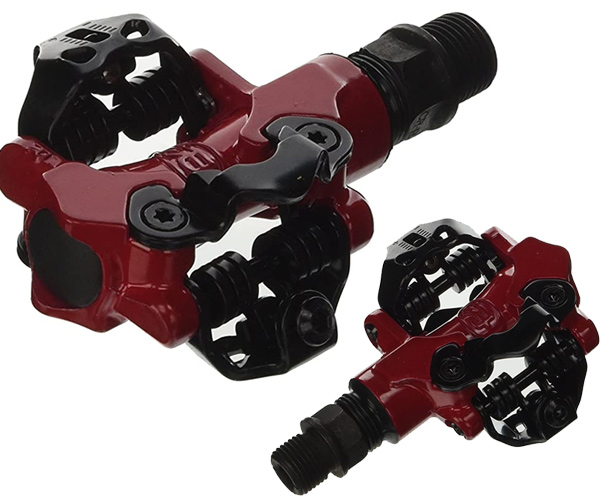 The Ritchey Comp XC is one the lightest XC pedal options in the market. Weighing 333g, the Ritchey Comp XC has the reputation of being lightweight racer friendly.
The gram shaving generally comes from the minimalist cold-forged body with a bolted-on front catch. There's still adequate side support for stiffer shoes, but with no shim system, the tightness of that connection differs on shoe tread design/depth.
The ball bearings, both inboard, and outboard give the Ritchey Comp XC a decent durability period, and they can be serviced if they start to malfunction. The Ritchey Comp XC used needle bearings, bushings, and cartridge bearings.
Features:
Weight: 333g
Width: 50mm
Float: 4 degrees
Cleats: 4 degrees
---
5. Time Atac XC6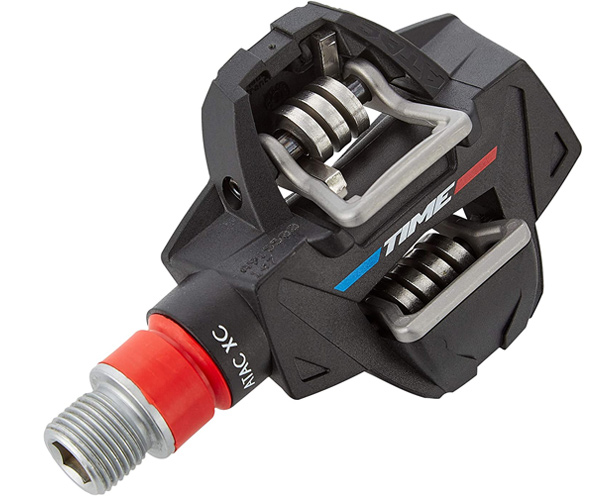 The Time Atac XC6 is one of the best lightweight clipless mountain bike pedals in the market. They float easily and disengage very smoothly to become the best knee-friendly pedals.
The XC6 uses a strong but lightweight composite body to add fairly wide side support and guard the mechanism.
While the non-slotted design does not imply that the broad hoops are adjustable next to each other, your foot can slide from side to side. It depends on your pedaling taste, but it can definitely make disengagement to some degree less consistent than other pedals. It's so smooth and mobile that you can't always tell if you're clipped in or not. It may be complicated to connect the large, short body either forward or backwards.
Features:
Weight: 290g
Width: 62mm
Float: 5 degrees
Cleats: ATAC and ATAC Easy
---
6. Crank Brothers Mallet E LS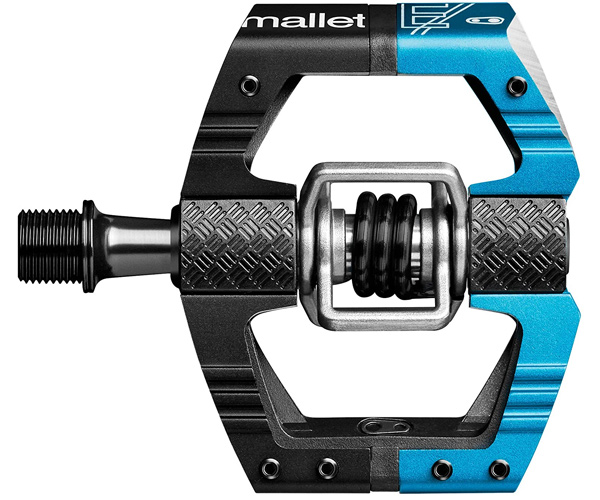 The Crank Brothers Mallet E LS uses a smaller platform with adjustable pin and shim features. The Crank Brothers Mallet E LS has one of the most fully tunable lightweight Enduro trail pedals.
It uses the X-Wing Eggbeater design with easy, soft angles. Also, it has a wide range of clears with tow axle lengths.
Features:
Adjustable pins: 6 per side for grip
Weight: 426 g per pair (without cleats)
Customizable float & release angle
Inner bearing type: Igus LL-glide bearing
Outer bearing type: Enduro cartridge bearing
---
7. HT T1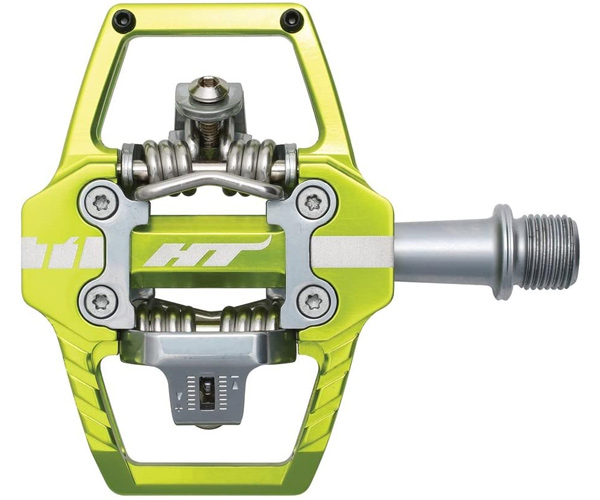 The HT T1 is also one of the best clipless mountain bike pedals you can find in the marketplace. It looks similar to the Shimano XT-8020 but is different as the HT T1 uses a distinct cleat design with a wide rear shelf and won't be suitable with SPD-compatible cleats.
The 68mm wide cage gives a decent side and some midfoot support, and they come in 11 different anodized colors. Dependability from the mix of bushings and needle bearings is not so bad, and there's a Ti axle version that decreases the low weight more.
One downside with the HT T1 is that it can be too stiff on long descents and only works with Praxis bottom brackets.
Features:
Weight: 368g
Width: 68mm
Float: 4-8 degrees
Cleats: 4 or 8 degrees
---
8. DMR V-Twin
The DMR V-Twin has one of the best contacts and connection features, ranking as one of the best clipless mountain bike pedals in the market.
Its chunky alloy cage provides fair side support and comes with plastic bumpers at either end that can be lumped higher to adapt to the foot gap. Also, they have 7 (four front, three rear) grip pins that can be screwed in or out for more bite.
One downside of the DMR V-Twin is that its mechanism is likely vulnerable to rock damage. The DMR V-Twin is SPD compatible. It is heavy but appreciably adjustable in terms of grip and contact purchase.
Features:
Weight: 560g
Width: 55mm
Float: 5 degrees
Cleats: 5 degrees
---
9. Shimano PD-M530
The Shimano PD-M530 is outstanding amongst other clipless mountain bicycle pedals on the market. It is a strong alternative for those searching for extra support. The Shimano PD-M530 is appropriate for individuals who prefer their SPDs with a cage. The cage doesn't offer the same degree of support as certain contenders, yet there's still sufficient side support for most trail shoes.
The Shimano PD-M530 is relatively cheap because of its simple cup and cone bearings. This arrangement also makes it last longer.
The system essentially works, with a decent, comfortable degree of buoyancy and a usable range of tension adjustment. It's a framework that practically every shoe is based around, so it's no surprise that all shoes tested fit perfectly. The shaping mechanism indicates that it doesn't get too hung up on rocks, although, with just one side sprung, entry options are a touch more restricted than for some competitors.
Features:
Size: 9.17 x 5.59 x 2.83 inches
Weight: 0.61 Kilograms
Grip Material: Chromoly
Cartridge Axle
Optional SM-PD60 Reflectors
---
10. XTR M9100 Pedals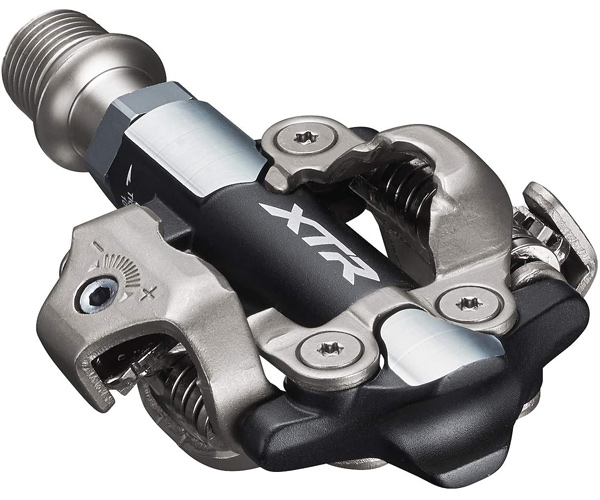 XTR is Shimano's flagship line, and this pedal improves upon XT by dropping about 30g per pair. Compared with the earlier M9000 pedal, these get a more extensive yet slimmer platform that keeps the same weight but actually supports your shoe better.
The key redesigns from XT are a slender profile with reduced stack height and the choice for standard or 3mm more limited axles for racers looking for the tightest conceivable Q-Factor.
Features:
Weight: 314g
Float: 4 degrees
Release Angle: 13 degrees (with SM-SH51 cleat)
Q-Factor: 52mm or 55mm
Bearing Type: Cup & cone adjustable contact bearings
---
Conclusion
Biking can be fun. It is one of our most loved hobbies. However, you cannot just jump into biking without getting the necessary gear. To enjoy this hobby, you should take out time to get the best bike, biking shoes, and, most importantly, bike pedals of your choice.
You can choose to start with flat mountain bike pedals or embrace the huge leap and go for clipless mountain bike pedals.
You can also decide to go with the plastic or nylon pedals that come with a cheaper price tag or go for the less expensive to expensive metal alloys that are more durable. Whichever you decide to go for, depending on your choice and budget, we are certain that our list has got you covered.
With all the advancement and upgrade done on bike pedals, can rest assured that no matter your choice, you will get comfortable and enjoy your mountain bike journey.