Hunters are facing a lot of challenges these days but if you are a hunter that prefers to use a mountain bike during hunting then the problem could be an excruciating pain for you. Have you ever felt like your presence can be sensed from miles away, maybe you have felt that you are not even fast enough for the big game. We understand these problems, which is why we want to present these amazing mountain bikes for hunting!
With these spectacular mountain bikes, you will finally be able to embark on hunting adventures. Rest assured, these bikes will allow you to camouflage and stalk your prey easily without alerting them. Technology has evolved a lot in the cycling sector and that has made hunting quite easier. Let me tell you something from my own experience, bikes make hunting much more exhilarating, your blood gets pumping like crazy, imagine chasing game on your bike through the wilderness, there is no feeling like it.
Are you feeling excited about mountain bikes now? We are too! Let's get this hunt started!
9 Best Mountain Bikes For Hunting and Camping: Tackle The Wilderness In Style
You need to be equipped with the right hunting gear if you want to score some game. This is why we have selected an onslaught of some amazing electric mountain bikes and hunting bikes. You are actually going to feel a lot of difference with these selections, and will also score some trophies along the way.
We tested more than 15 bikes in detail but could only select a few because of the overwhelming features and performance. They are going to be more than enough for you, may it be a normal mountain bike or an electric bike, we have it all. Without further adieu, let's begin!
Note: All the prices mentioned are subject to change. Stock availability will differ from region to region, it is advised that you place your orders in advance.
1. Velowave Electric Bike 750W – Editor's Choice
Price: MSRP $1,399
Type: Electric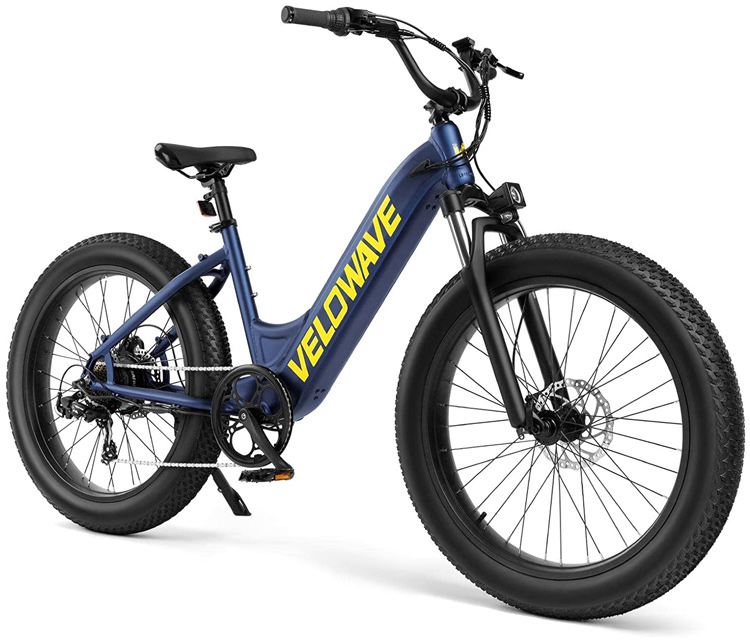 We tried a lot of bikes but the Velowave Electric Bike impressed us the most, it proves to be the absolute robust choice for hunting and other wild adventures. As the name suggests, this one is equipped with a powerful 750W motor that provides a maximum speed of more than 40 miles/hour (With Pedal), and in full throttle experience, users will enjoy a speed of 32 miles/hour.
Since this bike is best for hunting, manufacturers didn't shy away from adding impressive safety features. To start things off, the Velowave 750W is fitted with hydraulic brakes, a hydraulic suspension, anti-skidding features, and bright lights to help you out in the dark. This is a very important feature that is often overlooked by many people, you are going to hunt in the dark, which is why you will be needing good vision, bright lights will help you out with that.
We tried out the previous 500W version but it just wasn't up to the mark, but this time around, we are much happier with the 750W model, it just stands out as a better hunting mountain bike.
Advantages:
Impressive Speed
Impressive Range (35+ Miles)
Anti-Skidding Fat Tires
Powerful Hydraulic Brakes
Disadvantages:
Accessories Could Be Better
Editor's Choice: The Velowave 750W is a much better option than the previous version, and I have had so much fun with this bike. It actually allows you to stalk your prey without ever alerting them, this empowers you and also boosts your confidence. The Hydraulic disc brakes are there to prevent you from injuries and also help control the bike in risky situations. You really have to try out this bike!
---
2. Mongoose Dolomite Men's Fat Tire Mountain Bike
Price: MSRP $501
Type: Mountain Bike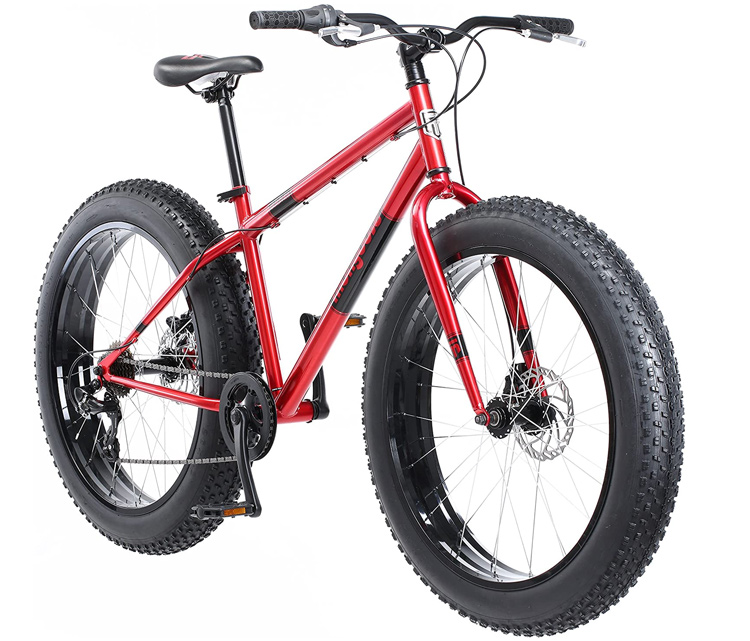 You have to try out the Mongoose Dolomite if you want a good performance-to-value ratio. Featuring 4-inch wide knobby tires that are fitted with powerful front and rear brakes, you won't be needing another bike for a while. Considering the price of the bike, I didn't expect the value that I would be getting from this bike so the performance was quite surprising for me. The Dolomite has high-performance fat tires, which can make you go all out on rugged terrains. I took 5-10 trophies back home with the Mongoose Dolomite, easy enough to say that this bike can bring out the best in a hunter!
If you are anywhere between 5-6 feet then this bike will be more than enough for you, I go beyond 6 feet but the bike was never a discomfort for me. The bike also has good features this time that promote comfort and safety for the rider, a job well done by Mongoose! Another part that I loved about the Dolomite is the ease of usage, it is very easy to get on and off the bike.
Advantages:
Diversity For Riders In Aesthetics and Size
Powerful Brakes
Rigid Suspension
Lightweight Design
Disadvantages:
Heavier Than Other Options
Why I Like It: Everyone loves a hunting bike that is both capable enough and provides amazing value, the Mongoose Dolomite is one of them. Yes, the bike is heavier than other options that we have tried out but all the other features just stand out. The bike is also available in different frame sizes, you won't have to look for another bike anytime soon!
---
3. Aostirmotor Electric Mountain Bike
Price: MSRP $1,029
Type: Electric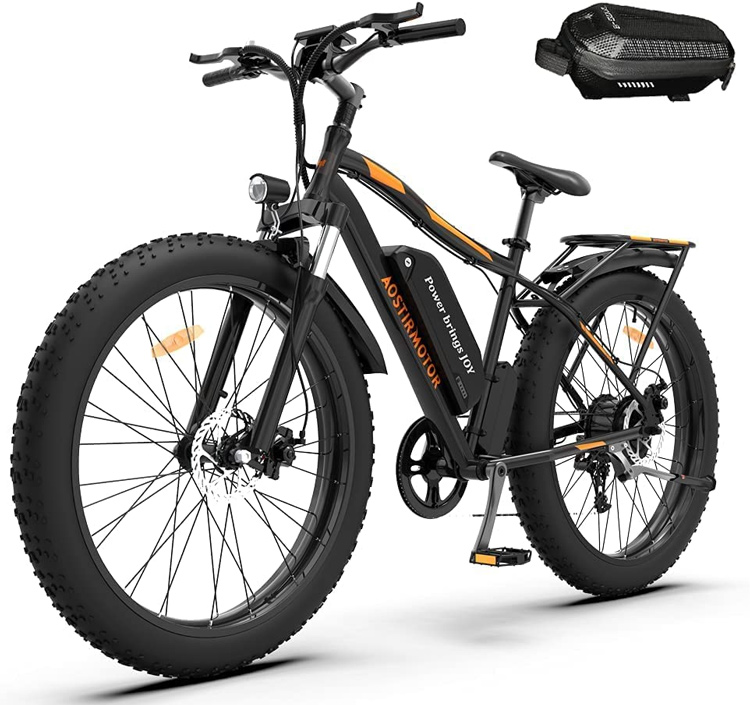 Ever wondered how far electric bikes could benefit you in hunting, with the Aostirmotor Electric Mountain Bike, you won't have to guess anymore. This 750W powerhouse is one of the best electric mountain bikes in the business, it is installed with Shimano 7-Speed gears and a 48-volt 15AH lithium battery (Fully removable). The construction of the bike is also very impressive, the aluminum frame makes sure that the bike remains tough and sturdy for any kind of grizzly action.
I personally love this because it is actually meant for hardcore trail riding and off-road adventures, you can catch up to your prey within no time. The alloy fork suspension is also there to make sure that the riders are always safe when they are off hunting, apart from hunting, this bike is great for camping too!
Even if you are an amateur rider, the suspension will allow you to maneuver through tricky areas without any hiccups. For professional riders, this tough and sturdy construction is just going to make them go all out.
Advantages:
Powerful Disc Brakes
Strong and Lightweight Aluminum Frame
Vibrant LCD Display
Alloy Fork Suspension
Disadvantages:
Kickstand Seat Needs To Be Better
Why I Like It: The Aostirmotor Electric Mountain Bike makes sure that you have enough power to go on a hunting trip without any problems. It is fast, strong, and virtually silent, the motor doesn't make that noise which allows you to stalk your prey.
---
4. Nakto Fat Tire Electric Bike 500W
Price: MSRP $999
Type: Electric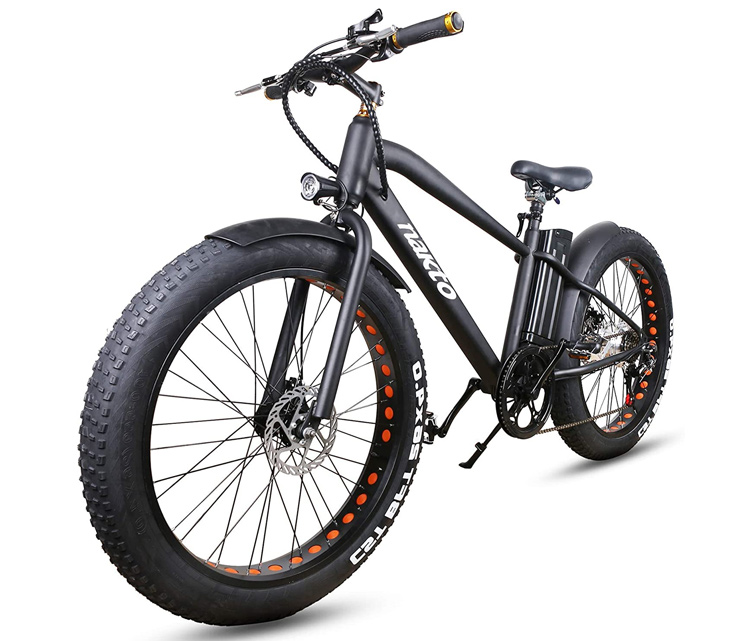 With the Nakto Fat Tire Electric Bike, you can achieve almost anything, as it is a strong and multi-purpose bike. May it be hunting trips, backpacking adventures or just trail-riding, you are going to be so happy that you bought the Nakto E-Bike.
This bike features a 500W brushless 48V motor paired with a 12AH battery, with the exceptional power of this bike, nothing will feel out of reach for you. Made from an exquisite 1.6mm high-quality aluminum, the bike always feels sturdy. To make things even better, the front fork of the bike is made from high-strength carbon steel. The Nakto is fitted with 26"4 inches wide tires that help a lot with control and traversal. Plus, you also get to enjoy three different cycling modes with this bad boy.
If you have a genuine interest in hunting, then this bike will make you fall in love with it instantly. This bike will make cycling accessible to everyone. Since there is so much diversity this time around, you can easily use this bike for hunting and traveling whenever you want.
Advantages:
Affordable Price Tag
Powerful Motor
Amazing Range
Durable Construction
Disadvantages:
Feels Heavier Than Others
Number Of Derailleurs Could Be Better
Why I Like It: The Nakro Electric Bike is a family-friendly bike that allows you to hunt as freely as you can. Yes, it feels heavier at times but that's it. It has an affordable price tag and comes installed with a powerful motor. I can take this bike for either hunting or traveling, there is a lot of diversity offered here.
---
5. Mongoose Status Mountain Bike
Price: MSRP $248.98
Type: Mountain Bike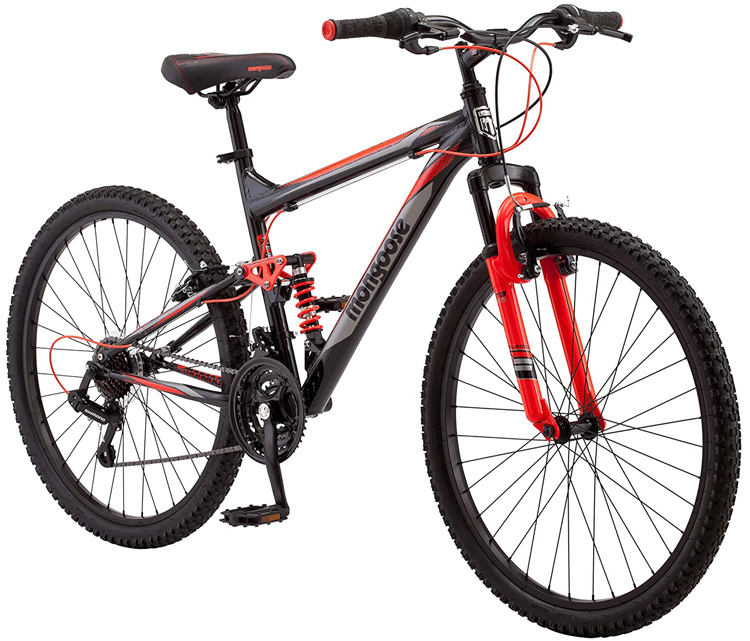 Featuring a 21-speed shifter, the Mongoose Status proves to be one of the best mountain bikes that I have tried in a while. Constructed with a durable aluminum frame and paired with hydroformed tubing, this bike can easily accommodate any kind of rider that wants to go hunting. We love that there is a strong suspension for both the front and rear brakes, this makes everything easier for the rider.
The Mongoose Status features enough features to support a high-speed hunt, even if you are going through technical and difficult terrain, the bike will be able to handle its own. As I said in the beginning, one of the main reasons to get this bike is the 21-speed Shimano rear derailleur, this magical component will turn your life around. Mongoose Status offers amazing speed thanks to the Shimano derailleur, expect to catch up to your prey in no time!
This is also a multi-purpose bike, when you are not in the mood for hunting expeditions, you can always take this bike for errands or just plain commute. All of your endeavors are going to be done super fast, there will be nothing standing in your way. Planning on going for long excursions? No Problem! The Mongoose Status will let you fulfill each and every desire you have.
Advantages:
21-Speed Shift Gears (SWAM Shift Model )
Fast Acceleration
Durable Construction
Lifetime Warranty
Front and Rear Suspension
Disadvantages:
Lackluster Anti-Skidding Features
Availability Issues
Why I Like It: When it comes to the hunt, you need a fast and reliable bike to catch up to your prey, you should be able to cover the distance without any kind of problems. For this reason alone, the Mongoose Status proves to be an exemplary machine.
---
6. QuietKat Apex Sport
Price: Starting At $3,999
Type: Electric Bike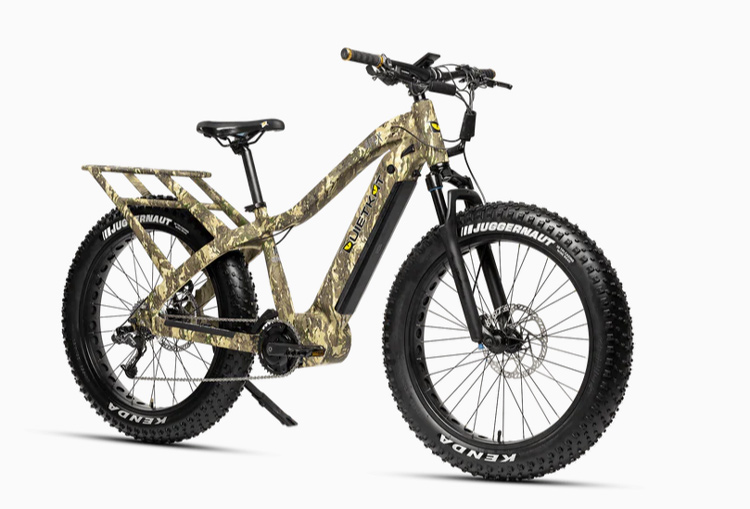 Planning on hauling heavy game and staying on top of the food chain? You need to get the Apex Sport from QuietKat as soon as possible. You can easily fit the Apex Sport with any kind of hunting gear that you want and still enjoy a thorough and comfortable experience. The bike is available in both 750W and 1000W options, you can choose according to your preferences. On a full charge, the bike will be able to offer a range between 19-38 miles, which should be more than enough for any kind of hunting trip.
Apart from the powerful motor, the bike is also installed with a 12.8Ah/48V/768 Wh motor, recharging the battery also doesn't require that much time (4-6 hours). You can either use the throttle mode of the bike or balance it out with the pedal, both options are great. Although I would suggest that you go with the pedal-assist mode, it will help while you are out on the hunt, especially if you are chasing deer. The Apex Sport also uses a mid-drive electric motor that allows you to stay as silent as possible, you will be able to stalk your prey without being discovered that easily.
This bike is also fitted with 26-inch tires, the width of these tires is 4 inches, these tires will make a lot of contact with the ground which will also increase the user's grip. Speaking of grip, these are knobby tires that we are talking about, you will experience an amazing grip over rocks, sand, gravel, and everything else.
The Apex Sport also allowed me to choose the right gear quickly, being able to do so is very critical when you are on the hunt, it saves a lot of time. With this bike, you can easily choose between 8 gears, you won't even have to worry about slipping or getting stuck.
Advantages:
Available In Both 750W and 1000W options
Odor Prevention: The Bike Lets You Cover Your Scent
Impressive Range (40+ Miles)
Knobby Tires
Top Speed (20 Mph)
Disadvantages:
Saddle Height Adjustment Isn't Adequate
Not Suitable For Beginners
Why I Like It: The QuietKat Apex Sport is easily one of my top five mountain bikes for hunting, it has a powerful and durable construction that allows me to be at the top of my game. This bike even lets you conceal your odor which is something you won't get from other bikes. The mid-drive motor also allows you to silently stalk your prey which will make the hunt more thrilling!
---
7. YinZhiBoo SMLRO 26″ Fat Tire Mountain Electric Bike
Price: MSRP $1,099
Type: Electric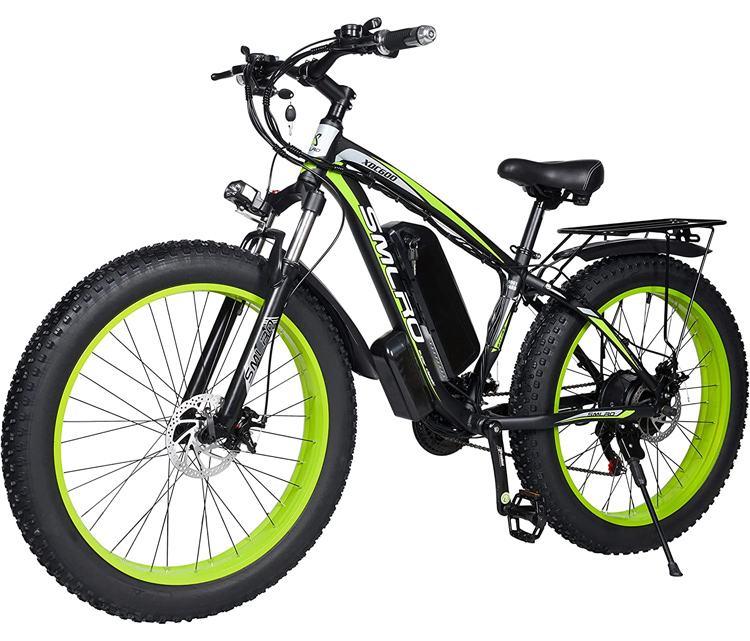 YinZhiBoo falls in the category of the finest electric bike makers. They recently launched their newest edition, the YinZhiBoo SMLRO 26″ Fat Tire Electric Mountain Bike. You will find many advanced features on this bike like the fat tires along with a removable high-tech battery.
The gear shifting on this e-bike is so smooth because of the advanced gear shifting system. It's comfortable and able to deliver a smooth ride for an extended time. The motor power is 1000w, which is exceptional power for any electric bike. It has an expert motor and battery power combination. It delivers a range of 42 miles, which we cannot claim for many electric bike models out there.
A light but strop 6061 aluminum alloy is used to build the frame. it has a longer service life paired with a better absorption effect. This combination will deliver the most outstanding riding experience. Other than this you will also find that the bike has 3 working modes, a digital LCD display with intelligent control.
Front and rear disc brakes work collectively to deliver a powerful stopping. It also comes equipped with an aluminum suspension fork and a headlight.
Advantages:
Stable and Durable Construction
Very Powerful
Comfortable
Impressive Battery Life
Disadvantages:
Difficult Assembly
Pedaling Problems
Heavier Than Other Options
Why I Like It: This bike is a beast on challenging terrains. The pedal assist makes it easier to climb on hills. It is so much easier to handle and is an overall champion when it comes to electric mountain bikes that are made for hunting.
---
8. ECOTRIC Explorer
Price: MSRP $1,569
Type: Electric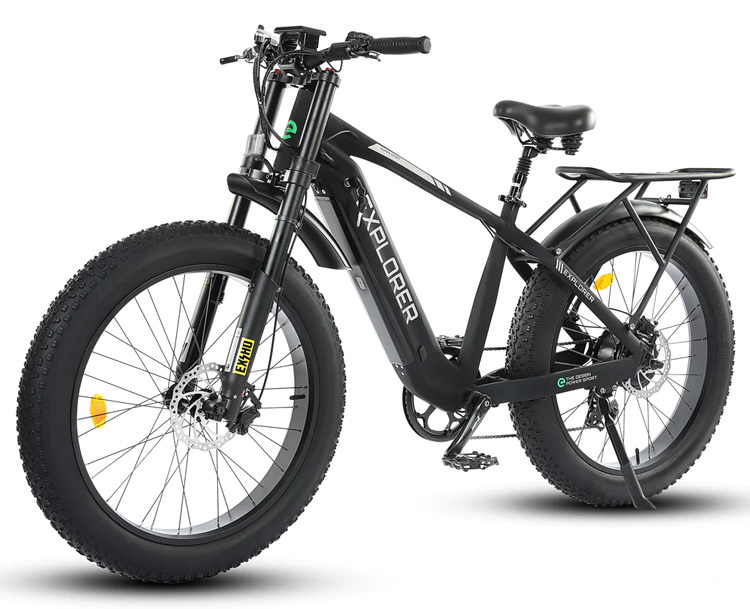 Ecotric has a friendly electric bike in store for all ages. The Ecotric Explorer has 26″ fat tires supporting a lightweight aluminum alloy frame. It is loaded with a front and rear hydraulic disc brake system to give you maximum control over your ride.
The anti-skid tires make it possible for you to cover a variety of terrain including snow tracks! The air suspension fork is fully adjustable making sure that you ride the complex typography without a flinch. It also hosts fenders and a rear rack.
The most appealing feature for me was the suspension seat. The comfort level takes your already enjoyable ride to the next level. I felt almost no bumps. I even rode in the rain without any issues! but I did spray a can of WD-40 on the battery.
Other features of this big monster include a Shimano 7-speed shift gear and a 750W brushless motor powered with a 48V 13AH lithium battery to fuel your rides. The battery is not only well-hidden but is also removable. It took roughly 6.5 hours to charge fully. You also get a 100 cycles service life for the battery and an 18-month warranty.
I was able to get a range of 18 miles on throttle mode and 32 miles with pedal assist. This is quite decent for a class 2 electric bike.
Advantages:
Features An Ergonomic Saddle
Vibrant LCD Display
30-Days Free Trial
Powerful Motor and Battery
Disadvantages:
Some Components Are Lower Quality
Heavy Construction
Why I Like It: I rode this bike mostly on moderate trails and also used it for hunting many times. While the bike felt heavy, the handling was amazing. It was responsive and really fun to ride even on the snowy tracks. The tires had an amazing grip so I did not have to worry about slipping or falling down. You will enjoy hunting trips with this one!
---
9. DJ Fat Bike
Price: MSRP $1,599
Type: Electric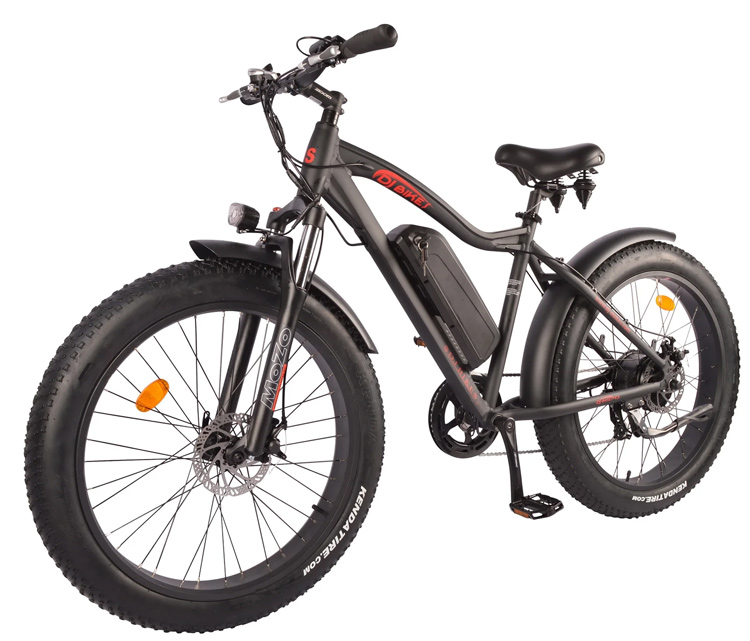 If you have a lot of ground to cover in your hunting trips then the DJ Fat Bike will be the perfect choice for you. The bike is installed with a powerful Bafang-rated watt 48V 750W brushless rear hub motor and LG lithium-ion 48V 13Ah battery. On a full charge, the bike offers a range of 45 miles and the charging time is great too (4 hours). This bike will make short work of long distances, and also make you ready for the hunt!
You can try out both the throttle and pedal-assist modes of the bike, both of these modes are very smooth. The bike also allows you to fully customize it however you want. You can add a trunk box, rear cargo rack, panniers, and anything else you want, there will be no restrictions. The maximum speed that users will get to experience is 25-28 Mph, it will depend on how you ride the bike. The 6061-grade aluminum frame does a great job of securing the bike, you won't have to worry about the bike being damaged or anything else.
Advantages:
Fast Charging
Impressive Speed and Range
Durable Construction
Tons Of Customization Options
Disadvantages:
Doesn't Feature Knobby Tires
Assembly Is A Bit Difficult
Why I Like It: The DJ Fat Bike is one of the best options to go for if you are planning long hunting trips, it offers an impressive range and also charges very quickly. It has a strong and durable construction which is good for the wild adventures that you will be planning. I personally loved how much you can customize this bike according to your preferences.
---
Important Features To Consider In Mountain/Electric Bikes For Hunting
Let's suppose you just got an amazing fat tire bike that will offer the best mountain biking and hunting experience, or you think it will. If the bike that you have chosen doesn't include the necessary features then it will be useless for the hunting grounds.
In order to make sure that you land upon a feasible choice, you must consider both the functional and additional features of a mountain bike, this will also make sure that your hunting trips go smoothly! Here are some important features that you need to consider when getting a hunting mountain bike.
Consider The Type Of Bike You're Getting
Doesn't matter if you are getting an electric mountain bike or just a regular mountain bike, it needs to be equipped with the right features which will make it appropriate for hunting. You might have seen modern Fat Bike or Fat Tire Bikes like the Mongoose Dolomite or Malus that make hunting trips seamless. These bikes have knobby tires, adjustable handlebars, seats, and much more.
The "Appropriate" bike type will make sure that your hunting trips go exactly as they should. Let me give you an example, you cannot use a regular racing or road bike for hunting trips, they are not built that way. Hunting Bikes have a completely different construction, they are actually made for the wilderness.
Important Note: We would suggest that you evaluate your needs before actually getting a mountain bike made for hunting. Chances are that you would want a multi-purpose bike or a bike that can handle different types of terrain.
Wheel Size
The Wheel dimensions are also very necessary, the appropriate will let you overcome obstacles with ease and will also make stalking the prey easier. Most of the bikes that we have included have wheels that measure 26 inches, this should be more than enough.
If you want to go with other specifications or just want to make some customizations, then we suggest that you note down what you exactly want. Take those specifications directly to the local bike shop or the manufacturer.
Number Of Speeds (Gearing System)
You will have to pay attention to the gearing system if you want to make the best use of your hunting bike. Make sure that the bike has the required number of speeds for the adventure ahead, if the bike doesn't give you appropriate gears then there will be no fluidity.
Bikes with seven-speed systems are great, they offer ample power and options for different types of terrains.
Maximum Speed and Range
If you choose an electric mountain bike, then you need to consider its maximum speed and range. This is a very important feature that you have to consider, it should not be overlooked. Hunting trips require you to cover a lot of distance, make sure that the bike that you go for can cover at least 40 miles on a full charge, anything more than this is a bonus point.
The number of gears in a bike also determines the speed of a bike, usually bikes that have 7-gears are slower than the 21-gear options. Choose the bike that you want very carefully, this is a very important investment that you will be making.
Weight Limit
The bike needs to be able to withstand the user's weight and any additional cargo that you will be carrying. The additional cargo could be game, or hunting tools that you wish to take along. The hard part is that some manufacturers don't disclose this kind of information, you have to check the bike firsthand to see if the bike can handle you and the additional cargo.
Make sure that the bike can actually withstand any kind of weight that you throw at it!
Suspension System
Shock absorbers make sure that the bike remains comfortable on the hunt. The addition of shock absorbers will eliminate any kind of stress the bike takes from the bumps on the road. The number of shock absorbers will definitely vary from one brand to the other, just make sure that the bike has good-quality shock absorbers.
You will also come across bikes that have dual suspension, this will double your bike's protection.
How Do Hunting Bikes Make The Hunt Easier And More Thrilling?
Hunting bikes are great but what is it that actually makes them great for hunting? Here are some of the reasons why people prefer using hunting bikes for the thrills and chills!
Increased Mobility
The first thing that you are going to experience is enhanced mobility, the feeling of a hunting bike is very different if we compare it with different types of bikes. These bikes can travel through terrain faster than any other type of bike or even a vehicle if we talk about it. This also allows hunters to access areas that were inaccessible before.
Since hunters get to experience increased mobility, it allows them to get closer to their prey and also transport tree stands or game carts without any problems.
Noise Reduction
Haven't you ever noticed that hunting bikes are actually quieter than other modes of transport, this also includes other types of bikes. Since these bikes don't generate a lot of noise, this makes it easier to approach prey without causing a disturbance and spooking them. Handle it well and who knows, you will be catching the game in no time!
Increased Speed and Range
Electric hunting bikes or regular hunting bikes are faster than other types of bikes, the maximum speed is just bonkers. I have been using the Apex Sport for a while and it is faster than anything that I have used before, apart from that, the range is also great. Rest assured, you will be able to close a lot of distance in a short while.
Stealth
This is probably something that you didn't know, hunting bikes are fitted with unique accessories like camouflaged paint and even silent motors that let them remain invisible to animals. This presents amazing opportunities for hunters to get in close and personal.
Comfort Like None Other
Ergonomic seats, shock-absorbing suspension systems, and adjustable handlebars, all of these amazing features are present in hunting bikes to make your adventures easier. I use these bikes on a weekly basis, it makes the trips less taxing and more enjoyable!
FAQs
Which Are The Best 1000W E-Bikes For Hunting?
The best 1000w e-bikes that are best for hunting are Quietkat Ranger and Quietkat Apex Sport, I have been using both of these bikes, and the experience has been amazing. These are our preferences but feel free to try out other bikes, whatever pleases you!
Do Hunting Bikes Let You Conceal Body Odor/Scent?
Hunting bikes let you conceal your scent, there isn't that much scent intrusion. Only the tires of the bike touch the ground, since your feet don't even touch the ground, you don't leave that much scent behind.
Should You Clean Your Bike After Every Hunt?
Yes, it is advised that you clean and maintain your bike after each hunting trip. This practice will make sure that your bike performs like it should the next time you go out for a hunt.
Recap
Every cyclist wants an adventure and hunting trips provide the best thrills and chills. Needless to say, you need a really good hunting bike that will allow you to stalk your prey and hunt without any kind of hiccups. May it be fat bikes or an electric hunting bike, it needs to have the right features which will allow it to perform adequately on the hunting grounds.
From the list, our top choice is going to be the Velowave Electric Bike, it performs really well in the wilderness. It also has decent speed and range which allows you to close in on the target silently, you have to try out this bike.
We listed down important features that you need to consider before purchasing the best mountain bike for hunting, use that information well. Which is your favorite hunting bike? Do you agree with our choice? Do let us know in the comments below!
Also Read:
---