Everyone is having the time of their lives with electric bikes, and why shouldn't they? Electric bikes have been making our lives easier and providing new ways of exploration. Since all the adults are getting the best out of electric bikes, why shouldn't kids and teens have a go at them?
Yes, you heard that right! There are also great electric bikes for kids and teens and they are very safe to use. From electric balance bikes to electric bikes that assist you in carrying kids, there is something for everyone. The first cycling experience is something truly special because it shapes a passion for cycling.
Having a kid that shares the same level of cycling passion as you is surely fortunate. With the right kind of electric bike, they can go on mountain climbs with you, and even keep up on long rides, there is plenty to explore once they have the perfect bike.
Since it is so important, why not make sure that your kid has the best electric bike? It is very easy to get swarmed with so many options and get confused, that's why we took care of the difficult bit for you.
Best Electric Bikes For Kids and Teens – Reviewed (2023)
After more than 48 hours of research and testing, I have finally found the best electric bikes that kids ride. I tried covering all the bike types, from balance bikes to electric bikes for teens. Let's start!
| Bikes | Price/$/€ | Motor/W/V | Battery/V/Wh | Speed/Mph |
| --- | --- | --- | --- | --- |
| Jetson LX10 | 359 | 250 | 36V | 15.5 |
| Eclypse Astra | 799 | 18V Brushless | 20V | N/A |
| Woom UP 6 | 3,749 | 250 | 250Wh | 12 |
| Mondraker F-Play 24 | 3,999 | Mahle-Ebikemotion X-35 | 250Wh | 15 |
| Bulls Twenty4 E | 3,299 | 250 | 36V/500Wh | 15.5 |
| Ben-E-Bike TWENTYFOUR-SIX E-Power | 2,049 | Brushless DC Rear-Hub Motor | 250Wh | 12 |
| RadPower RadExpand 5 | 1,499 | 750 | 675Wh | 20 |
| Pedego Element  | 1,995 | 500 | 48V | 20 |
| Stacyc 16EBrushless Balance Bike | 1,049 | High Output Brushless Motor | 20V | N/A |
| Swagtron EB6 | N/A | 350 | 36V | 18.6 |
1. Jetson LX10- Editor's Choice
Price: MSRP $349.99-$399.99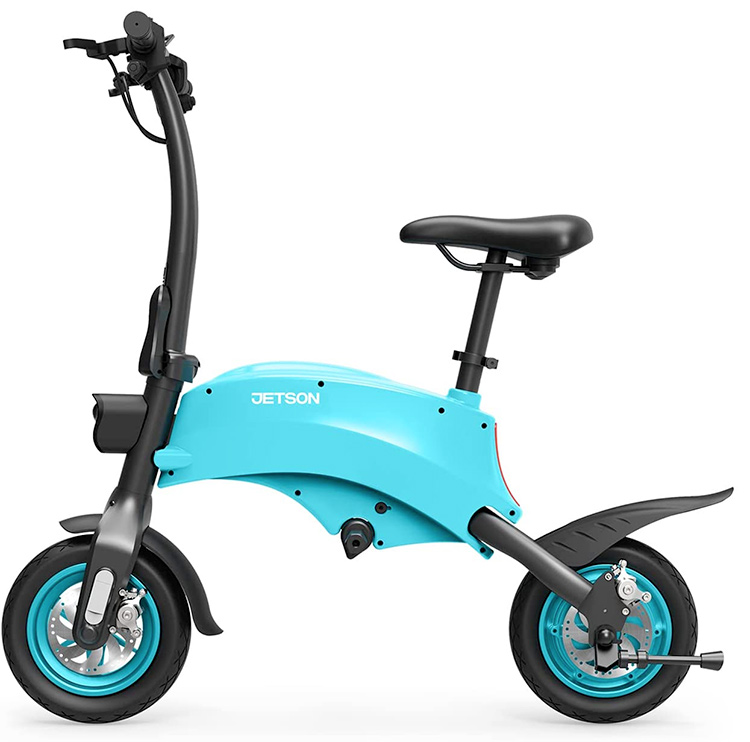 Looking for a really good starting electric bike for your kid? Then you need to check out the Jetson LX10, it is one of the best foldable electric bikes for children aged 12 and above. I decided to gift this kids electric bike to my niece on her 13th birthday because it comes without a drivetrain. Needless to say, she does a lot of fun activities with this bike, and we get to have countless adventures together.
Another cool feature is that your kid won't be over-speeding with this bike. Even though it has a maximum speed of 15.5mph, when the speed limit is reached, the bike's motor automatically shuts down. This prevents a lot of accidents. The Jetson LX10 also serves as a good stepping point for kids, especially if you want them to learn some great skills. The 250W motor provides ample power to climb steep hills, which opens up new adventures for you and your children.
Another stand-up point of this bike is that it comes with integrated headlights and powerful dual disc brakes. You won't ever have to worry about your kid's safety once you get this bike. That's one of the many reasons why the Jetson LX10 is my top pick for today.
Advantages
Lightweight Construction
Safety-Regulated Motor
30-Days Return Policy
Disadvantages
Editor's Choice: The Jetson LX10 can be a wonderful start in the world of cycling for your children. It's my top pick because the motor and overall structure of the bike are highly dependable and you don't have to worry about a thing. Moreover, If there's anything missing from the bike or you're not satisfied you can return it within 30 days and get a refund!
---
2. Eclypse Astra
Price: MSRP $399.99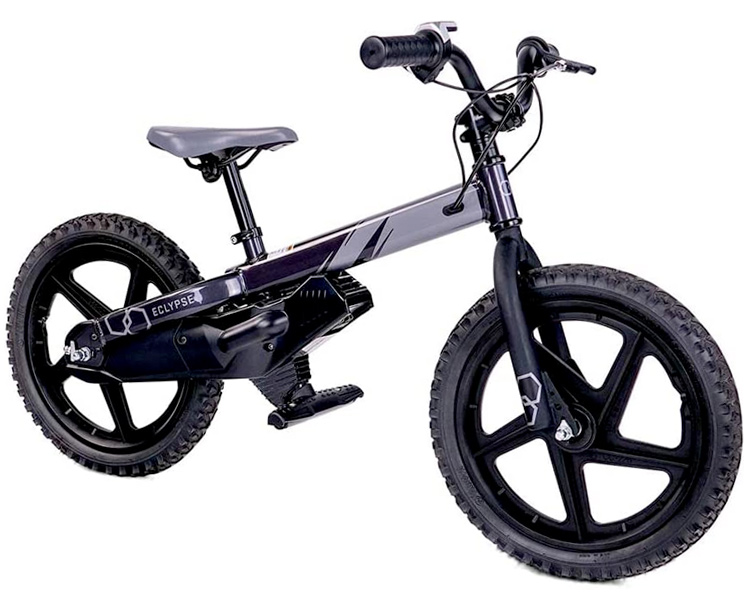 Want to open up fun opportunities for your kids, get them the Eclypse Astra now! Learning to ride a bike becomes so much easier with electric bikes, just wait till your kids actually try one for themselves. Powered by an 18V 4Ah battery, there are going to be a lot of fun times with this kids electric balance bike.
You can expect them to enjoy this bike for a maximum of 75 minutes, although I would recommend you charge it properly. The Astra also comes with three different power modes, the max speed is clocked at 11mph. That's what I like about this bike. There is absolutely nothing to worry about your kids over-speeding.
Another very likable feature is that in order to make things interesting and fun for the kids, the Astra comes installed with a lightweight chassis. You also get bonus components with this bike, such as the 16″ pneumatic tires, and a rear drum brake which proves to be very powerful. Although the brakes are powerful, I do not prefer drum brakes. That's why Astra ended up in second place. Moreover, the Jetson LX10 has more power to offer as compared to the Eclypse Astra. You kid will take their time to outgrow Jetson.
What else could you want in a kid's bike? But I would suggest you buy Eclypse Astra for your kid if you think they can easily handle a twist throttle.
Advantages
Durable Steel Frame
Strong Battery
Disadvantages
Sometimes Battery Cutts Off Mid Ride
Why I Like It: The Eclypse Astra is likable because of its durable frame.It is mostly suited for beginners, kids aged 5 and above. Do give this bike a try!
---
3. Woom UP 6
Price: MSRP $3,999.00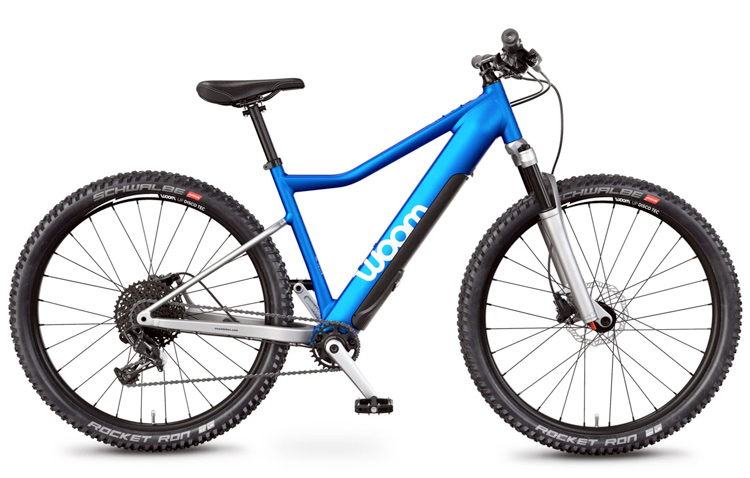 Now that your kids have graduated from balance bikes, it is time for the real deal, and what other brilliant option than Woom UP 6 is there? The Woom UP 6 is a hardtail electric bike that is built for off-road adventures and allows a very smooth power transfer. Guess who will be bonding with their dad over a bike-packing adventure?
With the Woom UP 6, your kids will easily be able to keep up with you on the mountain trails, thanks to the 250W/55Nm Fazua Evation mid-drive motor. The motor is then powered by a 250Wh battery, enough range is provided with the assistance of an 11-Speed SRAM NX drivetrain.
It's one of the kids electric mountain bikes that I really like because of the special components that really stand out. This includes dedicated geometry and a hydraulic air suspension fork (90mm travel). The bike is ergonomically designed, the handlebars and saddle are the key highlights though. A lot of care went into the design of this bike, it is made to fit the biomechanics of children.
Other features that I like about this bike are the Promax hydraulic disc brakes, Schwalbe Rocket Ron 26 x 2.35″ tires, and Woom Off Disco Tec double-chamber aluminum rims. Combines, they deliver butter-smooth performance even on the roughest trails. But the downside of this bike is that it is costly!
Advantages
Smooth Power Transmission
Adjustable Handlebars
Customizable Motor
Disadvantages
Only For Intermediate Mountain Trail Riding
Battery Has To Be Removed For Charging
Why I Like It: The Woom UP 6 is one of the best electric bikes to go for if you want your kids to try out challenging trails with you. This bike also opens up new adventures, the specifications are certainly impressive. Just make sure that you supervise your kids when using this bike.
---
4. Mondraker F-Play 24
Price: MSRP $3,999.00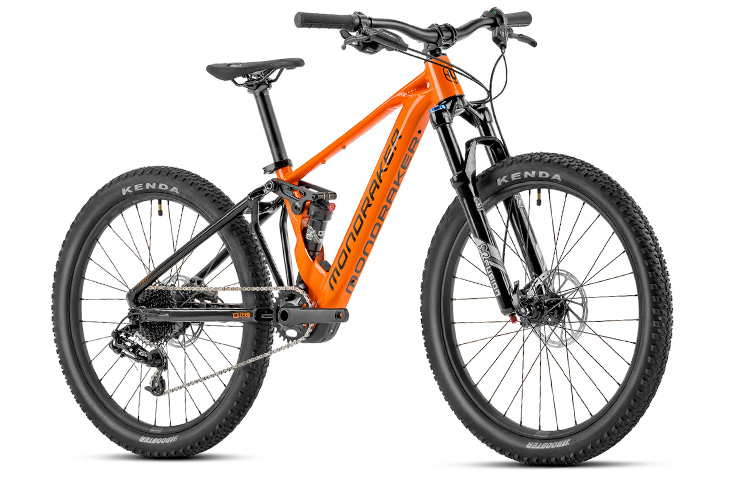 Electric Bikes keep getting better due to technological advancements, but when it comes to kid's mountain bikes, it doesn't get better than the Mondraker F-Play 24. This here is a full-suspension electric bike made for conquering mountain trails.
The Mahle-Ebikemotion X-35 has a mid-drive motor, which makes it easier to climb steep hills and ride on tricky trails. this allows the kids to go harder than ever. The bike's motor is powered by a 250Wh battery and paired with a Shimano Deore drivetrain. Many users have reviewed that this combination allows for better control and stability.
Kids also get to enjoy the bike's forward geometry, giving handling a better edge. The experience is further improved by a child-specific RockShox Judy fork with zero suspension, which allows for 100mm travel from both sides.
Other highlights of this bike include hydraulic disc brakes and wide 2.4″ Kenda Booster tires. These features provide great traction and stopping power. This is easily one of the most versatile electric mountain bikes for kids.
Advantages
Powerful Brakes
Responsive Handling
Stable
Disadvantages
Expensive For A Kids E-Bike
Why I Like It: For tricky mountain trails, kids need a powerful electric bike that can handle almost everything. The Mondraker F-Play 24 is built for the impossible, and it also ensures total safety for kids. With this dependable electric mountain bike, kids will be able to keep up with you while having unforgettable adventures!
---
5. Bulls Twenty4 E
Price: MSRP $2,999.00 -$3,599.00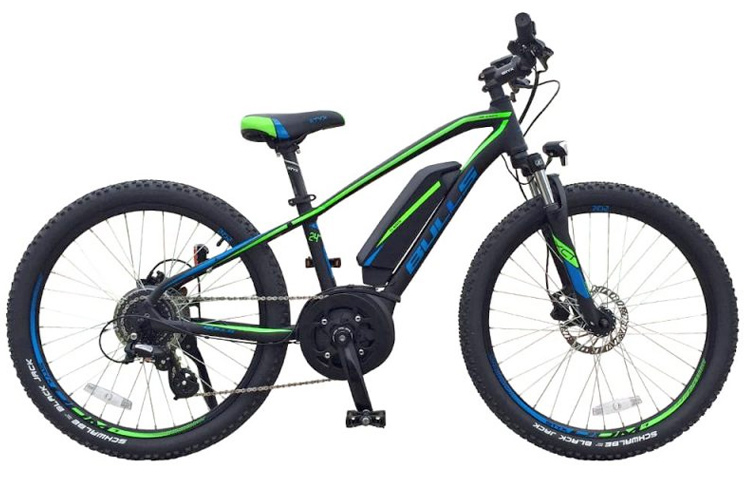 The Bulls Twenty4 E is one of the most expensive electric bikes for kids but the price is justified by the level of components and features it offers. The price might be high for many parents but if don't want to compromise on quality then this is going to be the best choice for you!
With this bike, you don't ever have to worry about your kids slacking off on tough rides. The Bulls Twenty4 E is powered by a 250W Bosch Active Line Plus mid-drive motor. With this kind of power pumping through the bike, each and every stroke of the pedal is going to feel amazing. The bike also offers an assisted maximum speed of 15.5mph. On a full charge, the range offered is 134 miles, just imagine all the adventures that you can have with your kids. I think it's pretty decent battery life.
People who have used this bike find it to be very stable and easy to control. There are a lot of components that just make the whole experience a lot better. Those components include Tektro hydraulic disc brakes, an 80mm travel suspension fork, 2.1″ Schwalbe Black Jack tires featuring high tread, and let's not forget the ergonomic touchpoints.
With the internal cable routing, the bike looks very sleek and stylish making it very attractive for kids. But the best feature has to be the safety lights. They make sure that your kids are fully visible on the road. With the Bulls Twenty4 E, you will never have to worry about your kid's safety and comfort.
Advantages
Great Drive Unit
Decent Wheels
Disadvantages
Why I Like It: The Bulls Twenty4 E doesn't compromise on quality, not even for a bit. This bike can keep up with you on the trickiest of trails, making sure that you enjoy all kinds of adventures with your children!
---
6. Ben-E-Bike TWENTYFOUR-SIX E-Power
Price: MSRP $2,352.30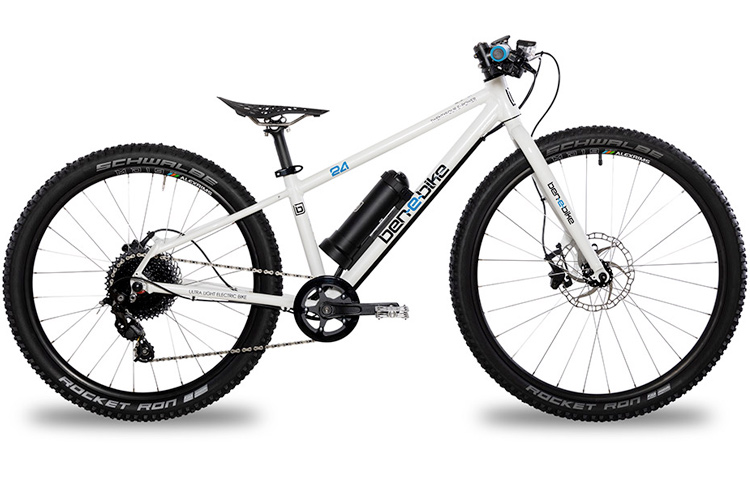 Kids need to enjoy their time with bikes, and the Ben-E-Bike's TWENTYFOUR-SIX E-Power makes sure that your children have an amazing experience. It is an affordable electric bike that never doubles down on quality. It actually is fitted with some of the most impressive components and features.
As this is a hybrid-style kid's bike, it comes in two different wheel sizes (26" and 24"). Both of these designs are extremely stable and have rollover ability. You can expect them to have precise maneuverability on technical trails. There is no need for a fork suspension as the large front wheel makes up for it.
The bike is powered by a 250Wh battery which is paired with a Shimano ZEE drivetrain. This provides ample power for every kind of climb and terrain. The hydraulic disc brakes and Schwalbe Rocket Ron Addix tires allow the kids to have an unforgettable journey with this bike!
Advantages
Disadvantages
Lagging Motor
High Stand-Over Height
Why I Like It: What's really likable is that Ben-E-Bikes has provided a full-suspension kids electric bicycle that you should try out. It has a durable yet lightweight construction, which makes sure that kids won't have to struggle while using it. It also holds enough power so that your kids can accompany you on all sorts of adventures!
---
7. RadPower RadExpand 5
Price: MSRP $1,399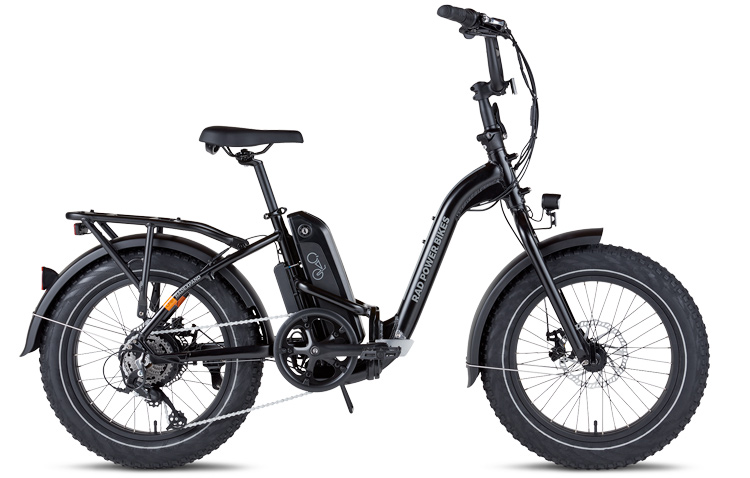 Once your kids try out the RadPower RadExpand 5, they will come to know that this isn't just a "Kid's" Bike. I would recommend this bike for pre-teens since the standover height is low. This makes it a very fascinating choice. Kids with an inseam as short as 21 inches will have no problem adjusting to this bike.
As it features a step-through frame, you can customize the bike to your heart's content. The handlebars, different levels of pedal assist, and seven-speed system are here to make the experience unforgettable. Since this is a foldable electric bike, it requires minimal space, you can store it in your kid's rooms or in the garage, whatever works for you. The 750W powerful motor is powerful enough to fuel your daily adventures of 45+ miles.
It is also priced very well, you don't have to break the bank to get this amazing bike!
Advantages
Disadvantages
Non-User-Friendly Display
Why I Like It: The RadExpand accommodates both adults and kids, how fun is that? It has a very generous carrying capacity and allows kids to have longer adventures with their parents or friends. I recommend this bike because of its abundant safety features that will let you have peace of mind!
---
8. Pedego Element
Price: MSRP $1,995.00-$2,395.00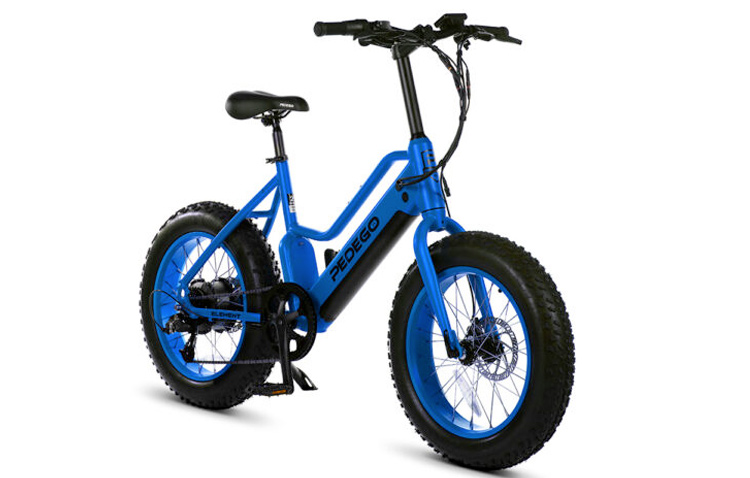 Just like I mentioned the RadExpand 5 above, the Pedego Element is another great electric bike for adults that can also be used by kids. When I say kids, I mean older kids that are also experienced. I certainly won't recommend this bike to be treated as a balance bike just because kids can ride it.
It is powered by a 500W motor which makes sure that you have enough power to tackle almost anything. The fat tires are also there to provide traction on every kind of terrain like sand, snow, big potholes, and even gravel paths. The Pedego Element is a beast of a bike that kids and adults alike will love to ride!
Advantages
Can Be Used By Both Adults and Kids
Can Tackle Any Kind Of Terrain
Disadvantages
Rear Disc Brake Is Prone To Water Accumulation
Tires Lack Puncture Resistant Lining
Why I Like It: Powered by a 500W motor, the Element makes sure that you and your children will have lots of exhilarating expeditions together. It does lack a few things like integrated lights, and reflective strips on tires but the seven-speed shifter provides a decent range!
---
9. Stacyc 16EBrushless Balance Bike
Price: MSRP $1,049.00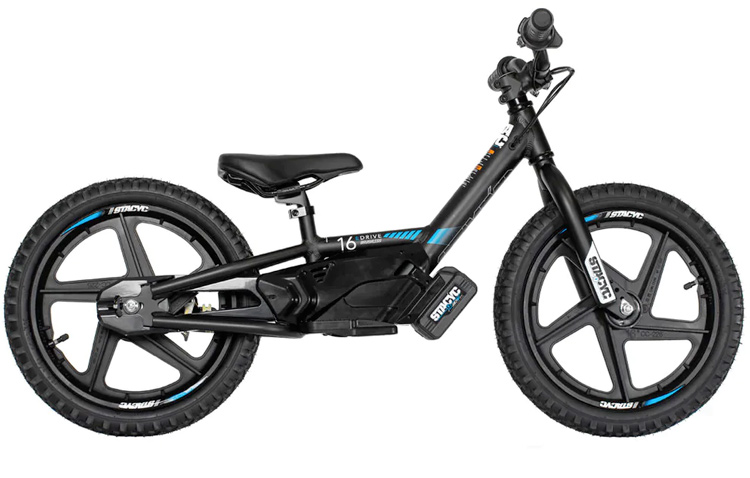 Seeing your kid take the first step is an unforgettable experience, imagine them giving the bike's pedal the first stroke, it just feels magical! With the Stacyc Balance Bike, your kids can have the first learning steps that get them to a dirt bike in time. This is the perfect electric bike to teach them how to scoot and balance themselves. Think of it as a perfect replica of an adult bike, just for kids!
You can get the Stacyc Balance Bike in both 12-inch and 16-inch models. These models can easily accommodate a toddler as well as pre-schoolers so you don't have to worry about the fit. While using the throttle, it has a run time of 30-60 minutes which should be more than enough for kids. The maximum speed is also locked at 9 mph, which is great!
This bike is also lightweight which is surprising as it resembles a dirt bike. Petite kids might have trouble operating this bike on their own so a little assistance will be required.
Advantages
Available In Different Sizes
Great Run Time (30-60 Minutes)
Lightweight Design
Disadvantages
Rear Brake Lever Is Out Of Reach For Small Kids
Faulty Fuse
Why I Like It: The Stacyc 16E is one of the best electric balance bikes for kids because it has a spectacular design. Your kid will be having a blast riding the 16E bike, just be sure to give them a helping hand. It comes in different sizes so you won't have to worry about the fitting.
---
10. Swagtron EB6
Price: MSRP $799.99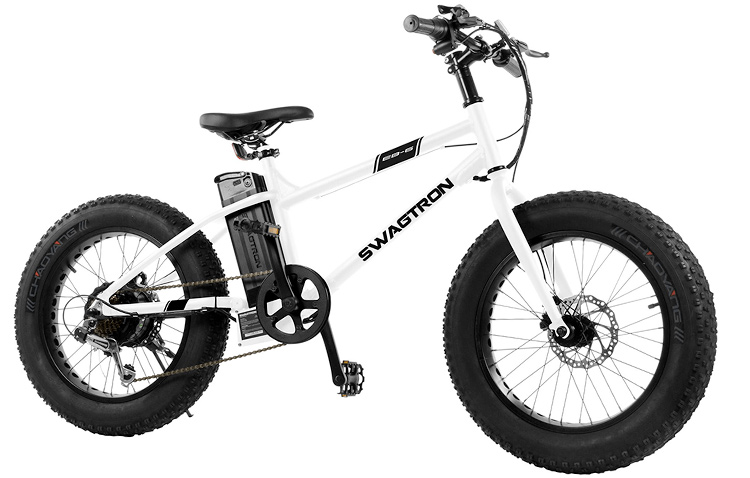 The Swagtron EB6 proves to be a high-powered choice for kids but at a lower price. This e-bike has a great off-road capacity so you can expect a lot of rough adventures.
Powered by a 350W motor with a maximum speed of 18.6mph, this bike will prove to be enough for young adventurers. On a full charge, it offers a range of 20 miles. When you combine it with the 7-speed Shimano SIS drivetrain, you achieve a higher range.
Whether you use the bike on city roads or off-road, there will be consistent performance, thanks to the 4″ fat tires and powerful dual disc brakes. I would recommend you replace the battery with a more powerful one to get a better outcome. We love how the Swagtron EB6 presents so many opportunities!
Advantages
Rigid Frame and Fork
Powerful Motor
Easy Assembly
Disadvantages
Difficult Pedal Assist
Noisy Brakes
Why I Like It: The Swagtron EB6 is an electric bike for kids but a high-powered one. It is built for off-road adventures but also holds itself well on the city roads which is great!
---
Why Kids Should Try Electric Bikes?
Electric Bikes are booming in popularity everywhere and if you are a parent that loves cycling, you need to get your kids an electric bike asap. Since you have a passion for cycling, it can be extremely difficult and tedious at times to cycle with your child or even teach them cycling. Should you focus on your own cycling or teach your kid to cycle from scratch? With an electric bike, almost all of your problems will be solved and you won't have to make any tough choices.
Why kids should try electric bikes though? This is a very interesting question but its answer is even more interesting. Riding a bike becomes so much easier with the help of electric bikes, kids learn to do difficult rides and even keep up with their parents on longer/endurance-based rides. Kids don't even have to over-exert themselves while using an electric bike so the whole process becomes really fun for them. Think of electric bikes as automatic cars for kids, they don't have to worry about the complications of the gear system, just pedal away!
Living in a hilly area or near mountain biking spots also calls in the need for electric bikes. They just make traversal seem effortless, imagine if you can have so much fun with electric bikes, your kids are definitely going to have a blast!
Is It Legal For Kids To Use Electric Bikes?
When it comes to the legality of the matter, kids are allowed legally to ride electric bikes. There are certain limitations for kids under the age of 18, but that is in some states. According to the government rules, some kids have to wait till the age of 14 or even 18 to start riding. Here is the list of the states and the regulations.
| States | Minimum Age Requirement |
| --- | --- |
| Hawaii | 18 |
| Massachusetts | 16 |
| North Carolina | 16 |
| Oregon | 16 |
| Pennsylvania | 16 |
| Washington D.C. | 16 |
| Minnesota | 15 |
| New Mexico | 15 |
| South Carolina | 15 |
| Alaska | 14 |
Note: The rest of the states don't have an age requirement for kids to ride an electric bike. However, it is required that while riding the bike they are under the supervision of adults.
Can Kids Safely Use Electric Bikes?
Electric Bikes that are specifically built for kids are safe to use, companies actually encourage parents to get e-bikes for their kids. There are a lot of safety measurements taken by manufacturers to make sure that kids are protected during the riding session, an example is a safety-regulated motor. Once kids reach the maximum speed of an e-bike, the motor automatically shuts down, this prevents over-speeding and also allows the kids to have a break from cycling.
While riding a bike, confidence is the key, if your kid is confident in the new bike then they will actually be able to enjoy riding. If a kid learned to ride like they should have then switching to a motor-powered bike should pose no problems at all!
IceBike Tips For Buying An Electric Bike For Kids
I have compiled some useful tips that you should consider when getting an electric bike for your kids. Let's take a look!
Always Consider The Laws Of Your City/State
Before purchasing an electric bike for your kids, it is advised to consider the laws of your state and city. There are many areas in which using a class 2 electric bike is prohibited. The same goes for class 3 bikes, these are bikes that can go very fast by using the throttle, it is better to be safe than sorry.
Look For Electric Bikes With A Torque Sensor
Electric Bikes with a torque sensor are very easy to control, and without one, things can become very dangerous/tricky for kids. While using an electric bike without a torque sensor, pedaling slower doesn't slow down the bike, this can prove to be very dangerous for children.
Avoid Bikes With A Throttle System
Electric Bikes with a throttle allow kids to reach alarmingly high speeds without even having to pedal, these types of bikes should be avoided.
Consider The Weight Of The Bike
Electric Bikes are heavier in comparison with traditional bikes, and some of them can become very challenging for adults. If they are challenging enough for adults, how will kids be able to handle them? Most electric bikes weigh more than 60 lbs.
Electric Balance Bikes Are Different
The laws that apply to electric bikes don't actually apply to electric balance bikes. Even though they are safe to use, kids should be supervised while they ride electric balance bikes.
Our Methodology- How We Choose The Best Kids Electric Bikes
As an avid biker, I understand the struggle of finding a high-quality bike so that your kids to be included in this activity. That's why I've dedicated countless hours to researching and analyzing the best mountain bikes for kids on the market. I've scoured the web for honest reviews and feedback from verified customers, and I've even tested some of the top contenders myself, including the editor's choice.
Using my extensive knowledge of bike components and their strengths and weaknesses, I've narrowed down the top options that offer the best value for your money. So whether you're a beginner looking to get into the sport or a seasoned rider seeking an affordable upgrade, you can trust that these bikes have been thoroughly vetted and carefully selected.
Without sacrificing quality or performance, these bikes offer features such as excellent handling, top-notch suspension, and durable design, all at a price point that won't break the bank. So if you're ready to enjoy the ride of your life, these are some of the bikes that you must consider
Also Read:
Recap
Teaching kids how to ride a bike is a wonderful experience, and it only gets better with electric bikes. These bikes actually allow your kids to have a rich experience, while also honing their skills. If you are passionate about cycling too then both you and your kids can have great adventures with Jetson LX10.
Electric bikes give a lot of facilities but there are certain guidelines to follow while using them. Make sure to supervise your kids while they are using these bikes, if you can join them while they ride then that's even better. Have fun with these bikes and remember to always wear a helmet!