We love the Winter months because they bring joy and relaxation back into our lives, we are blessed with Christmas and then the Holidays start. For cyclists, winter can be really challenging and cruel. These months present the most unfavorable riding conditions: Dense fog, Sub-zero temperatures, Snow, and Slippery roads. These conditions are not suitable for cycling and that is putting it mildly.
What If I told you there is a very interesting solution for your winter cycling problems? The solution is Electric Bikes, yes, with a few tweaks and modifications here and there, you will be able to have fun cycling again. You will be able to cycle even in the winter months, that is something to look forward to!
With Electric Bikes, cycling will not be confined to the summer months, it will stretch out to the rest of the year. You just need to have the right bike at your side and then see the magic happen. You will be climbing snowy hills, riding on frosty trails, and experiencing something truly special in these winter months with electric bikes.
Now that we have got you excited about snow cycling, you need to choose the right kind of electric bike, and that is why we are here. Getting swarmed with so many options will only leave you confused so we have done the necessary research for you. Here are some of the best electric bikes for snow and winter commutes that require your attention!
Best Electric Bikes For Snow And Winter Commute – Reviewed for 2023
After more than 25 hours of research, we have found the "Right" Electric Bikes for winter months. These bikes are fitted with powerful motors/batteries and strong tires to give you an unforgettable experience. We hope that with these bikes, all of your questions and confusion will be sorted out. Let's start!
| Bikes | Price/$ | Motor/W | Battery/V/Wh | Range/Mi | Speed/Mph |
| --- | --- | --- | --- | --- | --- |
| QuietKat Apex | 5,799 | 1000 | 768Wh | 58 | Unrestricted |
| Cyrusher XF900 | 2,399 | 1500 | 48V | 62 | 28 |
| Rad Power Bikes RadRover 6 Plus | 1,999 | 750 | 589Wh | 45 | 28 |
| QuietKat Ranger | 3,499 | 1000 | 614Wh | 48 | Unrestricted |
| Ecotric Rocket | 1,199 | 500 | 36V | 34 (Pedal-Assist) | 24 |
| Wallke X3 Pro | 1,999 | 750 | 48V | 60 | 32 |
1. QuietKat Apex- Editor's Choice
Price: MSRP $5,799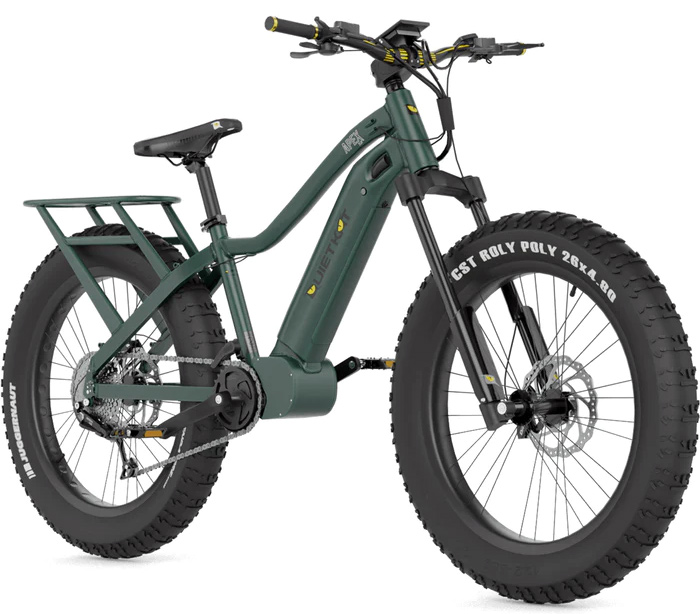 The Apex from QuietKat is an amazing off-road electric bike that you need to own right now. It is named perfectly, it is an all-rounder machine that excels in almost everything. It even performs exceptionally on snow and that is what we are actually looking for, right?
This bike is powered by a 1000-watt mid-drive motor but you can also go with the 750-watt option if that suits you better. The amount of power it derives from the motor is just impressive, you get to experience exceptional performance on both trails and pavement. The Apex also features a large battery pack which is paired with the electric drivetrain, on a full charge it offers 58 miles of range (Really Impressive!)
Users will always have precise control over the bike, thanks to a removable thumb switch that manages the throttle. With this feature, switching between different adjustments and speed becomes seamless and fun. When looking for an off-road bike that you will ride on steep hills or slick trails, this kind of feature becomes very necessary.
We love that the Apex comes installed with a 9-speed SRAM gear system, then there are the powerful hydraulic disc brakes. This bike is packed with so many powerful components that you won't even have to think about an upgrade for a very long time. The 26-inch x 4.5-inch fat tires float over any kind of terrain, may it be snow or anything else.
The bike has a load capacity of 325 pounds which is great. You will find that the Apex remains surefooted in any kind of situation, this is the type of bike that you can actually rely upon. Another great thing about this bike is: You won't have to maintain it every now and then!
Advantages:
Great Range (58 Miles)
Ample Load Capacity
Gearing System Is Powerful
Durable Tires
Maintenance-Friendly
Disadvantages:
Expensive Price Tag
Availability Issues
Editor's Choice: We love the Apex for a lot of reasons, but the main reason is that it is a balanced machine. It features a perfect balance of the right components, features, and performance, which is rare to find in electric bikes. The range is great and the tires allow a very powerful yet comfortable experience. We loved the Apex and you should try it too!
---
2. Cyrusher XF900
Price: MSRP $2,399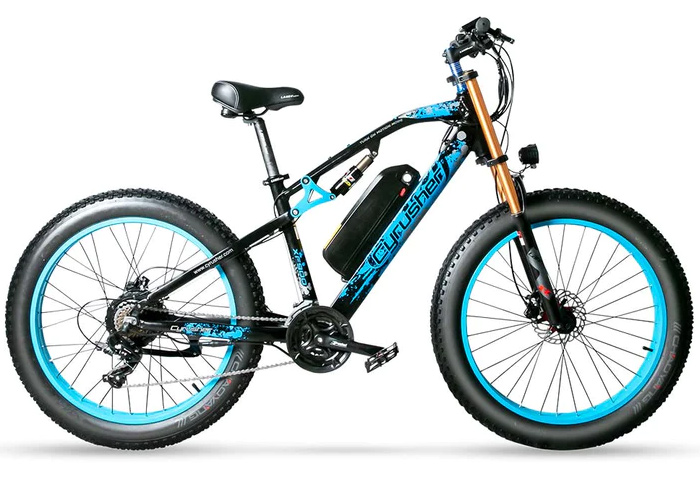 We haven't seen a lot of retro-style electric bikes, so when we got to experience the Cyrusher XF900, we were more than happy about it. The XF900 comes in different and vibrant colors, and also has a maximum speed of 28 mph. These impressive highlights make it one of the best electric bikes for winter commutes.
The bike is powered by a 1500-watt hub-drive motor and a 48-volt battery pack which is fully waterproof. As a result, users get to enjoy 62 miles of range on a full charge. Apart from the motor, there are other noticeable components too, such as the 21-speed Shimano gear system and we love how the bike comes installed with four-inch tires. With all of these amazing components and features, users get to enjoy a comfortable and exhilarating experience, even in the winter months.
There are not a lot of electric bikes that come with an LCD display, so we were surprised to see one with the Cyrusher XF900. The 3.7-inch LCD Display shows the battery life and your speed, which is great, a thoughtful addition surely. In order to make the experience stand out, there is also a durable aluminum crankset installed with hydraulic disc brakes (180 millimeters). The total load capacity of the bike is 330 pounds, and in order to keep the rider safe from splashes of snow, and mud, the bike comes fitted with fenders.
The Cyrusher XF900 is not any other kind of electric bike, it is powerful enough for any kind of terrain and that is what we are looking for anyway. The full suspension system and cushy rear spring suspension make the user feel relaxed and comfortable during long and hectic rides.
Advantages:
Vibrant LCD Display
Great Range and Speed
Water-Proof Battery Pack
Disadvantages:
Maintenance Is Difficult
Takes Long To Charge
Why I Like It: The Cyrusher XF900 is one of the best electric bikes for snow, it handles great and comes installed with great features. The battery pack is waterproof, and it also has an impressive range. What more could you want?
---
3. Rad Power Bikes RadRover 6 Plus
Price: MSRP $1,999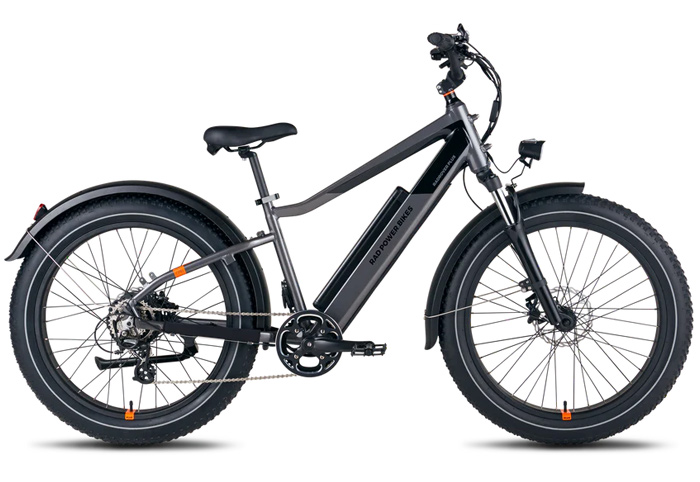 The RadRover 6 Plus is yet another great bike from Rad Power Bikes, we found it to be very effective for winter cycling. This bike is made for city cruising and casual trails, although it serves very well for snow and mud. To make things interesting, the RadRover 6 Plus is equipped with puncture-resistant 26-inch x 4-inch tires, these ensure that the bike has a firm grip on the road at all times.
The gearing system is also great, the Shimano 7-speed gear system works with the hydraulic disc brakes to offer an amazing experience. There is a front suspension that offers 60 millimeters of travel, this makes sure that the user experiences a relaxed and comfortable ride. There are other plausible components too, like the cushion seat and front/rear fenders. These make for a necessary and improvised component set and we were more than happy to experience it like this.
The RadRover 6 Plus is powered by a 750-watt hub motor, and on a full charge, it offers 45 miles of range. With the custom gearing, users also get bonus power when climbing hills, this is great when we know that the bike isn't actually made for hills. For users that want to try something different, there are five levels of pedal-assist, and a throttle mode to choose from. The load capacity is also fixed at 275 pounds which is great!
Apart from these components, the RadRover 6 Plus makes great use of technology. Take the backlit LCD screen, for example, it is bright and has a fun user interface. Think of this bike as a mini motorbike, the front and rear lights turn on when you start the bike, and the rear light illuminates whenever you apply the brakes. The battery pack is easily removable, thanks to its unique design. There is also a USB port to keep the phones charged up, what else do you want in an electric bike?
Advantages:
Puncture-Resistant Tires
Great Range and Speed
Packed With Necessary Components
Balanced Experience
Disadvantages:
Load Capacity Could Have Been Better
Why I Like It: The RadRover 6 Plus really surprised us, I mean we were not expecting such greatness from a bike like that one. It has all the essential components and does so much better than other electric bikes. It is great on snow and will work even better in the coming winter months. You should definitely give it a try!
---
4. QuietKat Ranger
Price: Starts At $3,499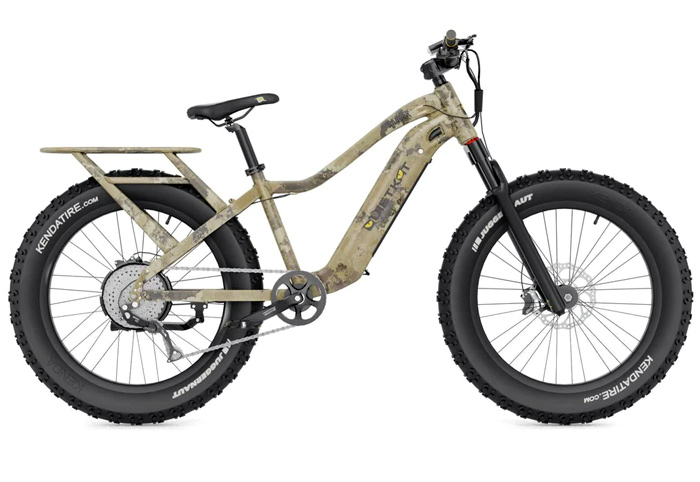 Another great bike from QuietKat, the Ranger is fitted with large knobby tires and a durable/rugged frame to ensure an all-rounder experience. This is the kind of bike that you can use in any kind of season, which also includes winter.
The Ranger is fitted with 4.5-inch wide tires that provide a firm grip on ice, snow, and pavement. In order to make sure that the rider is always in control, the bike is also fitted with mechanical disc brakes, these work exceptionally well on slick surfaces. While riding the Ranger, the user will always feel confident, even in the trickiest situations and that is what counts, doesn't it?
This bike is powered by a 1000-watt hub-mounted motor and an integrated battery. On a full charge, it offers 48 miles of range, which is impressive. Then there is the SRAM 7-speed gear system which comes with a removable thrumb throttle. this ensures that the rider has plenty of options when it comes to speed and control. The ranger is also fitted with the best components, like the extremely comfortable suspension seat, integrated rack for cargo, and a vibrant LCD screen. For an outdoor bike, the Ranger has almost everything that you could want in an all-rounder machine.
The Ranger might not be fast as the Apex or even have a range that competes with the best electric bikes, it is very capable though. It can work through the harshest winter conditions and that is what we are looking for right now.
Advantages:
Impressive Load Capacity
Packed With Amazing Features
All-Rounder Performance
Disadvantages:
Takes A While To Charge
Components Are Hard To Replace
Why I Like It: The QuietKat Ranger works through the harshest winter conditions and we were more than happy to try it out. Although it takes a while to charge, it offers an all-rounder performance, which is pretty rare to find these days. You need to try this bike, it will work through the winter months like magic!
---
5. Ecotric Rocket
Price: MSRP $1,199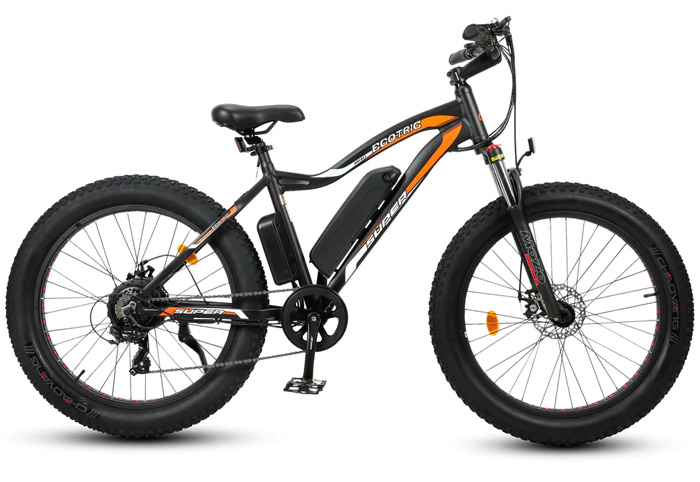 Let's talk about the Ecotric Rocket, it isn't as great as the other bikes listed in this guide, but it is affordable. Sometimes you just have to look at the affordability because not everyone can afford premium electric bikes. If you take a rough look at the specs and the specs, they look normal but the bike really shines with its stellar performance.
Don't be fooled by the price, this bike has a durable design and offers solid performance. The Rocket is powered by a 500-watt motor and 36-volt battery pack. Users will also get to choose from five different levels of pedal assist, pretty useful for climbing hills and rough terrains. On a full charge, the bike also offers 20 miles of range.
The mechanical disc brakes and 4-inch wide fat tires do a stellar job on the road, there is grip but there is also control. Users will be able to use the bike comfortably, even in snow. With the front suspension, rough surfaces won't be a problem anymore. In order to make things even more interesting, the bike is fitted with a USB charging port, with it you can charge your electrical appliances in the air.
Advantages:
Affordable Price Tag
Great Performance
Durable Design
Disadvantages:
Some People Won't Like The Simple Design
Why I Like It: From a price perspective, this is a really good electric bike that offers solid performance. It also works best in the snow and will also be a great choice for the winter months. It is durable and also comes fitted with a USB charging port. Do give the Rocket a try!
---
6. Wallke X3 Pro
Price: MSRP $1,999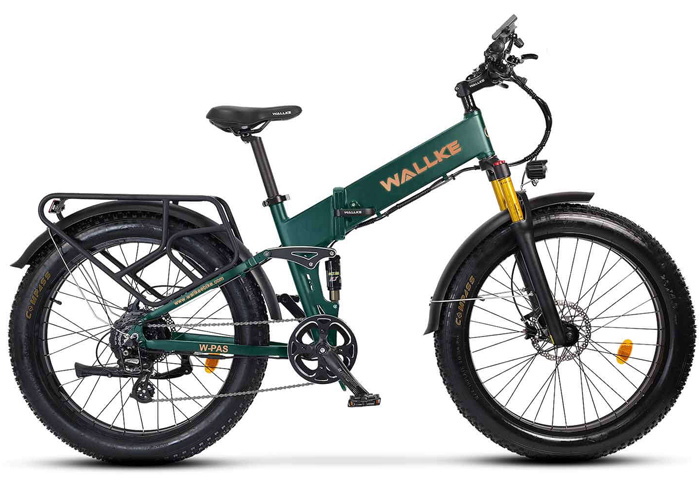 The Wallke X3 Pro really surprised us, this is the kind of electric bike that can handle any kind of terrain and weather condition. Although that is not the surprising part, the "Folding" mechanism of this bike really amazed us.
Planning on daily commutes in the winter months or just leisure rides, the Wallke X3 Pro is best for any kind of purpose. It is powered by a 750W motor and 48V 20Ah Samsung lithium battery. Users will get to enjoy a maximum speed of 32 mph which is impressive for a bike in this price range. On a full charge, the bike offers 60 miles of range. Normally, you will be able to fully charge the bike in 3-5 hours.
The 20Ah Lithium Battery is fully removable, so you can charge it at home or on the go, however, you like it. The interchangeable color panels allow you to let the artist out and customize your bike according to your preferences. In order to control the bike better, it is also installed with dual disc hydraulic disc brakes (Featuring dual shock absorption). The X3 Pro is one of the best foldable electric bikes for snow and winter commutes, do try it out!
Advantages:
Great Foldable Design
Powerful Motor and Battery
Great Range
Charges Quickly
Disadvantages:
Not Recommended For Harsh Terrain
---
How Much Cold Can Electric Bikes Withstand?
Since Electric Bikes can withstand the cold and function as intended, how much cold is cold for them anyway? This is one of the most interesting questions that we get asked and we thought that all of our readers should know about it.
Most Electric Bikes can work fine under freezing temperatures, although that doesn't mean that they should be exposed to it without any kind of interval.
If you want an Electric Bike to perform at its peak then keep the temperature maintained at 10° Celsius (50°F). Any temperature below this threshold will prevent any electric bike from performing as intended.
Since Electric Bikes are powered by Lithium-ion batteries, these batteries discharge at a slower pace when exposed to extreme cold.
Can You Store An Electric Bike Outside In The Cold?
Many people store their electric bikes outside the garage when they run out of space, this becomes extremely common in the winter months. Protecting the bikes is one thing but keeping them operational is another matter.
Most electric bike components are watertight, which means that exposing them to extreme elements will cause them to corrode at a faster pace. If you store an electric bike outside right after riding then its battery will be negatively affected. Charging that exposed battery will further result in the lifespan being deducted and you don't want that!
Always store your electric bikes indoors at room temperature to make sure that they are preserved properly.
Important Notice: After riding in the cold, wait for the battery to warm up before charging it again.
How To Choose An Electric Bike For Snow and Winter Commutes?
Choosing an Electric Bike for winter commutes and snow might seem easy but it isn't, there are some technicalities involved. When you understand these technical pre-requisites then the whole picture becomes easy to understand. You need to focus on three big factors if you want a really good electric bike for the winters!
Fat Tires Are A Must!
Your new electric bike needs to be equipped with durable fat tires, it is an obligation that you must follow at all costs. Wider tires, like fat tires, will provide better traction. These tires are favored because they result in increased surface area, which is necessary for traversal on snow and other types of harsh surfaces.
Fat tires also require less tire pressure, which allows them to perform better in extreme conditions, such as snow. When you combine fat tires with powerful motors and batteries, you get something truly amazing.
Stronger and Bigger Battery Packs Are Required
You might have noticed that your mobile's battery life drains faster when you're outside in the cold, this happens with electric bike batteries too. The cold definitely has an adverse effect on batteries which is why they drain quickly.
When you choose an electric bike for winter commutes, make sure that it has a large battery pack, a powerful battery that is able to offer more miles on a singular charge works great. These large batteries won't be resistant to the cold but they will allow you to ride longer by holding more charge in them, that is what matters anyway.
We also recommend using pedal assist in the winter months as it saves you range, going for throttle mode in the snow can prove dangerous and might leave you stranded on the road.
Different Kinds Of Motor
Electric Bikes are powered by motors, you can say that the actual magic is derived from these motors. There is another thing that matters but is often overlooked by many, and that is the actual placement of these motors on the bikes. There are two different types of motors:
Hub Motors: Placed at the center of the rear wheel
Mid-Drive Motors: Placed inside the bike's frame
The location of the motor is very critical as it changes the bike's center of gravity, which alters the handling of the bike on slick surfaces. Although both kinds of motors work great for snow, hub-drive motors are favored more because they produce more torque which is great for snow traversal.
FAQs
Can Electric Bikes Be Used In Snow?
Electric Bikes work really well in snow, and the most preferred are fat-tire electric bikes because they provide better traction.
How Much Cold Can Electric Bikes Withstand?
Electric Bikes cannot withstand sub-zero temperatures, so it is recommended that you don't ride them below 10° Celsius (50°F).
Can You Store An Electric Bike In The Snow?
It is not advisable to store an electric bike in the snow as it can lead to the components being damaged. The battery of electric bikes can also be negatively impacted in extreme conditions.
Recap
Winters can become full of cycling adventures with the right kind of electric bike at your side. These are the only type of bikes that are powerful enough to handle the harsh conditions of winter and still give you an amazing time. We discussed different electric bikes and many of them were quite exceptional.
From the list, the best choice to go for is the QuietKat Apex. It offers a great range, has exceptional performance, and is a perfectly balanced machine. Do try it out and let us know about your experience.
We also discussed some key aspects of winter traversal that you should know about. Information like how to store the bike in winters and the necessary aspects that you should look for in electric bikes for snow is also shared. If you have any other questions then do let us know in the comments below!
Also Read: