Winter is one of the best seasons to relax, you can actually hang back and rest, but it can also be an amazing time to do some cycling. With that being said, winter conditions can also be very harsh for your bike, they can harm your bike's components in no time, you just have to let your guard down once.
It is critical to take care of your bike's maintenance in winter, it doesn't matter what kind of bike you have, you just have to make sure that they are in prime condition and ready for the winter months. With IceBike's guide to winter bike maintenance, you will be having trips in the snow without being drowned in worries.
Why is Bike Maintenance Necessary in Winter?
Bike Maintenance is very critical, no matter what kind of weather it is. Winter months are just extra crucial and that is the time when bike components can get damaged beyond repair. You don't want your bike to be covered in mud, grit, or anything else when you reach home.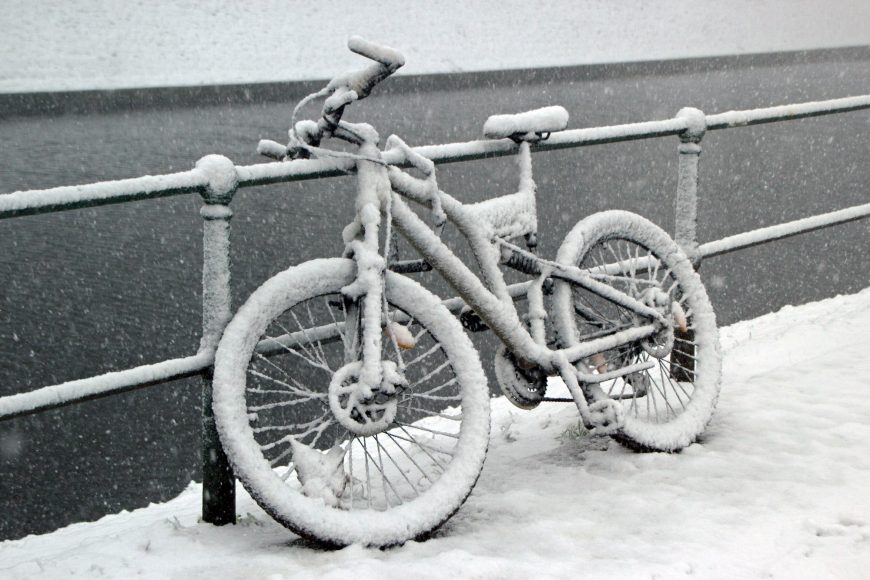 There is also limited daylight which makes it very necessary to use bike lights, and even when the sun does come out it isn't enough. Your vision and the vision of other people on the road are negatively affected, this is the time to make sure that everything is working perfectly with your bike, just the way it should be.
Your bike will probably be affected by the frost, road salt, and snow, all of this will wear out your components faster than anything else. Sometimes you will have to get the bike repaired or even replace some components that will be beyond repair, and that is a pricey endeavor. We don't want you to get stranded on the side of the road, alone and miserable that is why this special guide has been prepared for you.
Here are some of the best tips that you should follow in order to make sure that your bike is fully prepared to tackle the winter months!
Start By Getting The Bike Serviced
Bike Cleanliness comes first that is why it is essential to get the bike serviced, and most of it can be done from the comfort of our homes. We admit that bike servicing can become troublesome sometimes and in some areas, it is better to seek the help of a professional mechanic.
You may even need some specialist tools to clean and maintain some necessary parts of the bike. The first components that you need to pay attention to are the gears and brake cables. Keep them cleaned and keep them fully lubricated so they don't get affected by the snow or road salt. Lubing the inner cables is also necessary but not easy, you will have to pop out the external cables for that. If it proves to be too much demanding then you can always get a mechanic to do the job for you.
Keep an eye out for wear and tear, you might have to replace some components. In order to increase the weather resistance, you will have to fit end caps to your cable outers, or you can just replace the old ones, whatever works best for you.
Want to give a thorough cleanse? You will have to get the bottom brackets, hubs, and shifters checked. If all of that seems tricky for you then just take the bike to a local bike shop and get the servicing done.
Inspect Tires Properly
Keeping your tires in check is very important, especially in the winter months. You will also see a lot of riders on the side of the road just because their tires got punctured in these months. Why is there an increased threat of punctures in winter? There are a lot of reasons for that but let's take a look at the more apparent ones.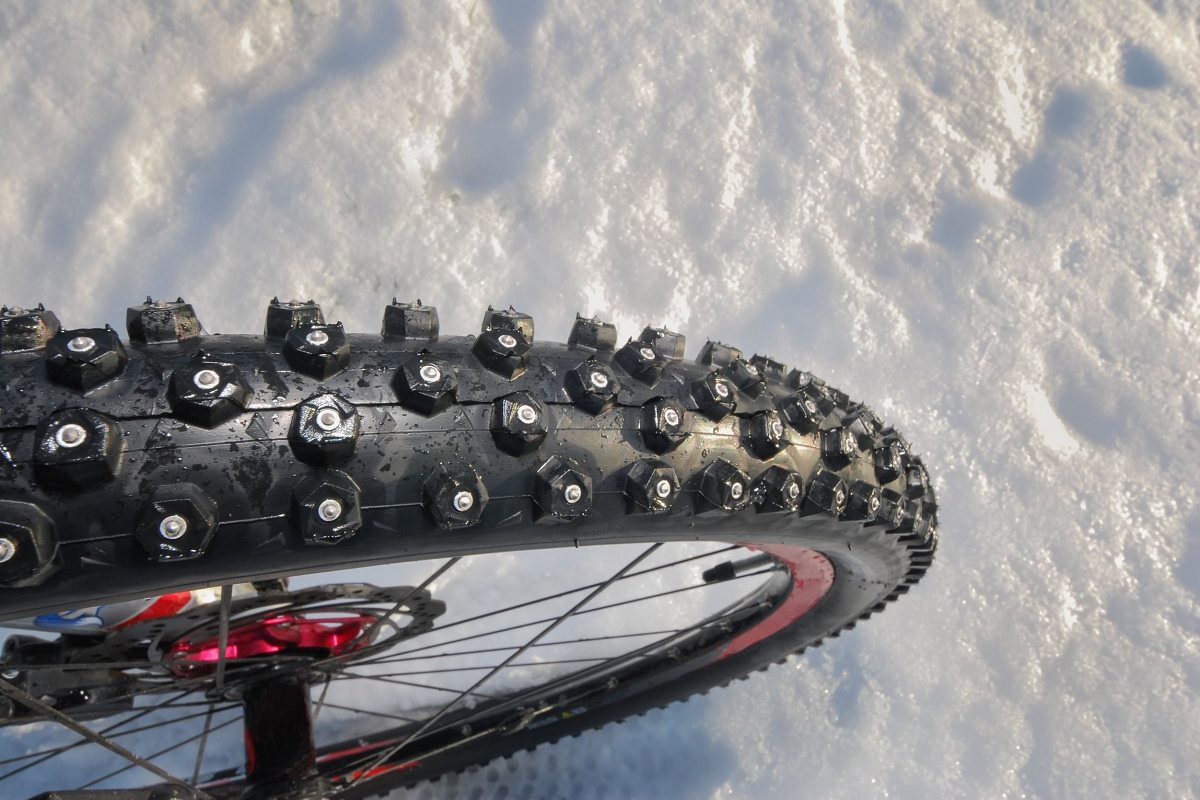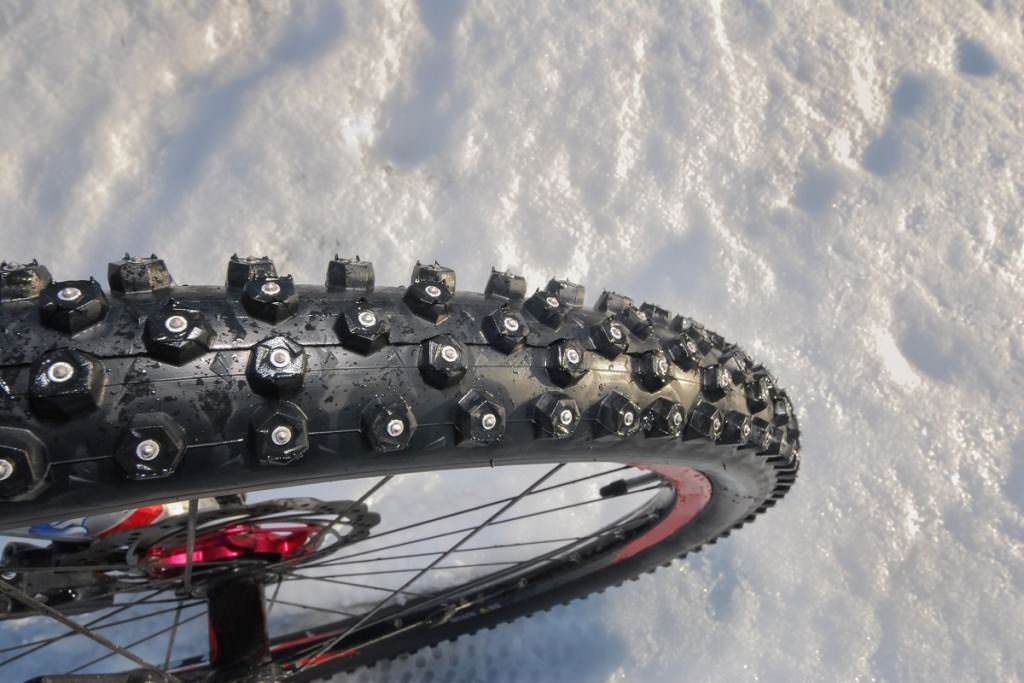 Cycling in summer when it is hot makes your tires thin, which increases the chances of getting flat. Apart from this frost and other debris from the rain can puncture your tires immediately once they come in contact. There isn't that much we can do to protect the tires from frost or other dangers on the road, but the best precaution is to install winter tires. These are heavy-duty tires that can withstand a lot of pressure and sharp-edged thorns. Thanks to their more pronounced tread, they also allow better grip on wet and loose surfaces.
Another great option here would be to go for tubeless tires. This is easy and better than other options and many of the new bikes already come with tubeless-ready wheels, you just have to set them up with tubeless-ready tires. Tubeless tires are very hard to penetrate because they are built heavier than their summer counterparts. They are also a bit expensive and you will need to top up their sealant from time to time.
Just make sure that these tires are properly inflated before heading out, if everything goes well they will be well-protected from embedded debris and other sorts of damage.
Check The Brakes Properly
Prior to your trips in the snow, you need to make sure that you can stop. Your brake pads are the next important components that will be hit the worst in winter. The most vulnerable kind of brake will be the rim brake, the unfortunate combination of snow and wetness, and dirt will wear them out pretty quickly along with your rims.
Make sure to clean the rim brake pads and the braking surfaces thoroughly and frequently. Doing so will remove any kind of grit that can badly affect them. Disc brakes can also get affected in the winter so make sure you clean them properly too. If you can then our advice would be to invest in good-quality disc brakes, that are resistant to contamination.
If by any chance your brake pads are beyond repair and have debris embedded in them, it is time to replace them.
Install Mudguards
Mudguards are going to be your best friends, not in just the winter but all year. They are going to protect your bike against dirty water and muck. You might have noticed but road dirt is the worst enemy that any cyclist can have, they can get through anything, and with almost no effort. They can easily lurk in the drivetrain and headset and do all sorts of damage. This also affects your bike chain, once the water starts dripping it can easily wash off the lube which was applied.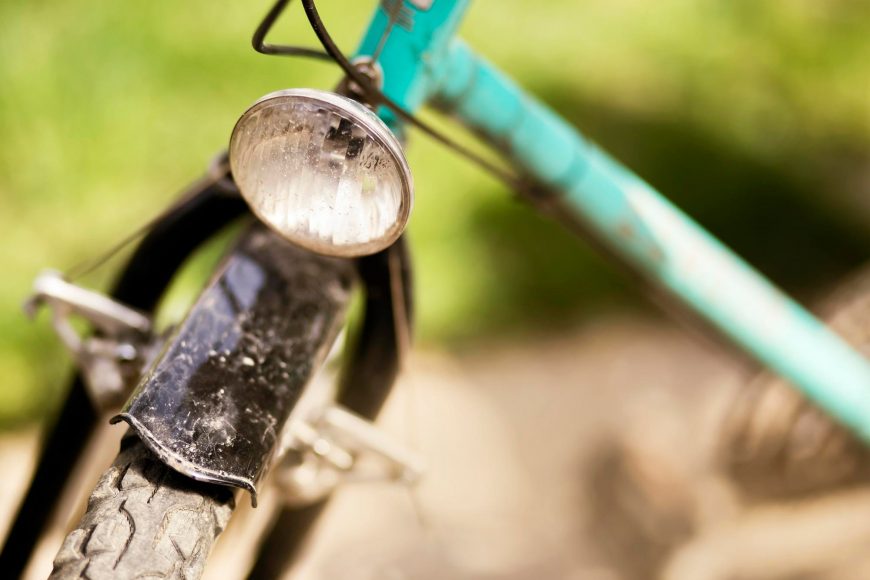 Try installing the full-cover mudguards, they will not just keep the bike protected but will also keep you very comfortable. If you apply the wheel spray to your mudflaps at the end of the mudguards then they will come in extra handy and keep everything clean.
Mudguards have come a really long way, just a few years ago, fitting them to bikes was a really big issue. There was no clearance point and they came without mounting points, now everything is done seamlessly. We can also thank wider tires for the upped frame clearances, everything just keeps getting better.
Lights and Reflectors Are Essential
We will be experiencing shorter days and longer nights in winter, this will be the best time to fit bike lights so that you can easily go out at night. Any kind of ride you take no matter the length, it will start getting dark by the time you get home so you best be prepared.
Another thing that is very common in winter is bad weather which limits visibility. Bike lights and blinkies will come in extra handy at this time, the best thing about them is that they are rechargeable via USB.
Make sure that your bike also has reflectors installed, this will make it easy for people to spot you on the road. In some countries like the UK, it is a legal requirement to have a red reflector installed at the rear along with amber reflectors on the pedals, failure to do so will result in a massive fine.
Always Keep Your Bike Clean
In order to make sure that your bike does well on the road and is protected against the snow, it needs to be cleaned thoroughly and frequently. We suggest that you wash your bike after each and every ride, this will prolong the life of various components. One of the main reasons we ask you to do this is that it will wash away the salt from causing corrosion.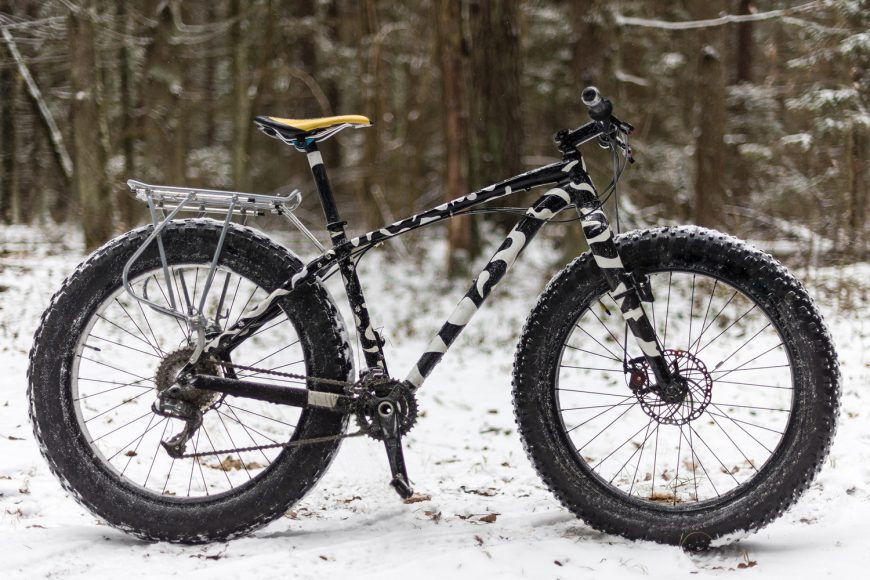 Salty water is very dangerous as it can cause an electric current between different metal and metal parts. Failure to take care of them and you will see your bike frames being damaged beyond any kind of repair. If you are looking for a quick and easy solution then you can always get a bike spray, this will repel water and keep the frame/components clean for you.
Many people use a jet wash to clean their bikes, although they get the job done, they can easily damage the delicate parts of the bike if the user isn't careful. Surface dirt should be taken care of without any kind of delay but we also suggest that you clean the bike chain and gears too. The combination of dirt and lube always proves to be horrendous.
Lubricate Properly
Lubrication is very necessary if you want your bike to survive the winter months and not just any kind of bike lube. The dry lube that you used in the summer was best for dry roads, but for the winter you will need to use the wet lube.
Wet lube works best for a variety of reasons, it has more staying power and does not wash off easily, even in rain. There is one limitation though, this kind of lube attracts a lot of dirt, so you will need to clean your bike after every ride.
The chain isn't the only component that needs lubricating, if you want your bike at full power then you will have to get the headset, hubs, freewheel, bottom bracket, and pedal axes lubed.
The bike's seat post is also vulnerable when it comes to corrosion, water can easily seep through and cause corrosion. What you need to do in this situation is pull out the seat post by unscrewing the bolts and then clean the area properly. Once you are done cleaning, apply grease to prevent it from freezing in one place. This is a tedious process but you need to make sure that your bike performs really well in the winter.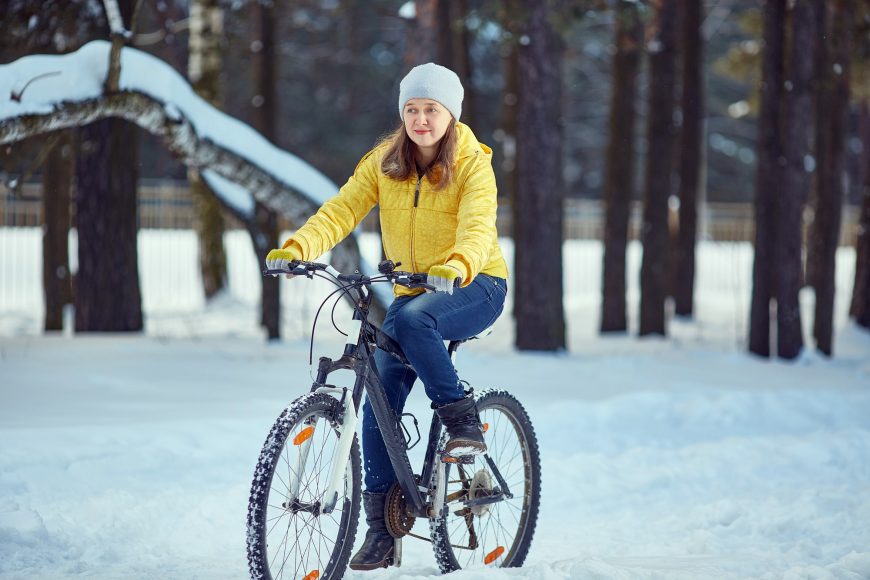 Take It Easy
It is finally winter, the best time to take it easy and relax! If you don't want to ride outdoors and enjoy the warmth of your home then do so. Fitness is also very important, it is something that you can't leave behind. You can always try out indoor bikes for exercise, they will serve you faithfully.
If you want to take a break and wait for the sun to come out then you should do that, there are a lot of options to go for, and there is no need to sweat anything. Speaking of sweat, sweat is going to be your prime enemy in the winter as it can easily spread over bars and other components. Do clean your bike after every ride and get sweat protector sprays, they come in extra handy in situations like these.
Watch Essential Winter Bike Maintenance Tips
Here is an informative video put together by GCN Tech, this will cover essential tips that you need for winter bike maintenance.
Read also:
Recap
Riding your bike in the winter months just hits differently, it feels wild and exhilarating, providing a unique kind of adrenaline. Since this time of the year is really harsh, you need to make sure that your bike is well-maintained, if you want a chance to tame the winter wilderness.
Bike maintenance is required all over the year, it just becomes really critical in the winter months. You need to keep the bike cleaned, lubed, and covered after every ride. These tips are not rigid, you are always more than welcome to try out your own ways, whatever works for you is always welcomed. If you have any kind of questions then do ask us in the comments below!
Happy IceBiking!