A stolen bike hurts more than a damaged bike and that is why you have to pay a lot of attention to bike theft. Imagine getting the bike of your dreams and what happens is that because of either your own negligence or absence of planning, the bike gets stolen, nothing hurts more than that. Stolen bikes are rarely recovered because people either don't pay close attention to their registration or they just don't take the bike's security that seriously.
You might not know this but annually over 2 million bikes are stolen in the United States and in the UK the number goes to several hundred thousand. It does not matter if you have a shiny carbon racing bike or a simpleton that you bargained from a junk dealer, all of them are vulnerable to theft.
This informational guide has been drafted so that you can protect your bike against all manners of theft. When your bike will be protected, there will be significantly less stress, inconvenience, or even financial troubles.
Are There Ways To Fully Protect Your Bike?
Can you fully protect your bike, are there ways to fully keep the thieves away from bikes? Sadly, the answer is no but there are many ways you can use to maximize the protection of your bikes. It does not matter if you have your bike locked outside, is secured in a lockup or a shed, there are still chances that it could get stolen. If you are looking for completely fool-proof ways to protect the bike then that is quite impossible although, with this guide, you will be able to protect your bike to the fullest.
GPS Bike Tracker
This is the era of technological advancement and now there are many advanced ways to protect and track your bike if it ever gets stolen. You might have heard of a GPS Bike Tracker or Apple Air Tags. These trackers will let you know wherever your bike is, given that the thief has not destroyed the tracker.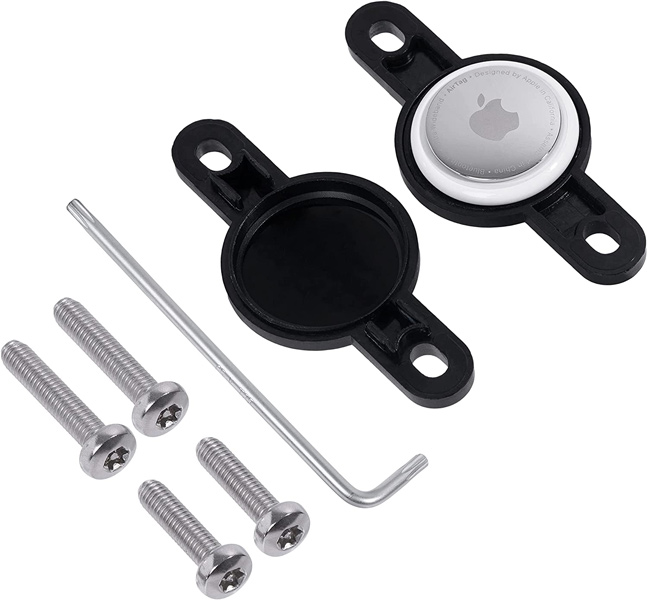 Bike Insurance Services
Apart from trackers, you can also make use of the numerous bike insurances that are present now. Bike insurances make sure that are reimbursed if your beloved iron steed ever gets stolen, although you may not get the full value of your bike it is still a great option to try out.
Get A Bike Lock That Performs Well
If you are planning on protecting your bike then the first choice is going to be Bike Locks. These locks are great because they guarantee the safety of your bike but you have to check the compatibility first. Bike locks come in different shapes and sizes, not to forget about their price point, that is why you have to make the decision very carefully.
Some people go for the cheap bike locks and then add other layers of protection, that is a very common mistake and should be avoided. The thing with bike locks is that you get what you pay for, the more you pay, the more premium product you will get and hence better protection.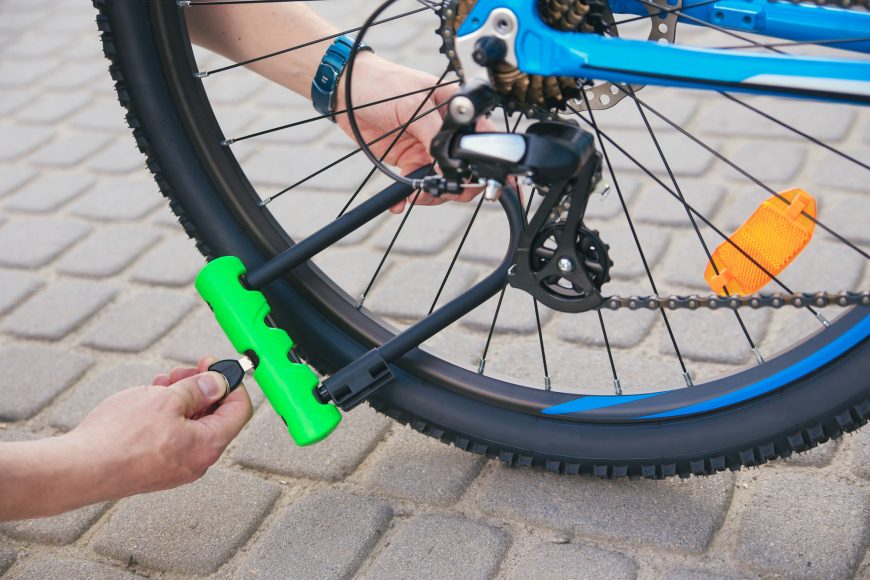 How To Use The Bike Locks Correctly?
"Up To The Task" is something that we read and listen to a lot when it comes to bike locks. Getting a bike lock according to the situation and the usage will boost the overall performance. You need to know how you will be using the bike locks. In one scenario, you could be using the bike locks overnight when they are parked at a metro station.
In the second scenario, you could use them to lock your bike outside a coffee shop. Usages will determine the kind of bike locks you will be getting so always keep that in mind. Why do we have to use the bike locks correctly? Well let me put it like this- Even the most secure D-Lock will be useless if you are not using it like it should be used! This is a very powerful statement so it should be followed when it comes to bike locks.
Instructions To Follow
How do you use a bike lock? That is one of the common questions we get asked and honestly many people are confused about it. The bike lock has to pass through the frame first, then the rear wheel, and in the end the front wheel. If you are parking your bike at a place that is dangerous and is famous for bike theft then we suggest using a second lock to secure your bike, follow the same instructions when applying the lock.
The point of a good bike lock is to limit the leverage any bike thief would want to use against the bike. The bike lock should only clear the tubing of the bike and should pass through as many components of the bike as possible. Make sure that the bike lock is in close proximity to the bottom bracket as this will make things extra hard for the bike thief.
Another point to ponder is where you will be securing the bike. Will you be securing the bike against a street sign, a poll, or perhaps a tree? Make sure that whatever you are securing the bike against is very strong and can withstand any kind of pressure.
A Private Life Is An Easy Life (Keep Your Bike Adventures Secret!)
As we said before, there are no permanent or completely fool-proof ways to protect your bike against theft. No matter what you do, your bike can get stolen, whether it is parked outside or inside your home. There are still ways you can protect your bike from all of these onslaughts.
Keep Your Fitness Routine Private
The first thing that you need to do is keep the privacy activated on all the fitness apps that you are using. You never know who could be tracking them so it is better that only you have the access to these applications. Secondly, whenever you post a pic on your social media, keep the social tags out of them. There should be no indication of where you live or any kind of other information which could lead to theft.
One of the mistakes that many people make is that they take pictures of their possessions and then they geo-tag these locations which lead to problems. We don't want you to advertise your whole life to the world so that is why you have to be careful.
If you are using apps like Strava then all of them have privacy zones that will keep your fitness routines and even the track that you are using anonymous. Make sure that the privacy buffer is always on, only share it with a family member or friend in the case of an emergency.
Keep A Proof Of Bike Ownership
No matter what you do, bad things can happen to anyone at any time, that is why you need to be prepared for the worst. Imagine your bike stolen and you file a complaint with the police, how are you going to prove your ownership? The first thing that you need to do for that scenario is to take pictures of the bike, you can post the pictures on Instagram or any other social media but without geo-tagging them.
This will help you a lot when your stolen bike is recovered by the police, try taking pictures of the unique aspects of your bike, these will prove that the recovered bike is indeed yours. What are some of the aspects that could be unique?
There are plenty of customization options that you can use when it comes to bikes. You can decorate the bar tape or the grips of the bike. Colored tires are also very popular these days, you can check them out. Even if your bike does not have anything unique then you can try making it unique, go for more than the frame color because in most cases the thieves will re-paint your bike after stealing it.
What you can do over here is replace the standard components with something unique, something only you would know. Colored bolts and colored wheel spokes also work so you can try that out.
Note: No matter how much money you spend on your bike, or how many modifications you make, always keep all the receipts with you. Even keep the bike purchase receipt with you, they come in very handy in hard times.
Bike Serial Numbers Are Very Important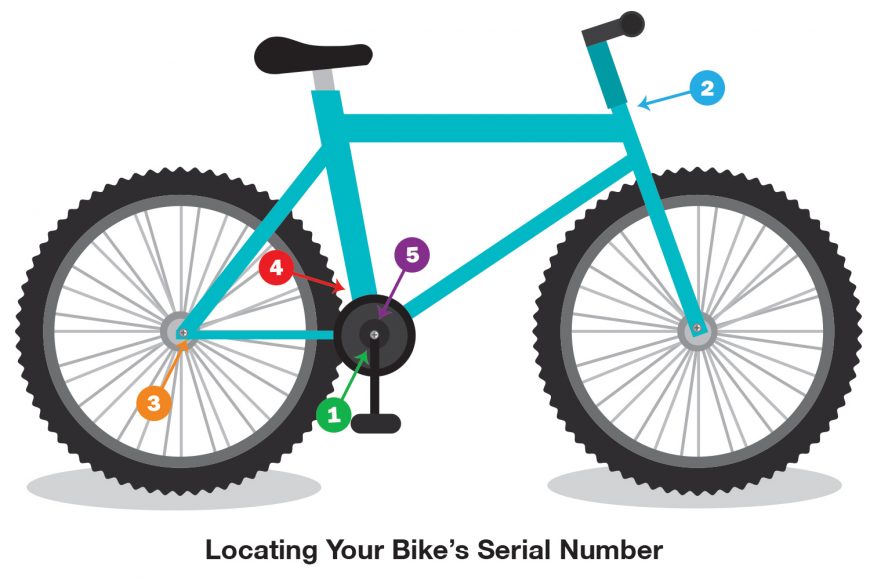 A Bike's serial number is invaluable and no matter how much proof you have, it falls short if we compare it to this bike index. You need to keep a record of your bike serial number at all costs because that will prove very handy if the thief tries to sell stolen bikes.
Every bike out there has a very unique serial number, it cannot be duplicated. If you know the serial number of your bike then you can easily prove your ownership. There are many areas of the bike where you can find the serial number, if you still can't find it then you can always bring the bike to a local bike shop, and they will sort out everything for you.
Mark Your Bike Securely- A Unique Safety Mark
You have taken care of the bike serial number and other manners of insurance, what else is left to do? An improperly locked bike can easily be stolen, but what are the tactics that you can use to safeguard your new bike? You can mark your bike invisibly so that no one knows about it.
You can mark the initials of your name on the bike with invisible ink. You can post the initials somewhere it will be hard to find, like the seat post for example. Custom stickers also work, you can fill in your details and then just stamp the sticker on the bike, just make sure that they are not removable.
Getting a UV Ink Pen is also a great idea if you don't want to visibly mark your bike.
What Attracts A Bike Thief?
What makes a thief so inclined towards a bike that they want to steal it? It is the shiny components that you have installed on your bike. Just as a speeding car will attract the police, a fast and shiny bike will attract the police. How can you protect a bike from the envious eyes of thieves?
What you have to do here is very simple but also difficult, you have to make sure that your bike is simple enough so that it does not attract the eyes of thieves. When you go out on a short trip, where you would have to park your bike outside somewhere then just remove all the extra components of the bike. Remove all the gadgets that you have installed on the bike, cameras, lights, and computers.
You have taken care of the gadgets, now it is time to take care of the bike. A bright and stuffed bike will be very attractive to a thief and he will be inclined towards stealing it, while on the other hand, it will also require them a lot of time and skills to crack open the bike. Our best bet against bike thieves would be to play smart and keep a balance, this will always work to your advantage.
The Different Types Of Bike Thieves
There are two types of bike thieves, one will try to disassemble your bike after stealing it and the other kind will use the bike for themselves.
The first kind will sell the bike parts overseas after disassembling them, the most probable choice will be the black market. The second kind of thieves will just try to remove all the signs of ownership and use the bikes for themselves. Either way, you have to be very careful about the bike thieves, they may be different but the same rules apply to them.
What Are Smart Bike Locks?
There are traditional bike locks and then there are the new and improved smart bike locks. This is an amazing and reliable bike lock that you should definitely go for. These smart locks will act as the primary lock and they even come with in-built alarms.
If a thief tries to touch these locks then the locking system will sound a loud and dense alarm which will be heard in the whole neighborhood. Remember the bike's serial number and install a smart bike lock, you would be good to go!
What Happens After A Bike Gets Stolen?
Thieves have used the bolt cutters and through the U Lock, they have stolen your bike away, what happens to your bike after? The first thing that could happen to your bike is that the thieves will disassemble it, and then move the parts somewhere else, it could also be to another country. When moved, the bike parts will be sold to people at an alarmingly high rate. The bike rack and frame are disposed of so that there are no means to track the bike, if this happens you may not get your bike back.
On the other hand, your bike will be used by thieves. They will just spray another color on the bike and then use it as their own. They may even give the bike to their friends or trade it for something else.
How To Recover Your Bike After It Gets Stolen?
This is the one thing where you can't do anything actually. You can report to the police that your bike has been stolen, providing them with a serial number helps a lot so keep that in mind. Also, if you see your bike in the open, never try to confront the person who has it, there is no telling how the other person will respond if you try confrontation all by yourself.
Recap
Having a great bike is essential and that is why you need to take care of it. Maintaining the bike is one thing but protecting it is another. Make sure that your bike is protected by using all the methods that we have listed in our guide. You can try out the bike locks and other forms of insurance that will protect your bike against all manners of theft. We showed you different types of locking mechanisms such as cable locks, we also shared some of the best techniques to follow.
---