What are ten minutes? In ten minutes, you can easily get a subway sandwich, grab a hot cup of coffee, check your list of emails, and return to your "Parked" bike that was stolen the moment you entered the subway restaurant. Nice way to spend ten minutes right?
We can't say much but now your valued bike is most likely in the possession of a collector and listed on eBay for much less than what you paid, this is a tragedy and you need to protect yourself from it. Did you know that during the COVID-19 pandemic, how many bikes were stolen? At the end of 2020, 96,583 bikes were reported to be stolen but that is not the actual number. Many cases of bike theft are not reported at all, so the numbers could be huge compared to the reported ones.
The saddest part is that these crimes are considered that much low-level to be investigated, so if your bike is stolen, then it is most probably gone for good! Although there is a silver lining to this, these bike thieves get lucky by the opportunities that we give them. If we actually protect our bikes and lock them well then the chances of them being stolen can be reduced indefinitely!
Let us take a look at some of the types of bike locks that you can avail of!
Top 10 Bike Locks Review: The Best In The Business (2023)
These are some of the best bike locks that you can find in the market right now, the locks are of different categories so there are plenty of options for you! We took our time with the locks and tested out more than 15 amazing locks but could only finalize these. With these locks, you will never have to worry about bike thieves, just focus on yourself and your bike. Let's start!
Note: All the prices mentioned are subject to change and availability.
1. Kryptonite New York- Editor's Choice
Price: $100
Weight: 1.85 Kg
Lock Type: U-Lock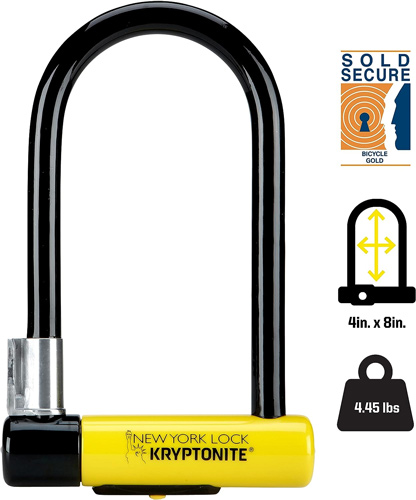 As the name goes this is really a Kryptonite but for bike thieves, this lock has made it to the top of the list because of its amazing protective properties. Even before buying the product, the company gives its customers an amazing offer, I would say that it is a show of their capabilities- If your bike is stolen with the kryptonite lock, the company will reimburse you $4000, well that is certainly more than the bike and the lock combined!
The construction of the lock is very special, it consists of a 16mm hardened steel shackle, and the bike is protected from those nasty twisting attacks because of the pass-through crossbar design, any thief who tries to cut it will certainly go through hell! The Kryptonite is more than just a lock, due to personal experience and usage, I would say that it can also be used as a hammer.
The lock includes a mounting bracket and that has a nylon strap that just sticks to the frame, it gives you a lot of mounting options, this is what I really love about the lock. Overall, for the ultimate protection, this is the bike lock that you should get.
Advantages:
Amazing Protection
Lightweight Construction
Disadvantages:
Editor's Choice: The Kryptonite Bike Lock offers amazing protection like none other and if your bike gets stolen, you would be generously compensated, what more do you want from a lock? Also, upon damage, your lock will be replaced free of cost thanks to the lifetime warranty!
---
2. OnGuard Brute STD 8001
Price: $75
Weight: 0.77 Kg
Lock Type: U-Lock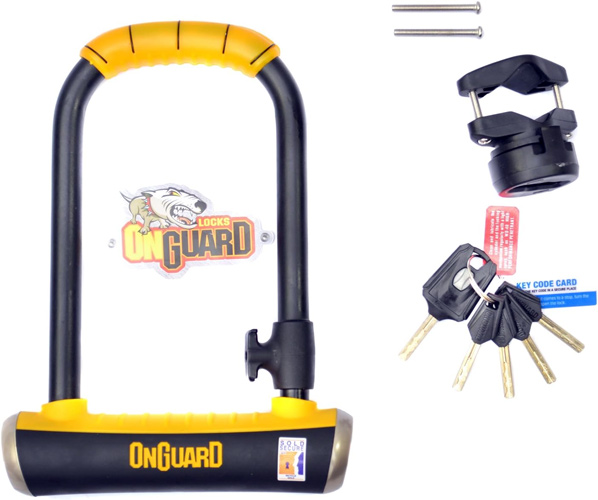 The OnGuard Brute is an amazing lock to protect your bike with and as the name suggests, it acts like a brute against all the thieves coming after your bike, It has a nice compact design that you are going to love, nothing fancy but gets the job done with extreme prejudice.
It has a square-shaped shackle as you can see, this particular feature widens up the lock-up poles, making things easier for you. The shackle is hardened-steel so that enhances the effectiveness of the lock. The keyhole of the lock also closes automatically, this is to keep all the foreign particles out!
Advantages:
Very Secure Mechanism
Offers Different Lock-Up Options
Portable Design
Disadvantages:
Why I Like It: The OnGuard Brute proves to be an amazing bike lock, it has a nice design and offers a lot of locking options and styles, this is one of the things that I value in a bike lock. Thieves will have a really hard time going through this lock!
---
3. Hiplok DX
Price: $90
Weight: 1.088 Kg
Lock Type: U-Lock
Do you know what is the most favorite accessory of urban cyclists? Mini U-locks that they can stuff into their pockets! These locks are great but it is certainly not comfortable, carry them like that. Hiplok has changed that amazing idea into something more precise, U-locks with clips, and the Hiplok DX is an amazing example of that.
The Hiplok DX can easily slide on your waistband, so you can carry it without any kind of problems. The lock is very sturdy, trust me, I have tried it out. The DX comes with a 14mm shackle that can be locked easily on either side. The only thing that can cut through the DX would be a cordless angle grinder, other than that your bike would be pretty safe.
Advantages:
Lightweight Construction
Easily Portable
Disadvantages:
Useless Against An Angle Grinder
Why I Like It: A U-lock that can be easily carried? I am completely sold on the idea, U-Locks are great sturdy machines. The Hiplok DX is something that I cherish every day, it keeps my bike completely safe and makes me look cool when I carry it.
---
4. Altor SAF
Price: $300
Weight: 6.3 Kg
Lock Type: U-Lock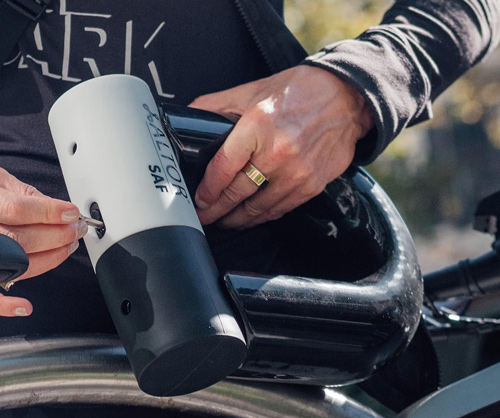 From the looks and feel of it, the Altor SAF is an amazing angle grinder-proof lock, in order to beat it, you must be heavily equipped. This is a very thick lock, and with it, you will be ensured that your bike will always be protected with this. Thieves would have to go to different shops and get separate power locks to cut through the Altor SAF and they would still not succeed.
This is a really big and sturdy lock, if this won't intimidate the thieves then I don't know what will. Even if the thieves get lucky they will be able to cut the pole only, to which your bike will be locked on and nothing else. Trust us and get this lock ASAP.
Advantages:
Super Difficult To Cut
Ultimate Protection
Disadvantages:
Extremely Heavy
Very Expensive
Not Portable
Why I Like It: The Altor SAF is one of the best locks for the money, if you have the budget then you can definitely go for this high-end protection option. Although it is high-end there are certain limitations, well it is heavy and pricey but I personally don't consider them deal breakers at all.
---
5. Master Lock Bicycle U-Lock
Price: $13
Weight: 0.861 Kg
Lock Type: U-Lock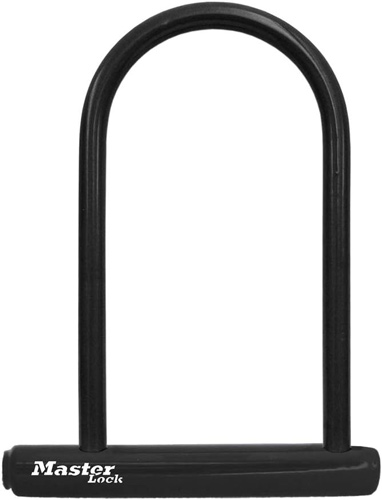 Are you looking for a better option than the regular cable or zip tie locks? Then it is about time that you upgraded, the U-Lock from Master Lock is the next best thing. It is an extremely affordable option and you definitely can't go wrong with it.
It comes with a durable steel shackle that can easily withstand bolt cutters and metal shears. Thieves will have one hellish experience going through the likes of this lock, even the crossbar of the bike withstood grizzly attacks from our experiment team and they were armed with a crowbar. If you want an amazing lock for light and medium situations then definitely get the Master Lock.
Advantages:
Lightweight Design
Very Affordable
Disadvantages:
Weak Crossbar
Not Recommended For Heavy-Duty Protection
Why I Like It: The Master Lock U-Lock is definitely an upgrade over the regular cable locks that I have been using over the past year. I wouldn't say that it is extremely tough but it certainly gets the job done. If you want to go grocery shopping after using this lock then that too is a great option. I would recommend that you only use this option for medium situations.
---
6. Abus Bordo Granit X-Plus 6500
Price: $136
Weight: 1.7 Kg
Lock Type: Folding Locks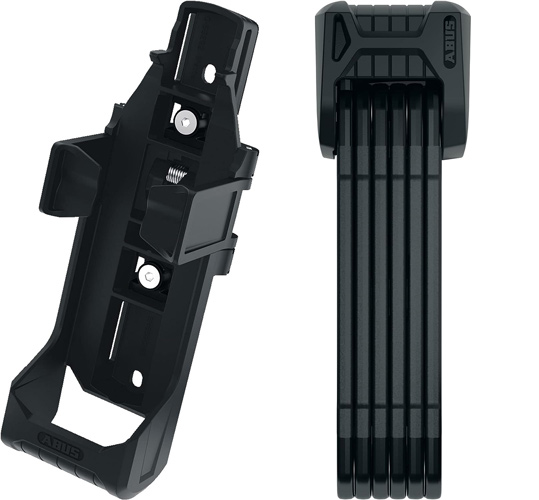 The Abus Bordo is an amazing option if you want to go for foldable U-Locks, I did not expect a bike of this much strength at all! It is extremely effective as it is heavy, weighing around 1.6 Kg, and that is heavy for a lock. So forget about making this lock portable!
It has 5.5m links that are durable against damages but pins that are used in the connection can be hampered easily if you have the right tools, but even a precise cut will require some time. You can easily swap the lock for different kinds of bikes thanks to the loops in the carrying case, this allows for more flexibility.
Advantages:
Amazingly Compact Design
Durable Quality
Disadvantages:
Why I Like It: Being a foldable U-Lock, the Abus Gordo Granit is an amazing option to go for! It is heavy and will give thieves a hellish experience if they try to cut through. Just don't try to make it portable, it is not designed that way, other than that, it is a great lock!
---
7. Litelok Gold
Price: £90 (Subject to Change and Availability)
Weight: 1.12 Kg
Lock Type: Folding Locks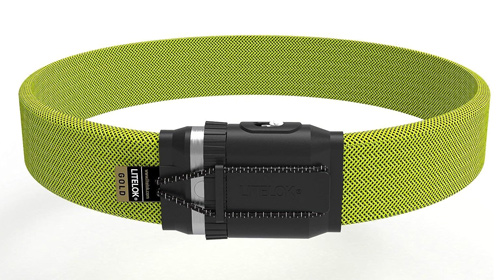 The Litelok Gold features an amazing design, apart from offering great protection it also looks fancy while doing it. How's the whole construction of the lock? It features a heavy disc-lock mechanism that is built around with nylon steel cables, overall it gives genuine vibes. With the steel casing over the lock, it enhances the overall protection of bikes.
The overall construction of the lock makes it lightweight thus very easy to carry, and also flexible. You get different options for how you are going to lock the bike, you can lock it in the classic circular shape or between the top tube and the seat, you have full freedom with the lock, however, you want to lock it.
We tested the lock and it only got a lot of abuse from the blade cropper, nothing else, This lock is recommended for light to medium situations.
Advantages:
Lightweight Construction
Flexibility With Locking Positions
Disadvantages:
Falls Against The Angle Grinder
Why I Like It: The Litelok Gold is one of the flexible locks that you can get for your bike, it can handle itself in tough situations but not that tough. One of the best things that I loved about this lock was the kind of flexibility it gives you, you can lock the bike in various positions.
---
8. Hiplok Homie
Price: $118
Weight: 4.2 Kg
Lock Type: Folding Locks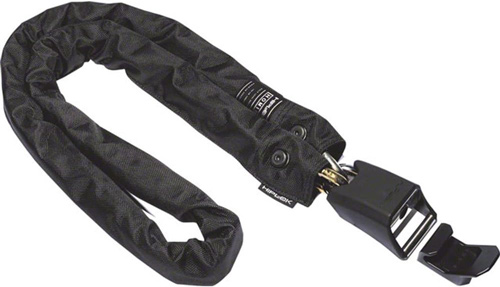 The Hiplok Homie proves to be an amazing lock for home and casual use, and as we tested it out, can be used to protect multiple bikes simultaneously. The links of the lock are made from hardened steel and will give a tough time to thieves, and so is the shackle, in terms of protection you will always be satisfied with this lock.
The Homie has amazing construction, it is has been tested against corrosion and multiple tools, still it came out strong. Even if the thieves try out lock picks, they will b utterly disappointed. For the money that you will be paying, the value is pretty unmatched, additionally, you can use the lock on multiple bikes at the same time. You just need to be careful about handling the lock, careful not to drop it, otherwise, this is one of the most genuine locks that I have tried yet.
Advantages:
Can Be Used On Multiple Bikes Simultaneously
Hardened Steel Construction
Disadvantages:
A Fall May Damage The Lock
Not Portable
Pricey
Why I Like It: The Hiplok Homie proves to be a really good bike lock that you can use on multiple bikes at the same time. It has a hardened steel design that makes it tough against most of the cutting tools and that is what I especially loved. While using the lock, be careful not to drop it as it could damage the construction, other than that it should work pretty well.
---
9. Abus Granit Extreme 59
Price: $300
Weight: 2.7 Kg
Lock Type: U-Lock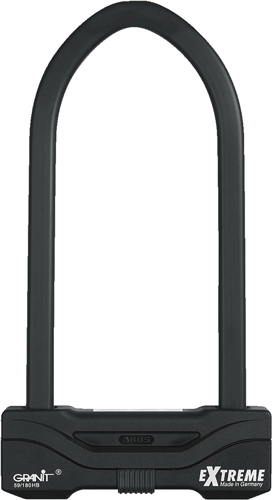 We have tried out protection products from Abus before but nothing comes close to the Extreme 59, it feels and performs like the X-Plus on steroids and that is no joke! This amazing D-lock offers the best torsional resistance and resistance against most of the power tools on the market. Honestly, we were really impressed by the performance of this lock, you need to be the Hulk to break the Granit Extreme 59.
This lock is weather-proof so no matter what kind of weather it is, the Extreme 59 will not be damaged. Plus, no matter what kind of picklock the thieves have in their collection, it is nearly impossible accessing this beauty of a lock. The Granit Extreme 59 can be used in a lot of situations, not just light ones.
Advantages:
Amazing Torsional Resistance
Toughest Construction
Disadvantages:
Why I Like It: The Granit Extreme 59 is the bigger and stronger brother of the X-Plus and that is what I absolutely love. It is extremely resistant against torches and power tools of any kind, even the design of the lock feels revamped. The only drawback to this lock would be the price but for me, that was not a dealbreaker.
---
10. Altor Apex
Price: $100
Weight: 1.1 Kg
Lock Type: Folding Locks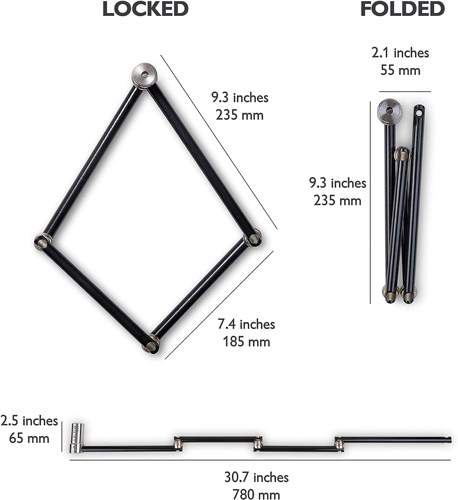 The Altor Apex is an amazing folding bike lock that you should get right now! As the name goes, it acts as an apex predator against bike thieves and will definitely give them hell if they try to come after your bike. It has a lightweight construction (Only 1.1 Kg) and can even be carried portably.
The Apex is also big enough to protect the beefy parts of your bike, such as the frame and wheels. Honestly, this feels like a much better and premium product, especially when it comes to folding locks. It is constructed with hardened steel and that should be quite effective against most of the cutting tools.
Advantages:
Lightweight Construction
Amazing Design
Portable
Disadvantages:
Why I Like It: I love my bike locks as I love my ladies, elegant! That is exactly what the Altor Apex is, it is an amazing foldable lock that provides the ultimate protection for the bike. It is lightweight so you can carry it almost anywhere without any kind of problems.
---
11. Abus Ivera 7210
Price: $78
Weight: 2.84 Kg
Lock Type: Chain Lock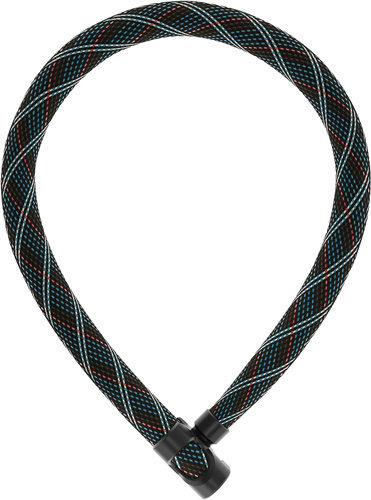 If there is one bike lock that wowed us during the testing phase, it was the Abus Ivera 7210. This lock is extremely easy to use but also a nightmare for thieves. Let me tell briefly about the features of this lock, it is extremely versatile, lightweight, and convenient. This is a chain lock which is very different from a U-Lock, I know that people have been using U-Lock for a while now but they have to try out the Abus Ivera.
With the 7mm thick links, it becomes super convenient to lock even in the most secluded places. The fun part about this bike lock is that you can use it instantly, locking and unlocking is so easy. The Abus Ivera also excels in security, and let me just tell you this, this lock is really tough to cut. We tried different tools to cut through it but couldn't, even cable cutters and bolt cutters were completely useless here. There was another team that tried cutting the Abus Ivera with an angle grinder but even that was proving troublesome.
Advantages:
Offers Good Security
Incredibly Versatile
Easy To Use
Disadvantages:
Security Could Be Better
Very Heavy
Very Annoying To Carry Around
Why I Like It: Bike Locks like the Abus Ivera offer the best protection and versatility, I mean we tried almost everything and still couldn't bypass it. Yes, it could be more secure but there are no excuses to steer clear of this lock. You are going to give the thieves some tough time when you install the Ivera.
---
12. Hiplok D1000 Bike Lock
Price: $300
Weight: 1.84 Kg
Lock Type: U-Lock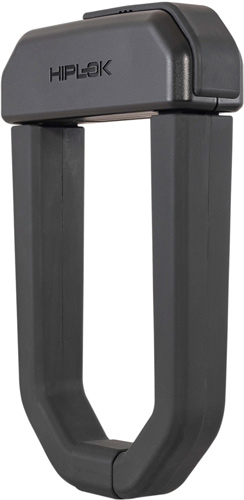 The Hiplok D1000 Bike Lock is definitely one of the best locks we have tried in a while. This lock features a graphene-enhanced shackle, so even a diamond blade and angle grinder will have a hard time cutting through it. Even if you start cutting it, you will be able to get through one side of the lock in 6-7 minutes and you need to cut both sides. Do you see what I am talking about here?
This is the top choice for security, the thieves will have a very bad time going through the Hiplok D1000. Let me tell you a bit about the construction of the lock, it is smooth and very well-designed. One of the best features of this lock is that it works in every condition. Even if the lock is fully frozen, soaked, or covered in ice, it will work perfectly.
Yes, the Hiplok D1000 is an amazing bike lock, but it doesn't come with a mount. If you are planning to park your bike in the most vulnerable areas then you don't need to be worried about the safety with the Hiplok D1000.
Advantages:
Top-Notch Security
Smooth Action
Easy To Use
Disadvantages:
Very Heavy
Small Construction
Doesn't Come With A Mount
Very Expensive
Why I Like It: The Hiplok D1000 is the kind of lock that offers maximum security for the amount that you are investing in it. Yes, it is expensive but the value is also something that you can't get from anywhere else. This lock will work in any kind of condition, even if it is covered in ice. You need to get this lock asap!
---
The Different Types Of Bike Locks
A master thief can cut through any kind of bike lock, the trick is to slow them down enough so that you can stop them before it is too late. If it is a hardened steel U Lock then the thief is going to have a lot of trouble cutting through it, if a bike lock is tough and sturdy enough then the thief won't waste their time going after that.
The kind of bike lock that you will go for will depend on your location and for how long you want the bike to be locked up. These are the types of locks that you can go for:
U-Locks
Folding Locks
Chain Locks/ Cable Locks
Lightweight Locks
U-Locks are the sturdiest locks that you will find, and in order to cut through them, power tools are required, which most thieves will not bother with. They are heavier and more expensive options if we compare them with the other types of locks. Combine U-Locks with hardened steel and any kind of thief will have nightmares going through it.
Folding Locks are the new market trend and people are giving them more preference over chain locks, if you use your bike for daily commutes then this is a really good option to go for. In order to cut through them, you will need powerful bolt cutters or a wire cutter, power drills are also effective though! With folding locks, you can easily lock your bike onto other things. A folding lock can be an amazing locking mechanism, you just need to know how to use it properly.
Chain Locks are very familiar to U-Locks, they can be as tough as them if the chain is made from hardened steel or something similar. Keep in mind that the chain and shackle must be equally durable otherwise, there would be no point in getting this type of lock. If the chain of the bike is long enough, both the frame and wheels can easily be locked onto something, may it be a tree or a post. The chain locks can also be carried on your person, that is what makes these kinds of locks fun. In case you didn't know, cable lock and chain lock are almost the same thing, you can go with either of these options.
Lightweight Locks are your standard locks, they come in a variety of shapes and sizes. These locks can easily be killed with bolt cutters so it is advised that you use them in light situations, like going to a store or coffee shop perhaps?
What To Look For In Bike Locks?
We need to settle this from the start, there is no bike on earth that is unbreakable. If a person has the right knowledge, the right pacing, techniques, and of course tools, then they would be able to cut through any kind of lock successfully. Bike locks don't absolutely eliminate the chance of your bike getting stolen, they just reduce the chances and those chances are going to depend on the quality of the lock you have.
You can choose your approach here, either you can make things easier for yourself or the thief, that is why it is always recommended that you get different kinds of locks for different situations. Another great piece of advice for you is to use multiple locks on your bike and of different brands. This will give the thief hell and more assurance to you!
Following are all the things that you need to know about locks:
Keys: Different locks have different keys, they either move pins or align discs, that is how you open a lock.
Links: The chains in different kinds of locks are made up of links that are put together by hoops. The internal diameter of these links has to be as smallest as possible, this is what makes the locks harder to cut through.
Shackles: These are the D-Lock-shaped parts of a U-Lock. It is a joining part of sorts, that connects the bike to something else.
Protection: We cannot stress this enough, make sure that the lock is made from sturdy enough materials.
The Locking Barrel: These locking mechanisms are usually in the middle of the barrel. Make sure that they are tough as nails!
Additional Keys: It is always recommended to get multiple keys for your bike that you can store anywhere. Comes extremely handy when one key goes missing!
Maintenance: If you want to use a bike for the long term, make sure that they can be maintained easily, as they are outside most of the time, and they can fall prey to corrosion. You can use WD-40 to clean your bike locks!
Warranty or Replacement: If any part of your bike lock gets damaged, make sure that there is a warranty, that way you can get the lock replaced.
Contingency Offers: If your bike gets stolen while the lock is on, make sure that you can be compensated for that. A really good example is the Kryptonite lock!
The Different Types Of Locking Mechanisms:
Different Manufacturers use different locking mechanisms, this is to ensure varying levels of security. Lock-Picking is something that you learn, it is not God-Gifted and what is learned can always have errors. Although there is no kind of lock on this Earth that cannot be breached, the person doing it just has to be masterfully equipped and knowledgeable!
These are the different types of locking mechanisms that manufacturers use:
Disc-Detainer: Uses Rotating Discs, The Most Secure Type
Slider: Has Springles Sliders, Good Protection
Pin Tumbler: Uses A Plug Within A Cylindrical Housing, Average Protection
Wafer: Least Secure Mechanism
FAQs
What Is The Strongest Bike Lock?
There are many strong bike locks in the market, according to some surveys, the Kryptonite New York is an amazing lock!
What Is The Best Type Of Bike Lock?
The U-Locks are the strongest and most resilient type of bike locks!
How Do I Theft-Proof My Bike?
In order to make your bike theft-proof, it is advised to invest in an amazing U-Lock.
Recap
Just as owning a bike is important, so is protecting them! In a mere ten minutes, your bike can get stolen and you won't be able to notice that. Bike Locks protect your valued possessions, they give thieves nightmares and many of them even intensify the beauty of your bikes.
When it comes to the selection of bike locks, my absolute favorite is the Kryptonite New York. It offers the ultimate protection and $4000 if your bike gets stolen when the lock is in use!
Make sure to have multiple locks for bikes as that will extend the protection even more. Remember, you won't know about the best bike lock until you try it out. Try them out with the rear wheel or the bike's frame, see what suits you the most. If testing bike locks aren't your jam then get them checked from a local shop, that will make things easier for you. Stay safe and happy cycling!
Also Read: