You might be tired of hearing this over and over again but it fills us with excitement every time: ELECTRIC BIKES ARE AMAZING!
Since their invention, they have only made our lives more accessible than before, which is what all of us can agree on. It is so much fun using them, going from Point A to Point B just feels relaxed and faster. These electric machines are more convenient than your regular bikes and you must have noticed that too, but there is a big emphasis on their speed and we are here to discuss that.
How Fast Can They Go? This is another great question that our readers ask, this is something that we asked too when we were first introduced to electric bikes. The answer to this is very simple but also technical so bear with us. There is a difference between going fast with these electric bikes and there is that adrenaline-filled up, mind scrambling kind of going fast, both of these feelings are unique.
You are here to check out the fastest electric bikes that you can get right now, well you have certainly come to the right place. If you are a sucker for adrenaline and the fastest adventures then keep on reading!
The Fastest Electric Bikes Our Review and Buying Guide
We know you are excited to know about the fastest electric bikes, and we could not keep you waiting long. Upon a careful examination of more than 20 electric bikes, we decided that these should be presented as the fastest electric bikes. All of these bikes have different classifications, something we will discuss later on, but we guarantee their performance and their speed. Let's get started!
1. The Delfast Top 3.0- Fastest Electric Bike In The World (Editor's Choice)
Price: MSRP $6,599
Top Speed: 50 Mph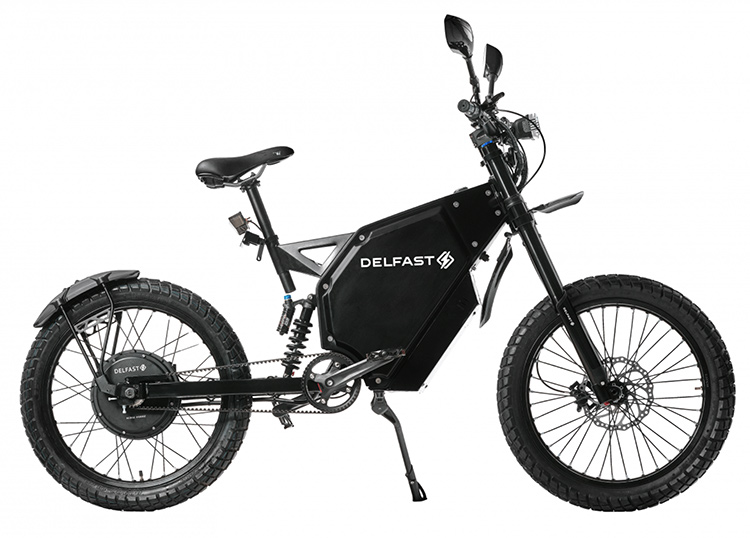 You were waiting for the fastest electric bike, well here it is, The Delfast Top 3.0 is the World's Fastest Electric Bike. Performing flawlessly on a fully electric mode, it has the highest range offered and we did compare it to the other bikes. On a full single charge, it can easily give you 200 miles. Due to its performance, Delfast Top 3.0 won the Guinness World Record for the longest ride on a single charge.
We can compare Delfast with Tesla as they are definitely changing the electric bike industry, there is no other bike manufacturer that can compete with their products and services. The Delfast Top 3.0 enjoys the best batteries and technology in the industry, you can see how well the bike performs in the field.
The Delfast Top 3.0 has a single drive train and that is fine, it is completely rust and water resistant. You can take this beast of a bike anywhere you please, may it be dirt trails, or muddy roads, there will be no restrictions. This electric bike features a QS V2 Motor with IPX5 Protection. What about the power output? You will be amazed that this bike enjoys a power output of 3,000 watts with it going to 5,000 watts during initial acceleration.
With this amazing power output, the e-bike easily reaches a top speed of 50mph. If you are living in an area/city where top speeds of electric bikes have been made illegal, Delfast has made available a workaround for this. Users can choose between three different speed modes: Pedal Assist, Recuperation Mode, and City/Unlimited Mode.
This is a bike that you should not be sleeping on. Go get it today!
Advantages:
Amazing Top Speed (Upto 50 Mph)
Provides Long Distance Rides Without Problems (Exceptional Range)
Lifetime Warranty
Brilliant LCD Screens
Installed With The Latest Technology
Disadvantages:
Availability Issues
Expensive Price Tag
Editor's Choice: The Delfast Top 3.0 is the fastest electric bike and I am glad I got to try it out. It has everything that you want in an amazing electric bike, it has the speed and the thrills. The massive battery can provide a power output of more than 5,000 watts which is just unreal. I could not find a better bike than this in the market, you should get one ASAP.
---
2. Juiced Bikes CrossCurrent X
Price: MSRP $2,199
Top Speed: 28 Mph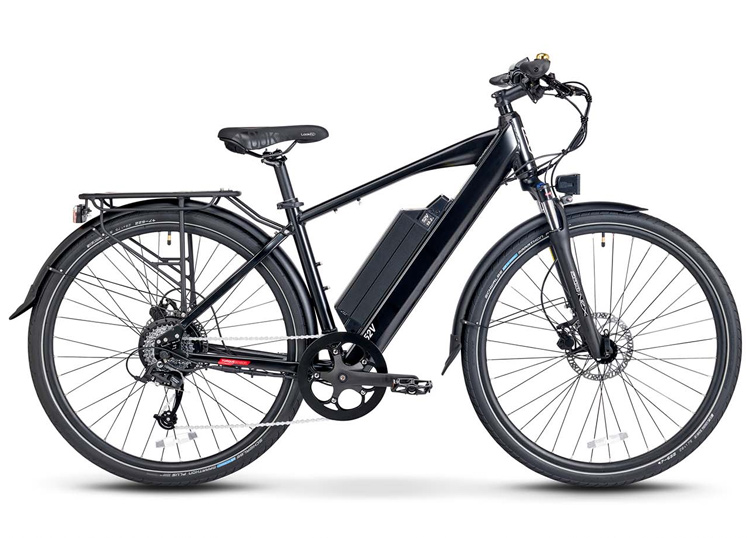 The CrossCurrent X from Juiced Bikes is the second bike on our list, it is definitely a choice that stands out. It comes packed with the right features, and performance, the best thing is that it won't break your bank. It offers you an amazing top speed of 28 mph and 70 miles range, all bundled up in an impressive package.
Let's talk about the frame, design, and overall construction of this bike. It has a high-quality 6061 aluminum frame, we love how it rocks the matte finish. The comfortable handlebars with ergonomic grips are there, it is a fast bike but it also ensures the user's comfort. It is also installed with the impressive Suntour NCX suspension fork, there is a hydraulic lock, and adjustable spring rate, we could not ask for better components. All of this is going to ensure an amazing experience.
The bike's motor is also very impressive, the CrossCurrent X features a 750W Bafang motor. We told you that it offers a maximum speed of 28 mph right? Well, with the right settings, pedal-assist mode, and on a flat road, it can give you 30 mph. Another great part of this bike is the 52V, 19.2Ah battery, it is massive and it blew all of our expectations. If you use the bike like the manufacturers want you to use then you can enjoy more than 90 miles of range on a singular charge. Directly competing with the other bikes, this bike is going to take you longer than any of the bikes in the competition right now.
The tires of this bike are also great, the bike is fitted with 28 x 1.75-inch Schwalbe Marathon Plus Tires. You will rarely get a flat with these tires so rest easy. With a bike this much powerful, you need adequate stopping force to control it. This bike features the Tektro hydraulic disc brakes, you just need a slight force to bring your bike to a complete halt.
Advantages:
Impressive Range (70+ Miles)
Powerful Battery
Strong and Durable Construction
Adequate Stopping Power
Affordable Price
Disadvantages:
Takes Long To Charge
Availability Issues
Why I Like It: Juiced Bikes makes amazing products and the CrossCurrent X is no exception. On a singular charge, it offers you more than 70 miles of range, can even take it up to 90 if you know how to use the bike. It takes a while to charge but that still makes the performance of the bike exceptional. If you don't want to break the bike and still have a really good/fast electric bike then the CrossCurrent X is a great option to go for.
---
3. IMREN Electric Bike
Price: Starting at $1,699
Top Speed: 32 Mph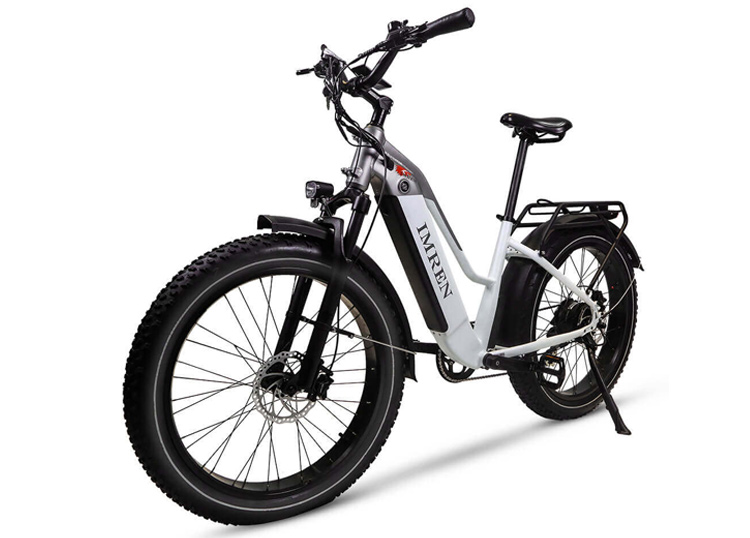 You need a fast electric bike that is able to handle all sorts of terrain, and not just handle but the bike should be able to perform really well. If you want something like that, then you need to try out the IMREN Electric Bike. This is a spectacular electric bike that has a durable construction. Once you try this bike out, you won't be needing any other bike for a while.
Whenever a new brand is introduced in the market, there are a lot of doubts about it. How are their products? Are they even reliable? There were a lot of doubts about this new brand IMREN. Although I am glad they proved all of us wrong with their amazing bikes, which include the IMREN Electric Bike. The bikes also come in two different colors that you can try out Snow White and Navy Blue.
The 6061 Aluminum Alloy frame certainly does wonders for this bike, and the bike is neither heavy nor that light. The geometry of the bike is nothing fancy for a fat ebike and we are okay with that, but it is built in such a manner that it can handle all sorts of terrain without problems. You can ride on any terrain and at any speed that the bike is capable of.
The no-name alloy front suspension of the bike is responsible for protecting the bike against sliding when emergency brakes are applied. We have to applaud the bike for its ability to absorb the bumps and holes, this is great for a bike of this price range.
Users will always enjoy an amazing experience thanks to the 750W motor, the bike is also equipped with a big 48V 16AH battery. On a full charge, you will be able to enjoy a range of 60 miles, this is really impressive for a bike like this. The bike is equipped with such a motor that you can easily ride on any kind of terrain, that includes going uphill. You can expect a top speed of 32mph and that was great for us.
Since this is a fat bike, it has 26 x 4.0-inch fat tires which are responsible for providing amazing traction. Doesn't matter if you are cruising over snow, gravel, or mud, you will always be able to enjoy great performance and traction. Riding this bike will always feel like riding a motocross bike.
Advantages:
Durable Construction
Powerful Motor and Battery
Fast For A Fat Bike
Comes In Different Colors
Disadvantages:
Brakes Are Not Strong Enough
Why I Like It: We were amazed when we first got to try out the IMREN Fat Tire Electric Bike. It feels like a wonder to use, and it never compromises on performance/power. If you use it like you are supposed to then you can enjoy 60 miles of range on a full charge, this is great for a fat bike and a bike that is priced like this.
---
4. Trek Allant+7
Price: MSRP $3,749
Top Speed: 28 Mph
We had to add a bike from Trek, without it our guide would just not be complete. The Trek Allant+7 joins our list of the fastest electric bikes on the market. This is a bike made for the urban commuter with speed and exceptional performance in mind.
This is a sleeper bike, but how exactly do you describe a sleeper bike? The Trek Allant + looks mild-mannered, after all, this is a bike meant for regular commutes around the city. With that being said, once you start pedaling, you will notice that this bike packs a serious punch. Its performance is going to put high-quality e-bikes in the market to shame.
The main thing that attracted us from the start was the design of the bike, the vibes never lie. You can see how the downward-slanted top tube and 32.9 inches stand-over height give an impressive look to the bike. This is an ergonomically-friendly bike, the comfort levels are unmatched when you ride this bike.
The high-performance hydroformed frame cuts down the bike's weight by a few pounds. Now here is the most important part that you need to know about the bike, it is installed with Trek's Bosch Performance Line CX 250-watt mid-drive motor. Speed-wise, you will be able to get 28 mph and that is okay, we are just amazed by its performance. If you try out the bike's eco-mode then you can easily get 100 miles of range, which is unbelievable.
A bike like this needs to be equipped with impressive tires, the rolling resistance needs to be better too. You will be pleased to know that this bike is fitted with 27.5-inch wheels that are fitted with Schwalbe G-One tires. What do these tires and wheels offer to the user? You will be able to enjoy comfortable and seamless commuting, there will be adequate drive power, and the rider's weight will also be equally handled.
The Shimano MT200 hydraulic disc brakes (180-millimeter rotors version) mean that you will also have a powerful braking system, there will be no obstacles in the way of your experience. You can put the Trek Allant+ to the test, push all the limits and you still won't be disappointed.
Advantages:
Fast Performance (28 Mph)
Impressive Range (Can Be Pushed To 100 Miles)
Powerful Shimano MT200 Hydraulic Disc Brakes
Schwalbe G-One Tires
Disadvantages:
Why I Like It: There are a lot of reasons why I added the Trek Allant+7 to this list, but the main reason is that it is a damn good e-bike that offers phenomenal performance packed with speed. The design and construction of the bike might seem nominal but it is the performance of the bike which will blow your expectations. It has powerful brakes, it has a powerful Bosch motor, what more could you expect?
---
5. Rad Power RadRover 6
Price: MSRP $1,999
Top Speed: 25 Mph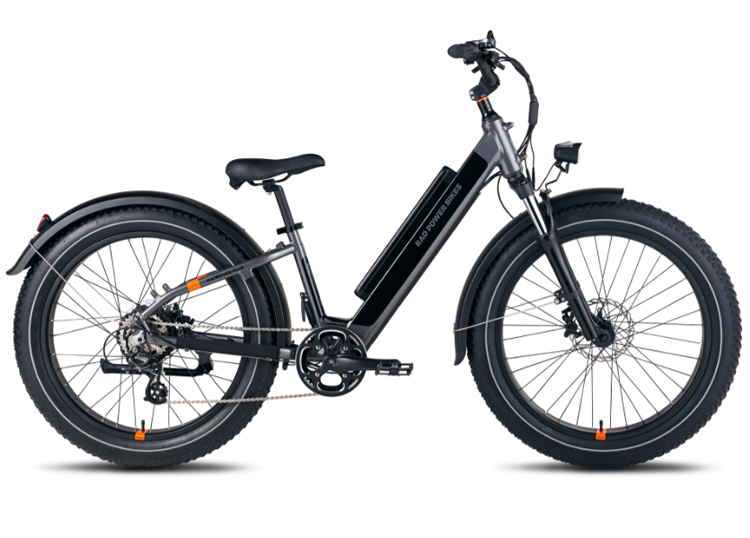 You might have seen the amazing bikes from Rad Power, but did you ever try out the RadRover 6? This one is an amazing electric bike that can handle almost everything, all sorts of terrain under all sorts of circumstances. The design might be a bit rugged but that can be forgiven easily, especially since you are going to enjoy all of that performance.
Let me tell you something special about the RadRover 6. Sure, it does not has the top speed that the bike category is known for, but it makes up for all of it with stability and power. It is an absolute joy to ride, just wait till you try out the bike for yourself.
We are going to start with the bike's construction first. The sturdy 18-inch 6061 aluminum frame is built to handle every kind of terrain, which also means off-road adventures, and you will be enjoying a lot of that. It looks robust but it actually does not weigh that much (69 pounds). The bike also has a max load capacity of 275 pounds.
The bike has a Bafang 750-watt rear hub motor which is powered by a 48V 14 Ah Lithium battery. The factory setting for speed is fixed at 20 mph but you can always max it out to 25 mph, just use the control panel for that. On a singular charge, you can enjoy 45 miles of range but that will vary on the modes that you are using (Pedal-Assist or Throttle-Only). You can also choose between the two versions of the bike: High-Step and Step-Thru.
How do you get the bike to perform so well on almost all surfaces, especially when we talk about high-quality traction? The answer is simple: Amazing tires and wheels! The bike is fitted with 26-by-4-inch Juggernaut tires from Kenda. In terms of stopping power, the bike has Tektro Aries mechanical brakes (180-millimeter front and rear motor versions).
Advantages:
Great Load Capacity
Powerful Battery
Unmatched Stability
Strong Construction
Disadvantages:
Why I Like It: The Rad Power RadRover 6 is a testament to the statement that you can get a fast and stable electric bike in one package. It has a rugged design but that will be forgiven once you actually try out this bike. It offers great load capacity, which is very useful if you want to camp somewhere.
---
6. Kasen K-6.0
Price: MSRP $1,999
Top Speed: 28 Mph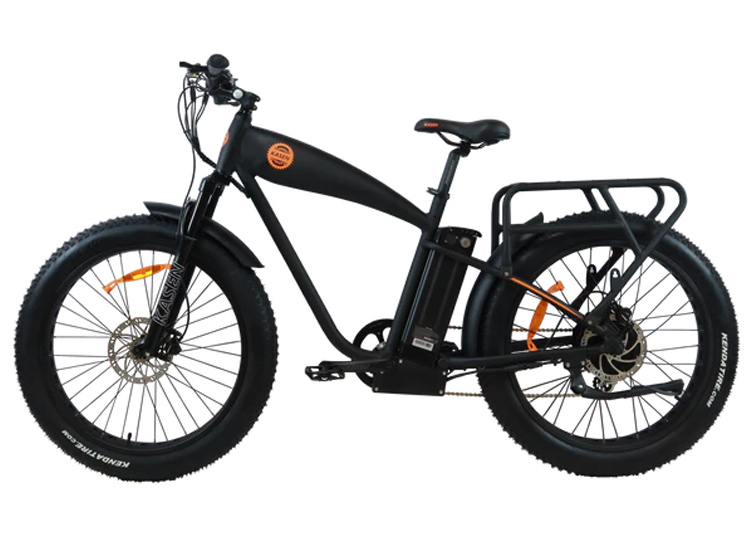 The Kasen k-6.0 is the type of bike that you would be recommending to everyone once you try it out. It is a Class-3 electric cruiser that also happens to be a fat tire bike, so you are actually getting a two-in-one package. One of the best things that we like about this bike is that it has a powerful motor that produces 1000 watts. Apart from this, getting the bike is also easier, it is light on the pocket and easily available too.
It has a very different type of design, something like this was not expected but it still surprised us anyway. The bike has a 6061 aluminum alloy frame which makes it sturdy and gives the robust look, you will also be able to enjoy a load capacity of 275 pounds.
Let's discuss the bike's motor and power which will blow the competition to bits. It is fitted with the 1000-watt Bafang rear-drive motor, just so you know this is the most powerful battery that we have come across in electric bikes. Even though with that much battery and power, the bike is still limited to a top speed of 28 mph. With the 48V 14.5Ah Lithium battery powering the bike, you can only get a range of 28 miles which is disappointing.
The 26-inch Kenda tires ensure equal and stable performance on all sorts of terrain and the Tektro brakes will put the bike to a halt whenever you want them to. You are going to love the overall stability of the bike, it is all because of the MOZO hydraulic suspension which rocks the front fork of the bike.
If you want a bike for speedy travel across the neighborhood or even the city then you need to go with the Kasen K-6.0.
Advantages:
Powerful Motor (1000 Watts)
Durable Construction
Great Load Capacity
Disadvantages:
Why I Like It: The Kasen K-6.0 is an amazing ebike that also offers good speed, you will have a lot of thrilling adventures around the city. The construction is amazing and it also has the best motor that could be offered but it actually does not utilizes that power which is a disappointment.
---
7. Trek Domane+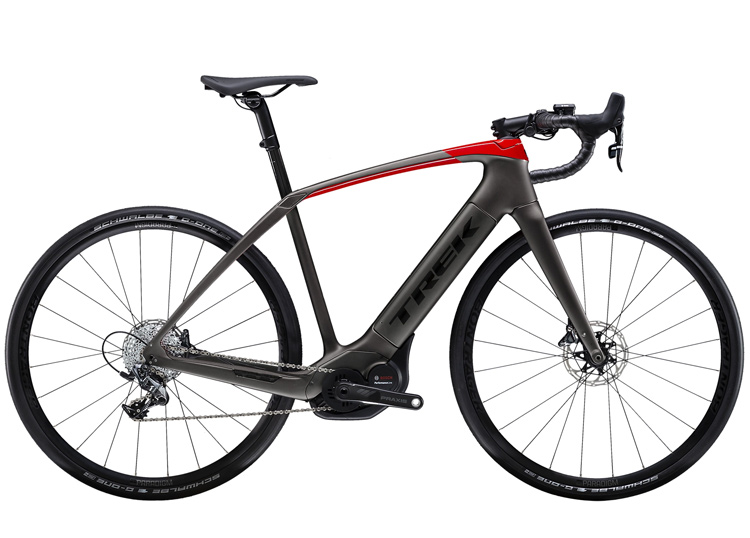 The Trek Domane+ is going to give you the chills and thrills of riding a proper electric bike. There are a few bikes that are made like the Trek Domane+, there is a beautiful transition in how the bike handles the terrain and makes the user feel comfortable.
You are looking at a bike that acts as a jack of all trades, it combines fun and function perfectly without any kind of compromises. Riding the Trek Domane+ is going to be a treat when you are commuting around the neighborhood or even quick rides around the city.
Let's talk about the bike's construction first, the 500 Series OCLV carbon frame combined with IsoSpeed decoupler technology is going to give you amazing rides for a very long time. There are other impressive bits in the construction too, the endurance geometry with a taller head tube. This bike is going to be the foundation of all the other electric bikes to come. It may seem robust and heavy but it is very lightweight (Weighs only 37.9 pounds). Even with the bike being so lightweight, you are still going to get the 275 pounds weight capacity.
In order to start up a bike like this, you will be needing a hefty and powerful battery. Luckily, Trek made all the right calls here. The Trek Domane+ is powered by a Bosch PowerTube 500-Wh battery. This battery then provides power to the Bosch Performance Speed 350-watt motor, on a singular charge you will be able to enjoy a range of 60 miles but on eco mode. There are other modes too, but they will just limit the user's experience. The bike's top speed is also very impressive, you can easily take the bike to 28 mph.
When we tried out this beast of a bike, we knew that Trek made no compromises to the overall design and feel of the Trek Domane+. This bike is fitted with Schwalbe G-One Speed 35-millimeter tires and Bontrager Paradigm Disc tubeless-ready wheels, the result of this combination will easily blow anyone's mind. A bike like this also needs to have strong stopping power, which is why it is fitted with the SRAM Force flat-mount hydraulic disc brakes. With the slightest push, your fast ebike will come to a complete halt.
Advantages:
Strong and Attractive Construction
500 Series OCLV Carbon Frame
Powerful Battery and Motor
Stopping Power
Disadvantages:
Why I Like It: The Trek Domane+ offers power and performance as few others do, it is resilient, but also feels light at the same time. There is just no comparing the power of this bike, it is armed with the latest components and technology. You need to try out this bike yourself in order to believe it, that is if you can actually find one in stock.
---
8. BAKCOU Flatlander
Price: Starts from $3,747
Top Speed: 35 Mph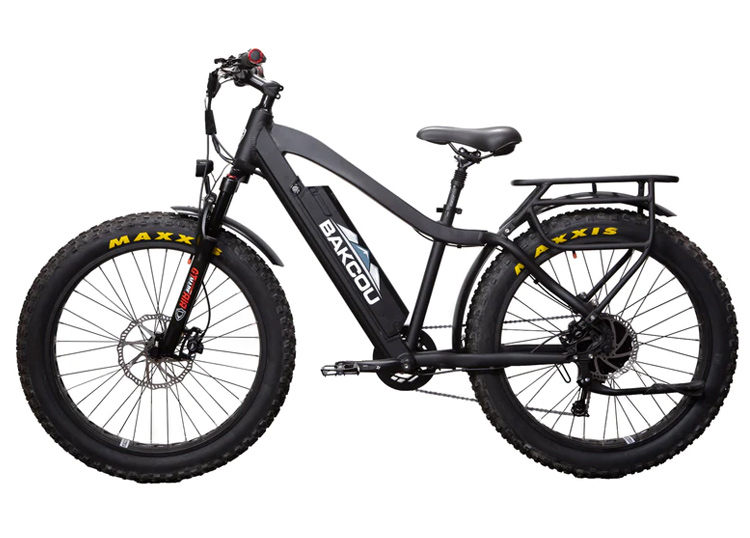 Imagine having a really fast electric bike with you, and the thrills that you get from riding it. Now combine this feeling with hunting, having a fast electric bike like that would feel amazing at a hunt, and the feeling could not be described with mere words. If you want to have that feeling then you need to try out the BAKCOU Flatlander.
The BAKCOU Flatlander is a bike that is going to change how you handle your hunting game. Think of this bike as a swiss army knife, it is going to do things that you only wished that your regular e-bike would do. Considering all of that insane performance, it is actually very light on the pocket, which is something I did not expect.
From the looks of it, it just looks like a regular ebike that is meant to handle flat land but in reality, it is so much more than that. The bike can easily handle the wilds, it is definitely built like that. It is constructed with a high-grade aluminum alloy 6061 frame, this frame has a standover height of 29.5 inches. This frame is heavy, but with that much weight, you get a whopping load capacity of 300 pounds.
This is an aggressive-looking bike, let me tell you that clearly. The shock-absorbing seat post is going to make you feel very comfortable, and the locking handle grips will also give you better control of the bike.
What about the bike's battery? It is fitted with the Bafang 750W rear hub motor which isn't anything special. The motor is then powered by a 48V 14.5 Ah Lithium-ion battery, on a singular charge you can easily get a range of over 40 miles. The top speed of the bike is also impressive as you can go over 35 mph.
The hunt will always feel exhilarating, thanks to the 26-inch Maxxis Minion fat tires. The Tektro dual-piston hydraulic disc brakes will immediately put this bad boy to a stop.
Advantages:
Aggressive-Looking Geometry
Great Load Capacity
Impressive Range and Top Speed
Powerful Brakes
Disadvantages:
Feels Heavy For Some Users
Battery Upgrade Feels Like A Hassle
Why I Like It: The BAKCOU Flatlander feels and looks like an impressive hunting ebike, it is also blessed with an amazing top speed. Just by taking a first look at this bike, you can easily see that this bike means business. It offers you a good range and even powerful brakes. Although some users have complained about the bike being too heavy, that should not stop you from getting this amazing bike.
---
9. Ristretto 303 FS
Price: Starting at $4,500
Top Speed: 40 Mph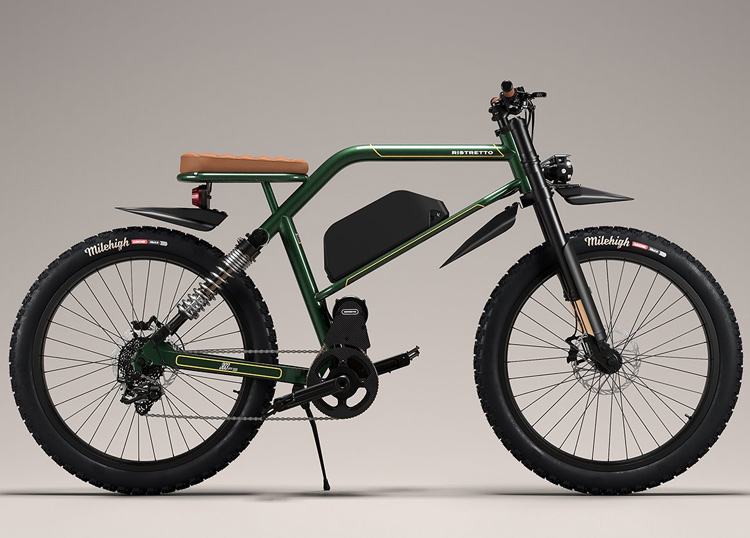 With the Ristretto 303 FS we will be ending our list, but we also saved one of the fastest electric bikes for the last. The Ristretto 303 FS is equipped with a powerful battery and motor that allows it to achieve a top speed of 40 mph. The motor can also easily produce 3000 watts of power as that is also the requirement of the race mode, this is the mode that will give you the real thrill of the speed.
The bike is aerodynamic in nature, with all that speed it also needs to remain stable and controlled. Ristretto 303 FS has a suspension that is made to cut through the wind, I think that best describes how the bike feels and how the users will be treated. On a full charge, the bike also gives you a range of 100 miles which is really impressive.
Advantages:
Powerful Battery and Motor
Impressive Speed
Strong Construction
Disadvantages:
Why I Like It: We had to add the Ristretto 303 FS, after all, it offers great action and a top speed of more than 40 mph. Imagine getting 100 miles of range on a single charge, that is what the Ristretto 303 FS offers. You would be lucky to get this bike, just try it out for yourself.
---
E-Bikes Classification
Now that you know about the fastest electric bikes, you need to know about their classification. Knowing about their classification will allow you to make a better and wiser decision. These electric bikes have been put into different classes and that is all because of regulation.
This classification is not applicable throughout the United States. You will also find that in some states, these electric bicycles are even treated as conventional bikes, meaning there is no requirement for a license or even an age limit to ride one. However, things are a bit different in Europe. For example, over there only Class 1 and Class 2 Electric Bikes are street legal. This is why you should know about the different classifications of electric bikes, it also has to do something about their speed.
Class 1: Pedal Assist Till 20 Mph
Class 2: Pedal Assist and Throttle Up Till 20 Mph
Class 3: Pedal Assist Till 28 Mph
Class 4: These Bike's Speed Is Capped By Electric Motor Power
Electric Bikes and Speed Pedelecs – What's The Difference?
We know that you are excited to get an electric bike, maybe one from this list but there is still a lot that you need to know. Electric Bikes are growing in demand and they have been performing so well in the market but there is still that we don't know about them, we don't know about their power fully, what they are capable of.
Since you are looking for electric bikes, you might have also come across the word speed pedelecs, these are also bikes that are similar to electric bikes but exactly how similar are they really? This is what we are going to discuss with you today.
Pedal Electric Cycle (Also Known As Pedelec)
These machines are electric motor-powered bicycles and their main propulsion is through pedal assist. While riding these bikes, you will notice the motor assistance kicking in when you start pedaling, but there will still be a lack of throttle. This is just how the pedelecs are supposed to work.
The pedal assist is there but there is still no throttle to enjoy, your pedaling will be boosted by the bike's motor but it will not be completely replaced, now that is up to you to decide if that is a good thing or not. Electric Bikes are great in this regard, they are based on the throttle. Power is delivered to the rider according to the demand, and you don't even have to do that much.
There are different categories of Pedelecs, the first type is the conventional electric bike that will give you a maximum speed of 15.5 mph. The second category will give you a maximum speed of more than 28 mph and that is the category that we focused on in this review.
Are These Fast Electric Bikes Worth It?
Since we are discussing the topic of the fastest electric bikes, there is a common question that we have to ask ourselves- How Fast Is Too Fast?
You are here because you want the fastest electric machines to have adventures with, and that is why you need the Class- 3 Pedelecs. The conventional E-Bikes offer a speed of 15.5 Mph are going to be of no use, but when it comes to fast electric bikes, the rules and regulations become very rigorous.
There are a lot of complications with these machines, you will have to get them registered with vehicle registration authorities. Plus, you will also require a driving license (Yes! For Bikes), and wearing a helmet at all times will also become a necessity. This is how serious things can become with Fast Electric Bikes. When all of this happens, you must ask yourself the question if all of this is worth it. Only you will be able to answer that question.
FAQs
What Is The Quickest Electric Bike?
The Delfast Top 3.0 is the World's Fastest Electric Bike with a top speed of more than 50 mph.
How Fast Does A 5000W Electric Bike Go?
The most that you can expect from a 5000W Electric Bike would be anywhere between 50-65 mph.
Are Helmets Necessary For Electric Bikes?
If you are going for the Class 3 Electric Bikes then you always need to wear a helmet.
Recap
These Fast Electric Bikes offer the best in terms of speed and performance, and they are also beasts in design. We reviewed multiple bikes but only these handful were able to stand out and we believe that they will satisfy you with their performance.
There is no doubt that the Delfast Top 3.0 is the World's Fastest Electric Bike. If you need to enjoy the thrills and the chills then you need to get this bike ASAP. The performance and the overall killer design will never disappoint you.
We also discussed the different classifications of electric bikes, which is something everyone should know about. Hopefully, we answered all the questions from you, if there is anything else then do reach out to us in the comments below!
Also Read: