Getting a mountain bike can be very exciting, especially if it is your first time but what if you don't have the space to store them properly. Imagine getting one of the best mountain bikes out there but now you don't have enough storage area to cover it, what will you do then?
What if you got a mountain bike that you could fold in half, wouldn't that be amazing? If you think this is a new concept or something that is not that popular, just ask your friends or see people in the neighborhood. I bet that there are a lot of people that are using folding mountain bikes to the fullest.
What Makes Them so Famous?
Foldable mountain bikes are very famous among cyclists because they are easy to break down. Once they are broken down, thanks to the folding mechanism, you will be able to carry them with you. This does not put a limit on your adventures as you can carry your favorite mountain bike to wherever you want.
Advantages of Folding Mountain Bikes
There are a lot of advantages that you would be able to enjoy if you get a folding bike. Here are some of them:
Saves A Lot Of Space
Portable Construction/Easy To Transport
Immense Fun
Security Guaranteed
Resale Value Is Amazing
Saves A Lot of Space
The first advantage that you would get to enjoy from folding bikes is that they are extremely easy to store. You can just break them down and store them wherever you want. This saves you a lot of space in the long run, plus you can get different accessories with ease and store them with the bike.
This advantage is quite beneficial for people that live in small apartments where there is no storage space. Comparatively, these bikes take very less space than the traditional bikes that you would come across.
Portable Construction/Easy To Transport
Many people take their bikes to work or even for a normal commute. If there is constricted space in your parking then the folding mountain bikes would become a blessing for you as you can just fold them in half. Apart from this, you can always fold them and take them with you, this means if you are traveling on a bus or a train.
Immense Fun
These types of bikes never put a stop to your fun activities. There are sometimes restrictions when using mountain bikes on trails, the biggest concern is carrying them or going from one place to the other. With these bikes which can be folded in half, you can hike any kind of trail, ride on hills and carry them wherever you want. Go nuts with these bikes!
Security Guaranteed
If you have a concern that your bike would be stolen or something else would happen to you then rid yourself of them. As these bikes can be folded in half, the chances of them being stolen almost get eliminated. First of all, these bikes can be easily carried, and stealing them becomes a total pain when they are either folded or locked.
Resale Value is Amazing
Having a traditional bike has many advantages, but there are disadvantages as well. One of the biggest drawbacks is how quickly they depreciate. Did you know that traditional bikes without any unique features lose half of their value in a year? That's crazy!
Folding bikes on the other hand have a higher price tag than other bikes. They depreciate very slowly, this means that you can sell them at a good value later on, even for a profit if you are lucky. Our recommendation would be to get a really good folding mountain bike new or if you can't then a used one also does the job.
Different Types Of Folding Mountain Bikes
Although Folding mountain bikes are one of a kind, they too have different types and we should discuss what they are. Here are the different types of folding mountain bikes that you will come across:
Half/Horizontal
Vertical
Compact and Full Size
Half/Horizontal
You might be wondering what is the deal with these different types of folding mountain bikes, there is a difference in their mechanisms and constructions. Let's start with the half-folding mountain bikes. These are the most common type of folding bikes, they can be folded in half horizontally.
Their construction is unique, there is a hinge in the center of their frame that allows them to be folded with ease. As they are very famous, they have quick-release hinges.
Vertical
Vertical folding bikes have almost the same construction as horizontal bikes. They too have a hinge in the center but they fold vertically instead of folding in half. They have the quick-release hinge in two separate areas, one on the seat post and the other on the handlebar. Storing them is a piece of cake as they take very nominal space.
Compact and Full Size
There is not a lot of difference between compact and full-size folding bikes. The main difference is in the wheel size, compact bikes have wheel sizes between 16 and 20-inch, which makes them smaller compared to the traditional bikes.
Full-size bikes have 26-inch wheels installed on them, this makes them similar to traditional bikes. Both of these bike types have quick-release hinges and can be folded in half and stored away.
Best Folding Mountain Bikes in 2023
Here are some of the best folding mountain bikes that you will find. We have listed different types of bikes so that everyone gets what they are looking for. In the list, you will find both inexpensive and high-tier options, you just have to know what you really want in a folding bike. Let's start!
1. Montague Paratrooper Folding Mountain Bike- Editor's Choice
Price: MSRP $1,195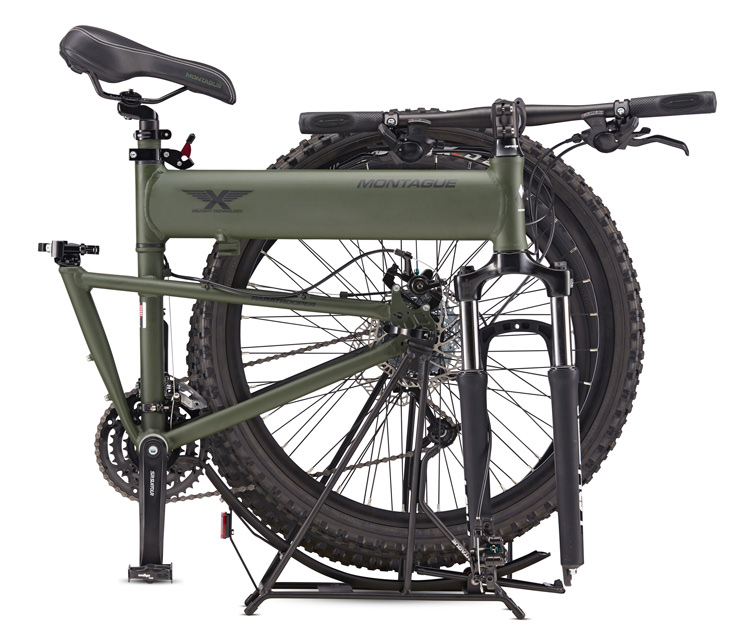 If you are looking for the best of the best when it comes to foldable mountain bikes, then you have got to try the Montague Paratrooper Folding Mountain bike, this bike can withstand anything you throw at it. This bike is made from the ground up to give an amazing performance on any kind of terrain.
The house of Montague is known for making durable and rugged mountain bikes. The Paratrooper might be their best foldable mountain bike yet. The 24-speed gear system does wonders here, you will enjoy a lot of power that will allow you to hike trails and climb any kind of hills that you wish.
This is easily one of the best folding bikes to date, you just need to try it out for yourself. The front suspension system of the bike is there to protect you from bumps on the road. Mechanical brakes give you good stopping power. You can also carry some cargo with you as the panniers are installed for that.
It only takes seconds to fold this bike in half, so time saved is time enjoyed!
Advantages:
Strong and Durable Construction
Cargo Space
Folds In Seconds
24-Speed Gear System
Disadvantages:
Could Have Used Hydraulic Disc Brakes
Stock Issues
Editor's Choice: The Montague Paratrooper is one of the best bikes to go for, it is made for everything. The ability to fold in seconds and the 24-speed gear system gives a lot of power to the user. Although if hydraulic disc brakes were used then the bike could have become even more amazing
---
2. Xspec 26 Folding Mountain Bike
Price: MSRP $284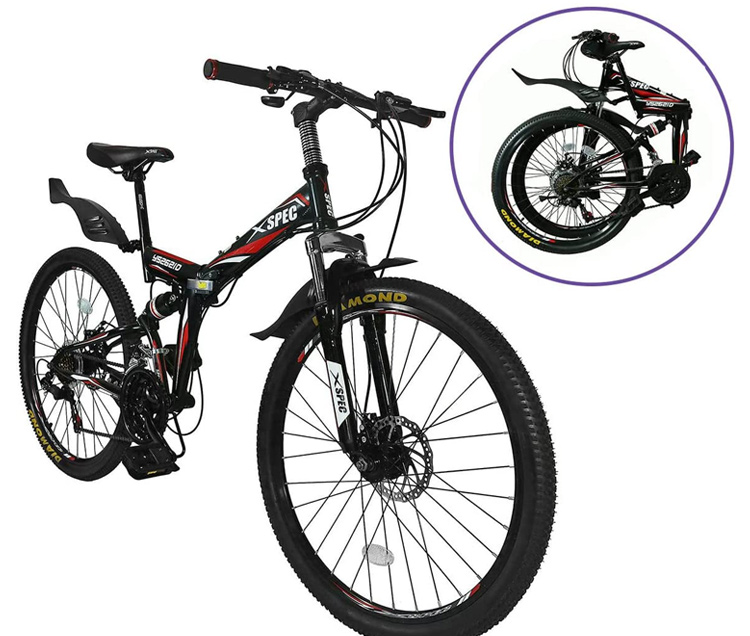 If you are limited by budget, then the Xspec 26 Folding Mountain Bike is the best one to get. Although the price tag is inexpensive, the quality is never compromised. This bike is made with a durable steel frame instead of an aluminum alloy frame, it might feel slow and sluggish but it is very strong.
You would also come to love the full suspension system of the bike, this way there are no vibrations or bumps on the road that you have to worry about. Although it weighs a lot, you might have trouble carrying it with you, but the overall experience is still worth it.
All of this is combined with a 21-speed gear shifting system, it is even equipped with a 48T cassette. This gives you enough power to tackle almost anything. The bike comprises a single quick-release system which users will find easy and quick to use. The compact design of the bike is fine but it could have been better, it fits into a car really well though. You also might have to spend some time assembling the bike when it comes, but that is an easy process.
Advantages:
Inexpensive Price Tag
Durable Steel Build
Front and Rear Fenders Work Amazing
21 Speed Shifting Does The Job
Disadvantages:
Plastic Pedals Are A Nuisance To Use
Heavy Construction
Bike Assembly Is Hard
Why I Like It: The Xspec 26 Folding Mountain Bike is one of the best inexpensive options to go for. The value is unmatched, although the bike feels a bit heavy. You would love the extra power and protection from the front and rear suspension system but this is a bike that you should not miss out on!
---
3. Cyrusher FR100 Folding Mountain Bike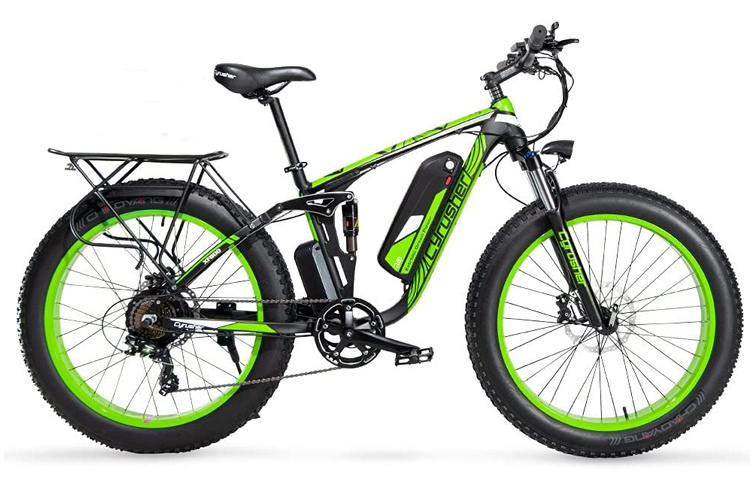 The Cyrusher FR100 is one of the best folding mountain bikes to go for if you want extra powerful performance. That is the main reason this bike does not come cheap, it offers so much in such a small compact package. The 24 interchangeable speeds are amazing, users can try out a lot of different moves with this feature. No matter if it is a hiking trail or a steep hill, you will always have full power on your side.
This here is a bike made from an aluminum alloy frame and has 26-inch wheels. There is a single folding mechanism, very easy to use, we gave it a try and were very impressed with it. Unfolding the bike is really not a problem here, just use the hinge, and down it goes.
The Cyrusher FR100 benefits from disc brakes, and a 24-speed drivetrain. As promised, this bike does not let you down in terms of power and performance, it even looks good while doing it. There is also a lot of room for upgrades and customization.
Advantages:
Strong Aluminum Frame
Durability Is Amazing
Front and Rear Suspension
24-Speed Drivetrain
Plenty Of Space For Customization
Disadvantages:
Heavy Wheels
Disc Brakes Need Changing
Why I Like It: Cyrusher FR100 exceeds all kinds of expectations and delivers an amazing power show. From the frame to the customization options, users will fall in love with the experience. The 24-speed drivetrain allows you to go places you could not before
---
4. Montague Urban Folding Hybrid Bike
Price: MSRP $949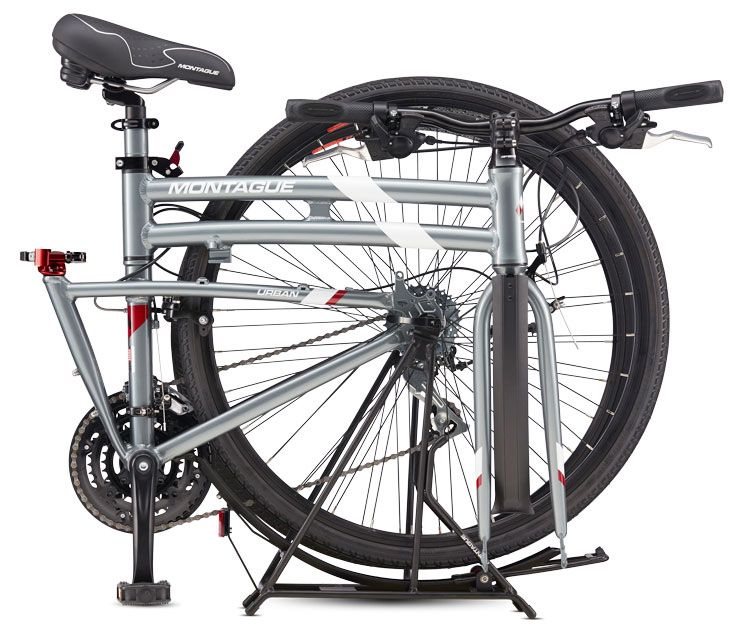 This is another amazing folding bike from the house of Montague. The Montague Urban does wonders in terms of performance and features, after all, it is one of the best hybrid bikes out there. For trails and normal commuting, this bike is perfect but you can also use it for the hills if you want.
It folds down to this small bike that still punches hard, you can customize it all you want. One of the best features of this bike is that it comes in three different frame sizes so that everyone can enjoy the bike. The durable steel frame makes sure that you are protected during your travels. I was also impressed with the semi-knobbed tires which you can use on any kind of terrain.
The front and rear fenders of the bike are there to protect the bike from damage. Seats play a big part in comfort, that is why users will love the ultra-plush vibration-dampening seat this bike is installed with. With the 21-speed drivetrain, you can climb on any kind of hill and that will be okay.
Advantages:
Multiple Folding Points
Durability
21-Speed Drivetrain
Rear and Front Fenders Installed
Disadvantages:
Expensive Price Tag
Heavy
Not Meant For Trail Riding
Why I Like It: I am in love with the Montague Urban bike, especially since you can enjoy multiple folding points. With the 21-speed drivetrain, you will be able to conquer every hill out there. Users will also love the extra protection from the front and rear fenders. Do try out this bike!
---
5. Max4out Folding Mountain Bike
Price: Starts From $199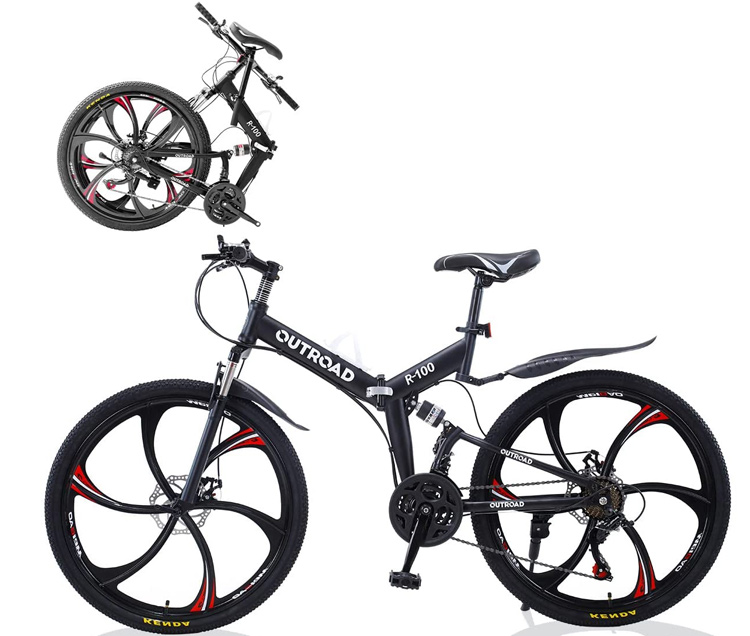 This amazing folding mountain bike is made for hardcore adventures, featuring a 21-speed drivetrain, you will be able to conquer almost anything in your path. The most impressive thing about this bike is its construction, it has a high-carbon steel frame that enhances its durability and performance.
On top of this, we have dual-suspension that the users are going to love. In order to handle all sorts of terrain, the bike is installed with wide knobby tires, you won't have to worry about the bumps on the road. This bike is priced adequately as the company wants both beginners and professionals to try this bike.
Adventures are not limited to dry terrains, sometimes there will be mud and even very wet roads, that is why you need the stopping power from the disc brakes installed in these bikes. As the seat tube does not extend back to the rear fork, there is only the spring-loaded rear suspension between the top tube and rear triangle, this allows the users to enjoy the full vibration-dampening prowess of the bike.
Advantages:
Durable Construction
Lightweight
Power Disc Brakes Equipped With Large Rotors
Front and Rear Fenders Installed
Disadvantages:
Plastic Pedals Break Easy
Wheel Hubs Have Poor Quality
Why I Like It: For aggressive trail riding, the bike Max4out does wonders. I absolutely loved the performance and shock-absorption abilities of this bike as compared to the other bikes I tried out. It is also one of the lightest folding bikes in our inventory
---
Folding Mountain Bikes- The Buying Guide
If this is your first time getting foldable bikes, then you need to know what to look out for. Going to shops without this kind of knowledge will only give you a disadvantage. You need to be armed to the teeth so that you can make the best decision for yourself.
Although most folding mountain bikes have a similar construction, you need to know what makes them unique and different from each other. This guide is here for that!
Frame Material
When looking for the best folding mountain bike, the frame material and size are going to matter a lot. Choose the frame size that is compatible with your own height and weight, you don't want to go for a size that is bigger and smaller than yourself.
Frame material on the other hand will affect the weight and performance of the bike. Getting the lightest folding bike is not easy at all. Aluminum alloy is the most common material, it is light and folds easily, the reinforcement of the bike also becomes sturdy this way. Then we have the steel, which is durable and sturdy.
The last alternative is carbon fiber, it is expensive and is also the lightest material but that also makes it weak compared to the aluminum alloy frames.
Gearing System
The gearing system is also very essential when looking for a folding mountain bike. There should be a perfect combination of both high and low gears. High gears will let you pedal downhill easily and smoothly without any kind of problems. Low gears on the other hand are vital for climbing hills.
One of the best things about mountain bikes is that they have a combination of both high and low gears that makes them best for any kind of terrain.
Suspension System
Everyone wants a comfortable experience while riding their mountain bikes, a powerful suspension system allows you to have all the fun. These suspension systems allow the bike to absorb all the vibrations and disturbances. People with lower back pain might want to invest in a powerful rear suspension as it protects the rider from any kind of injury.
Foldable Dimensions
The foldable dimensions of a mountain bike impact the overall compactness of its structure. Honestly, that is their whole appeal, how compact they are. This is not just limited to a folding mountain bike, a folding electric bike also should have total compactness.
Make sure that your bike can fit into the trunk of your car or even the train/bus. The compactness should be compatible with what you are planning to put the bike in.
Wheel Sizes
We told you the difference between full-size and compact folding mountain bikes at the start. Wheel sizes will impact the size of your bike. A bigger wheel size means a bigger bike, now this decision falls to you whether you want a big or small mountain bike for yourself.
With larger wheels, you will also be able to travel long distances without any kind of problems.
What Might Interest You
FAQs
Question 1: Are Folding Bikes Worth It?
Folding Bikes are absolutely worth it because they offer the ability to have portable adventures. They are also very easy to store when you have limited storage space.
Question 2: Can Folding Bikes Go Uphill?
Folding Mountain Bikes are equipped with a range of different gears that allows them to climb hills.
Question 3: Are Folding Mountain Bikes Cheap?
Yes, they are relatively cheap. You can get a folding mountain bike for as low as $200.
Recap
Folding Mountain Bikes are great as they allow you to have countless adventures without worrying about space. You can store them even if you don't have any kind of storage space. They are built differently but are certainly not inferior. Different frame materials and frame sizes will allow you to have a wonderful experience!
The best folding mountain bike on our list is the Montague Paratrooper Folding Mountain Bike. It has all the features and components to allow for a wonderful yet powerful experience. You will be able to have the best experience on all sorts of terrains with this bike.
We also discussed the important factors that you need to consider while getting a folding mountain bike. Hopefully, you now know all there is to know about folding mountain bikes so that the best decision is made!