In the 90's, when the mountain biking industry experienced a huge boost, Cannondale was the first to use a 24″ rear wheel. They used it in the "Beast of the East" edition. Following suit, Wes Williams, the owner of Willits, advised for what we today know as 29er. Do you know that now there is the option to choose over 20 different mountain bike tire sizes? Fascinating, isn't it?
There is a wide range of mountain bikes, as well as a countless selection of tire sizes. But with so many options. With so many options, it's easier to get confused about finding the right one. Choosing the right tire for your bike shapes your riding experience.
And if by any chance, you are an off-road riding lover like me, you are definitely going to need the right size to get the needed traction. Now, here is the good news! I am going to run you through the different options available, on how to find the correct tire for your bike. But wait there is more to it. To make things more interesting, I have added what top brands say about tire sizes. So by the end of this guide, you'll have all the information you need to know to make the right choice! Let's get reading!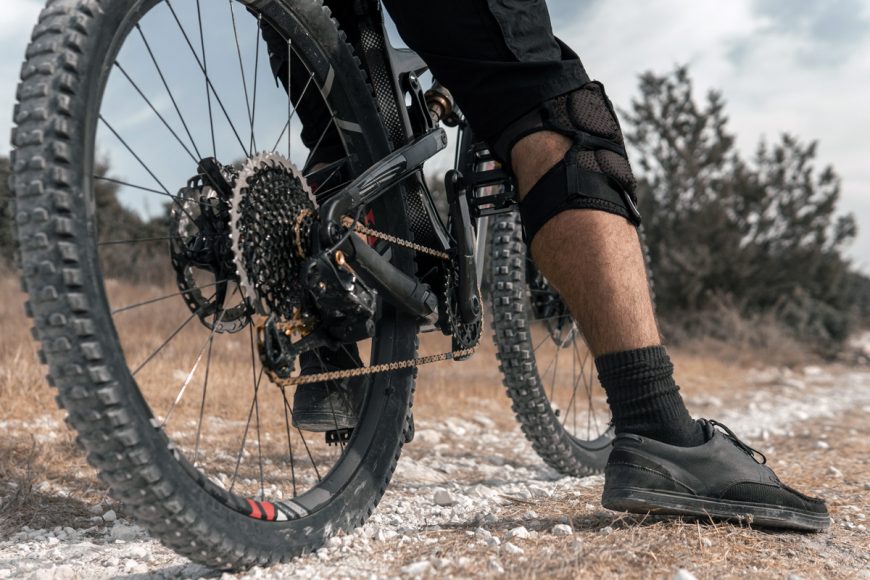 Mountain Bike Tire Sizes
1. The 29-Inch Tires
The 29-inch tire has been around for quite a while. Major industry players such as Gary Fisher spearheaded the use of 29-inch tires as they brought more speed to mountain bikes. The tire used a bigger tire diameter to speed up and improve the bicycle's stability over an unstable landscape while giving more friction to the tires in sharp corners.
The first 29-inch tires had sketchy steep geometry and long stems to help the steer. This brought about tires that were not stiff enough and 'flexed' excessively. As time passed by, R&D groups have created strategies to refine frames to be more supportive of 29-inch tires. You will be surprised to know that this led to the development of some really beast-worthy bikes, such as the new Specialized Stump jumper and the Trek's Slash.
Check out our comprehensive bike tire size chart and choose the right tire size for your bike .
The new type of 29-inch (0.74 meters) tire MTB is a hugely capable, versatile, and efficient package for riders. Especially tall riders. However, with the enhancements in the calculation, frame layout, and stem size, 29-inch mountain bikes are certainly not limited to only those over 6 feet (1.83 m).
In 2019/20, the geometry of 29-inch bicycles made some amazing progress. From tall, unnatural inclination points to smooth root-hungry platforms – numerous 29-inch models currently feel more similar to 27.5-inch tires. The impression of the 29-inch tire is presently changing, with Enduro and DH experts completely accepting the advantages of the bigger tire diameter.
Don't let the wrong tire or rim slow you down! Check out our guide to mountain bike tires and rims.
2. The 27.5-Inch Tires
The 27.5-inch tires were introduced about 8 years ago. They redefined the market regarding geometry and the formation of a proper all-rounder. This tire size is capable of doing all the tight specialized turns of a 26-inch tire while still offering the quick-rolling, ultra-traction characteristics of a 29-inch tire. With the 27.5-inch tire, you get the ideal center ground for some riders.
This tire size has also quickly become the standard on the long-travel trail and DH bicycles. It keeps up the strength and guiding precision while improving the frame's rollover characteristics.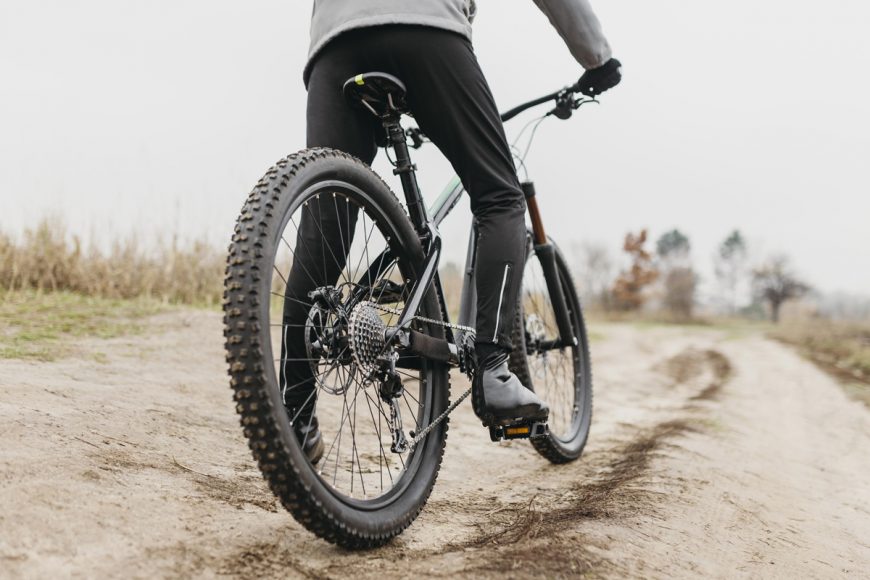 3. The 27.5-Inch Tires (Plus Tires)
The 27.5 does not lead to the formation of 'fat bikes'. However, Plus Tires (30 – 40mm) are 27.5-inch tires with immense volume tires (2.7 – 3″) with a wide range of benefits.
The advantages of using plus tires include increased traction, stability, and suspension that comes from wider tire profiles. Plus Rims also add a ton of height to the tire, making it nearly as wide as a standard 29-inch. I think that creating a bicycle with the firmness and strength of a 27.5-inch tire, the rollover speed of a 29-inch tire, and the handling, traction, and stability of a fat bicycle. What do you say? There's less space for errors here, so these tires go hand in hand with a rider keen to get their bike dialed.
These huge volume tires have less forceful track than your standard gravity tires and convey speed well. All you need to do is get them set up tubeless, ditching the 300g inward cylinders and decreasing rolling resistance.
Exciting isn't it? Hold on! There is a drawback. Plus Tires are not light, and the options are limited. Moreover, because of the continual need to change tire pressure, suspension, and tire profile, a Plus bike probably is not the ideal decision for those who simply enjoy casual rides because they will need to invest a fair amount of time and energy in making adjustments to your parts.
Ultimately, Plus tires can be a bad dream in bad weather, getting obstructed with tacky mud and debris from the path and slowing your progress.
Our guide to road bike tires and rims will help you choose the perfect set for your needs.
4. The 26-Inch Tires
The 26-inch tire has been dropped down the world of fond memories as it is barely used. However, it is still popular among DH and dirt jump riders. The 26-inch tire can also be a sound decision for riders who are too big for kid bikes but not ready for adult bikes either. You can say riders between the ages of 10 -14 can use the 26-inch tire comfortably.
How to Find the Right Tire
When it is time to replace your worn-out tires, it is a good chance to unlock the full potential of your tires by taking a stab at something new. Unfit tire size could harm the rim and put you in harm's way. If the tire is not wide enough, you are risking more pinch flats and blowouts; if it is excessively wide, tire burping and poor stability may occur.
This bike size chart and guide will help you find the perfect bicycle for your height and riding style.
Let's move on to which tire sizes can match your inner rim width. To make things easier, I have listed the suggested tire size graphs for LB Mountain, road, or fat rims. So compare and contrast before you decide on which rim or tire to purchase.
Read this guide to mountain bike tires and rims to you choose the perfect set for your needs.
MTB RIMS / TIRES
| Internal rim width (mm) | 19 | 20 | 21 | 22 | 23 | 24 | 25 | 26 | 27 | 28 | 29 | 30 | 31 | 32 | 33 | 34 | 35 | 40 | 45 | 50 |
| --- | --- | --- | --- | --- | --- | --- | --- | --- | --- | --- | --- | --- | --- | --- | --- | --- | --- | --- | --- | --- |
| Tire size 1.9″ | ✔ | ✔ | ✔ | ✔ | ✔ | | | | | | | | | | | | | | | |
| Tire size 2.0″ | ✔ | ✔ | ✔ | ✔ | ✔ | ✔ | | | | | | | | | | | | | | |
| Tire size 2.1″ | ✔ | ✔ | ✔ | ✔ | ✔ | ✔ | ✔ | ✔ | ✔ | ✔ | | | | | | | | | | |
| Tire size 2.2″ | | ✔ | ✔ | ✔ | ✔ | ✔ | ✔ | ✔ | ✔ | ✔ | ✔ | ✔ | | | | | | | | |
| Tire size 2.3″ | | | ✔ | ✔ | ✔ | ✔ | ✔ | ✔ | ✔ | ✔ | ✔ | ✔ | ✔ | ✔ | ✔ | | | | | |
| Tire size 2.4″ | | | | | ✔ | ✔ | ✔ | ✔ | ✔ | ✔ | ✔ | ✔ | ✔ | ✔ | ✔ | ✔ | | | | |
| Tire size 2.5 – 2.7″ | | | | | | | ✔ | ✔ | ✔ | ✔ | ✔ | ✔ | ✔ | ✔ | ✔ | ✔ | ✔ | | | |
| Tire size 2.8 – 3.1″ (Plus) | | | | | | | | | | | | | ✔ | ✔ | ✔ | ✔ | ✔ | ✔ | ✔ | ✔ |
The chart above applies to light bicycle rims with a unique rim-tire interface.
What Bike Brands Say About Tire Sizes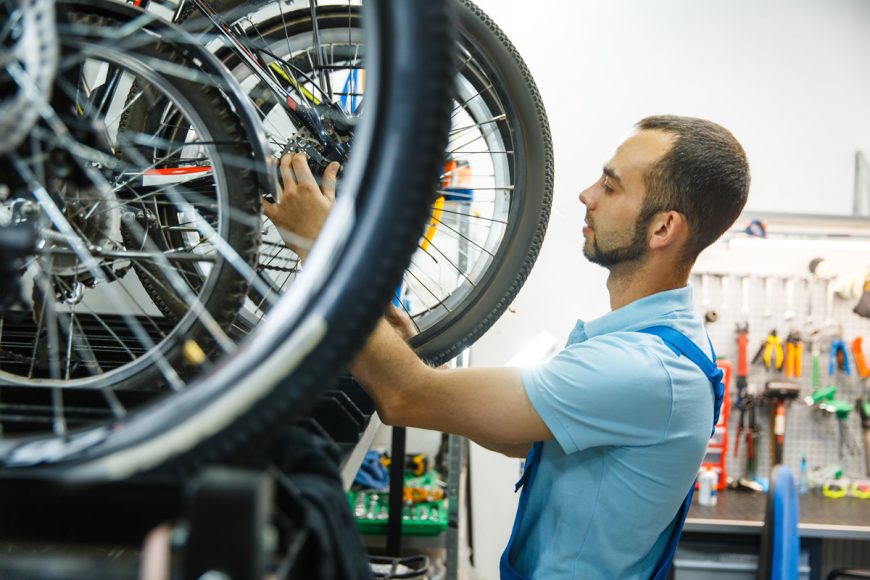 While a couple of brands follow strict charts/guidelines, others give looser principles. Our list of the best bike brands includes options for a wide range of budgets and preferences.
1. Industry Nine's Input
Industry Nine has proposed a range of tire widths for their rims. They further explained how they came up with those figures. For every 1mm that is different from the design standard, the tire will change about 0.44mm in width in a similar corresponding direction. If the tire is too wide for its rim, you get more tire rolls in light of the greater casing size and higher aspect ratio of the tire. This creates more leverage on the tire, permitting the casing to fall and turn over the rim during hard cornering.
A couple of tires have tread wrap, which impacts this. A 2.25-inch tire with a huge load of tread wrap may function well on a 35mm rim. Yet as shown by Industry Nine, you as a rider can actually be better off on a smaller rim for the above reasons. Also, wider rims are persistently going to weigh more. Mountain bicycle riders who are thinking about smaller (2.1 – 2.25) inch tires are consistently going to be more weight-conscious. So they will prefer a smaller/lighter rim.
This guide to bike wheel sizes will help you choose the perfect wheel size for your bike .
2. Stan's NoTubes New Symbolism
Adopting the graphical strategy, Stan's NoTubes is preparing new symbolism that lists suggested tire width ranges for specific rims. NoTubes' "Wide Right" design helps you picture what an appropriate tire shape should look like. So, what if you are only upsizing your rims, hoping to get some additional width from your existing tire?
3. Kenda's Concern
According to Kenda, there is a general time concerning the effect of rim width on the tire width. For every 1mm that is different from the design standard, the tire will change about 0.44mm in width in a similar corresponding direction.
For example, if a tire of 56 mm was meant to be used on a rim with an interior diameter of 24mm and you were to mount it on an extra-wide rim with a diameter of 29mm. This would pull the width of the tire closer to 58mm.
So you see, there are potential gains to making a tire more extensive this way as there is no extra weight. The only disadvantage to this is how the tire contacts the ground. This could lead to an increment in rolling resistance, or it could change the overall region of the cornering handles, bringing about a tire breaking loose earlier in a corner.
Basically, when you put a wider rim on your bike, your tire will develop about 0.4mm in width for each 1mm of interior rim growth.
Don't let the wrong tire size slow you down! Check out our guide to gravel bike tire sizes
FAQs
What is the most popular tire size for mountain bikes?
29″ Is the most popular tire size for mountain bikes.
What is the difference between a tire's diameter and width?
The difference between a tire's diameter and width is that the overall size of the tire is called the diameter, while the tire's width is its measurement from the outer edge to the inner.
What is the most common tire size for road bikes?
700C is the most common tire size for road bikes.
How does tire width affect traction and speed?
With wider width, you will have more grip, and with narrower tires, you will experience more speed and less rolling resistance.
Conclusion
When it comes to choosing the right mountain bike tire, the one thing you must not ignore is the type of terrain you will be riding on along with your riding style. Your tire performance will also be affected by the air pressure and the tread wear. That's why I recommend checking your tire pressure regularly. Also, don't forget when the tread is worn out, it is better to replace the tire.
While there is no ultimate guide to getting the best tire size. One way to find the right tire is through trial and error. Whether you are riding road, Enduro, trail, or cyclocross, you can start by using a rim with an interior width that is about 50 – 65% of your tire's width.
If you are still having trouble finding your dream tire, how about visiting a good bike shop? You can try different rims with several tires until you get that perfect rim for your ride. So which is your favorite bike tire size and why? Do you have any input on the 27.5″ size? Let me know in the comment section below!
Read also
---