Planning a vacation but can't carry much with you? Are you moving into a brand new studio, the amazing kind that you always wanted, but it has limited space? What will happen to your bikes, surely you just can't leave them! These are problems with easy answers- Folding Bicycles!
Not many people have heard of folding bikes or even used them, but that is because they are often overlooked. They are extremely versatile and useful machines, offer amazing performance, and can be fitted into a small space. Think of these bikes as bundles of fun but in tiny packages, we all want that.
Why Get Folding Bikes?
Folding bikes are all great, but why get them anyway? What are the main advantages that you will be enjoying once you get your hands on them? Most folding bikes are amazing, you will get tons of options your way, there will also be a folding electric bike if you choose that.
From the folding mechanism to the ride quality, you would be enjoying yourself a lot with these folding bicycles. Let us take a look at all the advantages.
Portable Design
The main thing that you would be enjoying from the folding bikes would be their portability. This is a completely new exhilarating experience, you can get from point A to point B easily without any kind of problems, the bikes would be super portable too!
Even if you have to get a train back home, just fold the bike, carry it with yourself on the bike and enjoy the ride home. This is how simple it would get, with these bikes, there would be no problems for the rider.
Compact Design
Another great advantage of these foldable bikes is their compact design. You can take them anywhere with you, and I really mean anywhere. Even if you were to hop from one country to another, things would be really easy for you. Take these bikes on a plane, on a bus, or even a train, the opportunities are endless.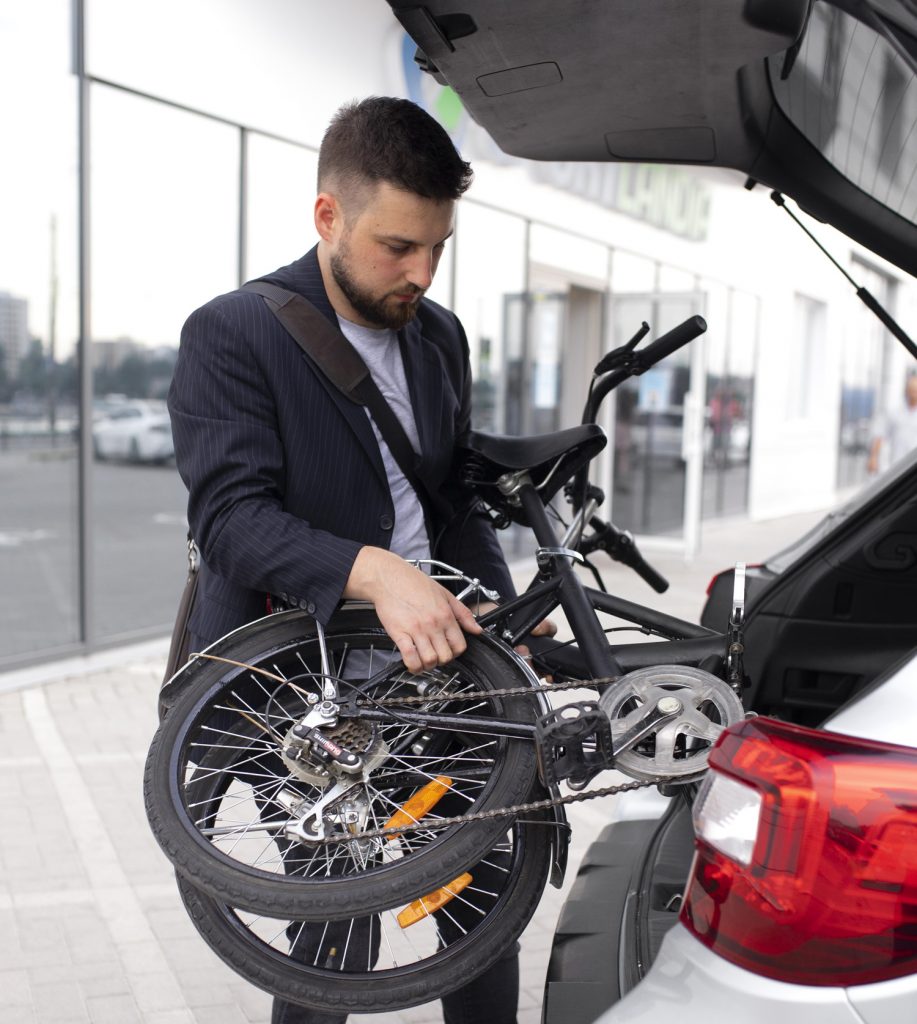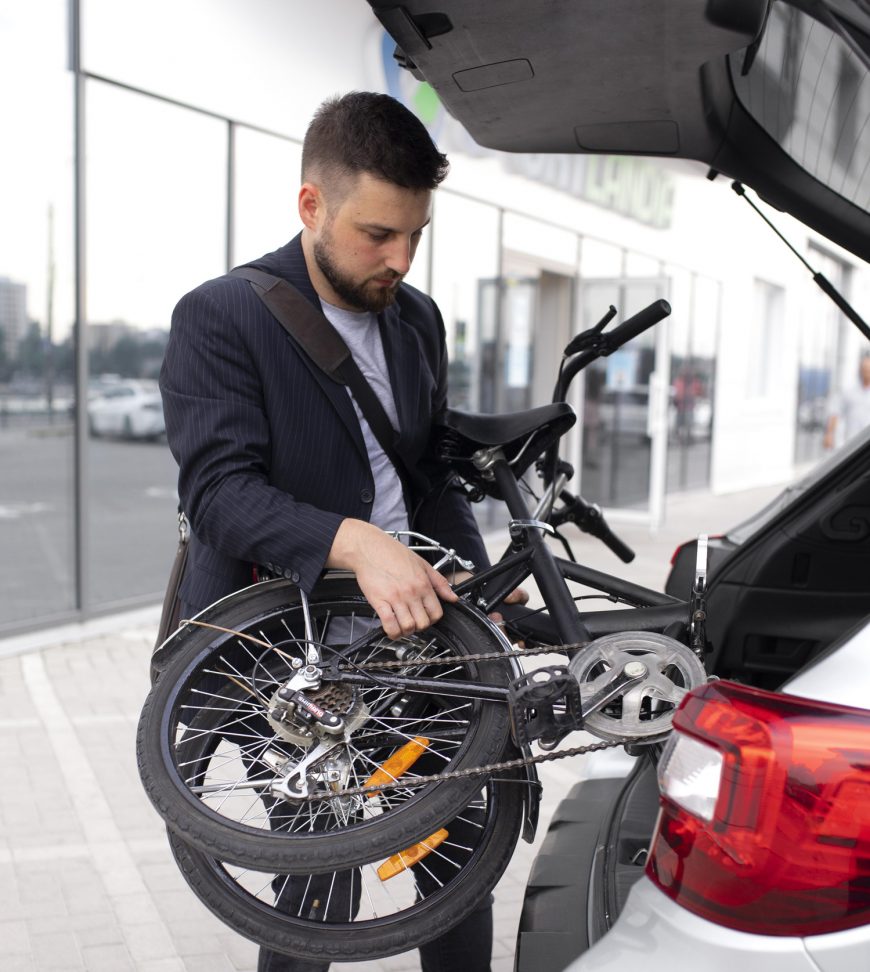 Enhanced Security
Bikes get stolen, we know that, but if you have foldable bikes then the chances of theft decrease drastically. First of all, they can be folded and then locked again. This whole structure of the bikes makes it extremely hard for them to be stolen.
So this means that after parking and locking your bike, you can take them with you or even enjoy yourself at a coffee shop while your bike is safely parked outside.
More Friends!
This is not that much of a benefit but you should still know about it. People love interesting and fun-filled conversations and having an amazing folding bike at your side will certainly be a conversation starter. So, these bikes would actually be enhancing your social circle.
Top 10 Folding Bikes For Travel and Storage
Here are some of the best folding bikes that we could find in the market. Varying in price, features, components, and even shapes, they are bound to fulfill all of your needs when it comes to amazing foldable bikes. From the best folding bike to an electric folding bike, we have everything in our guide.
Let's take a look at these amazing bikes!
Editor's Choice: Brompton M6L Folding Bike
Brompton Bikes are amazing and the M6L Folding Bike is the market leader currently. Why is that so? From the amazing features to the sleek construction, you will find more than what you are looking for here.
Amazing Performance: Tern: Verge X11
Known for its amazing performance, the Tern Verge X11 never disappoints. This is an amazingly fast bike, even we were shocked by it, if you can afford it then definitely go for it.
Great Choice On A Budget: B'Twin Tilt 500 Folding Bike
The B'TWIN TILT folds easily, offers amazing performance, and can be bought without breaking the bank, what else do you need?
Best Runner-Up: Origami Hawk
The Origami Bike Company has been crowned as the best folding bike company, but there is more to that fame. Their HAWK bike is amazing and is more than what we expected.
Best For Everyday Commute: Airnimal Joey Commute Folding Bike
The AIRNIMAL JOEY is an amazing folding bike if you want such a bike for your everyday commute. It comes installed with a dropped race bar and even in different sizes.
Best Lightweight Bike: Hummingbird Folding Bike
If you are looking for an amazing lightweight folding bike then the Hummingbird Folding Bike is the one that you should definitely go for. This is a super light folding bike that will certainly not disappoint.
Best Ride: Tern Byb S11
Made from premium parts, the Tern BYB S11 does wonders for riders. It offers the riders a smooth and comfortable ride, that too with bigger rolls.
Amazing Versatility: Rad Power Radmini
This is one of the best folding e-bikes that I have ever tried in a while. It folds easily and even offers the best performance that I was looking for!
Best Powerful Motor: Tern Vektron S10
The Tern Vektron S10 has the best motor that I have ever seen in a folding e-bike. It lasts longer and offers great performance, it even has a compact design!
Amazing Portability: Aventon Sinch
The Aventon Sinch can go anywhere with you, and you can also store it very easily. It has a powerful motor, even the throttle feels amazing. Do try this amazing bike!
Let's get started with our guide!
1. Brompton M6L Folding Bike – Editor's Choice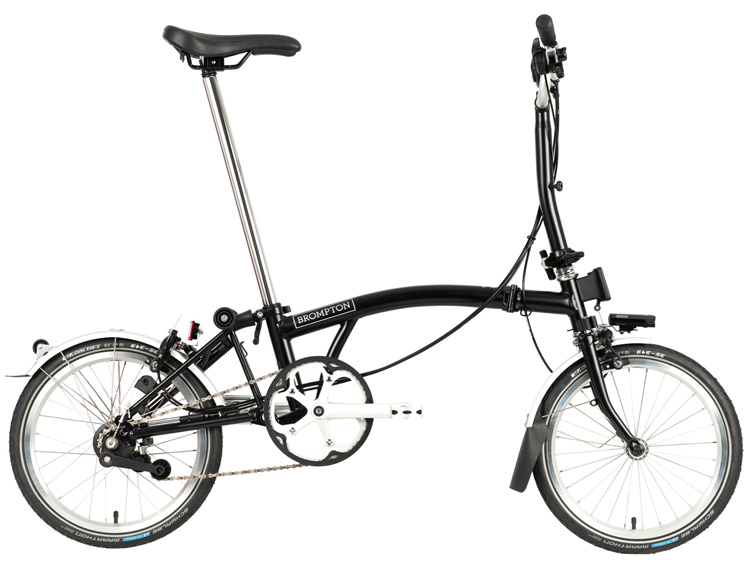 Price: MSRP $1590
The Brompton M6L is the market leader of folding bikes right now and that is rightfully so. We have tried Brompton Bikes before and never have we been disappointed. When it comes to these bikes, there is usually one frame option to go for, but plenty of customization options and we love that!
There are plenty of options to choose from, the color, frame material, number of gears, and even the handlebar shape. We were shocked to see the amazing performance of this bike. It comes with a 16-inch wheel, that much is pretty normal as there would be no problems folding the bike.
The Brompton M6L comes with six gears, which makes it perfect for hilly travel, there are also mudguards installed so that you and your clothing can be protected during intense rides.
Some of the best features of the bike are:
Six Gears
Customization Options
Front and Rear Lights
Advantages:
Great Portable Design
Additional Luggage Platform
Great Customization Options For Users
Mud Guards Installed
Disadvantages:
Very Expensive
Stock Availability Problems
Editor's Choice: The Brompton M6L is a bike that you should have at all costs if you travel often. Even if it is tricky hill travel or the everyday commute, this bike offers amazing performance. You might have trouble getting your hands on one but it is worth the effort!
---
2. Tern: Verge X11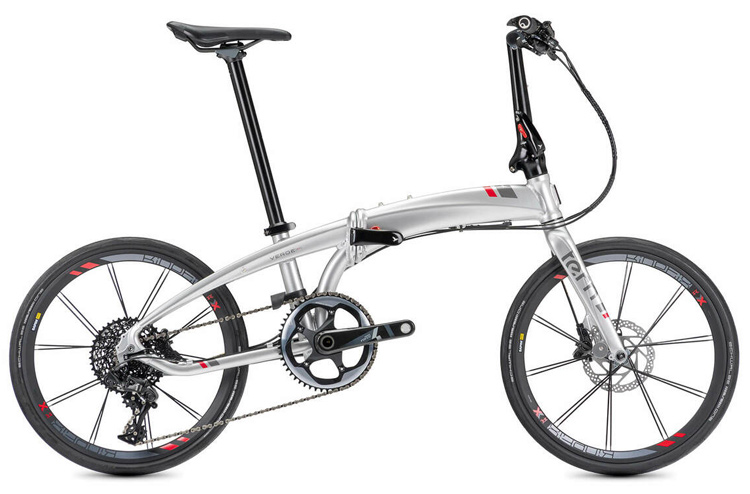 Price: MSRP $2699
The Tern Verge X11 is the best folding bike if you want top-notch performance and when money isn't a problem. Although it costs much, the value that you get from the bike is nothing compared to the price you paid, it is actually worth more. It has 22-inch wheels, it even looks like a standard bike if you ask me. The components installed are also very premium, like the SRAM Force 1x Drivetrain alongside a wide-ratio cassette, this makes hilly travel a piece of cake.
The braking and gearing are nothing special here, let me tell you that. The 10-42 cassette and Shimano Deore brakes are great but don't expect something extraordinary. The bike is constructed with an aluminum frame and it has SRAM Force Carbon Cranks, all of this makes for a lightweight bike, we are talking about the bike being 10.2 kg.
Even Tern has claimed that the bike takes 10 seconds to fold, which is great. You can pack up the bike and enjoy amazing performance wherever you go. With the hydraulic disc brakes, Kinetix Pro X wheels with Schwalbe Durano tires, this bike is an absolute beast!
Some of the best features of the bike are:
Amazing Components
Great Look
20-Inch Wheels
Advantages:
Top-Notch Performance
Lightweight Design
Amazing Portability
Great Features
Disadvantages:
Folded Dimension Is Large
Expensive Price Tag
Why I Like It: The Tern Verge X11 is the type of bike that you should get if you want the best performance from a folding bike. The price is well justified because of the top-notch features and components. It took me literally 10 seconds to fold the bike, you will enjoy a lot taking this bike with you for adventures!
---
3. B'Twin Tilt 500 Folding Bike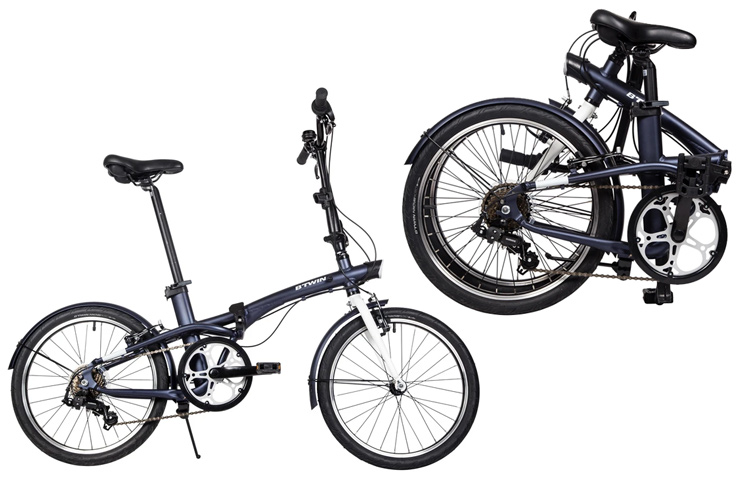 Price: MSRP $299
Getting a foldable bike is easy, but getting a really good bike on a budget is hard. That is why we have brought the B'TWIN TILT 500 for you, this is an amazing folding bike, and you won't break the bank getting that. This brand comes from Decathlon, so we all know that it is going to be amazing. This is an ideal folding bike fit for any kind of riding situation.
It folds in half neatly without any kind of problems, and you won't even need that much time for putting it in storage. Bikes from B'TWIN are amazing, everyone that has used their bikes has said that they are just amazing, and you would rarely find a fault with them.
The TILT 500 bike is an exceptional choice, its saddle can be adjusted for different heights and comes installed with seven gears. Almost all types of riders are going to have a blast riding this one!
There are some setbacks that we noticed, first of all, the brake pads will have to be replaced every now and then. Still, all of that is countered with the fact that you get a lifetime warranty with the bike, nothing beats that.
Some of the best features of the bike are:
Strong Aluminum Frame
Amazing Components
Versatility
Advantages:
Budget Price
Lifetime Warranty
Amazing Performance
Disadvantages:
Some Components Are Lower-End
Why I Like It: The Tilt 500 is an amazing folding bike on a budget. The price is low but the performance and quality of the bike are not compensated. Well, you would have to change the brake pads every now and then but everything else than that is just amazing.
---
4. Origami Hawk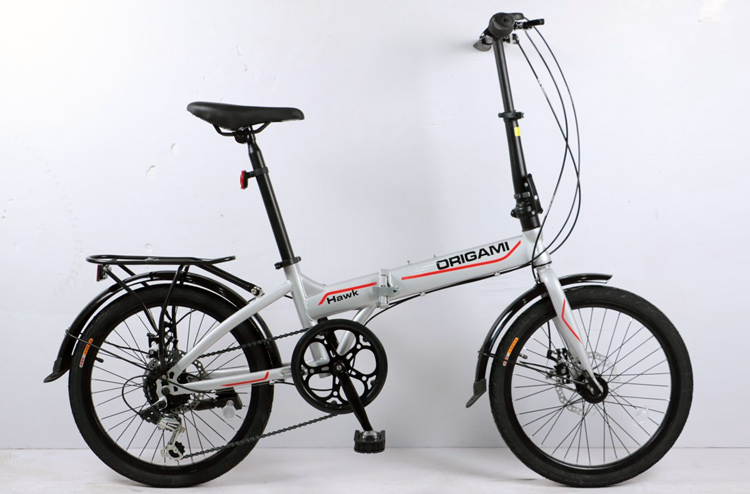 Price: MSRP $269
The Origami Hawk is another great folding bike that you can get on a budget. The Hawk actually rivals the B'twin Tilt if we compare them directly with each other. The Origami Bike Company was awarded the title of the best name for a folding bike company, their dedication is shown in the quality of the bikes that they have produced.
If you are looking for some strength reassurance then you will find it with this bike, the steel frame and fork will make sure that every rider is secure and comfortable while riding this bike. From the rear rack to all the other components, construction is top-notch.
This one almost feels like a standard-sized bike, thanks to the 20-inch tires. The bike folds in seconds and there are no complaints from users that have tried out this bike many times. The Origami Hawk is also installed with Shimano Tourney/Revoshift drivetrain and has seven gears, making it a good choice for any kind of terrain.
The Hawk also features powerful disc brakes which was a welcome surprise for sure. Considering everything else, this is a great bike that you should definitely get.
Some of the best features of the bike are:
7-Speed Gears
Fenders and Luggage Racks
Powerful Disc Brakes
Advantages:
Amazing Price Tag
Great Quality
Sleek Design
Reasonable Features
Disadvantages:
Why I Like It: The Origami Hawk goes toe to toe with the B'twin Tilt 500. Both of the bikes are amazing but I like the Hawk more. This is because it has more features, and the stopping power is just amazing thanks to those powerful hydraulic brakes.
---
5. Airnimal Joey Commute Folding Bike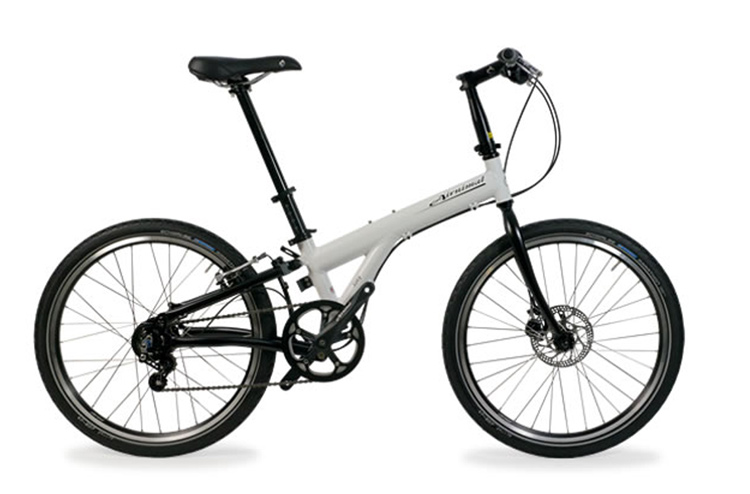 Are you looking for a versatile folding bike that is just amazing? Then the Airnimal Joey Commute Bike is the one for you. The Airnimal brand is exclusively known for its amazing features and versatility, you certainly cannot go wrong here.
Some people are hesitant with folding bikes, they don't want to get them. The Airnimal brand is perfect for those types of people, just looking at these bikes will make you want to get one. Also, they are just amazing for the everyday commute.
From all of their amazing collection, we recommend getting the Joey. Even Joey has multiple versions, not just one. They have the Joey Sport- which comes with seven gears, Joey Endurance, and much more. The Airnimal Pick'n'mix lets you customize and build your dream bike.
The price and specification of the bike will depend on what you have picked, what kind of features you want etc. All we can tell you is that you will certainly not be disappointed. We recommend getting the Adventure Plus version of the bike because it comes packed with Hydraulic Shimano Deore disc brakes.
Some of the best features of the bike are:
Different Versions Of The Joey
Great Customization Options
Two Frame Sizes
Advantages:
Amazing Accessories
Powerful Braking System
Comes With Multiple Wheel Sizes
Fully Compatible With Clipless Pedals
Disadvantages:
Why I Like It: People love folding bikes for their everyday commute, I certainly do that is why I was attached to the Airnimal Joey instantly. This is a bike that I could always count on, there are also different Joey versions and I certainly want to try all of them out.
---
6. Hummingbird Folding Bike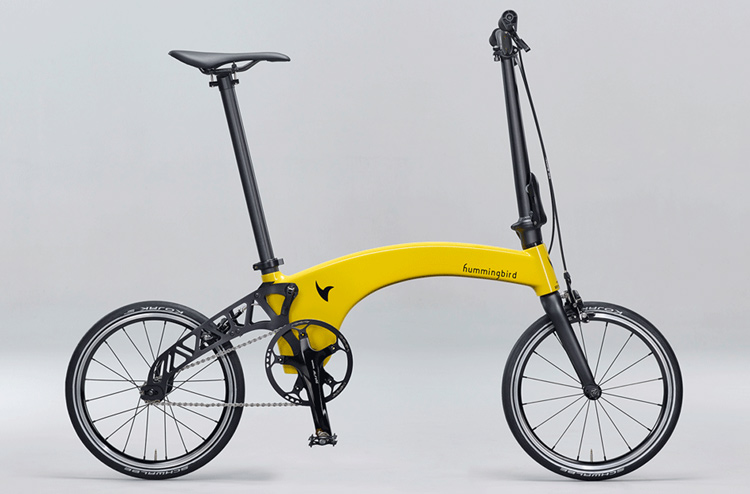 The Hummingbird Folding Bike is an amazing creation and I still can't believe that they started from Kickstarter. Featuring a strong carbon frame, and amazing color schemes, this is a great lightweight bike that you should definitely try out.
Like other famous brands, the Hummingbird also comes in different versions. You can either get the single-speed version of the bike which weighs around 6.9 kgs or you can try out their amazing electric bike version which weighs around 10.3 kgs. So if you wanted to try out electric bikes, then the Hummingbird proves to be one amazing choice.
The construction of the bike is a mix of carbon and titanium, this is still a powerful and resilient bike. If you want to install a rear cargo rack to it then you can certainly do that.
Overall, this is a beautiful bike in an amazing package. For some people, it might have more specs than they actually wanted but that is fine.
Some of the best features of the bike are:
Multiple Versions
Great Customization Options
Top-Notch Construction
Advantages:
Lightweight Design
Amazing Performance
Great Handling
Disadvantages:
Very Expensive Price Tag
Availability Issues
Why I Like It: Although the hummingbird is a very expensive bike, it offers amazing features and comes in multiple versions. This is the kind of bike that I always wanted, it folds very easily and can be taken anywhere without any kind of problems. I would suggest that you try out all the versions of the bike!
---
7. Tern BYB S11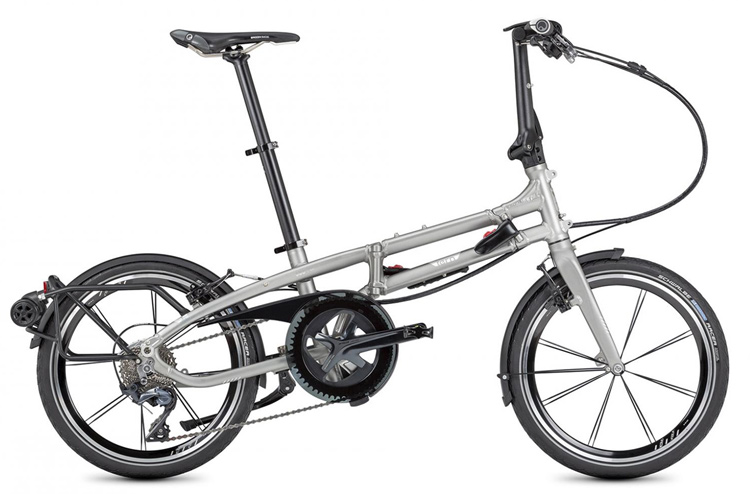 Price: MSRP $3599
People love folding bikes that offer a very smooth ride, one of those amazing bikes is the TERN BYB S11. The company has done wonders when it comes to the bikes produced, the BYB S11 is a testament to the fact that a bike's performance can be enhanced without the size increased, after all, we are looking for a folding bike, not a standard bike.
This bike comes installed with 20-inch wheels, and when folded it also seems smaller than the other bikes the brand has produced. The double-folding mechanism is extremely handy, the bike comes shrinking down to thirds and can even be compared to the bikes that have 16-inch wheels.
I was hesitant with the large wheels at first but when I tried the BYB S11 myself, I understood why they had to install the bike with bigger wheels than before. Having larger wheels than before makes sure that the bike offers a very smooth and comfortable ride.
Since you are going with the S11 model, it comes with a 1×11-speed Shimano Ultegra drivetrain which we absolutely love.
Some of the best features of the bike are:
Double-Folding Mechanism
Comes Installed With A Chain Guard
Bigger Wheels
Advantages:
Offers A Smooth and Comfortable Ride
Great Versatility
Premium Construction and Parts
Disadvantages:
Folding Diameter Is Still Large
Why I Like It: The Tern BYB S11 is an amazing bike if you are looking for smooth rides and great versatility. I was honestly surprised by the double-folding mechanism, it literally shrinks down the bike. With all the premium parts and construction, I think that you are going to have a great time riding this bike.
---
8. RadMini 4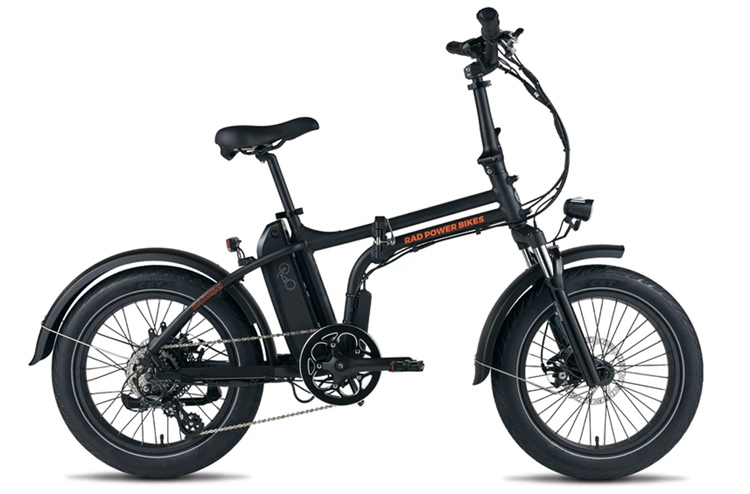 Price: MSRP $1299
We love getting a lot of features in small packages, and the Rad Power Radmini is certainly a lot to take in. The Radmini is many things, not just one, it is a cargo bike, a folding bike, and an electric bike. Even if you are new, this is a great start to the folding bike world.
It has amazing 4-inch wide tires, just like the lunar rover, the feeling that you enjoy from riding this bike is just unmatched. I would say that this bike is best suited for people that want a folding electric bike but don't want to spend much. Hunters would really love this bike, it can also be concealed very easily.
This is a Class-2 Electric bike, so the max speed that it will offer is 20 mph. Other than that, it comes with a pedal assist and throttle so you won't have any troubles riding it.
Some of the best features of the bike are:
Amazing Portability
Easily Concealed
Class 2 Electric Bike
Advantages:
Amazing Performance
Portable and Compact Design
Big Tires Offer Amazing Traction On All Kinds Of Terrain
Disadvantages:
Not As Compact As Other Bikes
Why I Like It: The Radmini is an amazing electric bike, it has the perfect 4-inch wide tires that are best for small and compact adventures. You can take this bike if you want to go on a hunting trip and it can also be concealed without any kind of problems.
---
9. Tern Vektron S10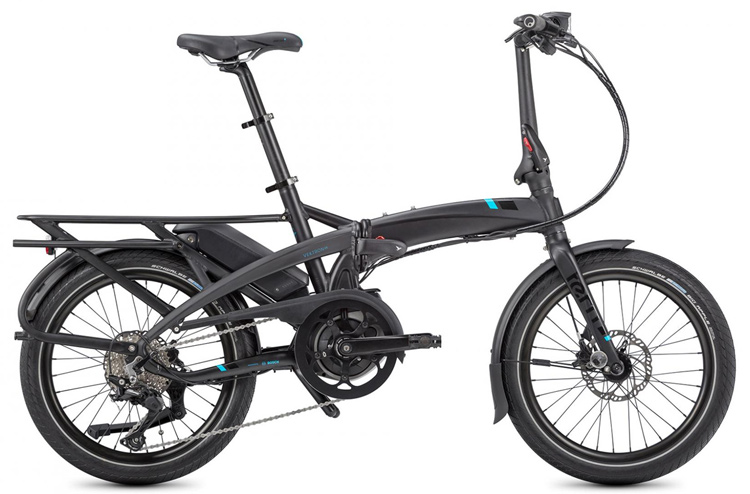 Price: MSRP $4199
The TERN VEKTRON S10 is definitely an upgrade over the original version, some of the best upgrades include more power and a stronger rear rack, this makes for an appalling version of the bike that we didn't know we needed.
As this is an electric bike, the main concern that people would have would be with the motor, the Bosch Active Plus motor just works wonders. There is a 25% increase in the torque power, so if you were thinking of conquering those hills, you can easily do that now.
Surely there are great upgrades in the Vektron like the 10-speed Shimano Deore drivetrain, so even if you are riding in eco-mode you would have more options. Tern has installed 20-inch wide tires, so the weight can be more grounded while users ride, you can also easily haul cargo with the integrated rear rack.
Some of the best features of the bike are:
Bosch Active Plus Motor
20-Inch Tires
More Torque Power
Advantages:
Powerful Motor
Upgraded Performance
ECO Mode
Disadvantages:
Why I Like It: The original Vektron bike was great but it still had flaws, some features were missing that we wanted desperately. With this upgraded model, it seems that those shortcomings have been fixed. The powerful motor of this bike will never disappoint you. Just try it out!
---
10. Aventon Sinch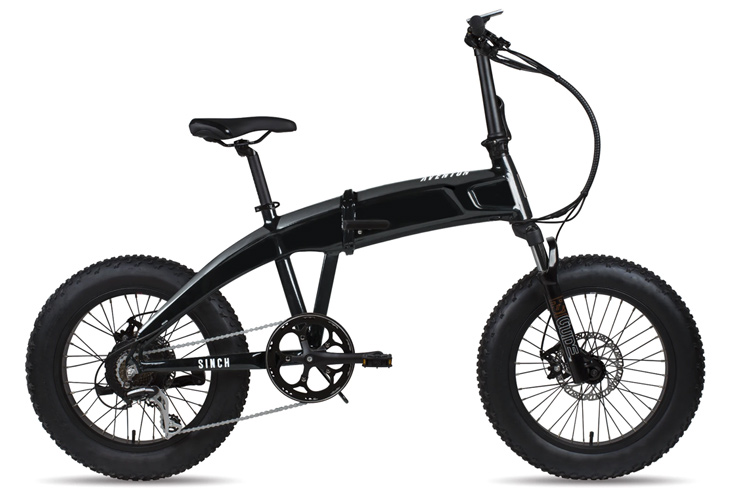 Price: MSRP $1699
Let's end our amazing list of bikes with the Aventon Sinch. This is a great e-bike to have, even more so if you travel quite often. With the 4-inch tires, the bike becomes extremely portable, you can easily take it with you wherever you want.
The Aventon Sinch comes with a powerful 500-watt motor, with it, you can conquer any kind of terrain, even if there are a lot of hills. Also, if you are not a fan of pedaling then the throttle is there to make sure that you DON'T pedal and enjoy the bike as you want.
Get the Aventon Sinch if you want a bike that will fit in a limited space. Due to the heavy construction, you won't be able to carry it with you all the time.
Some of the best features of the bike are:
4-Inch Tires
500-Watt Motor
Comes In Vibrant Color Schemes
Advantages:
Powerful Motor
Portability
Upgraded Torque
Comes With A Throttle
Disadvantages:
Why I Like It: The Aventon Sinch is a great e-bike but it is best suited for people that have limited space. It does come with a powerful motor and upgraded torque that is why I was able to use it for all kinds of terrain. Do try out this bike!
---
How To Choose The Perfect Folding Bike
Folding Bikes are great and I have spent a lot of time with them on my adventures, although when I first went out to get them, I had no idea how to choose them, especially what kind of folding bike would be right for me? These bikes are not suited for long distances but you can take them anywhere with you, that is what makes them truly special.
With these folding bikes, I got to experience countries and cities in a completely different way, this is what I never expected from them.
This guide has been crafted only for you, people that love folding bikes, want to get them but have no idea what to look for. Here, I will be sharing what makes a perfect folding bike and what are aspects that you should take notice of. Let's begin!
Let's Start With Foldability
The main unique thing about the folding bikes is their… Foldability! There are two main aspects that you need to know about foldability and the first one is folding speed. All of it depends on how many times would you be folding the bike, if it is a lot then you need a bike that can be folded in a matter of seconds. The fastest that a bike can be folded is within 10 seconds and if more than that then it could take 10 minutes or even more.
Next up is the size of the bike when it is folded or also known as the folded size. The folded size is always mainly proportionate with the wheel diameter. The size of the bike needs to be small when folded, having the size of a standard bike just won't work here.
Performance Matters
The performance of these folding bikes is going to matter a lot, we want the kind of performance that standard bikes offer. Imagine that same lever of amazing performance but in a tiny package, now that would be something truly special.
A standard bike would easily pump out 100-150 km daily and even if you can get half of that in a folding bike then that would suffice. There are a lot of other factors too that enhance the performance of bikes like the handlebar, gear ratios, and frame size.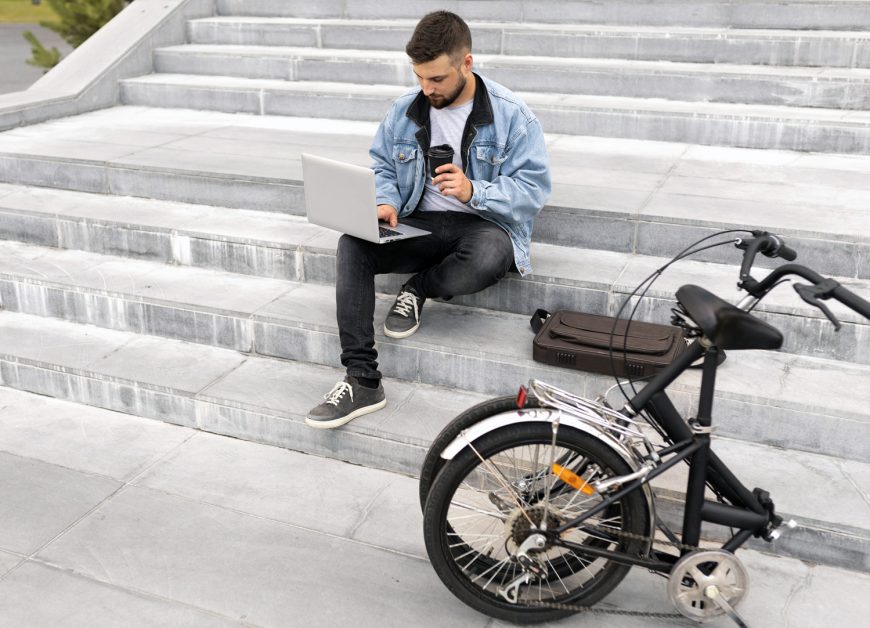 Comfort Comes From The Perfect Size and Fit
Your comfort level while riding the folding bikes is going to affect your performance. You need to get a bike that suits you perfectly, but this is still a surprise that foldable bikes only have one size, there are no other options to go for.
If you want a folding bike for long distances then get the one that seems the most comfortable, and if you are planning short distances then sizing is irrelevant.
What Should The Wheel Size Be?
There are not a lot of options when it comes to wheel size in a folding bike. The wheel size will directly depend on how you plan to use the bike. If you would be using the bike every day and taking it with you on trains and buses then go for a small wheel size that feels portable and compact.
Although if you travel over long distances often then go for larger and wider wheel sizes.
Gear Systems and Derailleurs
Drivetrains and internal gear hubs in a folding bike affect the performance a lot. If there are gears inside the rear wheel, then there would rarely be any damage to the bike and it would also require less maintenance.
Although, you should know that the more gears you add, the heavier your bike will get.
The Budget You Are Willing To Spend
Folding bikes are available at different prices, they start at $299 but if you want the best quality ones then you should be willing to spend more than $1000.
Remember, cheap bikes will need to be replaced every now and then but the high-quality ones will remain with you for a while.
Related Reads:
FAQs
What is The Best Folding Bike Brand?
There are tons of amazing folding bike brands, some of the best examples are Brompton, Tern, Origami.
What is The Minimum Price Of A Folding Bike?
You can get a folding bike for around $299 minimum.
Are Folding Bikes More Difficult To Ride?
Folding bikes can be used the same way as standard bikes, there is no difficulty in using them.
Recap
Folding Bikes are amazing inventions, they are like standard bikes, but can be taken anywhere. This way you can enjoy your picnics, travels, and adventures even more. There are different types of folding bikes, we discussed that, and the features and components reflect the quality of these bikes.
Of all the bikes on the list, the one that really stands out is the BROMPTON M6L FOLDING BIKE. It is just great, everything from features to the components work together to make one amazing experience. Do try it out.
Get yourself a folding bike today if you don't want to miss out on the fun.
Happy Cycling Everyone!
Also Read: Best Mountain Bikes Under $500