Who said tricycles are only for kids? Adults can also join in on the amazing fun because seemingly a normal bicycle can't be for everyone. Bicycles provide a fun gateway to the outside world, you have fun, you have exercise, and all of that without even spending a single penny. Exercise is much needed, may it be kids or adults, why not combine fun with exercise.
Sadly, bicycles can't be for everyone, especially those that find it hard to balance, or people with any kind of injuries or disabilities. That is why there are tricycles, extra supportive bicycles that let you have the same fun that you would be having with the normal bicycles. Get an amazing tricycle today and we promise that you will not miss out on the amazing fun that everyone else is having!
Tricycles offer the same speed, balance, and fun as regular bikes and in past years they have been growing in popularity. Did you know that there are tricycles even possess some advantages over regular bicycles? We will discuss those advantages in detail later on.
Final Buyer's Guide: The Best Tricycles For Adults
1. Best Overall: Kent Bayside Adult Tricycle – Buy here
" The Kent Bayside Tricycle offers a versatile yet comfortable ride that is seemingly unmatched!"
2. Best Budget: Schwinn Meridian – Buy here
" This is a bike which is not just known for its attractiveness but also the price and performance!"
3. Best Unique: Mobo Triton Pro – Buy here
" The Mobo Triton Pro is an amazing and comfortable bike that offers something unique and is also quite flexible!"
4. Best Performance: Happybuy Adult Tricycle – Buy here
" The Happybuy Tricycle offers the best speed without sacrificing the balance"
5. Best Comfort: Slsy Adult Tricycle – Buy here
" The Slsy Adult Tricycle offers a comfort level mixed with speed and balance which is hard to match!"
Let's get started with the guide!
1. Kent Bayside Adult Tricycle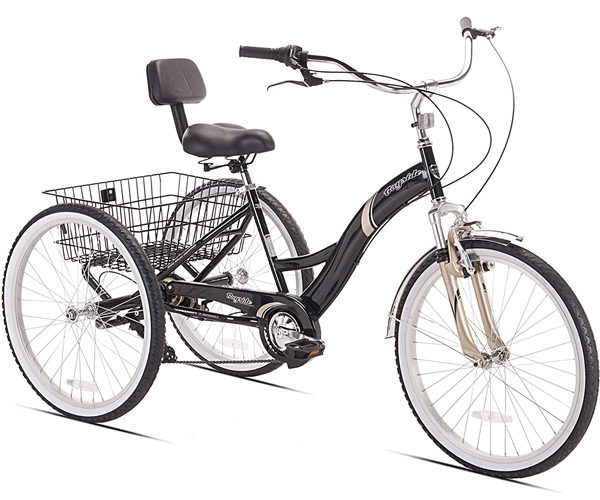 Product Features:
Comfort is unmatched
The Shimano grip is amazing
Huge basket for groceries
The Kent Bayside is an amazing adult tricycle that offers comfort and versatility all in one without sacrificing anything. When it comes to performance, it does offer more than some of the other models in the market. The construction of the tricycle is amazing as it has a full steel frame equipped with the amazing Shimano grip shifter, which means that if you want to go around the hilly terrains you will be well protected.
This is an adult tricycle so know that speed is not sacrificed for comfort as it offers both adequately if you love leaning back then the lumbar support will come in quite handy!
The tricycle is equipped for soft rides and any kind of weather because of the front suspension fork and fender. You even get an amazing integrated basket to store down groceries if you go shopping.
Considering the performance and features, the price point is well justified!
---
2. Schwinn Meridian Tricycle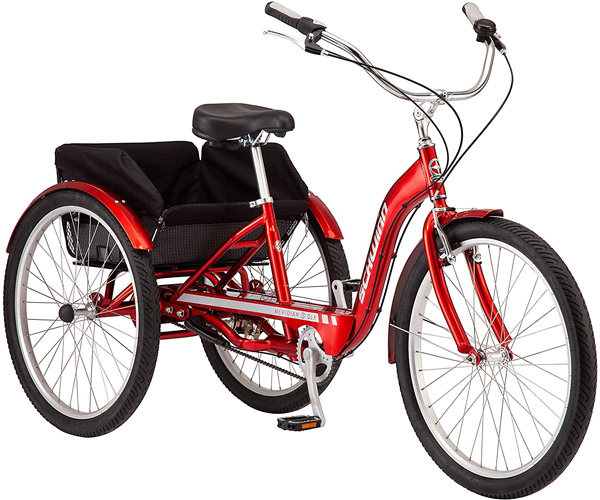 Product Features:
Amazing features
Overall Design is amazing
Price is unmatched
The Schwinn Meridian trike is famous for its price, features, and performance, some even call it the jack of all trades. It is constructed with a step-through frame which not just makes it very lightweight but also very easy to get on and off, this doubles down on comfort.
This is a bike constructed with speed as the main focus, I would say that it is best suited for flatter surfaces, that is where you would get the best performance.
One of the best aspects of this bike is the price tag, you don't see a lot of bikes with this many features and amazing performance for such a low price. The bike is fitted with 26" wheels which offer a smooth and speedy ride. The Schwinn is also very stylish and comes in different colors to choose from. It also comes in fitted with a padded seat that prioritizes comfort.
Give the Schwinn a try if you want a fun and comfy ride!
---
3. Mobo Triton Pro Tricycle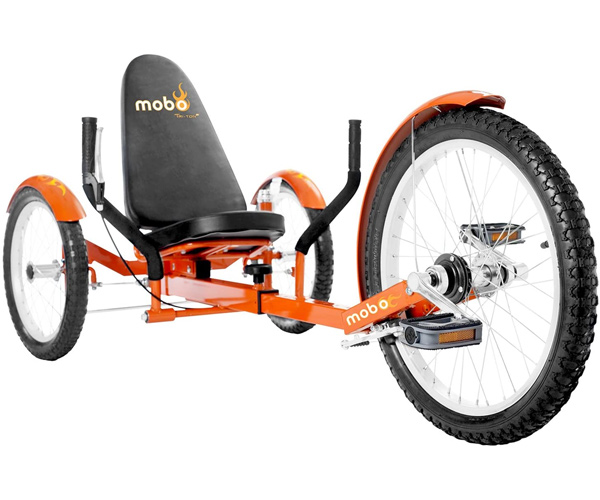 Product Features:
Offers something unique
Extremely Stable Tricycle
Very Comfortable
Looking for something unique but also affordable, the Mobo Triton Pro has got you covered. Now, this is a recumbent tricycle which means that you sit in a reclined position, while your feet are in front of you. It might feel a bit awkward and strange but trust me it is the best position to sit on a tricycle as it offers the best support possible.
It's actually quite helpful if you suffer from back pain or any kind of disability, this tricycle is bound to offer the best comfort and performance. It comes packed with a speed hub and has a low center of gravity, which means it will offer a very smooth and comfortable ride.
The Mobo Triton Pro has an extendable frame so consider it an amazing fit for almost all the riders. Instead of using handlebars, you would be using two levers which are more fun. Be careful though, as the tricycle is low impact, buses and cars won't be able to see you that properly.
---
4. Happybuy Adult Tricycle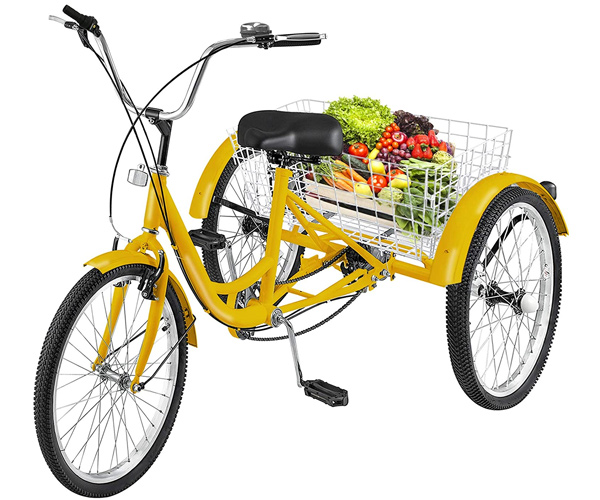 Product Features:
You get variable speed
Amazing basket for groceries
Extremely stable and safe
The Happybuy adult tricycle is one of the amazing choices that you can have in the market. It comes packed with a HI-TEN Steel frame that offers amazing durability and stability. The steel frame also makes the tricycle capable of carrying the weight and any kind of cargo up to 150 kgs.
The construction of the tricycle is very impressive, you have an ergonomic rubber handle that is adjustable, amazing front v-brakes, and an adjustable padded seat. You can't beat the performance and features of the tricycle.
---
5. Slsy Adult Tricycle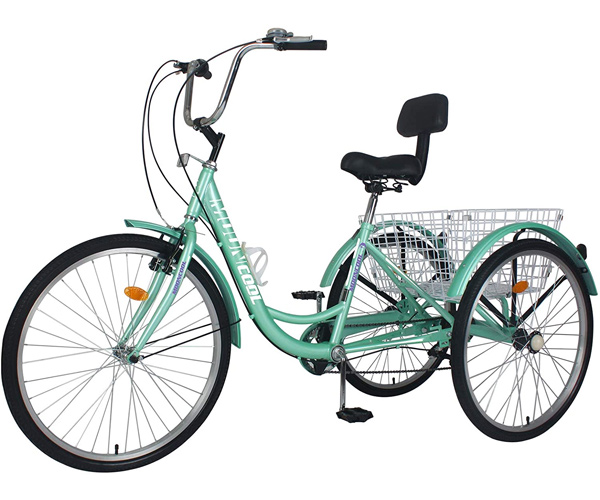 Product Features:
Sturdy Design
Very Easy To Install
Amazing Large Capacity Basket
The Slsy Adult Tricycle is an amazing choice to go for considering its sleek yet sturdy design. Even if the cargo weight is too much, the trike will always remain balanced and stable without any kind of problems. It is a very practical tricycle, you will get a lot of attention when riding it as people would want to know how it feels and performs.
You get a full one-year warranty and if it gets damaged then you can get fully refunded within the 30-day trial period.
---
How To Pick The Perfect Adult Tricycle?
Choosing the perfect adult trike can be a very intimidating process, especially if you are a newbie. There are plenty of things to consider when going for a purchase, even professionals get confused when they are overwhelmed by so many options. With our guide, we will explain how you should choose the perfect trike for yourself or your loved ones!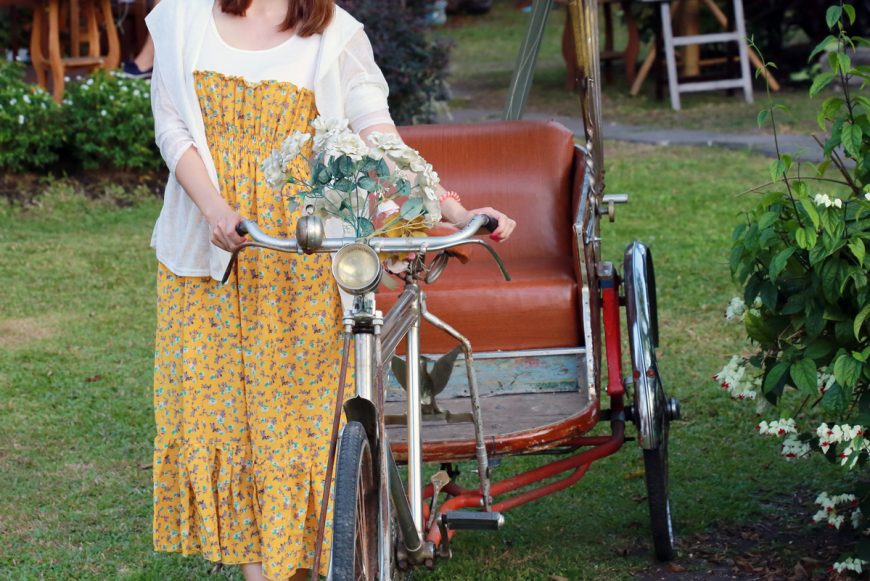 What Kind Of Position Do You Prefer: Recumbent or Upright?
Adult trikes come in two different forms, you have the upright position and then you have the recumbent which is reclined and with a lower center of gravity. Both of these types offer the same amount of fun, cardio, and excitement but it is up to you to choose.
Recumbent offers a more relaxed and stable approach whereas the upright offers a more active and stable approach. The choice at the end falls up to your preferences.
Sling or Saddle Seat?
Upright tricycles offer wide yet comfortable seats, this means that users will be able to put their feet on the ground perfectly when they stop. You can also start the trike easily without any kind of problems.
The sling seats will be found in recumbent-type tricycles, they are padded seats with extra support. They have a lower center of gravity and are very comfortable.
How Much Weight Capacity Would You Prefer?
Different types of manufacturers have different weight limits on their trikes, some are more generous than others. You can choose according to your preference if you want a trike for fun activities or grocery shopping. Recumbent-type trikes are way more generous when it comes to weight capacity.
Handlebars Can Make A Huge Difference!
When it comes to tricycles, you have different handlebars to choose from! The types are Traditional, loop, or chopper.
Traditional handlebars offer great motion, chopper handlebars offer the same motion but require more strength, and loop handlebars are best suited for people that have weak hands.
Why Are Adult Trikes Preferred Over Regular Bicycles?
Adult trikes are preferred because of many reasons:
The first and foremost thing is that they are very stable, yes they are different to handle from the start but when you get used to them they are extremely reliable.
Want to go grocery shopping? Take your trike with you! Adult trikes have amazing cargo capacity, you can easily stack groceries and lightweight structure also makes these rides fun!
The Adult trikes can be very comfortable, the results can even be enhanced with the recumbent models as they have a laid-back construction.
FAQs
What is the best tricycle for adults?
The best adult tricycle brands available:
Schwinn Meridian
Mantis
Barbella
Vanell
Why do adults ride tricycles?
Tricycles offer amazing comfort and performance, even more so than regular bicycles and that is what attracts them.
How much are tricycles for adults?
The starting price of adult tricycles is between $180-$200.
Recap
Adult tricycles are amazing for a variety of reasons, you get amazing performance, features, and comfort all bundled in one exceptional package. There are many variations to choose from, either go for the upright or recumbent models. There are some advantages that are exclusive to tricycles, and they are perfectly suited for people with back pains and disabilities.