You want to get your kid started on biking, but there are so many options out there it makes your head spin. We get you. As a parent, guardian, or even an adult in a toddler's life, you get the chance to introduce a wonderful phase of biking to your young one.
Your toddler deserves the very best, and that is why we have searched the nooks and crannies to bring you only the most amazing bikes and tricycles. It's time to unveil our top picks. Drum roll, please.
Best Bicycles For Toddlers
Here are our top 10 picks by category:

Best Push Bikes
No.
Bike
What Makes It Special
Price ($)
1
Woom 1
Lightweight, Saddle height: 14.4"
249
2
Strider 12
Lightweight steel frame, low price
129.99
3
Banana Bike
Air tires, low price, good quality
69
Suitable For 2 Year Old
4
Costzon Tricycle
Small size, 4-in-1 Tricycle
119.99
5
KaZAM v2e
balance bike, steel frame, 10 color
58
Best For 3 Years Old
6
Joystar
Lightweight, blue, red, orange, ivory, and pink
139.99-169.99
7
Radio Flyer
Lightweight, low price, adjustable
69.99
Tricycles For Toddlers
8
Schwinn Roadster
Gorgeous retro look, easy to steer
109.99
9
Fischer Harley Davidson
Lightweight using plastic, low price
39.99
Tricycle For Kids
10
High Bounce Tall Tricycle
Lightweight, Metal frame, price
49.99
11
Radio Flyer
Adjustable seat
99.99
The whole essence of getting a Push Bike is to teach your toddler balance and confidence while riding. We have picked a handful of amazing balance bikes that do all these and more.
1. Woom 1- Editor's Choice
Price: MSRP $249.00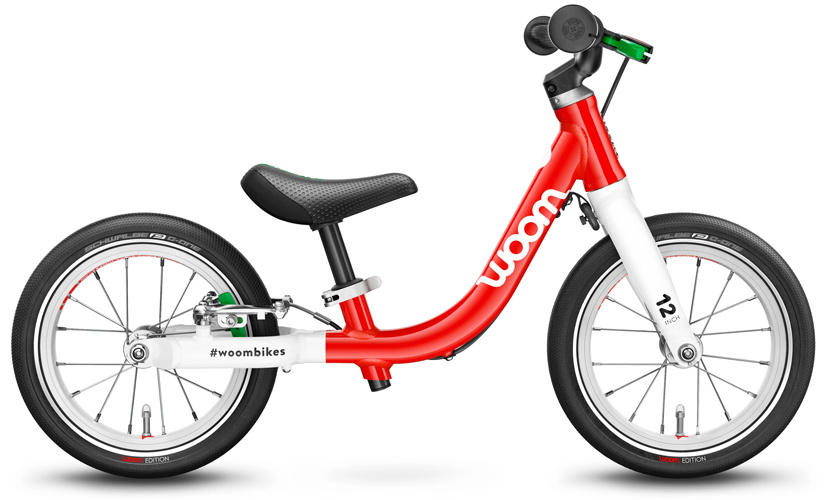 This balance bike is almost too good to be true! I love how every part was manufactured with expertise. When my kid was ready to transit on a bike of her own, I purchased a Woom 1 without any hesitation and it's the best toddler bike out there. It was such a comfortable bike that she fell in love with this activity and used to look forward to her time on her bicycle.
You'll notice the cushioned air tires, the lightweight frame, and the way your toddler sits upright on this bike. Do you know what's even better? If you want to go bigger, you can opt for the bigger size called Woom 1 Plus. It's best for polishing gross motor skills.
The bike can carry a weight of 3kg (6.6 lbs), my child was around 2.5 kg when we started riding on this one but she rode it for quite some time. The 12" wheel size and 14.4" saddle height made it perfect for a kid her age. The Lightweight AA 6061 aluminum frame is step-through which made it much easier for her to control her bike. But what I loved the most about this bike was that it came already assembled. It surely did save me a lot of time.
Advantages
Incredibly light
Cushioned air tires that will make your toddler comfortable
Aids an upright posture
The handbrake is pretty easy to use.
Very easy to balance
Disadvantages
It has a small seat height range
Editor's Choice: What I really loved about the bike is its child-sized rear-wheel hand brake. It's really fun for toddlers to use and learn to ride on two wheels along the way.
Read also: Best Woom Bikes Review And Ranked
---
2. Strider 12 Sport Balance Bike
Price: MSRP $129.99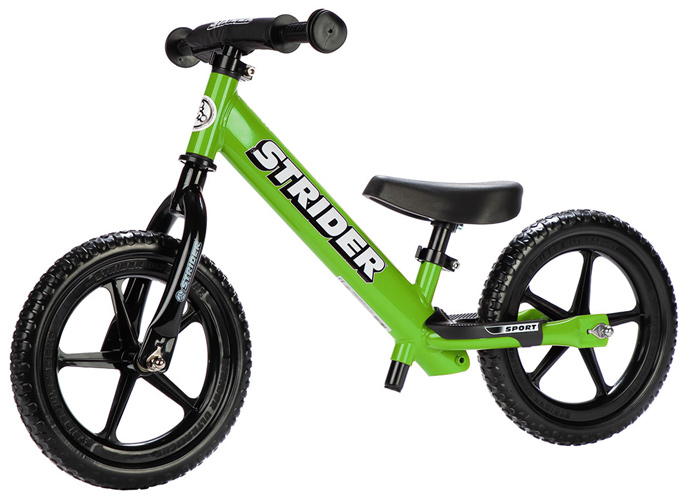 This bike is a great option if your toddler is between 2.5 to 3 years old. Although, I would not suggest it for older toddlers because of its foam tires. It can be uncomfortable for older kids and they might end up damaging the tires on the whole. In this sense, the use of the bike is somewhat restricted and that's why Woom 1 was my go-to option.
This bicycle is a favorite among toddlers who are learning how to balance. Unlike pedal bikes, it is lightweight and durable. It is a single-gear bike and weighs around 6.7 lbs. It's mainly because of the steel frame. Now the bike itself can be heavy for a toddler because it weighs almost the same as their own weight!
Advantages
Easy to assemble
Durable (Can last for years if handled properly)
Quick releases, making the adjustment of the handlebar and seat poles easy.
Sturdy
Multiple color options
Disadvantages
Its foam tires are slippery
There are harsh chemicals in its grips
Why I Like It: The Strider will guarantee a fun and safe riding experience for your learning toddler. The no-pedal design allows the child to learn handling and balancing rather than pedaling.
Read our review of Best Balance Bikes for Kids here.
---
3. Banana Balance Bike
Price: MSRP $69.00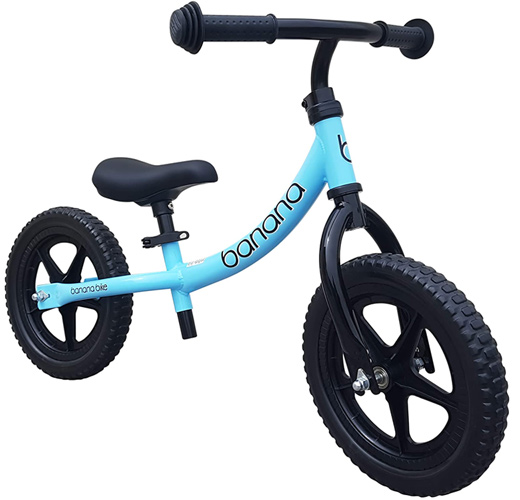 Yes, this bike stays true to its name, and it is actually shaped like a banana. Are you searching for a great balance bike with amazing qualities that won't break the bank? The banana bike might be the best fit. This bike is particularly affordable. It comes in two versions; the banana bike LT (which is 12" – 16") and the banana bike GT (which has a seat height of 12.5" – 17"). The great part is it only costs $69 and gives you value for your money.
You have the option to choose between the Air tires(Banana GT) and Foam tires (banana LT) with a 15.75" (Banana LT) or 15" (Banana GT) handlebar. You can also choose a seat height between 12" and -17". It weighs around 8.1 lbs so that's something to consider.
Advantages
Incredibly affordable
Low standover height
Air tires (Banana GT)
Puncture-proof foam tires (Banana LT)
Highly adjustable seat height
Disadvantages
Foam tires are slippery on hardwood floors
Why I Like It: This bike is loved among many users for its great quality and not to forget easy assembly! If you are looking to save some time on the assembly part, you have to consider this as an option.
2-year-olds need bikes that are just the right amount of fun and ease. We've rounded up two awesome bikes. These bikes have great quality, appropriate wheel sizes, several color options, and safety features. What more could you ask for?
4. Costzon 4-in-1 Tricycle
Price: MSRP $119.99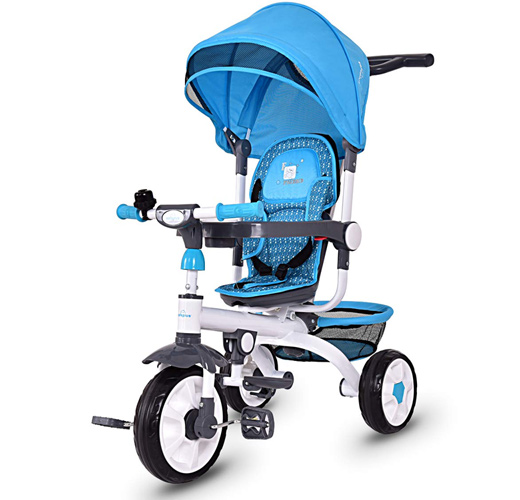 I love this tricycle for its unique appearance. It is one of the best for 2-year-olds. No jokes. Safety seems to be the priority of the manufacturers and this is evident in the safety belt and armrest included. It's an amazing bike to get your toddler started without worrying about them falling off.
The adjustable straps will see to it. What a relief, isn't it? This 4 in 1 tricycle has 10 inches wheels and is available in blue, blue and white, red and white colors.
Advantages
Canopy to protect your toddler from the sun rays
Cupholder
Removable push handle
Seat belt and armrest
Rides quietly
Disadvantages
The steering is extremely sensitive (it turns at the slightest push)
Why I Like It: The fun part is that it is easily convertible into a trike and when your 2-year-old is not in the mood to ride on their own, you can simply push it for them. The fun is never-ending.
---
5. KaZAM v2e No Pedal Balance Bike
Price: MSRP $58.00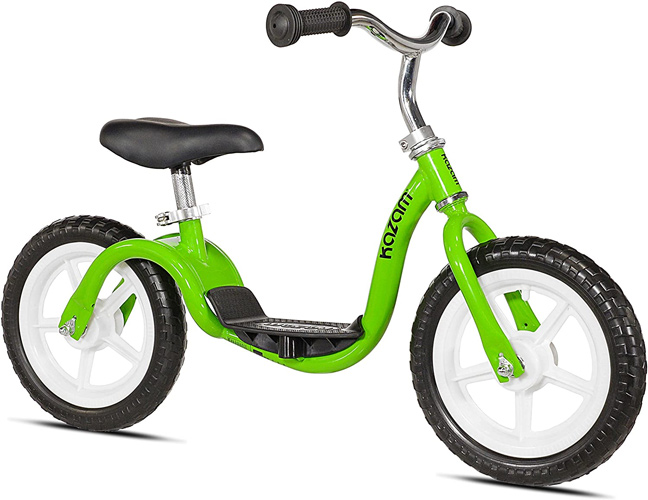 I know how quickly 2-year-olds grow out of their bikes and how stressful it is to begin the journey of picking another bike all over again. That is why I have selected the KaZAM v2e as one of the best bikes for 2-year-olds.
It has exciting features that will probably make you consider it for your next purchase. The footrest included helps your toddler to balance properly. If you're wondering if it can get any better, yes, it can. There are 10 color options! I love it! This balance bike has 12-inch wheels and weighs 8 lbs. It's made of steel.
Advantages
Maintenance and puncture-free Eva tires
Footrest helps your toddler glide comfortably
10 different color and pattern options.
Adjustable handlebars and seat
Great for learning to balance
Disadvantages
Why I Like It: If your kid is having a hard time learning to ride a bike on their own, I would recommend you get this bike. It gives them the confidence they need to ride on their own and has all the features to help them polish their skills.
When buying a bike for a 3-year-old, it is important to consider the need for bikes with adjustable features to accommodate your toddler's growth spurt. The bikes listed have increased wheel sizes, training wheels, storage, and other fancy features.
6. Joystar Kids Bike With Training Wheels
Price: MSRP $139.99-$169.99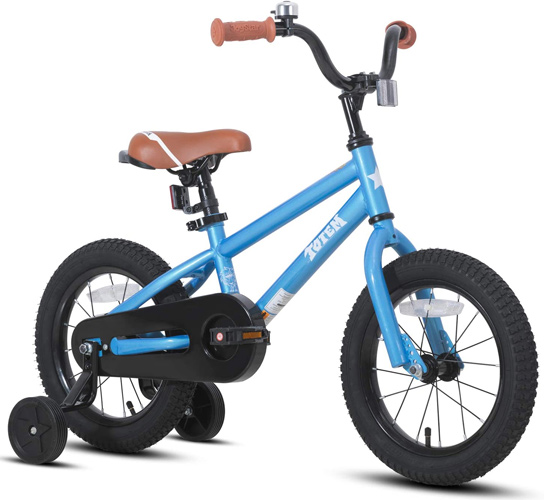 As your child gets older, you'll want a bike that has more advanced features. This bike has training wheels that will help provide stability for your toddler. It also has 12 and 16-wheel options. It weighs 18lbs and you can get it in blue, red, orange, ivory, and pink
Advantages
Sturdy frame
Training wheels
Easy foot brake
Decals for customizing the bike
Cute bell
Disadvantages
Why I Like It: The bike is simply adorable and has plenty of room for your kid to grow. Moreover, they have very good customer service so you don't need to be worrying about ordering online.
---
7. Radio Flyer Deluxe Steer And Stroll Trike
Price: MSRP $69.99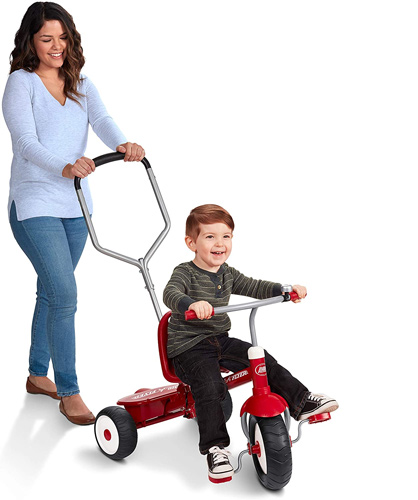 This bike stays true to its name. It is a hybrid of both a stroller and a tricycle. This baby bike has a detachable handle that you can use to push. The tricycle is sleek and has special features like a storage bin for all your toddler's adventures. The good news is that it's a great option for 3-year-olds, and it's still not limited to this age. It could also work for ages 2 – 5.
Advantages
Adjustable seat
Sturdy
Parent controlled steering
Multipurpose pedals
Storage bin
Disadvantages
Why I Like It: It's really easy to push your child when they don't want to pedal or are getting a hold of it. It's a fun bike that you cannot go wrong with.
8. Schwinn Roadster Tricycle
Price: MSRP $109.99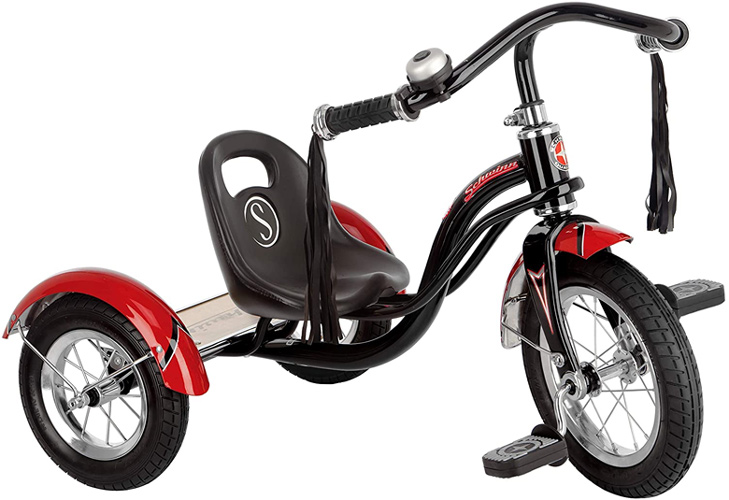 This bike is for parents who are looking out for an aesthetically pleasing pedal bike for their toddlers. This is honestly a great toddler tricycle. It comes in versatile color options that make it ideal for both boys and girls. Apart from its retro look, it features air-filled tires that will easily carry the weight of your child through any path.
Advantages
Gorgeous retro look
Easy to steer
Chrome bell
Sir filled tires
Fenders on the wheels
Disadvantages
Pedals may be difficult to push
Why I Like It: The Schwinn Roadster Tricycle is a well-built bike with tight steering and a comfortable seat. Your toddler will love the stable ride.
---
9. Fischer Price Harley Davidson Tough Trike
Price: MSRP $39.99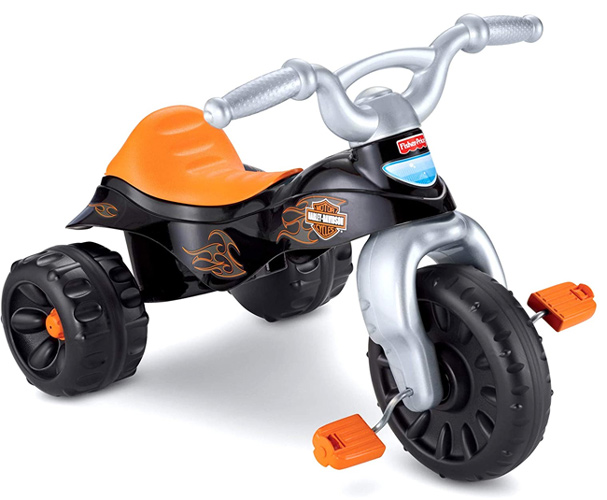 The first thing you might think when you look at this toddler bike is that it looks a lot like a motorcycle. It's a sturdy bike with stable wheels and good pedals. It's a boy's bike made of plastic. Although the pedals are a bit far, it's not going to be an issue to reach them for taller kids. That's why I suggest this bike for only tall kids.
Advantages
Storage
Nice designs
Easy-grip handlebars
Sturdy wheels
Stable pedals
Disadvantages
Why I Like It: It's a big trike that will fit your tall toddlers easily. It's very easy to put together, takes hardly 30 minutes, and is really lightweight.
10. High Bounce Extra Tall Tricycle
Price: MSRP $49.99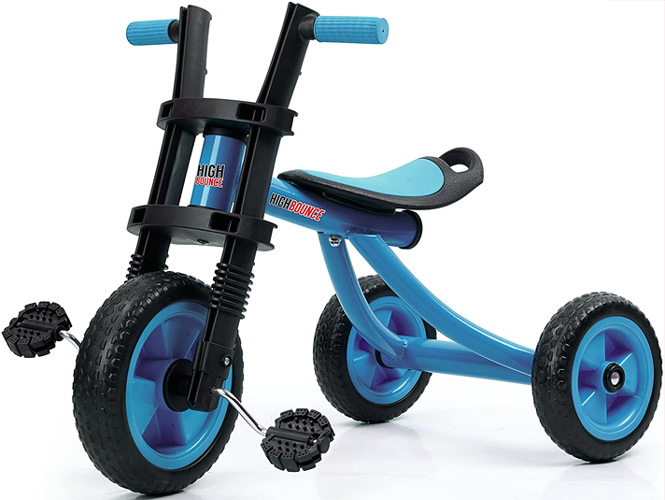 This tricycle for older kids 3-6 years old has about %75 5 star rating on Amazon. It's a high-quality tricycle that has an adjustable seat and a rubber handle. It is a great bike but I would suggest you to check the measurements of your child and the bike properly because it has two notches on each side of the frame, You child's knees can rub against them and it can be uncomfortable.
Advantages
Non-slip pedal
Adjustable seat
Lightweight tires
Smooth riding
Large comfortable seat
Disadvantages
Some parents complained of a cracking noise
Why I Like It: The High Bounce Extra Tall Tricycle is really durable for a kids' toy. This ride-on toy is sturdy and has the room to let your child grow.
---
11. Radio Flyer Deluxe Big Flyer
Price: MSRP $99.99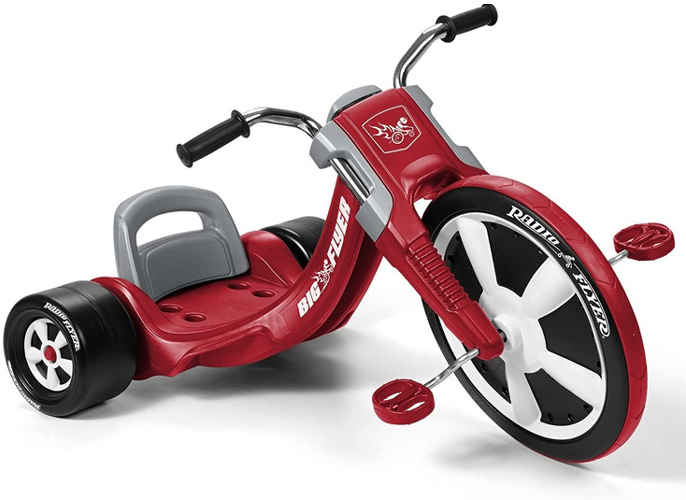 This is one of the best tricycles for kids, and it is most suitable for ages 3-7. It has a large 16" wheel that has good traction. It's adjustable seat and sleek design won our hearts. It's advertised for 3-year-olds but I would recommend you to get it for children 5 years and above.
The reason is the placement of the pedals. There is no way a three-year-old can reach those pedals without compromising their safety. But if you have a tall toddler, they can make use of it for more time!
Advantages
Adjustable seat
Good quality
Racing design
Chrome handlebars
Easy to assemble
Disadvantages
Some parents complained about the noise
Why I Like It: The Radio Flyer Deluxe Big Flyer is a cool bike for your toddler to ride on. They will surely be turning heads with this one.
---
How Old Is A Toddler?
A toddler is any child whose age ranges from 1 – 4 years old. Once your baby celebrates his/her first birthday, he/she becomes a toddler. If you have a child in this age range, you may want to read on to discover suitable bike options.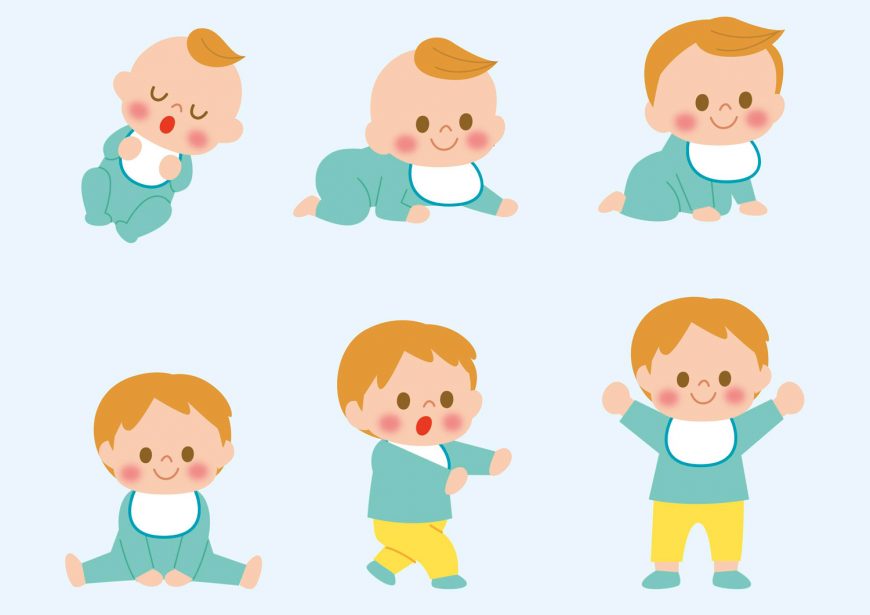 Types of Toddler Bikes
Before we pare it down to specific bicycles for different age groups, let's look at some toddler bicycles out there and their unique features.
Push Bikes
Pushbikes, balance bikes, running bikes, glider bikes, call them whatever you want to. These bikes might make you chuckle the first time you ever see them because there are no pedals! If you're asking what the point of buying a pedal-less bike is, we'll tell you. They help your young one to learn balance. Balance is a very vital skill for bike riding. Without a sense of balance and coordination, your toddler will find it difficult to ride a proper bike smoothly. We are pretty sure you don't want that.
Tricycles
Tricycles are ideal for toddlers who have just started walking. They have 3 wheels and are generally safe because they require no balance to ride. If you're looking for a smart way to introduce cycling to your toddler, you might want to consider this option. It's pretty safe and easy.
Small Wheelers
Small wheelers will be the best choice if your kid is already getting mature. They are a smooth transition to bigger bikes. The only downside is that sometimes it might be difficult to get the appropriate size and your toddler will need much more practice.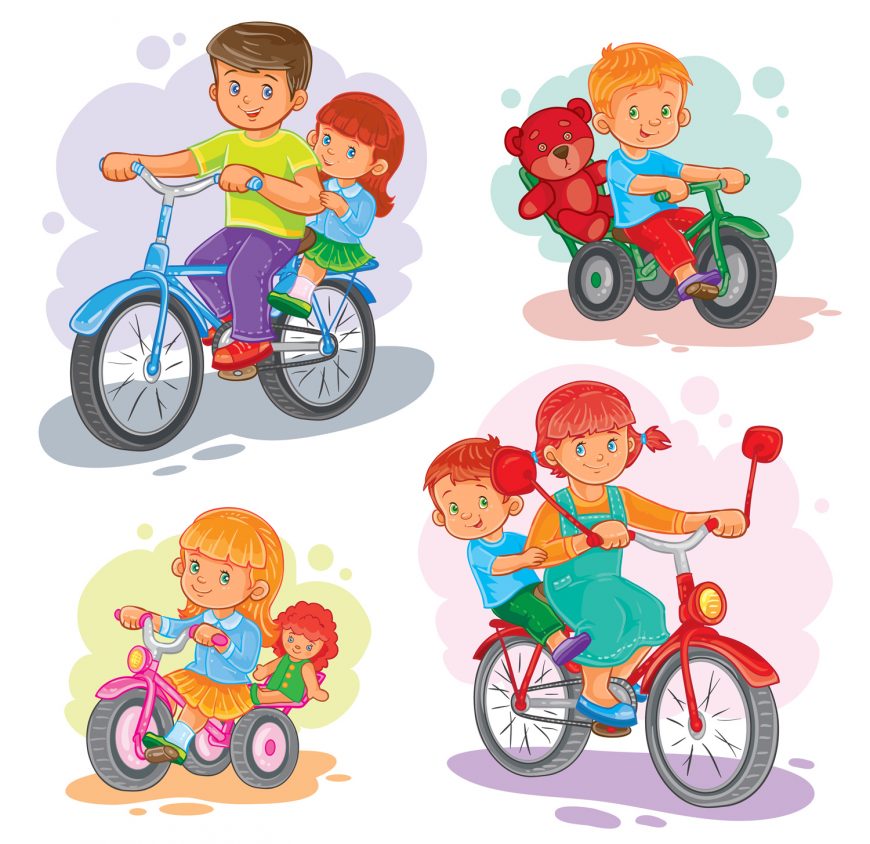 How To Choose The Best Bike For Toddlers
It's not enough to just know the types and brands of bikes out there. Another essential thing is knowing how to pick the best one that your child can use for a good period and probably hand down to a younger one. When we want to choose bikes, it's important to look out for these factors.
1. Weight
You don't want your child dragging something heavy across the park or driveway all the time. The lighter bikes work quite well because they make cycling enjoyable. When you buy a lightweight bike, your child has one less worry.
2. Size
Size isn't the same thing as weight though some people believe that a bigger bike automatically translates to a heavier bike. The essence of cross-checking the size of the bike you plan to purchase for your toddler is to make sure that it fits properly. You'll know you've got the right bike size when your toddler can sit on the bike with his/her legs fully resting on the floor.
3. Brakes
For maximum safety, check to ensure that the brake of the bike you're buying performs well. It's better to get a bike with a coaster and a hand brake.
4. Color
The color might be the last thing on your mind when thinking of bikes to buy for your little one. You should consider it because some toddlers can be very picky with colors. You want your tot to scream with delight after seeing the new bike. So think about what colors will likely be better.
Read Also: Kids Bike Size Chart: The Definitive Guide to Kids Bike Sizes
Our Methodology- How We Choose Kid's Bikes
As a parent, I understand the struggle of finding a high-quality kid's bike that fits within a budget. That's why I've dedicated countless hours to researching and analyzing the bikes for kids and teens on the market. I've scoured the web for honest reviews and feedback from verified customers, and I've even tested some of the top contenders myself, including the editor's choice.
Using my extensive knowledge of bike components and their strengths and weaknesses, I've narrowed down the top options that offer the best value for your money. So whether you're looking to get into the sport or seeking an affordable upgrade, you can trust that these bikes have been thoroughly vetted and carefully selected.
Without sacrificing quality, safety, or performance, these bikes offer features such as excellent handling, and durable design, all at a price point that won't break the bank. So if you're ready to let your child enjoy the ride of their life, these are some of the bikes that you must consider
FAQs
What bike size should my toddler use?
Generally, 12-inch bikes are for toddlers 2 feet 10 inches to 3 feet 4 inches tall, while 14" goes for 3 feet 1 inch to 3 feet 7 inches and 16" for 3 feet 7 inches to 4 feet tall.
What age is appropriate for a tricycle?
You'll know when a child is ready for a tricycle. The best time is usually at age 2 or 3 when your child is a bit more mature.
What kind of bike is best for 3-year-olds?
The best kind of bike for your three-year-olds is either a 12" or a 14" bike. They are usually the best fit for your 3-year-old.
Conclusion
With this thorough guide, you should be properly informed on what kind of bike to get for your lovely little one. Make sure to install a bike bell on the bike for your child's safety. Next time you feel overwhelmed by the wide range of options, you have this article.
Also Read: 15 Best Bikes For Heavy Riders