It is not easy being a parent, having kids, and having to care for them and their routines can be a bit challenging at times. Being a parent, you have to make sure that your child performs well at every front of life, may it be studies, sports, or even social life. One of the most fun things that parents can indulge with their children are sports activities, as long as they make it fun, it is very easy to reel a child into them.
Cycling is one of those fun activities, it is something both the parent and child can do simultaneously. It can be both informative and fun at the same time, which should be very attractive to a child. In order to enjoy cycling, parents need to make sure that their kid has the right bicycle, if it is their first time cycling, then the bike should be both easy and fun to ride on.
In this guide, we will be discussing a specific famous brand, Woom Bikes. Woom Bikes is a famous Austrian brand that specializes in kid's bikes. One of the most interesting aspects of the company is that it was founded by parents that could not find appropriate bikes for their children, this actually shows the level of dedication that the company puts in their products. There are tons of bikes in the market now, some of them are good while some are average, still, it is very hard to decide the best bike for your child.
Best Woom Bikes Of 2023: Maximize Joy
Here are some of the best Woom Bikes of 2023, and we took our sweet time making this list for you. Almost all the bikes mentioned have amazing value and will serve your kids for a very long time. We tried adding as many bikes as we could but we also didn't want you to feel crowded. Try these bikes out and let us know what you think!
| Bike Model | Price ($) |
| --- | --- |
| Woom 1 | 249 |
| Woom 1 Plus | 299 |
| Woom 3 | 449 |
| Woom 2 | 399 |
| Woom 4 | 499 |
| Woom 5 | 649 |
| Woom 6 | 699 |
Note: Prices are subject to change and availability.
1. Woom 1 "Best Value Overall"
Price: MSRP $249
Suitable For: 1.5-3.5 Years
Specifications: 12" Wheels, 6.61 lbs.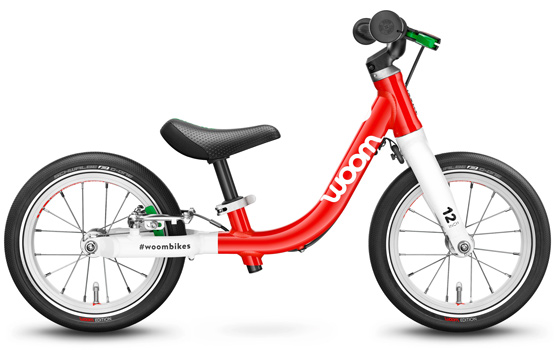 Woom 1 is an incredible learning bike for kids thanks to its lightweight structure. You can use this bike to teach your bike how to cycle on two wheels, once the foundation is strong enough, your child can move onto bigger bikes, rest assured this will be a great learning conduit.
The Woom 1 bike is targeted for age groups starting at 1.5 years, as soon as they learn to walk, you can make the process more interesting by letting them cycle. The fun fact about this bike is that you won't even have to change it until your toddler grows because the bike still supports ages till 3.5 years.
The construction of the bike is very impressive though, there are 12" wheels which are also pretty wide. This makes the bike easy and fun to ride on different kinds of structures like backyards, grass, and even pavements. Your child will also be safe with the bike because it is sturdy enough, there will be no fear of the child falling off.
Definitely go for the Woom 1 bike if you want a fun and comfortable learning experience for your child.
---
2. Woom 1 Plus "Best Enhanced Bike"
Price: Starts at $269
Suitable For: 3-4.5 Years
Specifications: 14" Wheels, 9.48 lbs.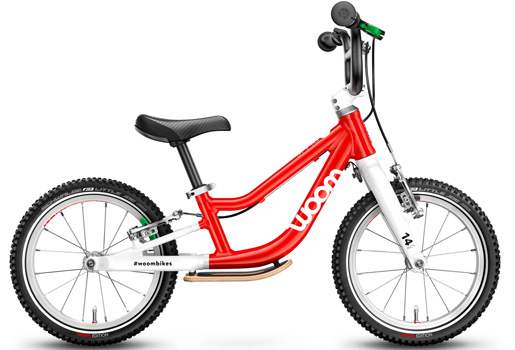 Think of the Woom 1 Plus as an enhanced version of the original Woom bike. The reason to get this bike is that not every child has to start cycling at such a young age, so when they start, later on, the Woom 1 Plus would be there for them.
This bike is now intended for the age group between 3-4.5 years, it is still a learning bike though. Woom bikes stand out from the rest of the crowd, and an amazing aspect of this bike is the wooden footrest that you don't find in the other bikes, this makes the bike even more comfortable for kids. The footrest isn't just going to add to the comfort levels but also make your child more confident. Once they are sure and confident enough they can lift their legs up in the air and then place them on the footrest when necessary.
Safety is a very important aspect when it comes to bikes, which is why the Woom 1 Plus has front and rear handbrakes, you can use them whenever your child tries to rush the whole experience. The bike also comes with a steering limiter, which makes sure that the bike doesn't go to either side too much. You can turn this feature on and off though and that too whenever you want.
If you have children between the age of 3-4.5 years then definitely go for the Woom 1 Plus.
---
3. Woom 3 "Best Features"
Price: MSRP $449
Suitable For: 4-6 Years
Specifications: 16" Wheels, 11.68 lbs.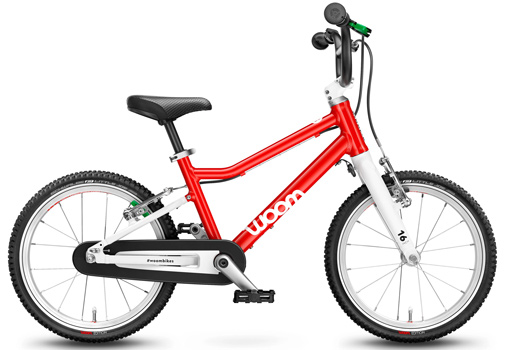 As children start aging, their motor skills and hand-eye coordination enhances. This is the prime time to improve their bike-riding skills and you definitely need a great bike for that. The Woom 3 bike is made especially to help children in that phase. This is also the time when they will enhance their pedaling and handling skills, so this becomes an amazing opportunity for them.
The Woom 3 bike has a longer wheelbase and a lower center of gravity, because of that, it makes the bike very easy to handle and stable enough. The wheels of the bike are also impressive, the tires consist of SOOPA-DOOPA rims, and they are known for their amazing steering prowess.
If you are worried about your child falling off the bike, then your worries are eliminated by getting this bike. The brake levers of the bike are colored so kids would know what to press and when. You can even store accessories on the bike with the trusty kickstand, like water bottles.
The Woom 3 bike is an amazing choice if you want your child's confidence level boosted while also letting them have a lot of fun.
---
4. Woom 2 "Best First Pedal Bike"
Price: MSRP $399
Suitable For: 3-4.5 Years
Specifications: 14" Wheels, 11.24 lbs.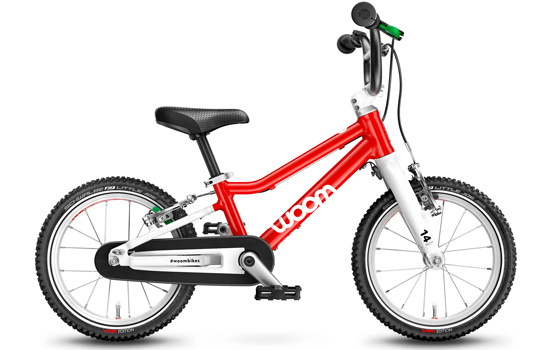 The Woom 2 is a great choice for a first pedal bike for your toddler, the bike makes sure that your toddler gets all the confidence they need while also making sure that they enjoy their time on the bike. Rest assured, the Woom bike 2 has everything your toddler will need for a safe yet enjoyable ride: Wide and confident pedal strokes, strong and solid grips, wide tires, and of course strong brakes!
If you are worried about your toddler getting dirty or being covered in chain grease then don't be, the chainguard prevents all of that. Fun fact: The Woom bike comes with a kickstand for when your child needs a break to catch a breath or a snack.
---
5. Woom 4 "Best Skills Development Bike"
Price: MSRP $499
Suitable For: 6-9 Years
Specifications: 20" Wheels, 16.09 lbs.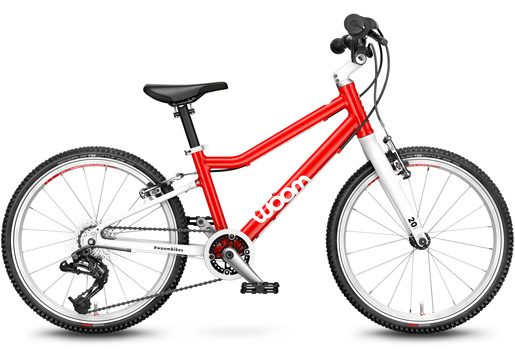 With the Woom Bike 4, it is the time kids learn about shifts and gears and that too in a very fun way. This is a bike that is best for kids that are going to school and even preschoolers, the bike just doesn't boost up their confidence but also enhances their skills.
As far as construction goes, the bike has a 1*8 drivetrain which is equipped with an SRAM X4 derailleur. With that being said, kids just need to focus and pay attention to the rear derailleur which they will be able to handle nicely, without any kind of problems. What does the derailleur do exactly? With it equipped, kids will be able to pedal the bike very effectively, go further by climbing hills, overall they would be having a LOT of fun.
The unique aspect of this bike is that it comes with an adjustable stem, basically, you can adjust the height of the bike by making it higher or longer. This is quite a useful aspect because the bike would be growing with the child, kind of like giving companion vibes.
Woom Bike 4 comes in five fun colors for you to choose from.
---
6. Woom 5 "Best Handling Bike"
Price: MSRP $649
Suitable For: 7-11 Years
Specifications: 24" Wheels, 18.08 lbs.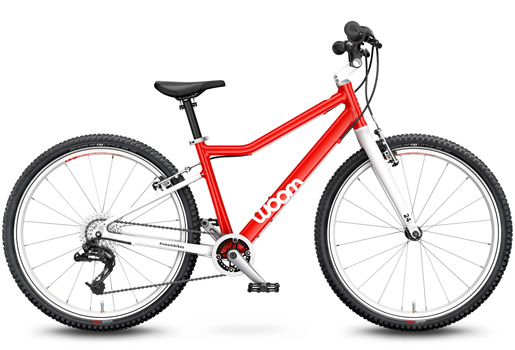 Woom 5 is the next big upgrade for your child, as your kid would be growing, this Woom bike will certainly help with the process. The build of this bike is really impressive, it comprises 24" wheels now, which makes it a good choice for kids that go to school. They can use this bike for school and many other activities, kids that have mastered the art of pedaling, steering, and braking are going to have a lot of fun with the Woom 5.
The SRAM X4 derailleur in the bike gives the kid the kind of freedom they need, they can even go on hilly adventures if they want. With the dual-hand brakes equipped, the bike will be durable enough so you definitely don't need to worry about your kid outgrowing the bike. The tires of the bike are made by the reputable company Schwalbe, which already gives a kind of luxurious feeling to the bike.
The Woom 5 is a great bike for your growing child's adventures.
---
7. Woom 6 "Best Bike For Grown Kids"
Price: MSRP $699
Suitable For: 10-14 Years
Specifications: 26" Wheels, 20.06 lbs.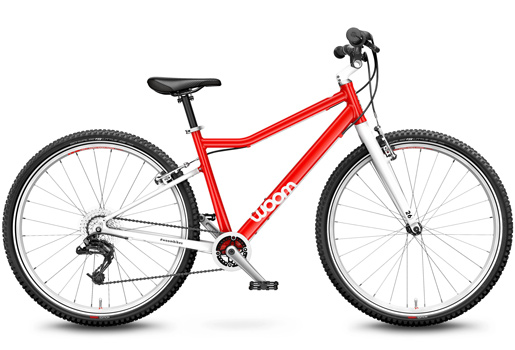 As your child has grown up, they need a fitting bike for themselves, and what would be the best choice rather than the Woom 6? Now, this is the kind of bike your grown-up child deserves, it is very lightweight with an aluminum frame, high-quality yet durable components, and most importantly- they come in a variety of colors so your child would be able to customize the bike to their heart's content.
The construction of the bike is pretty standard but impressive. The weight of the bike is the normal 20 lbs, still not so heavy for kids, and comes equipped with 8 gears and the SRAM X4 derailleur. All of this makes for an amazing bike for every kind of adventure.
Woom 6 has those amazing 26" Soopa-Doopa-Hoops aluminum wheels, they are then fitted with the amazing Schwalbe tires, this combination makes a great fit for off-road adventures, and they also ensure your kid's full safety while riding. Don't worry about the grip and steering, the bike is fitted with both dual and front brakes.
Accessories are also quite flexible with this bike, you get the kickstand for free but you can install others without any kind of problem.
The Woom 6 makes sure that your child doesn't miss out on any kind of adventure without you!
---
Best Woom OFF and OFF AIR SERIES
If you want your kids to go with you for the hilly adventures then it would be prime time that you looked into the Woom Bikes OFF & OFF AIR Series, they are the kid's version of amazing mountain bikes that you can get your hands on. These bikes come with amazing specifications: Front suspension, comfy yet wide off-road tires, and all of them come with amazing disc brakes, so all of your worries are over.
If you are figuring out where these bikes would perform well then we have got you covered, these bikes are perfect for gravel roads, off-road, singletracks, and finally different kinds of trails. So, let's get started!
| Bike Model | Price ($) |
| --- | --- |
| Woom OFF 4 | 849 |
| Woom OFF 5 | 899 |
| Woom OFF 6 | 949 |
Note: All prices mentioned are subject to change and availability.
1. Woom OFF 4
Price: MSRP $849
Suitable For: 6-8 Years
Specifications: 20" Wheels, 17.2 lbs.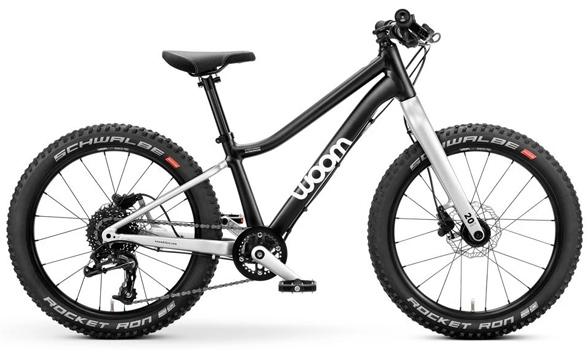 Let's start with the Woom OFF 4, it is a very high-quality kid's mountain bike, don't worry it is cheap and certainly won't be that much of a load. The construction of the bike is very child-friendly with attractive colors and impressive geometry. The bike also consists of a lightweight aluminum frame which proves very easy to maneuver.
Woom OFF 4 bike also offers a standover clearance, this makes it easier for your child to mount and dismount the bike and provide enhanced control.
Worried about the tires of the bike, don't be! The Woom OFF 4 has Schwalbe Rocket Ron tires that are just amazing. With them, your child will enjoy amazing grip and handling. Additionally, the bike comes equipped with an SRAM X5 derailleur, which makes pedaling easier and faster.
The Woom OFF 4 is going to be an amazing mountain bike for your little one so don't hesitate on getting one.
---
2. Woom OFF 5
Price: MSRP $899
Suitable For: 7-11 Years
Specifications: 24" Wheels, 18.9 lbs.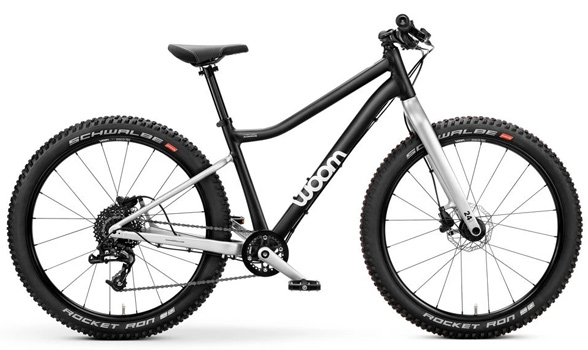 Want the ultimate off-road bike for your grown-up child, you can't go wrong with the Woom OFF 5. Best as they come, the bike won't let you down. The bike is very lightweight as it is equipped with a 6061 T6 aluminum frame which is then built with hydroformed and butted tubes.
The geometry is yet again very attractive, the bike has a lower center of gravity than other bikes and a long wheelbase. Expect it to deliver amazing handling even on uneven surfaces. The Woom OFF 5 has a light carbon fork sam to the Woom OFF 4, other than that it has a hydraulic brakes system, the cherry on top is the SRAM X5 drivetrain, so expect amazing performance from the bike on trails and hills.
As the Woom OFF4, this bike also has the Schwalbe Rocket Ron tires, so expect amazing performance then again.
Trust us, your child is going to have so many fun adventures with the Woom OFF 5.
---
3. Woom OFF 6
Price: MSRP $949
Suitable For: 10-14 Years
Specifications: 26" Wheels, 20.5 lbs.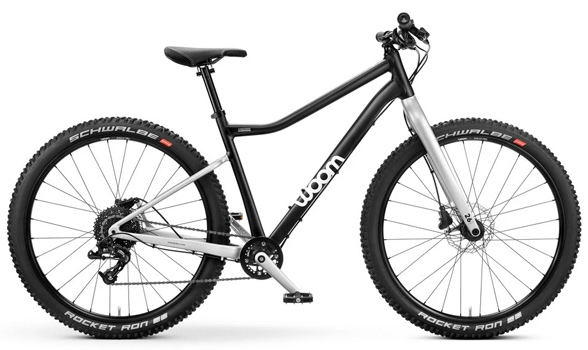 For your child who has just turned 14 years old, it is high time for them to practice the ultimate trail-riding. This is the age of practicing and nurturing their skills, if they do it correctly then chances are that they can even become professionals in the future.
If you want all of that for your child, then trust me, there is no perfect bike other than the Woom OFF 6 for them. It is a perfect combination for people that want to do competitive racing a casual trail riding, which makes it a jack of all trades.
This amazing mountain bike comes with a 9-speed drivetrain, so your child can easily handle serious climbing. The design is amazing as always, the bike comes with a hydraulic brakes system, SRAM X5 derailleur, super light tires, and of course the amazing Schwalbe tires.
The bike is very lightweight (20 lbs) which makes it fun and easy to handle for children. You can't go wrong with the Woom OFF 6.
Best Woom Hardtail Mountain Bikes
Woom makes amazing hardtail mountain bikes and if you are looking for some serious off-road sessions with your kids then the Woom hardtail series is the one to choose without a doubt. If you didn't know, hardtail bikes are those that only have a front suspension, they don't have any kind of rear suspension constructed onto them. They are famous for being quite inexpensive, very durable, and have amazing performance. If you want to go for mountain bikes, then I would suggest that you go for hardtail bikes.
| Bike Model | Price ($) |
| --- | --- |
| Woom OFF AIR 4 | 999 |
| Woom OFF AIR 5 | 1,099 |
| Woom OFF AIR 6 | 1,199 |
| Woom UP 5 | 3,799 |
| Woom UP 6 | 3,999 |
Note: Prices are subject to change and availability.
1. Woom OFF AIR 4
Price: MSRP $999
Suitable For: 6-8 Years
Specifications: 20" Wheels, 19.8 lbs.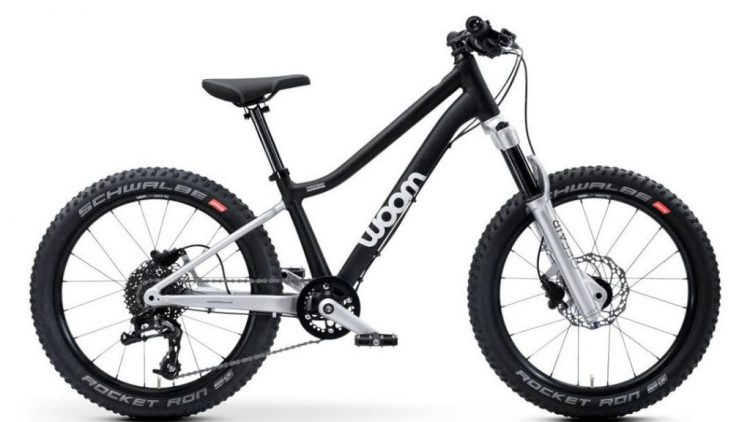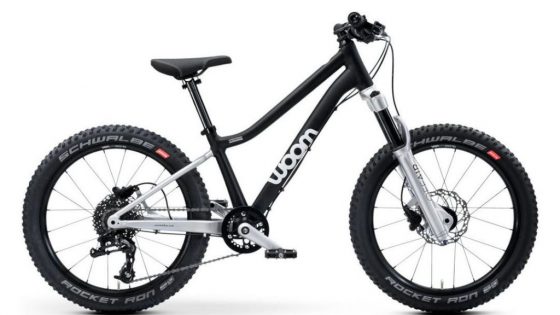 Many of the manufacturers out there, don't make kids mountain bikes for recreational purposes, saying they don't need high-quality materials that much. Woom has a different approach when it comes to the hardtail mountain bikes for kids, they think as adults they are also entitled to amazing products. The Woom OFF AIR series is proof of that approach.
Let's get into the construction of the OFF AIR 4. It is constructed with a 6061 T6 aluminum frame which is also fitted with an amazing air suspension fork, what you get out of all this is amazing durability and performance. The bike can easily provide 60mm of travel. Constructed with a lockout function and a rebound adjust, it can shape itself to each individual's needs.
The Woom OFF AIR boasts an impressive 1*9 off-road specific drivetrain, combined with the SRAM X5 derailleur and a trigger shift. This just won't enhance the performance of the bike to the next level but also be a lesson to children about gears and shifting, this lesson is very crucial.
Construction-wise the OFF AIR 4 and OFF 4 are basically the same. The bike has DISCO TEC double-chamber aluminum rims with highly durable sealed bearings. The bike also comes fitted with the Schwalbe tires which offer amazing performance.
The Woom OFF AIR 4 is going to be an amazing choice for perfect adventures for the little ones!
---
2. Woom OFF AIR 5
Price: MSRP $1,099
Suitable For: 7-11 Years
Specifications: 24" Wheels. 22.3 lbs.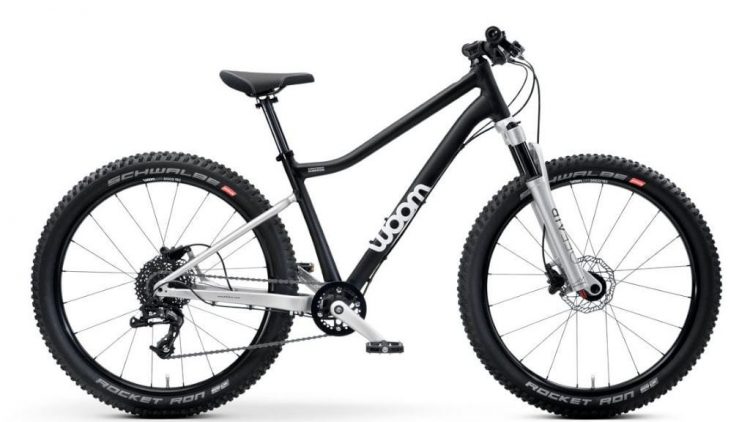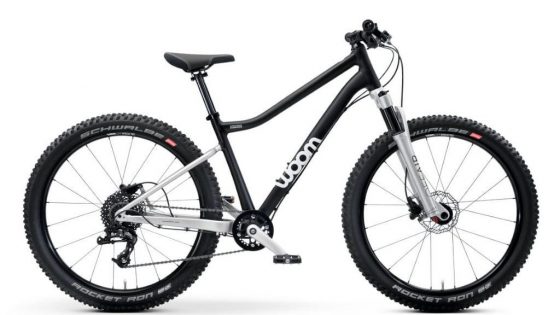 Imagine an amazing kids' mountain bike that has hydraulic disc brakes and an air fork for less than $900. Well, that is no longer an imagination, it is the truth. The Woom OFF AIR 5 has all of that and more.
As far as build goes, this bike is the same as the OFF series, only it adds a plush air fork. This bike can easily give 80mm of travel. If there are some jumps and shocks in your terrain, the Woom OFF AIR 5 will handle it nicely without any kind of problem.
The bike comes constructed with a 9-speed SRAM X5 rear derailleur, expect amazing performance from this bike.
In terms of performance and features, the bike is amazing, the inexpensive price tag comes as a cherry on top..
---
3. Woom OFF AIR 6
Price: MSRP $1,199
Suitable For: 10-14 Years
Specifications: 26" Wheels, 24.3 lbs.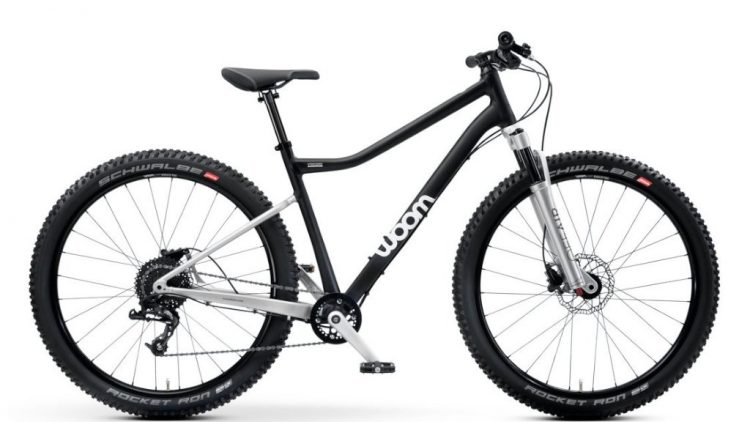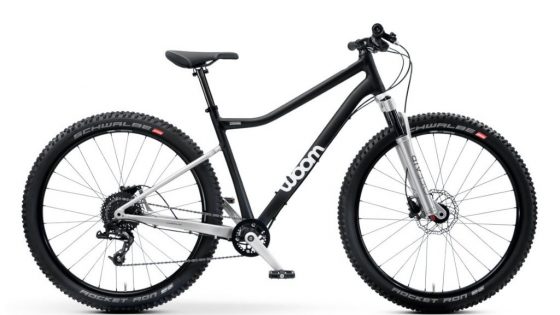 You want your kid to become a pro racer and adept at off-trail rides, one of the best ways to do that is to get them the Woom OFF AIR 6, it ensures the best performance packed with amazing durability.
Don't mistake this as a "Youth" bike, it is the same as a high-quality adult bike, the only aspect it lacks is in geometry and size. Think of it as the perfect transition bike which will allow the kids to learn amazing skills and also grow.
The amazing 26" wheel size allows the kids to perform well and be really flexible. It can also be used by younger kids so that is no problem.
The bike comes constructed with a dedicated suspension fork with a lockout function. Expect to get an amazing performance from this bike. The unique aspect of this bike is the structure that supports the human anatomy, kids can ride for longer durations as their body is comforted simultaneously.
There is no better option for your kid than the Woom OFF AIR 6.
---
4. Woom UP 5
Price: MSRP $3,799
Suitable For: 7-11 Years
Specifications: 24" Wheels, 34.8 lbs.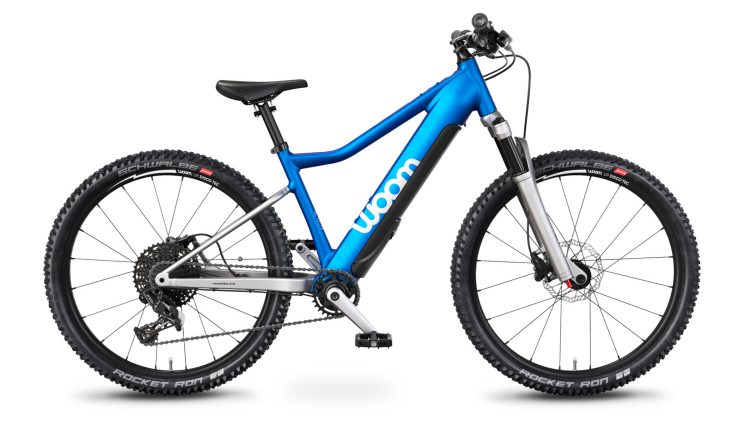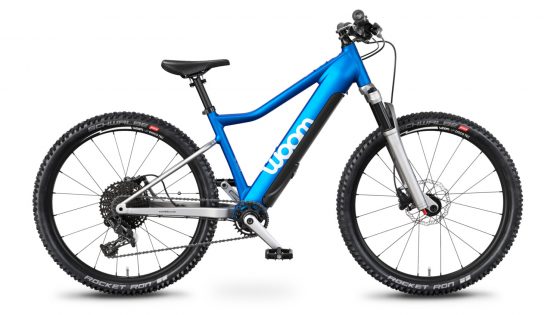 Considering having a fun bike ride with the fam? Why not get the Woom UP 5 for your kids and see them pick up the pace and enhance their skills in no time? The Woom UP 5 is an amazing e-mountain bike that is built with an aluminum frame, it is powered up by the Fazua motor, and it uses a 250WH battery. The top speed that the bike can offer is 12.5 mph which is average and safe for your kids.
The bike comes constructed with a 1*11 SRAM NX groupset with a really massive gear set, the addition of the trigger shifter makes the bike very easy to use. It also comes fitted with hydro-disc brakes that can easily control descents.
The Woom UP 5 offers up to 80mm of travel thanks to the hydraulic suspension fork. This will prove to be an amazing and comfortable bike for your children. Want to make them really happy and competitive? GET THEM THE WOOM-UP 5 ASAP!
---
5. WOOM UP 6
Price: MSRP $3,999
Suitable For: 10-14 Years
Specifications: 26" Wheels, 36.6 lbs.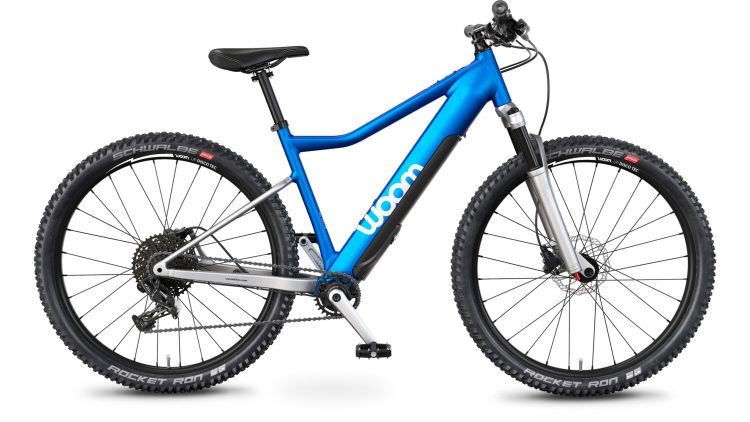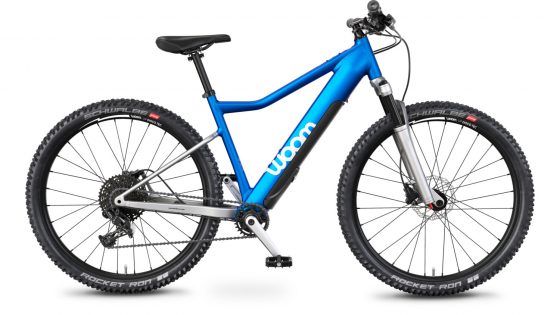 The WOOM UP 6 is a fun and competitive e-bike for kids, who want to go on fun adventures or let them have their own races with friends, this is the ultimate e-bike to have.
The construction of this bike is very impressive as it is made with a lightweight aluminum frame. It is then combined with an air fork, the one used in UP 5, but much more enhanced as the bike offers 90mm of travel. You will find that the headtube of the bike is tapered, which is a good thing. The rest of the components are the same as UP 5.
A defining point of the bike is that you can adjust the handlebar because of a flippable stem. This means that your children can use the bike through their growing stage. The Schwalbe 2.35" Rocket Ron tires are also a nice touch.
Get this and your children will have amazing adventures with you!
---
Accessories From WOOM
A bike isn't complete without its accessories and that is the same case with Woom bikes. Accessories extend the capabilities of a bike while also making it more durable, think of them as compliments to the main bike. Kickstands are very basic can come installed with every Woom bike with the exception of OFF and OFF AIR series. With accessories, you have plenty of options, let me list some of them down for you:
Fenders
Rear racks
Bike locks
Bike bags
Bottle holders
Water holders
Gloves
Lights
Bells
These are some of the accessories that you can get for your Woom bikes. Woom Bikes have a very impressive portfolio, apart from bikes they make cycling apparel, spare parts and helmets, grips, tubes, and much more. If you are worried about the pricing then don't be, their accessories come cheap.
Used Woom Bikes – Where Can You Get Them From?
Getting a used Woom bike is like finding a unicorn, no pun intended! Seriously, the product is in such high demand with only normal supply, and wishing to find them used can be a lot. The short answer is no, Woom doesn't sell used bikes, yes they sell demo bikes to showrooms but that's it.
If you really want a used Woom bike then you would have to be really quick but also patient, check out commercial websites like eBay, Craigslist, or even Amazon. Ask around the neighborhood or if your friends have them, who knows your luck might turn up.
Woom has partnered with numerous charity organizations and they donate their bikes on a yearly basis, some of these organizations are Pedal It Forward, The Center For Cycling Education, PedalPower Kids, and Off the Couch.
Helpful Tips for Choosing a Bike for Your Child
Seeing your toddler grow is one of the best feelings that you can ever have, another great feeling is watching them enjoy themselves and develop new skills. Bike riding is one of the most crucial skills that your child has to develop, they will need this skill to go on adventures, school, and many other places. The possibilities with bikes are endless, so let me start by explaining some helpful tips that will make it easier for you to choose the best bike for your child.
Your Kid's Age and Height
Are Very Necessary
Getting the first bike for your kid is a very exciting endeavor, yeah you have to choose the best one, the cost must justify the value, and it should be just perfect. The first thing that you have to consider is the age and height of your child, which acts as the very foundation of your decision. Although be careful here, some parents make the mistake of using height as the only factor for consideration. Age and height both go hand in hand, one cannot be enough without the other.
Your kid's skills and handling of the bike will eventually depend on their age, you cannot get them an advanced bike that they won't be able to handle properly. Some of the amazing brands are Woom Bikes which specializes in kid's bikes, they have a lot of bikes that you can choose from.
Choose a Bike According to Your Kid's Ability and Skillset
Giving your child freedom and space is very necessary, especially when they would be experiencing their bikes for the first time. Some parents go for bikes that are big and hope that their kids would grow onto these bikes with age but just takes away the fun from everything. Getting a big bike for your child only for the sake that they will grow into it is a big mistake. Kids can never be comfortable with a bike that is bigger than them, they need something they will be comfortable with, a kind of bike they can have fun with.
Do you want your child to have fun and develop their skills? Get them a bike according to their current age and skill set, which will not just boost their confidence but also their abilities. Every kid has a different skill set, they process things differently and this also applies to riding a bike. Some will get it naturally while others will take a while to master, and that is how you need to choose the right bike for them. Judge your child's ability first and then make the appropriate decision.
The Child's Fitness is an Important Factor to Consider
The way your child feels on the bike will ultimately decide if the choice is considerate or not. How to actually check if the bike is the right build and size for your child?
They are able to sit properly on the bike, and their feet actually touch the ground without any kind of help or extension
They can easily straddle the top bar of the bike while having both feet on the ground stable
They can reach the handlebars and handbrakes easily and have no problem operating them
If your child is able to do all of the above easily while seated on the bike then it is perfect for them. Yes, as they grow you would have to manually set the seats and handlebars.
The Weight of The Bike is a Necessary Factor
Choosing an appropriate bike for your kid means the kind of bike they can ride easily without any kind of problem. What fun would be if your kid can't even operate the bike properly because it is more than their weight? The best course of action over here is to get them a bike that is half their size.
Getting a lightweight bike means that kids can try out the bike's potential to the fullest while also improving their skills.
Design and Colors Do Matter
Boys and girls will have different kinds of bikes, the shapes will be different and the colors too. In the end, you have to choose a bike that they will love and enjoy, even the kind of bike that they can brag about to their friends. So choose the bikes appropriately while making sure that your kids love them. Do not buy the same bike for boys and girls as that will set them off.
Accessories and Kickstands are Very Necessary
What fun would a bike be if it doesn't come with kickstands and other kinds of accessories? Parents often complain that the bike they got for their kids didn't have kickstands. You can't necessarily have everything with the bike but you can make sure that the necessary items are installed, for example with kids you need training wheels and kickstands when they are out practicing.
How We Choose Woom Bikes: Our Methodology
Woom Bikes is an established brand, but still, we need to be careful when choosing specific kids bikes. There are different types of kid's bikes, being a parent I am sure that you already know this. There are balance bikes, tricycles, and pedal bikes such as the ones we are looking at right now. No matter what kind of bike there is, our young riders need to feel confident while riding them.
The bikes that we have mentioned in our list are great for normal road biking, and even mountain biking. They have a strong and sturdy build, and this allows them to conquer every kind of trail there is. Woom makes exceptional hardtail mountain bikes for kids, and the electric bikes perform nicely too. Kids will surely take their sweet time getting used to these different types of bikes but once they do, they are in for a lot of fun. Make sure that you pay extra attention to the rear wheel and brakes, a coaster brake is fun to use until it isn't.
Let me give you my own example here, almost all the bikes mentioned here are tried and tested by my children. If a bike doesn't satisfy their standards then it isn't even mentioned. Yes, I know that each kid is different and has their own taste and style but you cannot ignore the basic fundamentals of bikes. Here are some of the aspects that are prioritized when it comes to kid's bikes.
Size and Fit
Wheel Size
Frame Material and Build
Brakes
Gearing (Different Types Of Gears)
Weight
Safety Features
Quality
Budget
These are the most important aspects that you need to consider but they can also vary, you don't only have to stick to these. Make sure to include your own aspects as well, such as the style of the bike and colors. Venturing across a kids bike market is going to be really difficult though, you are going to come across the lightest kids bikes and the fastest, which one would you be going with?
FAQs
Are Woom Bikes Worth It?
Woom Bikes is one of the best brands of kid's bikes, they have a full-fledged portfolio of bikes ranging from ages 2-16. When you choose Woom bikes, know that you have made the best choice.
Where are Woom Bikes sold?
Woom bikes are sold both in stores and online.
Where are Woom Bikes made?
Although they are an Austrian company, they are designed there yet manufactured in the United States.
Do Woom bikes have training wheels?
Some of the models do have training wheels, although you can add them if you want.
Recap
Getting the first bike for your children can be very exciting, you have to make sure that they will love the bike and it will be comfortable to handle, you also have to make sure that the price is right. With Woom bikes, you can never go wrong, they are the preferred brand of many parents as most of them are sold through word of mouth, that's how good they are.
If you choose Woom Bikes then rest assured, you won't regret the decision.
Also Read:
---