To find the best kids' trailer bike for your child, you'll need to consider the Frame Material. A trailer made of high-tensile strength steel is stronger and can easily flex the weight that it is holding because they have a better weight capacity. Try to find a Multipurpose Trailer Bike because they are always a better option as compared to a single-use trailer bike. Another important factor that you must not forget while making a buying decision is your Child's Growth and Interest.
Let's explore in a little detail how these factors contribute to Finding The Best Kids' Trailer Bike For Your Child.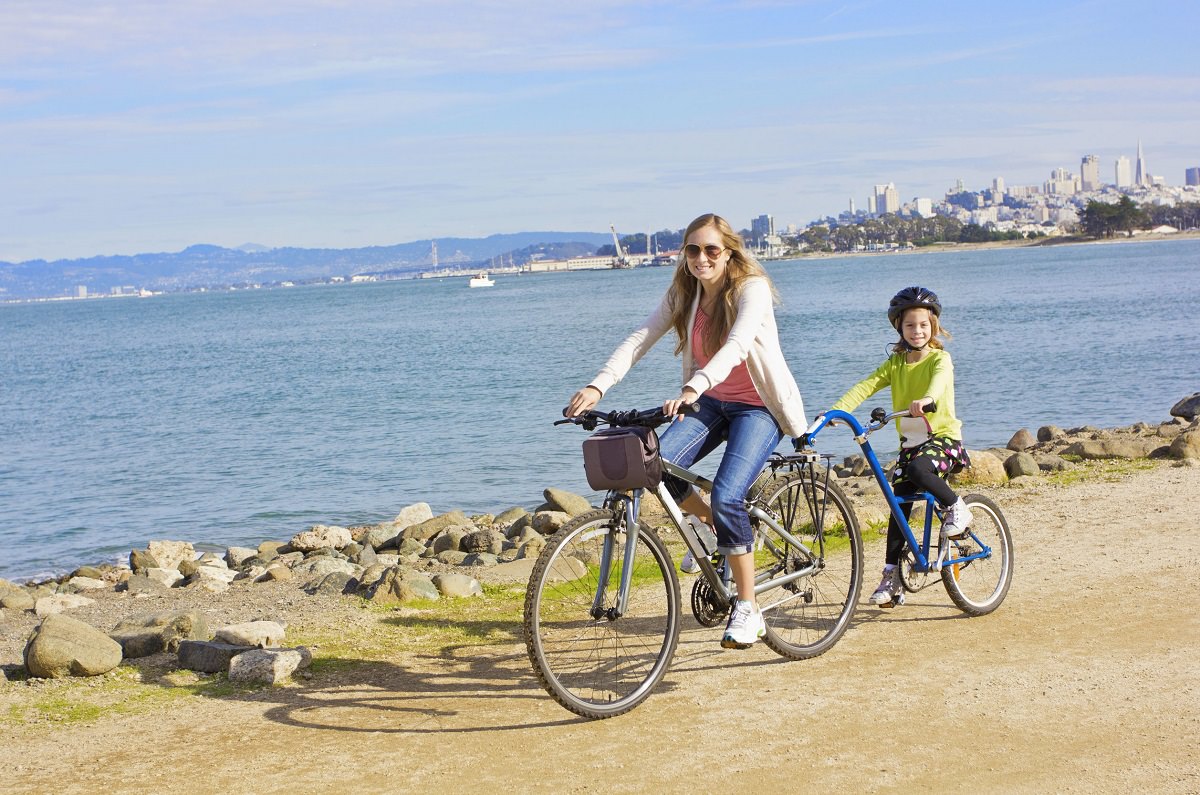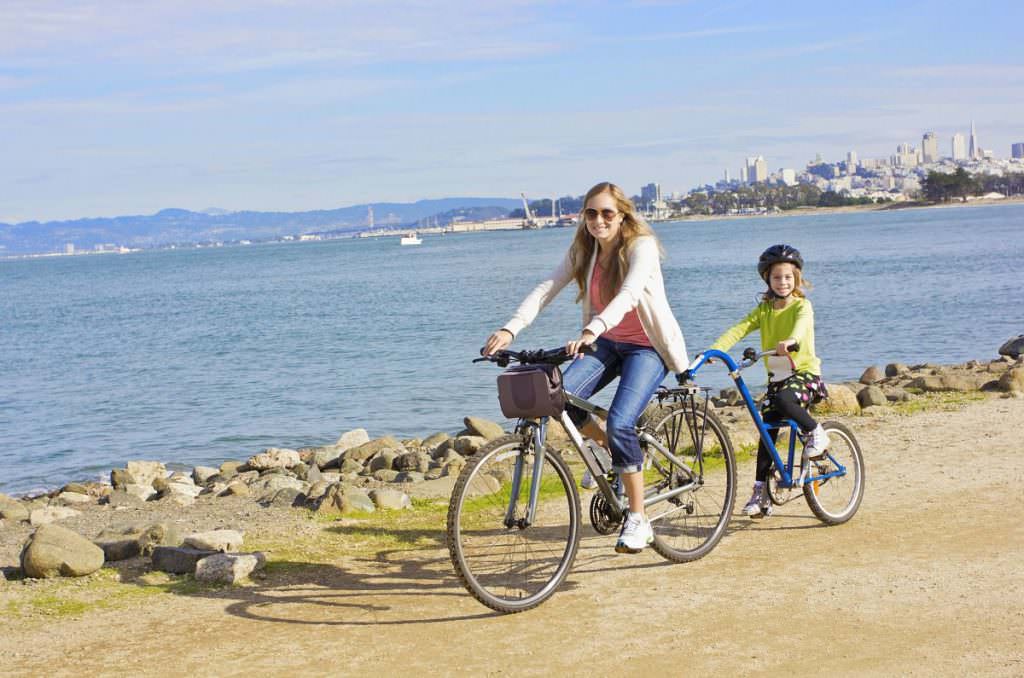 How To Find The Best Kids Trailer Bike For Your Child
Finding the best kids' trailer bike is no longer a mystery. There was a time when I was baffled by the choice I had. My little one was transitioning onto a bike of his own and I wanted to get the perfect kids' trailer bike to make sure he falls in love with cycling.
Choosing The Frame Material
This is important. The added weight of a trailer bike will be very noticeable to you in the beginning but then you will quickly adapt. Most trailer bikes I am finding are made of high tensile strength steel which is basically marketing code for chromoly or something pretty close. Steel is suppler and can flex with the weight of what it is holding. It is a little heavier than aluminum but not noticeable in this situation I think. The average weight of trailer bikes is going to be around 25 lbs so factor that into your decision if you are already worried.
Try Multipurpose
Some trailer bikes are more than just trailer bikes. The brand Weehoo makes a trailer where the child can either pedal or not. It also doubles as a cargo hauler with optional panniers. These might be some things to consider if you need extra space or you are thinking of leaving your trailer bike on full-time.
You can also buy accessories and attach a cargo basket to the cargo area. The Weehoo is also the only trailer bike that you can purchase rain coverings. That way whatever you are carrying, either your kid or your things, they will stay dry and you don't have to worry.
Most trailer bikes will have some means of being able to fold up and store pretty easily. They aren't that big to begin with but if storage is a concern, look into Adams Trail a Bikes. One of the original developers, these bikes are sturdy but have pivoting hitch near the bottom bracket.
Simply undo the quick release and remove the seat and seat post and the bike pivots in half and easily stores in your trunk or elsewhere. You can use them for multi-sport riding. How amazing!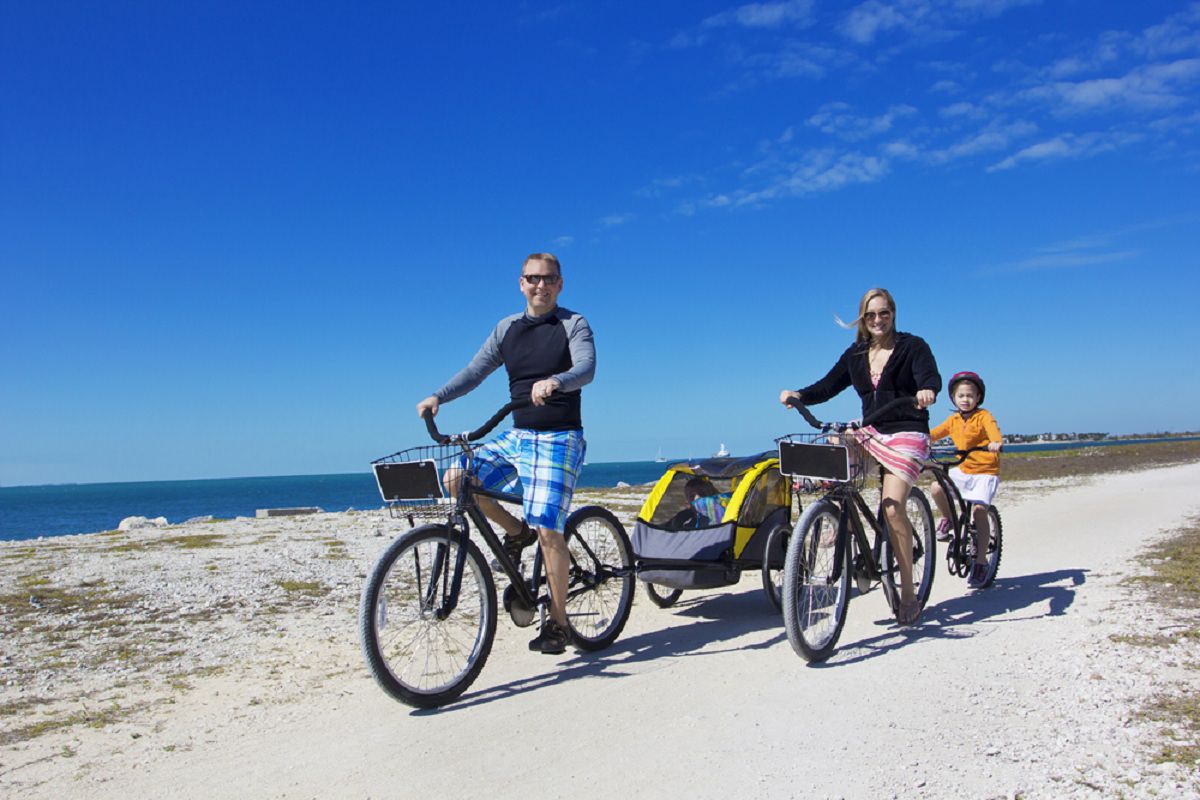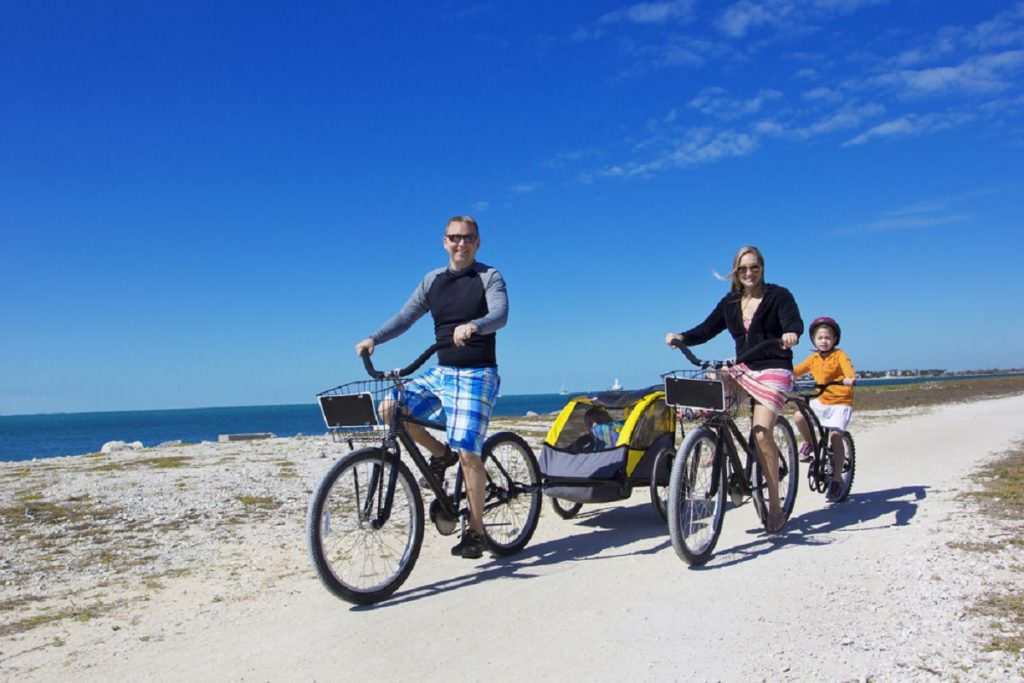 Use Fenders
Depending on where you live, I would say this is a good idea. Either use fenders on your bike or get a trailer bike with a fender on the top tube. Any sort of debris your tire picks up could be potentially hazardous to your child. Another option would be to just buy one without a Fender and just buy an aftermarket Fender you can attach by yourself.
Look For Adjustable Handlebars
Most trailer bikes are going to have handlebars, except for some of the Weehoo models. I think it is important that you get a trailer bike with adjustable handlebars. This will increase the longevity of the bike because you will be able to adjust it as your children get older. It might also just make for a more comfortable fit.
I think it is key for your child to feel comfortable while on the trailer bike because then they will want to ride it more. Some even have handlebars that can be removed to negate the problem of storing something that is in an awkward shape.
Gears Aren't Necessary
Some trailer bikes come with gears. Now to me, this seems like something that has been over-engineered for no real gain. Think honestly, how many hills are you going to go up while hauling your 40-70lbs child on a 20lbs trailer bike? Are you really concerned about them being able to pedal the whole time? I suppose the benefit would be that they already have exposure to geared bikes by the time they are ready to upgrade to one.
Another consideration would be that there are some trailer bikes with gears on the market that you can buy a conversion kit for and turn into a regular bike once your child is ready. This might not be such a bad idea however all of the ones I am familiar with are pretty pricey new. Perhaps this might be something you should shop around for used before you invest $500.
Trailers vs Trailer Bikes- What's The Difference
Kid bike trailers are a little more versatile, but not as involved for the kids who want to be part of all the action. With trailers, you will be able to carry your dogs, guitar, bbq grill, and anything else that can fit. Many have covers that are for the rain or seatbelts for the precious cargo. With trailers, kids are a little less exposed because the frame usually comes up over them instead of the complete exposure of the trailer bike.
Before I get into reviews of specific accessories I will mention something that may not surprise you at all. Kids grow. Everyone I spoke to on forums said that trailers and trailer bikes were really great for kids who were a certain age.
Not only did size become an issue for them but also general interest in the activity. Keep that in mind when you go looking to spend $400 on some new toy. Children won't always take quickly to your hobbies but if you can increase the amount of joy both of you get then at any price I am all for it. Happy Riding!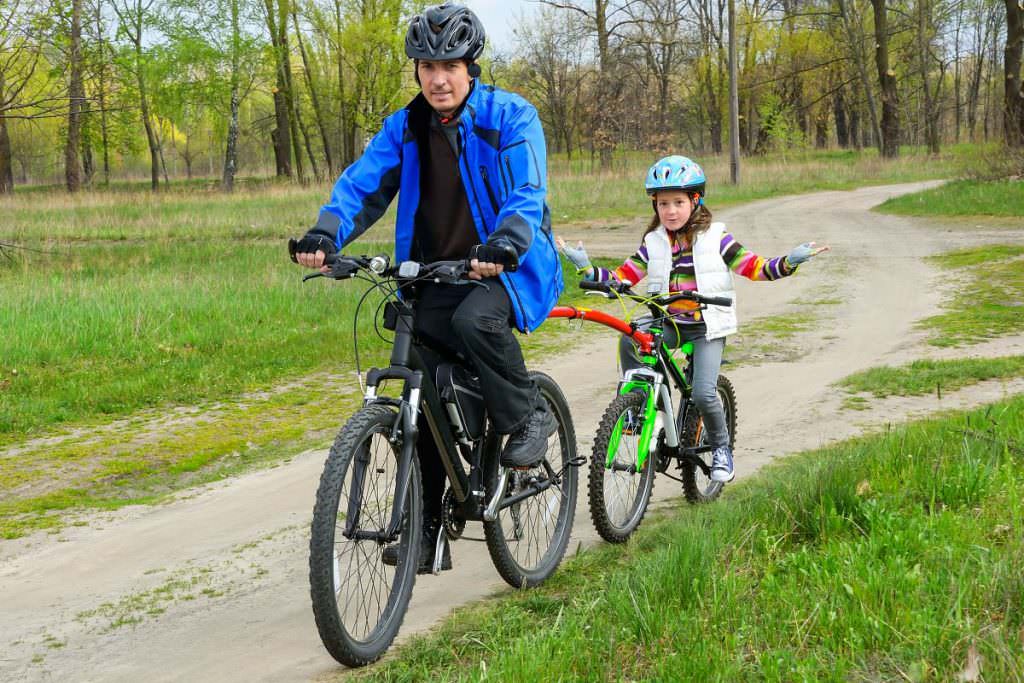 Trailers vs Trailer Bikes-What To Choose?
The biggest problem I have personally had with trailer bikes is their attachment to the seat post. The ones I have used before with my cargo bike used a collar to go around the seat post and fit snugly into a metal clamp that can be tightened using bolts. It was always hard to find the right collar for the seat post and not torque down the hardware too tight. Ideally, the fit should be seamless but you should also be able to remove the trailer bike when are ready to shake off dad mode and ride some trails. Of course, store representatives are going to be able to tell you in much more detail what solution might be best for you.
There are certain things which may help you choose. As I mentioned above, definitely look for something that is easy to get on and off. Some have a coupling system that does not use collars. Who knows, you may even like the ones with collars. Some can turn an existing bike into a trailer bike without much hassle.
Something else to keep in mind about how the trailer bike connects to your bike is the angle of the connecting top tube. Some have a top tube that comes straight out from the seat post. This can cause clearance issues with your back tire especially if your bike frame is already too big for you.
Some have a top tube that angles up giving you more clearance. This type of construction does not compromise the bike in any way but it might make it a little more top-heavy and thus handle differently than a straight top tube connection. Also, storage space is a very big issue with kids bike trailers.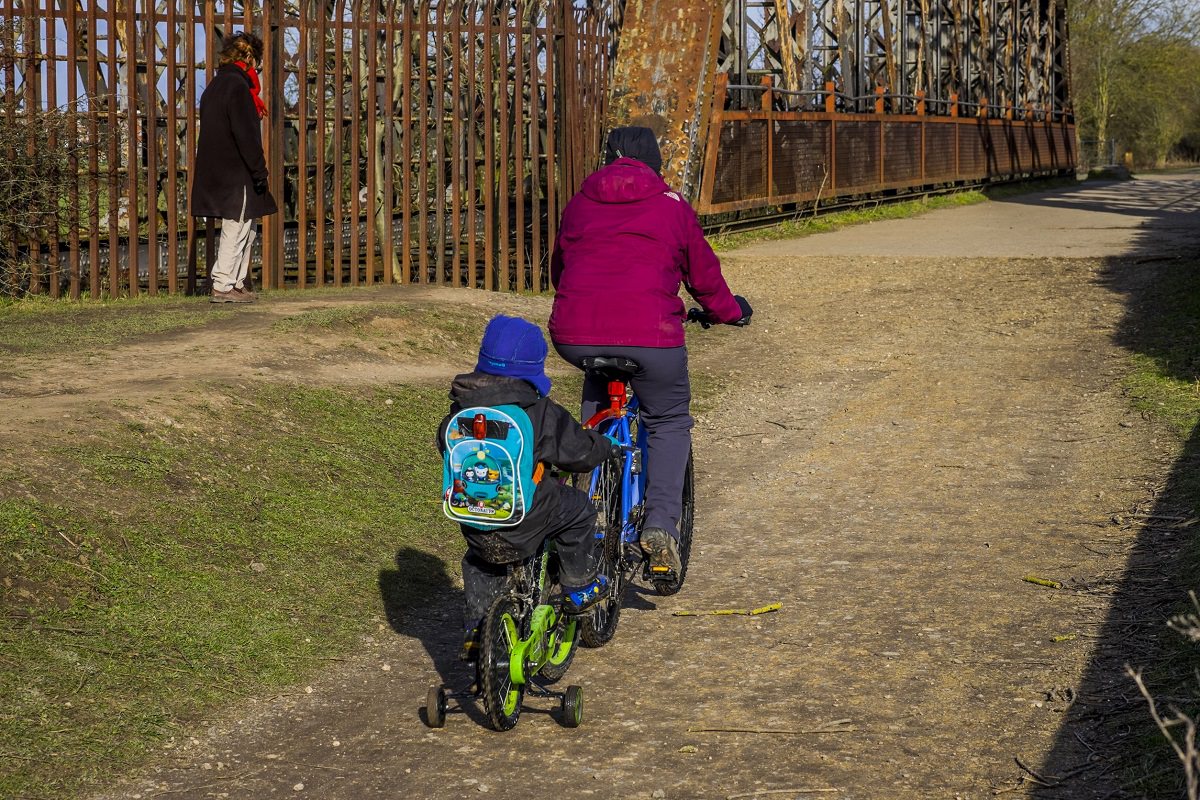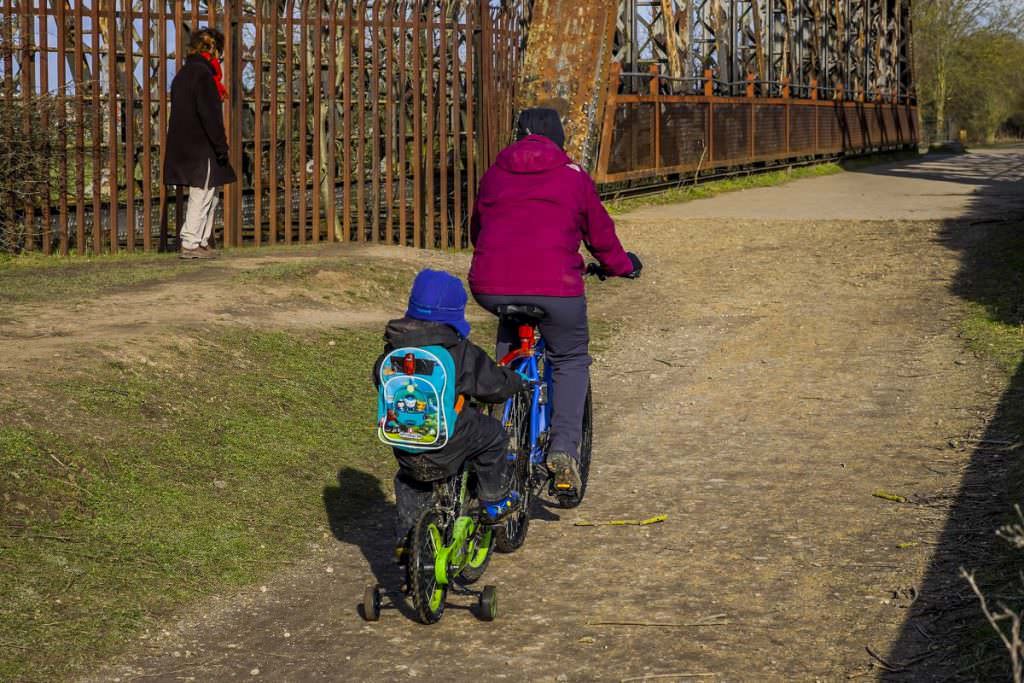 Why Trailer Bikes?
Before I give you suggestions about trailer bikes, I wanted to answer the question "Why Trailer Bikes?"
So this is clearly a website for people who like riding and reading about bikes, and you might even say that we think so highly about bikes that we want to share these beautiful machines with other people, including kids. I am all for it, but sometimes kids need a little more help because, well, they are kids and sometimes the world of cycling can be dangerous.
Sometimes a bike with training wheels isn't the best way to introduce someone that young to cycling because they simply aren't coordinated enough to control it or the reality of traffic and cars scares you to no end. Manufacturers and engineers understand because, after all, they have kids too.
A trailer bike, if you don't already know, is kind of like half of a bike that attaches to the seat post of a normal bike so that a child may feel the sensation of riding without having to balance completely on their own or scare you to death by riding into traffic. By seeing you ride they can learn safe riding practices before they have to put all of these new skills together while riding.
Trailer bikes come with one wheel and a set of pedals. Some are just carriers like a regular bike trailer which of course is another option you have as well. I think the idea of a trailer bike is more to get your kid used to the idea of pedaling.
When my kid was ready for his own bike, the toughest thing I faced was introducing him to the idea of pedaling. It was a whole new concept and he did not seem to get the hang of it. Until I finally got a trailer bike. There is a chain connected to a freewheel so they do have the option to coast, which let's be honest, they will end up doing far more than you would like them to. On top of that, my bet is they can't keep the speed you are going with the small geared freewheel so their pedaling won't have much of an effect at all anyway.
Kids Bike Trailer Recommendations
Finding the best Bike trailer for kids is not a hard task if you have got these recommendations on your list: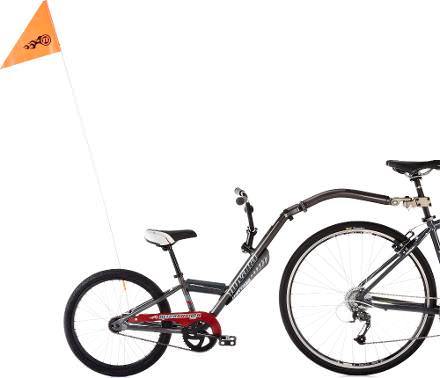 Novara Afterburner 2.0
Easily found at REI retailers, this trailer bike comes equipped with adjustable handlebars and a seat to find the best fit for your child. These same features make it easy to store. It uses a face plate tightening mount which uses 4 bolts to hold it in place on most common-size seat posts. It comes with a mudguard/fender and a chain guard. At $249 it is moderately priced almost right in the middle of all of the other options.
I like the fact that it folds up and doesn't use a collar mounting system like some others. It is still probably more expensive now than I would be willing to pay. Check your local classifieds to see if anything pops up. Kids outgrow these fast so I would expect there to be a few floating around.
---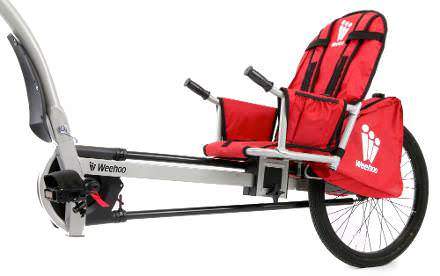 Weehoo iGo Turbo
I like this one because it has the alternate use of hauling extra cargo and I am all for that. Add panniers and suddenly getting all of your groceries for the week isn't a pain on your back. If you get the weather covering, suddenly your child is learning the importance of being an everyday commuter. You can either scoot the recumbent style seat close to the pedals or further away if they just want to relax.
It has a solid steel construction that weighs 27 lbs and it costs $399. Not too bad for what you get and maybe you could turn it into something cool once your children outgrow it. They also make a tandem version in which you can carry two kids for double the fun.
---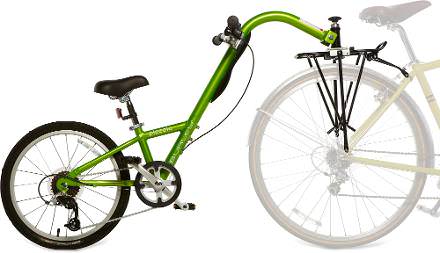 Burley Piccolo Trailer
This gets my vote for the most inventive option. It has all of the standard features the other brands do, including solid steel construction, adjustable seat, and handlebars, and can fit children up to 80 lbs. It mounts a rear rack on the adult's bike and can be easily removed freeing up space for your panniers. This option also has gears, which I think is really only to help it turn into a regular bike if you buy the upgrade attachment.
This trailer bike costs $359 by itself new. The front wheel attachment costs $159 new. Now, if you ask me, I think $520 is far too much for a kid's bike. Even if you do get some added benefit out of its different forms. The reality is you can definitely find both a trailer bike and a kid's bike separately online for under the cost of what it would take to buy this one new.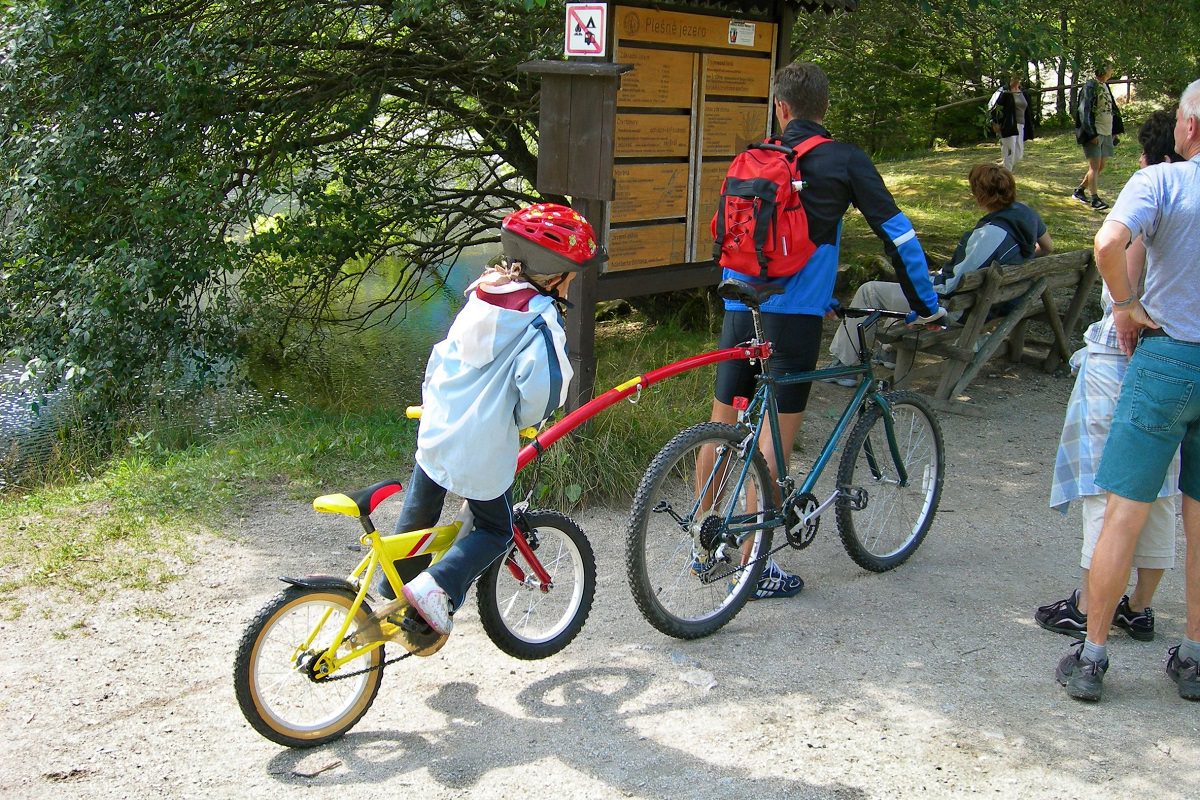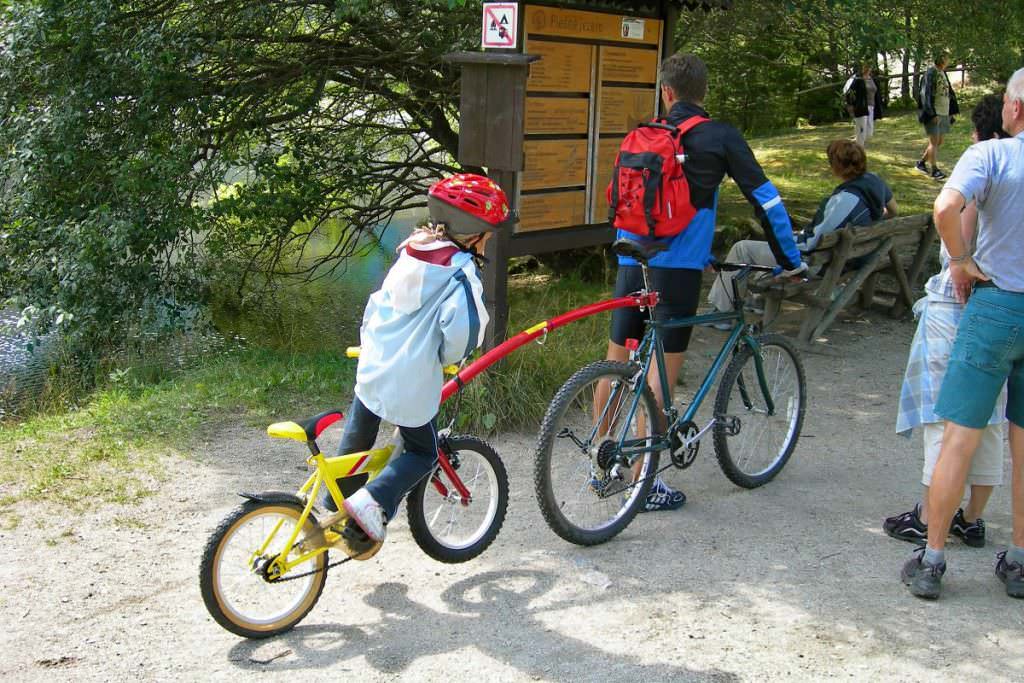 Trail Gator Tow Bar
The trail gator is the last style of trailer bike. It is just a cross bar that attaches to the head tube of your kid's existing bike. It is the most economical option at around $79 not including the original bike. It has a solid steel construction with telescopic folding. You can either fold it and store it, on the bike down one of the seat stays, or you can fully remove it. I don't have any experience with it personally but it looks like a solid by mostly because it seems to be the easiest way for your child to transition to riding their own bike without you spending a ton of cash.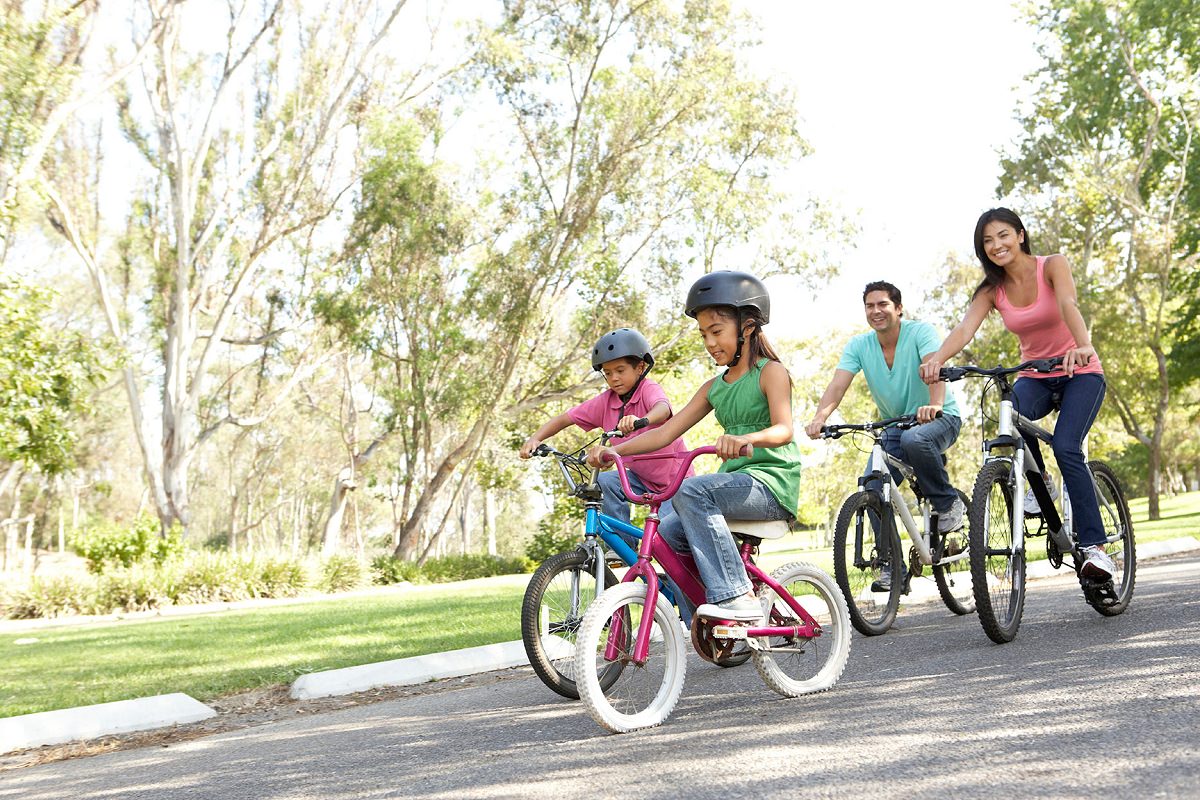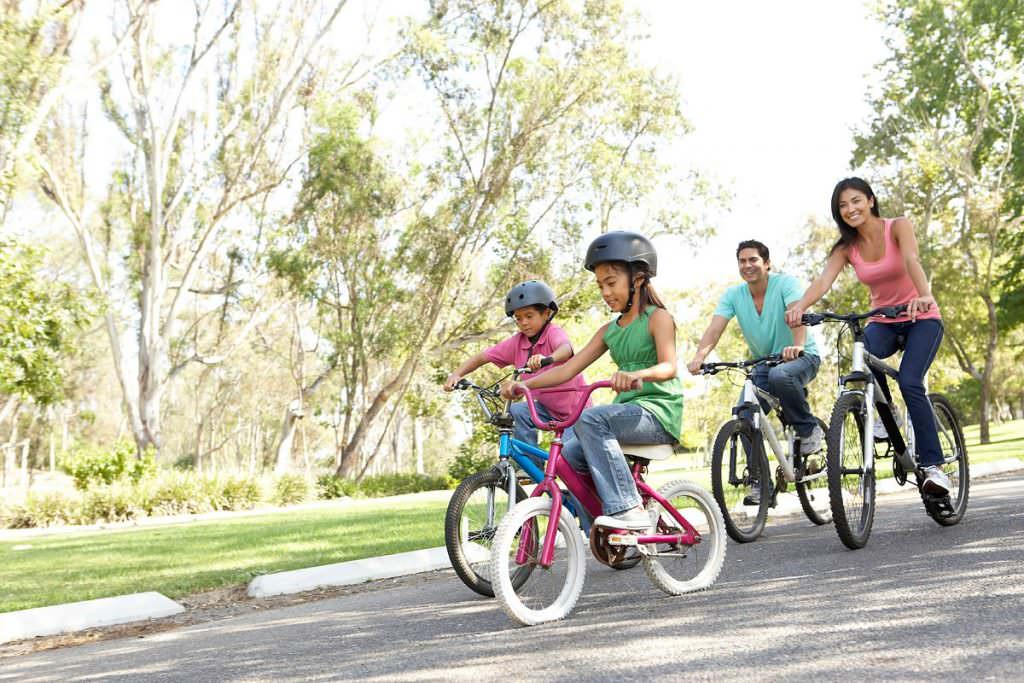 These are really great options but if your child is not yet ready ready to transit onto their own bike, stick to the bike trailers for kids. My recommendation would be to check out the Thule chariot ross, burley bee bike trailer, burley d'lite x bicyce trailer, Thule Courier, and bee bike trailer. These are some of the best bike trailers. Another option is to go for bike seats and you can find plenty of them of them on allen sports. The plus point of having a bike trailer is the extra cargo space. I surely do miss that!
FAQs
Can A 6 Year Old Go In A Bike Trailer?
Yes, a 6-year-old can go in a bike trailer. In fact, trailers are a popular way of carrying your child while introducing them to the concept of cycling as well.
Are Bike Trailers Safe?
Yes, since you are in charge of the handling as well as the bike speed, a kid trailer bike is a safe option to travel with your child.
Verdict
My final thoughts are that the best way to get your children interested in a bike is to put them on a real bike. There are balance bikes or training wheels which can help them get used to the feeling of being on a bike but a trailer bike is a better option to begin with rather than training wheels.
I say this because you can control the environment your kid rides in by actually controlling the route, pace, and everything else. It can also be fun to take them to a parking lot or have them ride around a cul-de-sac. Most places allow children to ride on sidewalks, and if your city doesn't have any, take them down a safe neighborhood street. They will learn so fast it will shock you. For now, enjoy your bike ride and don't forget to wear a helmet.
Also Read: Best Mountain Bikes Under $500