Balance Bikes are extremely fun for kids, once your child gets their hand on them there is definitely no going back. As you might have seen, balance bikes are like your normal bikes, except they are for kids and are pedal-less. In order to ride them, kids use their own set of legs, which is cool and fun at the same time.
Balance Bikes are best recommended for toddlers (Aged 2 and Up), they are fun and educational at the same point. With these bikes, your kids will have immense fun and learn to be independent at a young age, which is the goal.
If you are looking for the best balance bikes for your kids, then you have come to the right place. In this guide, we will be discussing some of the amazing balance bikes you can get. There will also be tons of other information to share here. Stay Tuned!
Before we actually get started, it is very critical to know that these balance bikes are not universal. One size will not fit all of the kids, which is why each different age group will require a different balance bike.
Best Balance Kids Bikes Review
Here are the top balance bikes that we will be reviewing in this guide. Our picks will be further categorized into age groups to make your choice easier and our list precise.
| Best Feature | Bike | Price ($) |
| --- | --- | --- |
| Best Overall | Woom 1 | 200 |
| Best Adjustability | Strider Sport | 110 |
| Best Handling | Prevelo Alpha Zero | 200 |
| Best Components | Woom 1 Plus | 270 |
| Best Comfort | Frog Tadpole | 215 |
| Best Frame | Swagtron K3 | 60 |
| Best Weather Protection | FirstBIKE Street | 160 |
| Best Color Combinations | Kokua LikeaBike Jumper | 350 |
| Best Durability | Haro PreWheelz 12 Gen 3 | 100 |
| Best Weight | Strider – 12 Sport Balance Bike | 150 |
| Best Saddle | Specialized- Hotwalk Carbon | 999 |
| Best Safety Options | FirstBIKE- Cross | 250 |
| Best Aesthetics | Yedoo- TooToo | 199.99 |
| Best Flexibility | Yuba Flip Flop | 120 |
| Best Design | Strider 14x | 149.99 |
Note: All prices mentioned are subject to change.
It's time to say goodbye to the training wheels and plastic tires. Let's start!
Best Balance Bikes For Toddlers
1. Woom 1 – Editor's Choice
Suitable For: 18 Months Till 2 Years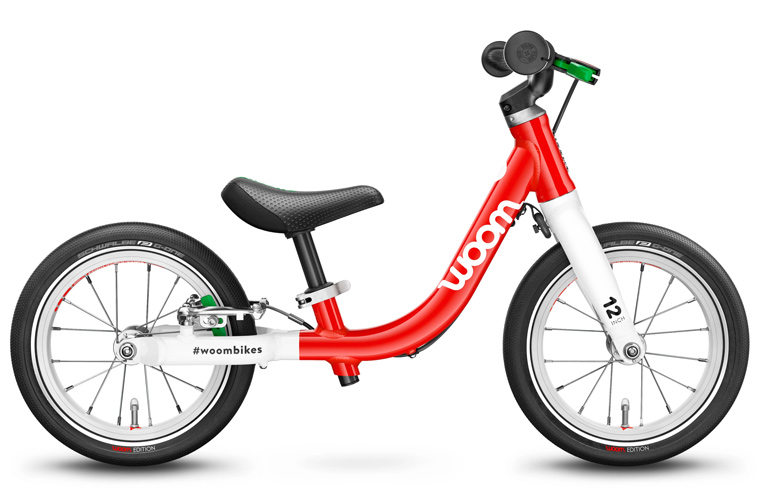 The Woom 1 Balance Bike is the true meaning of perfection if I would say. The features, the durability, the performance, everything is top-notch and my kids never had fun enjoying themselves more with any other bike.
The bike is a really good starting point for our toddlers, they would be having lots of fun with it. The most liked features of the bike among users are the handlebars. I find them amazing and give off a natural feeling. Moreover, it is built with an extremely lightweight frame and has extra-cushioned air tires to make the rides more enjoyable as compared to other balance bikes.
Kids will love the Woom 1, all the features of the bike are there to make the kids fall in love with it while also being extra comfortable. My kid also loves the handlebar because it makes her feel very natural and comfortable. While she rides it she is always in an upright position. Believe me, this greatly enhances her handling skills. The Guardian balance bike comes close to this but Woom has taken the win today!
The combination of the lightweight frame and extra-cushioned air tires will make the kids into pros in no time. Oh yes, you will be excited to know that the Woom 1 can be purchased in a variety of exciting colors. All of these qualities make this the best balance bike on this list.
Advantages
The bike is constructed with amazing and high-quality components
You would be amazed to know that this is the lightest balance bike on the market
Accessibility is made easy like never before, kids can get on and off without any kind of assistance
The cushioned air tires add more support
Disadvantages
Might be a little expensive for some people
There are no adjustable seats on the bike
Editor's Choice: Woom has always made amazing bikes, they are the maestro of perfection when it comes to that. The Woom 1 is the epitome of perfection and gives maximum enjoyment to my kid. I love it because of its high-end components and features, everything is bundled with extra love and care. Do try it out!
Read also: Best Woom Bikes Review and Ranked
---
2. Strider Sport
Suitable For: 18 Months Till 2 Years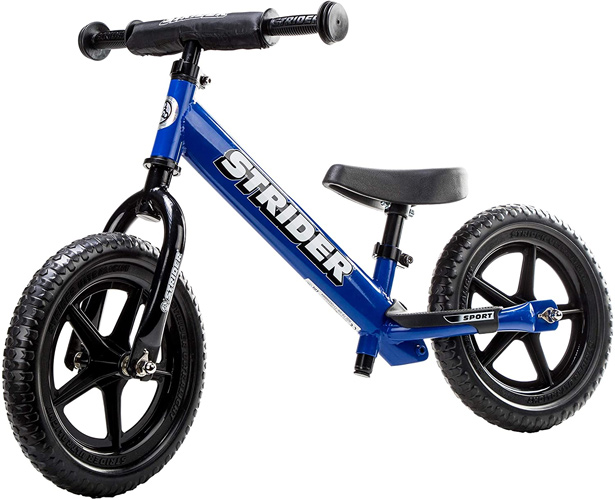 Strider bikes are known for their durable and enhanced bikes, the fact that they are making balance bikes means they are excelling at that. The Strider Sport is constructed with an amazing frame that makes the bike excel in so many areas, it is just right behind the Woom 1 but of course, the Woom 1 is a little bit better in performance.
It has an adjustable seat post, which is the favorite feature among many users. It ensures that the kid is comfortable while riding. This makes it suitable for kids of different heights. The handlebars are also adjustable and it is available in amazing colors that hype the kids.
The Strider Sport is a dependable balance bike that will not let you down. Kids will have lots of fun with it and it is also cheap.
Advantages
The bike is super adjustable- it can be used for a very long time
Foam tires that you won't have to worry about, offer the best handling
It is very light, and riding it is extremely fun
The adjustable handlebars are a great help
Disadvantages
Can be harmful sometimes because of the exposed bolts on the bike
Should not be used on trails as the foam tires would provide minimal traction
Why I Like It: Honestly, I love Strider Sport for its price tag and the features. The features come together and provide amazing performance that few bikes can offer. The adjustable seat and handlebar were a big plus for me and my niece. Loved it!
---
3. Prevelo Alpha Zero
Suitable For: 18 Months Till 2 Years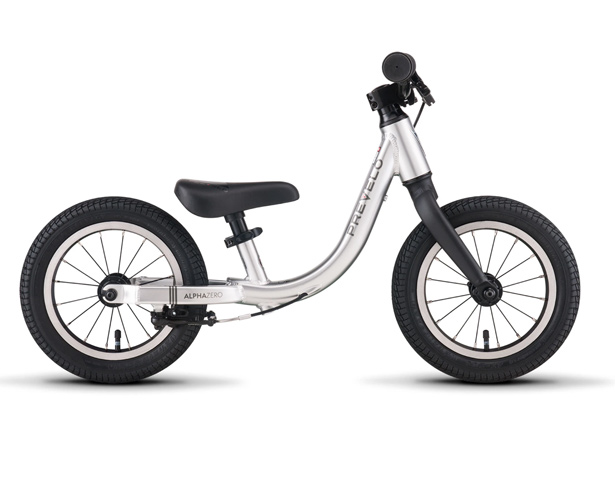 The Prevelo Alpha Zero is a must-have for kids and parents alike. Kids would love it for the amazing features and performance while the parents would love it for the design of the bike and how cute their kids will look while riding it.
This is a balance bike that goes way beyond the call of duty, not all of them have a quick-release seat post. The handlebars and tires are amazing, I actually didn't think that the Prevelo Alpha Zero would be packed like this. This here is a bike that will surprise you due to its amazing performance.
The inclusion of high-quality components makes the purchase even more interesting. It has a hand brake that is good for kids who are just learning to control the bike. What I love the most about this bike is the quick-release seat post. It is a big help.
Advantages
The bike is very safe, thanks to the rounded bolts, which eliminate the chance of injuries
The cushioned air tires offer amazing handling
The bike has a long wheelbase, which makes it safe to use on trails
The seat height is just perfect
This bike is packed with high-end components like the Kenda tires
Disadvantages
Prevelo Alpha Zero still might be expensive to some people
The seat height might not be perfect for everyone
Why I Like It: I love the Prevelo Alpha because of its amazing performance. My kid used to ride on it until he outgrew this one. He was the talk of the whole neighborhood while he was using this bike.
---
4. Woom 1 Plus
Suitable For: Until 4 Years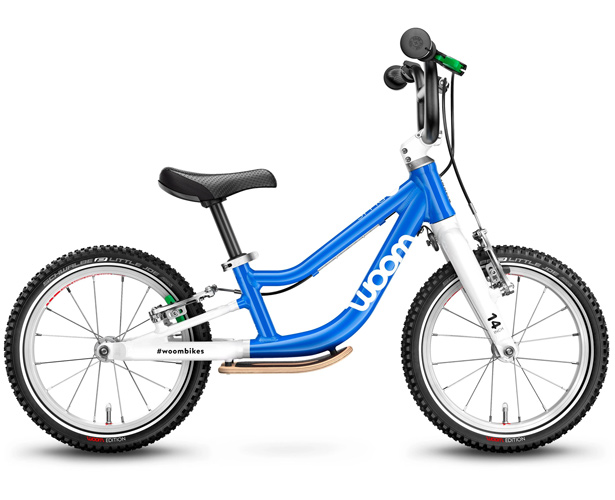 Woom 1plusThe Woom 1 Plus is everything that the Woom 1 is and isn't, that is what I wrote in the description, allow me to explain that now. Woom 1 Plus is a great upgrade over the normal Woom 1 because I wanted some features on the normal model that the Plus model fulfilled. Let me tell you, when my kids started using it, I was impressed!
This bike comes packed with high-end and advanced features so it is definitely for the kids that have passed the toddler phase, that doesn't mean that toddlers can't enjoy it, with some supervision of course. It's available in different and vibrant colors. The front and rear brakes are awesome, with great stopping power. The footrest is great support for kids.
The features are what make the Woom 1 Plus amazing, after all, we want our kids to have the best. Children get excited trying out bikes, especially the balance kind, but it also wears them out. The inclusion of the footrest will allow them to glide for longer hours while being comfortable.
For toddlers, the footrest which is a surfer shape can be removed. This is a great feature as well. I would recommend definitely getting this balance bike for your young and enthusiastic riders, they are going to love it.
Advantages
High-end components
The addition of the footrest
Extremely comfortable bike
It is very durable
Disadvantages
It is expensive
Toddlers may not be able to use it
Why I Like It: I was amazed by the original Woom 1 balance bike, but I wanted it to do more. This is exactly what the Woom 1 Plus does, everything the Woom 1 did but better. My enthusiastic and growing kids loved the speed and comfort of this bike.
---
Balance Bikes For 2-3 Years Old Toddlers
5. Frog Tadpole
Suitable For: 2-3 Years Old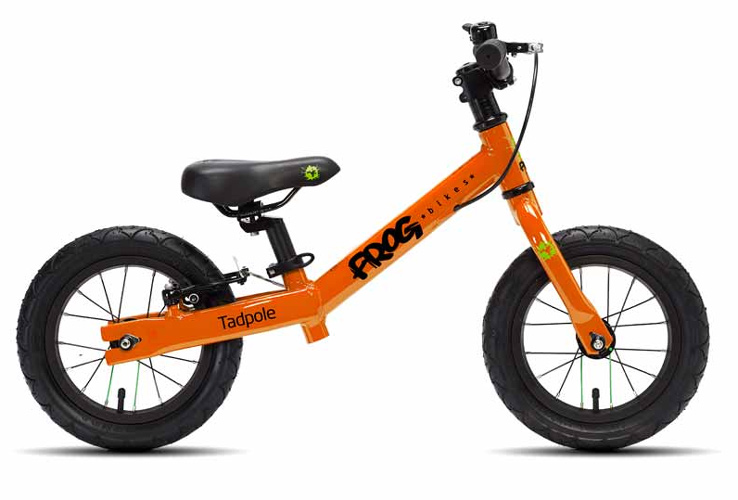 The Frog Tadpole is everything that the name gives away, your kid will be excited to leap as a cute little froggy, I mean this in a very good way though. The tadpole bike is a mixture of many exciting features, colors, and heightened durability. It offers amazing stability because of the long wheelbase, the Kenda tires and Tektra brakes are much appreciated.

Please understand that this is one of the most aggressive bikes to handle, so only get them if your kid is enthusiastic and ready. I love that the manufacturers have used high-end components like the Tektra brakes and Kenda tires and still maintained an amazing design.

The Frog Tadpole is a perfect balance bike for our young riders, someday they may be able to ride aggressively with the help of this one. If you want a fun learning experience for your kids where they can also enhance their skills I would suggest getting the Frog Tadpole bike.
Advantages
The bike is available in amazing colors
It offers extreme comfort thanks to the padded saddle available on the bike
The padded saddle is also customizable and can be adjusted back and forth
High-end components like the Tektra handbrakes
Is amazingly durable
Disadvantages
The seat height could have been better
Expensive for some
Why I Like It: The Frog Tadpole is one of the most accessible and flexible balance bikes out there, the mixture of high-end components is amazing. Honestly, my kids were excited enough to hear the word 'Froggy' and then jumped on the bike.
---
6. Swagtron K3
Suitable For: 2-3 Years Old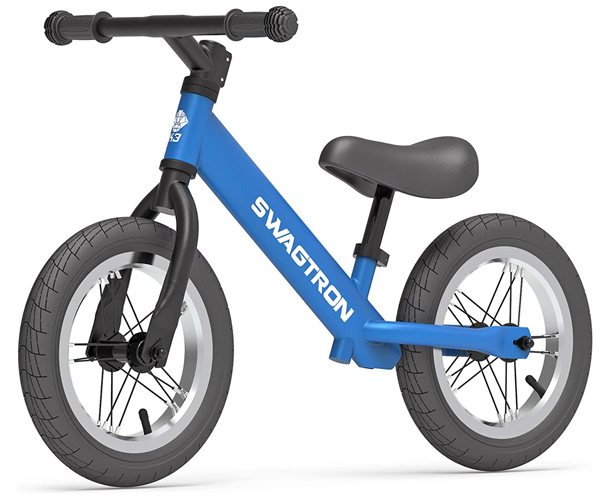 Don't be mistaken for the price tag, the Swagtron K3 is one of the amazing balance bikes out there. It may be a budget bike, but it is more balanced and durable than the other options in the market, and this surprised me. Although this is a great bike, it cannot be used for years and must eventually be replaced. I believe that's probably the biggest drawback.

It has a lightweight aluminum frame. This budget-balance bike is for those that want a higher-quality bike without breaking the bank. The kids are going to love the aesthetics and feel of the bike without a doubt. Overall, this is a very impressive bike that I totally loved.
Advantages
Offers great value for the price
Constructed with amazing components
It has a beautiful aluminum frame
The air tires offer amazing handling
Disadvantages
You will need to manually adjust the seat sometimes and that can be a drag
Not that durable, will have to be changed
Why I Like It: Honestly, I was amazed to see a high-quality bike at a very cheap price. The components and performance of the bike do it justice, my nephew loved it, and I'm sure yours will too. Although keep in mind that this bike cannot be used for years and will have to be changed eventually.
---
7. FirstBIKE Street
Suitable For: 2-3 Years Old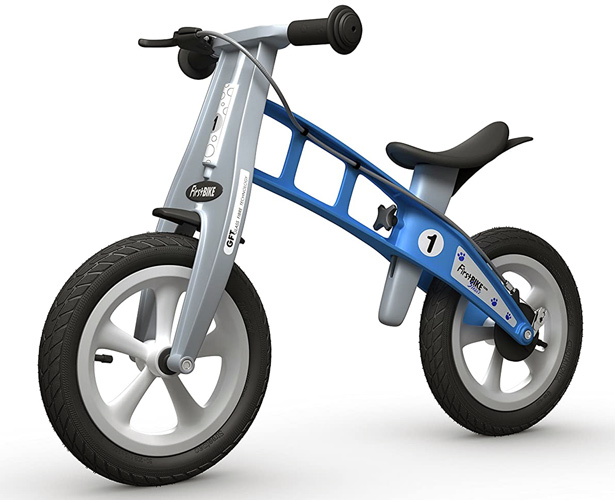 Entertainment isn't always the priority, sometimes you have to focus on safety too. FirstBIKE Street was built on the foundation of both fun and safety, not a lot of balance bikes do that now. Its construction is very impressive, it has a smooth composite frame that comes with recessed bolts, so there are no chances of the kids getting injured.

The performance of the bike is top-notch thanks to the air tires and handbrake. It comes packed with a turning limiter. The most amazing thing is that this bike is waterproof. It can even handle the extra weight

You would be amazed to know that FirstBIKE Street is fully water-proof and rust-proof, this means that your kids will be having fun with it all summer. You won't have to worry about the puddles or any other kind of material damaging the bike. This here is a lightweight balance bike.

Kids get heavier when they age, that is why we have to change their bikes sometimes. This is not the case with this one, the frame of the bike can adjust the seat so it can withstand the extra weight. You just need to focus on the entertainment side of your kids.

This bike is going to be well worth your money, that's a promise.
Advantages
The composite frame is amazing, and also weather-proof
Kids won't fall off the bike because of the U-Shaped saddle
Cushioned air tires are amazing
Child-friendly handbrakes
It is extremely light-weight, maximizes handling
Disadvantages
It is a double-edged sword, the U-Shaped seat is great but can also be difficult to get on for some kids
The structure of the bike is not meant for tall and heavy kids
Why I Like It: This is one of the few bikes that prioritizes safety too alongside fun, I love this feature. The manufacturers have taken the liberty to produce one amazing bike, that excels in features and performance. My kids are freaks for summertime fun, as this bike is water and rust-proof, they had lots of fun with it, without me worrying.
---
8. Kokua LikeaBike Jumper
Suitable For: 2-3 Years Old
Kokua Bikes were one of the first companies to make mountain bikes, the fact that they are making amazing balance bikes is very commendable. Just looking at this bike will take you down memory lane, I used to have an amazing mountain bike like that in the 1990s.

The features and performance of this bike are amazing, I am sure that the kids are going to love it.It has a fun and nostalgic design with an elastomer-based rear suspension

The Kokua Jumper is one hell of a bike, even before purchasing it for the kids, I knew it was going to be well worth the money. The construction of the bike is great, it has a lightweight frame that offers great stability and handling. Tell your kids that you had this bike in your childhood before they did and they will be shocked and surprised.

You get this bike, and I guarantee that your kid is going to be the talk of the whole neighborhood. Promise!
Advantages
Amazing construction and components
Very durable
Is easy and fun to handle
Comes in great color combinations
Disadvantages
Expensive for some people
There is no adjustable seat or handlebar
Why I Like It: Just looking at this bike made me fall in love with it, it was like a blast from the past. Kids loved it because I told them I had a similar bike in my childhood, that is not the only reason though. The performance is top-notch and the combination of the materials makes the bike amazing.
---
9. Haro PreWheelz 12 Gen 3
Suitable For: 2-3 Years Old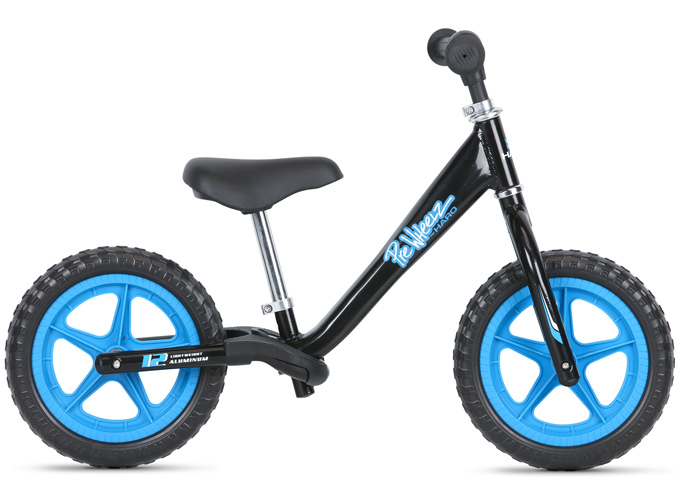 Haro PreWheelz gives me the vibes of a classic mountain bike, you can see that its design even resembles the features and the look, and nothing could be cooler. I knew from the get-go that this was going to be an amazing bike, the performance is so smooth, I wanted to ride this bike instead of the kids.

The 12-inch wheel construction is amazing and the kids are definitely going to have a blast riding it. It has a 6000 series aluminum frame with an adjustable seat and amazing durability.

This should be another amazing memorable bike for you, and kids will love it definitely. Nostalgia cannot ever go wrong, right? The adjustable seat will let any kid hop on and have the best fun possible.
Advantages
Enhanced durability
Comes in amazing color combinations
Can be customized
Extremely lightweight, easy to handle, and balance
Disadvantages
It will have to be replaced after some use
Not recommended for young toddlers
Why I Like It: For me personally, nostalgia plays a very big part. If I had a bike resembling this in my childhood then I would immediately buy it. With the Haro PreWheelz 12 Gen 3 this was exactly the case, it was not surprising that the bike would turn out amazing.
---
Balance Bikes For Preschoolers
10. Strider – 12 Sport Balance Bike
Suitable For: 3-4 Years Old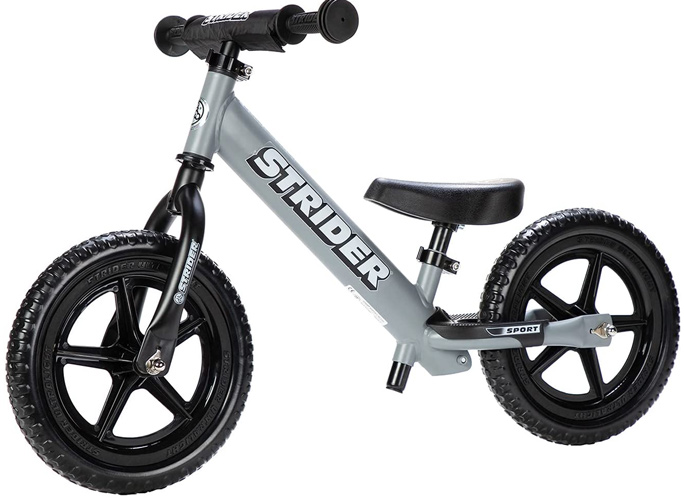 According to statistics and experts on the topic, the Strider 12 Sport Balance Bike is one of the best ones out there. I would say that the most attractive thing about the bike is its construction and components, the way it is built just results in awe of the perfection.

The bike is very durable and will resist every kind of abuse you throw at it. It has an amazing construction along with mini-grip pedals and a footrest.

This bike is best for both the starting out phase and the exploration phase, so consider it the jack of all trades. It can even be used on trails, thanks to the wheelbase. It does not matter if your toddler has cute and tiny hands, the mini-grip pedal will give them the support they need.

The footrest is a great help, it makes the kids ready for the real deal ahead when they grow older, I for one was very grateful for that inclusion. The footrest will be amazing, just wait and watch.
Advantages
Extremely lightweight- offers great handling
A well balanced-bike
Enhanced durability
Can be used for many years
Disadvantages
It is a bit expensive
Not for young toddlers
Why I Like It: The Strider – 12 Sport Balance Bike is a jack of all trades, my niece used it and till now she is extremely satisfied. The footrest, the mini pedal, everything is just amazing. I did not expect the bike to be that much caring but is just it. This is true value for money over here!
---
11. Specialized- Hotwalk Carbon
Suitable For: 3-4 Years Old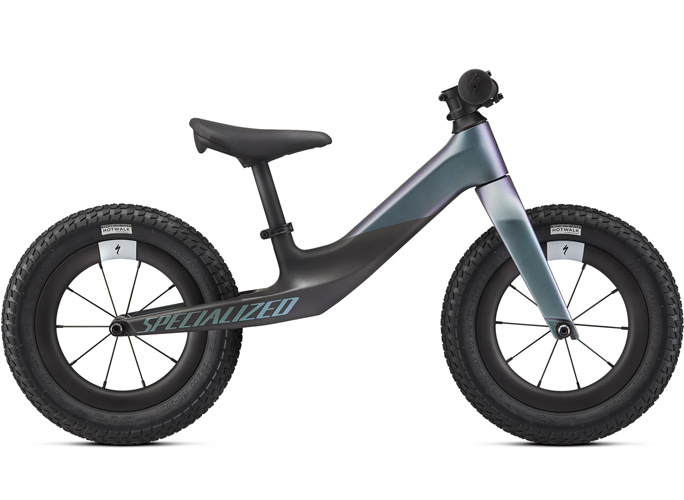 Every parent wants a tough and resilient balance bike that offers the best performance you can get for your money. The Specialized Hotwalk Carbon is one of those amazing bikes on the market, it offers perfection, nothing less, nothing more.

I would like to say here that this here is a balance bike best suited for off-road experiences. So, if you want your kid to become the next off-trail champion then I suggest that you definitely get this bike ASAP.

The all-carbon lightweight frame is amazing. The grips have an amazingly small diameter, approximately 38% smaller. Thus it can easily be transported due to the low-friction body geometry. It comes packed with Rhythm Lite tires.

This is a bike that I immediately resonated with, the features from the lightweight frame to the lite tires were very impressive and I would be very happy to make the purchase for my kid.

Did I forget to say that the bike is super durable? Well, it is! This means that whatever kind of abuse your kid throws at it, the bike will definitely take it like a champ.
Advantages
The Padded Saddle is a wonder
The Rhythm tires offer amazing traction, great for off-road trails
Enhanced Durability
Can easily be stored and transported
Disadvantages
The extra-large footrest is going to be a problem for smaller kids
Very expensive
Why I Like It: The reason I liked the Specialized Hotwalk Carbon bike was the features and performance it offers. You cannot expect it to fail or not offer what it promises. If you have young riders in your home that are very eager to become off-road champions then this bike would be the perfect companion for them.
---
12. FirstBIKE- Cross
Suitable For: 3-4 Years Old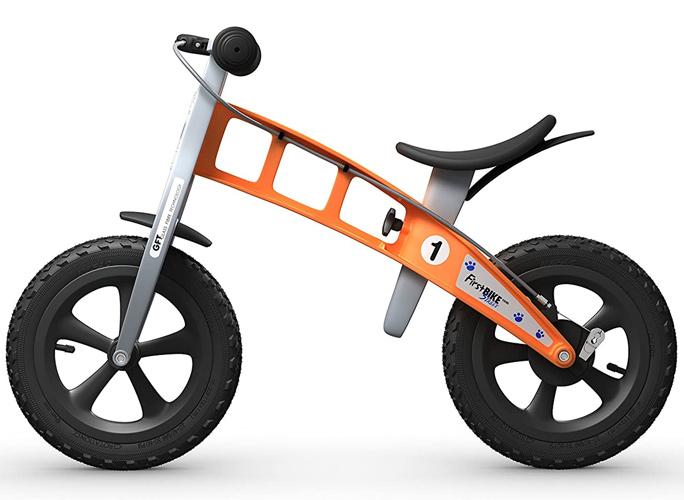 Kids love motorbikes, the sight, and sound thrills them, if only they could have it at that age. Luckily, the FirstBIKE Cross looks and feels like a motorbike, the build and tires are like that. Looks like a motorbike but actually functions as a balance bike, now this is the stuff that dreams are made of.

It is constructed with an amazing weatherproof-composite frame and has knobby air tires. The first thing that struck me was the amazing weatherproof-composite frame of the bike, kids are going to have unlimited summertime fun with it. The frame isn't just for fun purposes, it is also very durable and flexible. Kids are going to love it because the bike seems very light.

Safety is also a priority when you get this bike, the inclusion of the Knobby tires, turning limiter, and rear hand brake makes things quite easier for kids.
Advantages
Weather-proof frame
Amazingly flexible and durable
Safety options are amazing
Disadvantages
Not perfect for heavier kids
Adult supervision is required for kids
Why I Like It: The FirstBIKE Cross is a bike that isn't just a bike, it is a motorbike balance bike. Even saying this word will get the kids excited because the resemblance is uncanny. Summertimes are going to be fun, and it is also extremely lightweight.
---
Balance Bikes For Pre-Kindergarten
13. Yedoo- TooToo
Suitable For: 4-6 Years Old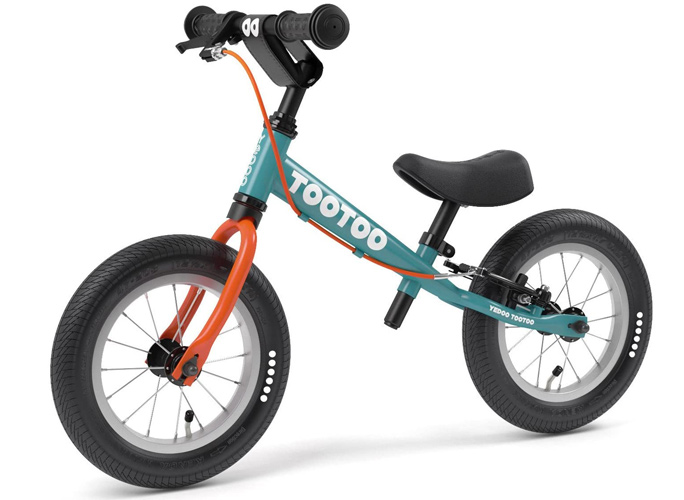 Some kids are fascinated by motorbikes while some kids love the sight and sound of ambulances. The Yedoo- TooToo balance bike is made in the perfect image of an ambulance and kids are going to love it the moment they see it. While riding it, the kids are going to feel more confident about being doctors in the future and that sounds beautiful to me.

Kids as young as 2 can get started with the Yedoo and that will be amazing, overall you can choose this balance bike in 15 different paint jobs which is just amazing.

This bike isn't just for the looks, performance and component-wise it is also amazing. The inclusion of the Tektro brakes and Kenda tires is enough proof to show that the manufacturers aren't messing around.

The bike is so tough that it will be able to withstand a lot of abuse for a lot of time. If you feel like it, you can even pass it along to the family and no one will notice the damages. The Yedoo is also very well-balanced, kids will always be comfy while riding it.
Advantages
Amazing and durable design
Attractive Aesthetics
High-end components
Comes in different paint jobs
Disadvantages
Parts assemble will be required
Can't be transported easily
Why I Like It: My kids immediately loved the idea of an ambulance-shaped balance bike, I knew that they had to try it. The safety and performance features of the bike are top-notch. The dream of your kids to become a doctor in the future can be advanced in a fun and exciting way with this bike.
---
14. Yuba Flip Flop
Suitable For: 4-6 Years Old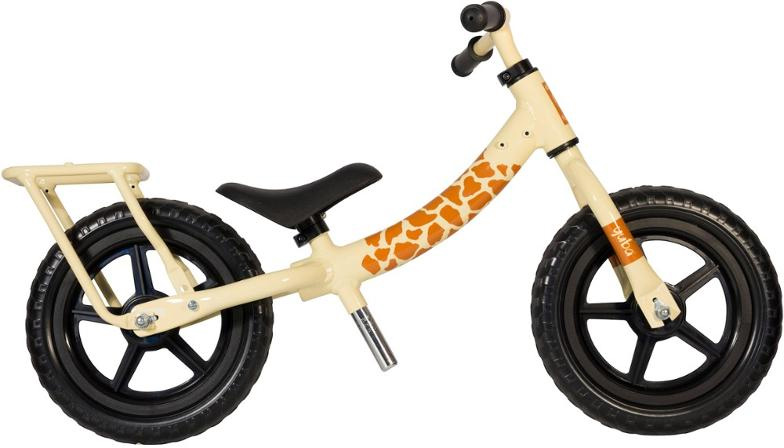 I would say that the Yuba Flip Flop might be the eye-catchy balance bike out there, with it, the kids are definitely going to be the talk of the neighborhood. I would say that there is no chance for a better alternative for this, you get it and all is set, the kids are going to love it.

The fun fact about the bike is that it comes with a reversible design, kids aged from 1-6 can enjoy it easily, without having the need to replace their bikes.

The Bike offers many smart solutions, and as a parent, you would love them. You can easily switch the seat and paddle of the bike without any problems so that it becomes taller. Oh, did I forget to mention that the bike definitely looks like a giraffe? Well, it does! The kids are going to love it.
Advantages
An attractive design
Flexible structure
High-end components
Available in different colors
Disadvantages
Can't be stored easily
The bike becomes heavy at times
Why I Like It: A bike that looks like a cute little giraffe? How can I say no to that? I immediately got good vibes when I first looked at the bike. My kids have been having lots of fun with it, it is safe, can be switched for bigger kids easily. The fact that it comes in more fun colors makes it more attractive.
---
15. Strider 14x
Suitable For: 4-6 Years Old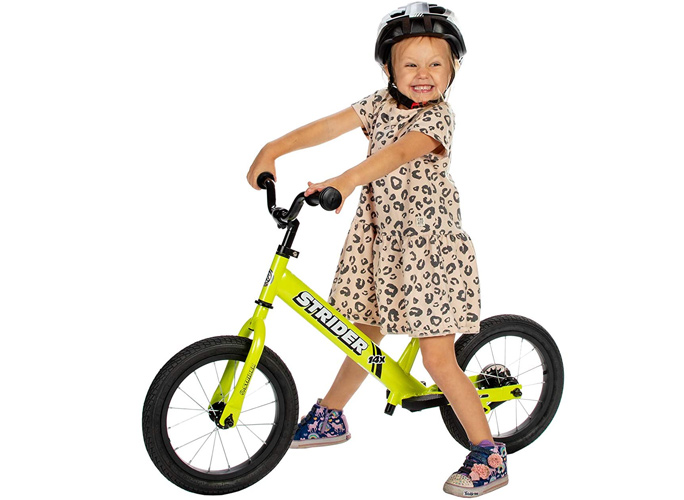 Strider needs no introduction for those who know it. For those who don't know it, they should know that Strider is one of the best bike manufacturers. They have really struck gold with the Strider 14x bike, although it is a great balance bike, it can be upgraded to a pedal bike easily.

This is a bike that grows with your kid, when the time comes for them to use pedal bikes, this bike will play the role of powerful nostalgia and become that bike.

It can be modified into a pedal bike and has a durable structure. As I discussed previously, this bike can be modified easily and without any kind of problems. This makes the purchase even more worth it, the chainguard of the bike also does wonders. Definitely get this bike if you have an eager pre-schooler in your house.
Advantages
Amazing design
Durable
Can be modified
Attractive price tag
Disadvantages
Not fit for toddlers
Cannot be transported easily
Why I Like It: The Strider name is enough for me, I knew this was going to be one amazing bike. Kids get their hearts attached to the things they love, may it be toys or cartoon characters. The Strider 14x is a bike that can be transformed from a balance bike to a deal bike without any kind of problems. This bike grows with your kids and nothing else can be more worth the purchase.
---
How to Choose Balance Bikes for Kids
Now that we have discussed some of the best balance bikes money can buy for kids, it is high time that we discussed what we need to know before making the purchase. A lot of parents might even be confused about what a balance bike is and how it works so we will also be explaining that.

I was like this at first, having almost no knowledge about this stuff, but do know that this happens to everyone. We cannot know everything. So let us get started with the very basics. This here is a balance bike: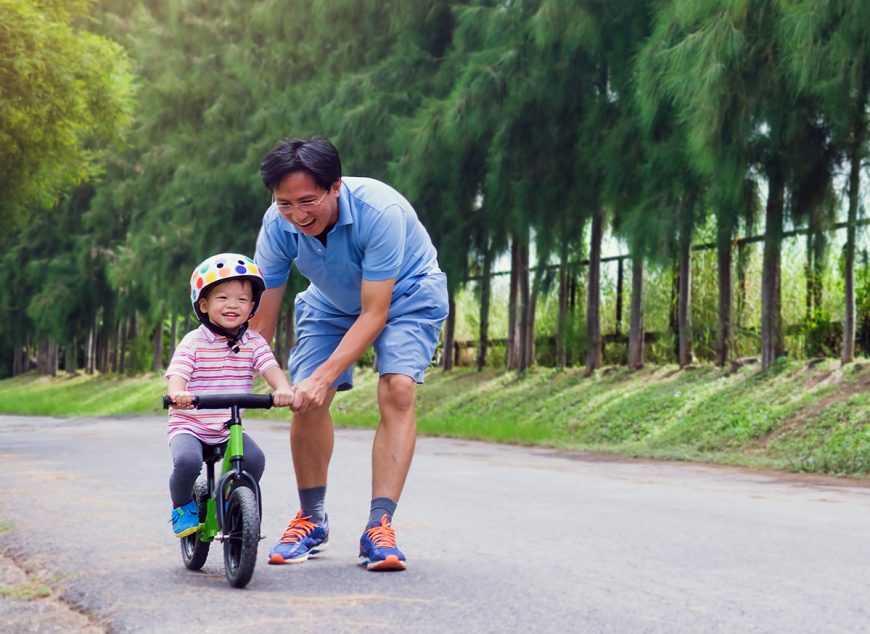 Always Consider The Tire Size And Its Weight
Tires play a very critical part in balance bikes, so you have to consider them before making the purchase. Tire sizes are available in three different sizes:

Okay so, the most popular and normal size that the bikes come in is the 12" tires, they are for toddlers aged till 4. The bigger tires are then suited best for preschoolers. Having this information will help you in making the perfect choice for your kids.

Another thing that you need to worry about is the weight of the bike. The normal weight for these bikes is 10 lbs and that is without pedals. (Make sure that you go for the lightest bikes because kids are going to have to ride these bikes with their own weight).
What Is The Best Age For Balance Bikes?
This is a question that will be answered individually by parents. One age cannot be the definitive one for all the kids, because all of our kids are unique in their own way. I would say that the easiest answer is when they start walking. If they can walk then they can certainly ride the bike.

Every kid will learn to walk and get on a bike at their own natural age. My kid started riding on the bike when she was 4, your kid maybe can do it when they are 3. A great help could be getting them a pre-balance bike, this would further nurture their motor and muscle skills.

Important Notice: Do consider the leg inseam of your child, the legs have to be long enough to ride the bike.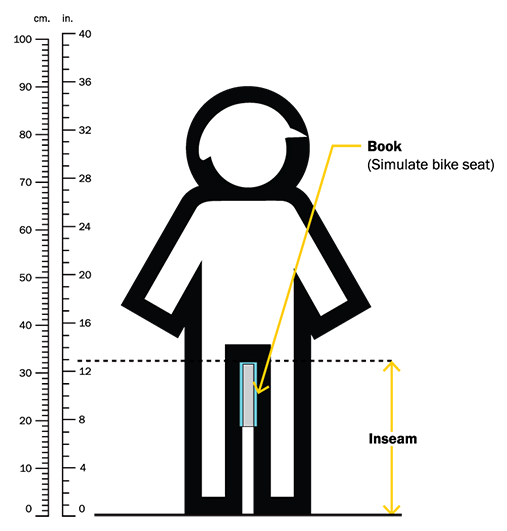 Choose The Frame Materials Wisely
Balance bike's frames are made from a variety of materials, so you can know the advantages of them to make your purchase easier. Following are the materials that the frames are made of:
Aluminum- Very durable but heavy
Plastic- Lightweight but hard to repair and not that durable
Wood- Lightweight but hard to repair and not that durable
So the options fall down to you, what do you want? Although do know that none of the materials are bad so you avoid them.
What Kind Of Tires Would Be Best?
Another important aspect that you have to consider is the kind of tires the bike is going to have. There are basically two kinds:
Foam Tires: They are used in bikes that kids use when they are starting out. They are lightweight but don't offer that much handling or traction.
Air Tires: These are for kids that have developed their skills with balance bikes. You can even fill up the pressure in the tires if you are going for adventures on different terrains. The only downside that I would say is that you would have to check the pressure in tires almost regularly.
Brakes Are Necessary Or Not?
Technically, most of the balance bikes won't have brakes. After all, that is the whole point! Kids stop the bike with their own legs. Although, if you are preparing them for pedal bikes then make sure that the balance bike has brakes. Brakes can be found in different and expensive versions of the balance bikes.

I would suggest that you definitely go for a bike with brakes, it would protect kids from injuries.
Our Methodology- How We Select The Best Balance Bikes
As a parent, I understand the struggle of finding a balance bike that fits within a budget. That's why I've dedicated countless hours to researching and analyzing the balance bikes for kids and teens on the market. I've scoured the web for honest reviews and feedback from verified customers, and I've even tested some of the top contenders myself, including the editor's choice.

Using my extensive knowledge of bike components and their strengths and weaknesses, I've narrowed down the top options that offer the best value for your money. So whether you're looking for your kid to get into the sport or seeking an affordable upgrade, you can trust that these bikes have been thoroughly vetted and carefully selected.

Without sacrificing quality, safety, or performance, these bikes offer features such as excellent handling, and durable design, all at a price point that won't break the bank. So if you're ready to let your child enjoy the ride of their life, these are some of the balance bikes that you must consider.
FAQs
What Age Is Best For A Balance Bike?
Between 18 months and 2 years is the best time to get a balance bike for a kid. At this time, a child is physically ready to get started with a balance bike.
Are Balance Bikes Good Or Bad?
Balance bikes are good because they let the child slowly adapt to riding like an adult. They can take their time to get used to the rough terrains until they transit onto an adult bike.
Recap
Balance Bikes are very important for kids, not just for entertainment but also for their educational purposes. Kids learn from what they interact with the most, and they will be putting up a lot of time with these bikes. It falls down to us to make the best choice for them.

The best bikes in my own opinion are, according to age group:
Woom 1- Till 2 Years
FirstBIKE Street- Till 3 Years
Specialized Hot Walk Carbon- Till 4 Years
Strider 14x- Till 6 Years
Do consider the aspects when choosing the perfect balance bikes for your kids. Remember, it's always better to try a bike first at your local bike shop. Everything else is set then! Let's have fun with our kids now!

Also Read: Best Mountain Bikes Under $500