Did you know that the adrenaline you get from dirt bike jumping can last up to an hour, giving you higher memory retention, better eyesight, and superhuman strength for that period? The thrill that comes from dirt jump mountain biking can be very exciting. If you want your kids to get their share of the adrenaline that comes with dirt jumping, keep reading to find out the best bikes for the job! You can even use some of them as mountain bike.
The Best Kids Dirt Jumpers
Notice: All mentioned prices are subject to change.
We've seen some manufacturers out there sacrificing quality to produce cheap bikes, but do not worry about it. Our top picks were carefully screened to include the best kids' dirt jump bikes that will leave you feeling happy about your purchase.
1. Radio Asura Dirt Jump Bike
Price: MSRP $899.99
The Radio Asura Dirt Jump Bike was my first go-to option when my kido was ready for some dirt nation. We purchased it from a local bike shop and I have been a fan of how this thing rides ever since. This is a dirt bike that looks as good as it rides. It's a new bike that doesn't just perform dirt jump tricks but can also be used for skatepark and slopestyle freestyle riding. We have had a lot of fun adventures together on this bike.
Features
Frame: Radio ASURA frame, Chromoly (CrMo) top tube and down tube, 1020 hi-ten
Brake: Tektro ARIES mechanical disc brake, 160mm rotor, front, and rear.
Fork: RST DIRT RA
Fork travel: 100mm
Tires: Radio TyDJ1131, 2.0", front, and rear
Rims: Radio DB32 rim, double wall
Weight: 14.04 kg (30.89lbs)
Color: Metallic green
Advantages
Affordable
Versatile
Stylish and elegant
Tough Chromoly steel frame
Sturdy
Disadvantages
Editor's Choice: I have had a blast on the trails with my kid on this bike. She absolutely loves how well the fully-chrome frame performs. It's a very versatile ride, which is why the Radio Asura is always my top option.
---
2. Lil' Shredder Icon
Price: MSRP $1,250.00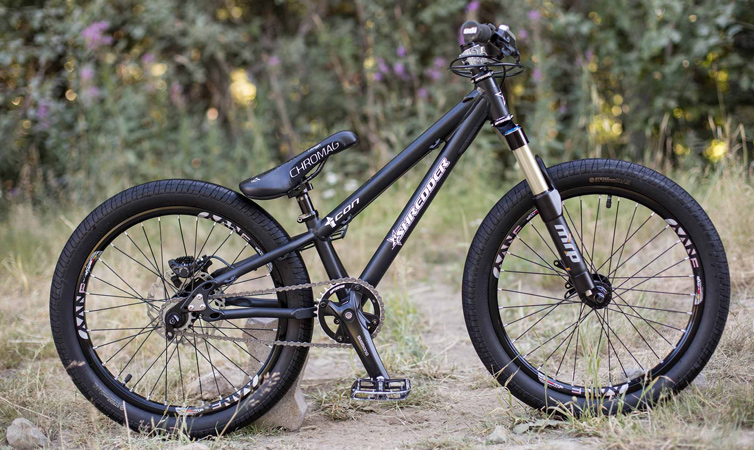 The lil' shredder icon was built to be comfortable and easy to move. I was stuck between Radio Asura and Lil Shredder Icon but decided to go with Radio Asura because I found its frame and built slightly better. It has been trusted by many and it just might be the best fit for your kid too!
This is a great option if you're looking for customizable dirt bikes. It is made in the U.S.A and it comes in two original colors, carbon black and white, but if you want a custom color, it can be arranged for an extra $100. Even though it is a bit pricey, that's why it ended up as today's runner-up, you can be sure that it's worth every penny.
Features
Frame size: 16" or 18"
Frame material: 6061 heat-treated aluminum.
Wheel size: 16" and 20"
Colors: carbon black and the sky white
Advantages
Customizable colors
Lightweight
Great geometry
Can be custom-built
versatile
Disadvantages
Why I Like It: This bike is great for building dirt riding skills. It's also versatile. you can take it for trail riding, enjoying the road, or practicing some serious skills.
---
3. Scott Voltage JR 24 TMO Bike
Price: MSRP $500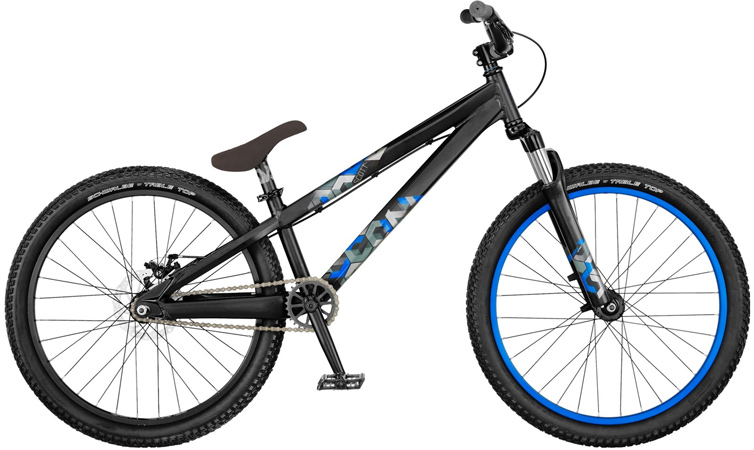 This bike I would recommend for kids aged 8 – 10 years old, but it can also be great for 11-year-olds. It has unique features like a stylish paint job that will be attractive to your kid. This specialized bike has great brakes for easy control. This ensures safety and confidence while riding.
Features
Model year: 2012
Frame: Scott voltage D-frame, super-stiff 6061 alloy frame, hydroformed tubing, Disc Dropout
Fork: RST dirt suspension fork, DJ Disc only, firm
Fork Travel: 60 mm
Tires: Schwalbe Table Top Sport Active line, 50TPI, wire
Saddle: Scott pivotal Atmosfair, VL-71121
Wheel size: 24 inch
Brakes: Tektro Novella mechanical disc, 160/F and 160/R
Advantages
Sturdy
Super compact frame
Linear pull brakes for speed management
18 gears with a full range
Smooth riding
Disadvantages
No customizable wheel size
Why I Like It: What I like the most about this bike is its responsiveness. It gives every sturdy ride and your child is going to enjoy their time on this bike.
---
4. Spawn Cycle Kotori 20"
Price: MSRP $1,175.00
The Kotori 20" is spawn cycles' best-selling dirt jump bike and for a good reason. It is a very versatile dirt jumper that can be used to perform a wide range of stunts. Its appealing features make it to be loved by kids. You can rest assured that your kids will have an amazing time out on the road with this dirt jump bike.
Features
Model year: 2019
Wheel size: 20-inch
Frame: Spawn cycles 6061 T6 Alloy
Fork: Brood bike co. Eldorado 20" 80 mm travel lockout
Saddle: Brood bike Co. Throne, pivotal
Frame material: Aluminum
Brakes: Tektro Auriga, hydraulic disc, rear only
Rear travel: Hardtail
Weight: 22 lb oz (9,9799)
Color: neon green, orange, blue, or black.
Advantages
Lightweight
More color options
Well-built 6061 T6 alloy frame
Versatile
Reliable brakes
Disadvantages
Why I Like It: What I love the most about this bike is that even your 5+-year-old kid can ride it easily. So you can use it for a longer time.
---
5. Norco Rampage
Price: MSRP $1,499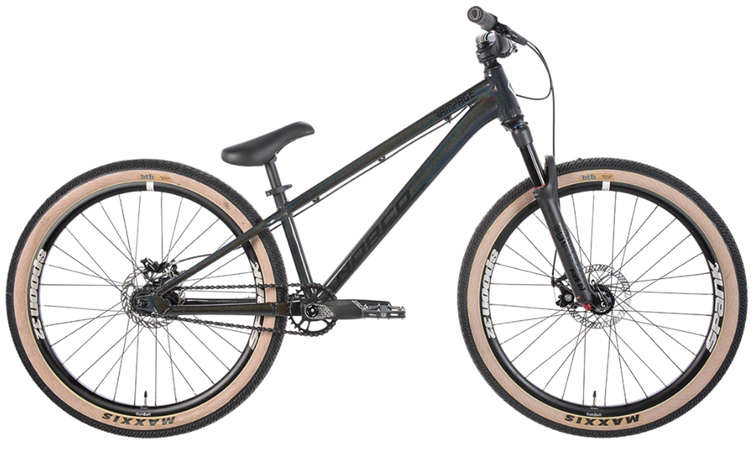 The Narco Rampage is a dirt bike best suited for dirt riding on mountain biking. This premium bike features quality parts that will make sure your kids ride as safely as possible. You can even use it as a mountain bike.The Norco rampage bike is one of the best dirt jump bikes that is lightly built and sturdy. It is designed to have minimal damage if a trick doesn't go too well while dirt jumping on mountain biking.
Features
Model year: 2020
Rider: unisex
Rear travel: Hardtail
Fork: Manitou Circus comp
Wheel size: 26-inch
Brakes: Front: Tektro MD-286, mechanical disc, 160mm rotor
Rear: Tektro MD-286, hydraulic disc, extra-long hose, 160 mm rotor
Tires: Maxxis DTH, folding, 26×2,3-inc, skin wall
Saddle: Norco pivotal stealth ii, thick padding
Advantages
Light frame design
Great geometry
Agile
Stable wheels
Great Tektro mechanical disc brakes
Disadvantages
Why I Like It: Even though it is a bike specially designed for rough jumps on mountain riding, the frame is incredibly light. It's stable and handles jumps really well.
---
6. Slater Gateway
Price: MSRP $950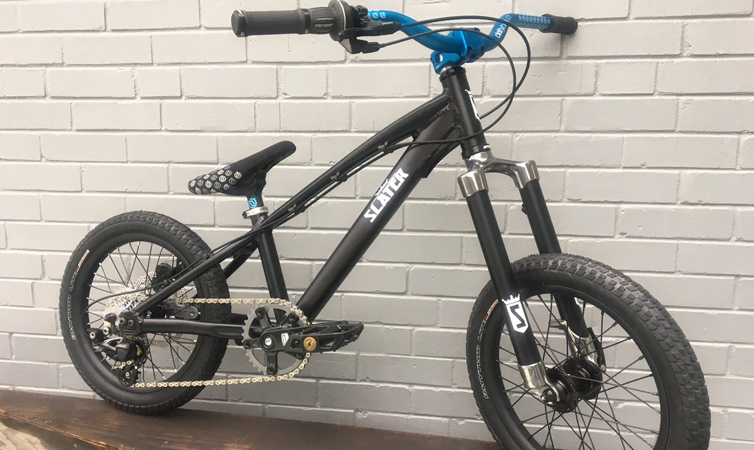 Did you know that the design and quality of this dirt jump bike are better than many adult bikes out there? It's one of the best dirt bikes for an 8-year-old. It's a viable option if you're searching for a dirt jumper for your kid that gets the job done.
It has a customizable frame that works with 16", 18", 20", or 22" wheels. If you want a slightly more affordable bike and you don't mind the fact that it is available as a frame only or complete build to your spec, then the Slater Gateway is the right fit. You can be sure that your child will love this one.
Features
Weight: 3.25 lbs
Wheel size options: 16 inches. 18-inch, 20-inch, 22-inch
Rear-wheel spacing: 135 mm
Recommended 80mm fork travel
Colors: Matte black, metallic green, metallic tangerine, metallic orange, metallic purple, metallic blue. If you want something else, you can get a custom color for an additional $100
Advantages
Customizable frames
Customizable colors
Lightweight aluminum frame
Good geometry
Promax cranks and seat post
Disadvantages
Too small for older and bigger kids
Why I Like It: With the Slater Gateway, you can not only customize the frame but also its colors. This makes the bike very attractive for kids. They will love their new ride in their favorite color!
---
7. Mongoose Fireball
Price: MSRP $549
The mongoose fireball gives you back major value for your money. If your kid is new to the world of dirt jumping, you might want to Downsidesider this kid's dirt bike. It is affordable, and it is one of the best for beginners.
Features
Model year: 2020
Rider: unisex
Frame material: aluminum
Frame type: Mongoose tectonic T1 aluminum
Saddle: mongoose steel rails
Rear travel: Hardtail
Brakes: Mongoose, mechanical, aluminum 160 mm rotors
Fork travel: 100 mm
Fork: HL vaxa30, 26", steel steerer, 3'8"x 100 mm, nutted
Wheel size: 26"
Colors: Black
Advantages
Affordable
Great frame geometry
Sturdy
Tough and reliable
Handles paths with ease
Disadvantages
Feels stiff when steering
Only ideal for bigger kids
Why I Like It: The Mongoose Fireball is a really affordable option if you're running tight on a budget. It's going to fulfill all your child's dreams of extreme dirt jump riding without breaking the bank.
---
8. Commencal Absolut 24"
Price: MSRP $1,200.00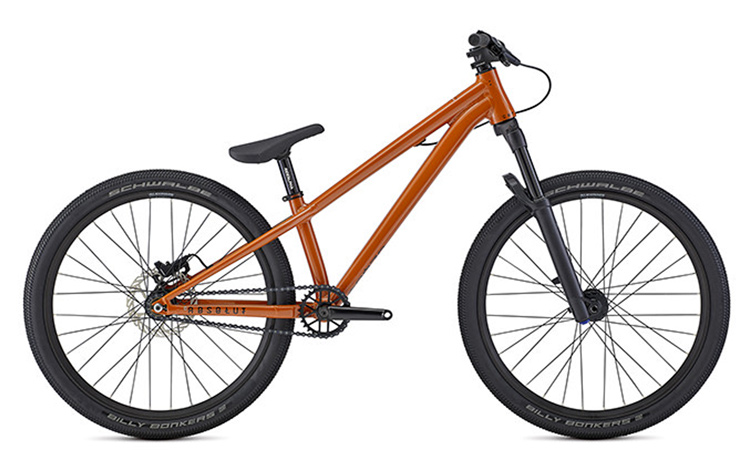 Before now, the 26" version of this bike has been an amazing option for bikers who like the idea of a solid, trusty bike for a reasonable price. This brand has finally added a kids' dirt bike with 24" wheels. It's a good choice for getting your kids started on dirt jumping. With this bike, practice will be much more enjoyable. You'll even be more excited when you hear that this rad bike has a reduced price. If all this sounds good to you, you can get it on preorder as it is not officially available until July 2021.
Features
Model year: 2021
Frame: ABSOLUT 24 2021
24", alloy 6061, triple-butted (T4, T6)
Fork: Manitou Circus expert fork
Fork travel: 100 mm
Saddle: COMMENCAL DJ pivotal, with soft padding and anti-slip grip on the sides.
Wheels: 24" 32 spoke wheels with Alex FR30 alloy rims
Tires: Rear; Schwalbe Billy Bonkers 24 x 2.0, active line
Front: SCHWALBE Billy Bonkers, 24x 2.0, active line.
Brake: SRAM level 160 mm rear disc
Rotor: SRAM G2 CleanSweep 160 mm, 6-bolt.
No pedals included
Weight: 21.8 lbs (9.9kg)
Colors: Orange and sand
Advantages
Strong and lightweight
SDG grips for small hands
Special cockpit for kids
Robust rims for dirt jumping
Pneumatic spring for easy tuning
Disadvantages
Why I Like It: Your child is really going to have the time of their life riding plump tracks on this one. Moreover, it has a really easy system to make it easier for you to fine-tune the bike. We know we'd be doing a lot of those on dirt bikes!
What You Should Look Out For In A Kid Dirt Jumper
You don't just go out and buy a dirt jump bike. There are lots of factors to take into consideration. Your child will mostly spend a lot of time on the tracks perfecting their dirt jumping skills. To ensure your peace of mind and your child's safety, it's important to look out for the following before buying that dirt jumper.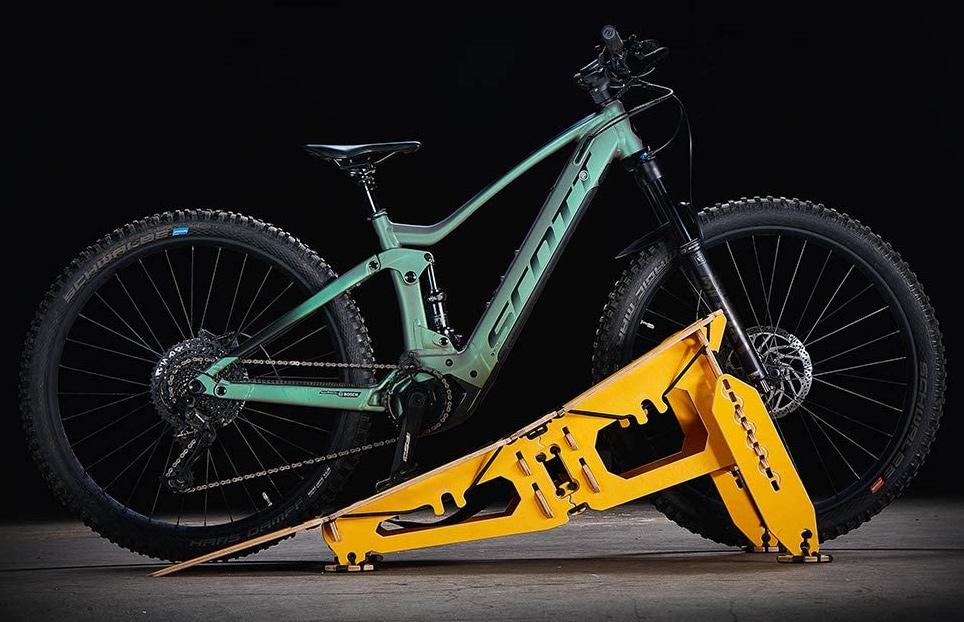 1. Wheel
Look for stable and sturdy wheels that will support the weight and size of your child. There are so many wheel sizes and the type you choose depends on your child's size. 16, 18, and 20 inches are the most common options.
2. Frame
Most frames are made of aluminum, Chromoly, and steel. You'll also want to check out the horizontal tube length, which is simply the distance between the seat to the head tube. Steel frames are usually sturdy, while aluminum frames are lighter. As expected, most parents don't want a heavy bike for their child for obvious reasons. A heavy bike will most likely discourage your kid from riding regularly.
3. Fork
It's also important to check for the fork in any dirt jump bike you're purchasing. Your kid's dirt jump bikes will be used for lots of rough tricks. A lot of dirt jump bikes have about 100 mm of front suspension. You'll still find a lot of bikes with different fork travels. So what is the point of getting a bike with a less-than-average fork that cannot withstand any abuse?
4. Tires
You should check out the tires in your kids' dirt jump bike. There are several types of tires. Consider the type, weight, and rubber type. Look out for tires that are of high quality. You'll need to buy a bike with tires that can withstand all the rough twists and turns.
5. Chain Retention
Single-speed dirt jumpers are better with a horizontal dropout that has a bolt-on rear axle. It's a terrible thing for your kid to lose the chain of the first jump bike while dirt jumping.
Why Are Dirt Jump Jump Bikes Expensive?
The reason why dirt jump bikes cost a small fortune is that they are highly specialized bikes. The demand for these bikes is relatively low, making the price higher. Not all bike companies produce dirt jump bikes.
So you've read the factors to consider when buying a dirt jump bike for your child. Now, let's dive right into the best dirt jump bikes available for your children to use and have a good time.
Generally, the more expensive the bike is, the better it will be. Cheap dirt jump bikes are usually of low quality. It's preferable to spend a reasonable amount of money on your kid's bike so you won't have to deal with the problem of repairing it always.
Our Methodology- How We Choose Best Dirt Jumpers
As a parent, I understand the struggle of finding high-quality dirt jumpers that fit within a budget. That's why I've dedicated countless hours to researching and analyzing the best dirt jumpers for kids and teens on the market. I've scoured the web for honest reviews and feedback from verified customers, and I've even tested some of the top contenders myself, including the editor's choice.
Using my extensive knowledge of dirt jumpers components and their strengths and weaknesses, I've narrowed down the top options that offer the best value for your money. So whether you're looking to get into the sport or seeking an affordable upgrade, you can trust that these dirt jumpers have been thoroughly vetted and carefully selected.
Without sacrificing quality, safety, or performance, these dirt jumpers offer features such as excellent handling, and durable design, all at a price point that won't break the bank. So if you're ready to let your child enjoy the ride of their life, these are some of the scooters that you must consider.
Read also:
Kids Dirt Jumpers FAQs
Are Dirt Jumpers Worth It?
The short answer is yes. Dirt jumpers are very easy to use and learn with compared to trail bikes.
What are Dirt Jump Bikes Good For?
They are special bikes engineered for jumping tricks and stunts.
How Do I Choose The Best Dirt Jump Bike for 8-10 Years Olds
You may want to Downsidesider getting a 24-inch bike for your kid aged 8-10 years old. They are usually the best for children who are 49" to 59" tall.
Conclusion
These bikes are sturdy, versatile, agile, and high-quality. Dirt bike jumping may look dangerous, but all your child needs is a kid's dirt bike from a good brand that can be trusted to support their fancy dirt jumping tricks.
It does not matter if your kid is an absolute beginner or an intermediate still learning the ropes of dirt jumping, the guide you just read will serve to make your next purchase much easier. Your kid will thank you for it!