Growth can sometimes be rapid in children, especially in boys. You will realize that every two to three years, your boy may need to change his bike and before you know it, they are ready to take out your mountain bike for a test drive. It is essential for kids to find a fitting bike for comfort and to prevent injury. Apart from comfort and not getting injured while they ride, they must also enjoy riding.
Every parent is bordered on their children's safety when they ride bikes, which can only be achieved when selecting the right size for them alongside the necessary bike accessories. While your kids comfortably sit on the bike's seat, their legs must be able to reach the ground. While you are concerned about their legs reaching the ground, you will also not want their knees too high when riding. The starting point of choosing a brand new bike for your growing kid is essential.
As your kid grows, one of the most important factors to consider is the bike's durability, including brakes. Here is a guide for the safest choice of bike. Usually, for boys between the ages of 5 to 9. At the age of 5, they are already familiar with learning pedaling and stability unaided. At this stage, upgrading their bikes to 20 inches is very important to suit their needs.
Regardless of the features, you seek in a bike for the maximum comfort of your kid, such as strength, reliable brakes, or even the one that can go a long distance, here are the five best 20-inch bikes for your 6 to 8-year-old kids to help you make a perfect choice.
Best Boys 20-Inch Hybrid / City Bikes
1. Cannondale Quick 20 Kids' Bike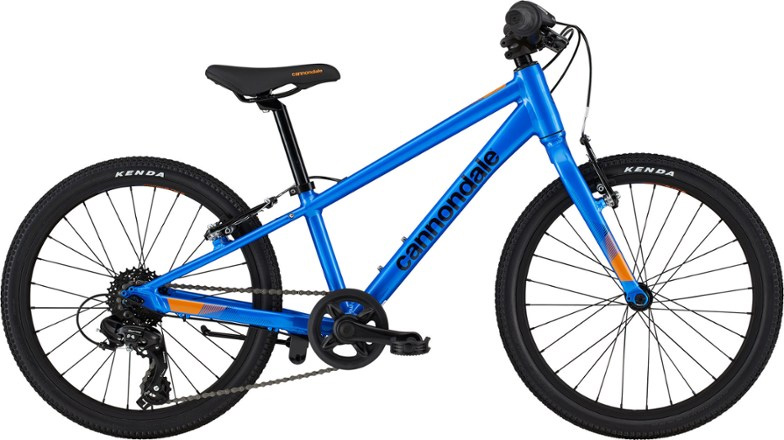 This 20-inch bike remains the perfect choice for your kid that wants to upgrade from training wheels to gears. Safety, comfort, and an easy ride are provided. Shimano's REVO twist shifter helps to provide easy and simple control of the simple by seven drivetrains.
The Cannondale has a system of easy braking from Promax V-brakes:
V-brakes
Shimano Tourney 7-speed derailleur
Very fast tires (20 by 1.5 inch)
Kickstand
Kids who chose the Cannondale 20 inch bike enjoy the KT alloy freehub, enabling them to coast along easily. Cannondale is an amazing hybrid/city bike that is guaranteed to offer your kid maximum satisfaction as well as many years of happy ride. The 1.5 Kenda small block tires come with an absorbing bump. Its 20″ light rims provide it with a more aesthetic look.
---
2. Co-op Bike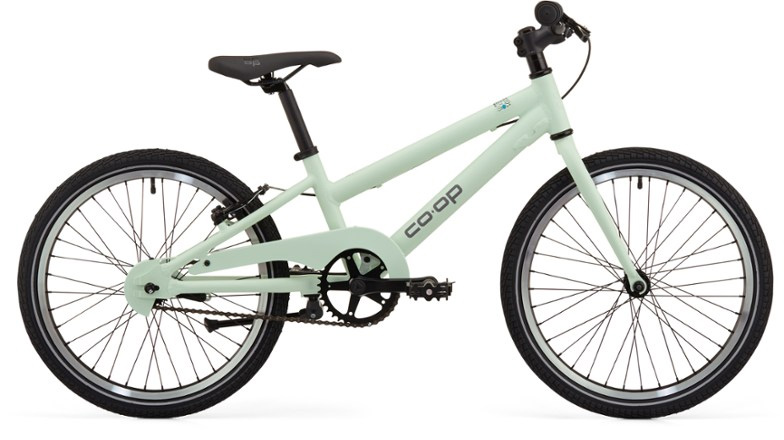 If your kid loves to move around the town, you need not worry about getting him the perfect choice of bike- Co-op is the answer to this. It is a perfect introduction to move from different places around the town such as parks or checking on your friends. Your kid will derive maximum comfort and the best riding style with its lightweight aluminum frame, including its steel fork, strictly designed for the streets. They are stronger enough to surf from one place to another place. The Co-op Bike has got you covered when it comes to having a long-lasting tire as its 1.75″ Kenda Kontact is strong enough to prevent any likely punctures.
It comes with the following features
Kickstand
Frame made of steel for a smooth ride experience
Single-speed
V-brakes
Reflective tires at nights
Chainguard
There is a provision of single-speed power for the Co-Op bike. It is provided by a 36T alloy crank, including a 16T KT coaster hub. Kids can enjoy every moment of their ride in the neighborhood as it comes with a Tektro rear caliper brake. The Co-op bike remains a perfect introductory bike for a non-complex movement from one place to another.
---
3. Electa-Sprocket 20-Inch Kids' Bike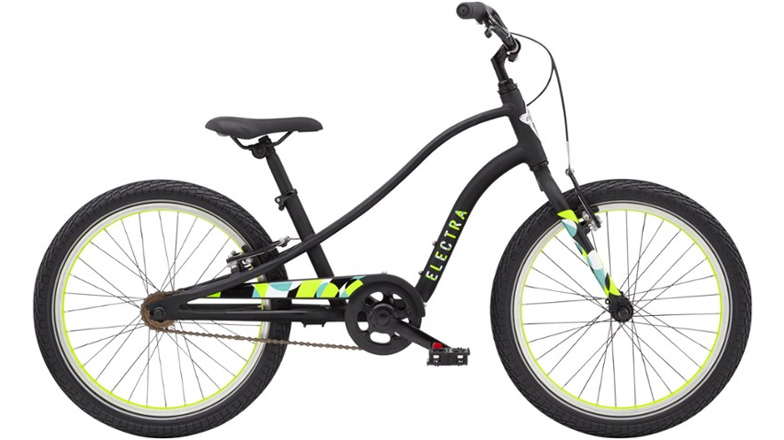 This amazing Electra-Sprocket 20-inch leaves kids with an amazing ride experience as it is designed for a funky style of beach cruising. Kids who are always enthusiastic about surfing the town will fall in love with it as it is perfect for a slow and comfortable town ride. Its hi-tensile frame comes with a one-speed freewheel hub that runs a crank of 18Toff a 32T. It offers more safety to kids when they ride as both the front and rear rim brakes are on alloy rims.
Kids have the following features to enjoy on the Electra-Sprocket bike when they choose it:
20 x 2.15″ tires
One-speed
Both the frame and the steel fork are aluminum-made.
Riding for a longer period without having a punctured tire can be amazing. This is why the Electra-Sprocket's 2.15″ tire is resistant to all forms of puncture. It not only helps kids save the expenses associated with the repair but also ensures you enjoy riding for a longer period without the need to worry about your tires. The bike allows you to head out and surf every nook and cranny of the neighborhood, including towns.
---
4. Electra Firetail 1 20-Inch Kids' Bike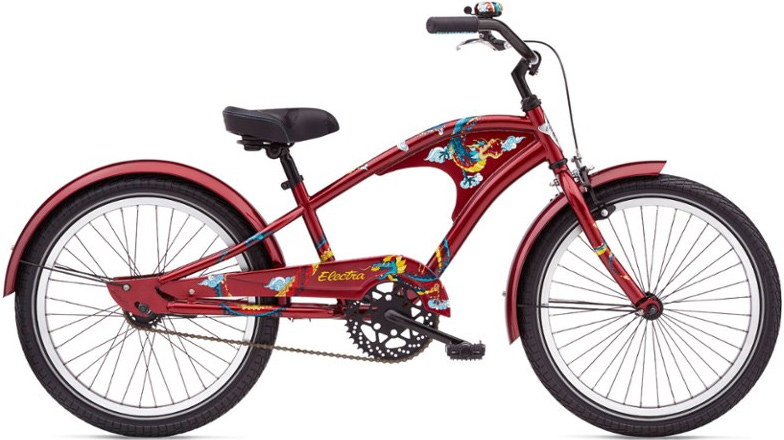 This is the true definition of a funky machine. With this bike's aesthetic design, you can be assured Friends will admire your son, and he will become the subject of discussion around the town with this amazingly stylish bike. The 20″ boys cruiser is attractive and beautiful, comes in metallic red and dragon decals.
Steel frame for a more comfortable ride
A kickstand
20 by 2.15″
With a low-slung geometry and an additional wide 2.15″ tires, more comfort is derived from the steel frame, making it look cool and one of the smoothest bikes your kid can have. The Electra Firetail 1 has a single-speed, making it best suited to slow. This makes it easier and fun for kids to ride along flat roads, either in the town or in the neighborhood. It comes with a rim brake and coaster. Additionally, the bike has a comfy sprung saddle, including a very loud bell for signaling.
---
5. Strider 20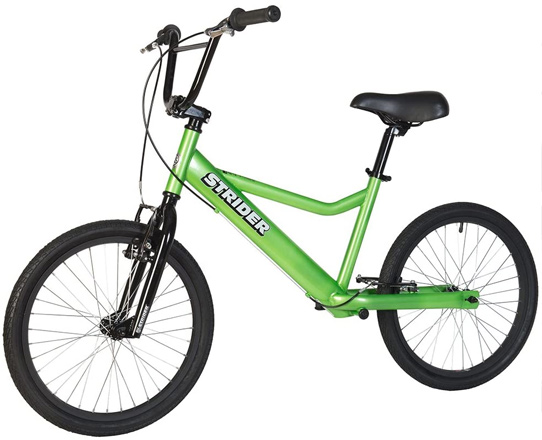 Once you have observed your kid needs an upgrade from a training wheel to something better, the 20″ balance strider makes the perfect bike choice. It provides your kid with all the fun he craves from a full-size bike, even without the need to be concerned about how to pedal it.
The strider provides a fun ride and helps kids in learning balance while they ride.
20 by 1.75."
It comes in black and white.
Steel frame and fork for an easier ride
For easier acceleration, kids can push along while they use their feet and balance on the platform of the foot while they speed down the neighborhood or the street. The bike provides them with the fun they seek even while they acquire new riding skills.20″ Kids' Bike.
---
How Do I Pick the Right 20-Inch Bike for My Boy?
A mix of a wide range of surfaces, including mountain, and more has the required features for using them. Choosing the right 20 inch majorly depends on what your child intends to use the bike for. When it comes to buying or shopping for 20 inch bikes, you should strongly consider two points. They are:
Features of the bike and its components: These features include the wheel's size, fenders, gears, suspension. Racks, gears, and brakes also consist of the features. They are all a determinant of how the 20 inch bike may be used, including its performance.
Fitness of the bike: By narrowing your search, making sure a bike has the proper fit for your child is important.
1. Materials for Bike Frames
Aluminium is a major material most of the bikes are made from. Other common materials are carbon fibre and steel. Certain pros and cons are associated with each of the materials. Therefore, when you decide, you should equally weigh your priorities too. Strength, lightness, stiffness, and affordability are all associated with aluminium. On rough roads, it can have a description of the harsh feelings. However, newer strategies of construction have brought improvements for shock absorption.
Compared to aluminium, steel has more weight. However, its strength and flex amount provide comfort while riding. A bike made of carbon fibre has less weight compared to aluminium and has more strength than steel, and costing more than the duos. This has made it a widely accepted choice for high-end bikes. Certain bikes have a feature of carbon fibre forks and/or seat posts instead of entirely made carbon to ensure the prices are reduced, but the benefits of light and strong materials remain.
2. Size
Getting the right size for your body is very important. Similarly, you are very cautious about buying the exact size of heels or shoes. If you choose the wrong size, it becomes uncomfortable after a while at its best. If you aren't deriving any comfort from your bike, using it will be unreasonable, displacing the major reason you initially purchased it.
Choosing a bigger bike can bring complete discomfort whereas, you can get every comfort you crave choosing a small one. Thankfully, it can be easy to choose the right bike. Always ensure that standing on the frame's middle with your feet flat on both sides is possible. You must also see that you raise the saddle and lower it to the very desired point so that the pedals are hit with comfort.
3. Seats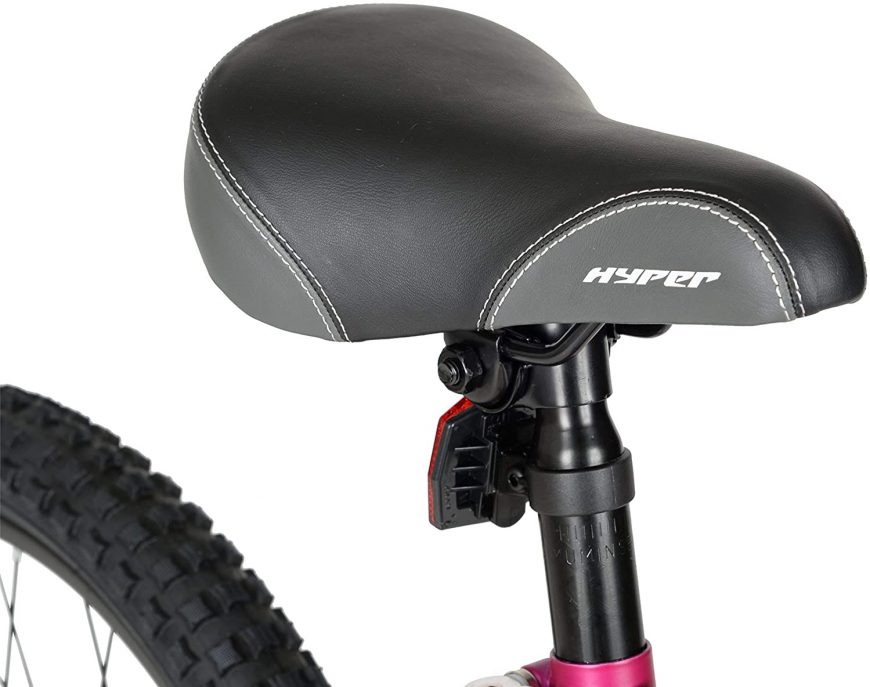 Most 20 inch children's bikes have padded seats instead of the thin foam, wrapped one bike for racing dedicated to racing and mountain climb. A suspension seat post is found in some of these bikes. This prevents shocking of the butt when a rider bangs up a slam vertical and chooses to get up in the pedals. It is advisable that if you choose to have your child's seat raised above a maximum post stripe, using your small bike can be unsafe. It is even better not to attempt it.
Before you purchase any bike of your choice, it is best to have a test ride if it is the right to choose or not. You may not deny that the bike looks great and beautiful, but the comfort may be far from what you seek when you test-ride. It can be disgusting to see that your bike can't serve the purpose anymore while you are halfway to your destination. Ensure your eyes are opened while buying.
Avoid being pressured when you want to buy. It is better to leave the bike shop and check somewhere else to find your choice. Even if you think it's less expensive to spend $300 on a bike, it can accumulate to something when you dump your bike for another within a few days.
4. Comfort and suspension
When it comes to comfort, it depends on personal choice or preference. Some may prefer bikes with suspension, while others may not. Suspension forks are one of the most popular elements that provides comfort while riding. Suspension forks help keep the rider's hands on the handlebars whenever riders are hit against an object.
This is achieved by compressing to shock and affect the absorption of bumping up and down or when entering into potholes. In addition to that, they are concerned with ensuring the hit only falls on the bike while your hands remain unhurt so you can have a smoother ride. If your budget is quite low and you have no thought of spending much, getting a bike without suspension won't be a bad idea. You will still have a better bike owned.
5. Type of brake
Generally, there are two major choices for bike brakes, and both are equally important should you want to stop in case of emergency. The type of brake you should go for should be based on your child's riding conditions' toughness and the fastness of the going plan.
Disc Brakes
A hard-core rider who enjoys going down hills at full speed or cruising around the town with heavy traffic, these specific brakes are expensive, and servicing can be very hard. But, it ensures you are safe when you ride in a form to quickly stop forward movement. Over time, disc brakes will prevent your wheel rims from wearing out, which can make them cost less in the long term if your child seriously uses them daily.
Disc brakes are effective by gripping a rotor on the wheel's hub, which even makes them good when the weather conditions seem harsher- wet or mud. If your child craves getting in the middle dirt as a rider, it is not advisable to ride without disc brakes. Rather, you should have quality life insurance.
Read Also: Why Disc Brakes Are The Best Choice For Your Road Bike
Rim Brakes
Being a standard type of brakes, they are better choices for riders who causally ride because they are not as effective as disc brakes. If you are spending a huge amount of your time riding along near the traffic or heading down sloppy hills, rim brakes are not enough to arrest your forward movement. They are less expensive, compared to disc brakes, and work by grab-holding the wheel rim.
A consistent practice of this prevents it from lasting long with time, and when this happens, you have got to change the wheels. The rim brakes are perfect for riders who ride at a very slow pace, summer steeds, and riders used to riding or travelling where there is less life-threatening traffic. Its operation is very easy as well as replacing the body parts. It is easier to understand when wear out is setting in at a quick rate.
Drum brakes
Their integration is into the wheel hub. They are not expensive to maintain and can resist the weather. Both hub and wheel may require replacement if there is wear out of the drum.
Coaster brakes
They are active when a rider pedals backwards. It doesn't need much maintenance and is perfect for kids who may not have very strong hands. Although, coaster brakes may not be a good idea for biking downhill.
6. Key Features of 20 inch bikes
To have an idea or figure the type that will be a fit for your ward, it is important to understand the purpose the bike will serve or what they want to use it for. These may include city commuting, exploring both smooth and paved paths lanes for workout or exercise, and riding on both pavement and gravel.
The moment you can understand the reason to buy, check out certain features the 20 inch bike has come next to decide if the bike's key features will suit how, where, and why you want to purchase it.
7. Size of Wheel
700c: most of the 20 inch bikes known are mostly found with this wheel as a standard wheel size. You need not be concerned much about the size of the wheel whenever you are selecting a 20 inch bike but concentrate more on the kind of bike that will provide the answer to your kids' needs and style of riding. These sizes are mostly found in certain hybrid bikes- 26 in. They are usually smaller compared to the 700c wheels.
8. Gears
There is bikes' availability with a wide range of gears, from one to twenty-seven or more. Things can often be difficult when you factor in the combinations of multiple chainrings and cogs and the numbers of teeth on them. Keeping this is not difficult; one of the important things, if not the most important thing to prioritize, is the level of your child's fitness and their terrain of riding. If your child derives problems while attempting to ride a hill or find it challenging to climb it, opting for extra gear will be the best solution.
If you child rides strongly or they enjoy riding on flat terrain, lower gears are not necessary to have to power up a hill. Aptly, they are referred to as single-bikes. There is a freewheel mechanism associated with these bikes in their rear hub, enabling riders to ride just as you would do it on a standard bike with several gears.
Tip: Try this Gear Ratio Calculator
9. Value For Money
This is one of the important factors to consider when choosing a bike; it is as important as other factors. You just don't want to pick a bike for an outrageous amount of money and later find out that the bike isn't of the value you bought it for after some months. It may not even serve the purpose why you initially purchased it. This is why it is important to pick a bike that offers you the value for the money you used to purchase it. The tech in best road bikes has brought a lot of improvement at a high rate, giving much popularity to cycling.
10. Convenience Factor
Picking a bike, regardless of the cost, the convenience factor is one of the things to look out for. Nobody wants their child to ride on a bike that causes lots of pain in the legs, as well as an imbalance. Riding for a long time or distance can result in any of this. This means your child will need to dump your newly purchased bike for a newer one after a few months. The convenience factor is very important; regardless of how old a bike may be, your child may feel reluctant to let go of it since they have understood the convenience they derive from it. Find out about everything that will provide your kid with the convenience you crave before purchasing a specific bike, including their height and the bicycle inch.
11. Brand Reputation
Choosing the best brand for your child's body type is very important, much more than your budget and their experience. It is equally important to have an idea of the kind of bike ride your child needs and then find the brand that offers it. Choosing the best brand of a bike is determined by many factors but before choosing a specific brand, take note of multiple points.
Many people consider different things before choosing a specific brand, some of which include long-lasting quality, innovations, and ideas. There is a trendy low noise revolution rocking the world of bikes, and busy parents tend to love it.
Many reputable brands depend on your location, but we know the most important is how well a brand can serve your child. Brand reputation can sometimes be confusing as you may stumble at companies that recently came into existence by graduates of MIT or see brands from a Nineteenth-century founded company that never stopped innovations.
Some would say choose a brand based on its innovative nature. But many brands throughout the world never stopped producing amazing and innovative products. They keep ensuring the delivery of new bikes is not interrupted.
With this in mind, choosing the best brand should only depend on personal choice. Begin by ranking the best brands based on how well they suit your child. If you are truly enthusiastic about the best brand that will fit your needs, it is important to go through the various brands that offer similar products to fit your child's interest. Once you are done, carefully find out the reviews from recent buyers and explore their features completely. With this, you will get a match that will fit all of your little one's needs.
How About Girls' 20 Inch Bikes?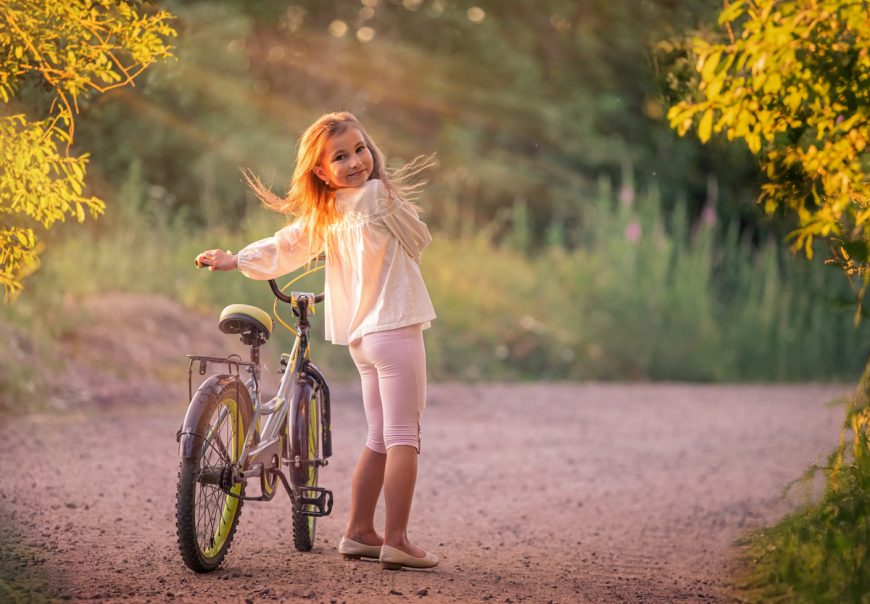 There have been a lot of changes in girl's bikes over the years. While many learned how to ride using training wheels, today's kids have been provided with balance bikes allowing them to learn how to ride even at a tender age. They also learn how to put down their feet while they learn.
There is safety, comfort, and fun in riding for little girls and any parent can rest easy. A more stable geometry, multiple options of size, parts made of quality, lighter frame, wider tires, and hand brakes are a few among the innovations for an amazing experience for your little girl. There are bikes with disc brakes and suspension forks, should your girl want to shred. Choose one based on your daughter's personality and keep exploring until you find which best suits them.
Kids Bike Sizes Chart
When choosing the right bike for a kid, considering the kid's height and inseam is very important. This is done to ensure the best bicycle that will fit them is obtained. The chart below reveals the size of the wheel, age, inseam, and height to help you get a fitting bike for your kid.
| | | | |
| --- | --- | --- | --- |
| Size of wheel | Age | Inseam | Height |
| 12″ | 2 – 3 years | 15″ – 18″ | 36 – 39″ |
| 14″ | 2 – 4 years | 15″ – 20″ | 37" – 44″ |
| 16″ | 4 – 6 years | 16″ – 22″ | 41 – 48″ |
| 20″ | 5 – 8 years | 19″ – 25″ | 45 – 54″ |
| 24″ | 8 – 11 years | 23″ – 28″ | 49″ – 59″ |
| 26″ | 10 + years | 25″ + | 56″ + |
To learn more, check out: The Definitive Guide to Kids Bike Sizing + Charts
Bikes for 8 Years Old
Your child may be ready to ride on a 20″ bike once he turns six years. At this point, they are ripe to get on with a wheel bike that has gears. And at the age of 7, most of the children already riding bikes are well vast with riding a 20-inch bike. There can be confusion with the size of the wheel to use.
So, consider first what the bike will primarily be used for and what locations your children will most likely ride it on often. Lots of 20″ kids bikes are available, and each serves a different purpose as they are designed to. For instance, there are mountain bikes, road, BMX, and cyclocross bikes. At this point, the bikes with a flat handlebar come in.
Boys 20 Inch Bikes Frequently Asked Questions (FAQs)
What Age Is a 20 Inch Bike Suitable For?
The 20-inch bike is recommended for boys aged 6 to 9 years. It is important to check out the comfort of the bike before purchasing it.
Is a 20 Inch Bike Too Big For A 6 Year Old?
Size ranges. If your child's inseam is longer, in the same 18 to 22 inch range, and in the same height, a 16-inch bike will be perfect.
Can A 5 Year Old Ride A 20-Inch Bike?
Certain brands of bike provide both small and large bikes that have the same size of wheel. A child's age does not indicate size. A 5 year old may fit 16 inch while 20 inch may fit a 4 year old
Who Is a 20-Inch Bike For?
Generally, a 20 inch bike makes a perfect fit for children between the age of 6 and 7 years. If you have a tall child at 7 or 8 years, a 24 inch bike will not be a bad idea for them to ride on.
Can Adults Ride a 20-Inch Bike?
Smaller bikes are fit for children while larger two-wheelers are made for children that are older, including teenagers and adults.
Conclusion
The cost and aesthetic of a particular bicycle may not mean it is the best choice to make. Every parent craves to have a bike that can last for a long period without developing fault regularly. Finding out about the right choice of bike will not only save up your money but will also allow your children to commute anywhere, any time of the day, in a safe and comfortable style. Many parents have picked the wrong choice of a bike because a particular brand or style is what another person's child uses. It is best to only consider your child when buying them a bike.
In the end, it is they who would use it with or without you present. The factors to consider when choosing a bike, as stated above, will help you make the right choice of bike selection. If you find it difficult to pick the right bike for your kids, especially when it comes to the right size to give your kid the maximum comfort.