Bike Trailers for kids are necessary to have, these devices let you carry your children along with you on bike rides. Just attach them to your bikes and you would be pulling the kids along like a chariot.
Being a bike enthusiast certainly isn't easy when you have a family too, keeping them out of the thrill and fun just makes the person feel incomplete, that is why there are bike trailers. Although, bike trailers for kids come in different shapes and sizes.
As the trailers are of different shapes and sizes, they all work and perform differently. Some may excel and be amazing on the road while some may show their true colors on off-road trails. It is up to us to make the best choice according to our preferences.
Best Bike Trailers For Kids Review
These are the bike trailers that we will be discussing in our guide, all of them have been categorized in terms of features, price, and performance.
| Best Feature | Trailer | User Review |
| --- | --- | --- |
| Best of the Best Trailer | Thule Chariot Cross | "The Thule Chariot is a dream to handle and is top value for your money, get it and forget everything else" |
| Best For Every Terrain | Burley D' Lite X | "There are not many trailers in the market that can handle all kinds of terrain, thankfully the Burley D' Lite can handle anything" |
| Best For Comfort and Space | Hamax Outback | "The Hamax Outback offers the most available room and also excels at giving top comfort" |
| Best Stroller Performance | Qeridoo Kidgoo | "You want an amazing stroller and bike trailer all-in-one, no better choice than the Qeridoo Kidgoo" |
| Best for every Weather | Thule Cadence | "The Thule Cadence handles itself exceptionally well in all kinds of weather" |
| Best for Cargo | Burley Encore X | "With the Burley Encore X, you can carry all manners of cargo and have an amazing ride with the kids" |
| Best Smooth Performance | Qeridoo Sportrex | "I don't think that I have better witnessed an amazing trailer and stroller than the Qeridoo" |
| Best Temporary Trailer | InStep Take 2 | "If you feel like taking the kids out once in a while and don't want to invest much then the InStep Take 2 is a great choice" |
| Best Value | Burley Bee | "With the Burley Bee, you get amazing value for your money, the performance will never let you down" |
| Best Ease of Usage | Burley Honey Bee | "The Burley Honey Bee commits at providing the best stroller and trailer experience in one" |
| Best Trailer Option | Allen Sports Deluxe T2 | "This is a great budget option for people looking for an amazing trailer" |
| Best Trailer + Stroller Combo | Allen Sports Deluxe S2 | "Allen Sports Deluxe S2 proves to be a great trailer and stroller combination in one great price package" |
| Best Multi-Niche | Thule Chariot Lite | "The Thule Chariot Lite proves that you don't need to break the bank in order to enjoy the best" |
All of these child bike trailers have been specifically hand-picked because of their amazing features, price tag, and performance.
13 Bicycle Trailer For Kids:
1. Thule Chariot Cross- Editor's Choice
Price: Single- MSRP $1,099-Double-MSRP $1,349.95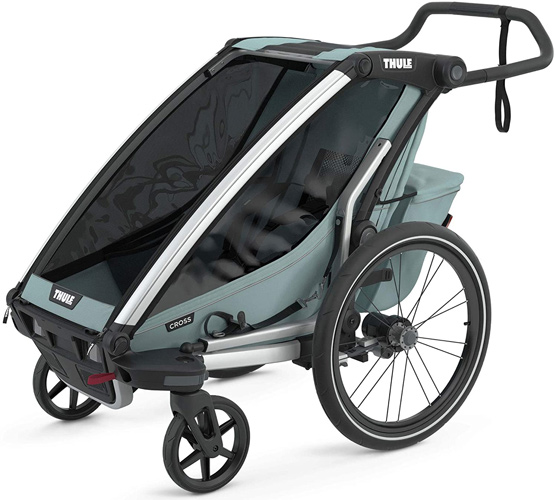 Parents that are looking for an amazing kid's bike trailer for their children should be quite satisfied with the Thule Chariot Cross, now this is the best kind that money can buy. It doesn't just provide amazing value for the money but also performs like perfection.
Most users have really loved the plush and cushioned seats with weather covers. It also comes packed with an infant sling that ensures an amazing stroller mode with no bumps because of the fully adjustable suspension.
The Thule Chariot Cross is packed with all the modern features and components, so expect top-notch performance. I expected the best from Thule and the best I got. I was amazed by the set of features it had, like the reclinable seats, amazing fabric that promotes durability, and the weather covers oof. You also have the option to opt for a double trailer.
If you were wondering about the extra components of this trailer then you would be surprised. This trailer comes with a stroller and jogger conversation kits, that are sorted out. The fun fact is that these kits don't even take up extra space because they are actually installed into the structure of the trailer. I compared its features with the d'lite x bike trailer but after examining countless reviews, Thule took the win.
If you have an active family, especially children that love going out then definitely get this trailer!
Advantages
Easy Set-Up
Smooth Push
Versatile Use
Disadvantages
Editor's Choice: If you were looking for the best like me, then the Thule Chariot Cross is going to be the perfect option. Both the conversion kits come extra-handy and you are going to love the features and components of the trailer. Enjoy amazing times with your children thanks to the best kids bike trailer!
---
2. Burley D' Lite X
Price: Single- MSRP $749, Double- MSRP $8,99.95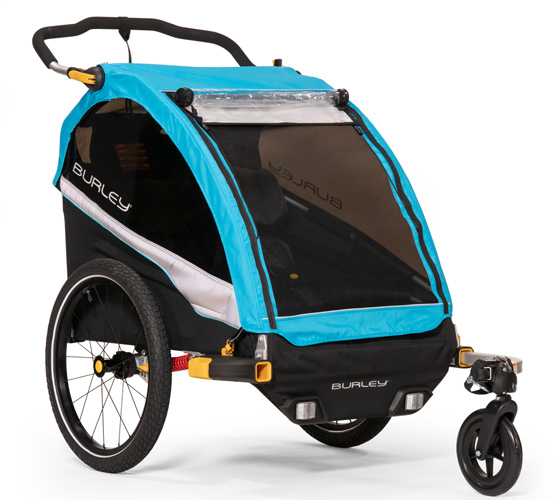 Not every time is it about performance or the features, sometimes parents consider the ease of usage and the comfort that their kids are getting, Burley D' Lite X surely falls under those aspects. This doesn't mean that the Burley isn't packed with amazing features, you would be surprised at the heat it is packing.
Kids get so excited when they are in cozy and comfortable environments, you would be pleased to know that the Burley comes installed with tinted windows and aggressive 20" wheels which are just perfect with the amazing all-terrain tires.
Just like my top pick, it has a fully reclinable seat with high-quality seat pads. There is also a fully adjustable suspension. The Burley D' Lite X is equipped with aggressive tread tires, this is a better upgrade than the Cross because the Burley is better equipped now to handle those off-road trails.
If you feel like it, you can scale down the Burley to the 16" version thanks to the conversion kit. You can seamlessly convert the trailer into a stroller or cargo trailer whenever you want. burley bike trailers are best suited for families that love experiencing off-road trails.
Advantages
Convertible To A Stroller
Safety Strap Adds Confidence
Disadvantages
Middle Bar Cuts Down Cargo Space
Difficult To Pull Frame Tubes Alone
Why I Like It: The Burley D' Lite X is not just for the performance but also for the looks, only they can achieve looks and muscle all in one. My kids love the comfort of it and the I love the stroller and jogger kit conversions. BTW it is also quite fun pulling it, handles like a dream.
---
3. Hamax Outback
Price: Single- MSRP$1,038.59, Double- MSRP $1,093.31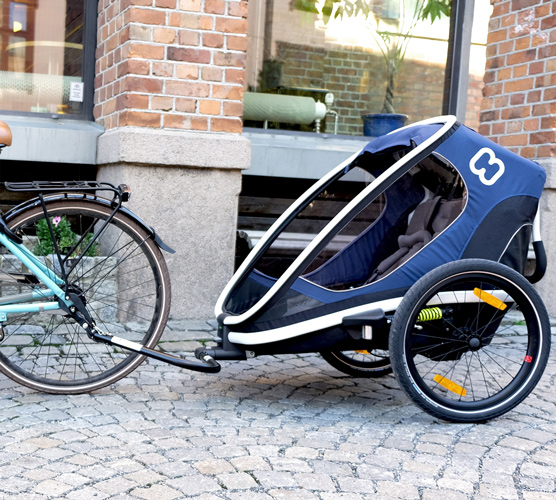 What if SUVs and Bike Trailers combined? How would they look? Well, they would definitely look like the Hamax Outback. This is a very sleek and amazing bike trailer that is known for being roomy and comfortable. Hamax is known for manufacturing amazing bikes and accessories but with the Outback they just blew the roof.
It is very roomy and has a tall interior. Users have also liked the thick and strong cushioned tires and their unique European style. If you have tall kids then you would be delighted to have the Hamax Outback in your inventory, extra room for your kids is perfected with this trailer. It's not just a standard bike trailer because it doesn't compromise on quality, not even one bit, so expect a very comfortable and amazing ride with your kids.
Yes, there could have been more improvements as a standalone bike, but where it lacks it makes up for being an amazing stroller. This is a trailer that you should definitely keep in your crosshair.
Advantages
Adequate Leg Room
Easy To Interchange Accessories
Disadvantages
Why I Like It: I have tall kids, it runs in the family so I always wanted to get them a roomy and extra comfortable trailer. My wish came true, thanks to the Hamax Outback. The tires, amazing European design, and mat make for one amazing trailer.
---
4. Qeridoo Kidgoo
Price: MSRP $820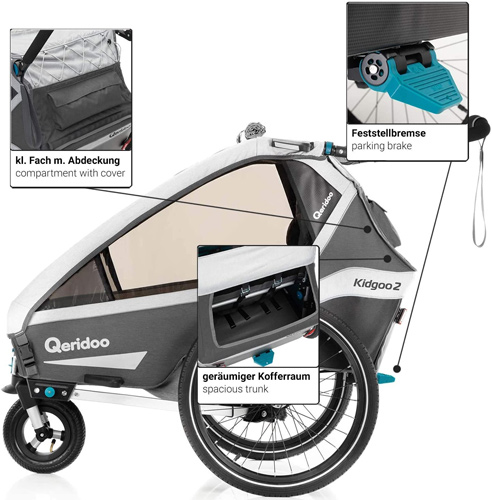 Why should kids have all the fun when parents can also enjoy themselves? The Qeridoo Kidgoo doesn't just perform as an amazing trailer but also as a stroller. You can walk and jog around with this trailer and it will definitely feel like a dream. Think of this as a multi-sport trailer and is best recommended for parents that love walking or jogging!
Its jogging and stroller modes are very impressive and definitely came as a surprise, you can fix the wheel for precise jogging or use it to maneuver.
The trailer isn't just optimized for the parents, kids are also going to love it. This trailer is packed with the most amazing features like a car-style harness, comfy seats, and storage space. No matter what kind of stuff you need to carry around with you, with the roomy storage space all of your worries have come to an end.
Definitely get this trailer if you want to enjoy it with the kids!
Advantages
Spacious
Very Versatile
Has 5-Star Safety Features
Disadvantages
Triangular Opening Ventilation Windows Are Not Wide Enough
Why I Like It: I always thought that if you have the kids with you on a walk or a bike ride, you should also be able to enjoy yourself. The Qeridoo Kidgoo definitely made my wish come true, with it I and the kids can have much fun. The interior of the trailer is quite attractive though and I know that you would be surprised by it!
---
5. Thule Cadence
Price: MSRP $247.99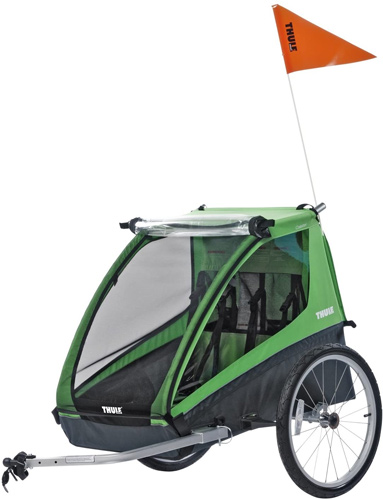 How about something basic, that isn't too expensive and gets the job done? We would never compromise on quality, so that is why we chose Thule Cadence. This is a basic bike trailer from Thule but the quality is still top-notch, from the moment you will start using it, you will be greatly satisfied.
You can assemble this trailer in no time and you don't even need that much expertise for that. The covers are amazing and do an actually good job of protecting the kids against harmful substances. It is very easy to assemble and is fully weather-proof. I also find it extremely lightweight and easy to handle
Even though this trailer has an average price tag, it certainly does not sacrifice quality. No matter if you tow it to your bike or use it as a stroller, it will perform just as amazing. The construction of the trailer ensures that you will be using it for years to come.
It could have been better, as the absence of safety options and padding in the seats makes things unreliable sometimes, but that's it. For the price tag, you are getting a good enough product.
Advantages
Disadvantages
Lacks Padding At The Back
Why I Like It: Some parents can't purchase premium trailers and are too afraid to buy the cheap ones, thinking that they will fail. There should be products that are low-priced but also are of high quality, the Thule Cadence is definitely one of those trailers. The features, components, and performance are just amazing.
---
6. Burley Encore X
Price: MSRP $572.06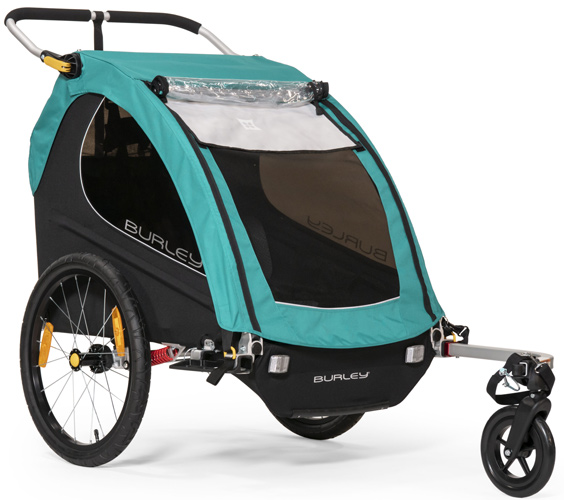 Burley has done it again by showcasing the amazing Encore X, now this is one of the best trailers out there in the market. The trailer is extremely high-quality and the fact that it is made with durable components is a testament to Burley's quality.
The trailer never fails to impress us, and it also creates one amazing and fun environment for the kids. Burley Encore X has the traditional bench-style seats which are comfortable, the harness system is also exemplary. You can get the kids in and out of the trailer without any kind of problem.
It has comfortable bench-style seats with a handful of shades and storage space. Kids are very excited sometimes and that behavior enables them to hurt themselves, the addition of UV and Sunshades in the trailer protects the kids. With the cup holder, kids can also munch on their snacks while they enjoy the ride with their parents.
This is one of the most amazing and affordable bike trailers that you can get your hands on!
Advantages
Well Built
Very Spacious
Smooth
Disadvantages
Why I Like It: Being a fan of Burly I was immediately sold on the Encore X, it is an extremely fun trailer. My kids are a bit nosy sometimes and complain about the interiors of trailers but with this one, they were very much satisfied. The ease of usage is just amazing and it is quite affordable too.
---
7. Qeridoo Sportrex
Price: Single- MSRP $549 Double- MSRP $649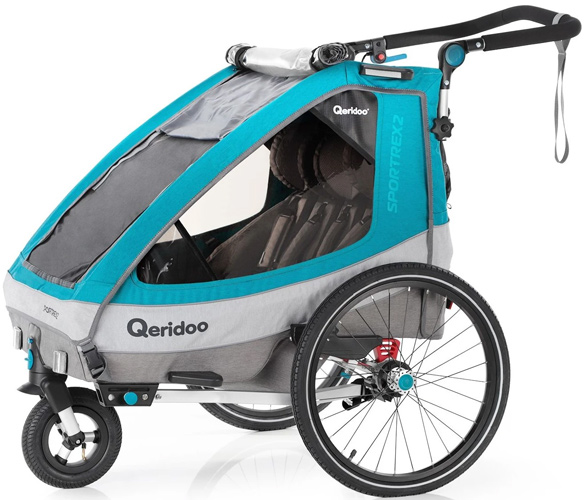 Sometimes you want to push the boundaries with your kids and that is okay, everyone likes speed. The Qeridoo Sportrex trailer gives amazing comfort to kids and thrills to parents, which is why it is so much famous. The trailer is available in both single and double capacity although I would recommend the single one, the double one becomes too much wide. It has a pneumatic stroller wheel with a fully adjustable suspension.
Yes, the Sportrex offers great speed and thrills, but it also makes sure that the kids are safe when the parents are having fun. The safety options like the car-style harness and straps are quite impressive. Getting the kids in and out of the trailer is also made very easy.
If you get bored from pulling the trailer you can use it as an amazing stroller, that is how convenient and flexible the trailer is.
The protection is very top-notch from the shades to the straps, and the kid's safety is guaranteed. If you are a person that does a lot of walking then this trailer would be perfect for you.
Advantages
Magnetic Closure For Pockets
Practical Sunshade
Disadvantages
Lacks Ventilation
Difficult Assembly
Why I Like It: I love strolling, sometimes pulling the kids like a chariot gets too boring. The Qeridoo Sportrex offers amazing features and performance and can be instantly converted into a stroller. Do you have a need for speed? The Sportrex is going to be your best choice!
---
8. Burley Bee
Price: Single- MSRP $239.95 Double- MSRP $390.14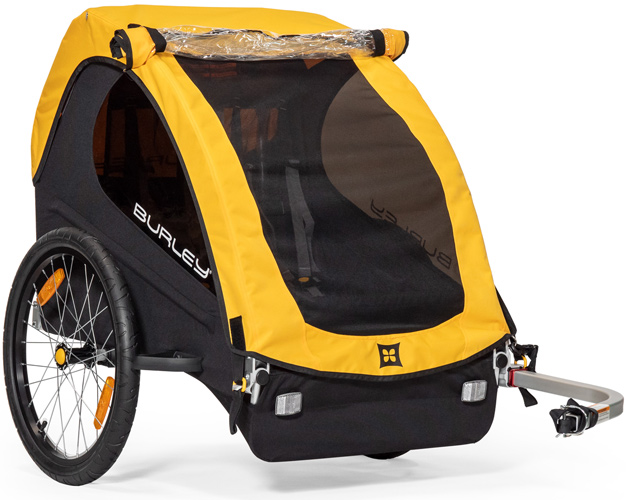 Although this one is a budget trailer, the quality is still top-notch. Not everyone can afford great trailers but everyone deserves great quality. This is what the Burley Bee promises, an amazing package at a low price and nothing tops that. The construction of the trailer is very impressive, no matter what kind of abuse you throw at it, it will prevail.
It has enhanced durability with amazing UV Windows and lots of extra safety features. People who are on a tight budget when finding something amazing shouldn't let it go, that is the case with the Burley Bee. The combination of exceptional performance and components makes this a trailer not to be missed.
Advantages
Value For Money
Easy To Maneuver
Disadvantages
Might Need To Purchase Through-Axel Separately
Why I Like It: Sometimes strolling can become boring and if you don't have a good budget then opting for the high-end trailers can become problematic. The Burley Bee offers a good deal for parents that are looking for amazing trailers on tight budgets.
---
9. Burley Honey Bee
Price: MSRP $479.95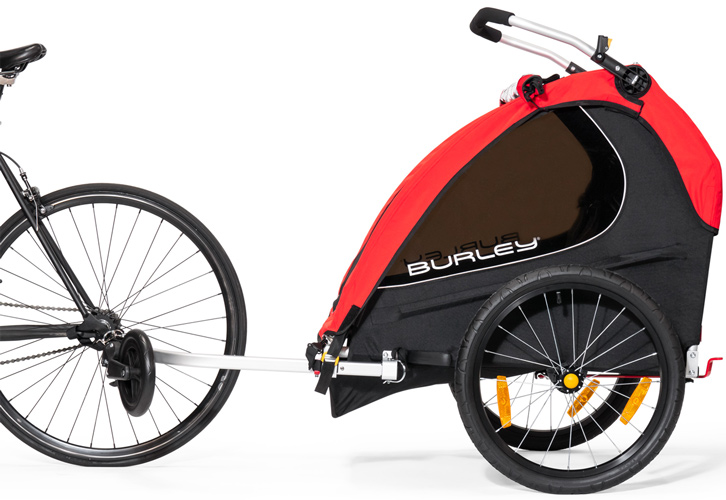 Why not get started in the realm of bike trailers and strolling with something basic? Many of the parents out there don't know that much about trailers and have only seen their friends or neighbors using them. The Burley Honey Bee is a great way to start off the parent that doesn't know much.
It may look like a very basic trailer but it isn't, the quality is top-notch and you still get amazing features with it. It has a basic trailer hitch system.
This here is a trailer that is very easy to use and the kids are going to love it. If you are just starting out and want a good taste of trailers then get the Burley Honey Bee, it is everything that the company stands for.
Advantages
User Friendly
Easy To Install
Disadvantages
Lack Of Suspension Leads To A Bouncy Ride
Why I Like It: Some parents don't know the deal with strollers and bike trailers, many of my friends are like that. If you are new to this then the range of features and performance of the Burley Honey Bee is going to surprise you. Do try it out!
---
10. InStep Take 2
Price: MSRP $188.64
The InStep Take 2 might be the lowest-priced bike trailer I have ever come across but that doesn't mean that it is of low or average quality. This trailer is best suited for those parents that want to go out and have fun with their kids but also don't wanna break the bank, trust me, this trailer never compromises on quality.
Apart from being a really good trailer, there are tons of great features. It is extremely lightweight and thus easy to handle. Is very roomy, with tons of storage space, and comes installed with wide passenger seats
Having a great bike trailer that isn't just cheap but also performs well is a blessing, you will be fully satisfied with the InStep Take 2. Taking the trailer for grocery shopping is also made fun as the seats can lie flat, making extra room.
Although, this trailer isn't that durable and if you are planning to use this for a long amount of time then you better find other options. This should be a backup option for you, not the main one.
Advantages
Disadvantages
Why I Like It: It is good to have a proper backup trailer when the main one is not available or is undergoing repairs. The InStep Take 2 although might not be durable, offers great performance and storage options. I used it many times for fun and grocery shopping and wasn't disappointed at all.
---
11. Allen Sports T2
Price: MSRP $149.99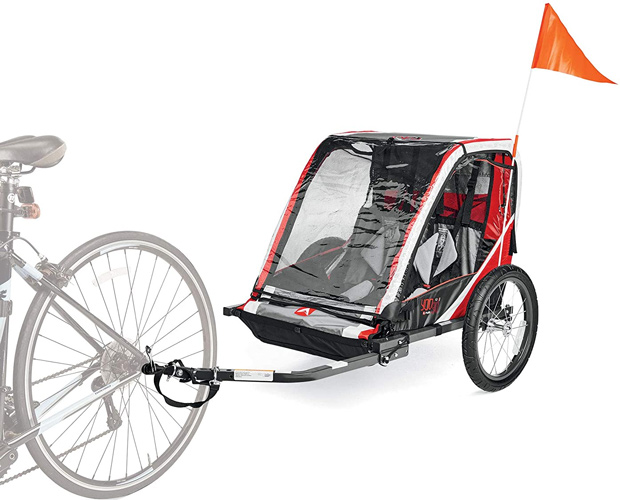 Allen Sports T2 is another great budget bike trailer that you can get for $120, and it also comes packed with great features. It may not be in the leagues of the premium brands in the market but it certainly holds its ground.
It is durable, very roomy, and has enough storage space. You can't go wrong with the Allen Sports T2, for the price tag, it just can't get better so do check it out.
Advantages
Disadvantages
Could Use More Storage Space
Why I Like It: The Allen Sports T2 bike trailer is a great option when you are on a tight budget. It won't be as amazing as the other amazing options but it gets the job done quite nicely and that is satisfactory!
---
12. Allen Sports S2
Price: MSRP $324.13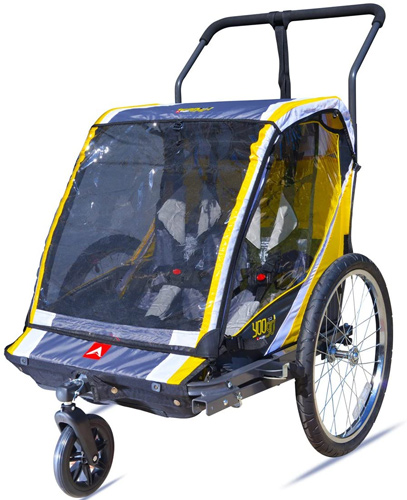 This is another great product from Allen Sports trailers collection, the S2 bike trailer seems to be the most comfortable and spacious yet. Keep in mind that his trailer is strictly for budget-constricted families, but it also offers amazing performance.
This here is an amazing bike trailer and stroller, combined in one great package. It has large 20" Wheels with extra storage space.
The addition of the 5-point harness system makes it more amazing than the Schwinn Bike trailers and that is a great point to flex about. Use this as a stroller or a bike trailer, you will have fun with it.
Advantages
Quality For Price
Easy To Assemble
Disadvantages
Difficult Assembly Instructions
Why I Like It: The Allen Sports S2 trailer once again proves that you need to spend a lot of money to get a worthwhile product. Do you need a good budget-friendly stroller and trailer? There is no going wrong with the Allen Sports Series.
Read also: Schwinn Bike Trailers Review- Echo vs Trailblazer
---
13. Thule Chariot Lite
Price: MSRP $899.95

Thule Chariot Lite Multisport Trailer Stroller
Let's close off our guide with one amazing bike trailer, shall we? The name Thule speaks a lot when it comes to bikes and bike-related products, that is why our last pick is the amazing Thule Chariot Lite. The trailer itself speaks for the performance and quality it offers, which is just amazing.
Thanks to the conversion kit, you can easily morph it from trailer to stroller to ski led, which is quite impressive.
One of the surprises about this bike trailer was the weatherproof ability, it also offers great ventilation. Thanks to the construction of the trailer you can easily attach it to bikes without any kind of problems. As the trailer is made with amazing components and features, it is built to last and you will have many fun adventures with this one.
Advantages
Disadvantages
Less Storage Space
Expensive
Why I Like It: Thule always had a special place in my heart and the Chariot series are one of the best I have ever tried. From the build of the trailer to its outstanding components, it offers a great ride for the parents and the kids. You can easily attach it to bikes without any problems, the weatherproof prowess will definitely surprise you.
---
What Are The Advantages Of Owning A Baby Bike Trailer?
You got yourself a baby bike trailer, yay, but what do you get out of it other than performance and features? There are plenty of things that you would be benefitting from. These are the advantages of owning a bike trailer
Eco-Friendly
You become more eco-friendly. The first and foremost advantage of owning a bike trailer is that you actually construct yourself into the side of nature. Owning a car is great but the smoke emitted from it also harms the environment. With almost all bike trailers, you can enjoy nature in its raw form without any kind of penalty.
Inclusive
You don't leave the kids behind. Owning a bike trailer means that even a trip to the grocery shop is going to be fun with your kids. This doesn't just boost your confidence but also makes the kids very happy. With the bike trailers, you and your kids will have immense fun and no one will be left behind.
Supports An Active Lifestyle
Enjoy an active lifestyle. Making the kids enjoy the outdoors with bike trailers and random trips will make them have a more active lifestyle. Bike trailers help us fall in love with nature again, you spend less time on screen and more time with your kids outside.
Fun Family Time
You can enjoy proper family time. If you are tired and bored of the same routine then bike trailers will offer something new. Families can now go out and have tons of fun with their kids, if the trailers convert into strollers then it is double the fun!
How To Choose The Best Bike Trailers For Your Kids?
Bike trailers are tons of fun, these devices let you connect with your children whenever you go out on rides. After the calculator, this might be the finest invention yet. Although, no matter how good it is, parents still can't figure out how to choose the best trailer for their kids.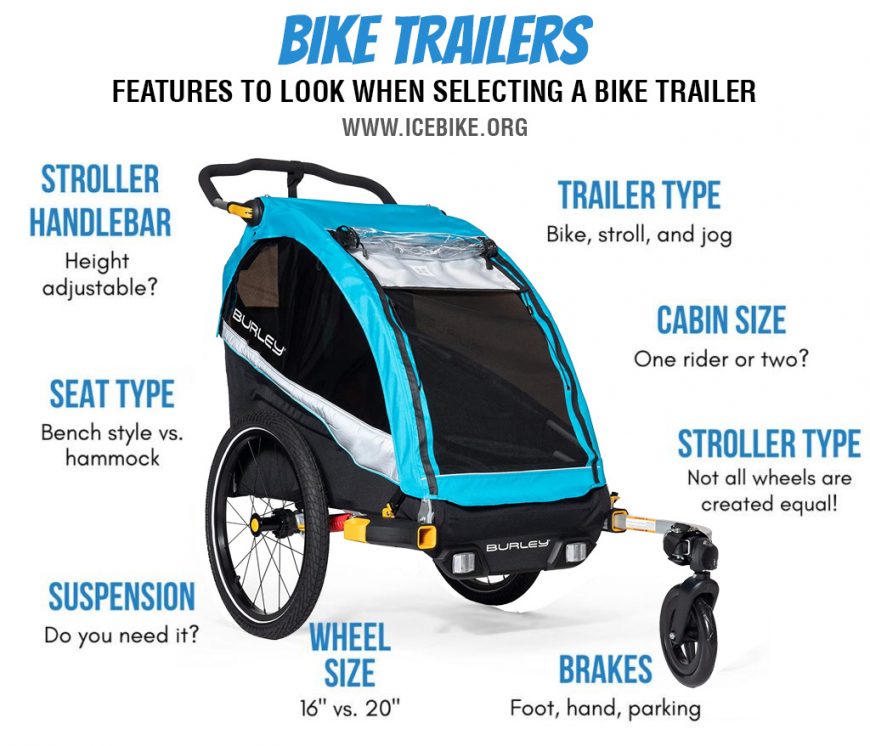 That is why we are here, we have put together this guide to tell you exactly the steps you need to follow to find the perfect bike trailers for your kids. Let's get started!
What Are Bike Trailers?
Bike Trailers are devices that you attach to your bikes, they act in a pulley system and you use them to carry your kids around with you. This here is a showcase of the bike trailer.
Size Matters
The actual size of the bike trailers for kids is going to matter a lot, it will determine how effectively you will be able to pull them and how many kids can accompany you. There are basically two sizes of bike trailers:
Single Bike Trailer
Double Bike Trailer
Single-bike trailers are by far the best, you can carry one of your children in them and they are also very easy to use. They aren't just lighter but are also more affordable. The Double bike trailers let you carry two kids at one time.
Read also: Kids Bike Size Chart: The Definitive Guide To Kids Bike Sizing
Different Types of Bike Trailers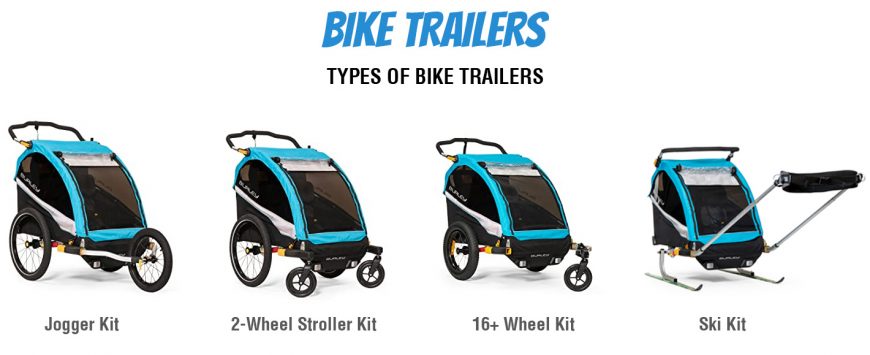 When you go out in the market, there will be tons of bike trailers waiting for you. The end purchase relies on your preferences, for what purpose would you be using the bike trailer?
Do you want to use them as a stroller or for jogging? The choice here is yours! The most famous kind of trailer in the market is the Multi-Sport which can convert into both strollers and joggers. You can even get different types of attachments for your trailers depending on the choice.
If you get a normal trailer then there would be accessories or conversion kits available that allow you to convert the trailer into strollers or joggers.
My personal recommendation would be to go for the high-end premium products as they have the best features, padded seats, and enhanced durability.
The Trailer's Cabin Dimensions Are To Be Considered
You must check the internal cabin's dimensions for your kids, so even if the kids are tall they would fit into the trailer just fine. This is a safety check that you absolutely must do, without paying attention to it could lead to trouble. Also do know that each brand's dimensions are going to be different from each other.
The dimensions range from 23" to 30".
Some Of The Trailers Are Equipped With Harnesses and Buckles
We want our kids to feel extra comfy and spacious when they are in the bike trailers. You would be pleased to know that some of the trailers have Buckles and Harnesses in the seats.
Look Out For The Suspensions and Handlebars
Handlebars and suspensions are most necessary if you want the trailers to be converted into strollers or joggers. Parents need to feel free and comfy too and that is where these components come in. The suspension in your trailer must be perfect to overcome bumpy roads.
Choose The Kind Of Seats You Want
There are basically three types of bike trailer seats:
Bench Style- Premium and high-quality seats
Hammock Style- Found in low-level trailers
Buckles and Harness- Offers the most comfort
Does Trailer's Wheel Size and Type Matter?
Yes, the wheel size and type definitely matter in the long road of performance and stability. Wheel sizes vary between 16" and 20" basically. The dimensions are very important as they factor in the trailer's speed and stability.
The best of the best are the 20" wheels as they will be able to handle any kind of terrain.
Covers and Protection Is A Must
Make sure that the trailer you purchase is packed with enough protection against extreme weather. Windows and covers would play a very big part here. If the trailer has a sun cover then that's perfect, it would protect the kids against the harmful rays.
Should The Trailer Have Storage Space?
This is another aspect that is completely dependent on your perspective, if you want to carry around stuff or go grocery shopping with your kids then the storage space is very necessary.
Our Methodology- How We Select Bike Trailers
As a parent, I understand the struggle of finding high-quality trailers that fit within a budget. That's why I've dedicated countless hours to researching and analyzing the trailers for kids on the market. I've scoured the web for honest reviews and feedback from verified customers, and I've even tested some of the top contenders myself, including the editor's choice.
Using my extensive knowledge of trailer components and their strengths and weaknesses, I've narrowed down the top options that offer the best value for your money. So you can trust that these trailers have been thoroughly vetted and carefully selected.
Without sacrificing quality, safety, or performance, these trailers offer features such as excellent handling, and durable design, all at a price point that won't break the bank. So if you're ready to let your child enjoy the ride of their life, these are some of the trailers that you must consider
Read also:
Recap
I am so happy that I got to collect these amazing options I gave all of you. You would be getting amazing bike trailers for your kids. Bike trailers are very necessary for kids and parents alike. If you are an enthusiast then you need to get one, so you can enjoy family time and nature.
My recommendations depending on the performance and price factor are:
Thule Chariot Cross- High-End
Burley Encore X- Second Best Choice
Allen Sports S2- Best Budget Choice
Each bike trailer is going to be different from the others, but we can make the perfect choice for our kids with the proper knowledge. I hope that after reading this guide you will be able to make the right decision for yourself.