If you are a bicycle aficionado, you can probably list out all of the ways that cycling is better than almost any form of transport. There are certain departments in which this lean machine could considered to be lacking, nonetheless. This namely is in the lack of space that is available. If you want to take your belongings, children, or even pets along with you, you are going to need to get creative. Fortunately, there is a simple solution to your dilemma – a bicycle trailer.
Choosing a bicycle trailer is much like selecting a bike itself. In that, it is dangerous to make an uninformed decision. If you want to add this to your list of bicycle accessories, you are going to need to know what to look for. This way, you will be able to make sure that the trailer will not be giving out on you midway through your trip. Luckily for you, you do not have to venture into these unknown waters alone – you have got this handbook along for the ride. This is a comprehensive guide to choosing the trailer that is best for you, your bicycle, and your needs. Let the fun begin!
Important Points to Remember
Before going any further, there are a few absolutes about trailer choosing that you should be aware of. The first is the actual weight of the trailer. Now, a good quality trailer is an unqualified must. At the same time, you need to be wary about the weight of the trailer. You are the one who is going to need to haul that trailer so you will need to think about the strain placed on you as well.
If you get a trailer that is too heavy, you aren't going to be getting very far with it. This is where the material comes into play. Steel tends to be the go-to material for the construction of the trailers. If you are willing to spend a little extra, however, you can get a lighter version – alloy.
The other point is regarding storage. These trailers are going to take up a great deal more space than your bike. Therefore, you are going to need to take this into consideration when making your choice. If you don't have a lot of space to work with, there are many child trailers that can be folded so that they take up less room.
Last but not least, it is the compatibility of the bike trailer attachment system. Prior to making a purchase, you are going to need to check that the trailer can, in fact, be attached to your bike. The trailers are typically one of two ways. This involves the trailer either being bolted either the seat post or the rear triangle or fixed via a quick-release skewer.
The first thing you will need to ascertain is that your bikes drivetrain, brakes, or axles are not an obstacle to the trailer attachment. You will also need to make sure that the hitch is universal and not just specific to one manufacturer.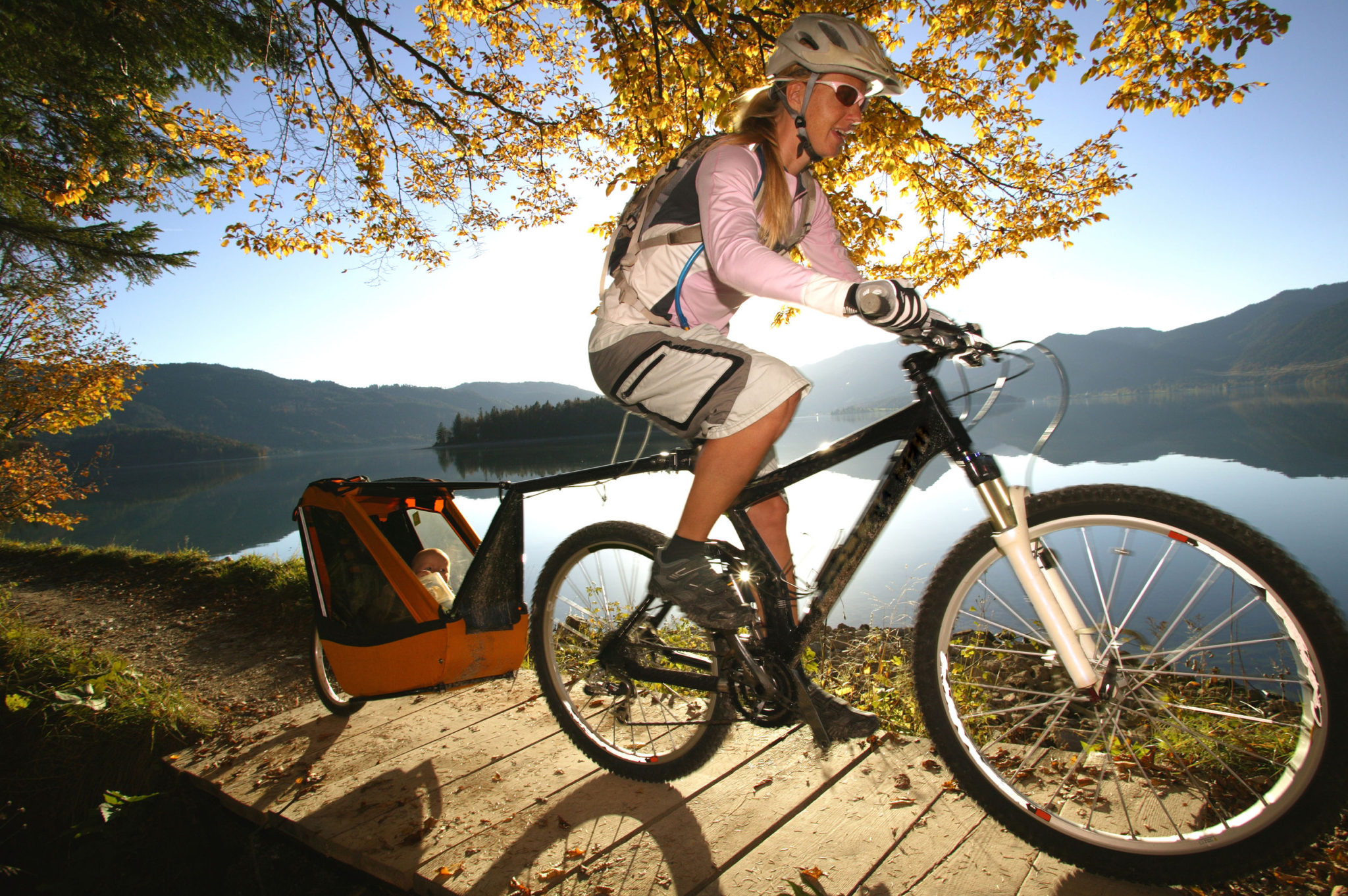 Types of Bike Trailers
The type of bike trailers depends on precisely what it is you are hoping to haul around. Will you be taking children, pets, or just items on your bike ride? Based on this, you can decide on a corresponding trailer.
For children, you can choose from two different designs. There is the open-air design where the child is enclosed between high walls but the top of the trailer is open, allowing them to enjoy the fresh air. Then there are those that you can zip up tight to keep your little one protected from the weather and pollution. Both of these options often come with seats and buckles to ensure that your little one is safely and comfortably tucked in.
If you are not too fussy, your pet can easily fit into a trailer that is meant for children. Nonetheless, there are trailers that are specifically created with your pooch in mind. They do bear a striking resemblance to the child trailers except are smaller.
If you are moving cargo around then you are going to need a cargo trailer. These are less fussy than the other two and simply consist of barriers to prevent things from spilling out. There are some that come with coverings if you don't want your belongings to get damaged.
The One Wheel vs. Two Wheel Debate
When looking at bike trailers, you will find yourself having to choose between trailers with just one wheel or trailers with two wheels. These are both equally useful but their value is dependent on the situation.
In short, if you are looking to overcome the significant weight you are carrying, then you will be better off with a two wheel trailer. The weight is more evenly balanced, making it easier for you to pull the trailer along. With two wheels, however, it will be best if you stay on terrain that is largely flat, smooth, and wide.
If you are looking to head to a hilly area with lots of winding turns, then a one wheel trailer will be quite convenient. You will find that there is a great deal more traction and that cycling up and down will be easier too. Of course, you will need to minimize the weight you are carrying if you want to maintain handling control. One wheelers tend to be useful for cyclists who are touring, as long as their load isn't too heavy. Read more about it here.
Speaking of bike tours, a trailer can really come in handy, depending on the circumstances of your trip. One of the questions that you will need to ask yourself is just how long you will be spending on the road. If it is going to be a long trip, then you may need some creature comforts to make the journey a little more bearable. That being said, you are going to need to make a careful decision regarding the trailer. In particular, you should avoid anything too bulky if at any point in your journey you will have to rely on other means of transportation. Having a smaller, lightweight trailer will make it easier to take it with you in other vehicles.
Bike Trailer Safety
If you are going to be keeping your child or pet in a bike trailer, you are going to need to know that they are safe in there. There are several different aspects that you have to think about when evaluating a bike trailer's safety features.
One of the most important things that you will need is a trailer with good suspension. This is especially significant if you are toting around very young children. Good suspension will help to offset the unevenness and toughness of the terrain. It will also help to protect delicate necks and spines in the process. Therefore, it is vital for both comfort as well as safety.
Another thing that you should check for is the presence of harnesses and other buckles. These will aid in keeping your little one strapped to your feet. In addition to making sure that they stay inside the trailer, it also helps to protect them if they are unable to brace themselves.
Your children should also wear helmets while they are in their trailer. This is because regardless of how well-built the trailers are, they will still tumble in the event of an accident. If your child is too small to be able to wear a helmet, they should not be taken in a trailer. In fact, it is a good idea to wait at least until a child is older than twelve months before placing them in a trailer. To discover more safety facts about riding with children, visit this website.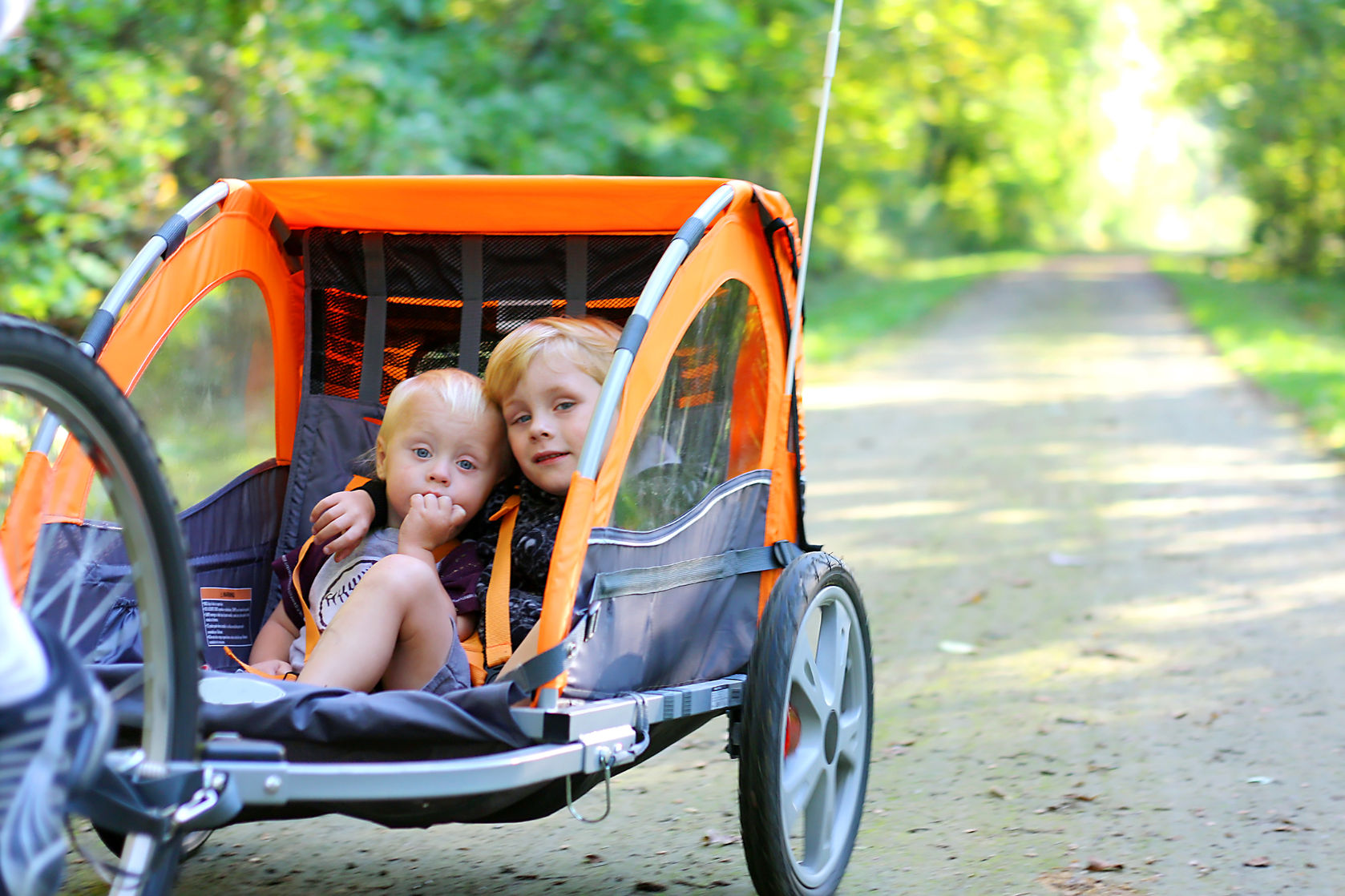 Our Top Ten Picks
Ok, so now you that you a better idea of what to look for in a bike trailer, it is time to introduce to some of our favorites. These are some of the best bike trailers that you can choose, depending on your requirements:
Child Bike Trailers
There are a lot of child bike trailers to choose from but we managed to narrow down the ones that we liked the most. Here they are:
InStep Take 2 Double Bicycle Trailer
The InStep Take 2 Double
bicycle trailer is certainly one of the more popular options available. It is easy to see why considering it really does tick all of the boxes that it needs you to. First off, the frame is made from tough steel which makes it a high quality trailer. Despite this, it does manage to be fairly lightweight. It also comes with 16 inch pneumatic tires that boast molded rims. This makes for a smooth ride on a variety of terrains.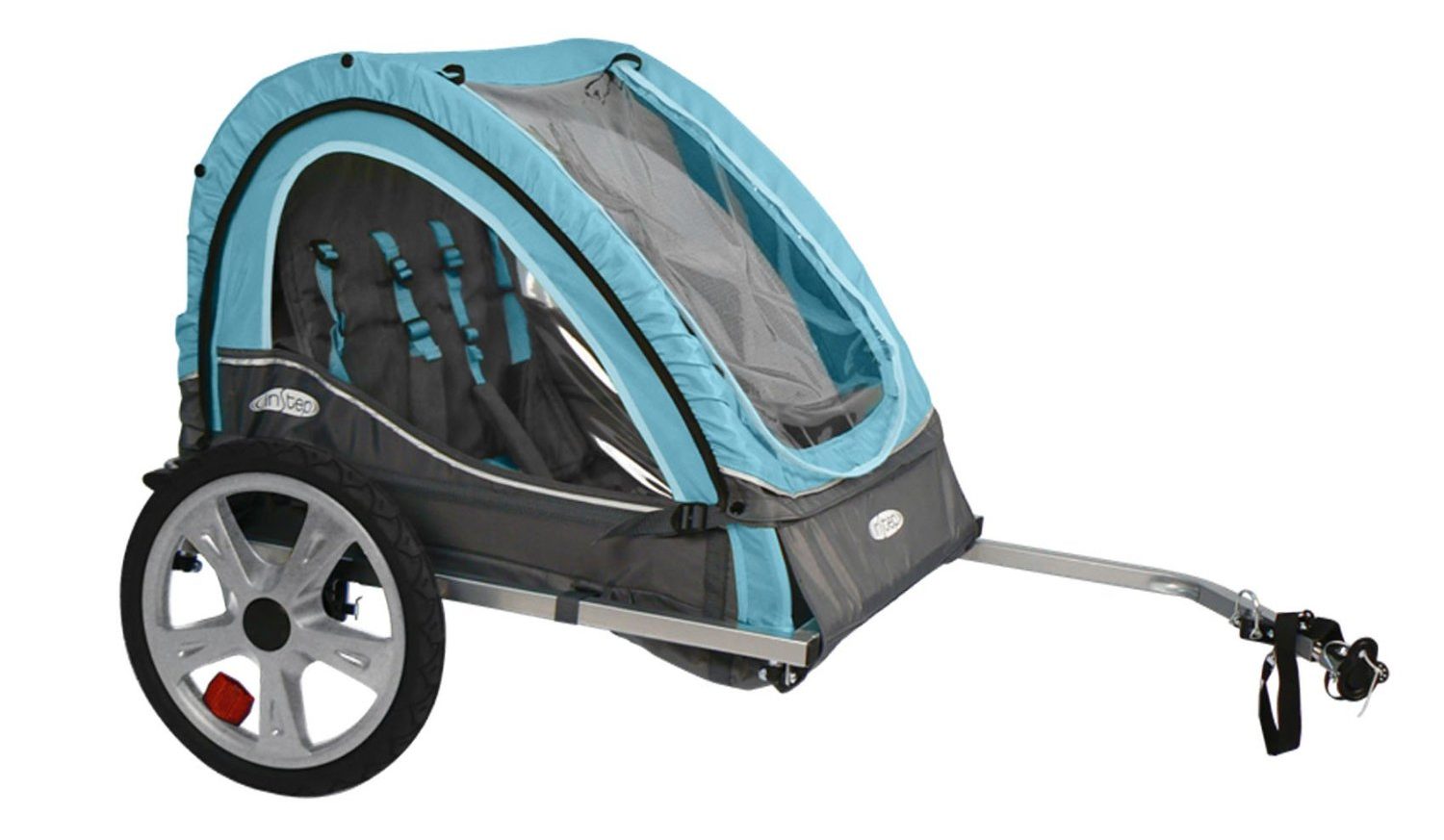 It also has got a really great canopy that acts as a bug and debris shield. Your kids can still enjoy the fresh air without having to get a face full of dirt. There is also an additional weather shield in case it rains. It can hold up to two children as long as they weigh no more than 80 pounds, combined. One of the perks of this trailer is that it can easily be made flat and folded. Furthermore, due to the versatility of the coupler, you will find that it is compatible with most bicycles.
Allen Sports Bicycle Trailer
This Allen Sport
bicycle trailer is right up there with the InStep trailer, offering up many of the same features as the previous trailer. This includes the sixteen inch tires, the steel construction, and also the presence of safety harnesses within the trailer. It also has the bug and weather shield to provide protection for your children.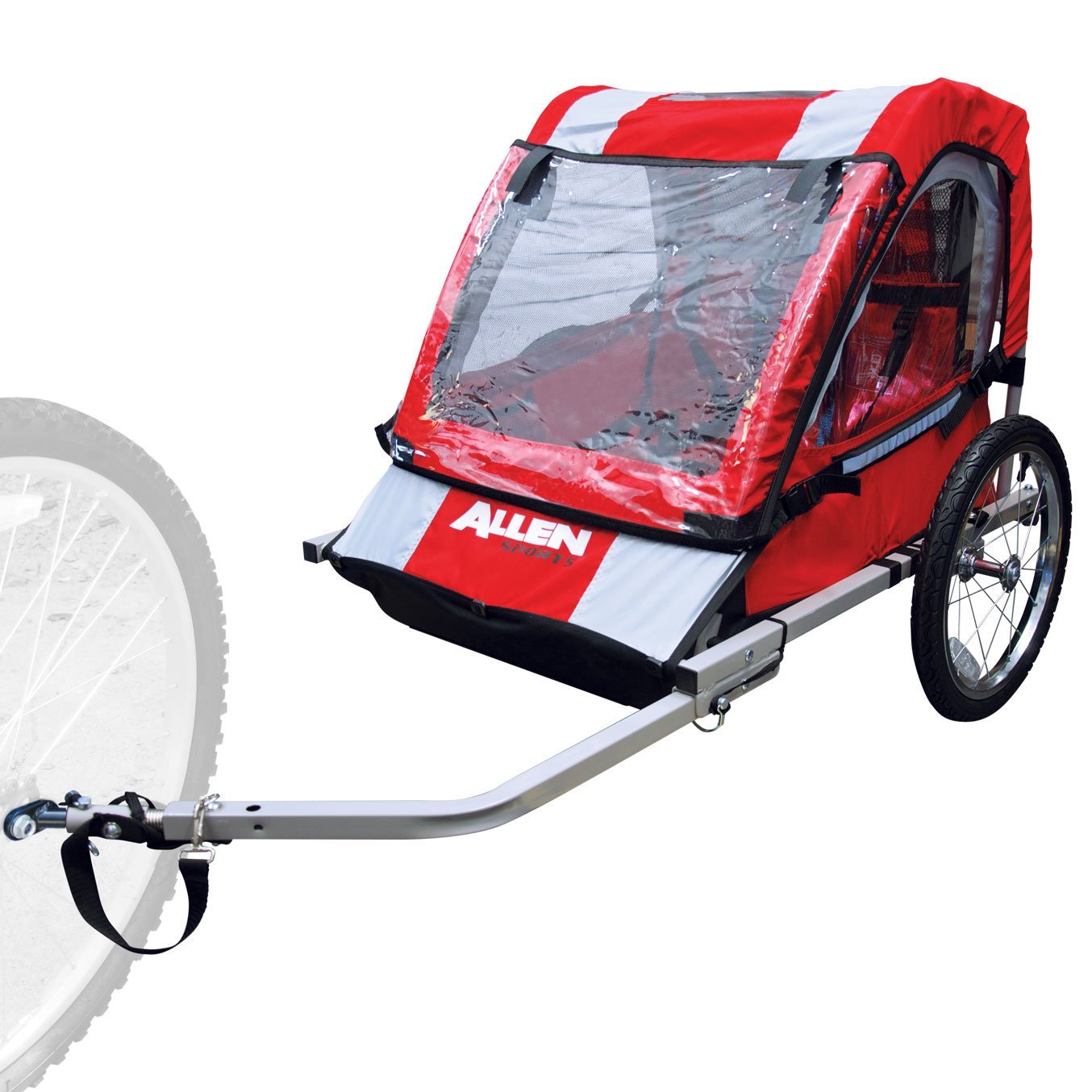 The trailer has excellent folding capabilities which really does make it a breeze to store. The Allen is able to take about 100 pounds, which is slightly greater than the InStep. That being said, it does seem like a tighter fit, making it more suitable to younger children than older ones. The Allen model is also more expensive than the previous trailer. Nonetheless, it is just as much a good trailer, providing you with the high quality that you need.
Clevr Double Bicycle Trailer
Clevr is not as well-known brand as the other two companies. Nonetheless, it has still managed to come up with an innovative and useful design. The Clevr Double
bicycle trailer is certainly a bit heavier as well but this weight has been put to good use. This is because it is a great deal roomier and there is a lot of space for the children. As long as their combined weight is about 88 pounds, this is a comfortable fit for two kids.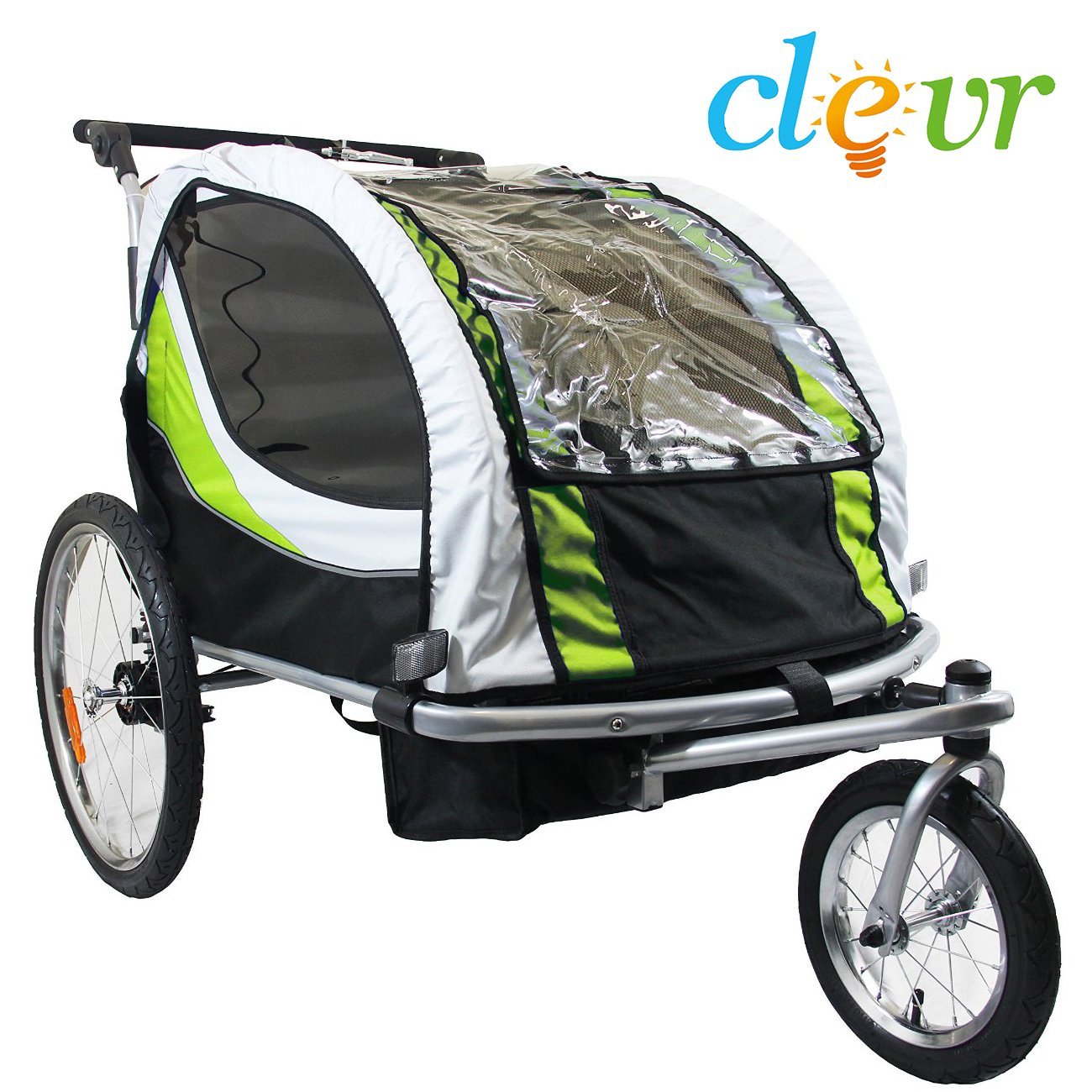 What really makes this trailer stand out, however, is the fact that it can easily be converted into a jogger, when you don't want to cycle anymore. The canopy also offers up plenty of protection in poor weather. A great safety feature is that the trailer has been built to stay standing even if the bicycle tips over. The Clevr does fold flat although it does take up more room than the other two trailers.
Cargo Bike Trailers
Aosom Elite Bike Cargo Trailer
The Aosom Elite
cargo trailer is the one that you should opt for if you are looking to carry a fair number of items with you. It has more than enough of room not to mention is strong enough to withstand all of the weight – up to 180 lbs! It is equipped with a metal base that has been strengthened to be able to endure this pressure. Of course this does mean that you can expect it to weigh a little more by itself.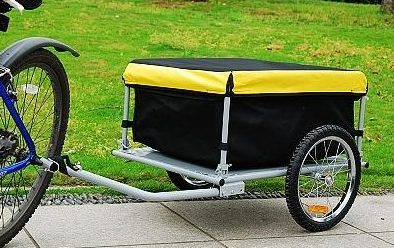 Still there are plenty of advantages with this trailer, especially as it comes with a covering that can protect your belongings. As a bonus, the cover can be removed and washed as well. The trailer is easily set up, complete with its own hitch that you can use to connect it to your bicycle. It easily folds flat so that you will have no trouble storing it.
Veelar Bicycle Cargo Trailer
This is the cargo trailer to get if you are looking for one that provides you with multiple options. The Veelar trailer
also doubles as a hand held wagon if you need it to. The Veelar is smaller than the Aosom Elite although it is lighter as a result. Nevertheless, this cargo trailer is capable of hoisting around 88 lbs. This increases to about 135 lbs, when used as a hand wagon.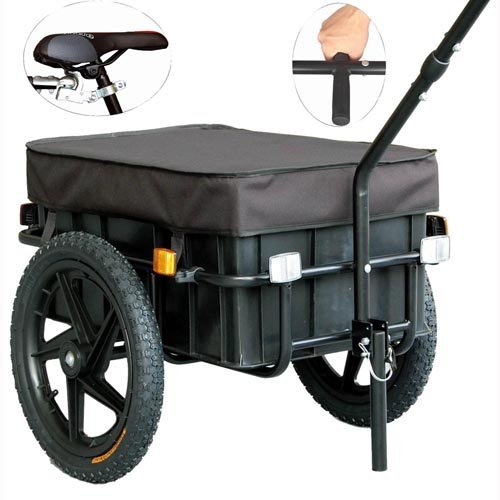 It also has a removable cover which can be used to keep your belongings dry. The true benefit of the Veelar is that it is quite versatile. This is because it has a universal coupler which works well with most bikes. It is also quite durable as the box has been made from shock resistant plastic and the frame is made of powder coated steel. If you are looking for something compact yet resilient, this is the one for you.
Sepnine Single Wheel Cargo Trailer
If you are headed out on a bike tour, the Sepnine Single Wheel
trailer is certainly going to be a faithful companion. Unlike the previous options, this has just one wheel which can come in quite handy when headed up slopes or tackling narrower terrain. The reinforced alloy frame also makes it quite light at a little over 11 pounds. Despite this, it is able to hold up to about 55 pounds in weight which makes it perfect for those journeys that are slightly longer.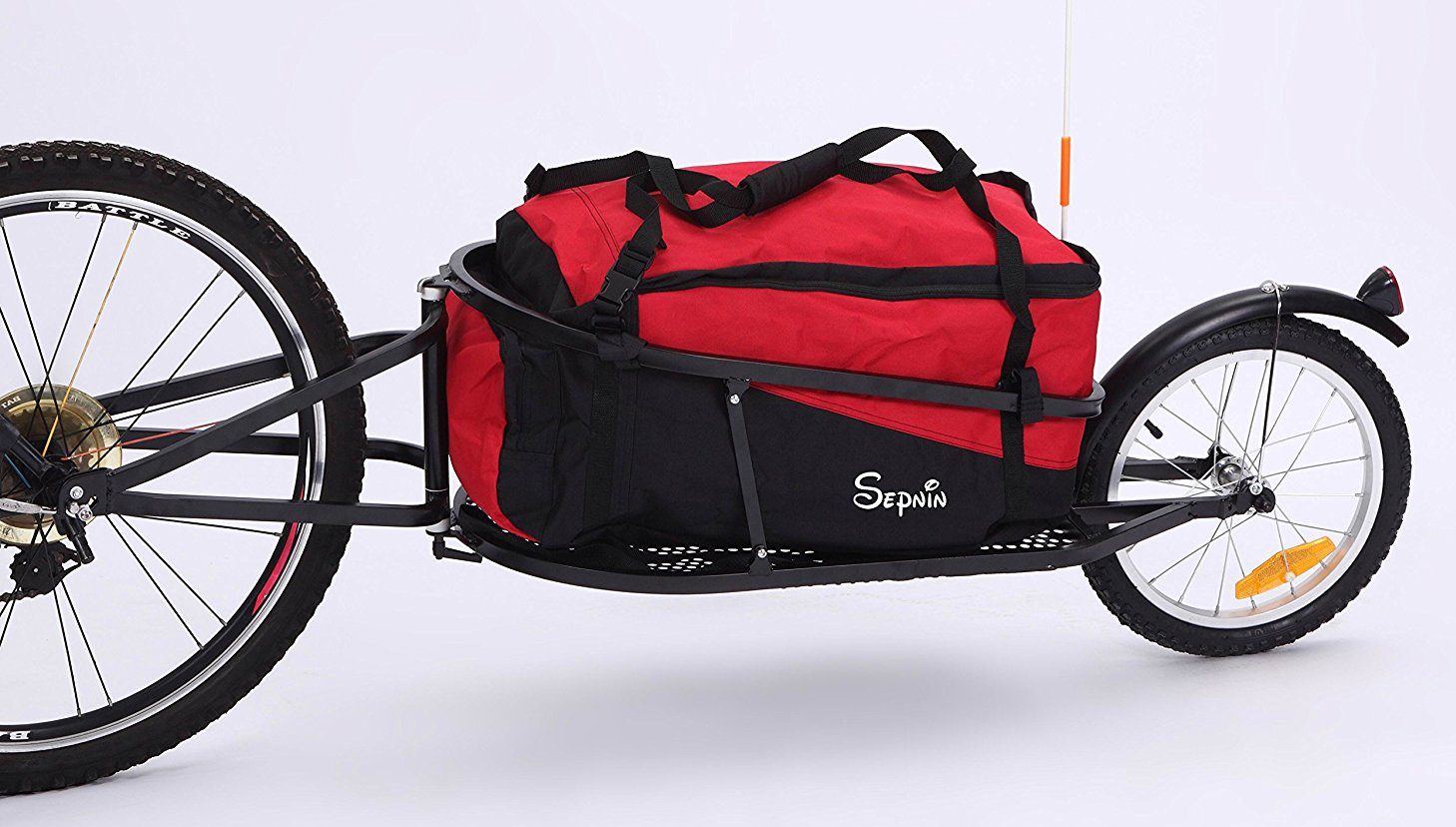 You don't even need to use a different bag as the trailer already comes equipped with its own. It fits snugly inside the compartment. This trailer only attaches to rear quick release axles. However, it is compatible with most of the bikes in the range of 20" to 28". Although it is a little pricey, it is definitely worth the cost.
Pet Bike Trailers
Burley Tail Wagon
Burley is pretty much the go-to brand for pet bike trailers and the Burley Tail Wagon
is no different. This trailer is best for small to medium sized dogs as it can get a little crowded if you need to close the canopy in case of rain. While your pet is completely protected inside of the Tail Wagon, there is also adequate air flow. You can be reassured that you are comfortable throughout the ride.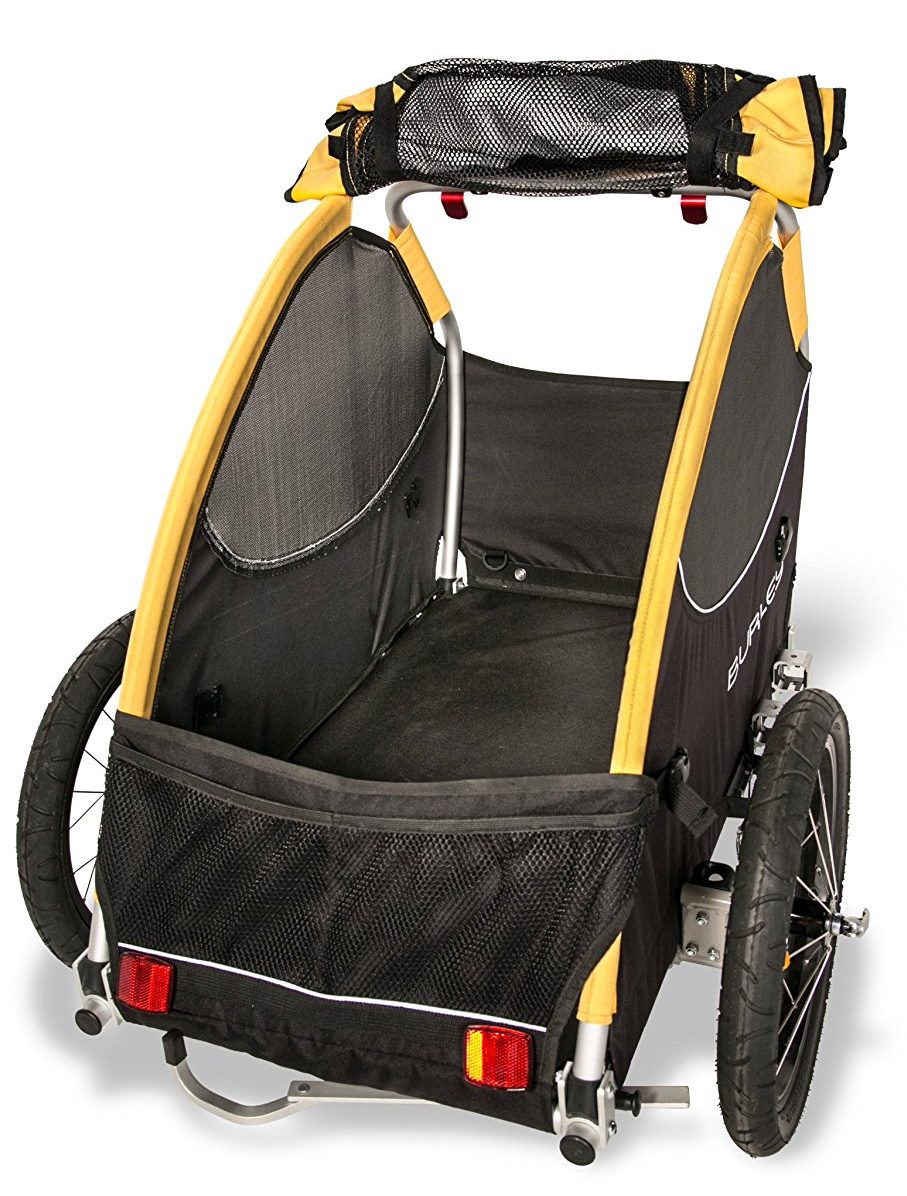 It is really easy to put your pet inside the trailer and take them out again. This is thanks to the flipdown tailgate. You can secure your pet with the leash thanks to the rings on the trailer. You also don't have to be concerned about the trailer taking too much of space as you can fold it down flat. One of the real advantages of this trailer, however, is the assurance of quality. The brand guarantees it.
Solvit HoundAbout Pet Trailer
An advantage that the Solvit HoundAbout
has over the Burley Tail Wagon is the size. It is more than capable of carrying a large dog, one weighing up to 110 pounds, in fact! It is great if you are looking for a more affordable version of the other pet trailer.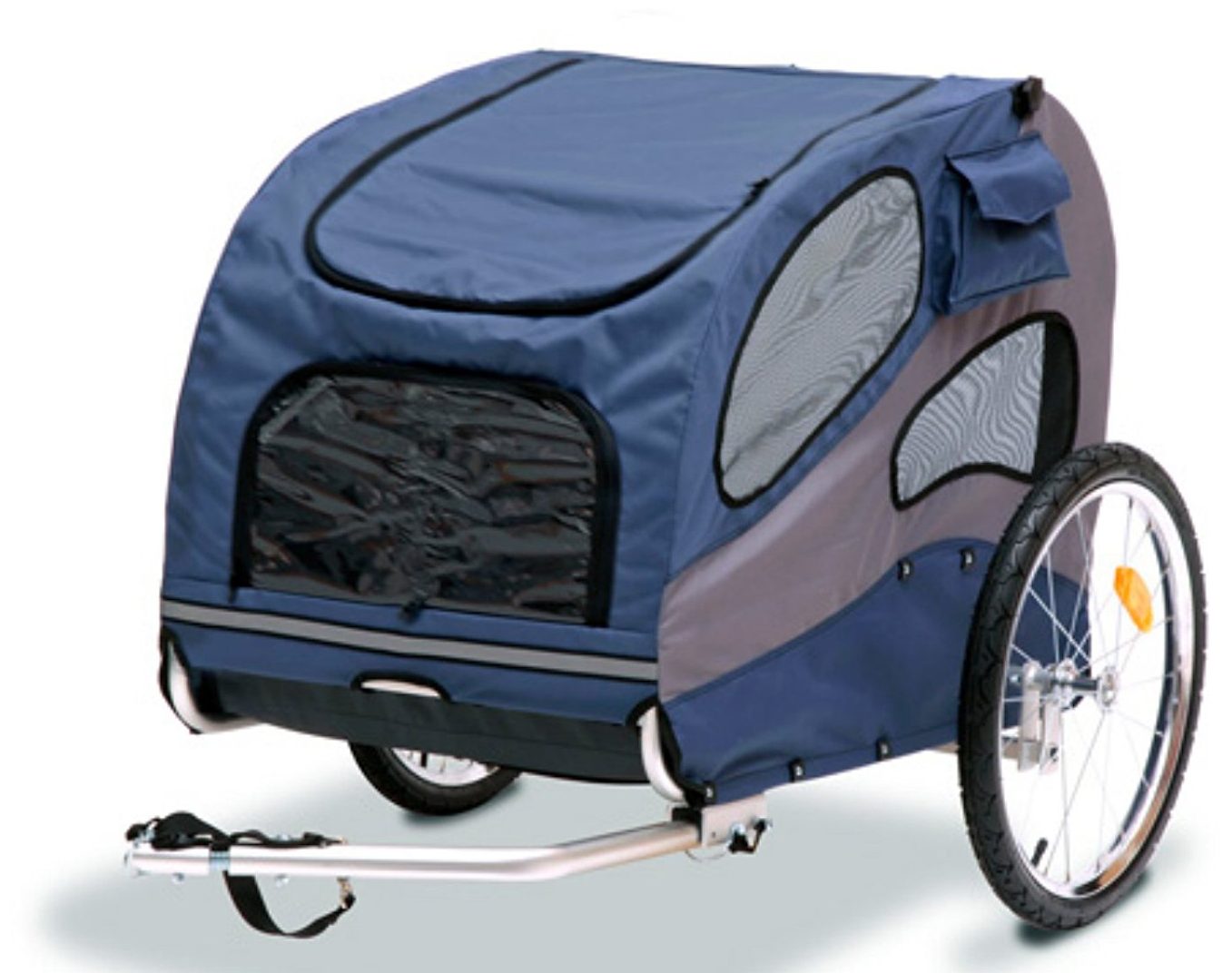 Although it may be cheaper, the Solvit HoundAbout still boasts plenty of features. It has been designed for maximum stability, great for animals that move around. Your pet also gets to experience added comfort thanks to a waterproof cushion that they can sit on in the trailer. There are plenty of pockets, allowing you to store all sorts of items during your ride. The Solvit HoundAbout is great for all types of weather. It is composed of nylon and aluminum that is not prone to rust. You can close the flap to make sure that your pet is covered in the event of rain.
This guide contains everything that you need to know about bicycle trailers. After reading through it, you will be perfectly suited to choosing the right trailer for you. With all of this information at your fingertips, it will be impossible for you to be wrong. If you are in doubt about which ones to choose, just look up some of the options that we have provided for you here. Happy hunting!
Also Read: The Best Electric Hunting Bike- Reviews And Buying Guide 2023