Having your child with you when you go riding on bicycles is pure euphoria, plus it also shows kids the beauty of riding a bike. It is going to be a while until they are up and running, using bikes, until then, why not have them ride with us? Having a really good baby/child bike seat installed will let you have fun with them!
There are plenty of bike seats to find in the market, but it can be challenging to get your hands on the one that will suit you best and your riding style. That is where our guide comes in, by discussing the necessary information, we are going to make your purchase easier.
Let us start with the very basics, what are the main types of baby bike seats?
The Types of Baby Bike Seats
If you don't know anything about baby bike seats then this is the perfect place to start. As you will come to know, there are different types of baby seats and they are all classified by where the seat is placed.
1. Rear Mounted Seats
Best Suited For 12 Months
Baby bike seats are most commonly categorized by the age group of babies, so let's get started with the very basics. Rear-mounted seats are the most popular kind of baby seats, and they are best suited for babies that are 12 months old.
The fact that they are more popular is because of the flexibility and features they offer. They are also larger in shape than the front-mounted seats, these seats offer the amazing ability to recline, have shoulder straps for babies and even work with suspension.
Rear seats can be mounted on frames and rear racks
They are very durable, can be used for very long
I would say that if you have kids that are under or 12 months old, then definitely you should get rear-mounted seats installed.
Pros:
Can be used for a long time, this gives the child to grow into the seats
They offer a good amount of suspension if there are bumpy rides
Most of these seats can also recline
Are very comfortable
Cons:
Having a conversation with your child can be very difficult
Your child will be out of your sight
Rider's balance can be distorted at times
2. Front Mounted Seats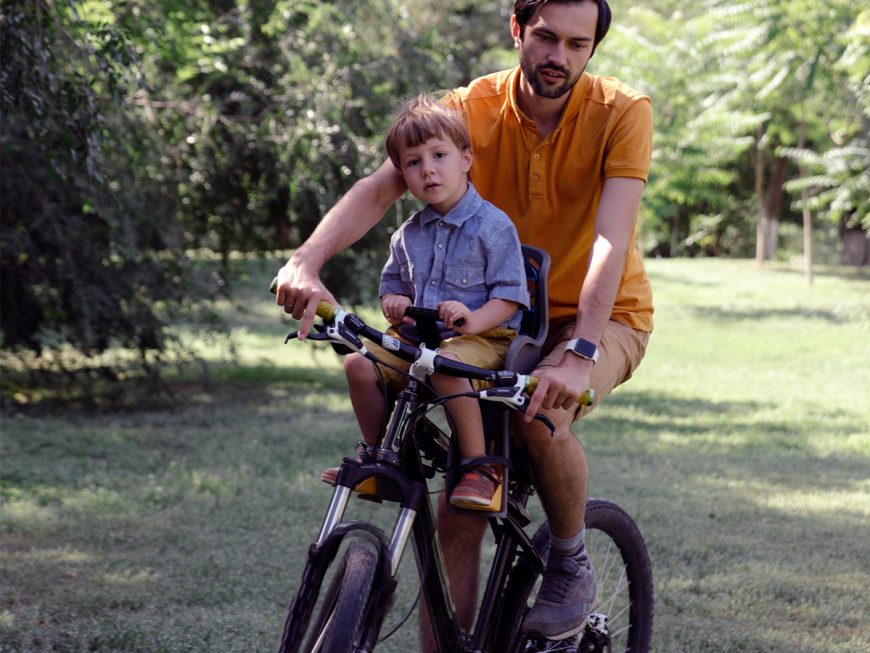 Best Suited For 9 Months to 3 Years Old
Front-mounted seats are actually smaller when compared to the rear-mounted seats and are best suited for kids that are aged between 9 months to 3 years. This is a more comfortable experience for the kids, they feel more connected with their parents and can also have fun conversations.
They are also very popular because parents can enjoy snuggles with their kids this way, which makes these seats worthwhile.
The front-mounted seats are best for babies and toddlers
Parent's balance isn't disrupted with the front seats
Pros:
This way you have close proximity with the child
You can have conversations with kids easily
Cons:
Your space as a rider will be limited
Kids can outgrow the front seats very quickly
3. Mid Mounted Seats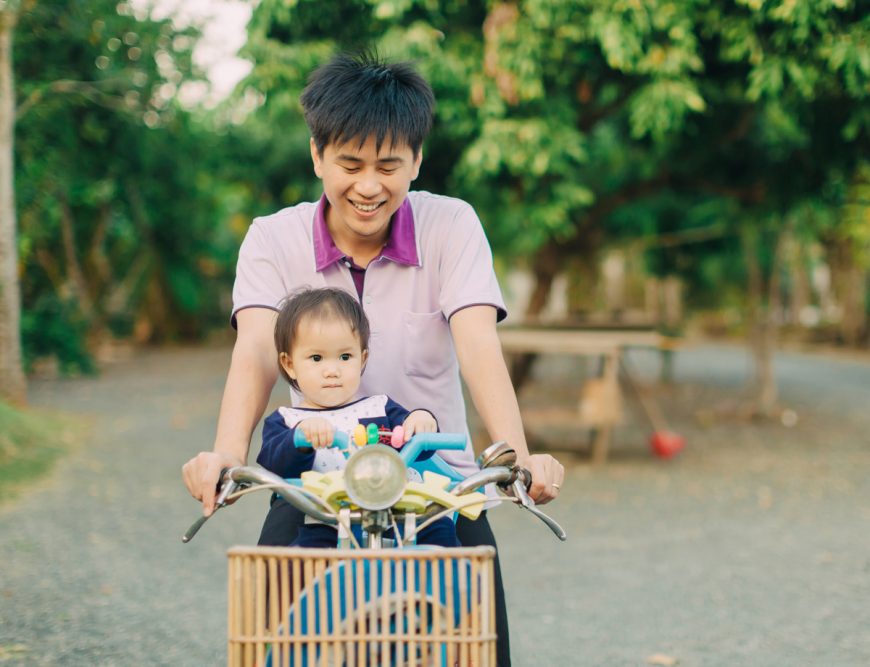 Best Suited For 2 to 5 Years Old
Mid-mounted seats are amazing, and they are best suited for kids aged from 2 to 5 years old. As the name suggests, kids are placed between the rider and the handlebars. In usual cases, the mid seats are used for mountain biking, as they help the most in keeping the rider maintain their balance.
Best suited for older kids
Kids are within arms reach
Pros:
If you want to do some aggressive riding, then this is the best option
Takes up less space than the other seats
Older kids would fit perfectly
Cons:
These seats are risky business
Kids can only hold onto the harness
Now that we know the basics about the child seats, let us dive into more details!
Child Bike Seats
1. Kazam iBert Child Bicycle Safe-T-Seat- Editor's Choice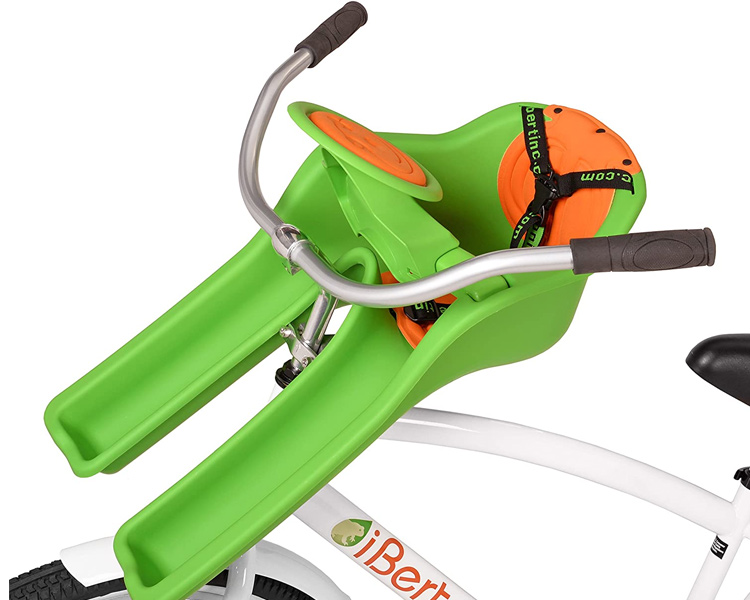 Price: MSRP $120
With most of the baby bike seats installed, you wouldn't know what your kids are doing. You wouldn't even be able to have a conversation with them, which takes away the joy of having them on board with you. The iBert seat makes your kid be in front of you all the time.
The three-point harness is good enough to hold kids up to 38 pounds. As it attaches itself to the front frame of the bike, your kid will be directly underneath your chin. Do not be worried about your kid falling off or something, with this seat they will be well-protected.
It is extremely durable
Close contact with your child
One of the exciting features of this seat is the padded steering wheel, this makes your child feel like they are in control of the bike which is fun.
Editor's Choice: Whenever I took my children with me for cycling they always complained about not being in control. of course, you can't let them use the handlebars, this seat wasn't just comfy but the inclusion of that padded steering wheel made it more fun and interesting.
---
2. Burley Dash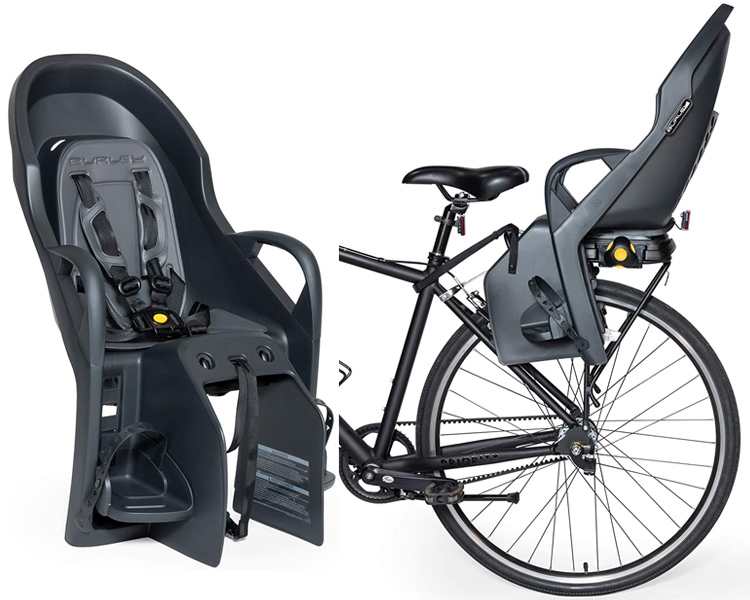 Price: MSRP $150
People who know Burley, know that they have made a big mark in the bike industry. With their baby bike seats, they offer the most exciting and comfortable experience for children. The Burley Dash is their own variant of rear-mounted seats, and they are phenomenal, to say the least.
The Burley Dash is available in:
This seat can withstand weight up to 40 pounds because of the five-point harness, it can also be adjusted to different angles, depending on your preferences. Children on the seat are going to be very comfortable thanks to the adjustable footrest.
The Burley Dash is one of the amazing seats that deserve your attention.
Why I Like It: I bought many tour bikes from Burley and to see their awesome baby seats in the market had me very excited. This seat is fun, makes the children have fun and you can be carefree when you use it. Do give it a try!
---
3. Hamax Caress Child Bike Seat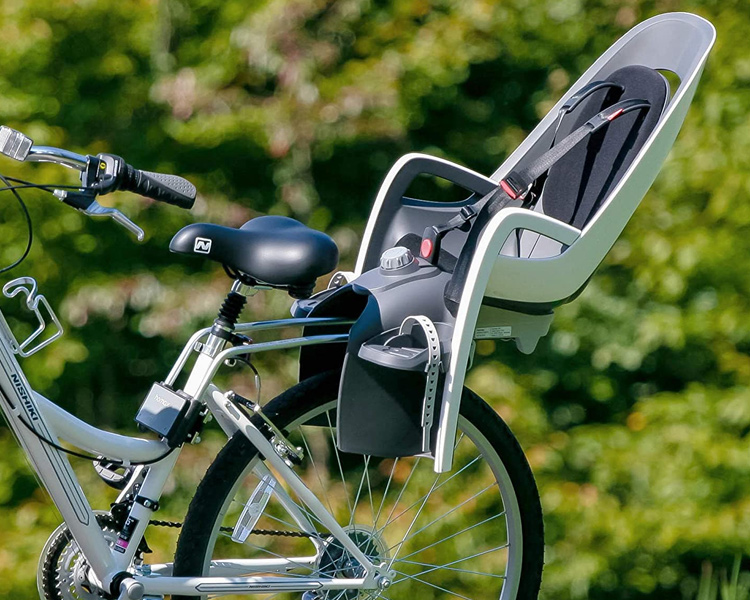 Price: MSRP $200
The Netherlands-based company Hamax, best known for its bikes and accessories has produced one exceptional seat. Bikes are often used in the Netherlands for daily commute and shopping that is why Hamax manufactures some of the best accessories and that includes baby bike seats.
The Caress seat is amazing, it is for people that want a really good bike seat for their kids without any kind of problems.
Offers an upright position
Footrest offers additional security
The Hamax Caress is one amazing bike seat, the only downfall being the price, although for some that even wouldn't be the case.
Why I Like It: Having an awesome bike seat from a Dutch company? Who wouldn't want it? The Caress is one of the most caring and comfortable baby bike seats available. My kids thoroughly enjoyed it.
---
4. Peg Perego Orion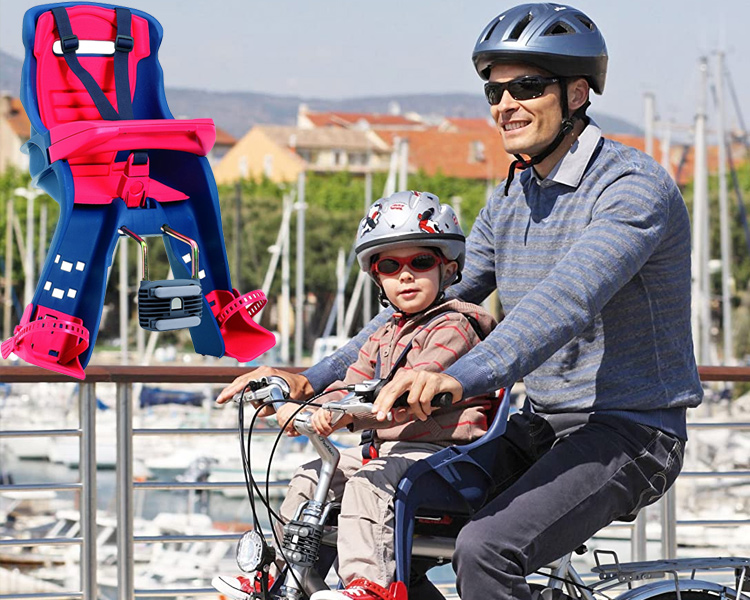 Price: MSRP $103
Peg Perego is one of the amazing companies that make bike accessories, including baby seats. The Orion is Peg Perego's take on front-mounted seats and trusts me, it does not disappoint. The shape of this seat is quite unique, it would feel like an adult is in a seated position, children love that appeal.
Easy and instant installation followed by the ingenious latching system
Comes with an adjustable footrest
This seat makes sure that the kids are seated in an upright position. Another fun fact about this seat is that it comes in different and vibrant colors that the kids are going to love.
Why I Like It: The Peg Orion is one of my favorite picks, the comfort and flexibility are unmatched. I would always prefer a front seat rather than a rear one, but that is my take on the baby seats. The colors are amazing, and I am sure that the kids will love it.
---
5. Mac Ride Child Bike Seat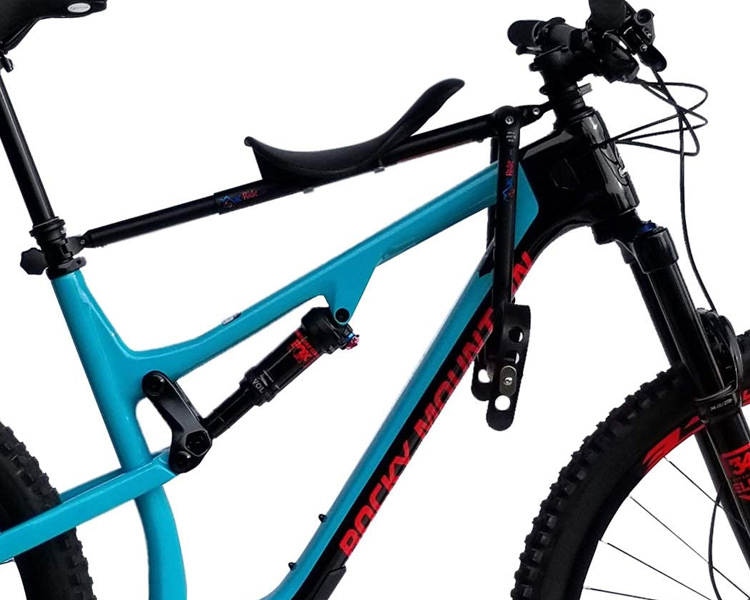 Price: MSRP $230
What if you have healthy kids and want a nice and comfortable seat for them on the bike, well let me tell you this, there isn't a lot of those seats. The most comfortable and fun option that you have is the Mac Ride Child Bike Seat. It is the most versatile option that I could get my hands on and my child is loving it so far.
Compatible with many enduros and mountain bikes
Installed with an amazing footrest
Flexibility and accessibility are what the Mac Ride Seat offers the most, some of the bikes can't support seats. This seat is although, compatible with almost all the bike models available in the market.
If you are a fan of off-road trails, then the Mac seat is perfect for you. Although, I don't think it would be best suited for young and smaller kids, other than that it is amazing.
Why I Like It: The Mac bike seat was perfect for me, I often ride on the hard trails, so it was much needed. My kids wanted to go with me from the very beginning and this seat ensured me the perfect way for them. It also comes with a footrest for increased comfort.
---
6. Thule RideAlong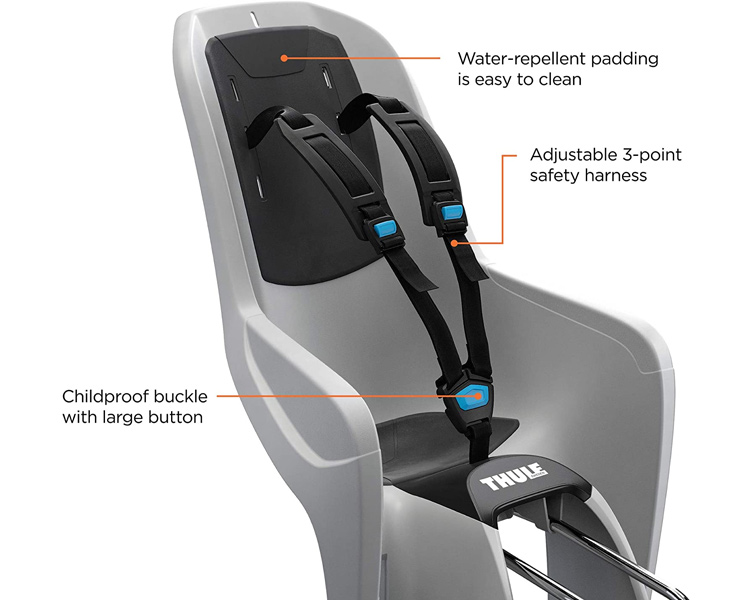 Price: MSRP $120
The Thule Ridealong is one of the best baby bike seats out in the market. It can be easily installed and removed thanks to the great system it is built upon. The seat is best suited for kids aged between 9 months to 6 years.
Comes with an adjustable footrest and straps
Has an amazing harness system, even heavier kids can ride on the seat comfortably
This is one of those amazing water-repellent seats, so even if you make the bike through some abuse, the seat won't be affected at all.
If the seat gets dirty, you can easily remove it from the bike and clean it again, that is how easy it is.
Why I Like It: The Thule Ridealong seat isn't just good with the price tag, but the features and ease of usage also make it worthwhile. The seat also comes with five different recline settings because why not let the child have awesome naps on the ride? Do try out this seat.
---
7. BOBIKE Exclusive Tour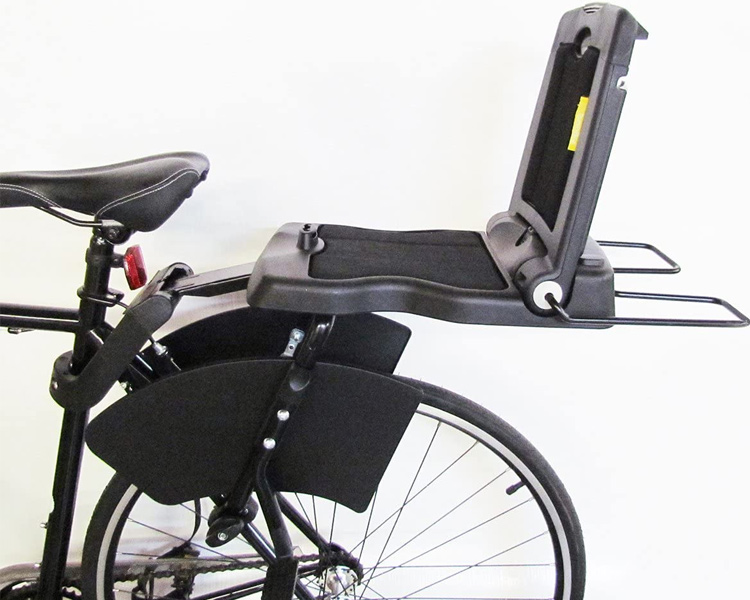 Price: MSRP $ 110
The BOBIKE Exclusive Tour seat is a great rear-mounted option that you can avail yourself of right away. There are two options that come with it: Cantilever or Rack, whatever you feel comfortable with. This can easily be removed and then installed easily.
Even if you have two bikes, this seat would be awesome even then, because you can swap it easily.
Maximizes toe adjustability
Very comfortable and maintains an upright position always
With the specially designed harness of the seat, your child will remain seated comfortably and can even enjoy the naps while you ride.
Why I Like It: The BOBIKE Tour seat was one of my best choices for summertime fun with the kids. I found out that the seat is also waterproof along with other amazing features. So no matter how much fun you have with the kids, this seat will remain in optimal shape.
---
8. WeeRide Classic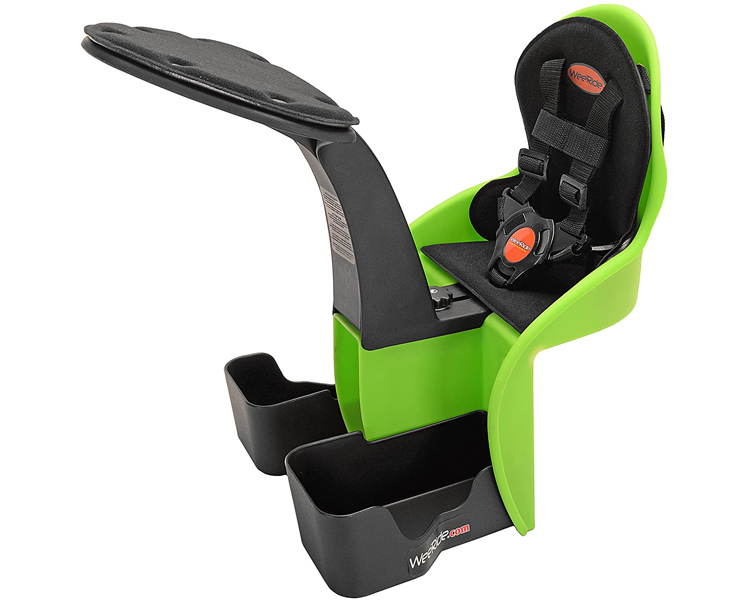 Price: MSRP $90
People with knowledge about baby bike seats would know that WeeRide was one of the first companies in the market to manufacture baby bike seats (Front). They make amazing seats, to say the least, and their classic model is well "Classic".
This seat is fully adjustable
Comes packed with a cute nap pad
This seat is best suited for kids till 4 years, I have seen many parents complain about some seats, about the balance issues. Naturally, this seat is amazing and does not disrupt the balance of the rider with the bike, so it will be fun to use.
Get this bike seat and enjoy amazing handling and balance, your kid will love it.
Why I Like It: The WeeRide Classic is one of the most amazing choices I made for my bike and my baby. It comes in fun colors and can be fully adjusted. I recorded my baby sleeping on the bike, the nap pad made it way cuter. If you want to have great memories with your kid then do get this seat.
---
9. Topeak Baby Seat 2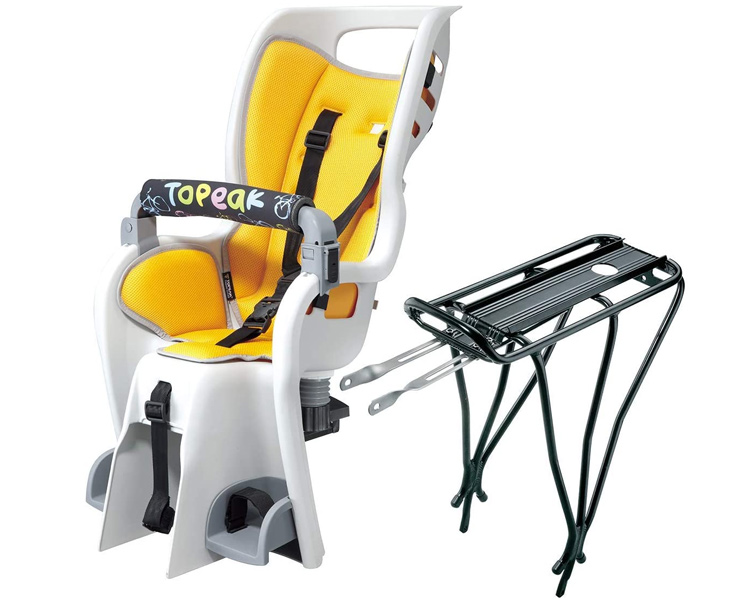 Price: MSRP $150
The Topeak Baby Seat is very unique, why is that so? Well, first of all, it comes with its own suspension system. Your kid is definitely going to enjoy the best ride possible. It is a wraparound seat that also comes with a front roll bar, kids can use it as a handle. The roll bar becomes very useful especially for our young babies with their tiny fingers.
It has a tool-free fitting system
Adjustable footrest
I never expected the Topeak Baby seat to be so fun and easy to use. You can swap it easily between your bikes so there shouldn't be a problem.
Why I Like It: The Topeak Seat surprised me actually, it is so easy to install, use, and remove. The footrest is a big plus and makes your child feel comfortable all the time. Do get it if you want ease and comfort all in one.
---
10. Bellelli PEPE Child Rear Bicycle Seat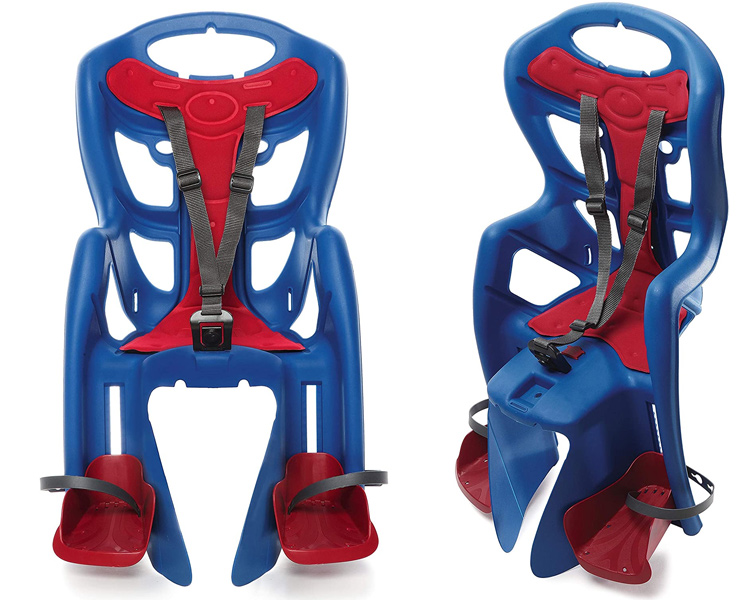 Price: MSRP $130
This Italian-made baby bike seat was one of my finest choices for the kids, do not mistake the "cheap" aesthetics of the seat, because the way it works is just amazing. The seat isn't that heavy and you can carry it around easily.
Comes in three different amazing colors for you to choose from
The restraint system of the seat is amazing
This child seat is extremely comfy and I did not expect this, especially by the design that is why I discussed it beforehand.
The seat has a maximum weight limit of 48.5 pounds which should be more than enough. Feature-wise it might be a bit constricted but other than that it is top-notch.
Why I Like It: When I first looked at the seat, I thought it wasn't going to be that good. The comfort could be seen in my child, and that made me immediately be satisfied with my decision. The colors are going to fascinate your children, after all, you have so much variety to choose from.
---
How Do You Choose The Best Seat For Your Kids?
Now that we have discussed the type of bike seats and my top picks, it is time to know how to choose the best seats. Learning the methodology here is very important so we will discuss that.
Although the normal age that a kid can use the bike seat easily would be a year, it varies from child to child. One child can use the seat at 1 while others have to use it when they are 2 or older. The rate kids develop is different and will remain that way.
If you have the proper seats, the kids can accompany you from the age of six months if all goes great. The key over here is the development rate, the rate their muscle and motor skills develop and are enhanced. You have to consider some questions: Can they wear a helmet comfortably? Can they go through the bumps on the road? Stuff like that.
Always Go For A Seat That Is Compatible With Your Bike
The type of bike you have will eventually decide the type of seat you get for your kids. Don't go with what your friends or neighbors have. Go with what suits your bike the best. Your preferences also matter here, where you want your kids seated and all that.
Let us share the type of bikes and what suits them the best:
Another pro tip that I would be sharing over here would be to go for bike seats that are compatible with the majority of the bikes available in the market.
Make Sure That The Child Seat Is Safe
I think this is obvious but you absolutely have to make sure that the seat that you get for your children are safe. Maker sure that they have been thoroughly verified, you should look for the EN14344 approval. This means that the product has been thoroughly tested and is ready for usage.
Unless and until the seats are made by major brands like WeeRide or Hamax, check thoroughly.
Check Out The Additional Features
Safety and compatibility aren't the only things to look out for. If the seat that you are going for has the following features included then it is awesome.
Body Strapping
Comfortable Seat
Footrest
Nap Pads (Optional)
Customer Service Is A Plus
Finding the perfect bike seat for your child can be a challenging endeavor, but what can be more difficult is finding a brand that offers amazing customer service. You need to go for a brand that is both amazing and will be supported for the future ahead.
What if you need additional parts? Like straps or the footrest, that is where the amazing customer service comes in.
Also read:
Recap
Child Bike Seats are very essential, that is the only way you can have your babies with you while you ride. You enjoy the outside, your kid is right in front of you, what else do you need? The fact that they are so important, you need to pick the perfect one.
My top pick would be the Kazam iBert, I just couldn't find a better one than this.
You definitely need to have a seat for your kid installed on your bike if you want to have adventures with them. Just make sure that whatever seat you choose, is totally safe for your child!
---