No matter what kind of cyclist you are, beginner or professional, you are bound to deal with squeaky brakes sooner or later, it is a rite of passage, there is no avoiding it. Although this might seem like a problem, it is not, many of these problems can be fixed from the comfort of your home or even when you are outdoors riding!
Adjusting brakes is easy but it is not that easy, we have seen people try to deal with these problems and then making an even bigger mess, so it is necessary that you get all the help that you can. Even the smallest errors could lead to bigger problems like wrong adjustments etc.
In this guide, we will be sharing some tips and tricks that will help you adjust your bike's brakes easily. Well along with the trips, we would also be providing information about some tips that would be helpful for bike maintenance.
4 Amazing Bike Tools That You Should Definitely Have
You might think that you have everything you need for bike maintenance, every type of tool there is to get but you will be surprised. With these tools, your repairs will be quicker, clean, and more effective than before.
With this set of tools, you would always be ready for any type of bike repair!
With the tools figured out, it is now time to talk about how to adjust different types of brakes. There are mainly three types of brakes and we are going to discuss all of them:
Let's start, shall we?
How To Adjust Disc Brakes?
People have this misconception when it comes to disc brakes, may it be on road bikes, mountain bikes, or hybrid bikes, they seem very hard to repair/adjust. That is just simply not true, disc brakes are the easiest type of brakes to adjust and repair!
The first problem always starts with brake rub, which is when you need to be careful. Firstly, you need to loosen the bolts of the disc brakes that are fixed with the bike's frame. Once the brakes are loosened up, you need to squeeze them as hard as you can, when they start engaging the rotor, that is when you need to stop. When the brakes engage the rotor that is when they become centered again.
Now you need to retighten the bolts once the brake levers are depressed, once you retighten the bolts, the majority of your problem has been fixed. The next problem could be with the brake rotor, they might have a rubbing issue. Well, there is nothing to worry about because there is no brake rotor on earth that is perfect! You can adjust the rotor's rub with a straightening tool. In order to go for a deep repair, you need to flip your bike or just make it stand, the wheel needs to be spinning. Look for gaps between the brake pads, open them and examine the rotor. You will find the section that needs some truing, when you find it, rotate it carefully away from the caliper. You will now have to use your tool to straighten out the rotor if it is uneven.
If there is any kind of confusion about the brake rotors then you need to take the bike to a professional for repairs, this section of the brakes is quite fragile so it is actually recommended if you seek professional help.
Lastly, there could be a problem with brake pads. You need to fully examine them, either at the top or end front of the brakes, there will be a side profile of the brake pad. There could be many problems there, there could be the absence of a pad, the holding pin could be very close to the rotor, or the pistons could be loose. You can replace the pads using the pin, brakes will stay there, only the pads will come out. You can push back the pistons with a screwdriver but you need to be careful. It is recommended that you get thick brake pads, this way they will not cause any kind of rubbing problems.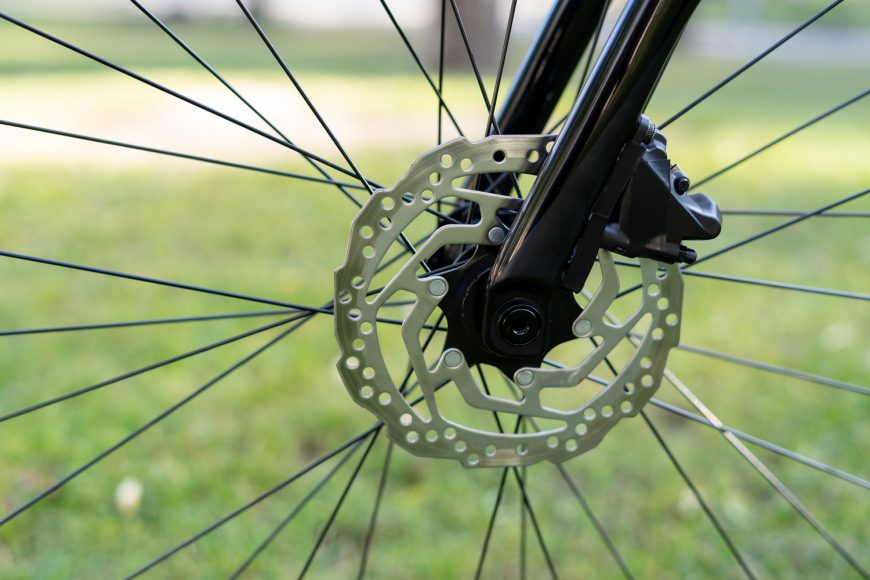 Things To Be Careful About:
The wheel has to be in the frame always, most of the time the wheel isn't adjusted properly and that leads to problems with the brake adjustments. If the brakes don't feel soft and are super tight, and the pistons are in a bad shape, that is when you should take your bike to a professional!
How To Adjust Caliper Brakes?
Next up, we will be fixing the caliper brakes. This would be really easy if you are used to fixing caliper brakes because they can be easily adjusted thanks to the barrel adjuster that is located at each lever. You can either tighten or loosen it to fix the majority of problems.
If that does not solve your problems then there are other solutions that you can try out too. There is a bolt that connects the brake to the bike's frame, you can examine it closely to find the root of the problem. The bolt actually needs to be tight and it should be at the center of the frame, if the bolt isn't tight enough then it will cause interference as you ride. It is recommended that you check and engage the brakes first before tightening them.
Another problem could be that your brakes are too loose, now how would you know that? If you have to press the brake levers too hard to make the bike stop then the brakes are loose. This here is a very simple fix, you just need to tighten the brake cables. How do you do it though? You loosen the bolt of the cable, that much that the cable can be pulled, and then retighten it.
Brake pads are very crucial, you need them to hit the same spot of the rim, both rear and front end. You can try the barrel adjuster first, tighten them through that. When the brake pads are tight enough, you can loosen the bolt easily and make the necessary fix. This technique is quite useful and you should definitely try it out!
Things To Be Careful About: You can easily fix the caliper brakes if they are rubbing by the switch that is located on the side of these brakes. Although, do seek out the help of a professional mechanic if there is a need to truing your wheel.
How To Adjust Cantilever Brakes?
Cantilever Brakes are the oldest of the bunch and the hardest to fix/adjust. Do not be fooled by their simple looks as they are extremely complex to fix. If you are not careful while fixing them, it could result in brake chatter, and the brake pads could also become damaged. That is why you need to set them up flawlessly!
With cantilever brakes, everything needs to be aligned up properly, there is absolutely no room for error! These types of brakes have cables that control the left and right brake pads, they need to be of the same length and size. The brake pads also need to be aligned properly, they need to be at the same place at both the rims. You need to keep on making these adjustments till the perfect balance has been sought.
Things To Be Careful About: When it comes to cantilever brakes, the brake cables are extremely fragile, they can get damaged very easily so keep an eye on that. We talked about aligning the brake cables and pads, but with the cantilever brakes, everything needs to go perfectly. It is recommended that you get the help of a professional for the initial setup.
More Bike Maintenance Tips
FAQs
What kind of tools do you need to fix the brakes of a bike?
Well, there are plenty of tools, but the most important ones are a disc brake multi-tool, a bench tool kit, and a disc brake rotor truing fork.
Can we fix the brakes without the help of tools?
Without the help of these dedicated tools, it is impossible to adjust/fix brakes.
How much would you recommend the help of a professional when it comes to fixing a bike's brakes?
If you have the knowledge then sure, but if there is even a single doubt then it is recommended that you go and get the help of a professional.
Recap
Bike Maintenance is not easy, but it is crucial, every type of cyclist needs to know how to do proper maintenance. When it comes to the brakes, you need to be extra careful, there are different types of brakes and each of them requires different methods in order for a proper adjustment/fix.
With this guide, you will be able to fix all types of brakes in no time. Although, when things get difficult, it is recommended that you take the bike to a professional and get everything sorted out!
---