One of the best aspects of electric bikes is that they can be enjoyed by everyone, both the young and the old. There are no age limits when it comes to electric bikes, and if you are a senior looking to get back into cycling, we have some really good news for you.
Getting an electric bike for the first time can be a very tricky endeavor, and we don't want you to go through any kind of problems. The Electric Bikes For Seniors are the same electric bikes that we have been using but there are some models that provide that extra kick and comfort. In this guide, we have selected some of the best electric bikes that seniors will love!
Why Should Seniors Try Electric Bikes?
Electric Bikes have become the dominant mode of transport in major parts of the world, they are also one of the most low-impact and user-friendly modes of exercise. Armed with powerful motors and batteries, they help in taking the edge off hills and other steep climbs, which is good news for seniors. If you are looking for a good workout session then these bikes still require physical effort for a better riding experience.
According to a recent study, electric bikes can help old and senior cyclists get a brain boost. It also allows their cognitive and mental health to improve, while also building up confidence in them. If even a speck of that is true, why shouldn't you get an electric bike?
Best Electric Bikes For Seniors- Reviewed (In 2023)
After reviewing more than 20 models and researching for 48 hours, we made a list of the best electric bikes for seniors. IceBike understood the assignment pretty well, we only selected electric bikes that could be well-suited for senior citizens, and our main concern was comfort and performance.
| Bikes | Price | Motor/W | Battery/Wh/V/Ah | Range/Mi | Speed/Mph |
| --- | --- | --- | --- | --- | --- |
| Rad Power Bikes RadCity 5 Plus ST | $1,699 | 750W | 672Wh | 50+ | 28 |
| Ride1UP 700 Series | $1,545 | 750W | 48V | 50 | 25 |
| Blix Sol Eclipse | $1,599 | 750W | 615Wh | 60 | 25 |
| Evelo Galaxy 500 | $3,699 | 500W | 468Wh | 50 | 25 |
| Aventon Aventure Step-Thru | $1,999 | 750W | 720Wh | 45 | 28 |
| Electric Bike Company Model S | $2,399 | 500W | 576Wh | 190 (Only With Dual-Battery) | 28 |
| VoltBike Elegant | $1,699 | 500W | 48V | 40 | 20 |
1. Rad Power Bikes RadCity 5 Plus ST – Editor's Choice
Price: MSRP $1,699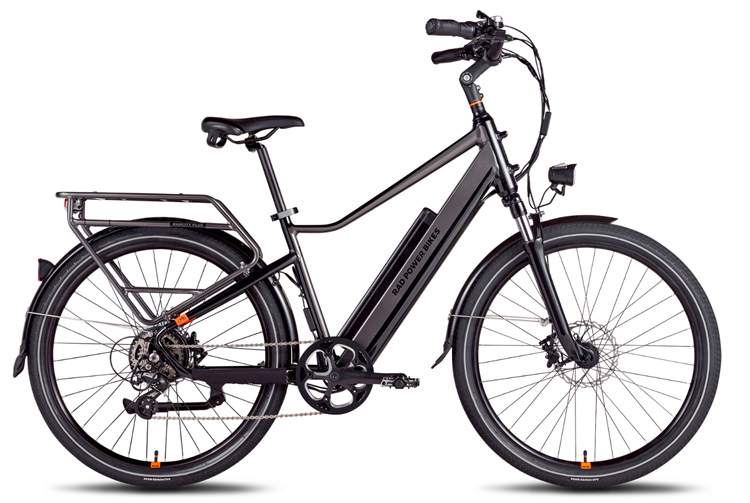 The RadCity 5 Plus ST from Rad Power Bikes proves to be one of the best e-bikes for seniors. It is both an approachable and capable commuter fit enough for all kinds of activities. Seniors as well as everyone else is going to have a really good time using the RadCity 5 Plus ST.
It features a step-thru design but isn't the lowest in the category, it still allows easy navigation around the city. We found it to be a really good upgrade over the RadCity 5 Plus. Technically if you take a look at both these bikes, they both feel great to use but we would prefer the step-thru version because of its accessibility and overall design.
Apart from the fascinating design, the bike is also powered by a very strong 750W rear hub motor and a 48V, 14Ah (672Wh) battery. The battery is semi-integrated so it gives a very cool and sleek kind of look that we absolutely love. Other impressive specifications include a 7-speed drivetrain, hydraulic disc brakes, puncture-resistant tires, and much more. In order to carry extra cargo, it is also fitted with a rear rack that can support weights up to 60 lbs.
If we compare both bikes, we will always go with the RadCity 5 Plus ST although the RadCity 5 Plus is great too. The RadCity Plus 5 ST is great for a variety of reasons, it promotes accessibility, is easy to use, has a semi-integrated battery, and is fitted with powerful components. It checks all the important boxes for us!
Advantages:
Powerful Motor and Battery (750W Motor and 675Wh Battery)
Durable Frame That Promotes Accessibility
Fitted With A Twist Throttle
Great After-Sales Report Included
Disadvantages:
Sluggish Cable Management
Dual-Display Needs An Upgrade
Editor's Choice: When it comes to an electric bike for seniors, the RadCity Plus 5 ST checks all the boxes for us. It has a strong and durable frame that promotes accessibility and also has a powerful motor/battery. The twist throttle is especially there for seniors as it allows easy riding.
---
2. Ride1UP 700 Series
Price: MSRP $1,545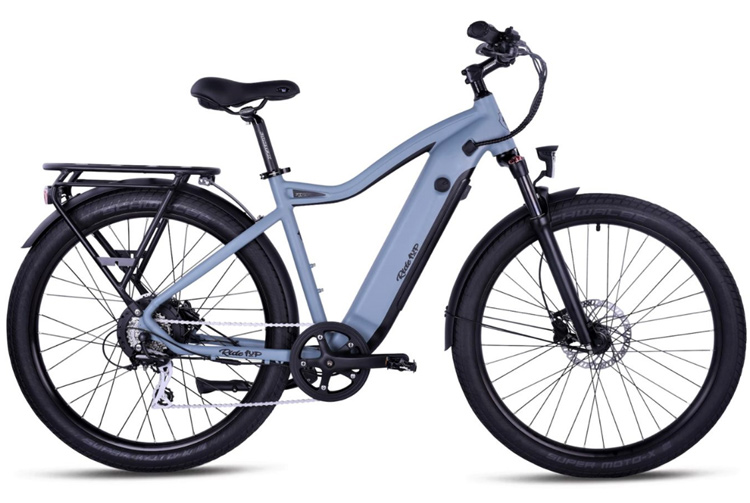 Motor Management can make a really big difference in user experience, which is why the Ride1UP 700 Series is one of the best electric bikes to go for. Due to a smooth and predictable motor management system, the Ride1UP 700 Series has distinguished itself from all the other electric bikes, and rightfully so!
The bike offers consistent speed and there was rarely any kind of variation during our review period. There were differences of 2-3 moh but the overall experience and power transition were very smooth. You could easily compare the whole experience to an expensive torque sensing system but it was more than that.
The Ride1UP 700 Series features a 750W rear hub motor and is powered by a 48V15ah Reention Rhino battery. On a full charge, you get a maximum range of 50 miles which is just spectacular. Other impressive specifications include a Shimano Acera drivetrain and Tektro mechanical disk brakes.
This bike comes in two different frame options, it is available in both the step-thru and step-over options. We would recommend the step-thru option because it has a 15″ stepover height that provides easier access. We recommend this electric bike for seniors because it has an upright and straight geometry that promotes a relaxed and comfortable riding position. Then there are the grips, suspension, and seat that enhance the user's experience.
From the value perspective, you get a lot from the Ride1UP which costs less than $2,000. There is no reason to skip this bike, do try it out!
Advantages:
Fast Rolling Bike
Installed With Compelling Features
Smooth Motor Management System
Great Handling
Excellent Braking System (Lighter and More Responsive Than Others)
Disadvantages:
Inaccurate Battery Readout System
Motor Management Lag Sometimes (Especially When Pedaling)
Why I Like It: The Ride1UP 00 Series makes a compelling electric bike for seniors because of its smooth motor management system. It has a durable frame and also offers great handling. You can't get a better option in this price range!
---
3. Blix Sol Eclipse
Price: MSRP $1,599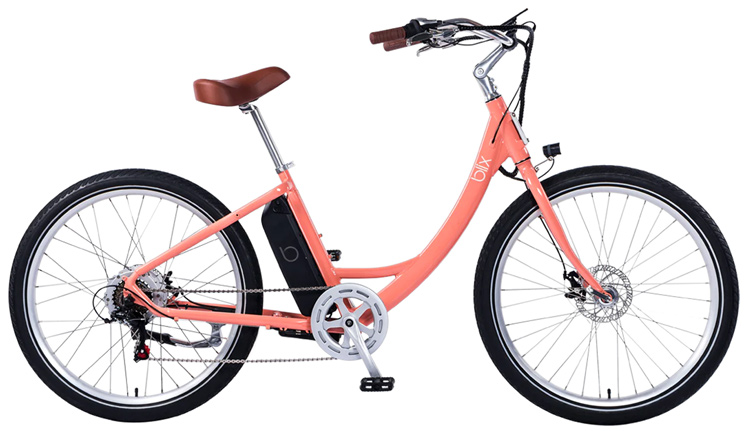 Blix Sol Eclipse offers a unique mix of comfort, power, and looks, something which is rarely achieved by other bikes. Just take a look at the paint job of that beauty, it has a funky but ecstatic feeling about it. You would be surprised to see the other color variations the Eclipse comes in.
The main focus of the Eclipse is the user's comfort, on every kind of terrain, users of this bike are going to feel relaxed and comfortable. We put this bike through numerous hill tests and it always came at the top, it also excels in providing a feasible step-over height and upright riding position.
The bike is fitted with a 750W motor that provides enough power for all sorts of adventures. The motor is then combined with a 7-speed Shimano Tourney drivetrain which results in a great pedaling experience. You want it, the Eclipse has it! On a full charge, the bike also offers a range of 60 miles, thanks to the 615Wh battery. Users can experience a difference in the range but that will depend on their riding style, you can put in the effort and get full 60 miles or use the throttle system and enjoy 25 miles, it is up to you!
With this many features and the level of comfort, the Eclipse makes a spectacular electric commuter!
Advantages:
It Is A Great Hill Climber
Lightweight Design (56 lbs)
A Spectacular Comfort Cruiser
Rolls Well Without Motor Power
Disadvantages:
PAS Levels 1 and 2 Are Not Good Enough
Why I Like It: We love the Blix Sol Eclipse because it performs really well and looks great while doing it. From hill climbing to regular commutes, the Eclipse can do it all without any kind of hiccups. It even functions really well without a motor, what else could you need?
---
4. Evelo Galaxy 500
Price: MSRP $3,699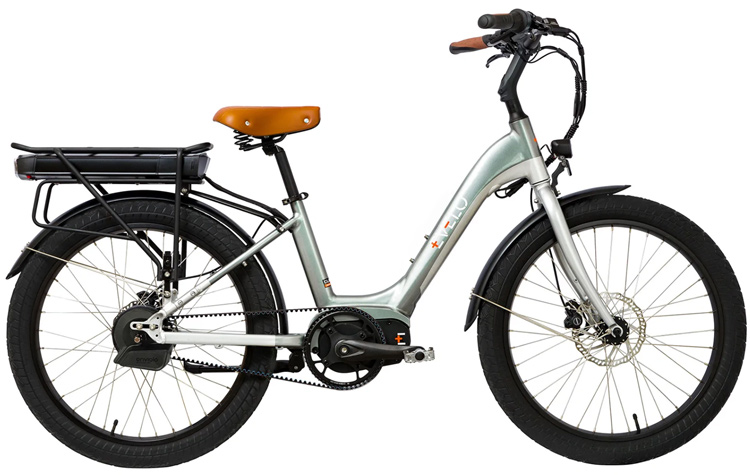 If are you looking for one of the best electric bikes and beach cruisers in one shiny package, then you need to try the Evelo Galaxy 500. This one is an electric mid-drive beach cruiser fit for any kind of joy ride.
It is fitted with a 500W mid-drive motor and powered by a 36V, 13Ah (468Wh) battery, the battery is installed at the rear of the frame so you don't have to be worried about extra wires or anything else. Users are going to love the Enviolo AutomatIQ shifting system, think of it as a real turning point for electric bikes. With this system, gears are automatically changed for the rider as they ride, with this feature all the guesswork is taken out, think of it as driving an automatic car.
The power transition of the bike is also impressive. The Evelo Galaxy is fitted with 24-inch wheels and is suited for riders between 4 foot 10 inches and 5 foot 10 inches. You might want to get another electric bike for tall riders but other than that it should accommodate all. This is one of the more compact bikes currently available in the market, and since it is a beach cruiser, it maximizes comfort. For a senior citizen, it makes for an amazing choice, do try it out!
Advantages:
Features The Enviolo Automatic Transmission System (Automatically Shifts Gears)
Low- Step Frame Allows Easy Mounting
Smaller Frame Size Allows Smooth Maneuverability
Smooth Power Transition
Disadvantages:
Not Suitable For Tall Riders
Why I Like It: The Evelo Galaxy 500 is one of the compact electric beach cruisers out there, it offers extreme comfort and an unforgettable riding experience. The Enviolo Automatic Transmission System will make you feel like you are driving a car. Getting on and off the bike also feels very smooth, all due to the low-step frame.
---
5. Aventon Aventure Step-Thru
Price: MSRP $1,999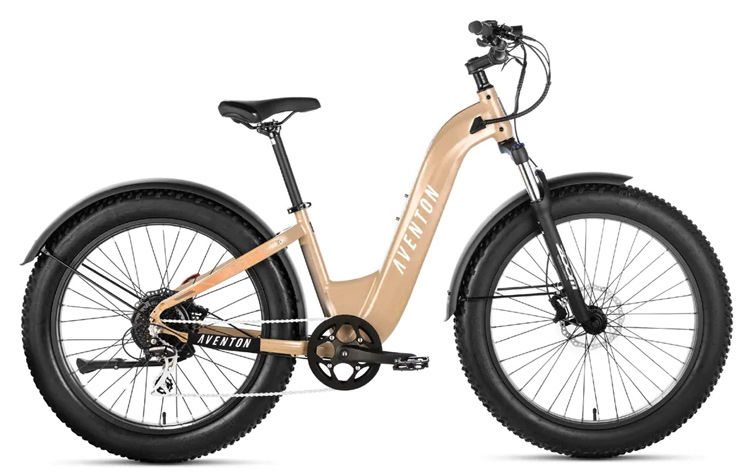 The Aventon Aventure is clearly one of our favorite electric bikes launched this year, it just makes your life so much easier. The performance it offers is exemplary and it is full of meaningful features which make it years ahead of the competition.
It is fitted with a 750W Bafang rear hub motor and powered by a 48V, 15Ah (720Wh) battery, it is integrated into the frame so you won't have to worry about the wires or anything else. For those that are looking for adventures, the Aventon Aventure has more than enough power to conquer every kind of hill or terrain while maintaining top speed. We were absolutely stunned to see the attention to the smallest details in the Aventon Aventure. Once you try out this bike, you will get to know what we are talking about.
This is a fat electric bike but that is clearly to the advantage of the rider. The wider tires promote stability and handling and you can even run the bike with little air. All in all, you are going to get a comfortable ride like none other.
Advantages:
Extremely Quick Electric Bike, Can Be Unlocked As A Class 3 Electric Bike
Vibrant LCD Display Is Amazing, Shows All Sorts Of Vital Information
Powerful Motor and Battery
Includes Metal Fenders and Beefy Mounts
Unique Riding Style
Disadvantages:
Heavier Than Other Electric Bikes
Why I Like It: For hardcore adventures, you don't need any other bike than the Aventon Aventure Electric Bike. It has all that you need, a powerful motor/battery, a durable frame, and fat tires. It also offers a unique riding style that we only got to experience with the Aventon Level.
---
6. Electric Bike Company Model S
Price: MSRP $2,399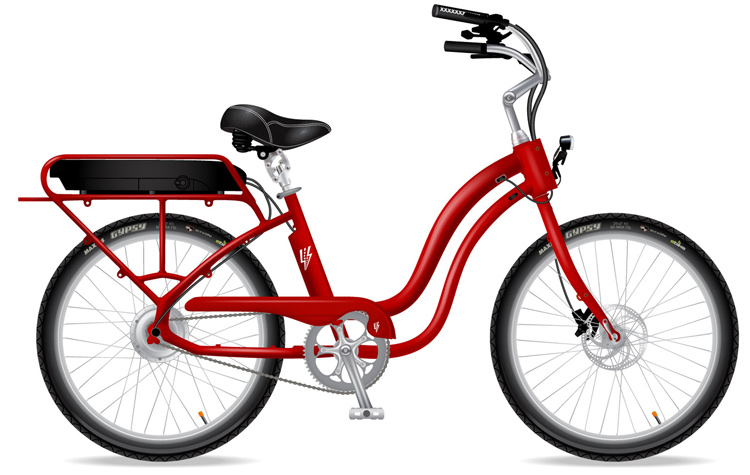 How would you feel about an electric bike that is 100% made in America? It would certainly fuel your patriotism and get you excited to try it out. If you really want a bike like that, then we presented to you the Electric Bike Company Model S.
Although the Electric Bike Company gathers most of its components from all over the world, the bikes and built and assembled in their factory in Newport Beach, California. Yes, before you ask us this question, they do have that American trait in them, all of the bikes are built to last. We tested out most bikes from EBC but the Model S really stood out when it comes to performance and comfort, making it perfect for senior riders. It offers a comfortable riding position which will deliver a relaxed experience.
Let us discuss the exciting bits of the Model S Bike. The base model of the bike comes with a single drivetrain, it is powered by a 500W geared rear hub motor and 576Wh battery, but that isn't the exciting part of the bike. All the bikes from EBC are customizable and riders can fit them with parts of their liking. You can even swap out the battery and install a bigger one, there are virtually no restrictions that you will have to face once you get the Model S Bike.
The Model S is one of the best bikes to get for senior citizens, it offers a nuanced and relaxed riding experience!
Advantages:
Classic Cruiser Styling- Great Riding Experience
Dual-Battery System
Assembled In America
Provides 60Nm Torque
Comes With Front Basket
Disadvantages:
The Wide Turn Radius Is Annoying
Why I Like It: My wallet is always ready for bikes that are made in America, and the Model S from Electric Bike Company stands tall as one of my favorites. It is an extremely capable bike that is able to handle all sorts of terrain, and with the dual-battery system, you can enjoy double the range!
---
7. VoltBike Elegant
Price: MSRP $1,699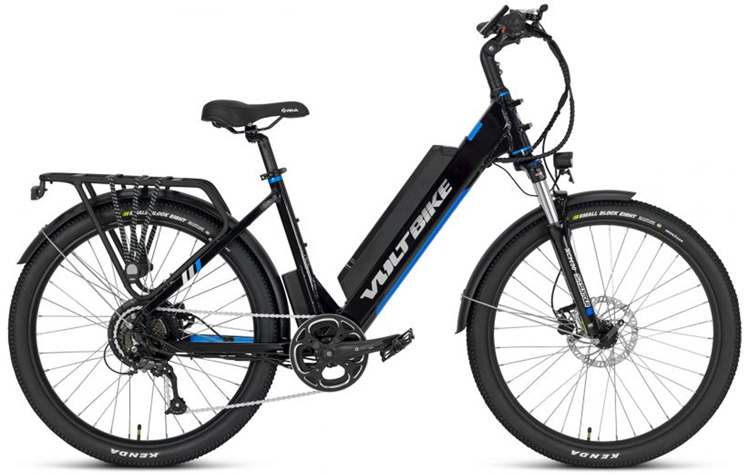 The VoltBike Elegant proves to be one of the best electric bikes for seniors, thanks to the motor management and comfortable riding experience. It is specced with a Bafang 500-watt geared hub motor, it can handle both steep climbs and the city streets, making it an all-rounder choice. On a full charge, it offers a range of 40 miles and can reach a maximum speed of 20mph.
This here is a lightweight electric bike, which makes mounting very easy, it becomes an instant option for senior citizens. One of the best aspects of the VoltBike Elegant is that it arrives fully assembled and with a sturdy bike helmet, what else could you need?
Users might find the Velo plush saddle a bit rigid at first but it softens up with time, there is nothing to worry about when it comes to comfort. Other great components include an adjustable seat post and Tektro hydraulic disc brakes.
Advantages:
Offers Great Range (40 Miles)
Bafang Motor Does Wonders
Arrives Fully Assembled
Bike Helmet Included
Comfortable Riding Experience
Disadvantages:
Velo Saddle Is A Bit Rigid
Why I Like It: The VoltBike Elegant is one of the very few electric bikes that offer a lot of value in that price range. It has a lightweight design and offers a very comfortable riding experience. It comes fully assembled and with a free bike helmet, how cool is that?
---
How We Chose The Best Electric Bikes For Seniors?
We wanted to make sure that the electric bikes we chose for seniors would actually bring them benefits, and give them an unforgettable experience. In order to do that, we focused and targeted features and innovations that would make seniors jump on these electric bikes and have the time of their lives! The bikes that we selected, are lighter than average and have numerous safety and walk-assist features.
Another important aspect of these bikes was the motors, we wanted these bikes to reach amazing maximum speeds but that wasn't the main focus. The quality of the motor matters, although speed is a nice bonus, we are more focused on the durability of these motors. The battery also matters, the perfect electric bike should be able to provide an impressive range. We even listed down some bikes that offer a dual-battery system that allows them to reach a range of more than 190 miles which is really impressive!
Extra points were awarded to bikes that had removable batteries, you could charge them from the comfort of your home, without the worry of theft. Powerful brakes, ergonomic handlebars, and comfortable saddles were also given more importance.
Apart from that, here are some important features that you should consider.
Overall Comfort and Stability
The comfort and stability of the electric bike matter a lot when it comes to seniors. These bikes shouldn't be just supportive but they should also inspire confidence in older people, allowing them to use these bikes to the fullest and have fun!
High-Quality Components
The durability of the electric bike will depend on the overall structure and the quality of the components it is installed with. Only select those bikes that are installed with high-quality components, after all, we want these bikes to be used for a long time.
Bigger Value
Even though you are paying a lot for the electric bike, make sure that the value you get in return is bigger than your investment. Also look at the intangible benefits that you will be getting, like customer support and warranty. If a bike comes with an after-sales report then that is even better!
Built Specifically For Senior Riders?
It is also advised to look for electric bikes specifically made for the older generation of riders. There are specific characteristics and functions that could be focused on. Durability, powerful motors, and more!
FAQs
Should A 70- Year Old Ride A Bike?
Riding a bike in old age has a lot of mental and physical health benefits.
Which Bikes Is Best For Arthritic Knees?
Electric Bikes are best for arthritic knees as they require minimal effort. They are also comfortable and more responsive than other bikes.
Are Electric Bikes Good For Seniors?
Apart from providing physical comfort, electric bikes provide a lot of mental health benefits, such as boosting cognitive health.
Also Read:
Recap
Seniors are meant to ride electric bikes as much as everyone else. They should be using electric bikes more actually as these bikes tend to improve their mental and physical health in the long run. Electric bikes keep you riding, no matter what your age is.
Thanks to their smaller batteries and compact structures, they can be fully utilized by seniors. Electric Bikes make it easier to travel even when the terrain is tough, they are expert climbers and make the impossible possible. Seniors can choose the level of physical effort they plan to exert with electric bikes, and that is one of the big plus points.
According to recent studies, electric bikes are the only type of bike that allows riders to continue riding at any age. They give a sense of freedom and liberty that cannot be offered by anything else and that makes them invaluable.
Now that you know about the importance of electric bikes, what are you waiting for? Go get one already!