Owning an electric bike does not mean that you have to spend a fortune. While a $3000 bike is not going to get you a top-of-the-line electric bike, it certainly will fulfill your electric biking dreams. There might be a few things that you will have to compromise on, but it is nothing that will interfere with your biking journey
We all are in a state of constant change. Change surrounds us like a vulture waiting to snatch away its prey. Lifestyles, Trends, Fashions, everything is being outdated much more rapidly than it ever did in the past. But one thing that is not changing is the bike trend. It's for sure evolving, but it is not going out of style!
Are you ready to find the best electric bike for under $3000? Let's get this party started!
Best Electric Bikes Under $3000 – Top of The Line
From mountain electric bikes to cargo electric bikes, let us analyze different models to see which will suit your needs best. These models are selected after hours of research and vigorous riding.
| Best Feature | Bikes | Type | Price/$ |
| --- | --- | --- | --- |
| Best Overall | Aventon Level.2 | Commuter E-Bike | 1,799.00 |
| Best Battery Life | YinZhiBoo SMLRO | Mountain Bike | 1,099.00 |
| Best Range | NF NIGHTFIRE Maxfoot | Folding Bike | 1,595.00 |
| Best Folding Mechanism | Freego EV | Adventure E-Bike | 1,299.00 |
| Best Fit | Propella 4.0 7S | Urban Commuter | 1,199.00 |
| Best Controlling | Sinch Step-Through | Folding Bike | 1,499.00 |
| Best Built | Stark | Fat Tire Bike | 1,299.00 |
| Best Suspension | X-Class 52V | City Commuter | 2,399 |
| Best Saddle | ECOTRIC Explorer | Fat Tire | 1,569.00 |
Important Notice: All the prices mentioned are subject to change.
1. Aventon Level.2 – Editor's Choice
Price: MSRP $1,799.00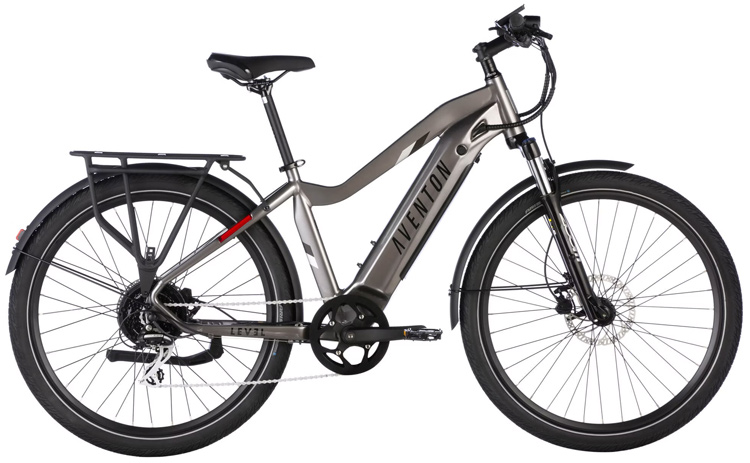 If you are on the hunt for an electric bike that is going to deliver a bang for low bucks, you are going to love Aventon Level.2. Aventon is rapidly updating its models and in the Level series, the updated center is the most catchy part.
It has a nice torque-sensing pedal assist system. This means that your pedaling will be magnified along with being responsive. Each pedal stroke will be motor-assisted. The more you will pedal, the more assistance you will get. You can take it up to level 5 and enjoy 28 mph. You also have the option to lower the pedal assist option.
Or you can use the left-side thumb throttle and enjoy a speed of 20 mph without pedal assist. The throttle control is much more improved on this version as compared to previous models. The throttle and pedal assist are nicely tuned as compared to the tuning they had a year ago.
This electric bike also has the updated colorful display by Aventon. It comes with Bluetooth integration. This enables you to pull up the QR code and pair it with different apps. It helps you track your rides and allows you to participate in Aventon's rider community.
It has disc brakes with 180 mm rotors. A high-quality comfortable saddle along with a front suspension fork. The bike is powered by a Pepe 500-watt continuous-rated motor and an Aventon Level Battery V2. This battery is fully integrated and supports fast charging.
There is no other electric bike that has nicer tail lights than this one. They are visible from all angles and you even get a light on your rear fender. You get a nice bright headlight that is mounted on the handlebar. The rear rack is included along with the fender set.
Advantages
Out-Standing Pedal Assist
Cost For Value
Well-Built
Sleek
Hydraulic Brakes
Disadvantages
Heavy
Low-Battery Life
Low-Handlebars
Editor's Choice: This e-bike completely transformed my riding experience. It has certainly made it more enjoyable. It not only offers a lot of features but its build is also very sleek. I got tons of compliments on the looks. Conclusively, this is the best you'll find in the $3000 e-bike market!
---
2. YinZhiBoo SMLRO 26″ Fat Tire Mountain Electric Bike
Price: MSRP $1,099.00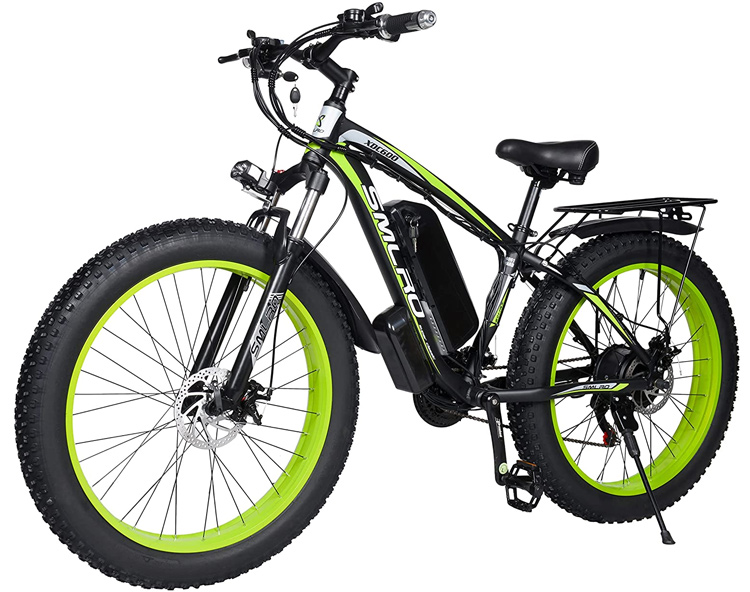 YinZhiBoo falls in the category of the finest electric bike makers. They recently launched their newest edition, the YinZhiBoo SMLRO 26″ Fat Tire Mountain Electric Bike. You will find many advanced features on this bike like the fat tires along with a removable high-tech battery.
The gear shifting on this e bike is so smooth because of the advanced gear shifting system. It's comfortable and able to deliver a smooth ride for an extended time. The motor power is 1000w, which is exceptional power for any electric bike. It has an expert motor and battery power combination. It delivers a range of 42 miles, which we cannot claim for many electric bike models out there.
A light but strop 6061 aluminum alloy is used to build the frame. it has a longer service life paired with a better absorption effect. This combination will deliver the most outstanding riding experience. Other than this you will also find that the bike has 3 working modes, a digital LCD display with intelligent control.
Front and rear disc brakes work collectively to deliver a powerful stopping. It also comes equipped with an aluminum suspension fork and a headlight.
Advantages
Stable
Powerful
Comfortable
Sturdy
Impressive Battery Life
Disadvantages
Difficult Assembly
Difficult To Pedal
Heavy
Why I Like It: This bike is a beast on challenging terrains. The pedal assist makes it easier to climb on hills. It is so much easier to handle and is an overall champion when it comes to electric mountain bikes.
---
3. NF NIGHTFIRE Maxfoot 1000W Folding Electric Bike
Price: MSRP $1,595.00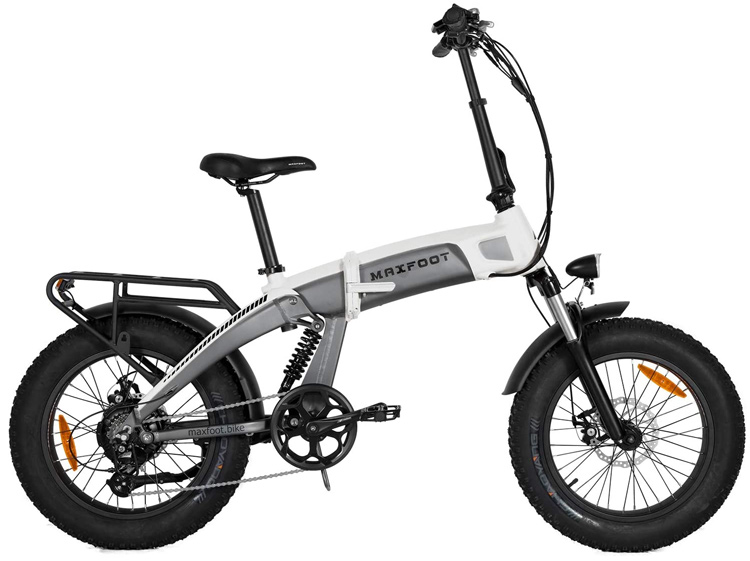 This bike is one of the cheapest 1000x electric folding bikes. It is gaining popularity rapidly because of its unmatched power provided by the 1000W motor. The 48V 14AH battery is provided by Samsung and is well-hidden. It allows you to cycle at a maximum speed of 22mph.
You can go to almost 40-55 miles on the pedal assist. This is only achieved on level one. After the said miles you will have to recharge. But the most advanced technology of Maxfoot has to be the six-bar linkage rear suspension.
Using this technology you can achieve high-speed driving without compromising on your riding comfort. It supports Shimano 7-speeds gear with 20 inches tires. The aluminum frame makes it lightweight. You also get a front suspension fork and front and rear alloy disc brakes. The bike looks sleek with its integrated wiring.
Advantages
Excellent Range
Easy To Store
Durable
Disadvantages
Heavy
Complicated Folding Mechanism
Limited Suspension
Why I Like It: The Maxfoot is an electric bike ready to conquer all terrains. It enables you to enjoy longer cycling hours without getting tired. It's foldable and storable and even its pedals are foldable. You can store it wherever you like.
---
4. Freego EV
Price: MSRP US $1,299.00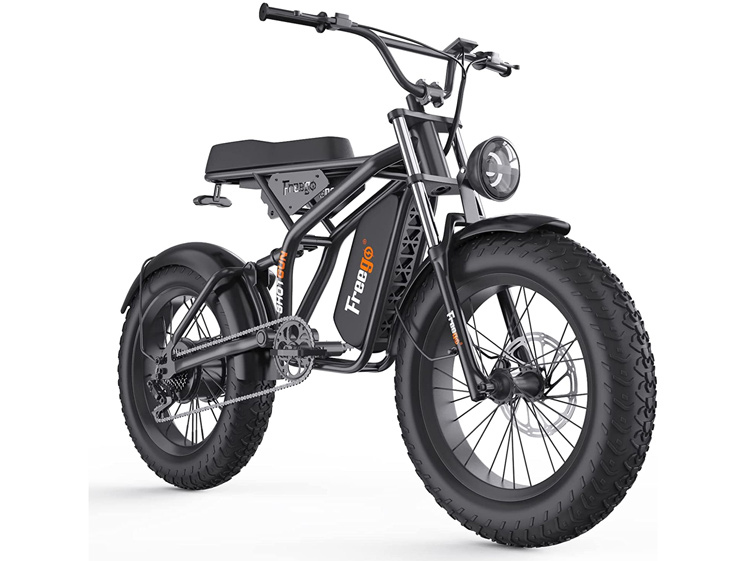 Another 1200W electric bike that is ready to blow your mind away with its specs is the Freego EV. It has anti-slip wide tires and a water-resistant aluminum frame. As we mentioned, it has a 1200W rear-hub motor with a charge time of 5 hours.
It has a front suspension with hydraulic disc brakes. It has enough juice to deliver a maximum speed of 35 mph. It even has an adjustable seat, meaning you can adjust the seat according to your comfort. Other accessories include fenders, front and rear lights, along with a removable lithium-ion battery. You will get a maximum range of 30-50 miles which is pretty decent for an electric bike.
It has an easy three-step folding mechanism. Many other bikes may be offering the same feature but Freego EV has the edge of being less costly. The dual shock suspension system allows the bike to perform well on mountains and hills as well as on plain tracks.
Advantages
Portable
Affordable
Lightweight
Powerful Braking System
Disadvantages
Limited Range
Limited Battery Life
Difficult Maintainance
Why I Like It: The Freego EV is a decent bike within an affordable price range. It has many features to offer to its users but the thing I liked the most while trying this bike was its portability. It was not only easy to carry, but its folding mechanism is also hassle-free. So if you live in a confined space where storage may be an issue, you should certainly look up this bike.
---
5. Propella 4.0 7S
Price: MSRP $1,199.00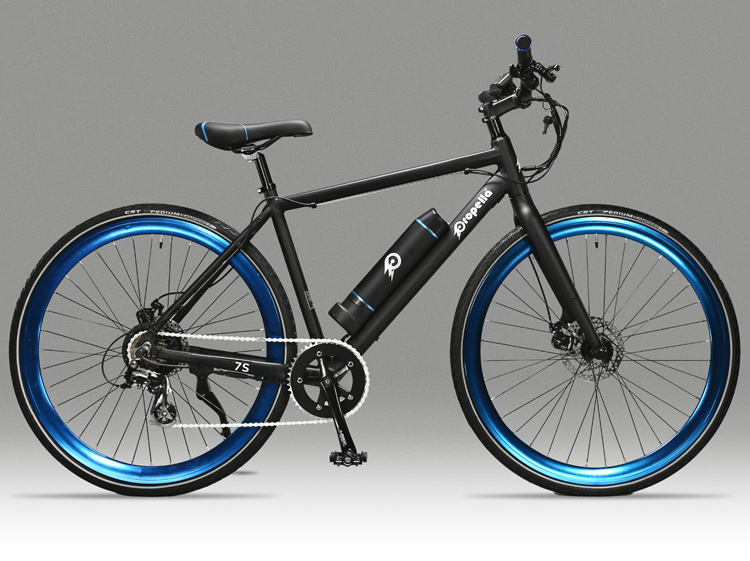 The Propella 7S resembles the Porpella ss when it comes to looks. It's almost nearly the same, just that it has a 7-speed gear setup at the back. It is best suited for people that may not be comfortable doing everything in a single gear.
You can easily downshift when you are climbing the hill and upshift when you are cruising on flat land. Other than the gearing, the bike has everything else that any other Propella does. It is an urban-oriented electric bike that is specifically designed for efficient city travel.
It lacks suspension and a fancy screen, but it does have a basic LCD screen. It has Shimano mechanical disc brakes. It has the Buffang 250-watt motor which puts out 400 peak watts. This is what makes the Propella a true class 1 lightweight pedaling e-bike.
It is not for you if you want to rely on the throttle. You do have to pedal a little to get the motor power. But the Propella allows you to choose what level of power you want. It has a range of power levels from one to five. The top speed is 18 mph but you can go faster if you got the legs to pedal.
The range is around 20 to 40 miles, which I did find accurate in my testing. That is when you are riding in low-power modes. If you are going on high power mode, the motor does most of the work, meaning that the mile range will drop below 20.
Needless, this was the lightest urban electric bike I have tested. It weighed only 37 pounds.
Advantages
Active Support
Lightweight
Great Fit
Easy Assembly
Disadvantages
Uncomfortable On Long Distances
Lacks Integrated Lights
Why I Like It: Propella 7S does not compete with the specialized electric bike models, but it is not priced to do that. It's an easy-going e-bike that has good brand parts. It is a great option if you are going to cover shorter distances.
---
6. Sinch Step-Through
Price: MSRP $1,499.00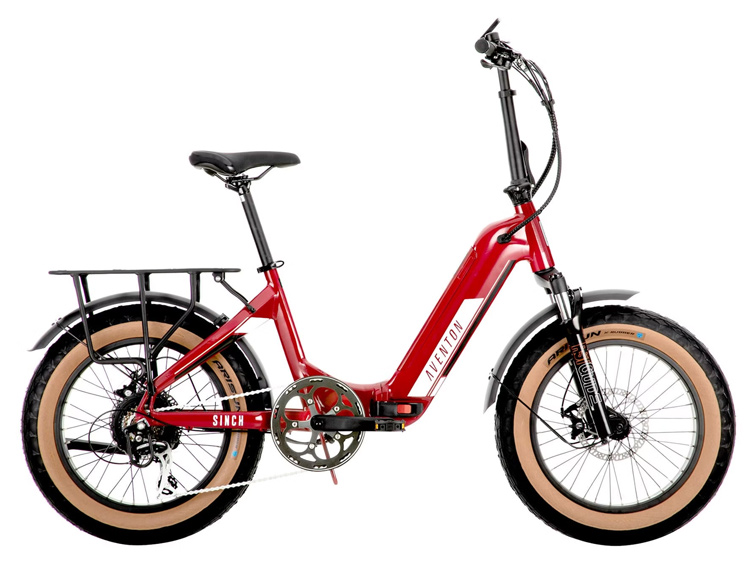 Aventon certainly has the knack to make everyone a part of their cycling expeditions regardless of age and gender. The Sinch is just an example of that. Its foldable frame makes it live up to the brand name. With its easy folding mechanism, you can quickly convert it from a mode of transportation to a mode to be transported!
It has a front suspension along with 24″x4″ Kenda tires that are puncture resistant. This ensures that you ride comfortably on all kinds of terrain. You get 6 levels of pedal assist. If you are not in the mood to pedal, it also has a throttle mode. It can deliver a range of around 40 miles on a single charge. But if you use the throttle function only, you will get half of the mentioned range.
The top speed is 20 mph, with the motor(peak) 720 watts and a Samsung Lithium-ion 48V, 14 Ah battery. It takes roughly 5 hours to charge fully. While it only weighs 60lb, it can carry a weight of up to 250 lb! The aluminum alloy frame is surely a pleasure to look at!
Advantages
Value For Price
Stable
Responsive Controlling
Easy Assembly
Disadvantages
Tacky Suspension
Heavy
Low-Quality Handlebars
Why I Like It: The Aventon Sinch is really a convenient bike if you are just starting out on electric bicycling. It has a lot to offer and that too at less price. The step-through frame makes mounting and dismounting easier. It is the perfect e-bike to enjoy leisure rides. Though I wouldn't recommend it for off-roading because of the tricky suspension.
---
7. Stark Splach E-Bike
Price: MSRP $1,799.00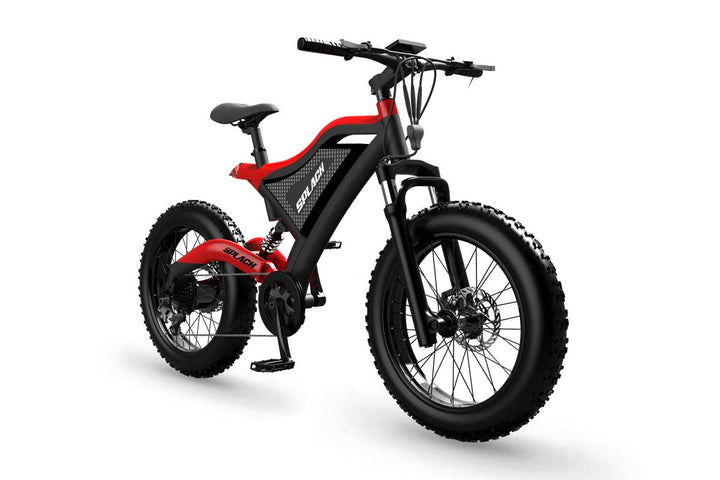 Splach is an electric bike company that offers state-of-the-art technology along with eco-friendly and practical substitutes for a long time now. It is more famous for its electric scooter, but Splach also ventures into electric bikes. Stark is without a doubt an enjoyable electric bike.
Its chassis design is applaudable with the 20″x4″ tires. It comes with a rear suspension for a bump-free ride. It is powered by a dual 48v 15Ah battery that is perfectly hidden beneath the rear rack. The battery gives you 100 miles on pedal assist and a full 70 miles on the throttle. The motor is powered at 750W and is a rear-hub motor.
Coming to pedal assistance, Stark has 6 levels. It has a Shimano 7-speed gear transmission. The elements are capable enough to handle a rough ride. Even the wiring is water-proof so you got nothing to worry about. It weighs 77 lb but has a really unique design.
Advantages
Well-Built
Great Suspension
Powerful Motor
Adjustable Seat
Disadvantages
Heavy
Frequent Wear And Tear Of Tires
Challenging Assembly
Why I Like It: Stark is a perfect ride for a leisure stroll on the road as well as for a little off-roading. It is very capable to handle rough tracks. LACH even delivers worldwide so you don't have to go look for one at your local bike shop. It even offers three riding modes including Energy saving, Standard, and sport mode.
---
8. X-Class 52V
Price: MSRP $2,399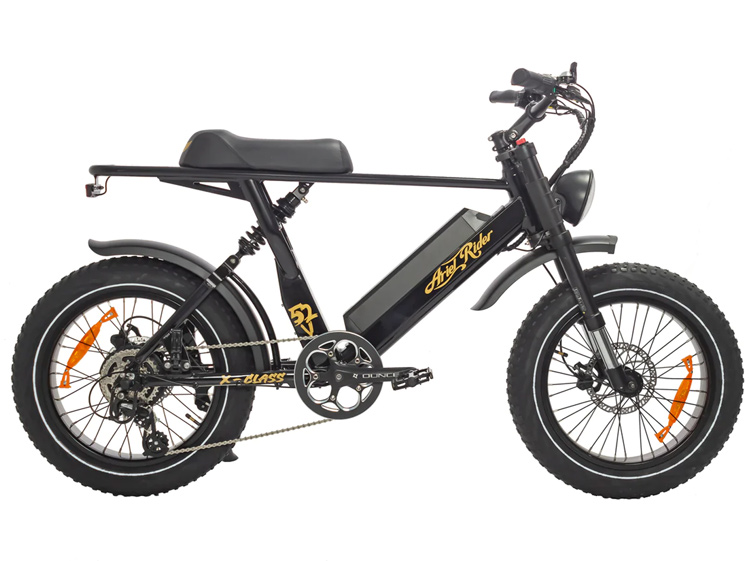 The X-Class 52V is the definition of bicycling passion by Ariel Rider. With their vision to make the most out of e-bikes, they have made the X-Class a speed monster. It was specially designed to be a mile-chomping machine. You can go over 20 mph with this one.
What makes it agile is the metal gear technology. The metal produces grounds for higher torque power and speed rather than the traditional gears that are made of nylon. It has a 52V 35Ah battery. The 1000W motor can peak up to 2000W.
Other than all this, the X-Class offers a range of more than 70 miles. You get 5-levels of pedal assistance. This means if you are using it for your average commute, it can go days without charging. The bike uses hydraulic Tektro brakes. The bike ships to most parts of the country.
It also comes with an LED display, two USB ports, and front and rear lights. It has a payload capacity of 300 pounds!
Advantages
Fast
Amazing Suspension
Outstanding Battery Life
Durable
Disadvantages
Heavy
Glitchy Display
Challenging Assembly
Why I Like It: If you are a speed junkie, the X-Class 52V is going to be the bike of your dreams. Its battery life is outstanding and you can feel its power as you ride on the road. This beauty is simply a must-try.
---
9. ECOTRIC Explorer
Pive: MSRP $1,569.00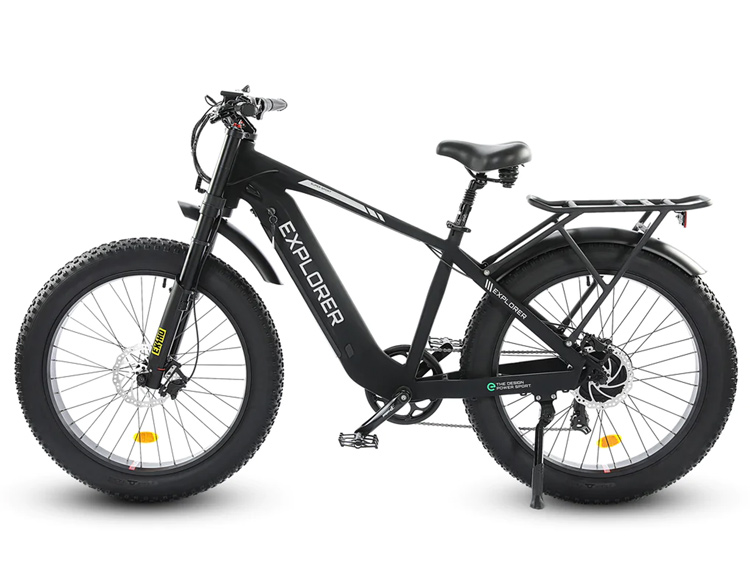 Ecotric has a friendly electric bike in store for all ages. The Ecotric Explorer has 26″ fat tires supporting a lightweight aluminum alloy frame. It is loaded with a front and rear hydraulic disc brake system to give you maximum control over your ride.
The anti-skid tires make it possible for you to cover a variety of terrain including snow tracks! The air suspension fork is fully adjustable making sure that you ride the complex typography without a flinch. It also hosts fenders and a rear rack.
The most appealing feature for me was the suspension seat. The comfort level takes your already enjoyable ride to the next level. I felt almost no bumps. I even rode in the rain without any issues! but I did spray a can of WD-40 on the battery.
Other features of this big monster include a Shimano 7-speed shift gear, and a 750W brushless motor powered with a 48V 13AH lithium battery to fuel your rides. The battery is not only well-hidden but is also removable. It took roughly 6.5 hours to charge fully. You also get a 100 cycles service life for the battery and an 18-month warranty.
I was able to get a range of 18 miles on throttle mode and 32 miles with pedal assist. This is quite decent for a class 2 electric bike.
Advantages
Ergonomic Saddle
LCD Display
USB Charging
30 days Trial Supported
Free Shipping
UL Certified
Disadvantages
Lower-End Components
Heavy
Why I Like It: I rode this bike mostly on moderate trails. While the bike felt heavy, the handling was amazing. It was responsive and really fun to ride even on the snowy tracks. The tires had an amazing grip so I did not have to worry about slipping or falling down. You will enjoy a ride around town on this one!
---
Things You Must Know Before Buying An E-Bike
E-Bikes are the new IT factor. More and more people are buying electric bikes now because they are fun to ride and they make things easier. If you are someone who has already jumped this bandwagon or planning to do so, here are some things about an e-bike that is a must-know:
Power
This is the most basic yet the most important information. Your bike will only be powered when you are pedaling. If you want to generate more power, you will have to pedal harder. This is just like an ordinary bike but with an edge. E-bikes have different modes, which determine how much edge you will get.
It might have modes like sport, eco, turbo, and so on. The type of motor determines how much extra power you will have. That means that if you have a performance line motor, in the eco mode you will get almost 60% extra of your power, which keeps on increasing with the modes. Until finally you get 340% of your own power in turbo mode.
However, the more you demand, the faster your battery will drain.
Connectivity
You will be able to connect your phone to your bike, how cool is that? Some bikes have a built-in app for this while on some you can connect your phone using Bluetooth. There will be so many connected functions that you will find here which is simply amazing.
You can use applications like Strava or Kommute to plan your routes and other fun things.
Range Prediction
With advanced technologies, you can now get a predicted range on your LCD display along with your remaining battery power. This is really helpful when you have planned your route. You will be able to know if you have enough power to cover your route.
If you do not have enough power, you can simply switch down a mode.
Health Benefits
Now, when e-bikes were first rolled out I was a bit skeptical. Being the bike enthusiast that I am, I thought e-bikes will make people lazy. But I was proved to be so wrong. According to science, E-cycling improves the cardiorespiratory fitness of physically inactive individuals.
If you are a seasoned cyclist or fitness freak, e-bikes are still helpful. They will tell you how fast and how long you have been riding. You can connect to a heart rate monitor and know what's your power output.
You surely have some electric assistance, but the input is purely in your own hands.
Tuning
On many bikes, you can tune the modes to get more power. You can tune your e-bike to suit your needs. If you live in a hilly area, it will be wise to have more power in your turbo and sport mode. But if you live in a city where the roads are flat, you can lessen that power. This will help you achieve more range.
You can also tune them to suit your workout needs.
E-Bike Maintenance Tips
Here are the top 3 maintenance tips that you must remember if you choose to get an e-bike. Whether you have a mountain bike or an electric gravel bike, these tips will remain the same.
The Battery Maintenance
The batteries on these bikes need a lot of care and proper maintenance. This prolongs the lifespan of the batteries and ensures good performance.
Try to avoid exposing the battery to extreme temperatures. Do not overcharge or over-drain the battery. Try to charge your battery regularly even when you have not fully discharged it. This helps in prolonging the battery life.
Tune-Up's
It is better to get your bike serviced by a professional at least once or twice a year. The professional will check for any wear and tear and make proper adjustments to your bike. If there is any issue, the professional might be able to nip it in the bud and catch on the problem before it becomes a serious issue.
Bike Cleaning
Clean your bike regularly. Use the proper lubricants for your bike to avoid any wear and tear or damage due to the increased friction because of the dirt. A clean bike means a happy ride!
Related: Why Do Bike Tires Keep Losing Air? Everything You Need To Know About Pressure Loss
FAQs
How Fast Does A 3000w Electric Bike Go?
48mph is the maximum top speed you will be able to get on a 3000w eclectic bike.
How Heavy Is The Average E-Bike?
An average e-bike usually weighs around 20 and 30 kg. Keep in mind that a conventional bike only weighs 15 kg. So you have to keep this factor in mind when you are purchasing an electric bike.
Conclusion
Choosing an electric bike under $3000 is not an easy task since there are many things that you have to consider. This includes performance, real-time feedback along with features. Aventon Level.2 is a top performer that checks off all the said boxes. With a rating of 4.9, the Aventon Level.2 will surely provide you with the ride of a life, and that too at only $1,949.00. How amazing is that?
Now that you know all you need to make an informed decision, which bike is going to be in your shopping cart? Let us know in the comments below. Happy Ridding.
Also Read: