With the popularity of fat-tire electric scooters soaring through the sky, it's quite normal to want to join the scooter party. As seen on the streets, even inexperienced and carefree cyclers can safely ride a fat tire electric scooter since they are very stable. I had the pleasure of riding a few myself when I was vacationing in Costa Rica. Taking in all the scenery as I sped past landmarks on the scooter was a once-in-a-lifetime experience.
The best part was that I did not require any extra license for riding the Moto. All I needed was just a US driving license. But the laws are different everywhere so I would recommend you to check the laws of your state before you begin riding an electric scooter.
Let's explore the top scooters that you can buy right now. These scooters ride both on the streets and the sidewalk, though I wouldn't recommend you to ride them on a busy sidewalk. It can be very dangerous if you are new and still learning how to control your ride. The best fat tire electric scooter is the one that has a durable battery, runs smoothly, and is safe to use on the road.
The 6 Best Fat Tire Electric Scooters
| Best Feature | Fat Tire Scooter | Best Price |
| --- | --- | --- |
| Best Overall | eDrift ES295 2.0 Electric Fat Tire Scooter | $1,397.00-$1,947.00 |
| Best Comfort | Say Yeah Electric Bike Brushless Hub Motor Scooter | $799.00 |
| Best Brakes | MotoTec Electric Fat Tire Scooter Moped | $1,612.50 |
| Best Accommodation | Scooterfied 2 Wheel 2000 Watts Fat Tire Scooter | $1,300 |
| Best Adjustable Handlebars | Rugged Electric 48V 1000W Fat Tire Scooters | $1,289.00 |
| Best Style | City Coco Electric Scooter | $1,289.00 |
Note: All prices mentioned are subject to change.
Navigating busy streets is not easy with modern vehicles. Electric scooters have their small size advantage and they can deal with boulevards as they can also deal with narrow streets. The best fat tire electric scooters also come with wide wheels, perfect for extra stability. Here are the 6 top options to consider.
1. eDrift ES295 2.0 Electric Fat Tire Scooter- Editor's Choice
Price: MSRP $1,397.00-$1,947.00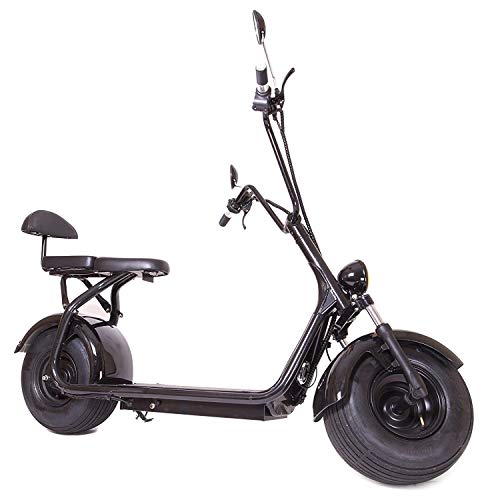 Powered by a 12, 20, or 30-amp battery, the electric scooter offers one of the simplest solutions to getting around busy city streets. Its fat tires offer plenty of grip and stability, even in tight corners. But when it comes to fat tire electric scooters, everybody is curious about the top-speed performance.
I rode this beauty on my vacation and I had one of the most smooth ride of my life. The most appealing feature to me was that I was able to ride 65 miles on just a single charge, but if you ride it at its top speed, which is 30 mph, the miles will be reduced. The steering was also kept to a minimum for safety purposes. The powerful 2.000-watt motor is enough to fuel your daily adventures.
The scooter is super affordable. I say this because while researching about it, I found out that there are 4 versions of the electric scooter. Its most affordable version is the 12AH option which has a range of around 20 miles, suitable for short rides.
The 20AH version of the electric scooter has a longer range of 40 miles. Finally, the most capable 30AH version has a 65-mile range, suitable for commuters and dedicated riders who cover long ranges every day. This is what makes this product stand above its competitors.
Advantages
Good Customer Support
Sleek
Fun-Ride
Disadvantages
Lacks Ridding Manual
Cheap Shipment Packing Material
Editor's Choice: The scooter provides a decent maximum speed with its powerful 2.000-watt electric hub motor. This is almost similar to the top speed of an electric bike. If you are riding busy streets for leisure or even for commuting to work, you'll find the speed sufficient. With a battery that lasts for 65 miles, it covers all your daily commuting needs.
2. Say Yeah Electric Bike Brushless Hub Motor Scooter
Price: MSRP $799.00
This 500W hub motor of the scooter is sufficient to take the fat tire scooter through busy city streets. While it's not the most powerful motor in its class, it still reaches speeds up to 15-20 mph. This largely depends on the weight of the user.
Even with such a small frame, the electric scooter carries users of up to 250 lbs. The best part is, users of all heights can comfortably sit on it as it has one of the rare designs. The design comes with a height-adjustable seat. Front LED acts as an additional safety precaution. Unfortunately, many users have commented that there are no lights at the rear of the scooter.
The scooter has a 800W hub motor and it will reach up to the top speed of 20 mph. Some users even reviewed that they were able to ride the scooter an entire day since its long-range battery lasts a whole day!
What I liked the best about this scooter was that it has a height-adjustable seat. Now, as a tall guy, this is the feature I look forward to no matter what kind of two-wheel ride I am looking it. This not only makes your commute more comfortable but also contributes to better control.
What you should really know is that this scooter required assembly. While you can, maybe assemble it with no help, its instructions are not the best. Plenty of patience is needed before hitting the road for the first time. One user also recalls that attaching the fork to the base proved the most difficult part of the assembly process. Though you can try it on off-road riding but just a minimum of it.
Advantages
Comfortable
Adjustable Seat
Fast
Disadvantages
Brakes Need Adjustment
Unremovable Battery
Difficult To Push
Why I Like It: The height adjustable seat made me want to buy this scooter for myself, I might even go for it. It has a comfortable seat along with many pre-installed features, like a bell. It's stylish with a big capacity of 250lbs, it's everything you have been looking for.
---
3. MotoTec Electric Fat Tire Scooter Moped
Price: MSRP $1,612.50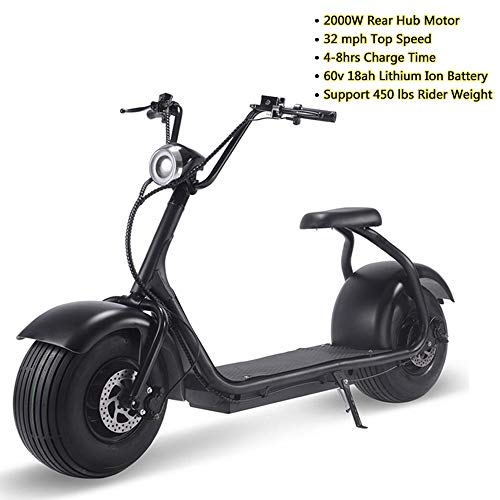 Made with a new design, the scooter now features bigger tires. The result of this upgrade is seen in better stability. Those dealing with tight busy streets appreciate them the most. It reaches speeds of up to 32 mph even with such wide tires.
Those wondering about the practicality of such a large fat tire electric scooter need to know it's easy to live with daily. The electric scooter is fully charged within 8 hours. This means it fully charges overnight and it's ready for a top traffic performance the following day.
It has a 2000W rear hub motor and a battery that charges within 8 hours. That's the only drawback I could find in this scooter. Still, the best feature is probably the throttle. It can be triggered with a variable twist, how cool is that?
With a range of up to 20 miles per charge, this fat tire electric scooter doesn't win any awards for long-distance performance. This is why it's mainly suitable for leisure fun activities. It may not be the option for those seeking a commuter to take them to and from work considering it also requires up to 8 hours to fully charge.
Advantages
Front LED Light
Pre-Assembled
Hydraulic Disc Brakes
Disadvantages
Why I Like It: Apart from other notable features, it has a stylish front LED light as well. It serves to improve night-time visibility but it also looks great in photos and on Instagram profiles. There is also a battery state indicator, which I have not seen on the other scooters I reviewed.
4. Scooterfied 2 Wheel 2000 Watts Fat Tire Scooter
Price: MSRP $1,300
The bright-red scooter is among the fastest designs in its class. It has a top speed of 28 mph. This speed can only be reached on a full charge. Depending on the weight of the user, the speed of the electric scooter starts to run slower throughout the day.
In terms of safety, it's also reassuring to know it comes with front and rear lights. But no safety feature is as important as the brakes. This is why the electric scooter is made with hydraulic disc brakes with prompt response times, especially when having to deal with traffic stops.
Before taking the electric scooter out for its first ride, I recommend that you fully charge its batteries. Scooterfield says the battery charges in about 4 to 6 hours. But I would recommend you allow a full 6-hour charge, at least before taking the fat tire electric scooter out for a ride.
There is a simple indicator next to the battery itself. It shows you the charging process. When it is fully charged, the green light switches on indicating you to unplug the charging. The downside is that the battery lasts up to 6 hours. There are variables with a longer battery run time.
Advantages
Double-Seat
Warranty Protected
Disadvantages
Why I Like It: The scooter reaches speeds of up to 28mph which is amazing and it even has hydraulic pressure disc brakes for maximum control. The fun part above it is the color. Red color improves in-traffic visibility.
---
5. Rugged Electric 48V 1000W Fat Tire Scooters
Price: MSRP $1,289.00
This inspired design is made with a front light and a large comfortable seat. Made with big fat tires, it comes with a top speed of 20 mph. The fat tire electric scooter is made with accessorized front and rear lights.
In terms of usability, it carries users of up to 450 lbs. But with lower weight capacity, it still comes with a 1,000 W motor which is known for its durability. In terms of safety, the scooter is only started with a key. A set of keys and a battery charger are included in the pack.
This electric scooter's design is strongly inspired by motorcycles. This is especially true when it comes to the design of the handlebar which reminds of classic choppers. Its most loved feature among users is the adjustable handlebar. Users have the freedom to adjust the angle of the handlebar to fit their height. Most importantly, the handlebar angle allows the rider to sit in a comfortable upright position.
Advantages
Adjustable Handlebar Angle
Quick Assembly
Disadvantages
Less Sturdy
Narrow Handlebars
Why I Like It: Made with a 1,000W motor, this scooter can support user weights of up to 450 lbs. It has hydraulic disc brakes and reaches a top speed of 20mph. This is more than enough for your daily commuting and occasional riding.
---
6. City Coco Electric Scooter
Price: MSRP $1,289.00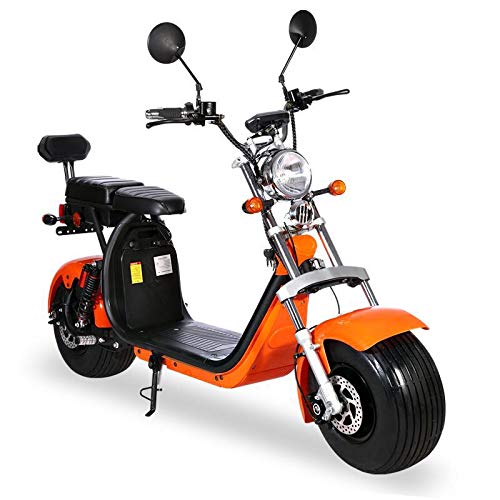 As one of the most powerful fat tire electric scooters, the City Coco is not recommended for beginners. It has top specs suitable for the most dedicated fans and hobbyists. Furthermore, it reaches high speeds of around 40 km per hour based on its large 1,500 W motor.
Made with a brushless motor, it uses mechanics known for durability. This is why it also costs more than the average alternatives. Furthermore, the electric scooter impresses with its cheerful bright orange color. While it's stylish and suitable for the young crowd, the electric scooter is also highly visible.
The City Coco electric scooter comes with a portable battery. It is a practical design that allows the battery to charge inside the house. Users can also take advantage of this system in prolonging battery life by storing it inside the house during the cold months of the year. It's known that negative temperatures negatively affect battery durability.
Advantages
Stylish
Highly-Visible
Portable Battery
Disadvantages
Not As Fast As Advertised
Why I Like It: The best thing about this scooter is its brushless motor. The battery is also removable, which is loved by many users. They report that it's easier to charge since they can carry the battery inside their house.
What Is A Fat Tire Electric Scooter?
Fat tires are seen more often on the streets today. They are a part of bikes and they have now made their way to electric scooters. Simple physics tells us fat tires have a wider road contact surface. This means that stability is automatically improved, as is grip. This is why when the fat tires are new, they offer sufficient grip even on wet surfaces encountered soon after riding out in the rain.
Fat tire electric scooters are also fun to use as they take users to remote locations, inaccessible otherwise. For example, fat tire electric scooters take users to sandy beaches. This is difficult or even impossible with other narrow-tire scooters.
But fat tire electric scooters are not readily available. This is mainly due to the fact they are made by hand. No industrial-scale fat tire electric scooter manufacturers are available at the moment. This makes them rare and also expensive.
Fat Or Normal Tire Electric Scooter- What's The Best Option?
Those who've never ridden a fat tire electric scooter might not know what to expect when it comes to practicality and everyday use. But the truth is there are differences to normal tire electric scooters. Here's what they do best.
Fat Tire Electric Scooter
Fat tire electric scooters allow the rider to seat. They are more comfortable and better age-suited than the regular tire smaller electric scooters. Similar to a motorcycle, a fat tire electric scooter is more of a cruiser than a regular tire electric scooter.
At the same time, the fat tires of an electric scooter allow riders to tackle small potholes which are now unfortunately present in all cities. Even getting off the sidewalks might be possible on fat tire electric scooters. On a regular tire scooter, this is impossible and also dangerous.
Fat tire electric scooters can be used for fun, leisure, or traffic-awareness purposes. From this perspective, it is very similar to regular tire electric scooters.
Normal Tire Electric Scooter
Normal tire electric scooters have the advantage of being smaller. They don't need parking space as they are easily carried wherever the rider goes. Furthermore, normal-tire electric scooters offer a better perspective to those seeking to run on the sidewalk.
According to local municipality regulations, fat tire electric scooters might not be allowed on sidewalks. This is not the case with regular tire electric scooters. Furthermore, it's also impossible to understand that both of these electric scooters might be banned from the sidewalk in certain countries.
Since it's also lighter, the fat tire electric scooter also has batteries that last longer. The narrower road grip surface allows them to keep the batteries running for longer with reduced asphalt friction. But they are not necessarily faster as both scooters have a maximum speed implementation according to national regulations.
What Is A Fat Tire Electric Scooter Used For?
The fat tire electric scooter is used for various purposes. Although not limited to these mentioned, here's what they are best at.
Sightseeing
Commuting
Fun
Tourism
Eco-friendly transportation
Sitting while traveling
But fat-tire electric scooters also go further on off-road adventures as well. Taking them on light park trails is possible. As seen above, it's also highly likely that fat tire electric scooters navigate sand on the beach. Those who want to spend a day at the beach are now able to get a sufficient grip and avoid sinking in as they'd do with regular tire electric scooters.
Choosing a Fat Tire Electric Scooter- What To Consider
Consider The Riding Position And Height
The riding position of the fat tire electric scooter is different. If on a regular tire electric scooter users stand upright, they sit on the fat tire alternative. This is why some even call these scooters electric choppers.
But for most people, it is a matter of comfort. This is why electric scooters are now used with large groups visiting objectives such as city centers. While the host explains and shows the city around, the group on electric scooters can sit back and relax for hours. Alternatively standing would be tiresome.
Check The Top Speed
The top electric scooter speed varies from 17 mph to 30 mph. The top speed performance largely depends on the battery charging percentage and the weight of the use. For safety reasons, electric scooter owners should check local regulations on top speeds. It is also advisable to travel at lower speeds until gaining some real-world experience as 30 mph can be quite fast for the inexperienced rider.
Inspect Battery Life
Batteries should last around 6-8 hours on the best fat tire electric scooters. Shorter battery life may signal an underpowered electric scooter. Apart from its operation time, new electric scooter riders should also look at charging time. This is where they find many electric scooter batteries that take around 6 hours to charge. This means the batteries are not made for quick charging.
Analyze Safety Features
The brakes have a crucial role in staying safe on the road. Hydraulic disc brakes are a must for optimum stopping power. Brake lights are also important for the safety of other traffic participants. Apart from these safety aspects, electric bike scooter owners might even consider additional equipment to stay safe on the road such as good helmets. Regular maintenance of the fat tire electric scooter is crucial.
Consider Licenses
Electric scooters don't require licenses but check with your area as regulation differs in most cities. However, the law is very specific when it comes to safety. Most of them are limited to 20 mph. While there are faster electric scooters, they are not legal to use on public roads.
Licenses may be subject to the same rules as electric bikes. However, since those on fat tire electric scooters are hitting the roads, they should have all the safety gear needed for road-safe vehicles. Front lights and brake lights might be mandatory in some cities and towns.
Consider The Best Time
Buying the best fat tire electric scooter requires patience. These electric scooters are expensive and it's worth looking for the best prices. However, this may only be the case over the winter months as they are not as popular around Christmas.
On the other hand, there are not too many fat tire electric scooter manufacturers. This means their prices are not going to come down significantly anytime soon. There's no real competition between these manufacturers at the moment. Furthermore, the better batteries they get, the likelier they are to cost even more.
Additional Resources
How We Choose Scooters – Our Methodology
I understand the struggle of finding a high-quality scooter that fits within a budget. That's why I've dedicated countless hours to researching and analyzing the best electric fat tire scooters on the market. I've scoured the web for honest reviews and feedback from verified customers, and I've even tested some of the top contenders myself, including the editor's choice.
Using my extensive knowledge of electric scooter components and their strengths and weaknesses, I've narrowed down the top options that offer the best value for your money. So whether you're a beginner looking to get into the sport or a seasoned rider seeking an affordable upgrade, you can trust that these scooters have been thoroughly vetted and carefully selected.
Without sacrificing quality or performance, these scooters offer features such as excellent handling, top-notch suspension, and durable design, all at a price point that won't break the bank. So if you're ready to enjoy the ride of your life, these are some of the options that you must consider.
FAQs
How Much Is A Fat Tire Electric Scooter?
To this day, fat tire electric scooters can't be considered affordable. Their prices vary between $649 and $2,800. The average price of a fat tire electric scooter sits at $1,200. However, these prices vary considerably depending on the battery capacity. The higher the battery capacity, the more expensive the fat tire electric scooter is.
What Is The Age Limit For An Electric Scooter?
The minimum age limit for a fat tire electric scooter is 16. This is because they can have a top speed of 29 mph which can be very dangerous to control. It can even result in serious injuries. That is why having a helmet while driving an electric scooter is compulsory.
Final considerations
Even the best fat electric tire scooter needs to be properly taken care of. Batteries are normally gone before any other part of the scooter such as the motor or the brakes. This is I recommend everyone to read the manufacturer's instructions on how to properly take care of the batteries and how to stay safe on the streets at the same time.
Nevertheless, my top pick is the eDrift ES295 2.0 Electric Fat Tire Scooter because this one I have tested myself. The result? An unforgettable ride for a lifetime! Which one of these is your top pick? Let us know in the comments below.