If you are looking to extend your riding season and want to have an advanced experience, then we have the perfect tools waiting for you- Fat Bikes! These bikes are enhanced versions of mountain bikes, no matter if it is a snowy or wet surface, they will perform exceptionally where other bikes would just end up damaging the trail.
Fat bikes are not just juiced-up mountain bikes, they are also good for backpacking. Thanks to the larger tires and low pressure, they also perform well on sand, making for good cruiser bikes on the beach. Did you know that fat bikes were the result of an experiment when people were trying to manufacture bikes for sand and snowy surfaces?
Although, they aren't the fastest bikes in the market that doesn't mean they aren't fast and their performance on the off-road trails and other kinds of surfaces is just exceptional.
As there are thousands of fat bikes in the market, it becomes really hard to find the perfect one, that is why we have compiled this guide for you. In this guide you will find the best fat bikes in the market, they are also further categorized for your convenience. We hope that by the end of this guide you will be able to make a sound decision for yourself!
Let's get started!
Best 15 Fat Tire Bikes Review:
These are the top 15 fat bikes in the market that we will be reviewing.
| Category | Model | Description |
| --- | --- | --- |
| Best Overall | Why Cycles Big Iron | With its robust and modern design, the Big Iron definitely seems fast, choppy, and playful. This bike definitely takes up the prize. |
| Best All-In-One Bike | Borealis Telluride | This is a bike that will not just perform well on the snow but every kind of surface. The drier the roads, the faster the speed! |
| Best Components | Specialized Fatboy | The Specialized Fat Boy is perhaps the mid-priced beast that we were looking for. With the SRAM components, it just becomes unstoppable. |
| Best Adaptability | Salsa Mukluk Carbon NX Eagle | I don't think that we are going to get a better adventure fat bike than the Salsa Mukluk, the amazing construction, and geometry of the bike makes it adaptable to everything! |
| Best All-Rounder | Trek Farley 7 | The traction offered by this bike is just amazing, few others try to mimic the fraction of the Trek Farley's power. |
| Best Priced | Canyon Dude CF 8 | The Canyon Dude CF 8 isn't just extremely affordable but also performs well, especially if it is named after a canyon. |
| Best Design | Surly Ice Cream Truck | With the Chromoly steel frame, the Surly Ice Cream Truck performs amazing and looks amazing. |
| Best Variations | Mongoose Dolomite | The Mongoose Dolomite not only offers one of the best performance on the market but also the best variations. |
| Best Electric Fat Bike | Rad Power Bikes- RadRover | If you are looking for an amazing electric fat bike then there is no better option than the RadRover. |
| Best Beginner's Bike | Co-op Cycles DRT 4.1 | With the Co-op Cycles DRT 4.1 you get an amazing start in the realm of fat bikes. |
| Best Customization Options | Borealis Crestone Eagle | The Borealis Crestone Eagle offers great performance and customization options, you can literally go ham with all the options. |
| Best Suspension | Pivot Les Fat | When it comes to the best suspension in fat bikes, there is nothing that does it better than Pivot Les Fat. |
| Best Budget | Framed Minnesota | Most budget bikes don't have the specs and features like the Framed Minnesota so you should definitely check it out. |
| Best Year-Round Fat Bike | Otso Voytek | Constructed with an amazing cross-country geometry, this bike can take on any kind of trail and that too with complete smoothness. |
| Best Budget Components | Gravity Bullseye Monster | With the aluminum frame, the bullseye monster proves to be a lightweight fat tire bike that you can completely rely on. |
All of these amazing are categorized, budget, suspension, design, there is something for everyone in this guide. Some of these bikes are not in chronological order, but the category remains the same.
Best Fat Tire Bikes For Men
Fat Tire Bikes are the new ultimate biking tools, they are being sold like hotcakes! Although what makes them special? Now, these aren't for daily commutes, they are best known as multi-purpose bikes that can be used on every kind of terrain. You will experience great traction, handling, and comfort while riding the fat bikes.
If you are a professional rider and want a different bike for each and every occasion then getting a fat bike would be perfect as they can handle anything. You can easily handle the on and off-trails, without any kind of hurdles. In this guide, we listed the best fat bikes that are perfect for men. They have the best components, different frame sizes, great comfort, customization options, accessory options, frame materials construction, and much more.
These are the best fat tire bikes for men!
| | | | |
| --- | --- | --- | --- |
| S/N | Bike | Why we love it | Price (MSRP) |
| 1. | Cycles Big Iron | 27.5" Wheels, Titanium Frame | $3999-6899 |
| 2. | Borealis Telluride | 120mm Fork, Durable Frame | $2050 |
| 3. | Specialized Fatboy | 27.5 Inches Tires, Durability | $1875 |
| 4. | Canyon Dude | Durable, FBF 27.5 Inch Tires | $2700 |
| 5. | Surly Ice Cream | Disc Brakes, Steel Frame, 36.5 Tires | $2099 |
| 6. | Otso Voytek | SLX 12-speed, Carbon Frame | $3590 |
1. Why Cycles Big Iron- Editor's Choice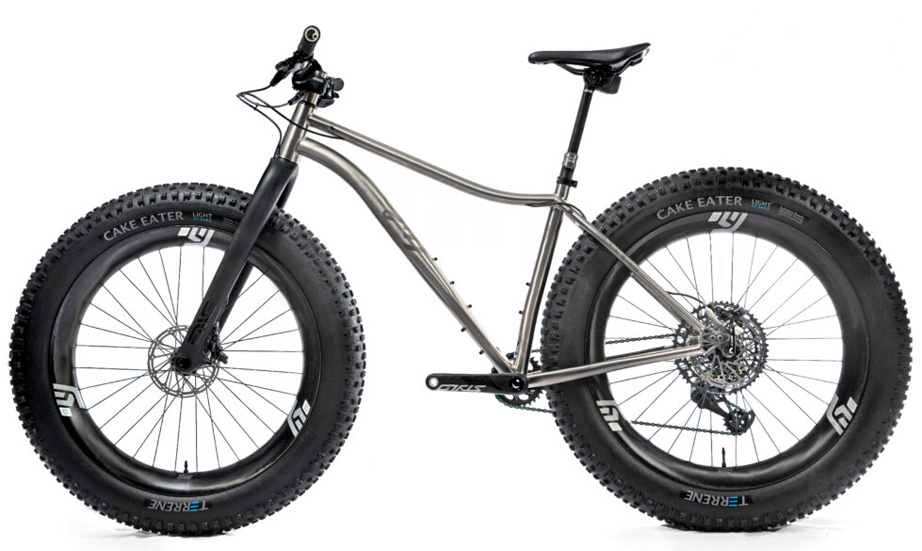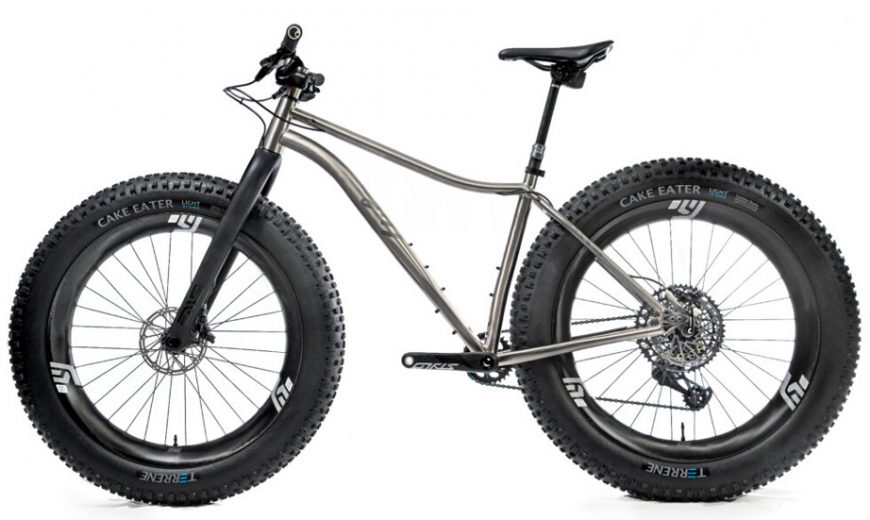 Price: MSRP $3999 – $6899
Fat bikes are made for awesome fun on the trails, with them you don't have to worry about anything. In my own personal opinion, the overall best is the Why Cycles Big Iron.
It is a completely modern fat bike, the ride feels extremely fast and playful. It doesn't have the normal 26" wheels that other fat bikes are fitted with, instead, it is packed with 27.5" wheels that are just amazing. Even the frame of the bike has clearance for more.
The titanium frame of the bike serves up many unique advantages, first of all, the ride feels silky smooth. The vibration dampening prowess is indeed amazing. Some of the best features of the bike are:
Amazing 27.5" Wheels
Durable Titanium Frame
Great For Backpacking Too
30- Days Return Policy
Let me tell you this first, the Big Iron is a thing of beauty, I don't think it gets any better than this. This bike can withstand any kind of pressure, thanks to its amazing structure. You can enjoy amazing traction from this bike thanks to the 5-inch tires. Plus, you can easily switch the tire sizes whenever you want!
Either it is a backpacking voyage or a snowy surface, the Big Iron is going to perform amazing on all fronts. The short stem is great for perfect steering and handling. You can easily mount and dismount whenever you want it is because of the amazing standover height of the bike.
Editor's Choice: The fact that a company is offering you a full refund after 30 days of usage says a lot. The Big Iron is a great bike and for the money, you get more than enough value. You can also easily have multiple attachments and the bike still won't slow down. Do give this bike a spin!
---
2. Borealis Telluride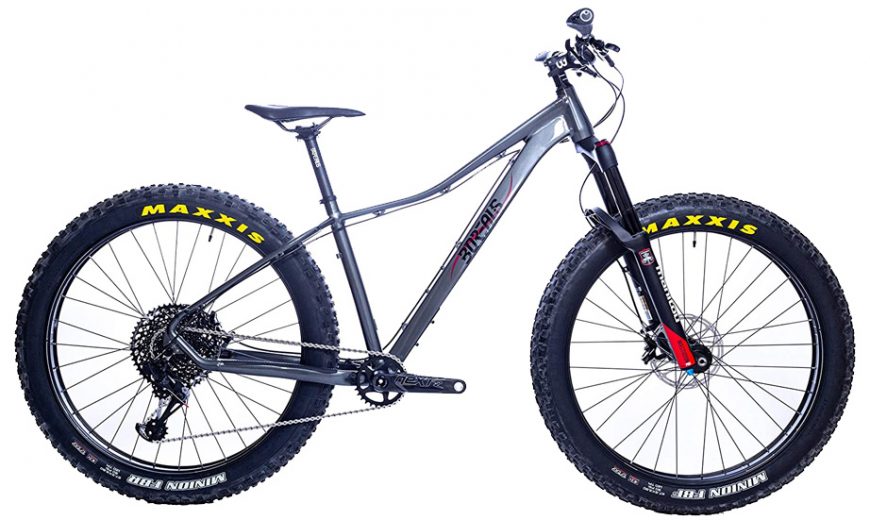 Price: MSRP $2050
For riders that want to experience something more than fat bikes, something new, the best option for them is the Borealis Telluride. You can take it for a spin on the soft surfaces with the 27.5" tires but if there are firm surfaces then for the best performance try the 29" wheels, they won't let you down.
I have been using this bike for off-road trails, snowy surfaces, beaches, and of course backpacking, it hasn't let me down once. Some of the best features of the bike are:
120mm Fork
Durable Frame
Tires Can Easily Be Swapped Out
Dropper Post
No matter what the conditions are, this bike will perform amazing, you can count on that. The vibrations are dampened without a problem during the harshest of rides.
The dropper post, 120mm fork, and wheelbase work together to offer great performance and stability. One of the best things about the bike is its narrow BB shell, the 83mm makes you have a nice comfortable position while riding the bike.
Why I Like It: The Borealis Telluride is an exceptional bike that performs well on any kind of experience. This bike is for riders that want to experience beyond the realm of fat bikes. Even without the features it would perform well, the amazing features over here just make it very powerful.
---
3. Specialized Fatboy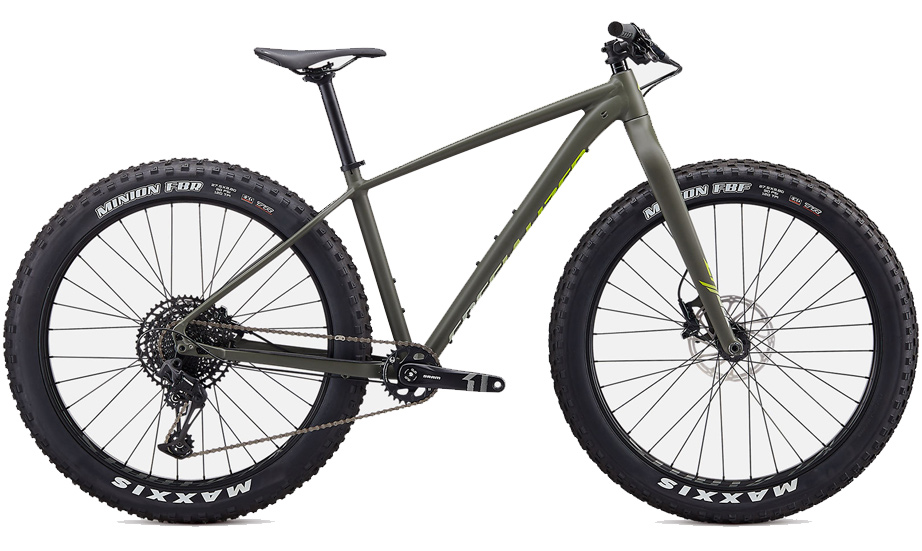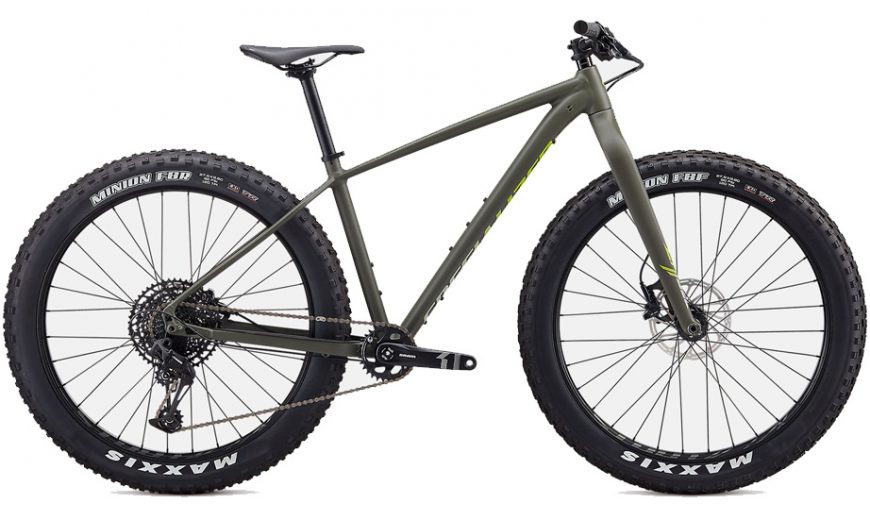 Price: MSRP $1875
This isn't just a mid-priced fat bike, it is definitely a beast. Constructed with the amazing Maxxis 27.5" tires, the performance of the bike just hits the sky! This is a bike that is equipped with all the right stuff which makes it right for every kind of surface.
The rolling speed and traction are just off the charts, as you will try out the chunkiest knobs on this bike, you will get to experience great traction even on the softest surfaces. Some of the best features of the bike are:
Maxxis 27.5 Inches Tires
Amazing Durability
SRAM 1*12 Drivetrain
SRAM Disc Brakes
If you are concerned about the tires or wheels, don't be, they are tubeless-ready and pumped to give you an amazing ride. While riding the bike, there will be lesser chances of them being damaged and you can have a great ride peacefully.
Changing gears and adjusting speed is no problem as the Fatboy is equipped with an SRAM 1*12 Drivetrain which excels in performance. Even in freezing temperatures, you would enjoy the great stability of the bike, thanks to the SRAM disc brakes.
Why I Like It: The Specialized Fatboy is a very reliable bike and will get you through any surface in no time. It gets really powerful and you won't feel any kind of vibration on the road thanks to the amazing geometry and construction.
---
4. Canyon Dude CF 8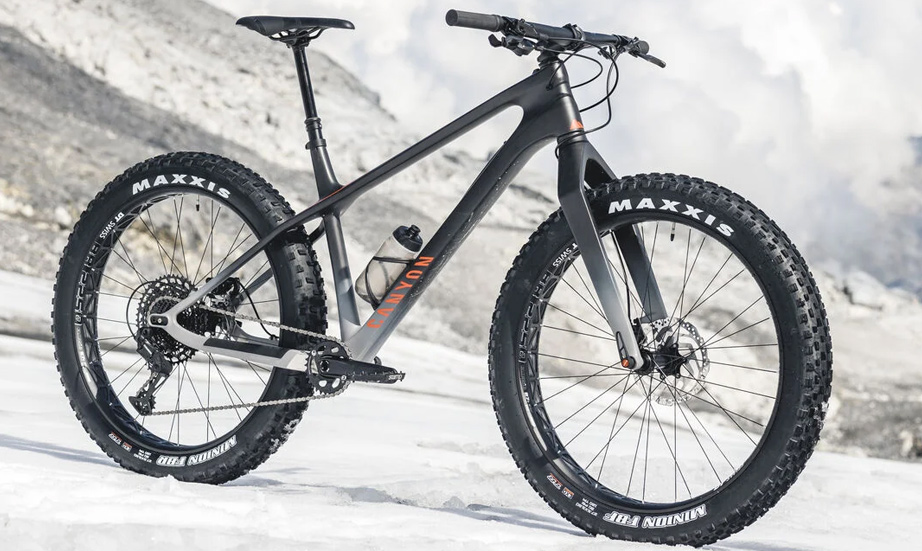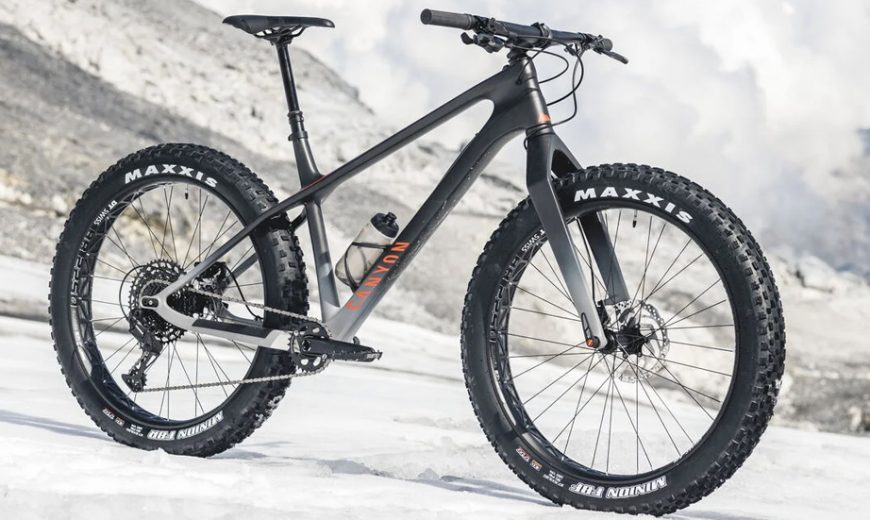 Price: MSRP $2700
What if you had to go over a canyon and needed the perfect bike for it? Apart from the Grand Canyon bike, the Canyon Dude CF 8 definitely takes the cake. It is just amazing, I have had a blast riding it so far. This comes under the budget category but the price is still fairly high.
Although the frame of the bike is lightweight, it is still very much durable and offers great handling. If you want to go up the hilly terrains then the 11-50 cassette is going to be a big help. Some of the best features of the bike are:
Durable Design
11-50 Cassette For Hilly Traversal
Reliable Dropper Post
Amazing Maxxis Minion FBF 27.5 Inch Tires
Some people get the Canyon Dude CF 8 confused easily, yes this is a budget bike but it doesn't have budget components. This is still a high-end fat bike, which you will love to have on sand or snowy surfaces.
The Maxxis Minion FBF Tires are the icing on the cake. Get this bike if you want something unique and reliable.
Why I Like It: The Canyon Dude CF 8 might be a kid brother to the Canyon Grand Canyon but that doesn't mean it isn't good. This is a great bike that you should definitely have. If you want to use a fat bike for hilly traversal like me then you have definitely come to the right spot.
---
5. Surly Ice Cream Truck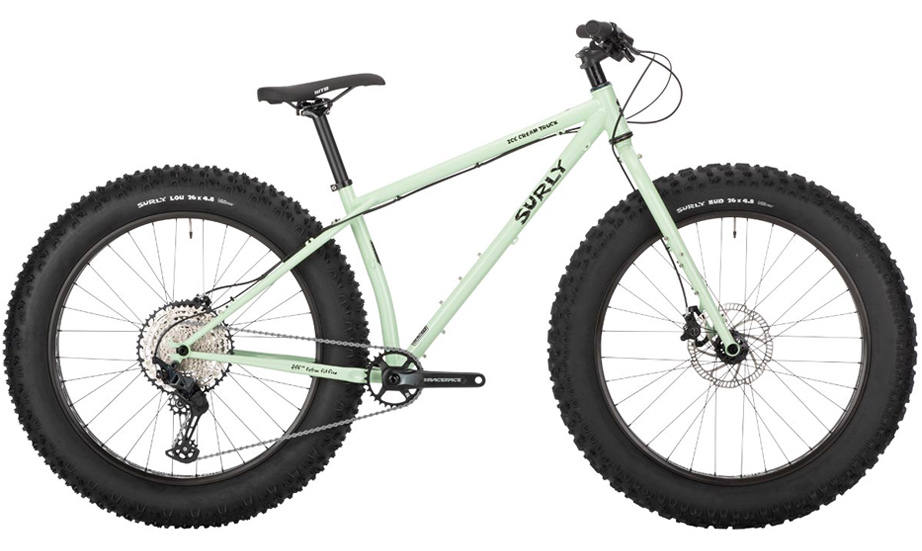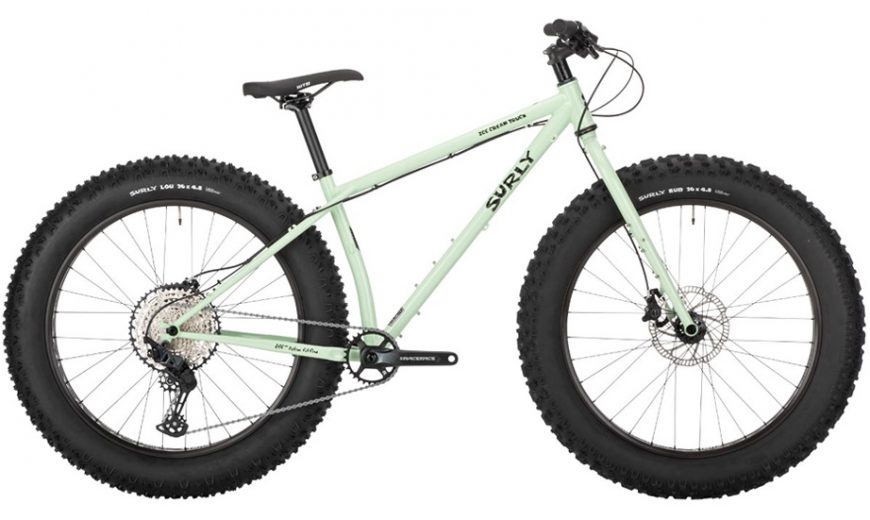 Price: MSRP $2099
If you are looking for fat bikes/mountain bikes, you will definitely know about Surly, the original manufacturers of mountain bikes. They have throughout the decades, mastered the art of creating the perfect mountain bike/fat bike. Although the Ice Cream Truck is the newest addition to their portfolio, it still serves as one of the best bikes for hilly trails.
I would say that you would be surprised at the performance of the Ice Cream Truck but considering it is Surly, you probably knew that they were going to be amazing. Some of the best features of the bike are:
Shimano SLX Components
Tektro Gemini Hydraulic Disc Brakes
Chromoly Steel Frame
Amazing 36.5 Inch Tires
Surly has done an amazing job by engineering this bike, even though it is a new addition, it upholds the reputation of the bike by providing exceptional performance.
If you like total control over the maneuverability, want to make tighter turns, and be wild then the Chromoly steel frame certainly won't let you down.
The Ice Cream Truck is fitted with the iconic Surly Bud & Loi tires with 80mm rims, I must say I am quite impressed with this bike.
Why I Like It: I have always believed in quality over quantity and Surly certainly delivers when it comes to top-notch quality. The Ice Cream truck may be a new entry but is an awesome entry, with the Shimano Components, this bike becomes an absolute beast. If you are a fan of Surly or just want an amazing fat bike then definitely go for this one!
Read also: Surly Cross-Check Review 2023
---
6. Otso Voytek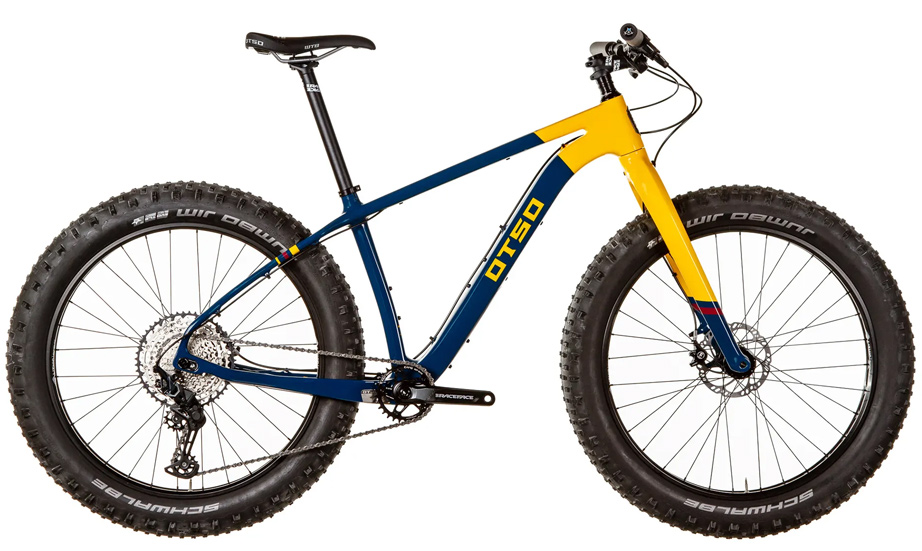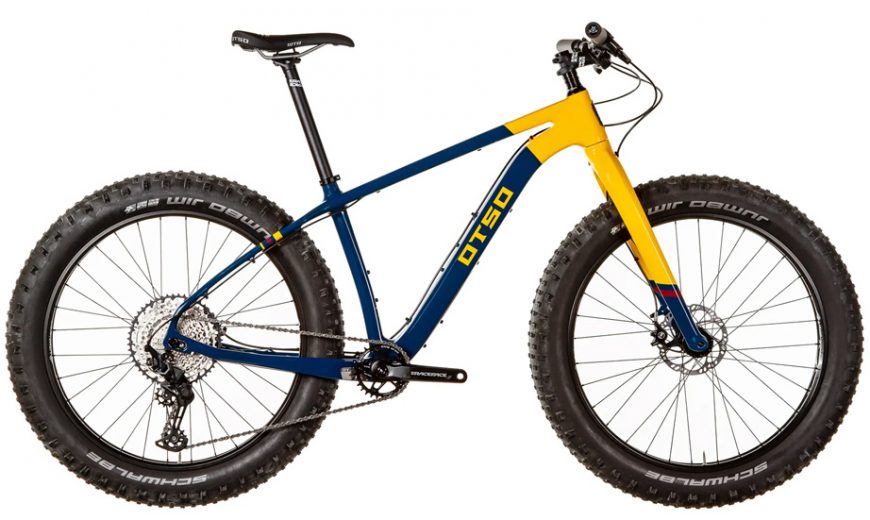 Price: MSRP $3590
The Otso Voytek offers top-of-the-line cross-country geometry, combined with any type of wheel size makes this bike virtually unstoppable. You can either go for the 26.5 or 29-inch wheels, standard or plus-size tires, I mean you can try out everything with this amazing fat bike.
No matter what kind of adventure you have planned for this bike, may it be touring, off-road trails, or backpacking, you are going to get the best results possible. I noticed one thing with fat bikes during my trial with them, you can't travel much with them, your knees will start to hurt eventually. With the Otso Voytek, this is minimized to a bit, and I really appreciate that! Some of the best features of the bike are:
Very Flexible Geometry
Dedicated 1x Drivetrain- Shimano SLX 12-speed drivetrain
EPS-Molded Carbon Frame
Enhanced Durability
I was literally amazed by the Q-Factor of this bike (Narrow Crank Width) It just feels amazing. All of this is combined with a custom-built offset-chainring and chainstay design, this is actually quite impressive. What do you get from all of that? You get minimum stress on your knees which already makes it quite unique. Plus, the handling of the bike also becomes top-notch.
What is the reason that the Otso Voytek performs so well and responsive? The answer is the flexible geometry it is constructed with, that is why it is just so much fun. With the 68.5-degree headtube angle, the bike feels very responsive and you always have that speedy feeling.
If you want the bike for rugged terrains or anything then the Otso Voytek is also available with a 120mm suspension fork. With this, you get a second wheelset, thus offering great performance on the sand and snowy surfaces. I swear this bike has chameleon-like characteristics, you can tune up the wheelbase to 20mm or just lower the bracket.
All in all, this is an aggressive and very responsive fat bike that you should definitely get your hands on!
Why I Like It: I was totally amazed by the performance of the Otso Voytek, the value it offers is just crazy. There are so many customization options that it took me a week to test the full capability of this bike. You should definitely check out Otso Voytek's website for more info. Trust me, $3590 is nothing for this bike!
---
Best Fat Tire Bikes For Women
Fat tire bikes have become quite famous over the past couple of years, there are many amazing fat bikes for men but I don't think that there are enough brands and bikes that are actually suitable for women. A person would wonder if there are fat bikes in smaller frame sizes but that wasn't possible either.
In our guide, we have added these amazing fat tires bikes that are not women-friendly but would also boost their confidence. All of these bikes are available in different frame sizes, color options, with very narrow cranks, and even low stand over. These bikes give more power to women! These are the best fat tire bikes for women!
| | | | |
| --- | --- | --- | --- |
| S/N | Bike | Why we love it | Price (MSRP) |
| 7. | Salsa Mukluk | 29 Wheel, SRAM Eagle Drivetrain | $2800 |
| 8. | Trek Farley | 27 Tires, Flexible Customization | $2600 |
| 9. | Borealis Crestone | SRAM Eagle, 27.5 Wheels | $2500 |
| 10. | Pivot Les Fat | Minion Tires, suspension fork | $4600 |
7. Salsa Mukluk Carbon NX Eagle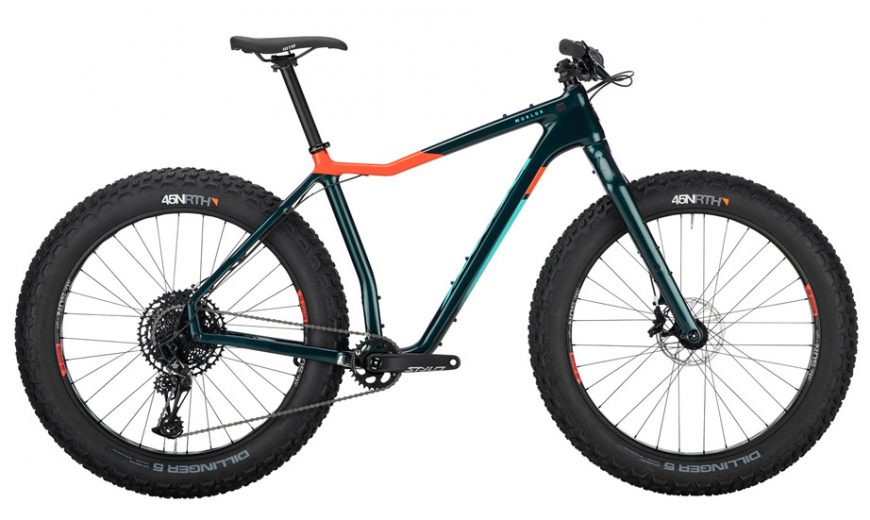 Price: MSRP $2800
I don't think that there are dedicated companies like Salsa that make sure that all of their customers get one amazing bike. This is a highly adaptable bike and, even the geometry of the bike is top-notch, the dropper post and front fork make sure that the bike performs amazingly.
There are plenty of attachment options as well, you can either go for the 27.5 wheel option or the 29 one, the choice is yours, either way, you are not going to be disappointed by the performance and traction. Some of the best features of the bike are:
27.5 Inch and 29 Inch Wheel Options
Amazing Geometry
Durable Design
SRAM Eagle Drivetrain
Stability is guaranteed by the company Salsa, the bike will shift your weight in the rear so that the front of the bike is balanced and it performs up to the standards. The bike also offers lighter steering than the other fat bikes in the market.
You can either opt for the aluminum or carbon frames, I think that you are definitely going to enjoy the Sun-Ringle Mulefut SL 80mm rims. This bike is definitely a beast, you should try it out!
Why I Like It: The Salsa Mukluk is made for the wildest of adventures, delicate care is given to each and every bike. With the amazing SRAM components and a durable frame, this bike makes sure that you have a smooth ride, without any kind of disturbances. The fact that you can choose from different types of wheels says a lot of flexibility!
---
8. Trek Farley 7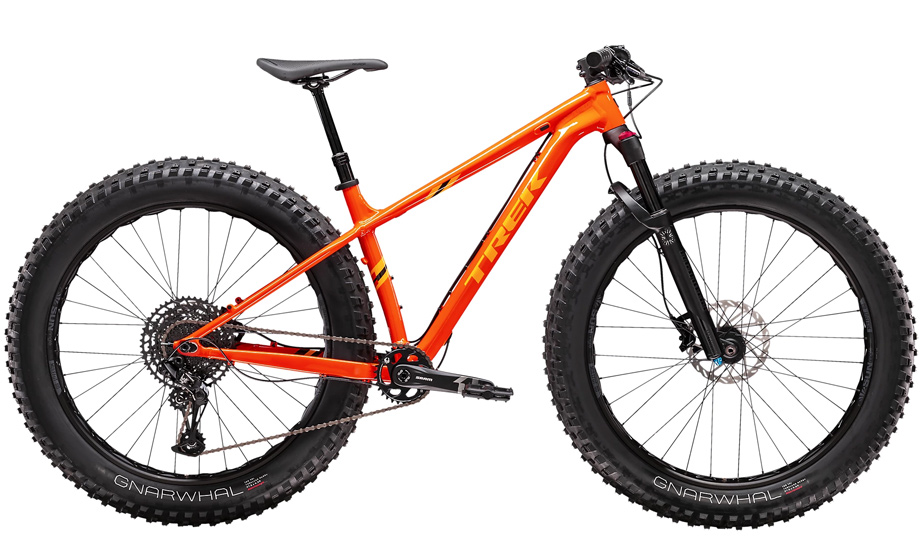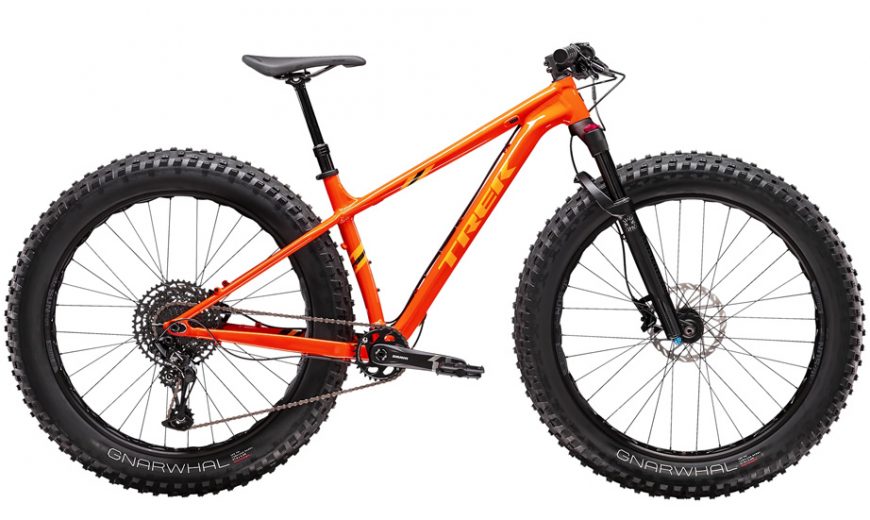 Price: MSRP $2600
The Trek Farley 7 is one of the best fat bikes out there, the design is just pure eye candy. Yes, there are many unique fat bikes in the market, but what is in the Trek Farley 7 that just makes it so special. The answer lies in the features and components that it is packing.
The 27.5" tires of the Trek Farley take performance to its peak limit. They have a large diameter which means that there will be smooth traction on every surface. It isn't just a normal snow bike, it is more than that. Some of the best features of the bike are:
Amazing 27 Inch Tires
Durable Design
Great Handling
Flexible Customization
The 80mm suspension of the Farley 7 and dropper post make sure that performance remains even on every surface. There are no ups and downs when you are riding this bike.
If you want more control while having higher speeds, don't be worried, the dropper post makes sure that you are always in control.
Why I Like It: The Trek Farley proves to be more than just a regular snow bike, it is a bike that goes beyond the real of fat bikes. With the components and features, you will feel the clouds on your feet. Top speeds can control over the bike are guaranteed, just get your hands on this bike.
---
9. Borealis Crestone Eagle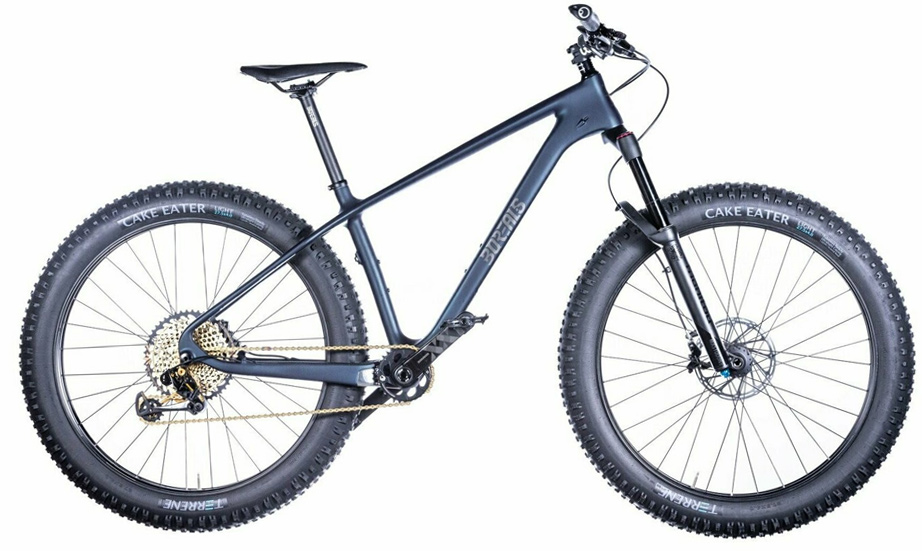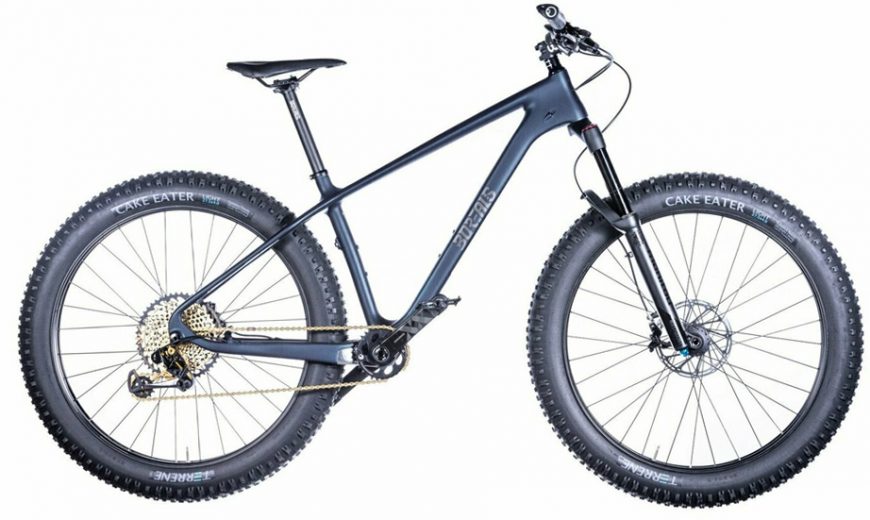 Price: MSRP $2500- Sold Out Now!
Borealis is another accomplished bike manufacturer and their Crestone Eagle is certainly a bike that shouldn't be missed at all. It is constructed with a full carbon frame and you can easily choose between different versions of wheels and tires.
No matter what version of the Crestone Eagle that you go for, all the bikes are constructed with a strong carbon fork and SRAM components. Some of the best features of the bike are:
12-Speed SRAM Eagle
Durable Carbon Frame
Option of 26.5 or 27.5-inch Wheels
Shimano Brakes
Borealis never compromises on quality, they never have and never will. Whether you choose from the NX, GX, AXS, XX, or XO models, you will always get top-notch performance. You also get tons of customization options, if you want to upgrade your rims, fork, or tires, you can do that without any hurdles.
I personally think that Borealis offers tons of flexibility and options and every bike enthusiast should try out this bike.
Why I Like It: I am completely in love with the Borealis brand and the Crestone Eagle just makes me fully devoted. If you are a fan of Borealis or just simply want a bike that won't cost you a fortune and will still offer great performance get the Crestone Eagle.
---
10. Pivot Les Fat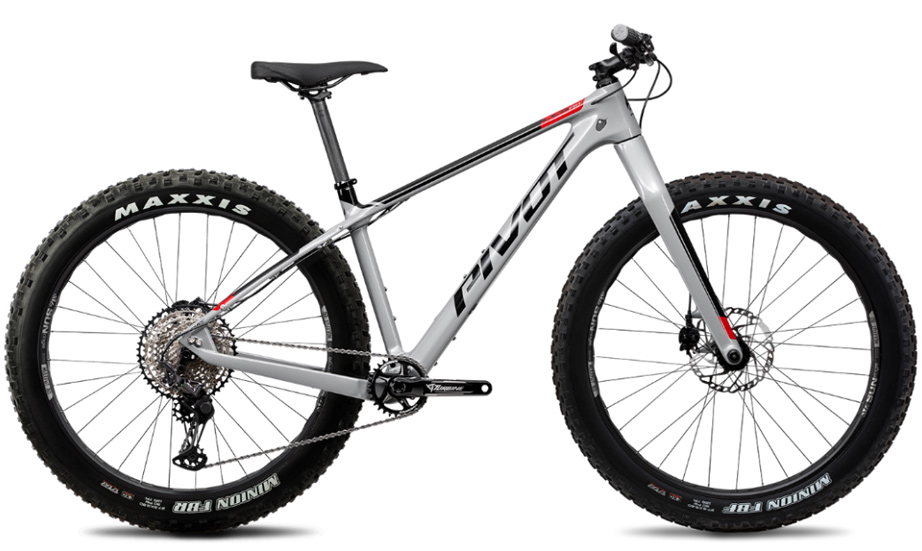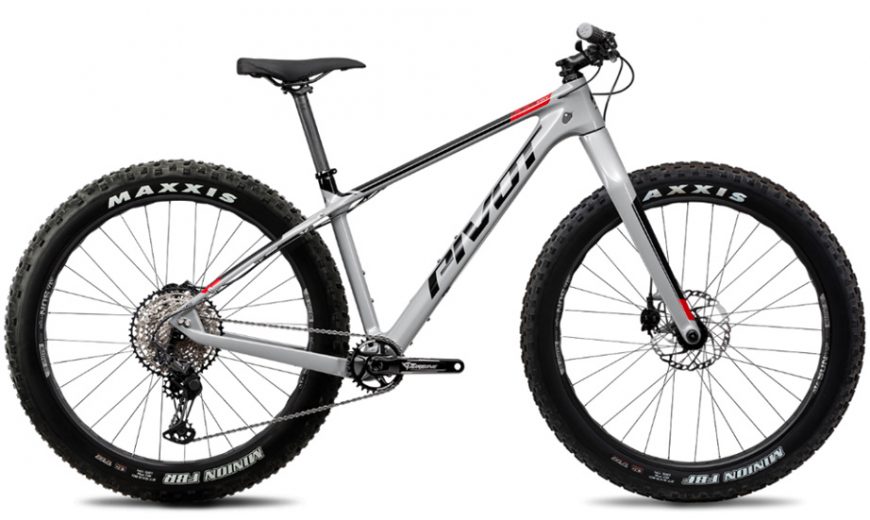 Price: MSRP $4600
Getting ready for mountain bike season? Do you miss enjoying the marvels of those dirt tracks? If you are looking for the perfect fat bike for all those adventures then look no further than the Pivot Les Fat. With such amazing geometry, this bike has, you certainly won't be disappointed. Yes, the price tag is high but so is the value that you get for it.
With the Pivot Les Fat, you get the same vibes as you would get from an enduro fat bike. I mean, even Pivot has claimed that this is the most versatile machine you would be able to experience. It is actually constructed with 27.5-inch wheels but you can easily swap that out. With all these components, may it be snow or sand, this bike becomes a beast. Some of the best features of the bike are:
Maxxis Minion Tires
Manitou Mastodon Comp 34 suspension fork
Very Light and Durable frame
Swinger II dropout
Flexibility and ease of usage was the main goal of Pivot but they went beyond that. Compatibility with other types of tires and wheels speaks a lot about dedication. The Maxxis Minion tires say a lot when it comes to performance, even by looking at your wheels, people are going to feel that this bike is different.
If you still don't think that this bike can get rowdy or enough rowdy then you should definitely take a peek at the 180mm and 160mm brake rotors, they use the same kind in the hardcore mountain bikes/fat bikes.
The Manitou Mastodon Comp 34 suspension fork does a great job here, even on super cold days and on snow the fork of the bike will never feel sluggish and you would enjoy the amazing performance. My stress was especially taken down, thanks to the low-q-factor bottom bracket of the bike.
Why I Like It: The Pivot Les Fat is a premium fat bike with amazing components. I tried it thoroughly everywhere and had no problems whatsoever, the construction really comes together to make for an amazing experience that you won't have anywhere else.
---
Best Fat Bikes For The Money
There are not many budget-friendly fat tires bikes, and the ones out there in the market would break down easily or just won't have good quality components/features. It was almost a myth getting a good enough fat bike that would be less than $2000 or at the very least less than $1000.
Thankfully, there are some brands out there that prioritize every kind of consumer, especially those that are just starting out in the realm of cycling. A person who is just starting out would want a decent enough bike that has good components like a drivetrain, strong brakes, a durable frame, and geometry, all of this without breaking the bank.
In this guide, this list represents the best budget bikes that you can get for the money. Their performance and components made them land on the list. These are the best fat bikes for the money!
| | | | |
| --- | --- | --- | --- |
| S/N | Bike | Why we love it | Price (MSRP) |
| 11. | Mongoose Dolomite | Disc Brakes, durable, 27.5 tires | $500 |
| 12. | RadRover | Shimano acera, aluminum frame | $1699 |
| 13. | Co-op Cycles- DRT | Aluminum frame, 26.4-tires | $1300 |
| 14. | Framed Minnesota | Aluminum frame, drivetrain 10-Speed | $900 |
| 15. | Gravity Bullseye | Disc brakes, 26×4″ tires, disc brakes | $1300 |
11. Mongoose Dolomite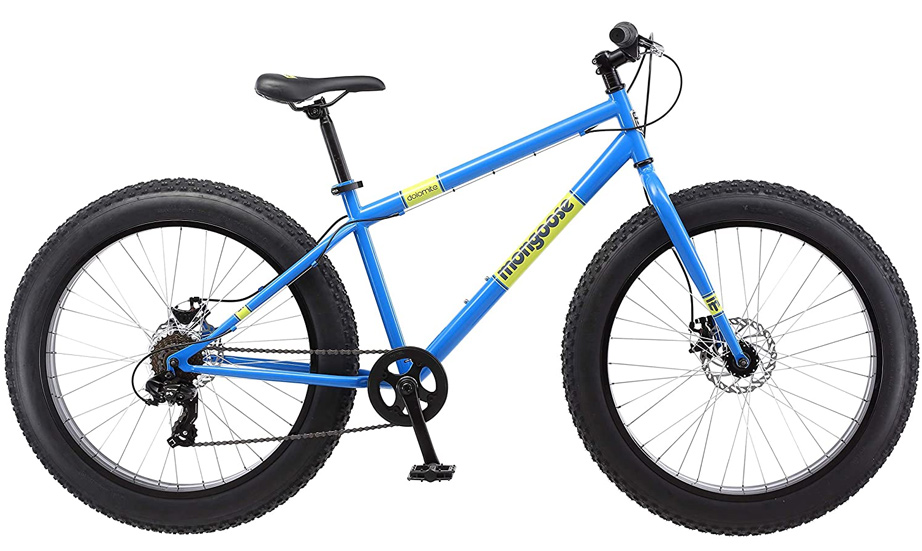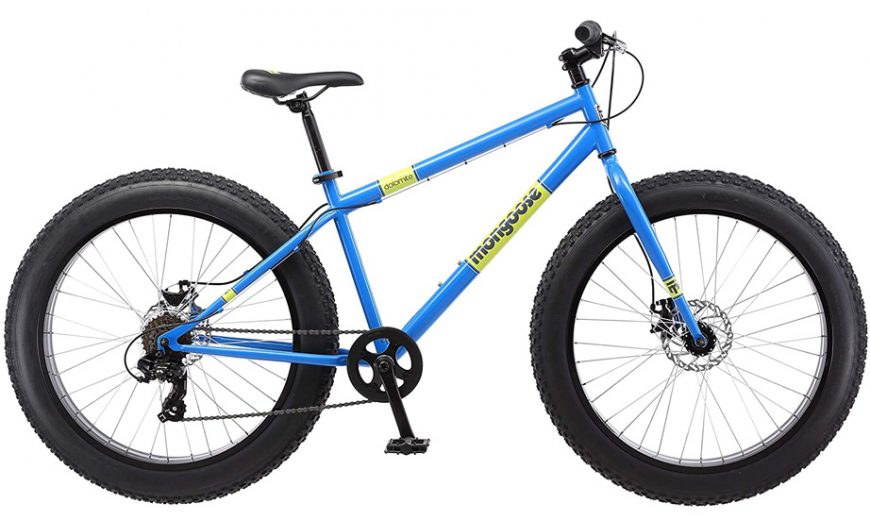 Price: MSRP $500
Mongoose is another famous brand amongst Mountain Bike and BMX Bike riders, if you want the utmost quality then you should definitely try out the products from Mongoose. We are talking about the Dolomite from Mongoose and let me tell you these are amazing budget fat bikes.
Although the Mongoose Dolomite is still a budget fat bike, the performance is exemplary, I mean you wouldn't even know that it is a budget one. Some of the best features of the bike are:
7-Speed Shimano Drivetrain
JAK Super Disc Brakes
Durable Frame
26.5 and 27.5 Inch Tires
A word of advice, the Mongoose Dolomite has a heavy steel frame, although it is very durable, you won't be able to mount the steep hills because of the 7-Speed Shimano Drivetrain, but that is okay, this still isn't a hardcore fat bike/mountain bike.
If you want a great bike for sand or snowy surfaces then this bike is going to be more than enough thanks to the 26.5-inch tires. The stopping power that this bike offers is totally bonkers because of the JAK Super Disc Brakes.
Why I Like It: I love Mongoose, they make amazing mountain bikes, if you were looking for a great budget fat bike then the Dolomite should be a nice option. It may not be perfect for off-road trails but other than that it is amazing. The durable frame makes sure that the bike survives the harshest of surfaces.
---
12. Rad Power Bikes RadRover 5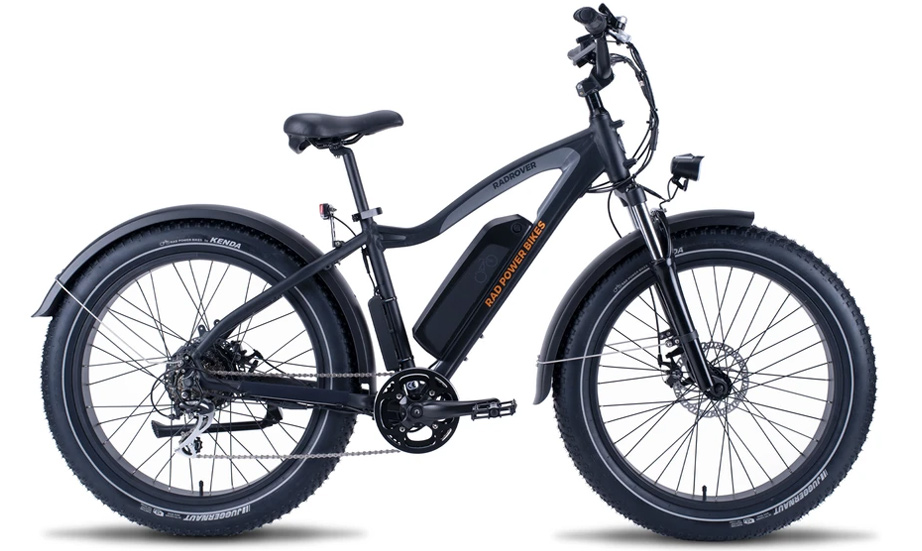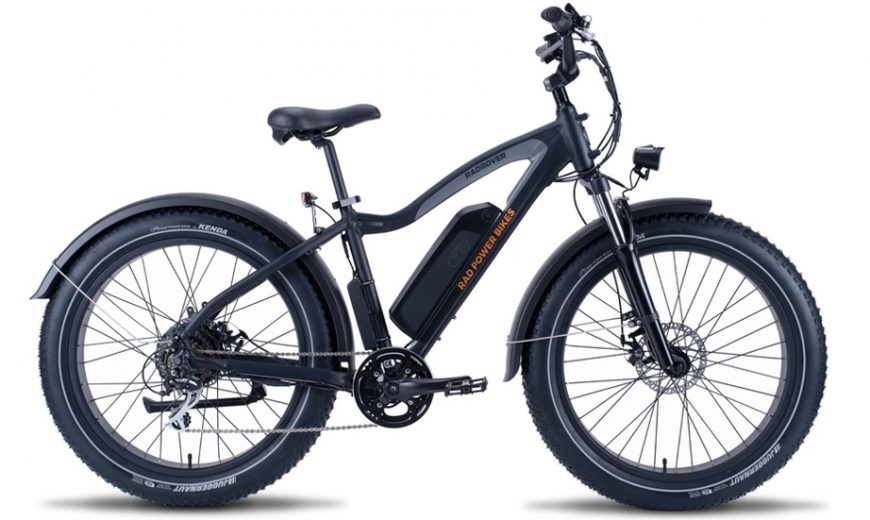 Price: MSRP $1699
If you were looking for great electric bikes then you should take a look at Rad Power Bikes, they make all sorts of electric bikes, and the one that we will be covering today is the RadRover Electric Fat Bike. This is an easy-going bike for casual riders and isn't suited for any kind of hardcore trail.
Want to cruise around the beach or forest trails? Then the RadRover is a really good option, believe me, I have tried it! Some of the best features of the bike are:
7-Speed Shimano Acera
Durable Aluminum Frame
Amazing 26.5-inch Tires
Comes In Different Colors
The RadRover Electric Fat Bike is powered by a 750W geared hub motor, it will give you a travel distance of around 45-75km, which is nice.
This bike might feel a bit heavy but that is for balanced support and handling, you will enjoy the great performance on sand or snowy surfaces.
Why I Like It: Rad Power Bikes have always been a star in the market as they make amazing bikes. The RadRover is a testament to their skills, as this is genuinely a great fat bike. Although not suited for the off-road trails it does a fair enough job on every other kind of surface.
---
13. Co-op Cycles- DRT 4.1- Best Overall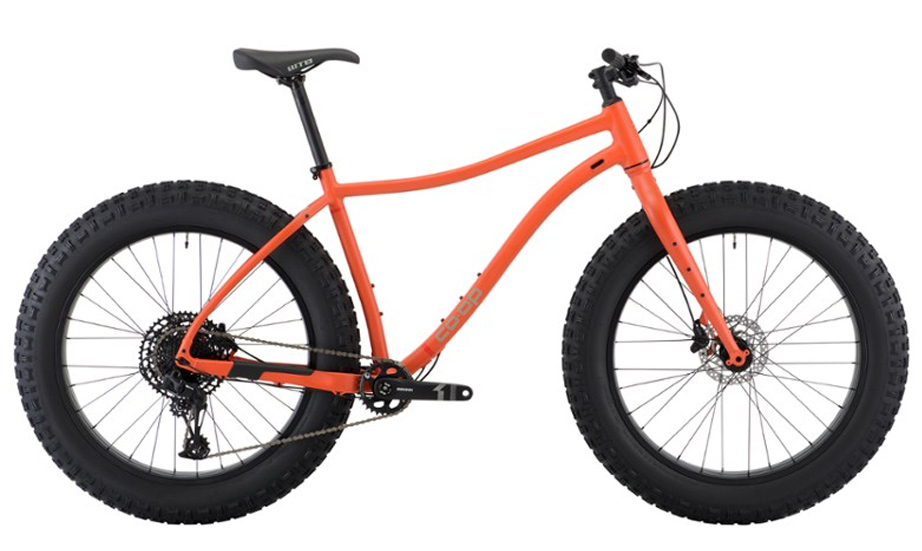 Price: MSRP $1300
Do you want a really good and budget-friendly fat bike? Then look no further than the DRT 4.1 fat bike from Co-op Cycles. For the realm of sports, this is a really good starting point, it is by no chance an average bike as it does more than the average bikes of today.
It is constructed with a strong aluminum frame and a rigid fork, even though this is a budget bike, the components are still top-notch. Some of the best features of the bike are:
12-Speed SRAM SX Eagle
Strong Aluminum Frame
26.4-Inch Tires
Shimano Hydraulic Disc Brakes
Don't be worried about the low price, this is still a premium-tier bike, especially the components. The Drivetrain combined with the hydraulic disc brakes offers optimum performance.
All of these components and performance offer great value for a fat bike that is actually under $1400. As the bike has internal cable routing, you can easily mount different accessories on the bike without any kinds of problems.
Why I Like It: As far as budget bikes go, the DRT 4.1 is a really good starting point. Stopping power- check! Amazing components- check! Enter the cycling world with this amazing bike and you won't be disappointed.
---
14. Framed Minnesota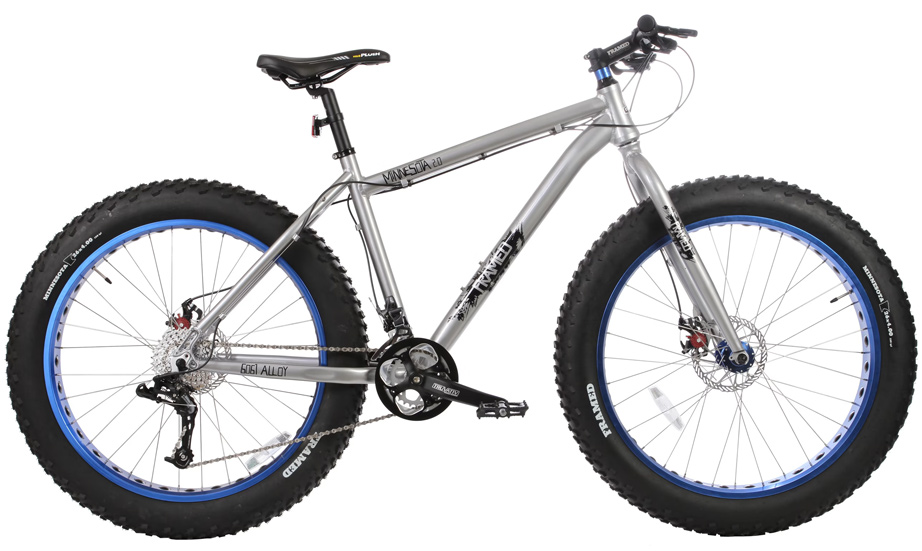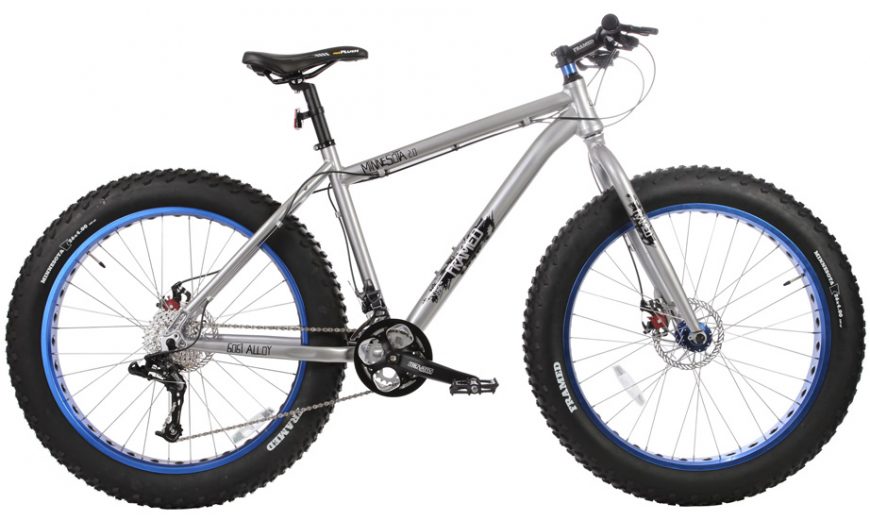 Price: MSRP $900
Now let us talk about one of the best budget fat bikes in the market, the Framed Minnesota! It is priced around $900, give or take some bucks but let me tell you, this is a great option if you are just starting out.
Exploring the backyard has never been so much fun, the Framed Minnesota will definitely keep you on your toes with the thrill of the adventure. The aluminum frame is sturdy enough and you can finally go ham with it, no matter how you choose it, this is the ultimate beginner's fat bike! Some of the best features of the bike are:
Strong Aluminum Frame
Upgraded Shimano/ SunRace Drivetrain 10-Speed
Impressive Geometry
Great Customization Options
Some people are worried about gears in fat bikes, but that is not the case with the Framed Minnesota, the 28th-tooth front chainring is very small by comparison. With the chainring, there are a few gears in the back of the bike, that should make for an interesting choice.
There are also plenty of attachment and customization options, the only downfall is that all of them are on the back, this is where you will have to be considerate. Get attachments that you can easily strap on the bike and you will be all cool.
Why I Like It: The Framed Minnesota will get you kick-started into the world of fat bikes easily, and you would also be impressed with the performance. It is a very affordable bike that doesn't compromise on quality, that is the main superpower of this bike. It is also very durable, I tried it on very harsh trails!
---
15. Gravity Bullseye Monster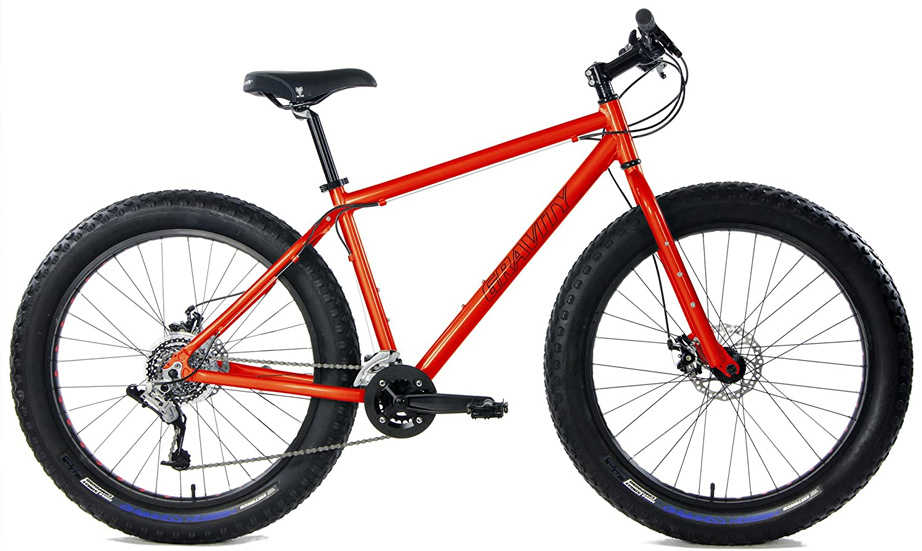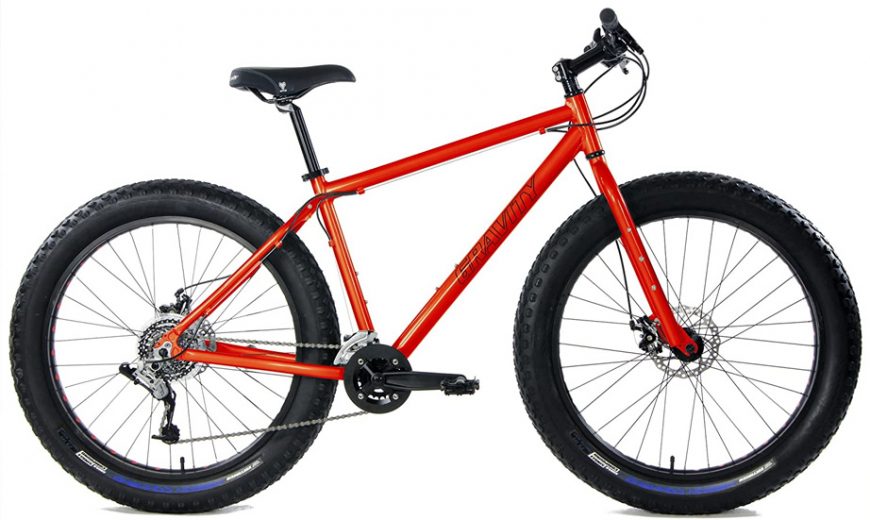 Price: MSRP $549
Let us close our guide with a low-end budget fat bike, it is great and all, certainly gets the job done! Here is the Gravity Bullseye Monster. This is one of the exclusive products from Bikes Direct, although not as cheap as the Deadeye Monster, this is a great addition to our fat bike collection.
The construction of this bike is very lightweight, thanks to the 6061 aluminum frame. Some of the best features of this bike are:
SRAM X4 2×8 drivetrain
Tektro Novela disc brakes
Vee Rubber Mission 26×4″ tires
WTB Speed V Sport saddle
I actually didn't think that I would be getting a budget fat bike with these amazing components, all of them come together to offer something truly special.
The money that you pay for the bike is nothing as compared to the value you are getting. This is a great and budget-friendly start to the realm of fat bikes.
Why I Like It: Bikes Direct is an accomplished company, I knew from the start the Gravity Bullseye Monster was going to be amazing. It is unlike anything I have seen in a budget fa bike before, all the components used in the construction of the bike are high-end, and the performance is also top-notch.
---
Why Would You Use Fat Tire Bikes/Fat Bikes?
This isn't something that we can answer easily because there isn't a right answer. There is only one justification for getting a fat bike- YOU WANT TO TRY! YOU WANT TO BUY IT!
Although things would get very technical and once you actually go into the market to get one, that's why we compiled this guide for you. No matter if it is confusion about chainstay length, wheel types, Q-Factor, we have got you covered. There is nothing to worry about!
How Do You Choose A Fat Bike?
How do you choose the perfect fat bike for yourself? Well, the answer to that is very complicated so let us guide you now step by step!
Floatation Is Key
You want the tires in perfect shape always and that is why you need to have the perfect floatation in your tires. In my experience and the professional riders, the best setting is the 4in tires, if you go more than that then it could actually backfire.
There is no need to go for the fattest tires, they will be very sluggish and you will not be able to handle that. Stick with these fun tires that perform amazing on the sand and snowy surfaces and you will love your fat bike!
Tube or Tubeless Tires?
Fat bikes aren't like regular mountain bikes that is why it is a really bad idea to go for tubeless tires. Tubeless tires may be light and will likely save you the weight but that is nothing as compared to the disadvantages. Fat Bikes mean fat-tire bikes so you should enjoy the feel of them. Fat tires are all part of the experience, so make sure you actually go with that.
The Perfect Rim Width
Rim Width is another important factor that you should definitely consider. The actual range is from 50mm to 100mm, the latter becomes really crazy. Tires and rim width go hand in hand and we recommended the 4in tires, for 4in there is no reason to go beyond the 100mm limit. 70-80mm will do just fine on the fat bikes!
Tire Design
Tire pattern and design actually have no impact on performance, so it is not worth looking at initially. The main thing that counts is the footprint of the tire, it will impact the traction you get on different surfaces. It is also recommended that you change your tires once you have used the bike to a certain limit.
Do not go for the lightest tires in the market, they won't perform that well. Keep a well-balanced approach over here.
What About Suspension?
Fat bikes and suspension is a very confusing topic so we are going to be as simple as possible. Combining these two takes up some ideas but you can try them out if you wish. Although we do not recommend a fat bike with suspension it isn't also something that you shouldn't pass up so easily.
Fat tires mean excess rubber touching the ground, and they get deformed under pressure with the size. They are simply not meant to absorb the pressure that is on the ground, simple as that. People think that all fat bikes do is suck all the bumps that clearly isn't true.
If you would have suspension on the fat bikes then it would certainly be for control, whereas the tires would be for traction. Suspension is mainly used to control the aftershock of bumps on the road. Now you can try out bikes with suspension forks!
Tire Pressure Is Critical!
Tire Pressure is very critical when it comes to fat bikes, the pressure impacts the ground performance of fat bikes. Getting a digital pressure gauge is recommended if you want to take it smooth and easy. Although, fat bikes usually work best around 10psi.
Check your tire pressure before every ride and you would be good to go!
What About The Frame Material?
Frame material is something that you would have to choose for yourself because it only affects the fat bikes weight-wise. If you want your bike to feel lighter then go with a light frame and if you want to go with a heavy approach then a heavy frame.
Brakes Impact Stopping Power!
Hydraulic disc brakes work perfectly with fat bikes, they provide the necessary stopping power when it comes to sand or snowy surfaces. Do not go for cable brakes because they suck and would be completely useless on harsh surfaces.
Choose The Hubs and Bottom Brackets Wisely!
Hubs and Bottom Brackets are very important when it comes to fat bikes. The frames and brackets need to be wide enough so that you can fit the overall structure of fat bikes, not to mention those juicy tires. I would recommend getting a fat bike that has a minimum of 150*15mm front hub, that would be perfect!
The rear hub would be perfect if you choose 197*12mm. Also, look out for the Q-factor as all modern mountain bikes are coming with Q-factors of 200mm.
Are Fat Bikes Good For Heavy Riders?
Fat Bikes are a great option for heavy riders, this is because their tires are built in a way to sustain the extra weight. You might have noticed this but regular bike tires can only handle 100 pounds at max, sometimes it is more than that. We have seen regular bikes that can hold a maximum weight of 150 pounds but not more than that.
This is where it gets interesting, fat tire bikes can hold so much more than regular bikes. One single tire of a fat bike can hold more than 200 pounds, which means that a fat tire bike can sustain more than 400 pounds. For heavy riders, there is no better option than fat tire bikes, these bikes will guarantee the user's comfort and amazing experience.
Read also:
FAQs
What are fat tire bikes best for?
Fat tire bikes excel in challenging terrains, offering unmatched traction and stability on surfaces like sand, mud, and snow. Ideal for off-road adventures and all-weather cycling, these bikes provide a smoother, more comfortable ride compared to traditional bicycles. While not as fast on paved surfaces, fat tire bikes shine in situations where stability, comfort, and versatility are crucial.
Which brand is best for fat tire bike?
Several reputable brands offer high-quality fat tire bikes, including Surly, Salsa, Trek, Specialized, and Cannondale. Each brand has its strengths and unique models, so it's essential to test ride various bikes and choose the one that best fits your needs, riding style, and comfort level. Ultimately, the best fat tire bike will depend on your personal preferences and budget. Be sure to read our full review to find the ideal bike and brand to suit your requirements.
What are the disadvantages of a fat bike?
While fat bikes offer many advantages, they also have some disadvantages:
Weight: Fat bikes tend to be heavier than regular mountain bikes due to their larger tires, wider rims, and often more robust frames. This added weight can make them more challenging to maneuver and transport.
Rolling resistance: The wide tires of fat bikes create more rolling resistance, which can make them feel slower and less efficient on paved or smooth surfaces.
Cost: Fat bikes can be more expensive than their regular counterparts, especially when considering the higher cost of replacement parts, such as tires and tubes.
Limited versatility: While fat bikes excel in challenging terrains like sand, snow, and mud, they may not be the best option for riders who mostly ride on paved surfaces or well-groomed trails.
Maintenance: The larger tires and unique components of fat bikes can require additional maintenance and may be more challenging to find replacement parts for, compared to more standard bike components.
Despite these disadvantages, fat bikes still provide a unique riding experience and excel in specific conditions, making them a great choice for riders who frequently encounter challenging terrain
How long do fat tire bikes last?
The lifespan of a fat tire bike depends on factors such as component quality, maintenance, and riding conditions. With proper care, a high-quality fat tire bike can last for many years. To extend its life, perform regular maintenance, take care of the tires, inspect components for wear, protect the bike from the elements, and avoid overloading. By following these guidelines, you can ensure your fat tire bike remains in good condition for countless off-road adventures.
Recap
Fat Bikes are amazing and if you are planning to try them out, all this information would be very handy. Originally made for sand and snowy surfaces, you can use the fat bikes for almost everything, they promise the ultimate level of fun!
My personal choice amongst all the options is Why Cycles Big Iron! It is just amazing, for the amazing price, the value is simply unmatchable. The features and construction come together to make a great bike that you should definitely try!
With that being said we have two additional categories- Best For The Money and Best For Women. Among them, the best ones are:
Best For The Money/Budget Fat Bikes- Co-op Cycles- DRT 4.1Surly
Best For Women- Pivot Les Fat
Fat Bikes are the new hot cakes in the market and they are here to stay. Make sure to know your bike's serial number for safety purposes. If you want an all-rounder package then definitely go with fat bikes!