If you know your way around bicycles then the name Surly would sure come to mind. Surly is one of the best bike manufacturers out there, they know how to produce the best-performance bikes that you can get for your money. Customers and the whole industry know that the bikes from Surly are known for their amazing performance and the value you get!
Surly has many amazing models that you will find in their portfolio, although the Surly Cross-Check bike fully stands out as it is strong and very comfortable to ride. If you are comfortable enough then there is no better option than the Surly Cross-Check, although if you have doubts then the best approach is to gather all the needed information first!
The Surly Cross-Check is without a doubt an amazing bike, but let us get you fully introduced to it, we don't need any gray lines here. First of all, it is a cyclocross bike, but not just that, the Surly Cross-Check can be fully customized to your personal preferences. The ability of all this customization makes it one of the best bikes to have, this bike will surely max out your cycling experience!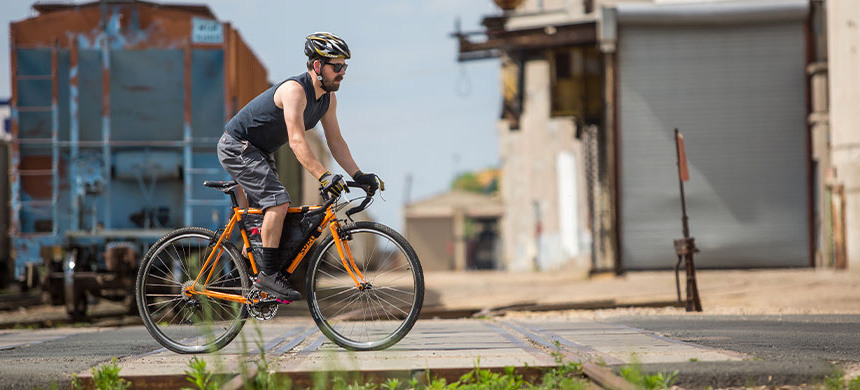 The Surly Cross-Check brings you the best of both worlds as it is a hybrid between road bikes and mountain bikes. You get amazing speed, stability, comfort all in one, what else could you want? These are all the things that you would actually want in a mountain bike, if you want more, you can always customize it!
Let us now examine the features of the Surly Cross-Check bike:
Features and Components
The Surly Cross-Check bike has the following features and components:
Frame: Surly Cross-Check, Surly 4130 CroMoly steel
Fork: Surly Cross-Check, 4130 CroMoly, lugged and brazed.
Seatpost: Surly stainless, 30.0mm
Headset: Cane Creek Custom 5
Brakes: Tektro M730 V-brake
Brake Levers: Tektro RL520
Shifters: Micro shift BS-M10, bar-end shifter
Stem: HL 31.8
Handlebars: Salsa Cowbell 3
Grip/Tape: Black Cork
Saddle: WTB Volt Support/ Kalloy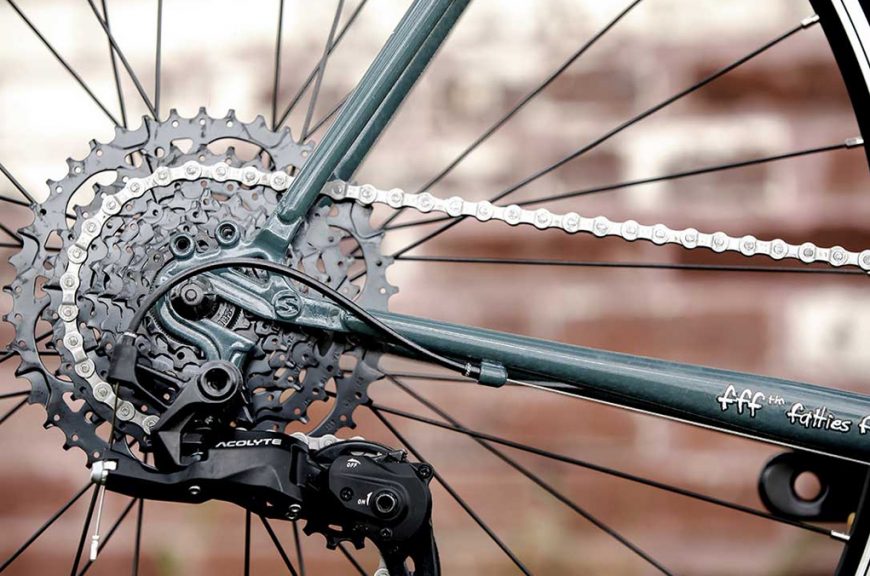 Drivetrain Components
Crankset: Shimano CX50, 36/46t
Bottom bracket: Shimano 4600
Front derailleur: Shimano Tiagra 4600
Rear derailleur: Shimano Deore T610-SGS
Cog or cassette: Shimano CS-HG50-10, 11-32, 10-speed
Chains: KMC X10
Wheels
Front hub: Shimano Deore T610, 32h, 100mm, w/QR
Rear hub: Shimano Deore T610, 32h, 135mm, w/QR
Rims: Alex Adventurer 2, tubeless-ready
Surly Cross – Check Geometry Specifications
In order to be satisfied with your bike purchase to need to know the full specifications and geometry of it. Your research will play a very important part when you actually get the bike and start using it. When it comes to geometry, you can always find charts on the manufacturer's website. In order to see the geometry specifications of the Surly Cross-Check, click here.
Pros
The Surly Cross-Check is constructed with a steel frame that isn't just durable but very strong
You will see that this bike is equipped with a higher-than-road bottom bracket. This means that the bike will retain its effectiveness when you ride it off the beaten path.
The Surly Cross-Check is also known as the "Gravel Crusher". The bike is able to perform well on any kind of terrain, that's why it is an amazing hybrid between road and mountain bikes. The Surly Cross-Check will be perfect if you take it out for normal routines or some off-road adventures.
You get amazing wheel versatility thanks to the gnot-rite dropout spacing. You can even install fatter tires on the bike if you feel like it.
You can get the bike in three different but amazing colors: Sage green, black, and mustard.
Cons
The Surly Cross-Check may be strong but it is also quite heavy.
If you are seeking a fast ride that is also light, then the Surly Cross-Check isn't the best choice. The bike isn't that agile.
Unique Features of The Surly Cross-Check That Stand Out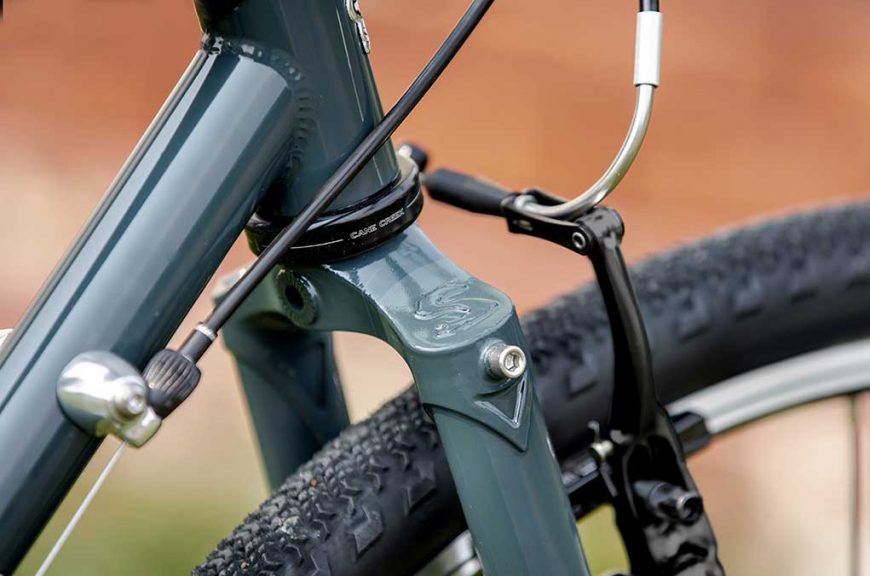 The Surly Cross-Check has some unique selling points that make it distinct from the other bikes out there:
You will notice that the Surly Cross-Check has semi-horizontal dropouts. This means that you can easily adjust the wheelbase however you seem fit and they will also give you single-speed compatibility which is very necessary.
The bike has gnot-rite dropout spacing, which means that you can install hubs on the bike that range between 130mm and 135mm.
Last but not the least, you can freely install front and rear fenders and racks. With these equipped you can easily make your build advanced and beefier, it won't just look fancy but also perform the part.
Before You Buy!
There is some advice that you need to hear before you buy the Surly Cross-Check! First of all, the bike costs between $925 and $1149, these prices will vary on the additional accessories that you buy alongside or different retailers. The bike is featured as highly versatile and it is so, there are tons of customization options that you can apply. It does not matter if it is off-road trails or a daily routine, this bike will certainly not disappoint.
Why Was The Surly Cross-Check Designed?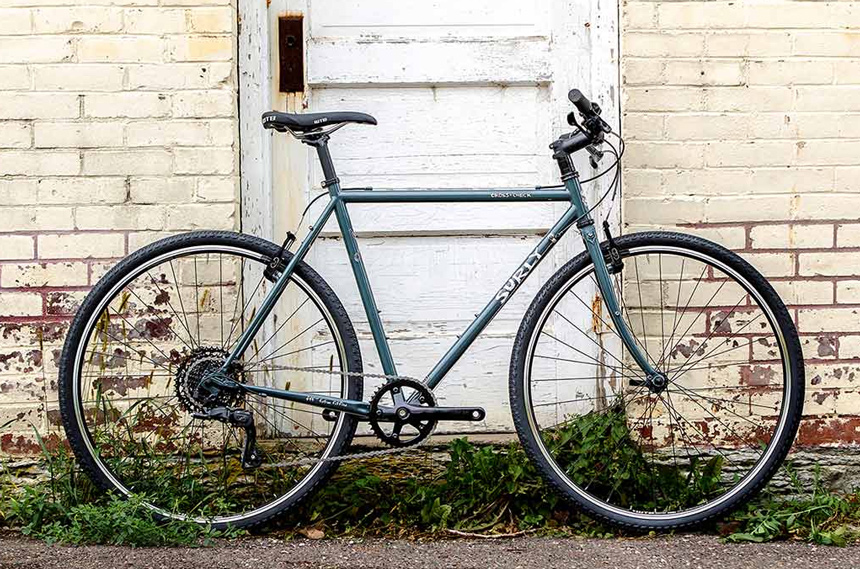 Most bikes are made for different and multiple purposes, this was not the case when the Surly Cross-Check came out. The Surly Cross-Check was marketed as "The Gravel-Eating Beast". It had an amazing performance on hilly and rough terrains, and it was doing quite well when compared to other bikes. Now there are many variants available, they aren't that good if we compare them to modern mountain bikes. Yes, the gravel killing prowess is still there but it hasn't been refined I would say.
We can compare the Cross-Check to a really good road bike though because both of them offer great maneuverability and responsiveness. If you are a technical rider then you would also be in luck because it does a fairly good enough job than other mountain bikes out there. This is a hybrid bike, so it is actually designed to do everything, no matter if they are pavements to hit or off-road trails, this bike is going to do an amazing job. In my personal opinion, the bike can be safely titled as a jack of all trades but master of none.
Exploring The Surly Cross-Check's Construction and Weight
The Surly Cross-Check is one big chunk of a bike, it is heavy, let us discuss how heavy it actually is and what it means!
The frame of the bike is exactly 2.2 kgs (56cm model) it isn't much but when you add the whole construction into it, it gets heavier. Usually, bike frames are made from a variety of materials, like carbon and aluminum. The Surly Cross-Check is going to be heavier as it uses a different kind of construction. The steel used here is very different from regular steel, it is more durable and stronger. Chromoly steel may be compared to titanium but in some aspects, it is better than that, for example, it doesn't need to go through an extensive manufacturing process and it cannot be damaged easily.
You will also find out the frames made from Chromoly Steel are more responsive and durable.
Apart from all this, when getting the Surly Cross-Check, you have two options. Either you can get the frame or the complete bike. There are pros and cons to both the options so let's discuss them.
Pros of Buying Frame
The first benefit that you get from getting the frame is the customizable options. Think of them as a skeleton, you can customize the bike to your heart's content, think of all this as building a pc from scratch, the possibilities are endless. You can have a nice balance here if you want to save money or go ham.
There are chances that sometimes you won't fully be satisfied with your bike build, by getting a frame you can remove the components that you don't like and replace them with those of your liking.
You get tons of flexibility by getting a frame, you are not bound to only one design.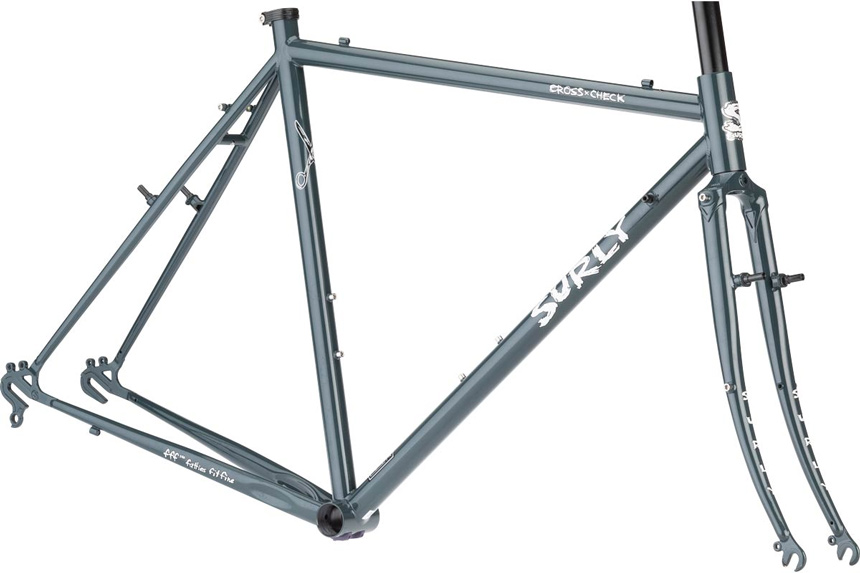 Cons of Buying Frame
Building a bike from scratch isn't easy though, you need to have top-of-the-line tools available and they don't come cheap. If you have friends that are professionals in this line of work then consider it as the cherry on top.
It isn't convenient to build a bike, the majority of the people out there love getting the complete bike.
The building process isn't actually fun nor quick, it can be very stressful at times. There will be many mistakes made and you will have to be extraordinarily patient with the process if you want it to be successful.
Pros of Complete Bike
You get a bike for yourself and all of those worries go away, you will be relaxed and satisfied with your purchase. When you build a bike yourself, there is a chance sometimes that some of the parts may not work. When you purchase a complete bike, all of the parts work in sync to give you the best performance available!
You can try it right away, just purchase the bike and get started with it as soon as you get home.
If you lack bike knowledge then the best thing to do is get the complete bike rather than start building one as it would be the easiest and safe option.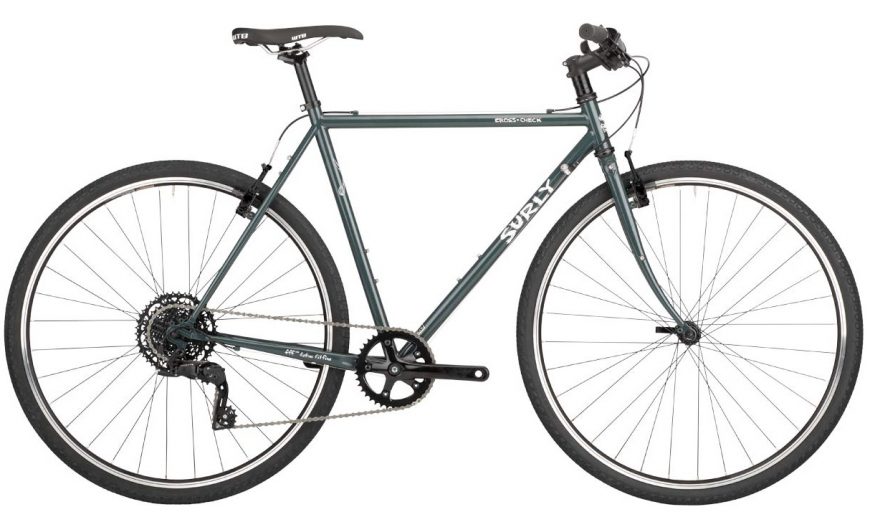 Cons of Complete Bike
If you buy the complete bike then you have to make do with the bike parts that the manufacturer provided!
Getting a complete bike is expensive when compared to building a bike, you have to keep that in mind when you go for that option!
Is it What You Were Looking For?
For whom would the Surly Cross-Check be best suitable? That is a complicated question that we will answer. If you are one of those cyclists that want a great multi-purpose bike then the Surly Cross-Check is a great option for you. It is a highly durable bike with some of the best components you can find. It is constructed with a Shimano drivetrain and has Tektro bakes, what else could you want?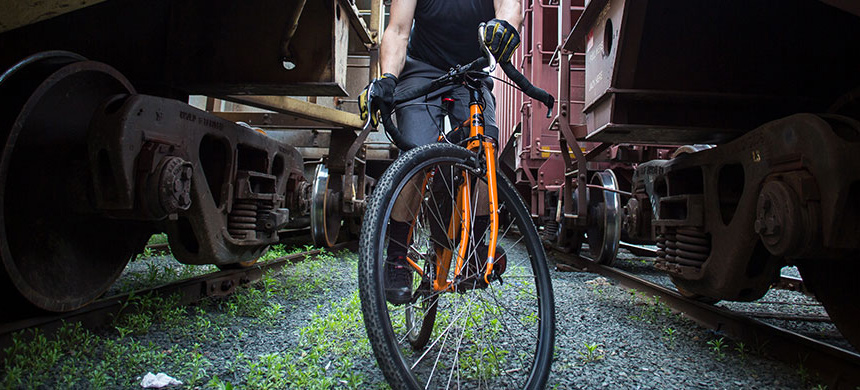 It may be a really good hybrid bike but it isn't a racing bike, the Chromoly frame makes the bike heavier for any kind of race. Also, if you are getting the Surly only for the purpose of a mountain bike then it will not be a good choice, this bike comes in between but never excels as a dedicated option. It is a great bike for experimentation though, you can use it for a variety of reasons, it will not disappoint you there.
If you are looking for a bike with exceptional performance but are not willing to spend thousands on a specialized bike then definitely go for the Surly Cross-Check.
A User's Perspective
Reviews are one thing but getting an actual user's experience with the bike is another thing. I too am a user and I rounded up many reviews about this bike from my team and other people.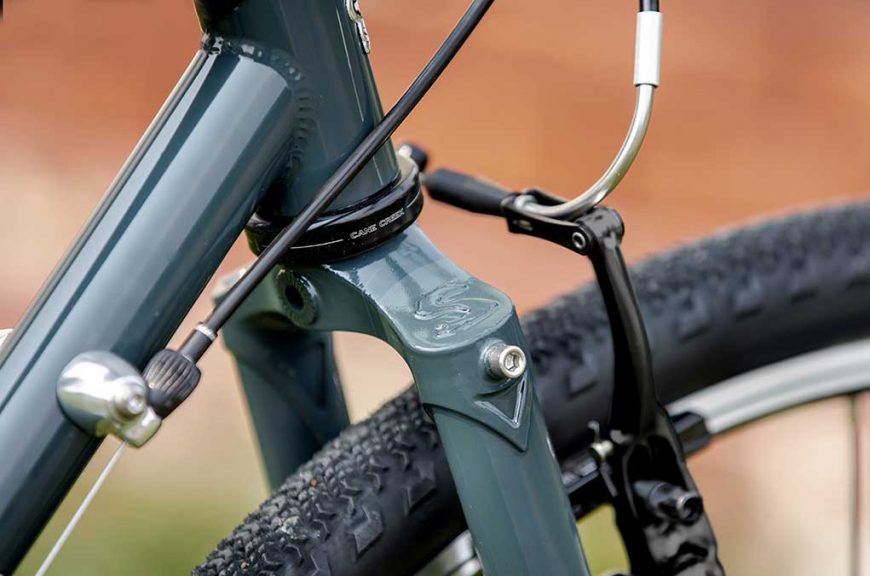 This was their experience:
The bike's performance is amazing, its durability makes it perfect for multiple purposes. Although the bike isn't for races, we can certainly take it out for a marathon. This bike is heavy and that is why it might not be that appealing to some people but other than that everything is great! The customization options also make this bike quite flexible and fun to use.
Alternatives and Competitors
The Surly Cross-Check is an amazing bike, but there are chances that this couldn't be the right bike for you. We take a look at some alternatives to the Surly to give you plenty of choices to choose from!
Giant ToughRoad SLR 2
The Giant ToughRoad SLR 2 is one sturdy bike, its frame is made from aluminum. What you get is an extremely light bike that is also agile, you will be able to do well in any kind of terrain. Comparatively, this bike has more stack as it has exactly 556mm. You will experience more comfort than on the Surly Cross-Check!
When it comes to stack, the Surly has the upper hand (394.8mm), having a long bike makes it easy to handle any kind of terrain while achieving top speed. The SLR 2 also has a longer chainstay which is 429mm long. The headtube length of this bike is also longer, clocking in at 12.9cm.
DiamondBack Haanjo Comp
This bike has a frame made out of carbon fiber, it may not be as strong as steel but that doesn't mean it's useless, it has exclusive benefits. This makes the bike have a lower density, which protects it from bumps on the road. The Diamondback Haanjo Comp has a very impressive stack of 543mm.
The Surly has a longer reach tho so keep that in mind. Although the Diamondback still wins when it comes to chainstay as it is 430mm. The headtube is also longer (15.5cm).
Cannondale Synapse Carbon 105SE
This is where it gets interesting, the frame of the Cannondale is made from BallisTec carbon. It is strong, stiff, but also very light which makes it unique. This is a bike that is definitely easier to handle!
This bike has a stack of 610mm which is more than that of the Surly Cross-Check. Both the bikes have the same reach though! Cannondale actually focuses on comfort more so it has a shorter chainstay which is just 410mm. The headtube length of the Cannondale is 19.7cm making it way longer than that of the Surly Cross-Check.
Trek CrossRip 2
The CrossRip 2 from Trek is a great bike and is in the middle when it comes to the CrossRip series. It is cheaper than other entries but the performance is comparatively better. The CrossRip 2 can be compared to the Surly Cross-Check because it too can handle a lot of terrains, but sometimes it becomes less effective
Both of these bikes almost have the same components but Surly does a better job of actually using those components. Although with that said the CrossRip 2 is lighter.
Surly Straggler
Why not compare the Surly Cross-Check to another bike from Surly, I thought that the Straggler would be a great choice for comparison. Keep in mind that the Straggler is a variant of the Cross-Check and comes constructed with disc brakes. The inclusion of disc brakes makes the Straggler better at handling off-road trails.
The tires of the Straggler can also be further customized to get better clearance.
Recap
The Surly Cross-Check is a bike that is made for all-terrain, you can use it comfortably for daily routines or off-road adventures. The bike also gives you a variety of customizable options, you can get the frame or the bike completely. Each option have their own benefits so choose carefully!
If you want an amazing all-rounder bike, the Surly Cross-Check should definitely be your next bike!