Considering numerous global catastrophes, such as the Coronavirus pandemic, climate change, and the possibility of nuclear Armageddon, it is difficult not to feel helpless. I have a simple suggestion if you are an adult who cannot think of what to do to improve your life: Ride a bicycle. And it looks like millions of Americans agree, whether they purchased their own bike or hired one from a bike-share program.
Electric bicycles were once heavy, cumbersome, expensive, and had short battery lives. That has gradually changed. Now more than ever, e-bikes are sleeker, more powerful, and lighter. To ride one, you don't have to be in good physical shape. They encourage you to spend more time outside, ease traffic, and decrease your carbon footprint. Moreover, they are enjoyable!
Purchasing an electric bike today may cost you as much as you would spend for certain used cars, which tends to put some people off. But you shouldn't decide too quickly because buying an e-bike turns out to be a far more affordable alternative when you factor in the annual fueling cost, insurance, and maintenance.
Not to mention that it provides you with a convenient means of transportation and a wonderful workout! The electric bikes available now come in a variety of sizes and designs, with advanced functions and other sophistication that enhance the e-bike experience. And the price merely rises as a result.
Top-rated electric bikes can be found in a wide variety of designs, and each model has advantages and disadvantages. If your budget permits, you should look into the best electric commuter bikes and e-bikes for mountain routes. If you're looking for a portable or easily stored solution, we've also tested and evaluated the best folding electric bikes and the best bike locks.
Cheap Electric Mountain Bikes for 2023
Surprisingly, buying a cheap e-bike doesn't always have to cost a fortune. We've tested and studied these inexpensive electric bikes in-depth. So that you can make a perfect choice, without losing an arm or a leg.
| Bikes | Price/$ | Motor/W | Battery/Wh | Range/Mi | Speed/Mph |
| --- | --- | --- | --- | --- | --- |
| Ride1Up Core-5 | 945 | 750 | 500 | 40 | 28 |
| Propella Mini | 849 | 250 | 250 | 20-35 | 18 |
| Aventon Soltera | 999 | 350 | 346 | 41 | 20 |
| Rad Power Bikes RadMission | 899 | 500 | 504 | 20.7 | 20 |
| Lectric XP Step-Thru 2.0 | 1,049 | 500 | 499 | 45-65 | 28 |
| Miclon LNE 26 | 700 | 250 | 360 | 21.3 | 15.5 |
| Nakto 350W | 739 | 350 | 350 | 25 | 18 |
| Gen3 The Flex Electric Bike | 469 | 500 | 500 | 40 | 20 |
1.Ride1Up Core-5 – Editors Choice
Price: MSRP $945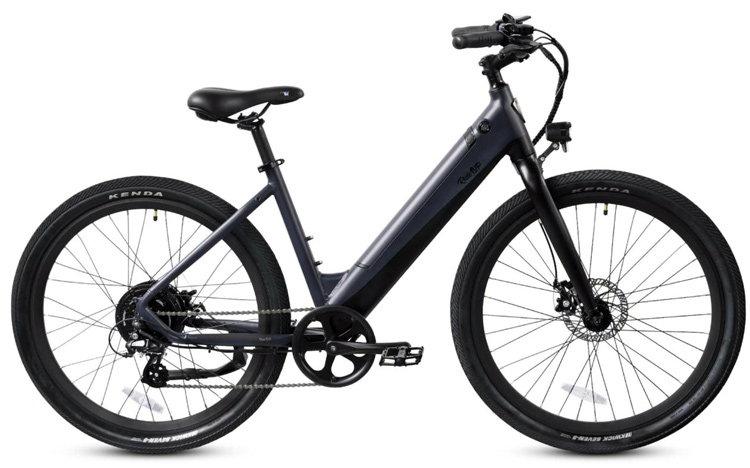 The Core-5 has been described using words like "simple," "clean," "price-friendly," and "efficient," to name just a few. It weighs about 49 pounds and can support users up to 275 pounds. It boasts a sleek design and a black finish to provide you with an electric bike that is both fashionable and useful.
The Core-5 is a typical Ride1Up model; it comes with the same aluminum alloy frame as all of its forerunners. Depending on what you prefer, you can choose between a step-through or a cross-over frame.
By equipping the Core-5 with a generally strong engine, Ride1Up defied convention. The bike has a 500W 48V Geared Hub Shengyi Motor with a max output of 750W, a 500Wh battery that is reliable, and LG cells that are of the highest caliber. This will allow you to squeeze out up to 40 miles of range and a top speed of 28 mph, which should be sufficient to cover all of your daily urban adventures.
For an e-bike in this price bracket, the 500W motor is definitely an improvement. You won't even have to exert much effort when climbing lanes due to the 60Nm torque that it can create. The battery of this bike recharges completely in a maximum of three hours, which is another fantastic feature. One of the fastest charge times in the sector.
What we loved the most while testing this bike was the whole feel of the bike, which features a frame that keeps you upright when riding, a soft saddle that prevents fatigue on longer rides, and a high-step frame with a slanting top tube that makes mounting and dismounting the bike really simple.
Pros
Fast
Less Charge Time
Powerful Motor And Battery
Powerful Torque
Cons
Fewer Accessories
Time Taking Assembly
Editor's Choice: The Ride1Up has the appearance and feel to fit your needs, whether you're looking for a practical commuting tool to ride to work every day or a flexible vehicle you can use to run errands around town. It is the kind of bike you choose when you want to get value for your money!
---
2. Propella Mini
Price: MSRP $849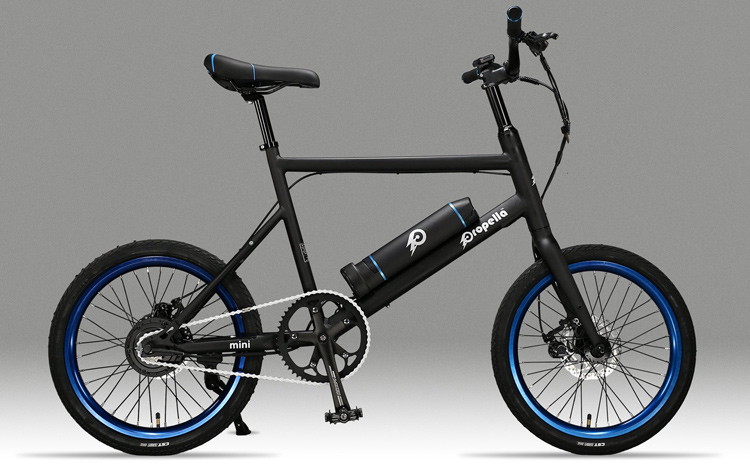 The Propella Mini distinguishes itself from the competition because of its small dimensions and remarkably low weight. With a measured weight of only 35 lbs and 5 oz, it isn't the most powerful or has the greatest range, but it shouldn't be too surprising. This bike is much easier to take up or down stairs than other non-folding bikes, and it can be stored more easily because to its small size. The 250W motor and 5 levels of pedal assistance on this Class 1 bike comfortably drive you along at speeds of up to 18 mph, and the
Wh battery offers a fair range, especially given the bike's lightweight. Additionally, it doesn't have amenities like fenders or lights, so you'll have to purchase them individually if you want them.
Compared to models with larger wheels, the 20-inch wheels sacrifice a little stability, but this model has rapid handling and is very easy to operate. Propella also produces the SS (single-speed) and 7S (7-speed) models with 700c wheels and tires if you like the riding sensation and handling of larger wheels. These models share the same motor, batteries, aesthetics, and low weight as the Mini.
The Mini is remarkably agile and can turn quickly, but the 20-inch wheels do make the ride seem less sure-footed and slightly less stable at high speeds. Additionally, the top-assisted speed is restricted to 18 mph, although when riding the Mini, we thought it was fairly fast. However, the 250 Wh battery has a respectable range for long distances (20-35 miles), while testing, models with larger batteries did much better.
Pros
Easy To Carry
Small Size
Smooth Design
Pocket-Friendly
Cons
Low Speed
Smaller Range
Difficult Handling
Lacks Throttle
Why I Like It: Whatever the case, we think the Mini is a fantastic choice for cities, flatter terrain, shorter journeys, or anyone who values elegance and lightness.
---
3. Aventon Soltera
Price: MSRP $999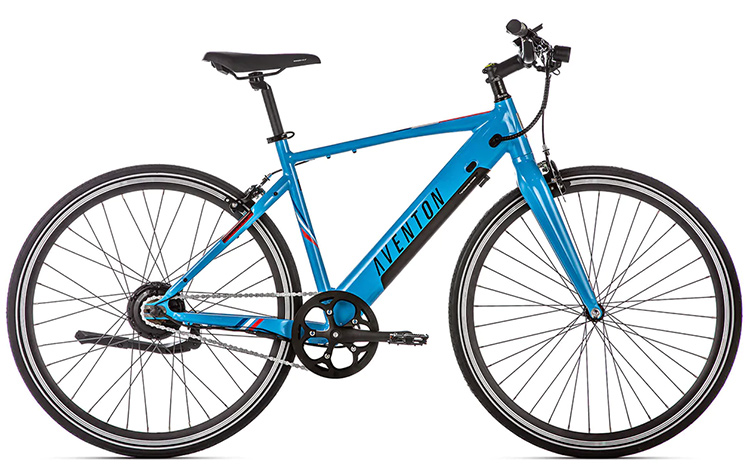 The company has been making high-quality electric motorcycles for a while now and the Soltera is one of Aventon's most recent models in their catalog.
This Class 2 model has a sleek appearance similar to a city bike, and the battery is neatly integrated into the downtube of the frame. Although the 350W engine isn't particularly strong, it can readily propel you along at up to 20 mph with the help of the throttle or pedals, and the detachable 346 Wh battery offers a reliable power source and a fair range of 41 miles. The 700c wheels roll quickly, smoothly, and steadily while the handling is precise and responsive.
You can purchase it with either a 7-speed (tested) or single-speed transmission according to your needs or preferences. It is available in both step-through and step-over (tested) frame designs, two frame sizes, and three color choices. The bike weighs 44 lbs. and 5 oz. When we tested this model we found it to be very light. It was much easier to load this bike in our bike rack and to even carry it through the stairs.
The user experience is superb, with simple, intuitive controls and a fantastic display that can even be synchronized to the Aventon app for ride tracking, setting changes, and sharing your enthusiasm with the Aventon community. While we adored the Soltera's sporty feel and agile handling, its rigid frame and narrower tires don't do a great job of reducing vibration, and rough terrain can make it seem a tad harsh.
Pros
Flexible Handling
Attractive Design
Easy To Carry
Cons
Fixed Frame
Lacks In Power
Why I Like It: We think that this cheaply priced bike is a wonderful choice for commuters or city dwellers seeking a moderately light and stylish vehicle.
---
4. Rad Power Bikes RadMission
Price: MSRP $899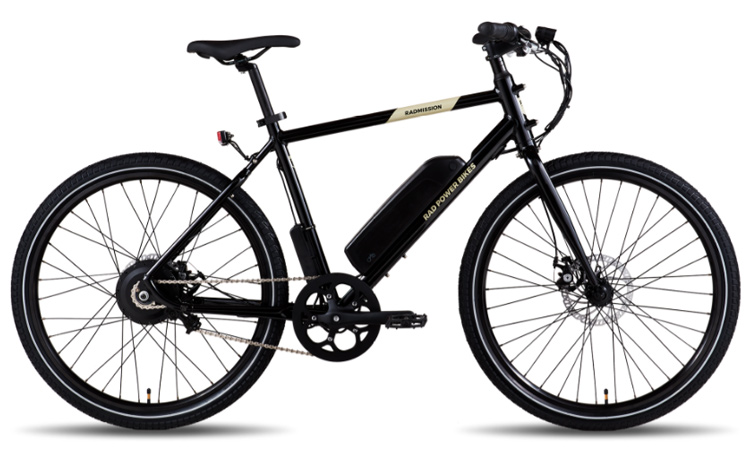 Rad Power's RadMission, a city bike with commuter potential, is one of the cheapest e-bikes on the market right now. You can get a single-speed bicycle for $899 that travels at 20 mph and has a throttle to help you accelerate up steep hills.
Although significantly smaller than the 2-inch or wider tires we often see on commuter e-bikes, the 27.5 x 1.95-inch wide Kenda Kontact tires were broad enough to feel swift and offer comfort on pavement and uneven bike paths. A bell, integrated lights, and a vast number of add-on choices are also included.
A 504Wh battery and the 500W high hub motor drive unit bearing the Rad Power trademark, which produces 50Nm of torque. The battery is detachable, and Rad Power sells backup batteries if you want to keep one at home or work. Rad provides a conventional step-over model in addition to this mid-step-through variation that makes it simpler to get on and off.
A little more athletic body position is required for the RadMission, which may not be suitable for everyone. But when compared to some of the top-ranked electric bikes which we examined, the controls and display are simpler, but they are still straightforward and fully functioning.
Pros
Simple
Affordable
No Rattling Noise
Variety Of Frames
Cons
Single Speed
Not Suited For Steeper Hills
Requires A Certain Body Position
Why I Like It: The inbuilt lights keep you visible both day and night, and the detachable 504Wh battery offers plenty of power for your commute or enjoyable ride. Having said that, we think this is a wonderful e-bike for somewhere that isn't too hilly or steep.
---
5. Lectric XP Step-Thru 2.0
Price: MSRP $1,049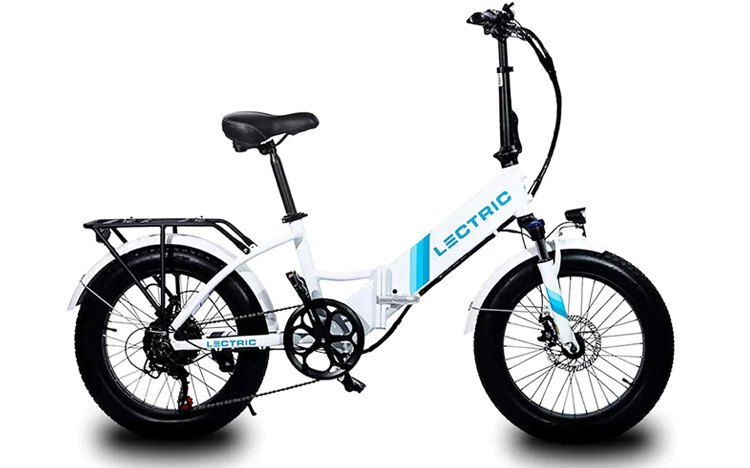 A highly impressive folding variant with a ridiculously high price-to-performance ratio is the Lectric XP 2.0. All you need to do to get it ready for usage is unfold it from the box where it is completely built. The 500W motor and 499Wh battery on this capable small bike allow it to sustain Class 3 speeds of up to 28 mph with pedal assistance or 20 mph when using the throttle. It can also be adjusted to operate as a Class 1 or 2 bike. You can power your ride for up to 45 or 65 miles, respectively, with the Long-Range and Standard choices.
The folding design, which shrinks to a very small size for storage or transportation, is arguably the most noticeable feature. To improve the riding experience, the XP 2.0 also includes a ton of additional features including a rear rack, lights, and fenders. It has a very wide variety of fit options, plus it is available in two colors and step-through and step-over frames and we tested both of them. Neither one lacks when it comes to delivering quality. Despite being a superb folding model, the XP 2.0's smaller wheels can't quite match the versions with larger wheels' more controlled handling or stability.
Pros
Easy Storage
Easy To Transport
High Speed
Pre-Assembled
Includes Many Feature
Cons
Heavy
Small Wheels
Less Stable
Difficult Handling
Why I Like It: Despite its compact compressed size, it can still be difficult to move or transport because it weighs 61 lbs and 10 oz. In any case, we believe it would be difficult to find a better folding electric bike, especially given this pricing.
---
6. Miclon LNE 26
Price: MSRP $700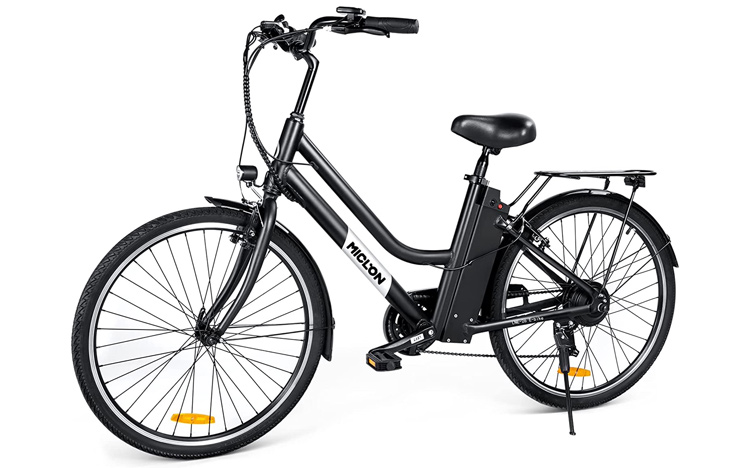 The Miclon LNE 26, a reasonably priced Class 2 e-bike with a retro cruiser design, wowed us with its range. When we tested this bike, it was able to go just over 21 miles utilizing the throttle alone and not even peddling. The Miclon's 360Wh battery capacity allowed it to travel farther, but it also appears to use that power very effectively.
The LNE 26 features a throttle, five pedal assist output settings, and easily reaches its top speed of 15.5 mph. It also has practical elements like fenders, a baggage rack in the back, and a headlamp.
It has a vintage appearance with a low, step-through frame that makes mounting and dismounting simple. It also features a wide range of seat and handlebar adjustments to accommodate a variety of user heights. It is a comfortable bike with aneasygoing ride quality and a relaxed, upright seated position. The LNE 26 has a throttle and five pedal assist output options.
The LNE 26 failed to match the quicker, more potent competition's highest speeds or power output with its 250W rear hub motor. But one of the key reasons it can go so far on a single charge is because of this decreased power output.
The controls are ergonomically sound, but the basic LED display only provides the bare minimum of information and can be difficult to read in bright lighting. Beyond that, we think this attractive inexpensive electric bike is a terrific choice for a rider who values comfort and elegance over speed.
Pros
Cons
Not Powerful Motor
Low Speed
The Display Is Not User-Friendly
Why I Like It: Although it is not the cheapest, we think that the Miclon offers a decent value. We believe this is a fantastic choice to take into consideration if you're searching for an economical commuter or around-town e-bike to save money on petrol or to get out and have fun.
---
7. Nakto 350W
Price: MSRP $739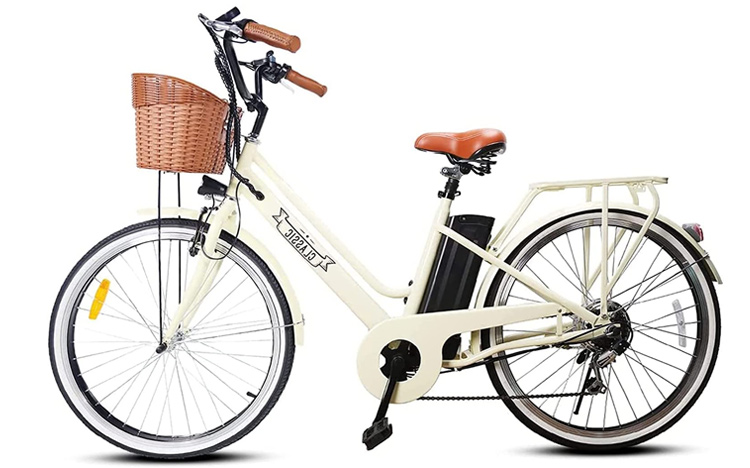 The Nakto 350W has a good 36V 10AH lithium battery and a 36V 250W motor with 350W peak mode. This provides it enough power to propel you along the route at 18 mph. When completely charged, the battery has a range of roughly 25 miles, or 4-6 hours, which is more than enough time for you to perform a few errands or take in the scenery while you go. You also get to enjoy the top speed of 18 mph on this bike.
The front fork and frame of this bike are both comprised of high-strength carbon steel, giving it a tough structure. This guarantees that it can hold weights of up to 300 pounds easily and that it will best fit those who are between the heights of 4'9″ and 6'6″.
You have a sufficient stopping force to stop your vehicle in an instant thanks to the front V brakes and the rear extension brakes. And the best Shimano-6 speed gear available guarantees the smoothest ride imaginable. You still receive a horn and a powerful LED headlamp to make riding at night hassle-free.
Pros
Sleek Design
Easy To Use
Extended Battery Life
Comfortable
Cons
Why I Like It: The Nakto 350W Beach Cruiser is an affordable high-performance and quality e-bike option. It has intriguing features that will compete with those found on bikes priced higher and give you a convenient and enjoyable cruising experience.
---
8.
Gen3 The Flex Electric Bike
Price: MSRP $469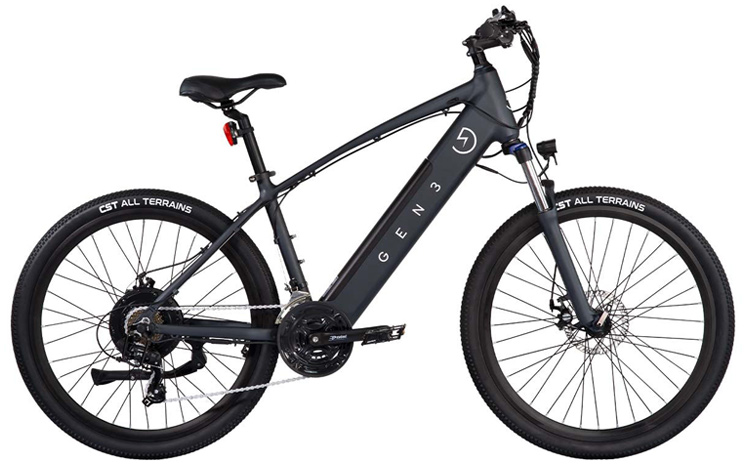 The Flex boasts 26″ x 1.95″ tires that are essentially mountain bike tires with a road-friendly twist—the best of both worlds, as they say—and weigh only 55.6 pounds, which is rather astounding given the maximum payload of 270 pounds.
This e-bike is equipped with a powerful 500 Watt rear hub motor from Bafang, a well-known brand, and an industry leader when it comes to electric bike motors. The bike is also equipped with a 500Wh 48V/10.4Ah rechargeable battery, which promises a range of up to 40 miles. We were able to achieve a speed of 20 mph on this bike, nothing more. It took us almost 6 hours to charge it, which is more than the average bike listed here.
The Flex is truly true to its name. You receive all the benefits of a strong e-bike for daily commuting, but you also have the option to paddle independently anytime you feel like working out.
Pros
Decent Range
Powerful Motor
Lightweight
Comfortable
Cons
Why I Like It: The design of these e-bikes is stunning on the road, they are enjoyable but safe to ride, and they don't seem to skimp on quality or construction, striking the ideal balance between price and performance.
---
Things You Should Know Before Purchasing An Electric Mountain Bike
Buying a bike can be a very daunting task, but it can be made easier if you consider some of the things mentioned below.
Where Do You Go Riding?
The first thing that you should consider before buying any bike is where you ride or where you might ride in the future. This is going to dictate what type of bike will be best suited for the job. If your trail is a gentle fine road, a hardtail hand drive or a hand drive bike will be probably the best answer for you.
E-mountain bikes that have a mid-drive motor are quite expensive. Their cost is suited to their features because they are designed for off-road riding and are more advanced. We mentioned that you should carefully consider where you want to ride or what type of track you will use because mountain bikes are very different from non-mountain bikes. They provide much more off-roading adventure, which is what they are designed for.
Budget
While deciding on the budget, one thing that you must remember is that a $20,000 bike and a $10,000 bike will offer you the same level of assistance. It is highly likely that both these bikes will climb the same hill at almost the same time. The cost difference is due to the difference in materials used. It is not guaranteed that you will get an increased performance just because you spent more money on bike components.
However, the only component that is going to give you an edge is the suspension. I say this because the suspension is going to give you more control, comfort, and a much smoother ride.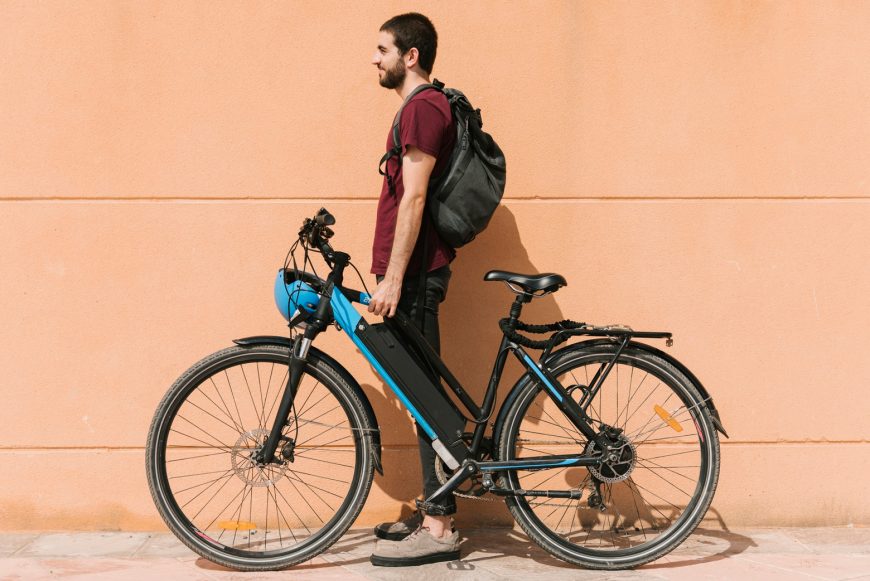 The Battery/Motor
If you are an adrenaline junkie, you are bound to get on some rough tracks on your bike. One question that you must have had on your mind is about the combination of the battery and motor that you should use. There are so many variants available in the market like Bosch, Brose, Shimano, Yamaha, TQ, Panasonic, and so many more.
All of these are different with respect to their power input and traits, They are almost the same. What you really should consider is that there are some lower-powered mountain bikes on the market. These bikes have lower-torque points but they also draw less from the battery.
If you plan to go further I recommend that you get a higher-capacity battery, but if you are 70 kilos or less, you can also do with a lower-capacity battery. You can always carry a spare for longer routes.
Sizing
All bikes come in a variety of sizing. It is best to get the bike that is best suited to your size so that you do not have any difficulty navigating. Bikes come in extra small to extra large sizes and they do actually differ in sizing. So the best thing to do is to head on to the website of the bike you are planning to buy and look at the available information.
One thing is for sure, do not buy a bike that is the wrong size for you because it will be tremendously uncomfortable.
Where To Buy The Bike
Well, the main thing to consider is where are you actually going to buy your bike from. You can get it from three places:
Local Bike Shop
The first option is to get your bike from a local bike shop where you can also wriggle out a deal for yourself.
Chain Store
The second option is a chain store where you can get much more variety as compared to a local shop. You may even find bikes at lesser prices.
Direct Sales
The third option is to buy directly from the manufacturer. The bikes will be slightly less expensive but you will be looking at one brand with a lot of different ranges.
Servicing
You are bound to have lots of adventures up and down those hills on a mountain electric bike. You will get to explore a lot of nature but the thing about electric mountain bikes is that they need a lot of servicing. The tires, brakes, and gears, along with the suspension will need servicing every now and then.
However, your battery and motor are more likely to survive without service but in case your motor stops working, it is replaceable. Nevertheless, Electric mountain bikes are as low maintenance as normal mountain bikes. Although you will need to change things like brake pads, gear, and the chain more frequently.
FAQs
Is Buying An Inexpensive eBike Worthwhile?
We would say that you can't go wrong with whichever bike you choose because the few e-bikes listed here and others that are equivalent in the segment are all capable of the same transportability, electric range, and power capability.
Which Electric Bike Is The Cheapest And Fastest?
If we talk about the fastest and affordable bike, the Ride1Up Core-5 beats all other bikes in our list. It is priced just at $945 and offers you some top notch featers with a great speed and smoothest suspension. This is the bike you cannot go wrong with.
How Does An E-MTB Function?
On electric mountain bikes, a tiny motor is situated close to the cranks under the frame. A lithium-ion rechargeable battery powers the motor. The motor only generates electricity while you pedal. Every time you pedal, it provides you with greater force, giving you the impression that your legs are supercharged and you are riding a typical bike.
More on electric bikes:
Conclusion
Electric motorcycles are becoming increasingly popular for good reason. These bikes are a fun and cost-effective way to get around, whether for commuting, running errands around town, or simply getting some exercise. They also save money on gasoline.
They are our favorite because they make grocery shopping easier and faster while also being more environmentally friendly. They take the sweat out of cycling to work on a hot summer day and are simply fun to ride around on.
By far, the Core-5 Ride1UP has to be the best bike we tested, given its price range. The Ride1UP Core-5 is a covert electric bicycle designed for commuters, leisure riders, and weekend rail-trail excursions. Its built-in battery is stylish and easily detachable for security and charging. According to experts, the bike is comfortable and appealing. The Core-5's sturdy aluminum frame allows it to carry up to 300 pounds of cargo. Owners like that the bike has a throttle (up to 20 mph) as well as a pedal assist (up to 28 mph).
We are aware that there are numerous solutions available, not all of which are inexpensive. This is why we hope that this review will assist you in locating one that meets your needs without breaking the bank or sacrificing quality.