In the near future, we will see cars being replaced with electric bikes, and that future is not distant. Gas-powered vehicles are getting expensive on a daily basis and it has baffled the average consumer, these problems keep on troubling them. With their daily lives becoming problematic, people have started seeking better alternatives and one of those alternatives is electric bikes.
We all know how electric bikes are changing our lives but now they might even be saving us money and mental frustration. Manufacturers know that electric bikes are here to stay, and that's why they keep on improving them. Electric Bikes are going further than ever before and that is just the tip of the iceberg.
Long-Range Electric Bikes are perfect for short and long distances, you can use them for almost any kind of adventure. Where there is a benefit there is always an attraction and we can see that with the popularity of electric bikes. Apart from drivers, professional cyclists are also switching to electric bikes, no one can resist their pedal-assist modes.
Since you are looking for the best electric bikes with the longest range, you'll be confused by the onslaught of so many options. There are so many electric bikes in the market, it often gets confusing which option you should go with, which is why you should leave this matter to the experts.
In this guide, we have compiled some of the best electric bikes with the longest range and all of them need your attention.
Best Electric Bikes With The Longest Range- Reviewed
These Electric Bikes have been chosen because of their top performance and long range. We want you to experience the best of the best, which is why we came up with this list. All of these bikes have different characteristics and features but they offer extreme range and speed. Let's check them out!
1. ANCHEER Sunshine AT1- Editor's Choice
Price: Starts From $569
Range: 40 Miles+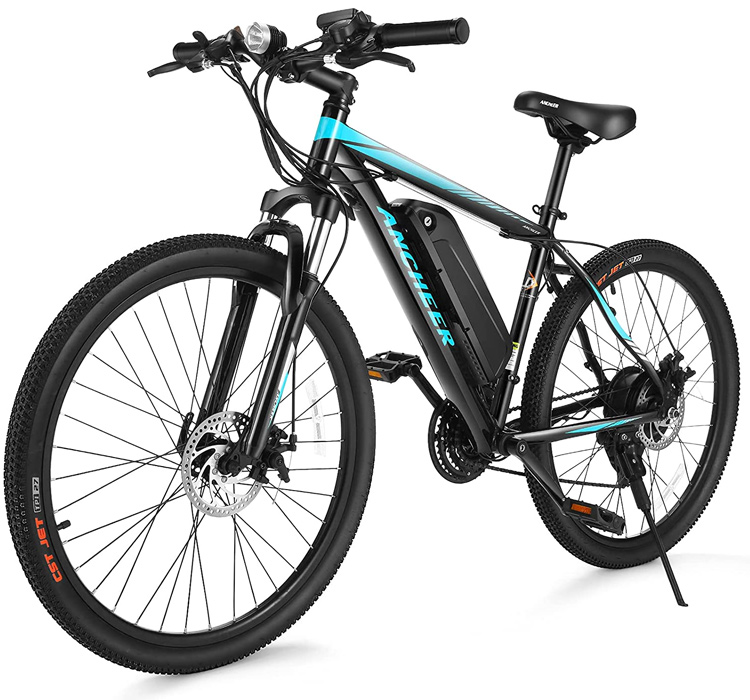 The Ancheer Sunshine AT1 is the best choice for long treks and any kind of commute. When we say it's the best, we mean it, it offers more than 40 miles on a full charge. The reason behind the amazing performance of this bike is the 36V 10.4h battery. Apart from offering long range, the bike also feels very sturdy and resilient.
The max weight capacity of this bike is 300 lbs and users can enjoy a maximum speed of 20 mph. Where it excels in range, it is held back by speed. Considering the length of your journey, 20 mph doesn't sound that bad though. This bike is not suitable for unpaved trails, this is one of the most important things that you need to know. Although the Ancheer Sunshine AT1 has a lightweight frame, it still makes quick work of short commutes and trails.
With the LED Smart Meter installed, you can easily catch up with other fellow riders. This bike is also installed with the latest gears and rear disc brakes, this makes hill climbing easier and more fun. The Ancheer Sunshine also takes full advantage of the shock-absorbing fork and extremely comfortable seat, your long and short rides will never stop being fun.
Pros:
Powerful Motor
Comes With Three Power Modes
40 Miles Range On Single Charge
Cons:
Not Suitable For Hardcore Off-Road Adventures
Editor's Choice: We love this off-road accessible electric bike because of its sturdy build and the ability to offer 40 miles of range on a full charge. There are not a lot of electric bikes that can offer both and that too in this kind of price range. Users can customize their riding experience thanks to the three power modes. The swappable battery also presents the users with a lot of options.
---
2. Nakto 26" Electric Bike
Price: Starts From $568
Range: 30+ Miles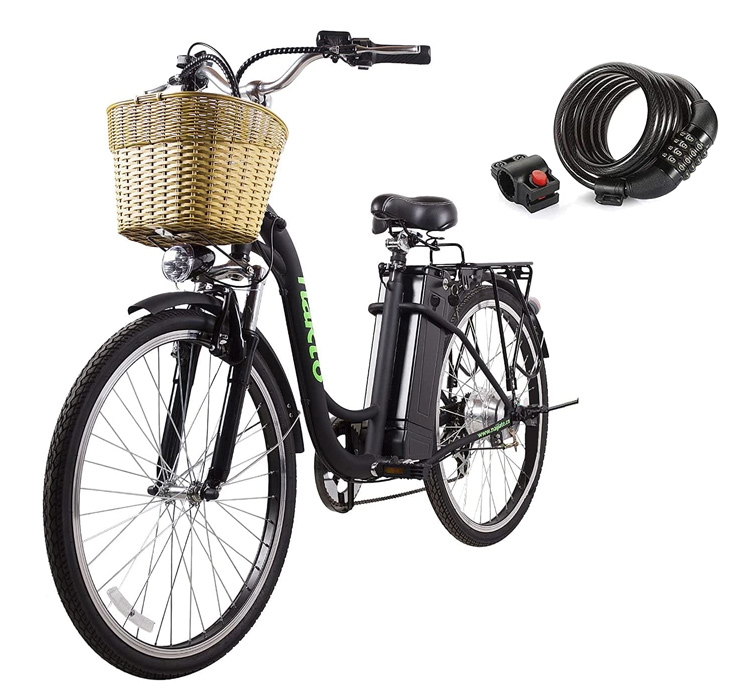 Plan on gliding around the sun or just want to run some quick errands? The Nakto 26" Electric Bike is the perfect choice for you. Just take one close look at this bike, featuring a front basket and back brackets, you are going to have so much fun doing grocery runs with this e-bike. Even if you plan on using this bike for the university or college, it will be more than enough.
Let's talk a bit about the construction of the Nakto, it has a steel suspension fork and is fitted with fat tires. What can we expect from these amazing features? Users will get to experience a very smooth ride on paved roads and sidewalks, off-road adventures are still too wild for this e-bike. You might also have some problems assembling the bike if you are a beginner, we recommend having a buddy along for that part. What you get in the end is an amazing and sturdy ride that can't be compared or replaced.
Don't think that we forgot about the range because that is the most astounding part of this bike. On a full charge, the bike offers more than 30 miles range. Apart from this, users can also enjoy a maximum speed of 30 mph using pedal assist mode. May it be work or thrills in the evening, the Nakto Electric Bike has got you covered.
Pros:
Great Storage Options
Tons Of Customization Opportunities
Powerful Battery
Impressive Maximum Speed
Cons:
Why I Like It: The Nakto Electric Bike proves to be a stylish option if you want to take a long trip and works even better for shorter adventures. It has a powerful battery that offers more than 30 miles of range on a full charge. Users can also enjoy the various pedal-assist and throttle modes.
---
3. Gyroor C3
Price: MSRP $799
Range: 38+ Miles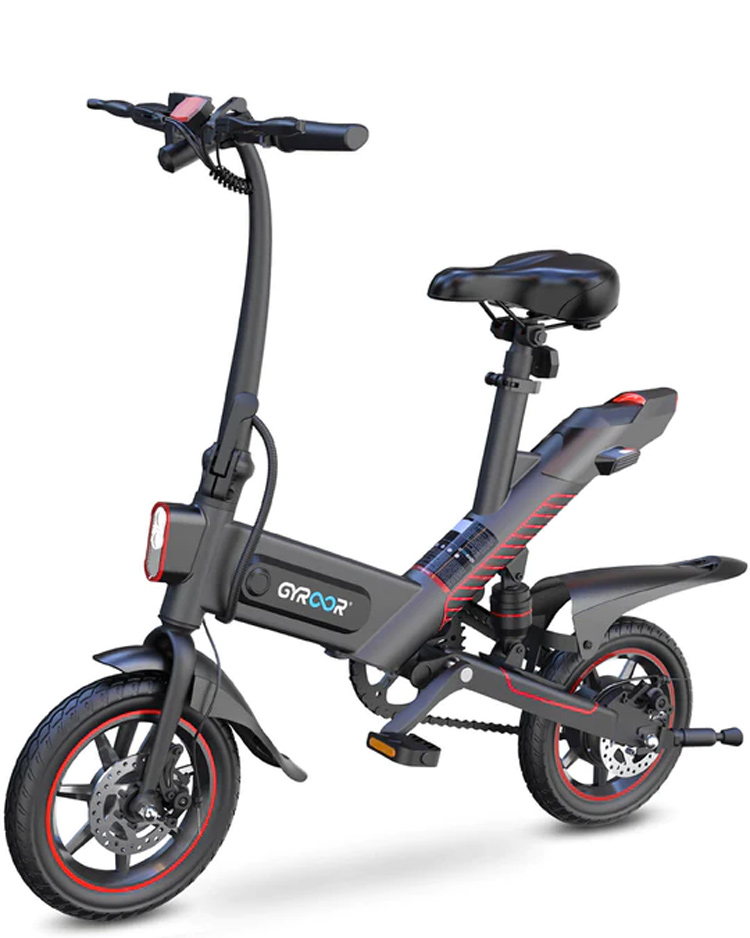 You need to check out the Gyroor C3 Electric Bike if you are craving long adventures. Armed with a powerful motor, the Gyroor C3 seamlessly offers 38 miles range on a full charge, although it is limited by a maximum speed of 18 mph. Although that makes sense, there is no perfect product and this bike is known for its range rather than speed. We also love this bike because of the comfort it provides to the users, with the shock-absorbing pneumatic tires and shock mitigation system, there will be no compromise on the user's experience.
This is a completely foldable bike, it can be stored easily and can also be carried. There is a slight problem for tall riders though, this bike is not suitable for people that have a height of more than 6′. On the plus side, you can rest easy with the removable battery, charging it separately from the bike is truly bliss.
Just like the other bikes, the Gyroor C3 allows the users to choose between pedal assist and turbo modes. We recommend using the full electric mode if you just want to have fun with the bike and nothing else. Water resistance is a big plus here, and the double disc brakes give the users complete control over the bike.
We love that the Gyroor C3 has a novel design as compared to the other bikes in the market. Thanks to the impressive features and performance, you won't have to look for a replacement anytime soon!
Pros:
Portable Design
Great Range (38+ Miles)
Durable and Sturdy Frame
Different Modes
Cons:
Not Suitable For Tall Riders
Limited Maximum Speed
Why I Like It: The Gyroor C3 proves to be the perfect companion for long adventures. The portable design also comes in very handy, combined with the powerful motor. If you want comfort and style, you already know where to look.
---
4. VIVI M026TGB
Price: Currently $699 (22% Off)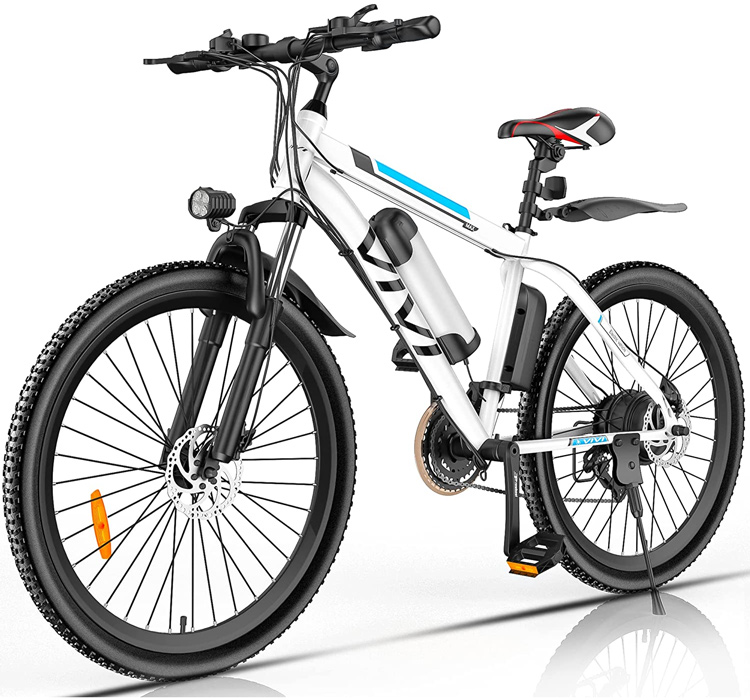 The VIVI Electric Bike Brand has proved to be very reliable and skilled and that too in a very short time. We had to add their M026TGB bike to our list, it is one of the best choices for a reliable ride around town. Use it for commuting or to get back into fitness, this bike will never disappoint you.
It is powered by a long-lasting 36V/8Ah removable battery, the strong casing also ensures that it doesn't drop out during intense rides. Users will also be able to enjoy the three different riding modes, although the throttle won't work out of the pedal assist mode.
Great battery life isn't the only thing that you will enjoy when you get this beast, it also comes with advanced stability. The carbon steel shock absorbers at the front and the rear are great and they make sure that users are comfortable at all times.
The premium metal frame allows the bike to be very sturdy and durable, we gave the bike hell and it still survived. It has a foldable design which means carrying it won't be problematic. This bike proves to be a wonderful companion whether you want short or long adventures. Now let's talk about the most interesting part, in pedal-assisted mode, the bike offers 50 miles of range. The top speed is also admirable, 20 mph is not that bad.
Cons:
Strong and Sturdy Build Quality
Powerful and Long-Lasting Battery
Portable Design
Great Range (50 Miles)
Cons:
Throttle Mode Isn't Usable Without Pedal Assist
Availability Issues
Why I Like It: The VIVI M026TGB is a premium bike that will never let you down, you can definitely count on that. It provides the necessary power and mileage to tackle any kind of track and hill, never stopping you from any kind of adventure. The spectacular build and stability also make this bike very tough and hard to beat.
---
5. Heybike Mars 20"
Price: MSRP $1,049
Range: 50+ Miles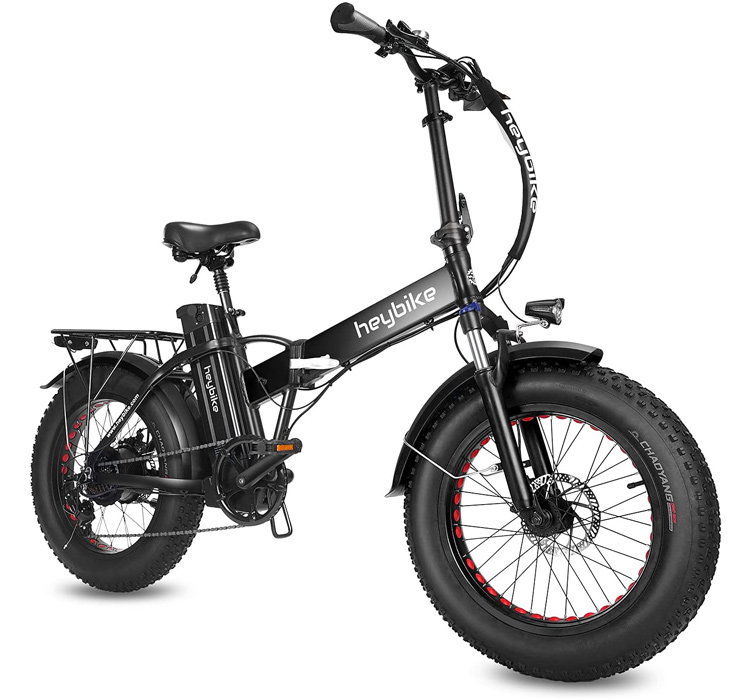 Don't think even for a second that we forgot about large riders because the Heybike Mars 20" is especially for them. With this beast of a bike, you can easily expand all of your horizons even through all sorts of weather. With the 20" fat tires installed, it won't matter if you are riding on sand, snow, paved roads, or any other kind of trail, you will get that top-notch performance no matter what.
Let's not forget about the heavy-duty frame this awesome bike has, apart from being sturdy it also has a foldable design. This allows users to store this bike easily and carry it with them wherever they go. The dual-suspension system also takes care of the user's comfort whenever they ride.
The Heybike Mars 20" has a 7-speed Shimano gear, and the multiple riding modes allow you to conquer any kind of hill and zoom through traffic unnoticed. The heavy-duty and long-lasting battery also allows the users to enjoy 48 miles of range on a full charge. We also loved how fast this bike is, with the powerful 500W motor, it can easily push 20 mph at top speed.
Pros:
Weather-Proof Tires
Great Range (50 Miles+)
No Assembly Required
Great Speed
Portable Design
Cons:
Why I Like It: Tall Riders are in for a treat when they try out this weather-proof ebike. The folding mechanism allows users to carry this bike anywhere and have adventures whenever they wanted. The premium design says it all and now all that's left is for you to try this one out.
---
6. Juiced Bikes HyperScrambler 2
Price: Starts from $2,599
Range:100+ Miles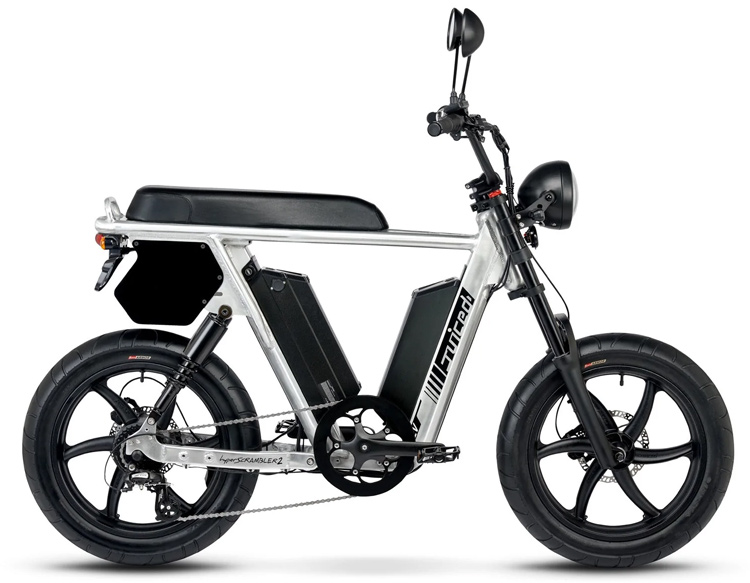 Let go of all your worries and anxiety because the HyperScrambler 2 will take care of everything. Powered by two heavy-duty batteries, the bike can push out 100 miles of range on a full charge. It also takes almost no time in powering up and giving max speed, which is why we want you to check this one out asap.
The bike stands tall, thanks to its speed and weight, it weighs around 119 lbs and we think it is one of the heaviest e-bikes that we got to try. Although it is built with an aluminum frame, it should be lightweight but still feels like a titan whenever you ride it.
For longer trips, this bike might not be the best choice to go for, even though it offers a high range. The seat is not adjustable and users start feeling discomfort at longer rides. It comes with integrated lights, dual side-view mirrors, and even turn signals. It is great to see a bike with so many features but it just fails at replacing a car completely.
The Hyperscrambler 2 is powered by a Bafang RetroBlade 1000W rear hub motor. You can also expect it to have 2000W peak power and that is a lot considering e-bikes. Thanks to the extra torque of 90 Nm, it can push out 32 mph with a slight touch of the throttle. You might experience some noise disturbance but the performance is worth it.
The bike's motor is powered by Twin 52V 19.2Ah batteries, which means that you will get more than 100 miles of range on a full charge but you will have to use the bike at the lowest possible settings. Go for max speed or take things slow, it is completely up to the rider, although with full speed the bike will only give 50 miles of range.
The integrated balancer module allows the bike to drive power from both batteries, which ultimately results in better performance. Those that don't want the extra battery power, can always turn the other battery off and use it when the first one dies out.
With overwhelming power, you also need control, which is why the bike is fitted with Tektro HD-E350 Disc-Hydraulic brakes. The stopping power is more than adequate so you won't have any problems regarding the control of the bike.
Pros:
Powerful Hydraulic Brakes
Powerful Dual Batteries
High Capacity Tires
Powerful Motor
Great Range (100+ Miles)
Cons:
Extremely Heavy
Seat Is Non-Adjustable
Not Fit To Carry A Passenger
No Cargo Space
Why I Like It: This bike was an immediate buy when we heard about 100+ miles of range, I mean that is why were are here aren't we? It is also powered by a high battery and brakes that make sure the rides are comfortable. It feels quite heavy to ride though, if you can get through that then this bike is a must-have.
---
7. Wing Bikes Freedom 2
Price: MSRP $1,048
Range:60+ Miles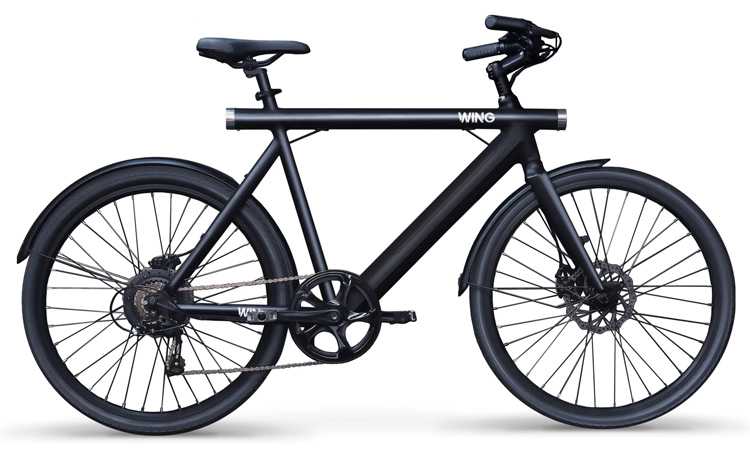 Once you take a ride on the Wing Bikes Freedom 2, you will understand how quality and price are truly balanced. Although this is a great ebike for long-distance travel, it is still budget-friendly. Considering that important aspect, there are some components of the bike that aren't that good, but that is how trade-offs go.
Let's start with the overall construction of this bike, it is built with an amazing aluminum frame. While the frame feels sturdy and strong, it is complemented by a sleek LED display unit. The battery is also integrated, you won't have to see those battery lines lurking everywhere. We are all about neat and clean electric bikes and this one clearly sits at the top.
We love how well this bike is balanced, it weighs around 39-40lbs and doesn't feel that heavy or light. Commuting is really good with this bike, there will be instances where you will be too stunned to express those feelings. Apart from that, if you live in a building like a flat or an apartment, you will have to get extra storage space for this bike.
This bike is also theft-protected and that is one of the unique aspects of this bike, it comes with a really loud alarm that people even a few blocks away will be able to hear pretty well.
What about the motor and battery? The Wing Bikes Freedom 2 is powered by a Bafang 36V/550W motor, on a full charge it offers 60 miles of range. The throttle is great but it isn't that great, the bike can produce a torque of 45 Nm, which means you will have to wait a bit to reach the top speed.
Cadence sensors work really well here, and the pedal assist mode is just great. We love how many options there are with this bike, there is a total of five pedal assist modes to choose from. There is also the option to increase the battery power, if you really want 60 miles range then you would have to upgrade to a 14 Amp Hours battery.
Consumers will also get to choose between two versions of tires, although both are 26 x 1.75-inch and puncture-resistant. You can expect great performance on both urban and hilly roads. Mechanical disc brakes could have been better though, the addition of hydraulic brakes would have been great but we can understand the trade-off.
Pros:
Elegant and Sturdy Design
Great Range (60+ Miles)
Integrated Battery and Lights
Amazing Tire Performance
Cons:
Available In Only One Size
Acceleration Feels Slow
May Feel "Cheap" Sometimes
Lackluster Accessories
Why I Like It: The Wings Bikes Freedom 2 is exactly how a budget-friendly electric bike should be, offering great speed and range. It comes with a sturdy construction which is very hard to shake down, it also feels very neat. Some people may not like the cheap feeling of this bike but the performance still trumps it. You need need to check out this amazing bike.
---
How Can You Describe A Long Range Electric Bike?
We know about electric bikes that offer amazing performance but how can you truly know about long-range electric bikes? Let's find out!
Long-range electric bikes can travel further than regular electric bikes, but how far can they really go? If you are looking for the technical answer then here it is, they travel more miles per charge between their charging cycles. There is a huge gap between the time you unplug from the charger and start charging them back again.
There are bikes that offer an exceptional range, some of these bikes even go from 200 to 250 miles (On A Singular Charge) and that is just amazing. This level of range is the result of extremely powerful motors and batteries with long-lasting capabilities. Some of these batteries have a capacity of three kilowatts but they also cost a fortune.
It is worth considering that a battery and motor aren't the only factors that will affect the range of an electric bike. These components can be easily customized to gain favorable outcomes, you can easily convert a normal electric bike to a long-range electric bike by just upgrading the battery.
Electric Bikes Vs Long Range Electric Bikes
All types of electric bikes are equipped with rechargeable lithium-ion battery packs. Only long-range electric bikes have the power to travel a distance between charges and that is where the whole concept changes. Evidently, long-range electric bikes are equipped with powerful batteries with long-lasting capabilities.
A standard electric bike will offer a range of 60-125 miles, whereas a long-range electric bike will offer 200-250 miles. Similarly, there are also budget-friendly electric bikes that will offer a maximum range of 30 miles on a singular charge.
How do you compare normal electric bikes and long-range electric bikes? Just look at the physical distance they can cover and their battery capacities. There are some exceptional electric bikes out there with batteries that have a capacity of three kilowatts. Standard bikes will have a battery capacity of 400 to 500 watts and lower-tier bikes will resort to 250 watts.
Why You Should Go With Long-Range Electric Bikes?
There are plenty of reasons why you should go for a long-range electric bike, here are the most apparent ones.
You Want To Travel More
Having a long-range electric bike means you get to travel more distance, so more adventures for you! Invest in a bike with long-range capabilities so you can have more fun.
Reduce Charging Frequency
Charging the bike frequently will result in battery degradation, and that is something you have to avoid. If you don't want to charge your electric bike every now and then get a long-range e-bike.
Why You Shouldn't Get A Long-Range Electric Bike?
Here are some of the reasons for not getting a long-range electric bike.
You're A Throttle Freak
You might want to avoid long-range electric bikes if you have to go extra hard with the throttle mode. The Throttle mode requires extra juice and if you can't sacrifice the action then you better stick to standard electric bikes.
You Love Riding On Challenging Terrain
If riding on challenging terrain is your forte, then you should avoid long-range electric bikes. Challenging terrain requires a lot of power and that is when you have to sacrifice range for the extra kick.
You're A Speed Demon
While opting for the speed, you will have to sacrifice range, which is a tough call to make. There are many 1000-watt long-range electric bikes that offer 35 mph top speed, this is more than the class 3 electric bikes.
How To Enhance The Performance of Long-Range Electric Bikes?
If you want to make sure that your long-range electric bike lasts long then there are a few aspects that you need to work on. Apart from the powerful battery and motor, you need to be consistent with the bike's maintenance and cleaning.
Make sure that the frame is strong and sturdy, a strong frame will make sure that your bike is protected from damage and other intrusions. Keep the tires at optimal pressure levels and clean them frequently. Your whole bike should be shining from top to bottom after every ride and don't forget to charge.
If you balance how you treat your bike's battery then it will give you more than 5 years of usage. Keep a good balance between riding aggressively and riding smartly, this will ensure your battery's longevity. Avoid leaving the battery plugged in after charging, you don't want any problems with the lithium-ion.
Always protect the battery and the motor from water, don't let them ever get submerged in water. Also, avoid exposing them to extreme temperatures.
Also Read:
Recap
Long-Range Electric Bikes are the next step forward, you get to experience new things with them. They take you further than before without having anything to worry about. Their powerful motors and batteries are a wonder, since the market is full of long-range electric bikes it is easy to be confused.
We chose the ANCHEER Sunshine AT1 because it balances everything. There is a perfect balance of speed and range, it is also quite sturdy too. You should check it out yourself, a lot of adventures await with the Ancheer Sunshine AT1.
Our best pick is merely a suggestion, it is not something rigid that you have to absolutely go for it. The best kind of long-range electric bike is going to be chosen by you, on the preferences that you have selected. Your riding style, your taste, everything will affect your choice.
If there is anything else that you wish to know about long-range electric bikes then do let us know in the comments!