With Commuter Bikes, life becomes so much easy, and all of our daily activities become less tiring and hectic. Commuter Bikes come in many shapes and sizes, after all, the best ones can be used anywhere without any kind of problems. Let me give you a few examples of commuter bikes, Firstly, we can discuss folding bikes, which you can take anywhere with you, may it be a train or a bus. The Flat-Bar Hybrid Bikes are also amazing, they offer tons of customization options, then we have the pedal-assist e-bikes.
This pandemic has not been easy, many are working from home, and the majority of us have not been using public transport. That has led to the all-out usage of bikes for almost everything, from going to the office to getting errands and exploring the city.
Although things have been getting better, since a sense of normality is there again, we will be enjoying the rides with our commuter bikes, rather than having a feeling of loathing by using them. Since that is our goal, we have made this amazing guide for you, where we will be reviewing and discussing some of the best commuter bikes that you can get in the market right now!
Top 12 Commuter Bikes 2023
Here are some of the best commuter bikes that we tried ourselves, they have been approved by our quality assurance team and also customers. Within this guide are great cargo, folding, hybrid, and e-bikes that you will absolutely love. The fun thing about commuter bikes is that once you know your own criteria, choosing the perfect bike becomes so easy and hassle-free. We have not included mountain bikes or any kind of cyclocross bike as they won't fit here.
| Best Feature | Bike | Price ($) |
| --- | --- | --- |
| Best Overall | Vitus Mach 3 VRS | 1099.99 |
| Best Load Capacity | Tern GSD S10 | 5,699.00 |
| Best Design | Brompton Electric M2L | 3,499.00 |
| Best Construction | Specialized Sirrus X 3.0 | 1100 |
| Best Stopping Power | Orbea Gain F40 | 2,282.42 |
| Best Gearing System | Kona Dew Deluxe Urban Bike | Starting At 849 |
| Best Folding Technology | B'Twin Tilt 500 | 299 (On Promotion) |
| Best Decent Power | Creme Caferacer Man Doppio Bike | 999 |
| Best Accessories | Pendleton Somerby Hybrid Bike | 405.77 |
| Best Comfort | Bergamont Belami N7 | 757.71 |
| Best Versatility | Creme Vinyl UNO Bike | 542.86 |
| Best Fork | Cannondale Bad Boy 3 | '1250 |
Note: All prices mentioned are subject to change.
Also Read: Best Mountain Bikes Under $500
1. Vitus Mach 3 VRS- Editor's Choice
Price: MSRP $1099.99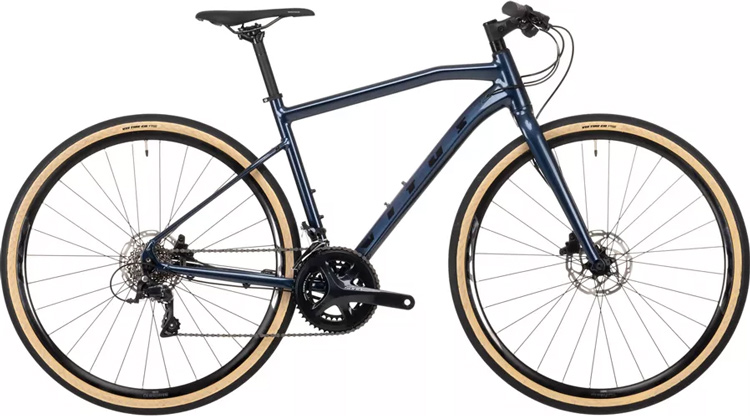 This amazing bike from Chain Reaction Cycles has been named the best bike for the "Urban Adventurer". All of this is for the right reasons so, this is a flat-bar road bike that offers exceptional performance. The Vitus Mach 3 VRS has dropped chainstays, so that means that you will always get to enjoy comfortable rides, even if the terrain is very rough. When it comes to commuter bikes, Vitus Mach 3 VRS is my top choice.
The Vitus Mach 3 VRS is fitted with 38mm Vee G-Sport skin wall tires, I love this feature the most because it ensures that the performance and traction are amazing no matter what. I also like the 6061 ATC Aluminum frame, strong but also very lightweight.
These features are proof of why I have placed this bike in the first spot. It has superior construction and will always offer an all-rounder performance. The frame of the bike is hydroformed, especially for sharp turns, it also offers efficient handling, you can even add the frame with panniers if you so want that.
There are mounts for water bottles and other accessories, even the frame of the bike has internal cable routing. The Vitus comes with a Shimano Sora 93000 9-Speed Drivetrain, all of this paired with the hydraulic stoppers, the bike easily becomes an unstoppable force.
Advantages
Strong and Lightweight Construction
Exceptional Stopping Power
Great Traction and Handling
Tons of Customization Options
Disadvantages
Editor's Choice: The Vitus Mach 3 VRS is a bike that will definitely empower you. It has strong construction and is packed with even awesome components. This is the ultimate bike for the Urban Adventurer and it will surely fill all of your needs.
---
2. Tern GSD S10
Price: MSRP $5,699.00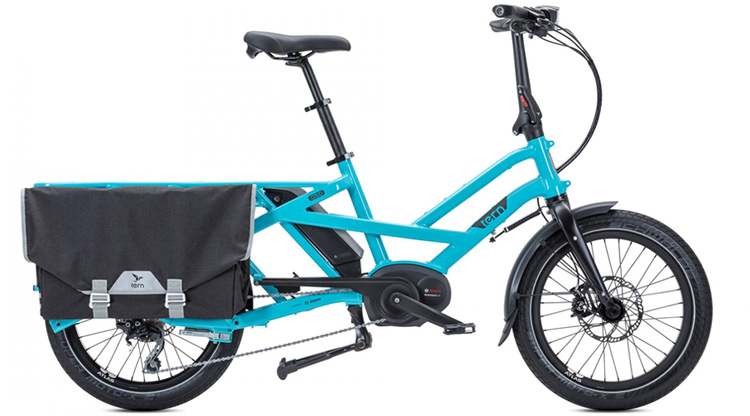 As we said commuter bikes can serve a variety of services, they also be amazing loaders, you can load up groceries or even people on them. One of the best commuter bikes for hauling cargo is the Tern GSD S10. Although many people mistake the Tern GSD S10 for a folding bike, it isn't, but the handlebars of the bike can be folded to make it small enough for storage, which also happens to be one of the best parts of the bike.
In my opinion, the Tern GSD S10 is like a mini truck, ask me why? The bike is installed with a Bosch Cargo Line motor and that too with 400% assisted support, gives you amazing power, like a truck for hauling cargo.
The amazingly strong construction of the Tern GSD S10 allows it to have a maximum carrying capacity of 200 kg which is just amazing. The low-slung aluminum frame does wonders here, the bike is strong enough to carry whatever you want, it also has a 400Wh battery, which results in a speed of 50-110 km.
If you want, you can always upgrade the battery to 900Wh which you can enjoy even more. Surprisingly, the bike uses stout tubing and boost hub spacing, also having 20-inch wheels, you will always feel that amazing performance.
In terms of drivetrain, Tern GSD uses a Shimano Deore Drivetrain 1*10. Don't worry, with this much power, you will easily be able to climb any hill. This bike is my second option only because of the price tag, it's quite expensive.
Advantages
Amazing Load Capacity
Great Climber
Powerful Battery
Perfect For Heavy Loads
Can Be Stored Without Problems
Disadvantages
Comes In Only One Size
Very Heavy
Why I Like It: I have always loved commuter bikes, the Tern GSD just has a special place in my heart. You can easily carry tons of stuff with this bike which feels like a truck. It even has a powerful motor that offers surprisingly decent performance.
---
3. Brompton Electric M2L
Price: MSRP $3,499.00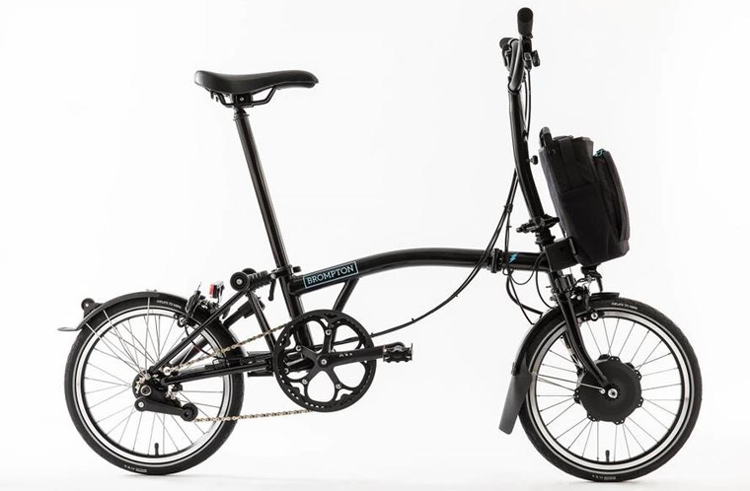 If you want amazing folding bikes then Brompton is the go-to brand for that. The Brompton Electric M2L is one of the best folding bikes that you can completely rely on, it also handles pretty well. We are reviewing the electric version of the Brompton M2L which we love very much.
Let's talk about the overall construction it has a 250-watt front-hub-based pedal-assist motor, and powering the bike up is then a 300Wh battery pack which you can remove and upgrade according to your leisure.
The maximum range that this bike can offer is 70km which I think is decent for an electric bike like this. All of the features of the Brompton MSL make it a versatile commuter bike that everyone will love and enjoy.
Advantages
Lightweight Design
Amazing Foldability
Vibration-Dampening Structure
Battery Is Fully Removable
Disadvantages
Doesn't Come With A Luggage Rack
Front-Wheel Drive System Hard To Control
Why I Like It: The Brompton Electric M2L is an amazing commuter bike that also happens to be a lightweight but versatile e-bike. It has amazing vibration-dampening prowess that I absolutely love, plus you can also upgrade the battery whenever you want.
---
4. Specialized Sirrus X 3.0
Price: MSRP $1100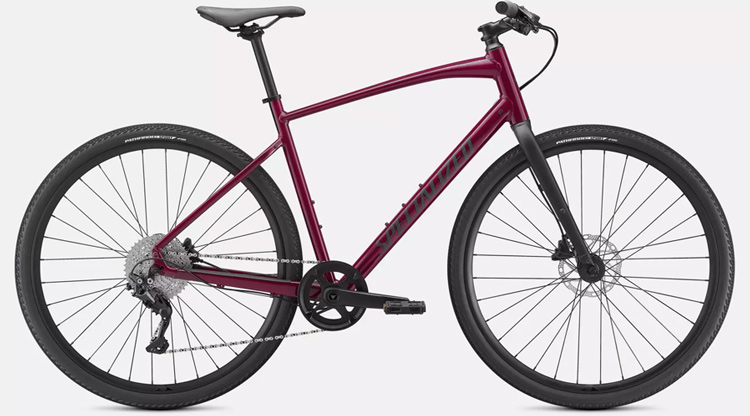 The Specialized Sirrus X 3.0 is one of the best commuter bikes that I have ever tried and tested fully. It even has decent body-touch geometry points. Sirrus X 3.0 is a lightweight hybrid bike that offers amazing value to its riders, made from a high-end A1 Aluminum frame, this bike is very capable.
Users of this bike will always have an upright position while riding, the dropped chain post and 27.2mm seat post provide amazing comfort. If you fancy riding on rough terrains then you will surely have no problems with the Sirrus, the 42mm tires of the bike do a pretty decent job of dampening all sorts of vibrations. You will always have the best kind of comfort while riding this bike, trust me!
The bike is going to offer decent power while riding hills and other types of terrain, this is all because of the MicroShift Advent 1*9 Drivetrain. The rear rack can be used to carry cargo but don't expect the bike to carry a lot of weight.
There is an 11-42T cassette that is going to help the users ascend every kind of grade, this bike is all about comfort and performance.
Advantages
High-End Aluminum Construction
Amazing Comfort
Hydraulic Stoppers
Gravel-Capable Tires
Disadvantages
The Frame Isn't Stiff Enough
Shifting Gears Feels Clunky Most Of The Time
Why I Like It: The Specialized Sirrus X 3.0 is one amazing commuter bike, it is built with a very strong aluminum frame. The Advent Drivetrain also gives decent power to the user, you will be able to climb any kind of hill with minimal effort.
---
5. Orbea Gain F40
Price: MSRP $2,282.42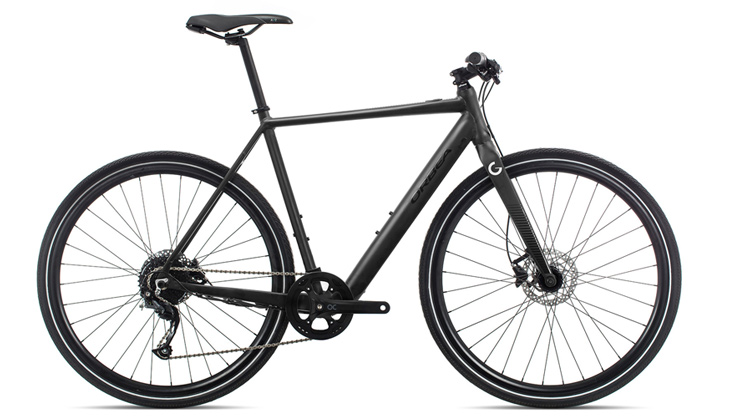 The Orbea Gain F40 is an amazing e-bike that doesn't even look like an e-bike, perhaps that is one of the best qualities of the bike. This bike fully uses the ebike motion drive system which results in amazing handling and traction, the bike's battery is actually concealed inside the frame, from the outside looks it looks like a normal bike, only the button on the top tube gives it away.
The most amazing feature that I came across while researching this bike was its level of immersion. It is amazing with the Orbea Gain F40, the bike's button uses the iWoc ONE interface, which means that whenever you turn on the bike, the level of charge will be shown alongside the level of assistance. The torque power offered is also decent enough, the rear-hub drive unit of the bike offers 40Nm torque.
The construction of the bike is pretty stiff, the bike's frame is made from Orbea 6000 series aluminum, the company's trademark. There is also a carbon fork at the fork that shreds down excessive weight while also promoting comfort.
The power offered by the Orbea Gain 40 is decent, there is a Shimano Altus Drivetrain 1*9 installed alongside hydraulic disc brakes, you would be enjoying an all-weather braking system.
Advantages
The Ebike Motion Drive System Works Wonders
Powerful Shimano Drivetrain
Exceptional Stopping Power
Disadvantages
Why I Like It: The Orbea Gain 40 is an amazing e-bike that doesn't even look like one, that is one of the main strengths of the bike. Users of the bike will definitely love the Ebike Motion Drive System, it offers amazing handling. Although there should have been an option for battery upgrades.
---
6. Kona Dew Deluxe Urban Bike
Price: Starting at $849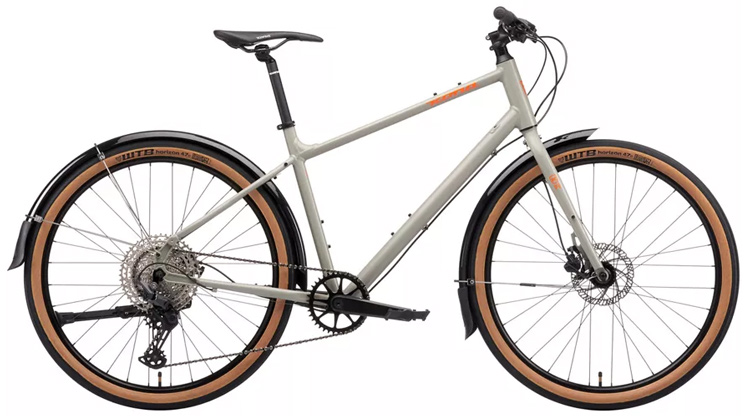 There are not many versatile commuter bikes that also happen to be very comfortable, although the Kona Dew Deluxe is a bike that definitely falls under that category. If you are the kind of person that does most of their traveling on bikes then this is the perfect option for you.
The Kona Dew is loaded with amazing features, first of all, we have the Sports 47mm WTB Horizon Comp tires, then the Shimano Deore Drivetrain 1*11. These tires are then fitted on 650b wheels, so expect amazing and comfortable roads even if the surface that you are riding on is uneven or rough.
The Shimano Deore Drivetrain 1*11 is paired with an 11-51T cassette and front 38T chainring, all of this results in amazing power for climbing up hills. The bike has a 6061 aluminum frame that also comes with several mounts for water bottles and other accessories.
Surprisingly, the Orbea Gain 40 comes with a rear kickstand, so even if you want to haul cargo on the bike then it will do wonders for you. This is a bike that you should definitely not miss.
Advantages
Powerful Wheels and Tires
Mudguards Equipped
Exceptional Stopping Power
Lots Of Mounts For Customization
Sizeable Gearing System
Disadvantages
Requires Alot Of Maintainance
Why I Like It: The Kona Dew Deluxe is an amazing bike if you are looking for a comfortable and versatile commuter. There are a lot of mounts for customization, the gearing system is very powerful. The bike just catches a lot of fust and grime during rides.
---
7. B'Twin Tilt 500
Price: MSRP $299 (On Promotion)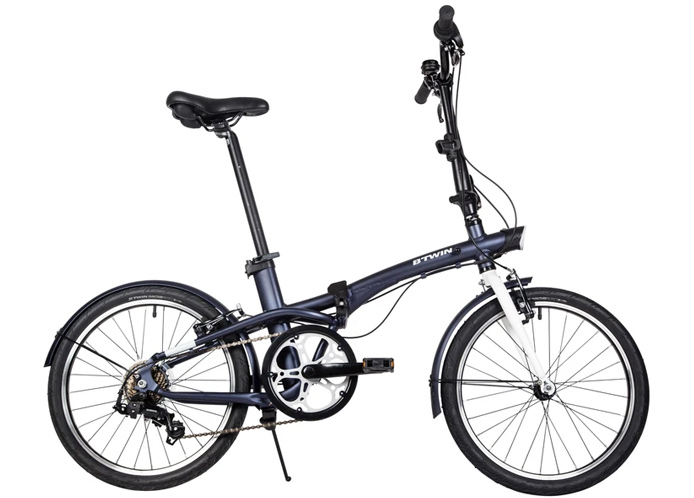 The B'TWIN TILT 500 is one of the best folding bikes to date, you can easily use it as a commuter bike. These B'TWIN bikes are packed with amazing features like adjustable saddle height and have the same unique folding system, but we just love their 500 model which also happens to be their best one yet.
If you are looking for a decent commuter I would definitely recommend you to consider this bike. However, just be careful because it is heavy to carry around most of the time. If you want more options in the B'TWIN series then I would suggest the electric version of this same bike, it is packed with even more features.
Advantages
Very Easy To Fold (And Quick!)
Amazing Value
Easy To Adjust
Disadvantages
Why I Like It: The B'TWIN TILT 500 Folding Bike is an amazing option, known for its handling, seat adjustment, and also as the name mentions foldability. The drivetrain is pretty decent, you have a good amount of power, I just felt that it was heavy to carry around with you.
---
8. Creme Caferacer Man Doppio Bike
Price: MSRP $999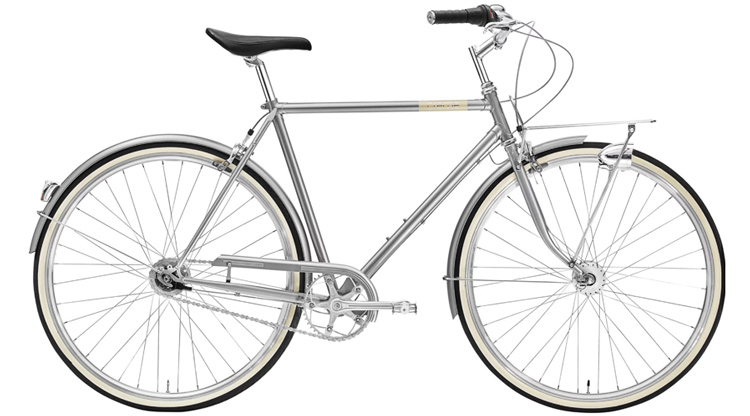 The Creme Caferacer has a standard double triangle design, which promotes stiffness, it is best for comfortable and relaxing rides, you can even use it as a beach cruiser. The lugged steel frame of the bike gives it a very classic look, this is one of those timeless classic bikes that you do not want to miss out on!
This may look like a single-speed bike although it isn't. Inside the rear hub of the Creme Caferacer is a Shimano Nexus Speed Drivetrain which gives decent power.
Advantages
Low Maintenance
Decent Power
Mudguards and Front Rack Installed
Has Dynamo Powered Lightning
Disadvantages
Why I Like It: The Creme Caferacer is an amazingly comfortable bike that you will love. It tricks people by giving the impression of a single-speed bike but it actually has a powerful Shimano Drivetrain installed. Getting it can be a problem though.
---
9. Pendleton Somerby Hybrid Bike
Price: MSRP $405.77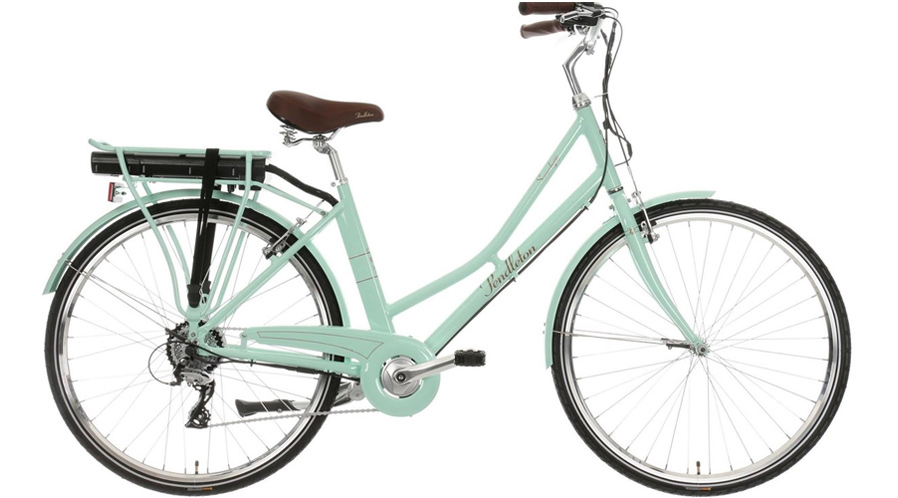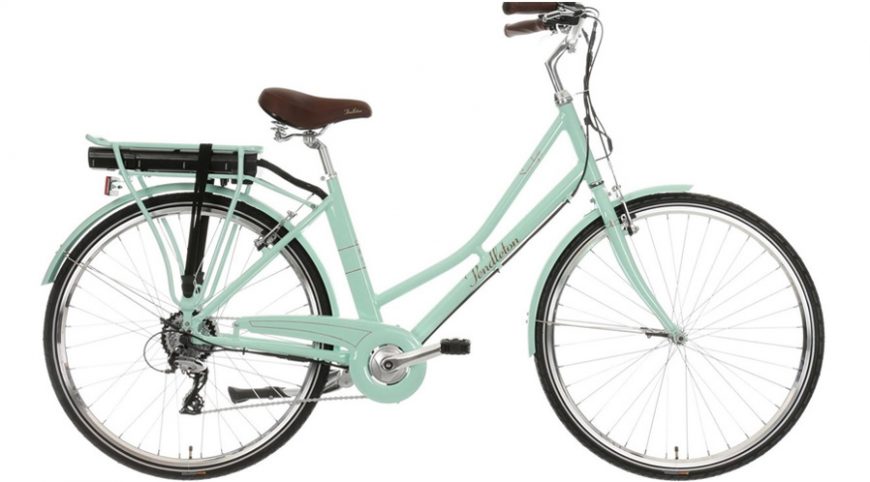 Timeless Classics never fade away, and the Pendleton Somerby Hybris is a testament to that statement. Installed with a 7-speed cassette and v-brakes, the performance offered by the Somerby is pretty decent.
Apart from the looks, the Pendleton Somerby bike gives comfortable and relaxing rides. It even comes with rear fenders and mudguards, to protect itself and the rider against the dirt and grime from the roads.
There is also a pannier rack installed on the bike, so if you were thinking of taking this beauty for grocery shopping, that would be a lovely idea.
Advantages
Classic Design
Racks and Mudguards Installed
Effective Stopping Power
Perfect For Short Tours
Disadvantages
Why I Like It: The Pendleton Somerby is a homage to timeless classic bikes. It has the looks of a single-speed bike but it isn't. This is a bike that you would thoroughly enjoy if you want to have a bike with amazing design but also great features.
---
10. Bergamont Belami N7
Price: MSRP $757.71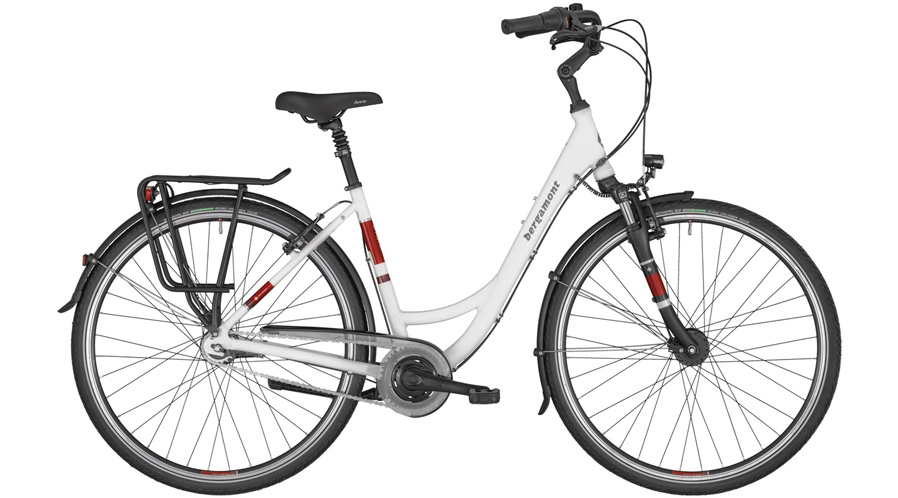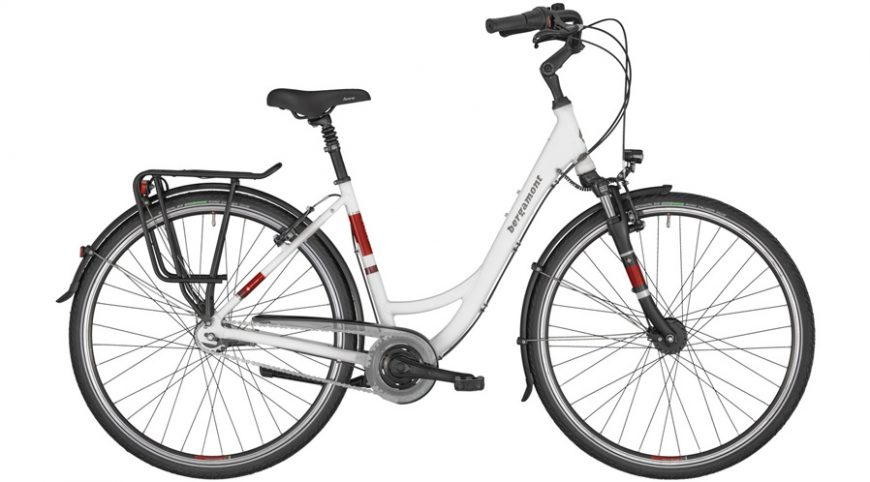 The Bergamont Belami N7 is another amazing comfortable commuter bike. Made from a lightweight aluminum frame, paired with a Suntour 40mm Suspension Fork, it is both lightweight and strong and also promotes amazing handling, especially when it comes to sharp turns.
The Belami N7 is extremely easy to use, and maintenance is also very easy. This is a bike that you can enjoy for decent tours around the city, and maybe even also go to the office with the Belami N7.
Advantages
Rack and Mudguards Installed
Amazing Comfort
Strong Construction
Disadvantages
Heavy To Carry Over Obstacles
Why I Like It: I always wanted a decent city bike and getting the Belami N7 was so much worth it. Even the suspension seat post of the bike adds a lot of comforts. Although do be careful carrying this bike around, it becomes really heavy, especially over obstacles.
---
11. Creme Vinyl UNO Bike
Price: MSRP $542.86
Are you looking for an amazing fast road bike? The Creme Vinyl Uno Bike is going to be the perfect choice for you then. Creme Cycles have been making amazing bikes for a while now and the Vinyl Uno is an amazing single-speed option from them.
The Creme Vinyl Uno Bike has a very strong steel frame which is paired with a steel fork. Although if you want to ride on hills with this bad boy then you would have to upgrade the bike with a bigger sprocket and longer chain.
Advantages
Simple Design
Amazing Versatility
Disadvantages
Stock Gearing Has A High Ratio
Why I Like It: The Dutch Brand has done it again with its Vinyl Uno Bike. It is a very fast commuter bike although if you want to use it as a mountain bike for riding on hills then you would have to upgrade it.
---
12. Cannondale Bad Boy 3
Price: MSRP $1250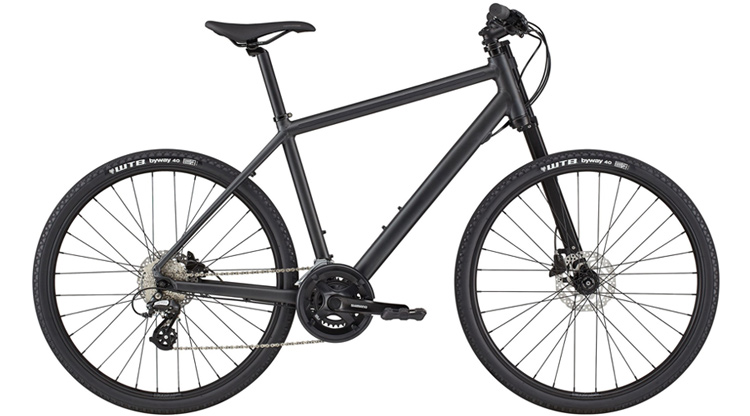 With the Cannondale Bad Boy 3, we are ending this amazing list of bikes, but that does not mean that this bike is inferior or something, it is one of the best commuter bikes available right now. If you want a bike for fast riding and exploring the city, then this is the perfect bike for you.
Available only in BBQ Black, it will steal your heart and everyone else's heart when in use. It has the brand's signature lefty fork that promotes amazing handling especially when it comes to sharp turns.
The Cannondale Bad Boy 3 is a bike that will easily blend in, thanks to its amazing construction and color. All of the components paired with the 650b wheels will provide faster speeds and long durability.
Advantages
BBQ Black Color Is Phenomenal
Rigid Signature Left Fork
Effective Stopping Power
Disadvantages
Why I Like It: The Cannondale Bad Boy 3 is a bike that you must definitely try out. It is made for fast rides and urban adventures. It will definitely bring out the wild side of the rider as it did with me, the color is amazing, although there should have been more design options.
---
How To Choose The Perfect Commuter Bike?
People are using Commuter Bikes every day, and they use them for a variety of reasons. Some use it for fun, while others use this bike to go to work, these bikes make our daily lives easier. Since there are a lot of commuter bikes in the fray these days, the main question arises: How To Choose The Perfect Commuter?
Well, here is all that you need to know before buying a commuter bike.
Know The Different Types
Commuter Bikes are of different types, we know, but here is how you can classify them very easily.
These are the different types of commuter bikes, only you can answer what kind of bike would you like to go for. As we discussed before, the best commuter bike for you will depend on what kind of surface will you be riding on, the distance traveled, and how will you carry the bike.
Set Your Preferences
You are obviously going to be riding these bikes for your daily commuting but do you like traditional commuters or do you prefer the electric models? Which bike suits your riding style the most? Do you like hybrid bikes or perhaps you prefer road bikes?
Maybe you want a bike to take with you on long tours or just try riding mountain bikes. All of these preferences and choices will help you narrow down the list of the options available and you will be able to make a smart decision.
Look For Important Features
Now that we have talked about different commuters, here are the main features that you should look out for when purchasing a commuter bike.
Disc Brakes
Disc Brakes offer exceptional stopping power.
Chainguard
If you want to ride the bike with your street clothes then having a chainguard on the bike is recommended for protection.
Fenders and Mudguards
These are also very necessary for the protection of the bike and the rider, they cut out incoming grit.
Gears
These are necessary if you plan on riding on hills.
Pannier Racks
If you want to shred the weight off the bike then get pannier racks.
Wide Tires
They offer amazing traction and stability.
Hub Gears
Necessary for keeping the cogs inside the hub.
Having a commuter bike with all the necessary features will definitely make all the difference. These are all the main features that your commuter bike should have, you can also install them according to your preferences.
How Do We Choose Commuter Bikes- Our Methodology
Riding Bikes is a passion and it does not matter if you were into cycling Pre-COVID era or you want to try it out now. We have compiled some of the best commuter bikes that you will absolutely love. You must believe that the best commuter bike for you will depend on what kind of commute you are aiming for, the duration of it, your destination, and what kind of surfaces will you be encountering.
I have spent hours searching the internet scouring the reviews to come up with an honest and unbiased review to help you make a decision. I have even tried some of the bikes on the list and even personally owned the editor's choice. Rest assured, this review is based on extensive expertise and professional knowledge.
Just know this, everyone has different types of needs, so the perfect bike for you will be useless to someone else. We will discuss how to choose the perfect commuter bike and what makes a perfect commuter bike later on in the guide so stay tuned!
FAQs
What Is A Commuter Bike?
A commuter bike can be any bike given the fact that you use it for daily commuting. It can be a hybrid bike, road bike, or mountain bike. Whatever kind of bike you are going to use for your daily commuting is going to be considered a commuter bike.
Can I Use A Road Bike For Commuting?
Road bikes are great for commuting considering that you have to ride over a smooth terrain. If your daily commuting track consists of gravel or rocky patches, I would recommend you not to choose a road bike for commuting. Then a mountain or a gravel bike can be a better option.
Recap
Commuter Bikes are amazing and having them has become a necessity now. They come in different shapes and sizes, you can use them in the shape of e-bikes or even fast road bikes, it all depends on you.
The Best Commuter Bike from the list is definitely the Vitus Mach 3 VRS. It has all the necessary features and components for exceptional performance.
In the guide, we discussed different commuter bikes and also the necessary information that will ease your purchase. If you have any questions then do reach out to us in the comments below!