Cycling is very necessary, people use it for recreational and healthy purposes but that too is a costly endeavor. Nowadays, if you want to go for an amazing bike then you have to pay at least thousands of bucks. People, however, are not willing to pay that much amount of money if they are just starting out or just want a decent enough bike.
With that being said, even the top companies are also focusing on producing great budget bikes that aren't just cool but also affordable so that everyone can enjoy them. That is some great news, right? Now even if you don't have that much budget you would still be able to enjoy those amazing road bike trips with these 10 Best Road Bikes Under $500.
Although going to the local bike shop, roaming here and there can be a bit of a grind, eh? That is why we have made this amazing guide for you where you will find some of the best budget road bikes under $500.
10 Best Road Bikes Ranked
| Best Feature | Bike | Price ($) |
| --- | --- | --- |
| Best Overall | Schwinn Volare 1400 Road Bike | 370 |
| Best Reliability | Merax Finiss 700C Road Racing Bike | 389.99 |
| Best All Terrain Performance | Giordano Libero Acciao Road Bike | 408.87 |
| Best built | HASA R4 Road Bike Shimano 2400 | 300 |
| Best adjustability | Giordano Libero Women's 1.6 | 350 |
| Best flexibility | Vilano R2 Commuter Road Bike | 299.00 |
| Best Handling | Gravity Ave A Road Bike | 299.95 |
| Best Braking | Challenge Dynamic CLR 0.2 | 480 |
| Best All-Rounder | Vilano Shadow 3.0 Road Bike | 430 |
| Best Durability | Vitus Razor | 440 |
Note: All prices mentioned are subject to change.
These are some of the best road bikes under 500 dollars (At the time of publishing). The bikes have been categorized differently so you will find a lot of variety. Let's get started!
1. Schwinn Volare 1400 Road Bike
Price: MSRP $370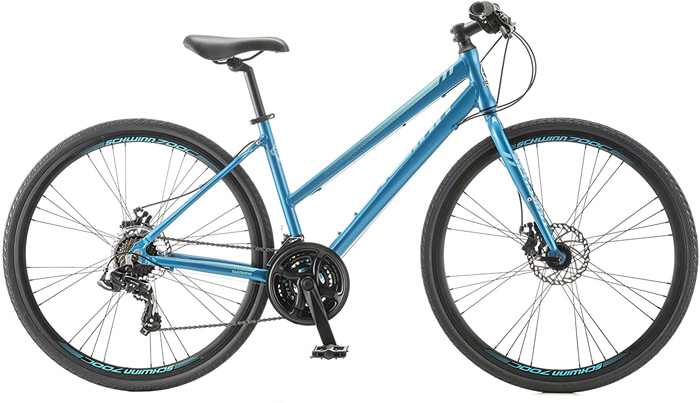 The Schwinn Volare is the top one on our list of best road bikes under 500 and there are plenty of good reasons to support that. I would say that this bike perfectly combines performance and safety, the credit goes to construction as well. Even if you are riding on the most uneven of terrains, the steel suspension of the bike is going to keep you safe!
The team and I were amazed by the level of strength this bike has, if you come into a collision with something, the bike is going to keep you safe without even sacrificing the performance. Some of its most liked features are the strong aluminum frame, Shimano 14-speed shifter, adjustable and comfortable seat, and double-walled rims.
Schwinn is the master of producing amazing bikes that aren't just strong but also perform amazingly well. You would be amazed to see how well the Volare is able to absorb collisions and vibrations.
The oversized road tires of the bike make sure that you get amazing speed while ensuring the perfect handling. Shimano 14-speed drivetrain lets you change speeds on the go without any kind of interval, and with the shifters, you get amazing stopping power as well.
While riding the Volare you would always have an upright position because of the ergonomically placed handlebars and seat.
Last summer, I went out on a cross-country road trip with my Schwinn Volare. It has such a responsive suspension that even on rugged terrains, I could hardly feel a bump. I was really impressed by its suspension. Throughout my trip, the bike maintained an excellent performance which is why this is my top suggestion for anyone looking for an affordable road bike.
Advantages
Simple Assembly
14 Speeds
Affordable
User-Friendly Shifter
Quick Release Tires
Disadvantages
Brakes Require Fine Tunning
Bad Quality Tires
Editor's Choice: Schwinn's products are some of the best in the market and you cannot go wrong with any of them. How they offer performance and take the bike to another level is just unmatched. Even being a budget bike, the Volare is amazing in both performance and features!
---
2. Merax Finiss 700C Road Racing Bike
Price: MSRP $389.99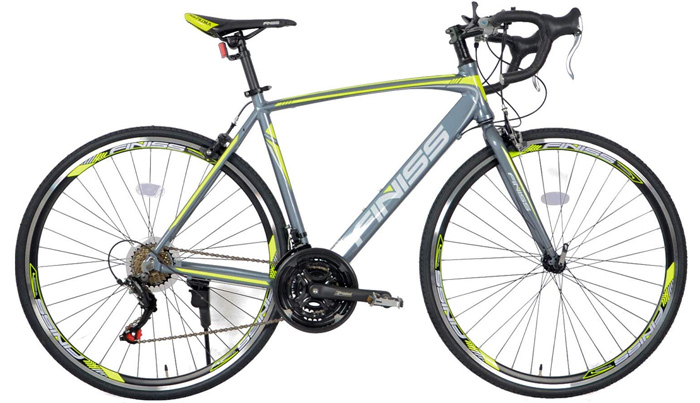 Ah, the time for racing bikes has come and we would be discussing the Merax Finiss 700C for that very reason. If you are looking to participate in professional races or just have a great exercise session then the Merax Finiss 700C is the bike for you, it just excels on every platform.
Do not be mistaken by the price tag, the Merax Finiss is still a great quality bike that performs exceedingly well. It is extremely lightweight and handles like a charm thanks to the aluminum frame.
The frame just doesn't let the bike handle well or offer great speed, it makes sure that the bike remains the same in all kinds of terrain, even if it is harsh terrain. Did I mention that you can also adjust your seat on the fly?
The high-quality Shimano shifters and derailleurs are there to offer a smooth transition of speed and gears. If you want to focus on speed then you can easily do that by adjusting the speed levels. The Alloy-caliper breaks to make sure that have absolute stopping power.
Advantages
Available In Different Sizes
Amazing 6061 Double Butted Aluminum Frame
Shimano 14-Speed Shifters
Disadvantages
Unaligned High Gear
Fragile Handle Wraps
Why I Like It: The Merax Finiss is a reliable road companion, it offers great performance and quality. One of the main aspects that I love about this bike is the ability to remain consistent on any kind of terrain, you do not see any kind of fluctuation.
---
3. Giordano Libero Acciao Road Bike
Price: MSRP $408.87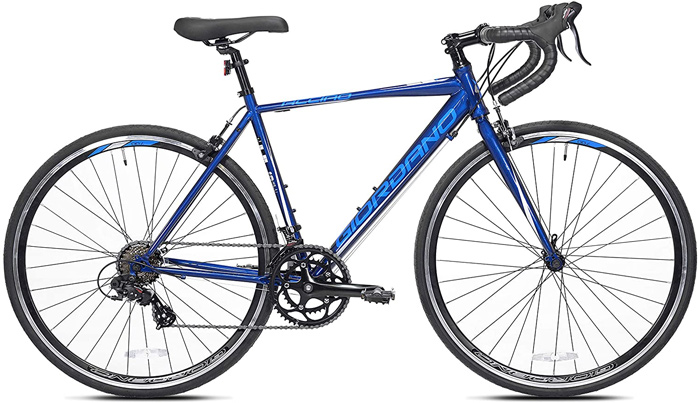 You find a really good bike but it doesn't fit you, it's a bummer right? That is why we have the Giordano Libero Acciao for you, this IS the best road bike under $500, and guess what? It comes in a variety of sizes and colors so that everyone gets to enjoy this bike
It does not matter if you are a small-sized rider or a large one, this bike is made for you! The frame of this bike is made from steel and let me tell you, it is quite resilient.
As an avid cyclist, I can confirm that nothing comes closer to the Giordano Libero Acciao. Its vibrant colors caught my eye and after intense research on it and asking my fellow riders who have tried this bike, I can say that you will definitely feel that instant surge of confidence on this bike. It navigates effortlessly while the Shimano Claris shifters facilitate smooth gear changing.
You won't be needing another bike for a while, thanks to the frame and fork of this one! Performance and safety are equally measured, consider yourself extremely safe from collisions and vibrations. No matter what kind of terrain you are riding the bike on, you can be carefree and maintain any level of speed.
May it be gravel or smooth road, with the Road Clincher Tires, you would be enjoying that same level of amazing performance. Plus, the Shimano 14-Speed Drivetrain makes things quite easy for the rider when it comes to changing speeds and gears.
Advantages
Available In Different Shapes and Colors
Shimano 14-Speed Drivetrain
Amazing High-Tensile Steel Frame
Disadvantages
Heavy
Missing Components Upon Shipping
Why I Like It: Sizing is a very important factor when it comes to any type of bike, you just want that perfect fit. Not just it offers varying sizes but it also offers top performance at an amazing price. If you are looking for flexible performance then do go for this bike!
---
4. HASA R4 Road Bike Shimano 2400
Price: MSRP $300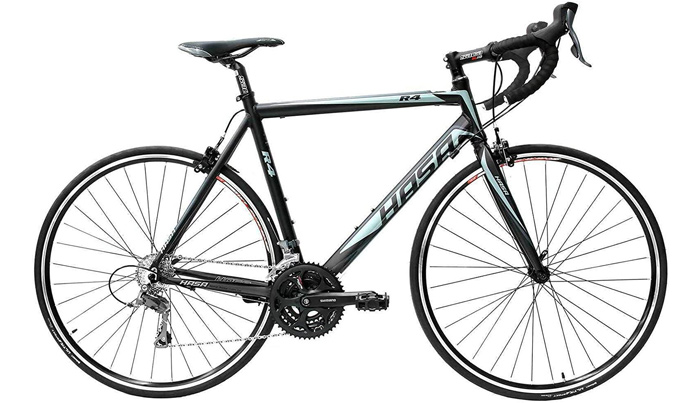 The HASA R4 is one of the best entry-level road bikes out there, you can get it for an affordable price. This amazing, best road bike under $500 may be entry-level but it is still packed with amazing features and requires little to no maintenance. It does not matter if you want to use the HASA R4 for workouts or just casual use, it will perform just as amazing.
Equipped with the Shimano 24-speed shifters, you can mount any hill and ride easily on any kind of terrain. Shifting also becomes very easy, you won't have to face any kind of problem at all.
If you are planning to exercise on the go then you can easily put the bike on resistance mode, this will ensure that you have a great workout. The Shimano Brakes make sure that you are always in control of the bike and absolute stopping power is provided.
When I first came across the HASA R4, I was a little skeptical of its status. However, the bike did prove me wrong. This is an amazing beginner road bike that you can start your cycling journey with. Although it is constructed with a lightweight frame, this is a strong bike and can withstand a lot of abuse and collisions. Lightweight equals speed and this bike can be used by a lot of people!
Advantages
Lightweight Aluminum Frame
Shimano ST-2400 Shifters
Shimano ST-2400 Brakes
Available in Different Frame Sizes/Colors
Disadvantages
Why I Like It: The HASA R4 once again proves that you don't need to break the bank in order to get an amazing road bike, instead, you just need to be smart. Components and features make or break a bike and the R4 is equipped with some of the best components in the market. It is also available in different frame sizes so it can be enjoyed by everyone!
---
5. Giordano Libero Women's 1.6
Price: MSRP $350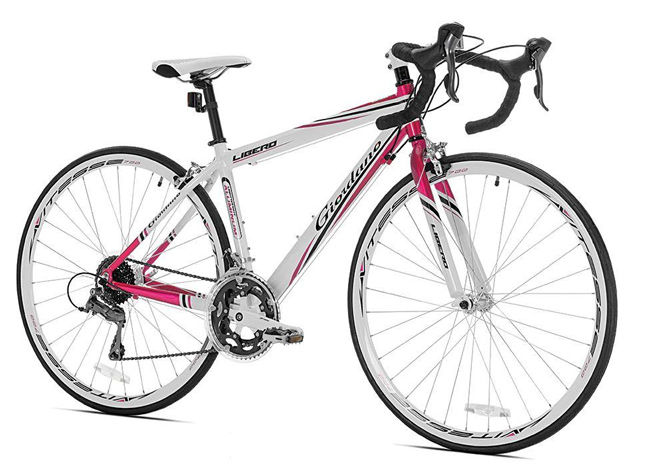 The Giordano Libero Women's 1.6 might be cheap and you may think that the quality isn't that good but the value that it gives is unmatched. There are not many dedicated women's bikes, may it be mountain bikes or road bikes, but with the Libero, things get better.
The bike isn't just fitted with amazing features but also vibrant colors, all packed in for one amazing price. The more you will use it, the more you will get attached to it and that there is a promise.
The frame size of this bike is light and is fully adjusted for women, they can ride it for hours and not get tired from it. The Bike's geometry is also very impressive, because of the slacker tube and top short tube, the rider will always maintain an upright position while riding the bike.
It does not matter if you are a beginner or a veteran, the Giordano Libero bike is going to exceed your expectations that you might have from the best road bike under $500. The Braking system of the bike is exceptional, may it be slippery roads or descending a terrain, you'll always have the top stopping power. After all, the mechanical disc brakes are known for their amazing performance.
Advantages
Available In Different Sizes/Colors
Kenda K196 700x26c Tires
Shimano Claris STI Drivetrain and Shifters
Lightweight 6061 Aluminum Frame
Specially Designed For Women
Disadvantages
Uncomfortable Saddle
Requires Adjustments
Weak Brake Force
Why I Like It: An amazing road bike built and dedicated for women from the ground up? Sign me up! It is great to see Giordano Libero come up with amazing bikes, may it be for men or women and the Libero Women's 1.6 is an amazing bike, to begin with. From the Aluminum frame to the Shimano Claris shifters, everything is just amazing!
---
6. Vilano R2 Commuter Road Bike
Price: MSRP $299.00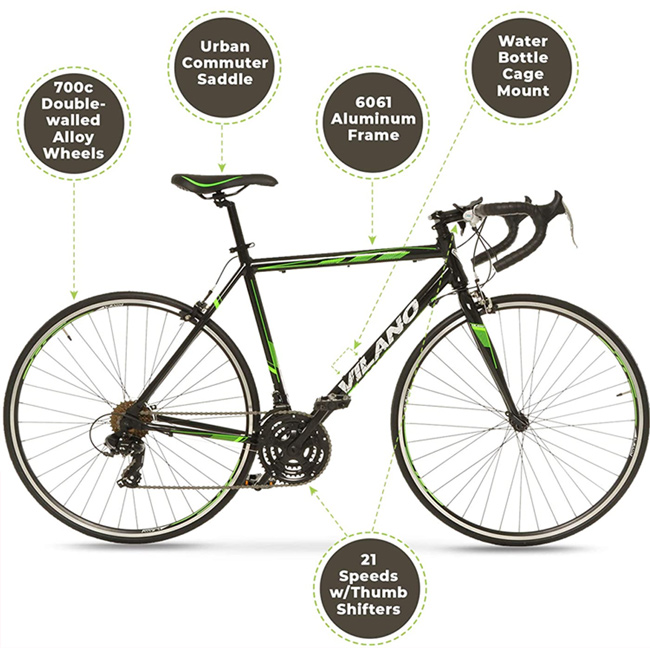 Sometimes you don't get enough value for the cost you pay, that happens a lot when it comes to bikes. With the Vilano R2 Commuter Road Bike, you will never have to worry about that because it just gives you the best possible value!
The Vilano R2 is your perfect choice if you want an amazing bike for work, school/college, or just leisure. It may look simple and have a traditional design but that doesn't mean that it isn't amazing.
The basic design of the bike is quite unique, it is in black while giving a traditional look but loaded with the most amazing features. The frame size is available in different sizes so that it accommodates people of different sizes plus both men and women.
The bike is extremely lightweight so it actually is flexible and can be handled very easily, plus, there are many customization options as well. Gear selection with the Vilano R2 is amazing, even if you want to climb any kind of hill, you would be able to do so without a sweat.
Advantages
Shimano 21-Speed Groupset
Unisex Bike
Strong Aluminum Frame
Comes In Different Color Schemes
Disadvantages
Uncomfortable
Poorly Positioned Handlebars
Cheap Gear Shifters
Why I Like It: The Vilano R2 Commuter bike is a no-nonsense bike, it gives you amazing value and delivers top-notch performance. On top of that, it is a unisex bike, and both men and women can enjoy it equally. I thought that it was going to be a simple bike but it actually blew all of my expectations.
---
7. Gravity Ave A Road Bike
Price: MSRP $299.95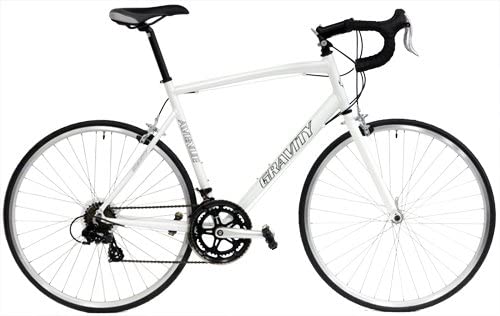 The Gravity Ave A Road Bike manages to give you amazing performance even on a very tight budget, it is built around a lightweight aluminum frame that maximizes handling. The AVE A features a very aerodynamic design and because of the semi-compact frame geometry, the rider is always going to have an upright position.
The overall design of the bike is made to ensure that riders of all shapes and sizes are able to enjoy the best out of their bikes.
You would be able to enjoy wide-gearing with this bike, and with the Shimano 14-Speed drivetrain conquering all sorts of terrains without any kind of problems. The gears of the bike are very uniquely placed and stem-mounted so you would also be able to enjoy amazing comfort.
With the powerful all-weather brakes, the AVE A becomes a force to be reckoned with, it just doesn't get any better with this.
Advantages
Shimano 14-Speed Drivetrain
Strong and Lightweight Aluminum Frame
Powerful All-Weather Disc Brakes
Disadvantages
Why I Like It: The Gravity AVE A bike has been on my mind for a very long time, I have wanted to try it since the moment it was announced. With all those amazing features and the price tag, it almost seems unreal. From the Shimano drivetrain to the powerful disc brakes, you would be enjoying the bike a lot!
---
8. Challenge Dynamic CLR 0.2
Price: MSRP $480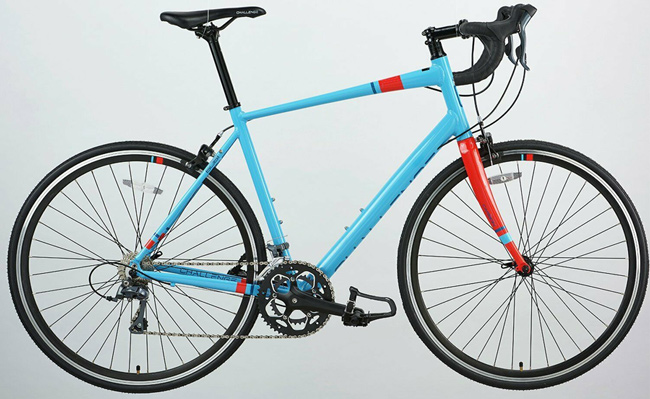 You might have heard of Argos if you came looking for the best road bike under $500, thanks to their technicians, they have upped their game more than ever and have introduced the Challenge Dynamic CLR 0.2. Argos consulted some of the best journalists and technicians and have launched their new line, based on the feedback let me tell you this- IT IS AMAZING!
The moment you lay your eyes on this masterpiece from Argos, it is going to fill you with euphoria.
Be ready for the strong caliper brakes putting a stop to those double-wall aluminum wheels and look stylish while doing it. The Shimano Claris Groupset also works wonders with the bike, you can easily mount any kind of hill without problems.
Durability is the main priority here and that is a good thing, with budget bikes, all you want from them is to perform well and for a very long time. This is going to be a very good addition to your collection of amazing road bikes!
Advantages
Lightweight Bike
Strong Carbon Fork
Shimano Claris Groupset
Disadvantages
Why I Like It: Argos is an amazing brand, its products are extremely good and you are going to love their performance. With that being said, I was immediately sold on their Challenge Dynamic CLR 0.2, which just ticks the whole list for me. I love that they have focused their attention on durability than performance.
---
9. Vilano Shadow 3.0 Road Bike
Price: MSRP $430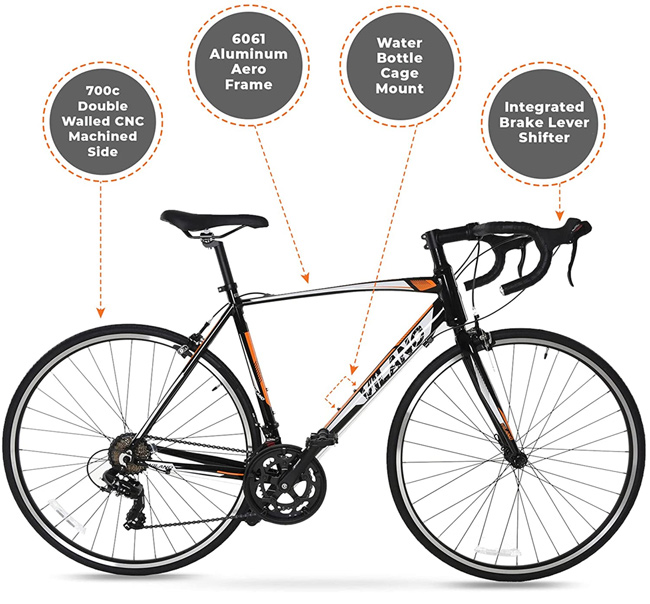 Another great bike in the list of best road bikes under $500 is The Vilano Shadow 3.0, which isn't your ordinary bike and you are going to be blown away by its performance and features. With the price tag, many of you would be thinking that this is just one of those budget bikes but its quality is actually on par with the premium bikes.
The Shadow 3.0 might be one of the best all-rounder bikes out there. The Aluminum frame of the bike isn't just for show-off, it actually protects the bike against all sorts of collisions and vibrations, so even if you are riding on a bumpy road, there won't be any need to stress out!
The Shimano 14-Speed gear set offers good performance as it is but it can be upgraded even more if you want that. The bike comes 90% assembled so there is no need to stress over that, plus you get free pedals in the package.
Advantages
Strong Aluminum Butted Frame
STI Shimano Shifters
Shimano 14-Speed Gear Set
Available in Different Colors
Disadvantages
Bad Quality Wheels
Difficult Shifting
Why I Like It: People look for all-rounder bikes at the wrong places most of the time, the Vilano Shadow 3.0 proves that you can get an amazing bike without breaking the bank. It is just that simple, all of your rides are going to be stress-free thanks to the amazing frame. Plus, the shifters and gear set enhance the power of the bike to new levels!!
---
10. Vitus Razor
Price: MSRP $440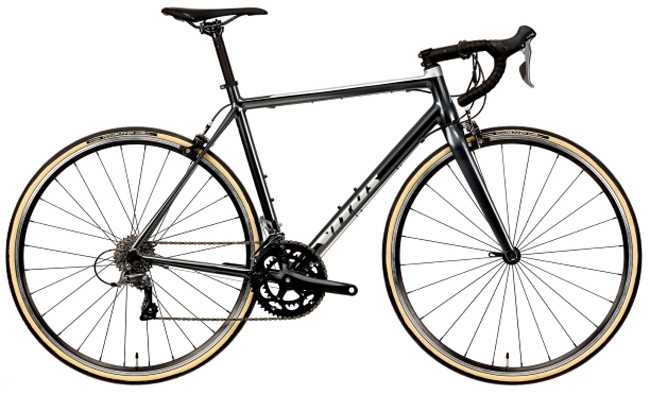 The Vitus Razor is one of the best road bikes under $500 to have ever graced us, ever! Yes, it is not that cheap but there are deals on it from time to time, and I advise that you should get it as soon as you can. This is an affordable bike but with amazing features, you will certainly not be disappointed.
Built upon a lightweight but durable aluminum frame, the bike can perform wonders if handled well and accordingly.
I find this bike to be amazing not only with its performance but also its durability. If you are planning to use the razor for higher climbs you can certainly do that without any kind of problems.
Razor's geometry is all about that mixture between performance and comfort so I think that you are going to love it.
Advantages
Lightweight 6061 Aluminum Frame
Strong Carbon Fork
Shimano Claris 8-Speed Groupset
Tektro Brakes
Jalco Wheels
Disadvantages
Difficult Climbing
Underperforming Brakes
Uncomfortable Saadles
Why I Like It: From the Aluminum frame to the Jalco wheels, this bike oozes quality all over. It may offer good performance but the comfort that it gives you is just unmatchable. Generosity is that they have managed to make an amazing road warrior with those carbon forks!
---
How To Choose The Perfect Road Bike?
The world of biking starts with road bikes, they are the means to enjoyment, exercise, and adventures. Road Bikes allow you to move here and there without any kind of worries, you meet new people along the way and life gets slower than a raging automobile, it is all for the good though!
Now reading that would have you excited, even that much that you would want to go ahead and shop for a road bike but we encourage you to wait and plan out everything ahead. Getting a road bike is easy but getting the best one, especially for you is going to be really tricky.
Research is going to be a game-changer here, you need to know what makes or breaks a bike, and in order to get a really good road bike, what things are there that you need to focus on? So let us get started!
Frame Geometry Are Different And They Matter
You may be thinking that all bikes look the same and that is true to some extent but many of them differ. One road bike is very different from the other one. Each one of them has a different frame geometry that makes them unique, and if you figure that out then you would be able to understand almost 90% of their structure.
Most of the road bikes that you are going to come across will have sports geometry, this is best suited for those bikes that will be used 3-4 times a week, stretching up to almost 150 miles/week. These are recommended for casual users.
After that, there come road bikes with race/performance geometry. These are for the professional/competitive riders, they enhance their skills while asking the riders to be more flexible with themselves. These professional bikes are going to be lighter, have a strong frame, premium components, and an expensive price tag.
Look Out For The Materials
Now that frame construction is over and done with, you need to pay attention to the various frame materials. Bike frames usually come in two different forms and they are:
Carbon Fiber Frames are adept at providing comfortable and vibration-free rides. Comparatively, they are expensive because a lot of labor-intensive work is needed to construct them. They are the preferred choice of professional riders.
Aluminum frames also provide a good and comfortable experience but are way less expensive. They can be customized even more so to enhance the experience.
If you want to enjoy the best out of your bike and for professional purposes then it would be suggested that you go for carbon fiber frames. Although if you want the bike for casual and fun purposes then an aluminum frame would be more than good enough!
Other Key Components To Look Out For!
Apart from the frame and the geometry, there are other key components to look out for, choosing the right components for your bike greatly affects the performance.
Groupsets and Drivetrains
Let's start with Groupsets, they are a set of matching components provided by different component manufacturers for bikes. If a bike comes packed with a groupset, then they are going to have a stylish, and consistent look/design as compared to the bikes that don't come with these types of groupsets. This shows the utmost quality of a bike and the top-renowned suppliers of Drivetrains/Groupsets are SRAM and Shimano.
Wheels
Wheels are one of the most important components to consider because they directly affect the performance of the bike, they are the ones between the road and their quality will certainly go a long way. Wheels affect the following:
The overall weight of the bike
Acceleration and how well it handles
Resistance against the wind
The thing with wheels is that they are pre-built with the bike and you don't get to choose them except that your bike is custom-built. Although you can always customize your bike when you have already gotten it, upgrading goes a very long way.
Gears and Cranksets Are Crucial
Gears are an important part of road bikes, they go hand-in-hand. The component that makes the pedal rotate the rear wheel is called a crankset and that is where we will start. Many of the road bikes are coming with different types of cranksets, things start with double and then go to compact.
Double/Compact Cranksets have two chainrings and 20 gears in total. They also come with a 10-speed cassette, and having few gears gives them various benefits.
Triple Cranksets have 3 chainrings and 27 gears in total. They also come with a 9-speed cassette, providing this many gears to the rider comes with its own set of benefits.
You can always upgrade or customize whichever crankset you get with your bike, everyone has their own preference after all. Other than that, if you are a beginner and are just starting out with the bikes then a triple or compact crankset would be the best one for you, if you are a professional then you should go with a double crankset.
Choose Your Pedals!
You may be thinking that what are the pedals going to do and they come built with your bikes, well things have changed a bit! The basic bikes come with normal pedals that have toe cages but then there are the higher-end/premium models that come without pedals. This is because the company thinks that for a better and more personalized experience, you would choose the pedals yourself!
You can actually choose the pedals that go perfectly with your cycling shoes, after that just see that your performance gets better!
Brakes and Shifters
One would think that the brakes and shifters of a bike are different components, that was true at some point but with the newer models, these two components have become integrated.
Different bikes and different brands offer unique experiences and you must try them out before finalizing a choice. Both SRAM and Shimano have amazing shifters and brake sets, choose the one that suits you the most! The most important thing that you need to consider is that you have a good grip on the bike.
Choose The Right Size!
Now, this can't be emphasized enough, you need to choose the perfect bike size/frame for yourself. There are typically 6 sizes to choose from that go from extra small to extra large but some customizations can also be made. You need to choose the right bike in accordance with your body's geometry. Don't go for sizes that are too small or too large for you as that will only come between handling.
How We Choose Best Road Bikes Under $500 – Our Methodology
As an avid enthusiast of road bikes, I understand the challenge of finding a high-quality bike that fits within a budget. That's why I've dedicated countless hours to researching and analyzing the best entry-level road bikes for adults on the market. I've scoured the web for honest reviews and feedback from verified customers, and I've even tested some of the top contenders myself, including the editor's choice.
Using my extensive knowledge of bike components and their strengths and weaknesses, I've narrowed down the top options that offer the best value for your money. So whether you're a beginner looking to get into the road biking scene or an experienced rider seeking an affordable upgrade, you can trust that these bikes have been thoroughly vetted and carefully selected.
Without compromising on quality or performance, these bikes offer features such as excellent maneuverability, top-notch suspension, and a durable design, all at a price point that won't break the bank. So if you're ready to enjoy the ride of your life, these are some of the road bikes that you must consider.
FAQs
What is the best road bike for under 500?
The best road bike for under $500 is the Schwinn Volare 1400 Road Bike according to our experts. It is an amazing bike that provides the best kind of adventure and is perfect for the ultimate road warrior. With its exceptional construction and features, there is nothing like it in this price range. It is a great budget bike that is available for everyone and offers the perfect combination of affordability and quality.
How long will a road bike under $500 last?
A road bike under $500 can last for several years with proper maintenance, but the lifespan can vary depending on the quality of components and the amount of use it receives.
Are expensive road bikes better?
No, not necessarily. Expensive road bikes may have higher quality components and better performance, but a more affordable road bike can still be a great choice for casual riders or those on a budget.
What are the best road bike brands?
Some of the top road bike brands, according to icebike.org, include:
Trek
Specialized
Giant
Cannondale
Pinarello
Colnago
Bianchi
Scott
Felt
De Rosa
These brands are known for their high-quality road bikes and innovative designs. They offer a wide range of options for riders of all skill levels, from entry-level bikes to professional-grade models. Whether you're a casual rider or a serious competitor, these brands have a road bike to meet your needs. Here are best 50 road bike brands.
How much is a cheap road bike?
A cheap road bike can cost anywhere from $200 to $500, depending on the brand, quality of components, and features included.
Read also:
Recap
Road bikes are amazing and getting one at an amazing price is even more awesome! These bikes provide the best kind of adventure. The best one from the list is Schwinn Volare 1400 Road Bike, from the construction to the features, there is nothing like it. For the ultimate road warrior fun, you have to try out this bike!
Although the price of these bikes has hit skyrocketed in the past couple of years, that is why companies have shifted their focus on making great budget bikes that are available for everyone. They may be cheap road bikes but they fall short of nothing when it comes to performance. Happy Biking!