Since its radical invention, Cycling has been changing our lives always for the better and sometimes for the worse. It is an amazing sport, dramatic but relaxing, and also a democratic form of transport that we love. If you are thinking of getting into cycling, just know that it will be expensive to get a decent bike for yourself!
Bikes that are very fast and offer a comfortable ride don't come cheap, that much is certain but that DOES NOT mean that great manufacturers don't make bikes for beginner riders, in fact, that is one of their priorities. That is the main reason we have made this amazing and competitive guide for you, here we have selected some of the best entry-level road bike(s) to ever exist, and that too at amazing prices.
When it comes to road bikes, there is a common misconception, the more you spend on them, the faster you will go, this works for some but not most of the road bikes. You can still get a decent road bike without ever breaking your vault. Well, if you do like to spend a lot on road bikes then you can always opt for aerodynamic bikes that are fast like the wind, aerodynamic helmets, and even their helmets, but then again, we are here for the cheap but sustainable options.
With road bikes, everything falls down to how hard you can turn those pedals, and how much speed you can attain by doing so. This guide will solely focus on the greatest budget road bikes that you can get right now and what kind of attributes should road bikes have that make them a great purchase. I am an avid rider of mountain bikes but every now and then, I like to hop on my road bike and enjoy the view.
With all that out of the way, let's get started!
Top 12 Entry-Level Road Bikes Reviewed 2023
| Best Feature | Bike | Price ($) |
| --- | --- | --- |
| Best Overall | Trek Domane AL 2 | 1,129.99 |
| Best Performance | Giant Contend 1 | 950 |
| Best For Women | Liv Avail AR 4 | 1,100 |
| Best Endurance-Geometry | Specialized Allez | 1,000 |
| Best Versatility | Fuji Sportif 2.3 | 999 |
| Best Built | Diamondback Haanjo 2 | 925 |
| Best Value | Boardman SLR 8.9 | 1,508.63 |
| Best Customization | Brilliant L Train Road Bike | 7,50 |
| Best Value (Women's Road Bike) | Canyon Endurace WMN AL 7.0 | 1,899 |
| Best Stopping Power | Triban Cycling Touring RC 500 | 1,130.22 |
| Special Touchpoints | Cube Axial WS 2021 WOMEN'S ROAD BIKE | 790.77 |
| Best Design | SAVADECK Warwinds 3 | 1,299.00 |
Note: All prices mentioned are subject to change
Road Bikes are fast, actually the fastest in all the categories, especially when compared to mountain bikes. They have different types of frames, which allows them special features and advantages. In this guide, we have selected some of the best beginner road bikes for you. There is something for everyone here and we hope that these bikes will help you in making your decision quite easier!
1. Trek Domane AL 2
Price: MSRP $1,129.99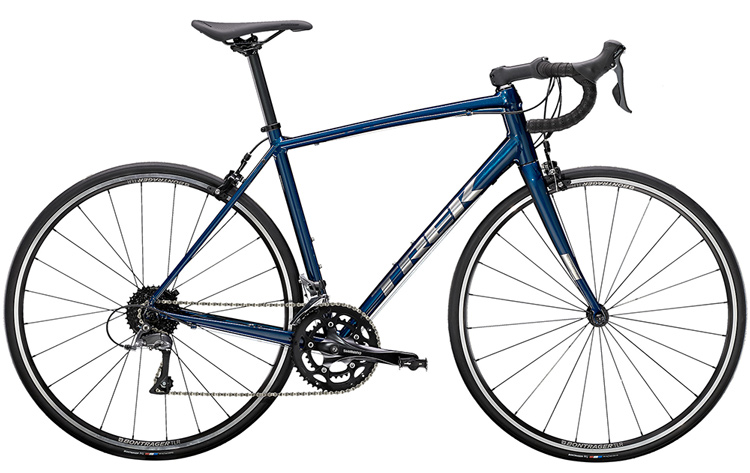 Trek is known all around the world for its pricey but competitive bikes, but testing out the Trek Domane AL 2 really changed our minds. This is a bike that has all the signature features from Trek, but it also brings something new to the table, it brings innovation.
The construction of the bike is absolutely amazing, it has a carbon fork that dampens all the shocks and vibrations. Surprisingly, the Domane AL 2 also includes the brand's signature IsoSpeed Decoupler Technology, it works in compliance with the carbon fork to provide a comfortable and relaxing ride.
I have tested this one myself and it is a beauty to ride on the road. What I liked the most about the bike is the Shimano Claris R2000 8-Speed Groupset. People have also liked the IsoSpeed Decoupler Technology and Alloy Dual-Pivot Rim Brakes. While I have also read countless positive reviews about the Bontrager Tubeless-Ready Wheels.
The features of the bike allow the users to experience amazing performance and comfort, one of the really good examples is the Shimano Claris R2000 8-Speed Groupset, although it is not the best, it still offers fascinating performance.
The stopping power of the bike is also quite decent, after all, the bike has alloy dual-pivot rim brakes. The Bontrager Tubeless-Ready Wheels roll on 28mm wide Bontrager R1 Hard-Case tires and as a result, we get amazing traction and control over the bike. The bike comes in eight different sizes to choose from so that no one is left out, plus, you can also get the bike in two different color options.
Advantages
Top-Notch Comfort
Sleek Design
Tubeless-Ready Wheels
IsoSpeed Technology
Disadvantages
Chainstay Area Is Exposed
Will Need Frequent Maintenance
Editor's Choice: The Trek Domane AL 2 is one of the best road bikes to ever exist, everything from the features to the components is just what you have ever wished for. This is what beginners should get if they don't want to break the bank!
---
2. Giant Contend 1
Price: MSRP $950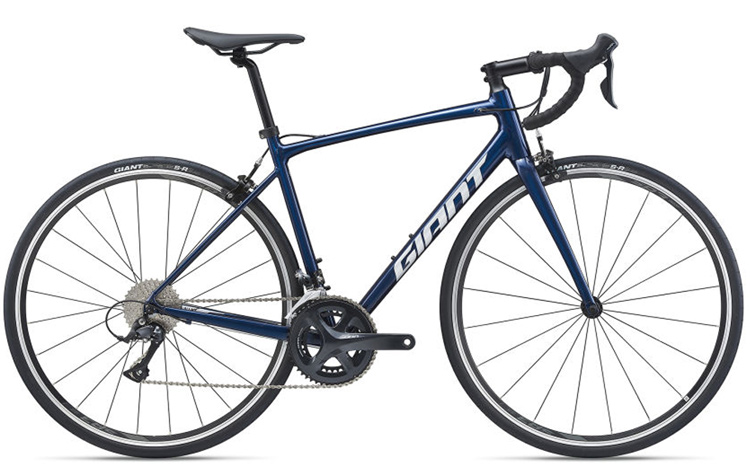 Giant has done it again, but producing an amazing beginner road bike like the Contend 1 was expected from them. Giant has made sure that the bike is filled with all of its signature features and components, only the group set of the bike is from another company, and you will still get to experience that amazing performance from the bike.
Overall, the construction of the bike is really amazing, we have Giant 28mm tires, and D Fuse Alloy seat post. All of this results in great comfort levels. Riders can easily flex in either direction while riding, the bike even eliminates the stiffness.
After doing some extensive research on the bike, I can confidently say that its 28mm Tires From Giant, D Fuse Alloy Seat Post, the Shimano Sora R3000 Group Set, and Tektro TK-B177 Rim Brakes are exceptional features.
The Bike's frame is made from ALUXX-Grade Aluminum, it allows for faster speeds without any kind of compromise. There is also a carbon OverDrive carbon fork, that dampens all the shocks and vibrations to create a comfortable and relaxing experience.
With the Shimano Sora R3000 groupset, you will always feel like the Urban Adventurer. The Tektro TK-B177 Rim Brakes also provide exceptional stopping power, and this is necessary when you are soaring at high speeds. The Customization options are also quite flexible here, there are mounts for fenders and rack, and you can even turn this bad boy into a winter bike if you so wish.
Advantages
Full Carbon Fork
D Fuse Technology Seat Post
Exceptional Stopping Power
Lightweight Structure
Disadvantages
Why I Like It: The Giant Contend 1 makes impressive use of the D Fuse Technology. It is one of the best bikes to get for urban adventures, especially if you are just beginning. The Carbon Fork of the bikes dampens all the shocks and vibrations that make the rides very comfortable and relaxing.
---
3. Liv Avail AR 4
Price: MSRP $1,100
Cycling has advanced over the past generations, but still, there is one common question on everyone's mind- "Can Women Ride Men's Bikes". First of all, of course, they can, but there are also specific bikes made for them that make them feel better and comfortable, the Liv Avail AR 4 is such a bike.
The Liv Avail AR 4 is a bike that is specifically made for women, designed by them, and even tested by them, this shows the level of dedication that went into this bike.
You will like the ALUXX-Grade Aluminum Frame and Advanced-Grade Carbon Composite Fork. The Shimano Class Gearing and Tektro Disc Brakes are easily the most loved features of the bike by countless users.
The construction of the Liv Avail AR 4 bike is amazing, the combination of the ALUXX-Grade Aluminum Frame and Carbon Composite Fork provides a very powerful yet comfortable experience void of any disturbances.
Advantages
Best For Women
Comes With Tubeless-Ready Wheels
Different Sizes
Amazing Comfort
Disadvantages
The Groupset Could Use An Upgrade
Why I Like It: There are not that many amazing women's bikes in the market, but the Liv Avail AR4 defies all sorts of expectations. It has a firm and strong construction, even the features and components are really amazing. The bike's groupset could really use an upgrade though!
---
4. Specialized Allez
Price: MSRP $1000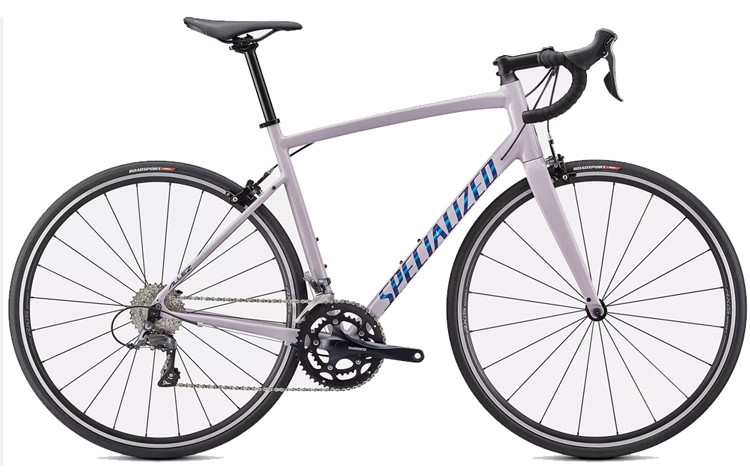 History has produced some of the best riders such as Mark Cavendish, they show amazing achievements but not without struggle. Now, if you are an avid watcher of Tour De France then you know that the majority of the bikes are from Specialized, you must be wanting one for yourself too after seeing all the races. That is why we have added the Specialized Allez to our list.
Some of the best features of the bike are the E5 Alloy Frame, Three Paint Options, and Shimano Claris R2000 Groupset.
The construction of the Specialized Allez is quite impressive, the bike features an E5 Alloy Frame that is combined with a full carbon fork, which results in a very comfortable and relaxing ride. The Allex even at this price point feels like a really good racing bike. Available at every local bike shop too!
The Specialized Allez is a really amazing package, from the overall construction to the components and the features definitely try out this one.
Advantages
Vibrant Color Options
Amazing Quality Components
Comfortable Ride
Disadvantages
Tektro Brakes Aren't That Good
Why I Like It: The Specialized Allez is a bike that you should definitely get if you are a fan of Tour De France. The lightweight aluminum frame that provides an exceptional riding experience.
---
5. Fuji Sportif 2.3
Price: MSRP $999
Some people are looking for road bikes because they want an amazing mile muncher, what if you got a bike like that but also with endurance geometry? If that ticks all the right points for you then we have to recommend the Fuji Sportif 2.3 to you, this here is a bike that you should definitely possess.
This is one of the best cheap road bikes that I have ever tried out, even if you have a limited budget, you can many accessories after getting this bike which is a plus point. With the Fuji Sportif 2.3, you will be having comfortable rides all day long without any kind of problems.
The Fuji Sportif 2.3 is built with a strong and concentrated front end incorporating the Fauji's wave seat, this makes sure that the rider always has an upright position all day long. Fuji's Wave Seat is an exclusive feature/component from the manufacturer, all of this combined with the frame of the bike will make sure that you are never disrupted in your rides.
There is also internal cable routing in the frame of the bike which is a really nice touch. In terms of customization, there are mounts for rear racks and fenders, and you can also choose between a Shimano Claris or microSHIFT groupset.
Advantages
Surprisingly Capable Bike
Amazing Comfort
Affordable Price Tag
Disadvantages
The Brakes Are Not Strong Enough
Heavier Bike
Why I Like It: Having the option to choose from two different group sets is amazing and because for many other reasons, the Fuji Sportif is one of the best beginner road bikes to go for. It could use a brakes upgrade other than that you will have a really nice experience with it.
---
6. Diamondback Haanjo 2
Price: MSRP $925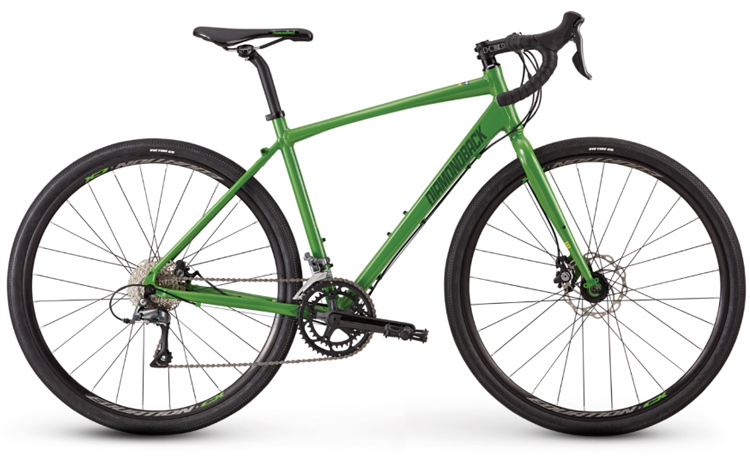 The Diamondback Haanjo 2 is one of the best all-rounder bikes that I got to try this year. Although describing the true nature of this bike might be a little difficult, this is a road bike with gravel bike capabilities, which means that you can use this amazing bike for both purposes.
The best thing about owning a Diamondback Haanjo 2 is that it does not take that much storage space, it can be used for a variety of purposes, touring, commuting, you name it, this bad boy can do almost anything.
Haanjo 2 is constructed with a strong aluminum frame that is then paired with a steel fork, overall this makes the bike heavy but also very effective. Not to mention, there are a lot of mounting options, you can always keep on switching the Haanjo 2 for whatever kind of ride you want it to be.
Armed with the Shimano Claris 2*8 Speed Drivetrain and Tektro Lyra Mechanical Disc Brakes. The Tektro brakes are my favorite because they are powerful for almost every kind of road riding.
Advantages
Super Versatile
Gravel Capabilities
Great Customization Options
Disadvantages
Why I Like It: The Diamondback Haanjo 2 is a bike that can serve almost all kinds of purposes. It is super versatile and even has gravel capabilities, what is not to love here? Yes, I do feel that the bike is heavier than some of the other options in this guide but it is still worth it.
---
7. Boardman SLR 8.9
Price: $1,508.63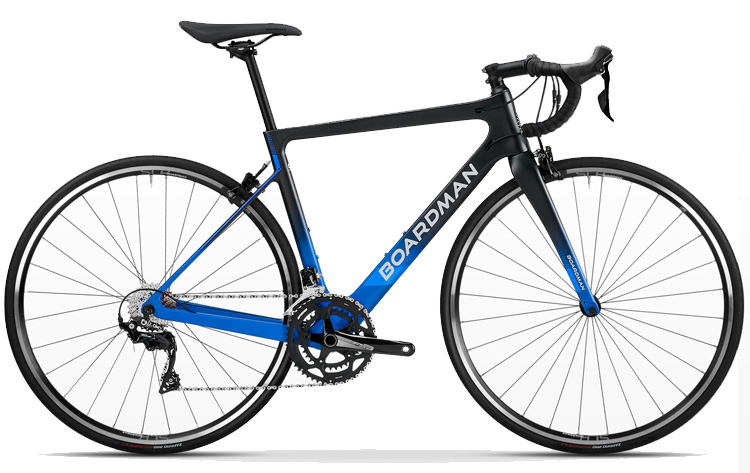 If you are looking for an amazing lightweight carbon road bike then the Boardman SLR 8.9 is a really good option to go for. Ranked as the best budget road bike, the SLR 8.9 will do wonders for you whenever you ride it. If you have tried the flagship model from Boardman, which is the 9.6, you are going to find a lot of familiarities here, such as the aerodynamic tubing.
This bike is sold due to its comfort and control, Boardman claims that it has endurance geometry but when we got to try it out, it gave us racer bike vibes which were a welcomed surprise of course. The SLR easily offers amazing speeds, comfort, and handling in one big amazing package.
You would have a lot of fun with the tubeless-ready wheels, even if they are a little bit basic, we still love their performance. Even the Vittoria Tires are going to give you amazing traction and control over the bike. If you want an amazing bike for sports and fitness training then definitely get the Boardman SLR 8.9, you will not be disappointed.
Advantages
Lightweight Design
Amazing Racer Bike
Great Control and Traction
An All-Rounder Package
Disadvantages
Why I Like It: The Boardman SLR 8.9 is an amazing carbon bike that is best suited for racing and fitness training. It has impressive features and components, most of which are from Shimano. Although this bike is rarely in stock so good luck getting one!
---
8. Brilliant L Train Road Bike
Price: MSRP $750.00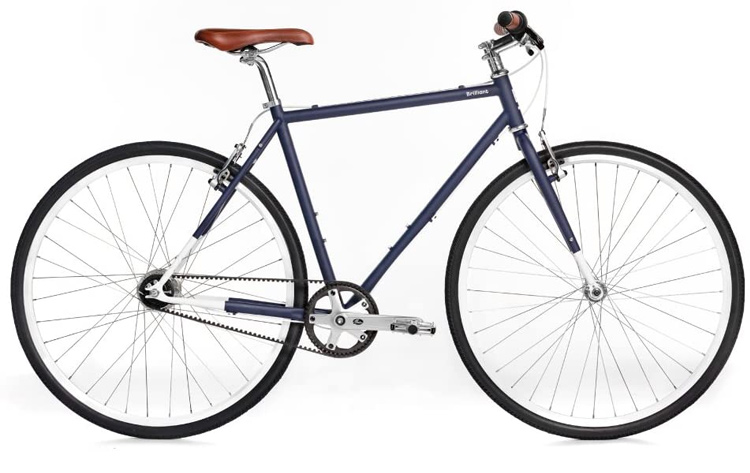 How about an affordable road bike that isn't just stylish but performs great too? The Brilliant L Train Road Bike is the one that you are looking for. With the L Train road bike, you just won't be conquering the roads but also be looking extremely stylish while doing that.
Its powerful Disc Brakes are loved by the users and they also gave countless positive reviews about the Gates Carbon Drivetrain (Grease-Free). I like the Lightweight Double-Butted Carbon Frame, it makes it easier for me to carry the bike.
The powerful groupset and drivetrain allow the rider to traverse any kind of hill and terrain, there are no restrictions when it comes to amazing performance.
These bikes may not have the highest specifications but they are lightweight carbon and of good quality too. If you are looking for a good entry-level carbon bike then definitely try this out.
Advantages
Exceptional Stopping Power
Lightweight Design
Great Control
Disadvantages
Why I Like It: Speaking from experience, bikes from Brilliant are extremely durable and offer really good performance too. The components are good enough for the price and I personally love the design of the bike. If you love simple entry-level bikes then the L Train is going to be perfect for you!
---
9. Canyon Endurace WMN AL 7.0
Price: MSRP $1,899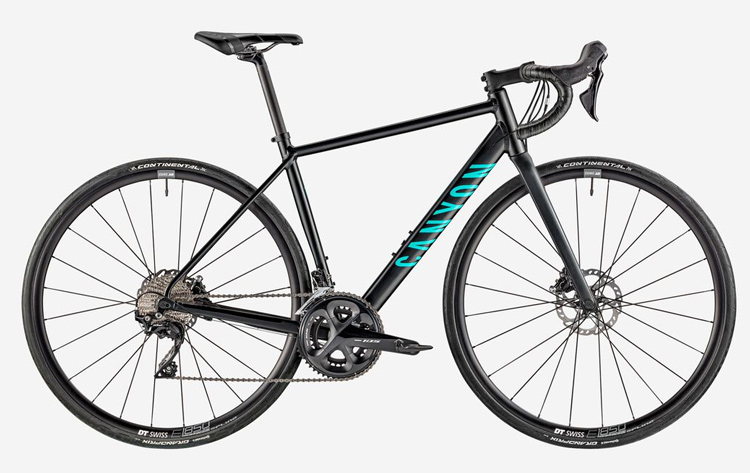 Canyon makes amazing bikes and if you want one of the best beginner road bikes to date then you should try out their Endurance AL 7.0. The price may have increased from before but the value is still amazing, there is no reason that you should not get this amazing bike.
The construction of the bike is really impressive, the frame is strong and stiff, which is then paired with a full carbon fork. This makes sure that riders will always have a comfortable experience with the Endurance AL 7.0.
Its Stunning Frame paired with Shimano Groupset will definitely make the bike more likable. With the Fulcrum Wheels and Shimano 105 Groupset, you will always have lively and relaxing rides, that is the main point of a road bike, isn't it?
If you are just starting out with riding bikes then the relaxed geometry of the Endurance AL 7.0 is going to be best for you. You will also be able to make the toughest climbs with this bike, should you choose to.
Advantages
Great Climber
Powerful Groupset
Comfortable Rides
Women-Friendly Geometry
Disadvantages
Brakes Could Use An Upgrade
Why I Like It: I love almost all the bikes from Canyon and the Endurance AL 7.0 just holds a very special place in my heart. It has a powerful construction from top till bottom and is also a great climbing machine. I would just suggest changing the brakes of the bike.
---
10. Triban Cycling Touring Rc 500 Road Bike
Price: MSRP $1,130.22
After Decathlon's Big Rebrand, we definitely had to include the Triban RC500 which is an amazing road bike. This is a bike best known for its touring abilities, you will have an amazing time riding this beauty.
Let's talk about the construction of the bike first, it has an aluminum frame that is combined with a carbon-bladed fork, this will make sure that riders always have relaxing and comfortable rides. It hosts a Shimano Sora Groupset and if you follow me, you'd know that I am a big Shimano fan. Other features that I like are the Promax Disc Brakes and Powerful 28C Tires. Although I prefer hydraulic disc brakes, I would definitely love to try the Promax brakes.
With the RC500, you immediately have clearance for wider tires, you can even go up to 36c if you want that. Although the standard size is 28c, I think you will still have comfortable rides. Just be careful not to indulge in road rash as the bike isn't particularly light.
Advantages
Great Customization Options- Mudguards and Racks
Powerful Brakes
Tires Are Upgradeable
Great Comfort
Disadvantages
Why I Like It: The Triban RC500 is a touring bike that you should not miss at all. It has great customization options and even allows you to upgrade the tires whenever you want to. Although passing 10 Kgs, this is a heavier bike than other options on the list.
---
11. Cube Axial WS 2021 Women's Road Bike
Price: MSRP $790.77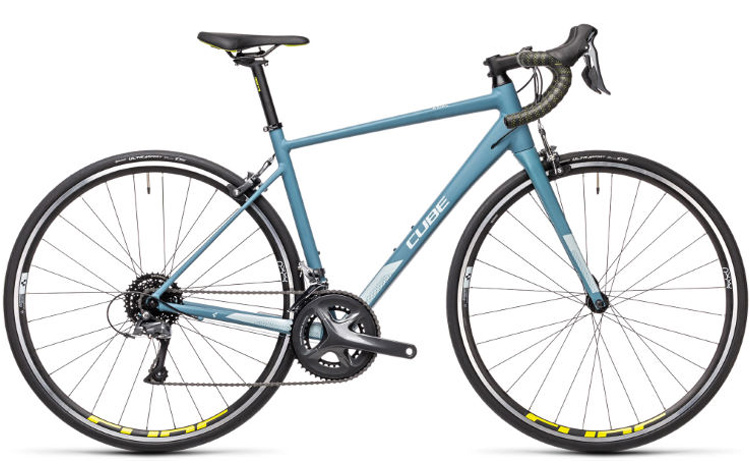 The Cube Axial WS 2021 is a dream come true for every woman rider, although there are still many variations in this bike, the Axial is the one to go for. We are talking about the Claris model in particular which is our favorite.
The Shimano Claris Groupset and Alloy Frame With Carbon Fork are amazing. I gifted this bike to my wife on her birthday and she adores her bike more than me! What can I say? It's an amazing bike!
While riding the Cube Axial there will be no types of compromise, that is what the brand promises and that is why I included this bike on my list. Just go for the Shimano 105 model like the one we selected here and you will be enjoying comfortable rides without any type of hiccups.
Advantages
Excellent Value
Lightweight Design
Special Touchpoints For Women
Disadvantages
Why I Like It: This is yet another amazing road bike for women on my list. It is adored by countless female riders, my wife including. It gives you amazing value and has women-friendly geometry too.
---
12. SAVADECK Warwinds 3.0
Price: MSRP $1,299.00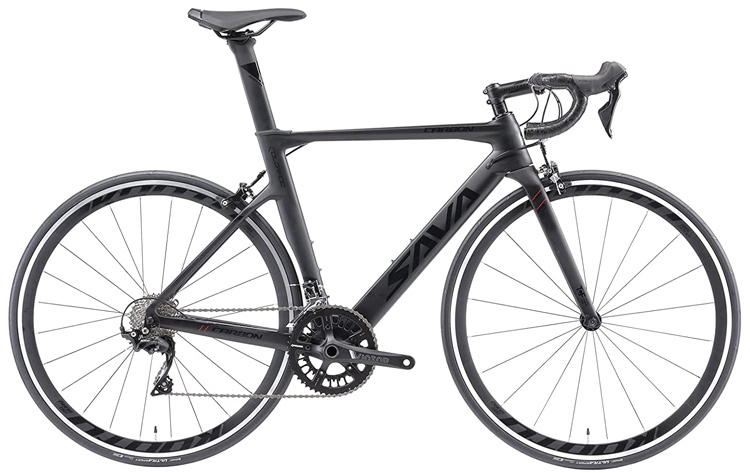 If you are a fan of Tron or Star Wars then you are going to love the SAVADECK Warwinds 3, it definitely looks like a bike straight out of those movies. Although the Warwinds 3 is one of the most expensive entry-level options to go for, the value that you get for this bike is unmatched, it feels extremely lightweight and accurate.
The bike's frame is made from carbon fiber so that it can extend the performance to new levels, if you are looking for a really good road bike for easy transport and commutes then the Warwinds 3 is going to impress you.
It's a full-carbon bike. It is a likeable feature because Carbon is actually smoother than all the other materials and it can absorb almost all kinds of shocks and vibrations. This is a really good advantage over the other bikes because it allows the rider to fully focus on the ride rather than bumping into stuff.
As for the gear system, the Warwinds bike features a Shimano 6800 Gear System which is great for traversal of every kind of terrain. No matter what your destination is, with the Warwinds 3 bike, you will be able to reach there in a zap and without any kind of problems.
The Hutchison tires do a great job of boosting the potential of the bike, you will always have the ultimate grip on the road.
Advantages
Amazing Performance
Powerful Gearing System
Exceptional Stopping Power
Disadvantages
Why I Like It: The Warwinds 3 Bike is a great example of Carbon perfection, every bit of the bike is constructed to give the perfect performance/comfort combo to the rider. It had great components, such as the Shimano 6800 gear system, Hutchison tires, and much more. Although it is a bit pricey, you won't get another amazing bike like this one!
---
Road Bike Size Chart
Just follow the road bike size chart and you can easily find the perfect beginner road bike for yourself!
| | | |
| --- | --- | --- |
| Size | Rider Height (Feet & Inches) | Frame Size |
| XX-Small | 4'10''-5'0'' | (47cm-48cm) |
| X Small | 5'0''-5'3'' | (49cm-50cm) |
| Small | 5'3''-5'6'' | (51cm-53cm) |
| Medium | 5'6''-5'9'' | (54cm-55cm) |
| Large | 5-9''-6'0'' | (56cm-58cm) |
| X-Large | 6'0''-6'3'' | (58cm-60cm) |
| XX-Large | 6'3''-6'6'' | (61cm-63cm) |
Learn more here: Bike Size Chart: What Size Bike Should I Get?

How To Choose The Perfect Entry-Level Road Bike?
Choosing the first road bike for yourself can be very difficult, especially if you are aiming to get an entry-level road bike. There are four main things to focus on when purchasing a new entry-level bike. Let's get started!
The first thing that you need to ask yourself before getting a new road bike is for what purposes will you be using it, where will you be using it, and what expectations you have from your very first bike. These are the questions that you need to ask yourself.
Do you want to participate in competitive races or want road biking for your own fitness gains? As you might have noticed, cycling means different things to different people, for someone it is a relaxing getaway, and for some, it is a tool to compete in races with, everyone has a different goal and you must seek out and acknowledge your goal behind road biking first.
There are different types of road bikes, and with each bike comes a different riding style that you will need to adapt. The bike industry is made up of different bikes, but that does not mean that every bike type will be suitable for you, you need to dig into details and choose the best kind of road bike for yourself.
All-Around Racers
Aero Road Racers
Endurance Road Bikes
All-Around Racers
If you have seen the Tour De France then you know what all-around racer bikes are, these types of bikes are best suited for professional races. So if you want to get a bit of competitive action then your best bet is going to be the all-around racers.
The main features of these kinds of bikes are comfort, durability, and weight. These are lightweight bikes and are made to effectively traverse through different types of roads, also you can maintain a high level of speed with these bikes.
These are best suited for aggressive riders and come installed with 25mm or 28mm wide tires.
Aero Road Racers
The Aero Road Racers are similar in terms of construction and features with the all-around racers but there is one thing that sets them truly apart, they are the absolute lightest of road bikes, and they also have the best aerodynamic features.
If you are planning to ride on flat or rolling terrain then in order to have an amazing experience, you should be using the aero road racers.
Endurance Road Bikes
I personally prefer the charisma of Endurance Road Bikes, these are like the all-around racers but are more accessible than them. They are better in terms of versatility, comfort, and accessibility, which is also much needed because not everyone can use all-around racers.
These bikes are perfectly suited for the masse whereas the all-around racers target niches, there is more relaxation here than on other road bikes, and the gearing is lower which comes in very handy if you want to climb hills and have adventures.
Our Editor's Pick Trek Domane is the perfect example of an endurance road bike.
More on Road Bikes:
What Is Your Spending Budget For A Bike?
Being an adult is hard, we know that, and when it comes to spending money on our passion and hobbies, things get hard. Here, you have to ask yourself the question why you want to have a bike and how much are you going to spend on it. The motivation behind a purchase can make all the difference.
Entry-Level bikes won't cost you that much, you can get a decent road bike worth many years for less than $2000. With road bikes, you need to go with bikes that will have aerodynamic features, durability, and comfort.
Different Elements To Consider In Terms Of Road Bikes
There are some different elements that you need to consider when it comes to road bikes, they can make all the difference.
Frame Material
Braking Structure
Wheels and Tires
Gearing System
Where To Purchase?
Frame Material
Bike frame materials are of different types, you can choose from aluminum, steel, carbon fiber, and titanium. If it is your first bike and you are limited by budget then you can go for the former and if money isn't an issue and you want the best of the best then go for the latter. There are also combinations between these materials that you can take advantage of.
The type of material being used can make a huge difference to the experience. If your bike has an awesome aluminum construction then it will perform way better than a bike that has a carbon fiber construction.
Braking Structure
Should you go for rim brakes or disc brakes? That is one of the critical questions asked by our readers, both are great on their own terms though. With that being said, rim brakes have become a relic of the past and all modern bikes are being with disc brakes because of their reliability.
Rim brakes offer a lightweight experience sure but the disc brakes are far more powerful and work in all sorts of weather.
Wheels and Tires
Wheels and tires affect the whole riding experience, they are components that come in actual contact with the road when you are riding so you have to choose them accordingly and with caution. Road Bike rims should have at least a width of 19mm, that much is necessary for a sound experience.
The weight of the wheelset is also something that you should consider. Most of the entry-level wheelsets have a weight of 2000 g and that is good enough.
Related: The 12 Best Road Bike Wheels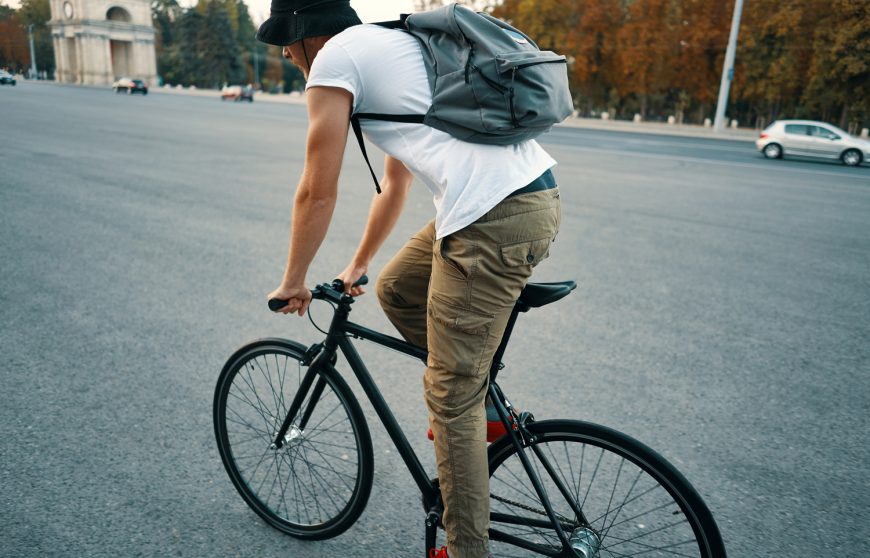 Gearing System
Gearing systems make sure that the bikes run smoothly and the more you spend on them, the better your whole riding experience will be. Entry-level bikes like the ones that you are aiming for will have Shimano gears while the higher-end bikes will have SRAM and Campagnolo.
You should always invest in a better gearing system that will make sure that your bikes run smoothly.
Where To Purchase?
With the advancement of technology, you can get all sorts of bikes digitally without ever entering a shop physically. Although sometimes you can lift a good deal from a neighbor, a friend, or even a garage sale. Some physical stores also offer great deals.
In the end, what matters the most is the quality of the bike and its condition. Getting a fair advantage is always welcomed.
Bike Sizing and Fit Are Very Critical
In order to have an amazing road biking experience, you need to make sure that you fit the bike as you are supposed to. Take a look at our road bike size chart to find out the perfect bike size for yourself.
Many people ignore bike sizing, they take it lightly but afterward, these poor choices destroy their whole experience. The riding pose gets affected, injuries occur, and even fatal accidents. You can avoid all of that by getting the perfect-sized bike for yourself!
Related: Why You Need to Worry About Road Bike Sizing and Fitting
How We Choose Entry-Level Road Bikes – Our Methodology
As an avid enthusiast of bikes, I understand the challenge of finding a high-quality bike that fits within a budget. That's why I've dedicated countless hours to researching and analyzing the best entry-level road bikes for adults on the market. I've scoured the web for honest reviews and feedback from verified customers, and I've even tested some of the top contenders myself, including the editor's choice.
Using my extensive knowledge of bike components and their strengths and weaknesses, I've narrowed down the top options that offer the best value for your money. So whether you're a beginner looking to get into the road biking scene or an experienced rider seeking an affordable upgrade, you can trust that these bikes have been thoroughly vetted and carefully selected.
Without compromising on quality or performance, these bikes offer features such as excellent maneuverability, top-notch suspension, and a durable design, all at a price point that won't break the bank. So if you're ready to enjoy the ride of your life, these are some of the entry-level road bikes that you must consider.
FAQs
How Much Should A Beginner Road Bike Cost?
If you are a beginner, you should not spend more than $800-$1000. I think it's a good range to find a decent beginner road bike.
How Long Does Entry-Level Road Bike Last?
Typically, an entry-level road bike will last you around 30,000 to 50,000+ miles. But this depends on many factors such as bike maintenance and tune-ups. Your bike can break well before 30,00 miles if you do not look after it.
Recap
Road Bikes are amazing machines and since you are just beginning this journey, you are going to have a lot of fun going through all the options mentioned on our list. With road bikes, you can easily have adventures around the city, and tour whenever you want, and your life will become really easy.
The Trek Domane AL 2 is our best pick from the list. I think that it has all the perfect features and components that make for the best beginner road bike. You should really try it out!
With that being said, I hope that now you know everything about beginner road bikes. So, get your cycling shoes ready because we are all set to hit the road! If you have any queries then do reach out in the comments below!
Also Read: