Looking for an amazing entry-level road bike? We have got you covered with the GMC Denali Road bike! It is an entry-level bike that showcases performance in a very clear way, in terms of flexibility, the bike is available in three sizes- Small, Medium, and Large. If you are still confused about their size or something, they have a visual chart on their website to sort out that kind of problem.
This bike may be a brand of GMC but its production is handled by Kent International. I personally think that this is a very good sign, a company that has so many years of trust, confidence, and excellence is outsourcing. Kent International is no stranger when it comes to bicycles as they have a century-long experience, they are a family-owned business after all!
I would say that the GMC Denali Road Bike is one of the best options to go for beginners as it provides the necessary boost of confidence you need, performance-wise it isn't so bad either. The manufacturing as I said earlier is handled by Kent International, so that should be clear enough that this bike is going to be amazing for beginners. It does not matter if you want this bike for normal recreational purposes or races, it will certainly not disappoint!
Apart from GMC, Kent International possesses licensing rights for other brands as well. Those brands include:
Little Miss Match Bicycles
Jeep
Cadillac
Construction and Components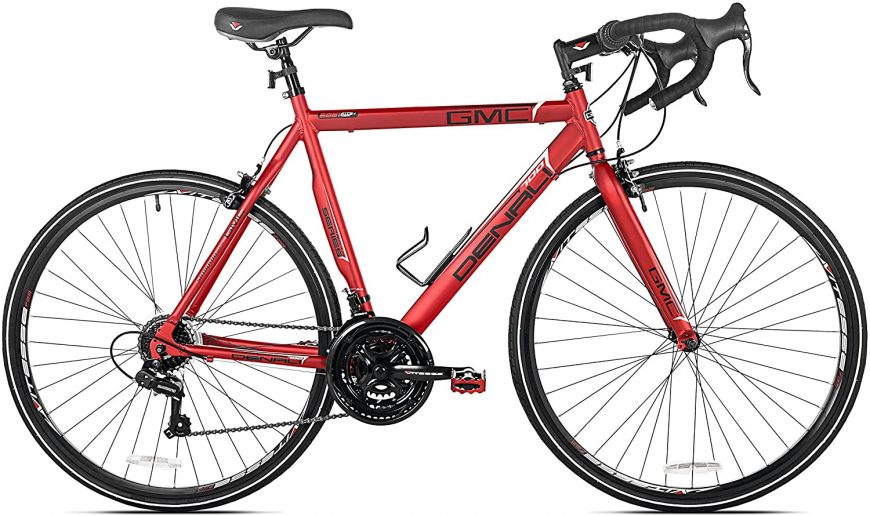 The construction of the GMC Denali Road Bike is very impressive. Its construction revolves around an aluminum frame and fork. The components that you would find in this bike are okay-ish, I think it is what you will find in a bike that is considered cheap (Under $200).
The GMC Denali bike has Shimano derailleurs and shifters, and the Promax brakes are being called alloy calipers, it is because they are advertised this way. Other than these markings or illustrations, there is no other way to identify the components. The wheel size is great, as they are 700cc sizes wheels, perfect for beginners. They are also the most common type you will find in the market which makes them easy to replace.
The bike also has high-quality alloy rims which clearly gives a premium feel. The additional height of the bike wheel size makes it stiffer and enhances the aerodynamics, which is always a great sign. The bike also has a KMC Z 51 chain that comes fitted with a Prowheel alloy crankset, and a 7-speed cassette, all of this greatly enhances performance. The cherry on top is the Cionlli saddle but some of the users may call it a hindrance.
Related: Best Road Bike Brands.
What Is GMC Denali's Purpose?
The GMC Denali is one of the best lightweight bikes that you can find in the market, the bike was designed for the sole purpose of casual rides. Cyclists would be able to enjoy this bike for light-medium cycling experiences, I personally think that it provides a very satisfactory level of performance. If you are thinking of using this bike for professional purposes, then this bike might not be a good option for that. Although with that said, the bike is very sturdy and durable, as is confirmed by GMC themselves.
No matter what kind of road it is, the GMC Denali Road bike promises to deliver amazing performance. In addition, it is also very smooth to change the gears of the bike whenever you want.
Design and Colors
One of the best things about the GMC Denali Road bike is that you can find it in different colors/combo shades. The available options are:
Black/Green (My Personal Favorite)
Red
Black/Pink
There is also a certain downside to this, all of these shades aren't available at once as certain shades are only available with certain frame sizes which is a drag. Sometimes, even the desired frames aren't available. The sizes available are small, medium, and large. If you are confused about the sizes then there is a visual chart on their website to help you out!
Let me make things a bit better for you:
GMC Small Frame: This frame is best suited for users that have a height of 5.1-5.8 feet
GMC Medium Frame: This frame is best suited for users that have a height of 5.8-6 feet
GMC Large Frame: This frame is best suited for users that have a height of 6 above feet
Features Available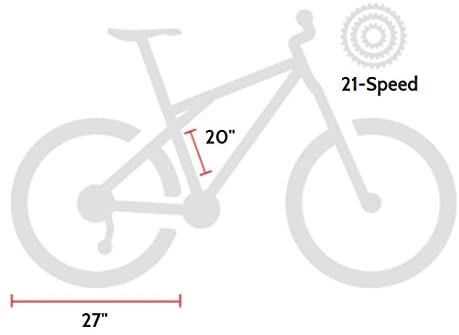 When you purchase the GMC Denali Road Bike, there are tons of features that you can enjoy, here are some of them:
This bike is fitted with an aluminum gauge frame with a GMC steel fork
The weight of the bike is 30 lbs although it also depends on the frame size you pick
The bike has Promax Caliper Alloy Brakes that enhance protection
You can choose from a wide variety of colors and shade, there are also different sizes available
You get a lifetime warranty with the bike
Bike Specifications
| | |
| --- | --- |
| Color | Black/Green, Red, Black/Pink |
| Gender | Male |
| Manufacturer Part Number | 42402 |
| Manufacturer | Kent International |
| Assembled Product Dimensions (L x W x H) | 48.00 x 25.00 x 8.00 Inches |
Purchasing Online – Assembly Made Easier
You also have the option of purchasing the GMC Denali Road bike online, it will be delivered to your home directly. Although you would have to assemble the bike yourself, the manufacturers have made things quite easier. The shifter and cables are already in position, you don't have to worry about that!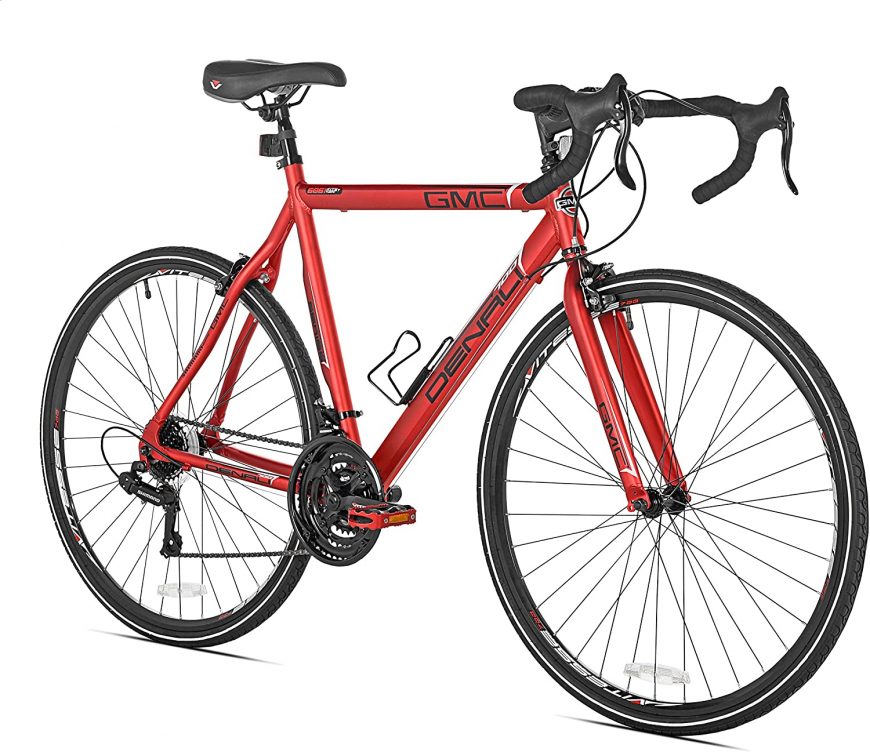 The only thing that you would need to do is fasten the pedals, handlebars, and front wheel. Do this and you are all set!
Sizes Available
Extra Small 700C
Small 700C
Medium 700C
Large 700C
GMC Denali Road Bike Size
No.
Size
Fits Rider
Seat Tube
Length
Seat Tube
Length
Stand Over
Clearance
Recommended
Tire Pressure
42720
Small
5'1″ – 5'8″
(inseam of 28″-30″)
48cm
53cm
74cm
50 to 75 PSI
42722
Medium
5'8″ – 6'0″
(inseam of 30″-32″)
57cm
55cm
80cm
50 to 75 PSI
42725
Large
6'2″ – 6'5″
(inseam of 33″-35″)
64cm
56cm
87cm
50 to 75 PSI
Who is This Bike Best Suited For?
As we discussed before, this bike is a perfect option for casual cyclists, even better for people that are just starting out. The GMC Denali Road Bike is perfectly capable of high-speed racing and traveling over long distances. It is also quite flexible, it comes in a variety of sizes so that all types of cyclists can experience and enjoy the bike.
The bike is fitted with an aluminum frame which makes it very durable and also enhances the performance of the bike. It is designed to perform well for the years to come and can resist any kind of abuse you throw at it. Experience great professional cycling with the GMC Denali Road Bike.
Pros and Cons
Pros
The best thing about the bike is the price, it is under $200
It is extremely lightweight
The materials used in construction ensure that the bike has amazing durability
You can get the bike in different colors and sizes
The design is amazing so it is aesthetically attractive
You can fully customize the bike with additional parts
Cons
The seat becomes uncomfortable at times
Sometimes the brake pads of the bike may become unresponsive
The bike may not be completely assembled when it arrives
The GMC Denali Road Bike: Is It Worth It In 2023?
The GMC Denali Road Bike is one of the best road bikes that you can get under $500, and it also has a premium construction that will get you everywhere. Although it is an amazing bike, there are still some considerations that you need to make. The Denali Road Bike was introduced way back in 2017, it was a great addition to that year but should you be getting it in 2013?
If you used the GMC Denali way back in 2017, then you may like its performance in 2023. The performance is great, it is durable and you get to enjoy the bike for a long time. However, there are a lot of amazing road bikes in 2023, you can also try them out, but more to that later.
Our Own Experience With GMC Denali Road Bike
I had to try out the GMC Denali Road Bike in 2023, I knew that this masterpiece of a bike would take my road cycling experience to another level. When choosing between a road bike and a mountain bike, you have to find the middle ground first, you have to see what exactly suits you. I tried out the Denali Road Bike when it came out in 2017, there was no better option for me back then, and I was hooked on its performance. Fast forward to 2023, a lot of powerful and high-performance road bikes have been introduced, and I have had my own share of fun with them.
So, how did the GMC Denali Road Bike perform? The answer to this question is as you expected, it performs nicely but there is a limit to where this bike can actually take you. I went for this bike in 2023 for old times' sake, and I was surprised with the performance. The brake levers are responsive and the bike is also fast, well fast as it could be. The bike also performs to the mark if you want to compete in a professional event, although you have to be careful not to do anything too intense with this bike. Should you still stick with this bike in 2023? Let me explain this in some depth!
The bike industry is still recovering of sorts, but that doesn't mean that we cannot experience the biggest and greatest matches that it has to offer. Apart from some Halo Bikes, there are also some high-performance machines that you can get on a budget. If you are looking for a heavenly bike then you need to try out the Colnago C68, it definitely fits our Halo category. The perfect balance of tradition and technology will make you want to ride this bike forever, although it costs a fortune, there is no denying that sleek performance and design.
You probably might not have heard about the brand VAAST Bikes but you must prepare yourself. Their R1 700C is one of the best road bikes that you can get right now. Constructed with a Allite Super Magnesium Frame, this bike allows you to do miracles on the road. We urge you to try it asap.
These are only some of the amazing options that you can get right now but if you still want to stick to the GMC Denali then that would work out great too. Just be sure to get the bike checked at a local bike shop, get the necessary modifications and then venture out. All of this should help you out!
Recap
The first thing that I would say about the GMC Denali Road Bike is that you wouldn't get a better deal than this, the bike has everything you need if you are starting out. The construction is amazing, it has some high-end components, one of the most attractive points about this bike is its design.
You can get the GMC Denali Road bike in different color shades and frame sizes, it keeps the user flexible by giving an extensive option to customize. In my preference the only thing I was uncomfortable with was the seat, I really couldn't bear it. The brakes were also unresponsive at times but with a little tinkering, it would become much better!
In conclusion, if you are starting out with cycling, then you can't get a better option than the GMC Denali, the features, components, and performance give more than enough value for the price. Do check it out! You can buy it here!
Also Read: