Electric road bikes give you a feeling of riding a top-end bike along with that little boost of speed whenever needed. They are not only a very big part of the cycling market today but are also very famous for the wider range of riders they cover. They come loaded with many different features that make riding on different kinds of terrain much more fun.
The world has accepted e-bikes because of their versatility and usefulness. You can use them for fast commuting or ride them for fitness, electric road bikes can do it all. On that note, it is time for you to also pick up your game and get an electric road bike to make your daily commuting more comfortable.
An informed decision is always the best decision. This is why we have gathered a list of some of the best road bikes available in the market for you to consider. We have reviewed and tested the specifications and technicalities so that you can get a review based on first-hand experience.
If you still think that riding an electric road bike is cheating, head on to the end of the article to see a discussion on this matter in detail. Let the review begin!
Best Electric Road Bikes – Reviewed 2023
Electric road bikes have an electric motor that assists them with functioning. This motor can be a rear hub motor or can be fitted in the bottom bracket of the bike. We know you are eager to find out the options that you have so without any more delay let us look at the best electric bikes
Note: All the prices mentioned are subject to change.
| Bike Model | Price | Motor/W | Battery/Wh | Range/Miles | Speed/MPH | Weight/Lb. | Brakes | Class |
| --- | --- | --- | --- | --- | --- | --- | --- | --- |
| Aventon Pace 500 | $1,699 | 500 | 614 | 40 | 28 | 49 | Tektro Hydraulic disc Brakes | Class 3 |
| Juiced Bikes - Crosscurrent S2 | $1499 | 750 | 673 | 65 | 28 | 51 | Tektro Hydraulic Disc Brakes | Class 3 |
| Niner – RLT E9 RDO | $5,899 | Bosch Motor | 500 | 50 | 28 | 39 | Shimano GRX 400 Brakes | Class 3 |
| Specialized – Turbo Creo SL | $11,999.99 | Specialized SL1.1 | 320 | 80 | 28 | 30.20 | Shimano GRX 810 Hydraulic Brakes | Class 3 |
| LOOK – E 765 Optimum Disc 105 | $6,800 | 125, 250, or 400 | 250 | 53.44 | 20 | 29.98 | Shimano 105 Hydro Brakes | Class 1 |
| Trek Domane+ SLR | $8,499.99 - $12,999.99 | TQ HPR50 | 360 | 62 | 28 | 25.90 | Flat-mount Disc Brakes | Class 3 |
| Cannondale SuperSix Evo Neo 3 Disc | $4,500 | 250 | 250 | 62 | 15.5 | 24.91 | Hydraulic Disc Brakes | Class 3 |
| Orbea – Gain M20i | $11,419 | 250 | 450 | 40 -120 | 20 | 26.94 | Hydraulic Disc Brakes | Class 1 |
| Ride1Up - Roadster | $1,095 | 350 | 252 | 30 | 20 | 33 | Dual Pivot Caliper Rim Brakes | Class 3 |
| Pinarello Nytro Ultegra | $6,879.90 | 400 | 252 | 15.53 | 15.53 | 28.66 | Hydraulic Disc Brakes | N/A |
1. Aventon Pace 500 – Editor's Choice
Price: MSRP $1,700
Top Speed: 28 MPH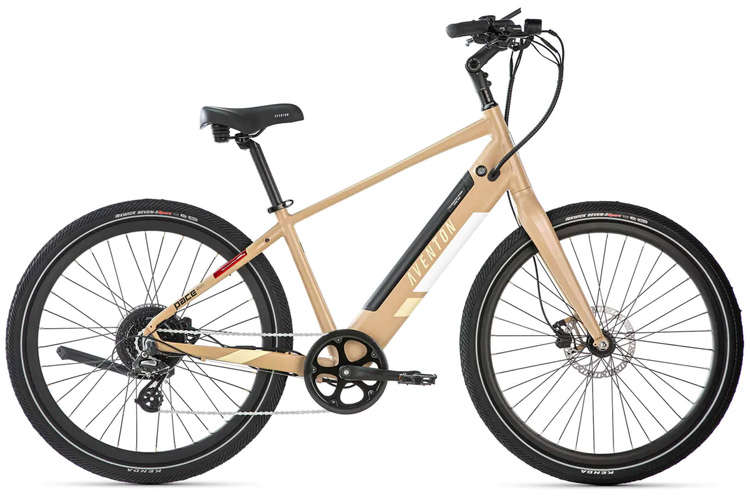 Aventon Pace 500
When it comes to the checklist of good features, The Aventon Pace 500 ticks off all the boxes. What's so good about it is that while reviewing this bike, I found out that it does not have that typical "one-size-for-all" approach. Instead, the Pace 500 is available in the market in three sizes. You can pick out the best size according to your height and weight.
Why do we need an electric road bike? Well to commute across town and to commute quickly. This bike does exactly that. It offers an amazing speed of 28 mph on the pedal assist mode and you can get an average of 20 mph on the throttle mode. I experienced an average of 40 miles per charge. Let me tell you that the pedal assist mode has five levels and the throttle and control modes. They are very easy to access which takes the performance of this bike above average.
This Class 3 e-bike is powered by a 500W (peak power 750W) brushless rear-hub motor and a removable internal lithium-ion 614Wh battery running on LG Cells. You get front and rear Tektro hydraulic disc brakes with 180 mm rotors which have enough power to brake instantly in the busy traffic of the city. The stem is adjustable so you can fix the handlebar to your liking.
Some other features that you will get in this bike are a quick-release seat clamp, Front & rear lights, ergonomic grips, a kickstand, and brake lights.
Advantages
Energetic Motor
8-Speed Drive Train
Integrated Lights
Sturdy Frame
Powerful Brakes
Disadvantages
Cramped Cockpit
Large Handlebar Swoop
Editor's Choice: The Aventon Pace 500 has Shimano Altus 8 Speed Drivetrain along with everything else in the bike made from Shimano. This is why we were excited to try this bike and it did not fail to live up to our expectations of it. Although we had to be mindful of the bike's torque while we were riding in lower gears, it did not hinder in the way of enjoying a smooth ride on this bike.
---
2. Juiced Bikes – Crosscurrent S2
Price: MSRP 1,999
Top Speed: 28 MPH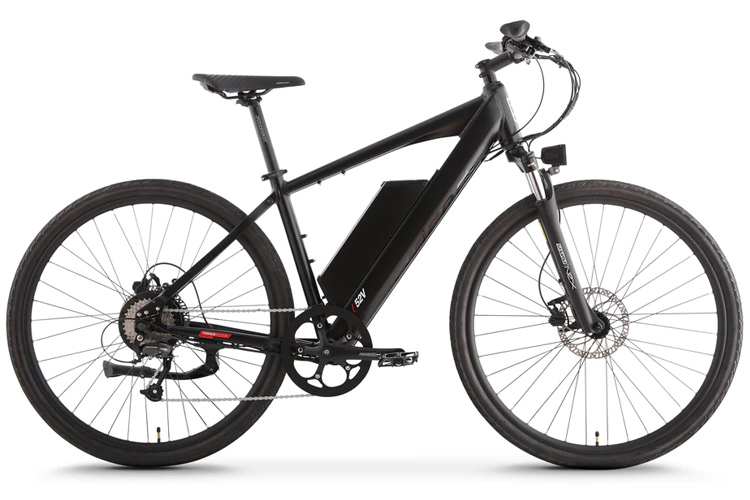 Juiced Bikes Crosscurrent S2
This is a dangerously fast bike because I was able to achieve a speed of more than 28mph on this one but we advise taking precautions and extra care if you want to try it on your own.
Straight out of an action-packed series, this bike has all the options you might be looking for. This is something that you will definitely ride to get away from the bad guys. It has a 9-Speed Shimano Cassette transmission along with a sleeky pedal-assist mode which makes your ride as smooth as pie. The pedal has Cadence & Torque sensors, something which cannot be ignored when you are talking about quality.
As I said, the top speed that you will get on this bike is 28mph with the pedal assist mode and a speed of 20mph using the throttle mode. It has a 750W motor topped with a 673Wh battery. It has 700c wheels and tires to support such a fast speed. The throttle mode can be jumped started using a thumb assist. We were able to cover a range of 65 miles on this speedy Class 3 bike.
Advantages
Powerful
Responsive
Stable
Disadvantages
Less Comfortable
Limited Features
Why I Like It: If you are a speed junkie like me, then Juiced Bikes - Crosscurrent S2 is certainly going to give you a thrill. I like the bike because it's great for commuting across town casually and many users seem to agree.
---
3. Niner – RLT E9 RDO
Price: MSRP $5,899
Top Speed: 28 MPH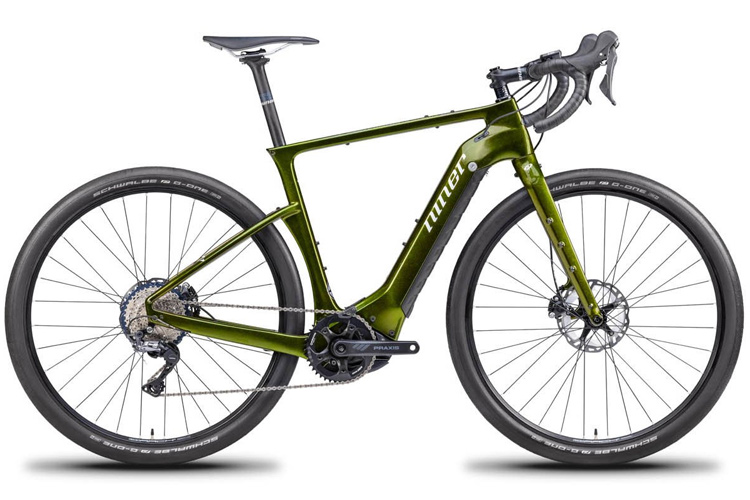 Niner – RLT E9 RDO
The Niner – RLT E9 RDO is a bike from the future. Its sleek frame topped with a professional handlebar is enough to leave you amazed. Combine that with the traces of green and black color on the frame and you are bound to turn some heads when taking this beauty out for a ride.
When we took out this bike to test drive, we found that this bike is not only fit for daily commuting but is also a champion on the rough tracks. It delivered a top speed of 28mph on the pedal assist mode with an average range of 50 miles. The only downside for us was that there is no throttle mode, you are solely dependent on the pedal mode.
This Class 2 e-bike with a Performance Line CX motor and a 500Wh Bosch PowerTube battery which you will find integrated. Moreover, the bike is incredibly light. You can get it in 4 frame sizes all with a Bosch Purion display. The bike works with Shimano GRX 400 brakes with 1800 mm brake rotors. The braking was very effective when we tried it riding downhill. It also has front and rear shifters but there is no bottom bracket. The stem is shorter for a more comfortable experience.
Advantages
Sporty
Comfortable
Supports Mounting Luggage Racks
Disadvantages
Costly
Difficult Handling
Lacks Connectivity
Not Feasible For Everyday Use
Why I Like It: Niner – RLT E9 RDO is possibly the first electric gravel road bike of its kind. While I did not find it comfortable enough for daily riding, it sure is a fun bike to ride if you can handle the high travel speed and direct handling.
---
4. Specialized – Turbo Creo SL
Price: MSRP $5,823.00
Top Speed: 28 MPH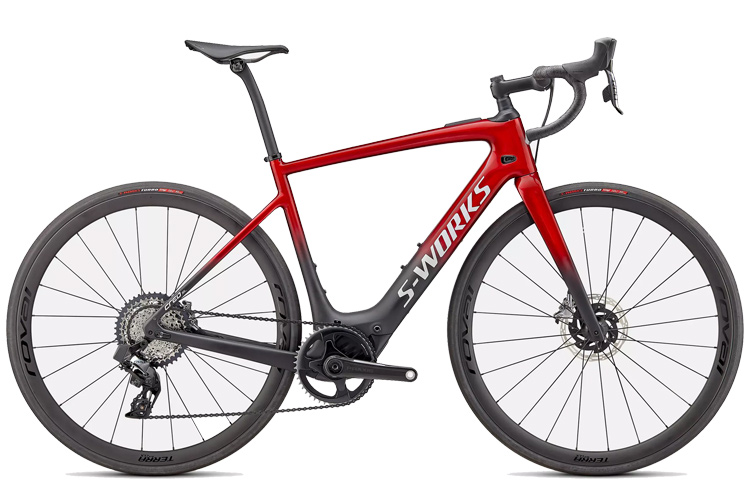 S Works Turbo Creo Sl
If there is a bike that you can travel on without getting tired from all the pedaling, it is the Specialized – Turbo Creo SL. The model with full carbon is ready to assist you in traveling all day.
It can achieve a speed of 28mph with the pedal assist mode and thanks to its heavy-duty 320Wh battery along with the Specialized SL1.1 custom lightweight motor will deliver a range of 80 miles. The battery only took around 2 hours for us to charge after which we were able to do a round of another 80 miles with the pedal assist mode. This bike has 11 Shimano RX812 GX gears which come in very handy while you are using the pedal assist mode.
What makes daily commuting more fun on this bike is that it has a very light frame that allows you to ride more with less effort. Speeding on this bike is safe owing to the Shimano GRX 810 hydraulic brakes. Other features include a Shimano XTR di2 rear derailleur, a Shimano Dura-Ace di2 shifter, and a Future Shock 2.0 carbon fork to smoothen out your rides as much as possible.
Advantages
Comfortable
Controllable
Specifications Of A Superbike
Disadvantages
Noisy Motor
Heavily Priced
Why I Like It: Riding the Specialized – Turbo Creo SL made us feel like we are riding an SUV just with pedals. It is sleek, fast, and very comfortable and a must-consider if the heavy price tag is not a problem.
---
5. LOOK – E 765 Optimum Disc 105
Price: MSRP $6,200
Top Speed: 20 MPH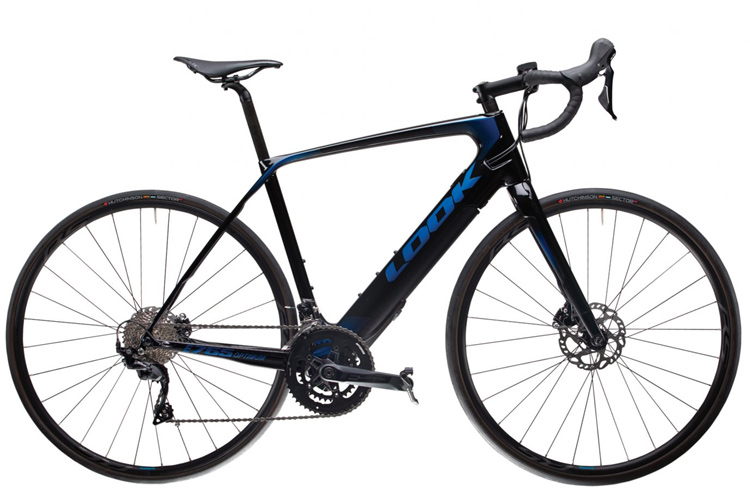 E 765 Optimum Disc 105
If you think that the LOOK – E 765 Optimum Disc 105 only serves Looks then you're quite wrong. The only mission of this bike is to go the extra mile. It is not only durable but also very light in weight for a road bike but keep in mind that this bike is not designed for off-roading. If you want something that can cover off-roading as well as daily commuting, then this bike is not the right option for you.
While exploring the specs I got to know that you have 4 assistance levels in this bike. One is the pedal assist mode where you have to power the bike yourself or choose the three speeds that are available i.e. 125W, 250W, or 400W. This is reportedly the most loved feature of a lot of users.
It has a Fazua Evation motor with a removable battery. The Shimano 105 hydro brakes are decent enough to do their job. The motor can take you up to a speed of 20mph which makes this bike a Class 1 electric road bike.
Advantages
Comfortable Seat Post
Endurance -Oriented
Electric Assist
Internal Cable Routing
Disadvantages
Why I Like It: This is a perfect endurance electric bike that helps you out greatly in your daily traveling. The speed options along with the pedal assist make it an exciting bike to try.
---
6. Trek Domane+ SLR
Price: MSRP $13,000
Top Speed: 28 MPH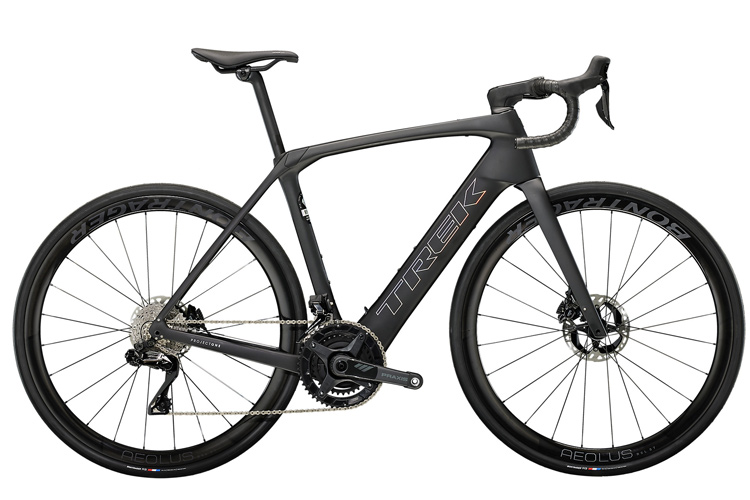 Domane+ SLR 9
Trek Domane+ SLR is the lightest electric bike from the US-based brand. It is versatile because when it comes to specifications, you have 6 different options to choose from. What makes this bike the lightest ever produced is the Trek OCLV 800 carbon frame.
While giving the Trek Domane+ SLR a ride, we experienced that it makes riding very smooth. The TQ HPR50 motor was noiseless and we did not notice it running at all. The 360Wh battery is well-integrated and gives a top speed of 28mph.
The manufacturers claim that you can take this bike up to 62 miles in eco mode. Although I did not test this spec, other riders have claimed it to be true. Moreover, the battery will charge in just 2.5 hours.
The bike offers three modes of assistance. On the top tube, you will find an LCD, along with buttons to toggle the riding mode. You can wire the e-tap charging and lights to run with the battery which makes it easier to use.
Advantages
High-Quality Specs
Versatile
Disadvantages
Why I Like It: What I liked the most about the Trek Domane+ SLR is it's lightweight. The weight not only makes the bike faster but it only makes this bike much easier to ride.
---
7. Cannondale SuperSix Evo Neo 3 Disc
Price: MSRP $4,500
Top Speed: 15.5 MPH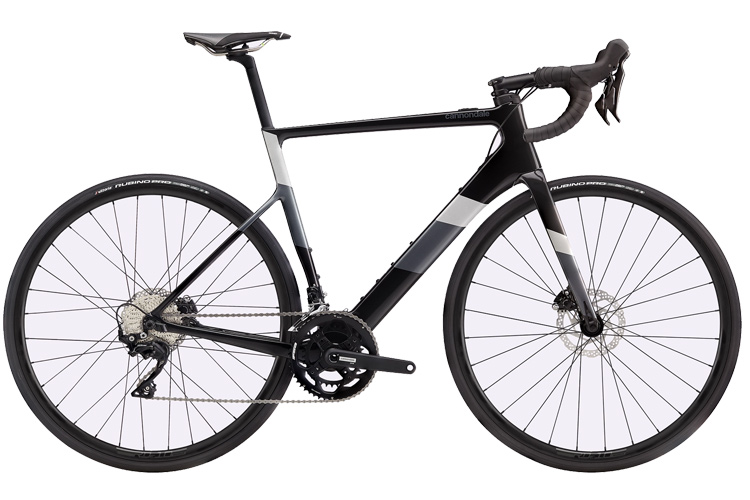 Cannondale Supersix Evo Neo 3 Disc
If you are looking for an electric bike with a boost that does not need to haul whatsoever, the Cannondale SuperSix Evo Neo 3 Disc is the right option for you.
The SuperSix Evo Neo 3 claims that they make the fast, faster and they are certainly not wrong there. The bike's powerful bike motion 250W rear-hub drive system enables it to deliver a range of 62 miles. The 250Wh battery is hidden which delivers three levels of assistance. You can even look at it as a gravel bike.
There is an inbuilt top tube controller on the tube which lets you power on the system and choose the assist level. This button will also tell you about your battery level and other things keeping the front of your bike neat and clean.
The bike has a 2×11 gear set along with a Shimano 105 R7000 hydraulic groupset. It also has integrated wheel sensors that give the most accurate speed, distance, and route information.
Advantages
Smooth Riding
Good Range
Easy Handling
Disadvantages
Why I Like It: Although the bike is heavier than the usual road bikes, it does offer an extra dose of power when you need it. It is fast, reliable, and not even much costly.
---
8. Orbea – Gain M20i
Price: MSRP $$8,726.70
Top Speed: 20 MPH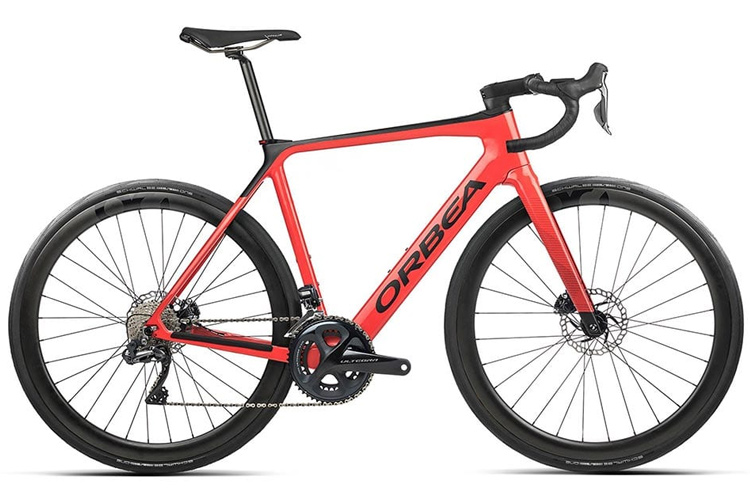 Orbea Gain M20i
The Orbea – Gain M20i has a lot in store to offer. The motor and battery are so well hidden that it looks like a traditional bicycle. The bike is versatile because it is available for you to buy in five sizes.
This electric road bike is a Class 1 bike that offers you a speed of 20mph. The bike has a monocoque structure with an ICR cable routing. The Shimano R8070 Hydraulic disc brakes give you maximum control over your ride. You can choose from either a lightweight frame or a heavy-weight frame.
The pedal assist mode offers you 22 speeds thanks to the Shimano Ultegra Di2 R8050. You also get the Shimano ST-8070 shifters to make the switching smooth. It also has a front and rear derailleur. This bike is the best option if you are looking for a traditional bike with a touch of the modern world.
Advantages
Stable
Intuitive Handling
Disadvantages
Imbalanced Front And Rear
No Torque Sensor
Why I Like It: The Orbea – Gain M20i offers three modes of pedal assist. Moreover, the battery is easy to charge and the rear hub motor is also very quiet.
---
9. Ride1Up – Roadster
Price: MSRP $1,095.00
Top Speed: 20 MPH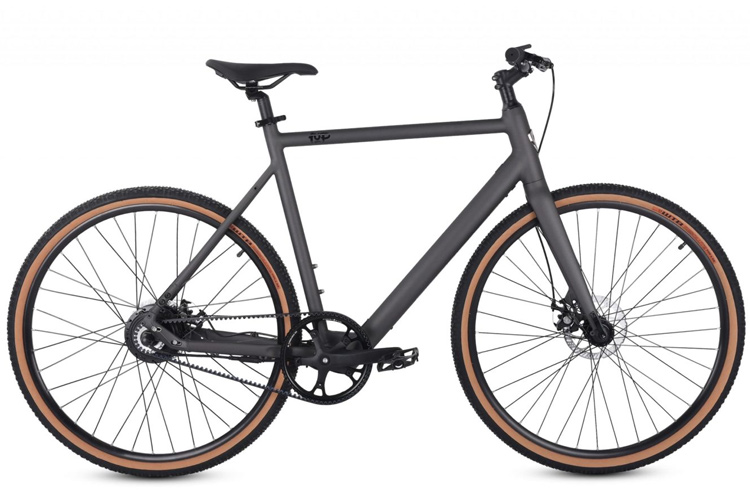 Roadster V2
This one has to be the most sophisticated bike of the year. Its looks, finishing, and geometry is the perfect example of grace. But it certainly does not only serve looks, this bike is also an all-rounder.
The bike weighs only 14.97 kg which makes it so much easier to ride and carry when the need may be. The 350W battery and the 252Wh battery power up to deliver a range of a maximum of 30 miles. Keep in mind that the range may differ owing to the weight of the rider, speed, the kind of track that you are riding and so much more.
The Samsung 35e Cell powered battery only takes between 2 to 4 hours to charge. You can go up to 20mph on this bike. Furthermore, you also do not face any sort of interruptions in the motor assistance while going at higher speeds.
Advantages
Silent Motor
Lightweight
Affordable
Disadvantages
Irremovable Battery
Impractical LCD Display
Why I Like It: The Ride1Up - Roadster offers a lot of features at a very affordable price. Moreover, it is almost silent when riding so much that I didn't even notice if the motor was running or not. That is something we don't find in many electric bikes.
---
10. Pinarello Nytro Ultegra
Price: MSRP $9,800
Top Speed: 15.53 MPH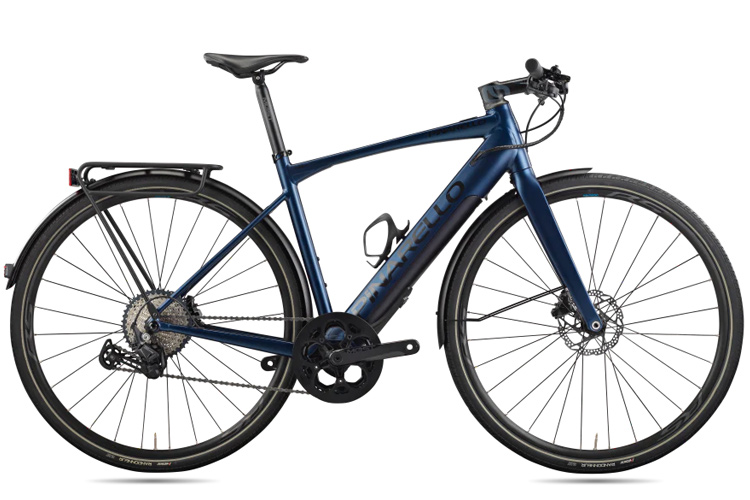 Pinarello Nytro Ultegra
The Nytro is specialized to give you power assistance with four-speed options, 125 watts, 250 watts, 400 watts, and no support. This beauty is ready to take you up to 1400 meters on climbing. Although the motor will only provide assistance up to 15.53 miles.
Modeled on the Dogma F10, the bike can run even without the battery. The SRAM Force 11-speed groupset coupled with a quality drivetrain enables smooth shifting. Nytro Ultegra has Hydraulic disc brakes in place to make sure you get maximum control over stopping.
The battery is 252Wh downtube mounted which makes handling the bike much better. It also has a Fazua Motor which is powered at 210W maximum.
Advantages
Decent Range
Value For Money
Good Quality Frame
Disadvantages
Uncomfortable
Cheap Looking Components
Misplaced Cable Routing
Why I Like It: Although this is the first electric road bike by Pinarello, this bike was very much fun to ride. Although it is a little bit on the expensive side, the overall experience of riding this bike is something to look forward to.
---
Is Riding An Electric Bike Cheating?
Even if we stop thinking about it, someone will spring this question on us somewhere and leave us in doubt all over again. This debate on whether it is cheating to ride an electric bike has been going on forever and now it is time to put this doubt to rest once and for all.
Is it cheating to ride an electric bike for exercise and conveyance? The simple answer to this is, No. Let's break down this debate so we can have a better understanding of why electric bikes are not cheating at all.
It Is Cheating When You Cycle With A Motor
Most people view cycling as a pedal-based sport, so when they see a bike using an electric motor, they consider it cheating. They think that if it is using an electrical motor it becomes a motorbike or a scooter and it loses the status of a cycle.
This is not true. Electric road bikes have a small motor that assists your pedaling, hence the name Pedal-Assist. It only gives a boost to the power that you create with your pedaling. This is why it isn't cheating when you cycle with a motor.
Electric Bikes Make It Easier To Cycle
Yes, Electric bikes do make cycling easier and more convenient for everyone. Not all of us are always going to be willing to do the pedaling because of many reasons. Electric bikes assist us by making it somewhat easier to pedal.
These bikes make cycling accessible for everyone and that is what we all want, More bikes Fewer cars! They assist us in climbing steeper hills and overcoming all obstacles. These bikes are also a very good source for keeping injured and aged people active.
You can get to your job without sweating like a pig, and you can switch them to use just as a traditional bike whenever you want (if they have pedal-assist mode). Isn't that what we want to use a bike for? To be able to commute on it without any fear?
Electric Bikes Cannot Be Used For Exercising
Some people use bikes only for the purpose of exercising and they say that electric bikes cannot be used for exercising. This is not true at all because as we mentioned earlier, the motor is just there to assist the pedaling that you do. The real effort is put in by you.
Studies have proved that electric bikes contribute significantly to health since they incline people towards cycling. Other research has proved that electric bike riders exercise just as hard as traditional bike riders because the motor only helps them go faster.
The reason people prefer electric bikes is that you do not feel your energy drained after even an intense session. Moreover, isn't it better to get a round on your electric bike instead of just sitting in your car and driving someplace?
What Are We Cheating At Anyway?
While we ride our electric bikes, it is not like we are taking part in Tour de France or any other big cycling event. It is not a competition that we are taking part in. We are riding our bikes to enjoy ourselves, travel, and have fun while we can.
We do not get any unfair advantage while we ride these bikes with motors because we surely won't get any trophy for our cycling. Most of the electrical motors only assist up to 15.5mph, after which the motor cuts down and we are left doing the hard work ourselves. So who exactly are we cheating? And what are we cheating at anyway?
Electric bikes just make our lives easier. They assist our cycling in all possible ways so it is time to recognize these bikes for how great they are.
Reasons To Consider An Electric Road Bike
These bikes are not only good to get in exercise without breaking a sweat, but they are also good at so many other things too.
Eco-Friendly
Electric bikes are eco-friendly. They do not emit carbon and also do not require gas to run on. They are the perfect substitute for a car to run quick errands or to even commute to your workplace.
If your city is bike friendly, then the best thing you can do for yourself is to buy an e-road bike. You will be reducing the carbon footprint significantly while saving all the money you would have to spend on gas otherwise.
Diversity
These bikes offer you diversity. You can explore places you did not even dream of accessing on your traditional bike. They are perfect for offroading as well as daily commuting. The throttle assist mode assists your riding so that you can commute without breaking a sweat. If your daily track is hilly or full of obstacles, explore all the options before you make a choice.
Less Costly
Hear us out before judging this point. Of course, most electric road bikes have a heavy price tag, but that is a one-time investment. In the long run, you are saving a lot of gas money. Looking at the trends of the price of fuels, the price certainly not going to come down any time soon.
They are easy to use, quick to charge, and offer so much more versatility than cars.
How We Choose Electric Road Bikes – Our Methodology
As an avid enthusiast of electric road bikes, I understand the challenge of finding a high-quality bike that fits within a budget. That's why I've dedicated countless hours to researching and analyzing the best electric road bikes on the market. I've scoured the web for honest reviews and feedback from verified customers, and I've even tested some of the top contenders myself, including the editor's choice.
Using my extensive knowledge of bike components and their strengths and weaknesses, I've narrowed down the top options that offer the best value for your money. So whether you're a beginner looking to get into the electric road bike scene or an experienced rider seeking an affordable upgrade, you can trust that these e-road bikes have been thoroughly vetted and carefully selected.
Without compromising on quality or performance, these bikes offer features such as excellent maneuverability, top-notch suspension, and a durable design, all at a justified price point. So if you're ready to enjoy the ride of your life, these are some of the electric road bikes that you must consider.
FAQs
What Is The Difference Between An Electric Bike And A Regular Bike?
Most electric road bikes are much more like regular bikes. The main difference is in the electrical components that the e-bikes host. The five main components that the e-bikes have are the Motor, Battery, Display, Sensors, and Controls.
What Are The Disadvantages Of An Electrical Road Bike?
The main disadvantage of e-road bikes is that they are heavier and more costly. Their repair cost is also very high.
What Is The Best Range In An Electrical Bike?
The best range that you can get on these bikes is 28 miles per hour. With this speed, you can cover an average of 76 miles.
Also Read:
Conclusion
The cycling community did take their time to accept this version of a bicycle, but it was worth the wait. More and more people are now inclined towards electric bikes because their advantages just rule out their cons.
Electric road bikes should be fast, convenient, and adapt to your needs. All of these qualities are present in our today's pick, The Aventon Pace 500. With a top speed of 28 miles per hour, which is the most you can expect from an electric bike, you will be zooming through the traffic and reach your destination without any delay.
So if you don't want to waste any of your time slowing down and enjoy premium ride quality, The Aventon Pace 500 is by all means the right choice. If you have any other questions or doubts about how amazing electric bikes are, let us know in the comment section below.