Being a bike enthusiast, all I want is to have the strongest and fastest bikes but many of us are not willing to spend loads of cash on a bike. We all want the best, yes, but we also want it to be reasonably priced. Bikes are the new "Sports Cars", so they are going to be expensive, many of them go north of $15000, with the dream construction and components.
Now that the topic of the strongest and lightest road bikes has come up, I want you to know that the type of bikes you are looking for is carbon fiber road bikes. They entered the market with a bang and are known as one of the "Best". Cyclists want the best and carbon fiber road bikes are going to be their newest passion, did you know that carbon is 10x stronger than steel?
Technological advancement and dedication from manufacturers have led to some great carbon road bikes being developed that also are cheap, by cheap I mean within the realm of $2000. With this much of an investment, you would be able to find some amazing feather-light carbon road bikes, but you still need to be careful. Not every shiny item is a pearl or a diamond, finding the right carbon road bike requires guidance and knowledge!
That is why we have compiled this list to guide YOU! With this guide, bike enthusiasts and hobbyists like you would be able to get your hands on some of the best carbon road bikes, and that too for or under $2000.
The only downside that I think about carbon fiber road bikes is the overall price, most of them require a lot of labor to manufacture, and you can say that they are unique when it comes to production. This increases the overall price of the bike, but I guess that top-notch quality requires that!
Top 15 Carbon Road Bikes Ranked
| Best Feature | Bike | Price ($) |
| --- | --- | --- |
| Best Overall | SAVA HERD | 1,899 |
| Best Design | GIANT DEFY ADVANCED 3 | 3,199.00 |
| Best Customization | Cinelli Veltrix Caliper 105 | 3,176.95 |
| Best Assembly | SAVADECK Phantom 2.0 | 2,199 |
| Best Shifting | Orro Gold Evo 105-FSA R800 | 1,999 |
| Best Race Performance | CANNONDALE SUPERSIX EVO 105 | 2,699.99-3,225.00 |
| Best Handling | Focus Izalco Race | 1,966.31 |
| Best Grips | Brilliant L Train | 749.99 |
| Best Ride Delivery | Emonda ALR 5 | 2,299.99 |
| Best Wheels | Ribble R872 Disc | 2,162.79 |
| Best Value | SAVADECK Carbon Road Bike | 1,199.00-1,299.00 |
| Best Fit | Schwinn Fastback Carbon Road Bike | 2,290.14 |
| Best Durability | Vitus Zenium CR / CRW Road Bike | 2,099.00 |
| Best Speed | Trek Checkpoint ALR 5 | 2,249.99 |
| Best Maintainance | Priority Apollo Gravel | 1,999.00 |
Note: All prices mentioned are subject to change.
These special carbon road bikes have been handpicked by our team and showcase the best performance that you can expect from road bikes. All are unique in their respective categories, we hope that they too will enlighten your cycling passion! Let's get started!
1. SAVA HERD 6.0 – Editor's Choice
Price: MSRP $1,899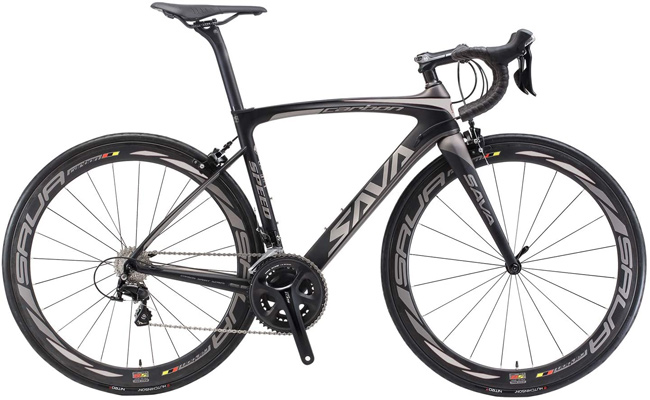 People want the best value for their money and SAVA is known for giving amazing value to its customers. SAVA operates on a direct approach to its customers, which is why they have upheld such impressive brand loyalty. The SAVA Herd 6.0 is one of the best bikes from SAVA yet.
The SAVA road bike series has always been at the top of its game, featuring the best components but at an affordable price tag. You would see that these series also feature amazing 28mm tires, maximizing performance and comfort. Although I said that I am a Cannondale Bicycle fan when it comes to road bikes, the Herd 6.0 changed my opinion, at least for carbon road bikes.
Now, what makes Herd 6.0 different from others? It comes with the powerful Shimano 105 groupset and is available for both men and women. If you go for the 5.0 version of the bike then it features a lower-end groupset. You can see that the quality is maximized here, even if the cost isn't that much.
As this is a carbon bike, it weighs almost 8.7 kg, not that heavy, you can easily use it on hilly terrains. My favorite feature is the carbon seat-post of the bike is shock-proof so you'll be safe from vibrations and other kinds of shocks.
Advantages
Amazing Value For The Price
SHIMANO 105 Groupset
Great Aerodynamic
Outstanding Ride Quality
Disadvantages
Makes Clicking Noise
Requires Professional Tunning
Editor's Choice: The SAVA Herd 6.0 is my top choice because it delivers more value than we pay for. From the overall carbon construction of the bike to the components, it feels like a feather but is quite strong. You are going to have a lot of fun with this bike!
---
2. GIANT DEFY ADVANCED 3
Price: MSRP $3,199.00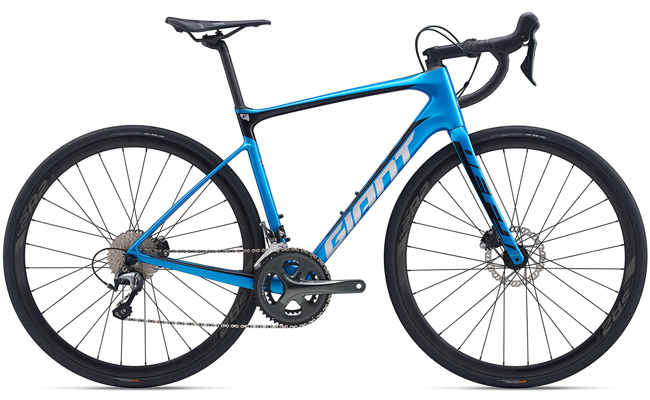 Although it is a bit above the price range, the Giant Defy Advanced 3 is a bike that is going to impress you from the get-go. Featuring an endurance geometry, the bike allows you to be more precise and upright while riding, this makes the bike perfect for long trips and touring. Ergonomic seats are hard to come by in some road bikes, especially in this price category, but the Giant Defy Advanced 3 makes everything easier for the rider.
It is constructed with a full carbon frame that is adept at absorbing all kinds of vibrations and shocks. Furthermore, the 28mm tires on the bike will deliver a delightful mix between comfort and handling.
I believe that the main selling point of the Giant Defy Advanced 3 is the Shimano Tiagra groupset, the 11-speed gear options will allow you to conquer any kind of terrain. High-end Shimano components are rare in a bike at this price point, the inclusion makes the bike a very good deal to exploit.
Enjoy a fully aerodynamic bike, the Giant Defy 3 features integrated cable management, which makes the bike lightweight and strong while also enhancing its performance. It is really impressive to see this feature in a budget road bike.
Advantages
Unique Design
Strong Carbon Fork and Frame
Powerful Mechanical Disc Brakes
Disadvantages
Lacks tubeless-ready wheels
Expensive
Why I Like It: The Giant Defy Advanced 3 does something that only a few bikes can do at this price range, it perfects almost everything. Although it is more expensive than others on the list but offers more, especially in terms of performance. The design and aerodynamics of this bike are top-notch.
---
3. Cinelli Veltrix 105
Price: MSRP $3,176.95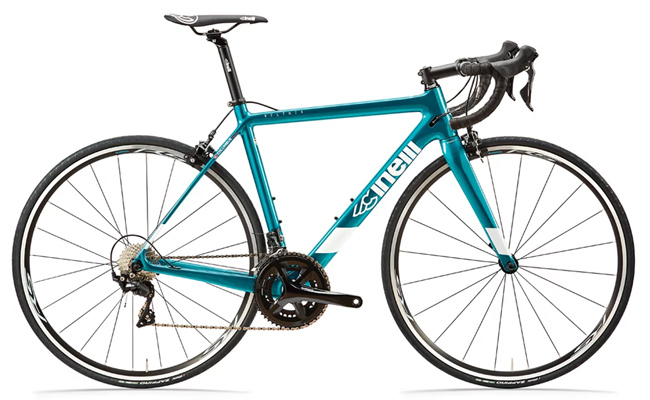 In the Cinelli Veltrix Series, the Caliper 105 is the best one to go for! It is a combination of aluminum and carbon, they bring out one of the best products from Cinelli yet. If we compare the Caliper 105 with the other bikes from Cinelli and other series, I think it is equipped way better (In terms of components and construction).
At Cinelli, comfort is one of the upholding values, something that they make sure each of their bikes is. With the Veltrix Caliper 105, comfort is a defining quality, and with the endurance geometry, things just get very impressive. The 28mm tires of the bike can handle any kind of road, may it be dirt or gravel.
If you are planning on long trips for casual or professional purposes then the Veltrix Caliper 105 is going to suit you better. There are a variety of accessories and customization options, there is a top tube mount if you want to stack up extra storage, and three water bottle cages, it doesn't get any better than this.
The Caliper 105 becomes a great adventure bike from an endurance bike if you play your cards right, and adventure bikes at this price range are like the holy grail for cyclists.
If you love tracking your progress, for example like a bike computer, then you would be happy to know that the Cinelli Veltrix Caliper 105 is compatible with DuoTrap S Sensor (Sold Separately).
Advantages
Strong
Great Customization/Accessories Options
Partial Internal Cable Routing
Disadvantages
Heavy (More than 10 kg)
Absence of disc brakes
Why I Like It: I was in desperate need of a great adventure bike, Cinelli Veltrix Caliper 105 just sorted it out. It starts as a great endurance bike with the right customization it becomes an amazing adventure bike, it is even installed with all the right components.
---
4. SAVADECK Phantom 2.0
Price: MSRP $2,199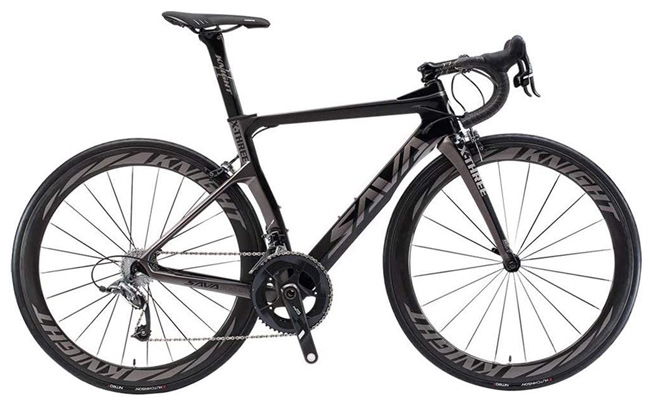 Beauty is another synonym for road bikes and I think that the SAVADECK Phantom 2.0 is one of the most gorgeous-looking carbon race bikes that I have ever seen. The price that you pay for it is nothing compared to the value that you get in return for it. This here is a full carbon bike, its fork, frame, and seat posts are all made from carbon.
You will be enjoying a great aerodynamic bike thanks to the carbon 50mm deep wheels. There are a lot of reasons to be excited about this bike, such as the Shimano components.
The Phantom 2.0 is a full carbon aerodynamic bike with powerful rim brakes. I was searching on the components of the bike to find what's so good about it and I came across the Shimano Ultegra 8000 Groupset. The Shimano Ultegra 8000 Groupset, if we compare it to the 105, it is more accurate and lighter so you get more value for your money. Ultegra is a pricey component and you won't see any other bike under the 2K range that uses in its construction.
If you want to ride the bike on hilly trails you can easily do that, thanks to the heavy gears of the bike. May it be in the Netherlands or North America, this AERO bike is going to do wonders for you!
Advantages
Well-Packed
Easy Assembly (30 Mints Top)
Disadvantages
Slow For An Aerodynamic Bike
Deep Rims Catch Crosswinds
Why I Like It: If you live in flat areas and are struggling to find a great road bike then the SAVADECK Phantom 2.0 is the best option for you. Featuring the Shimano Ultegra 8000 Groupset and other high-end components, it just gives great value to the rider. It might not be that fast but it certainly gets the job done!
---
5. Orro Gold Evo 105-FSA R800
Price: MSRP $1,999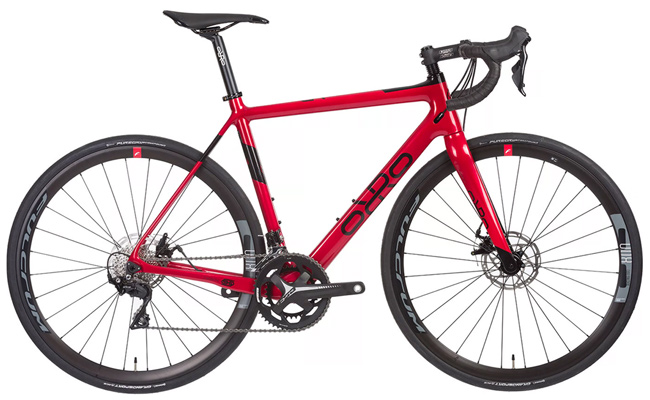 The Orro Gold Evo is one of the very few carbon bikes that we could find in the market, that uses carbon in all of its construction. We have discussed the Cinelli Veltrix in this guide, if you liked that bike then you are going to love the Orro, they have a similar construction, only the Orro Gold Evo is cheaper than the Veltrix and that is a good thing.
This is an endurance bike, every component of the bike supports that structure. With the Orro, you can easily ride long distances, go to that hilly terrain that you always wanted, and just do about anything.
The components of the Orro Gold Evo are amazing, a really good example is the Shimano 150 Groupset, along with that you also have an FSA chainset, both of them combine to give a really good performance boost to the bike. Changing gears will feel faster and smoother! I like that the bike has Internal Cable Routing (Partial), it gives a neat finish. Although the bike could use an upgrade with hydraulic disc brakes, it originally has mechanical disc brakes.
The Fulcrum R900 DB alloy wheels used in the bike, allow the Orro Gold to deliver and fast and comfortable ride, all of these components in this price range are just a God-send.
Advantages
Great Customer Service
Amazing Shifting
Comfortable
Disadvantages
Lacks Hydraulic Disc Brakes
Noisy Rotors
Why I Like It: The Orro Gold Evo is like a better version of the Cinelli Veltrix, and I love that! You get more than the Veltrix and at less price, if you were looking for an amazing endurance bike to start then the Orro Gold is one of the best options to go for!
---
6. Cannondale SuperSix EVO 105
Price: MSRP $2,699.99-$3,225.00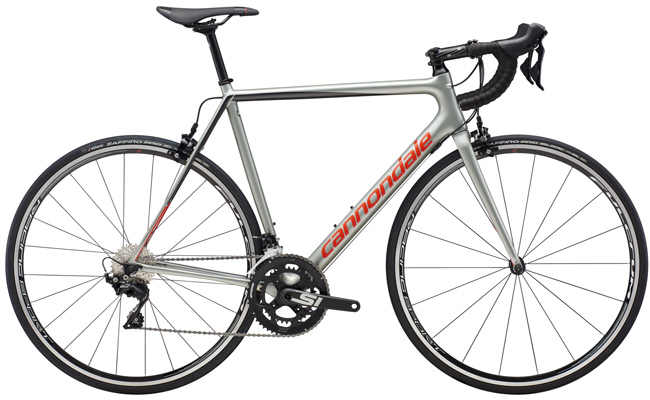 If you are a UK citizen then you know that Cannondale and the SuperSix Evo series have been the go-to choice if you want an amazing lightweight performance, they are cheap and offer the best performance for the buck/pound. Cannondale produces a lot of bikes every year, but this year's SuperSix Evo is just different.
Well, the frame of the bike is very lightweight and has a lot of colors than before, it is even more aerodynamic than before and that is what I love about the bikes from Cannondale, they are consistent with their performance, even if the design might be a little different. The Mavic Aksium Wheels and the Shimano 105 Groupset add more value to the bike.
This year's Cannondale might not be too big with the components or with the construction but the performance is great. You will still enjoy that signature riding experience, you won't even have to look for another entry-level bike than the SuperSix EVO.
Customization is the key here with this bike, you can build upon this bike, and improve it however you want. No matter, if you want to use it for regular commutes or racing, the Cannondale SuperSix EVO is not going to disappoint.
Advantages
Amazing Racing Performance
Swift Handling
Disadvantages
Unattractive Design
Heavy
Why I Like It: Cannondale is a really good brand, reliable when it comes to producing amazing bikes. The SuperSIX EVO series has been one of their flagship series, and every year they improve upon the model. If you want a really good entry-level bike then you should try this out!
---
7. Focus Izalco Race
Price: MSRP $1,966.31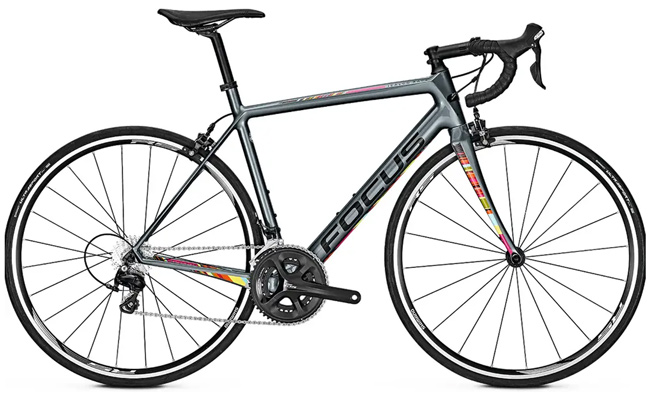 The German Bike Giant "Focus" has done it again with their Izalco Race Bike. It is available in different frames/builds and the price may differ too, but the performance is not going to differ. The Izalco Race is a well-built machine that deserves praise from everyone.
This is a full carbon bike, with a carbon frame and fork, there are no "mixtures" of any kind. I like the Prologo Kappa 3 Saddle because of its comfort. The anatomically shaped saddle shell has lightweight foam padding which is great for longer routes.
The Izalco Race is a complete package and you shouldn't doubt the quality of the build. We get a Prologo Kappa 3 Saddle that is hard to come by in bikes of this category. The only problem that I had was with the brake levers as they were too high, although that was sorted out quickly.
The Shimano RS010N Wheelset does a really good job, you will be able to traverse the road quite quickly without any kind of problems.
Advantages
Quality Ride
Efficient Handling
Disadvantages
Slow
Wheels Need An Upgrade
Why I Like It: The Focus Izalco Race is a great bike, and there is no reason to avoid it. Constructed with carbon fiber, it is extremely lightweight and offers really impressive performance. It is an absolute beast if you use it for long trips and touring, although be careful with the brake levers.
---
8. Brilliant L Train Road Bike
Price: MSRP $749.99
How about an affordable road bike that isn't just stylish but performs great too? The Brilliant L Train Road Bike is the one that you are looking for. With the L Train road bike, you just won't be conquering the roads but also be looking extremely stylish while doing that.
It has powerful disc brakes and a grease-free Gates Carbon Drivetrain. The Lightweight double-butted carbon frame supports a powerful groupset and the drivetrain allows you to traverse any kind of hill and terrain, there are no restrictions when it comes to amazing performance.
These bikes may not have the highest specifications but they are lightweight carbon and of good quality too. If you are looking for a good entry-level carbon bike then definitely try this out.
Advantages
Flawless Shifting
Lightweight
Comfortable Grips
Disadvantages
Time-Taking Assembly
Wheels Require Truing
Why I Like It: Bikes from Brilliant are extremely durable and offer really good performance too. The components are good enough for the price and I love the design of the bike. If you love simple entry-level bikes then the L Train is going to be perfect for you!
---
9. Emonda ALR 5
Price: MSRP $2,299.99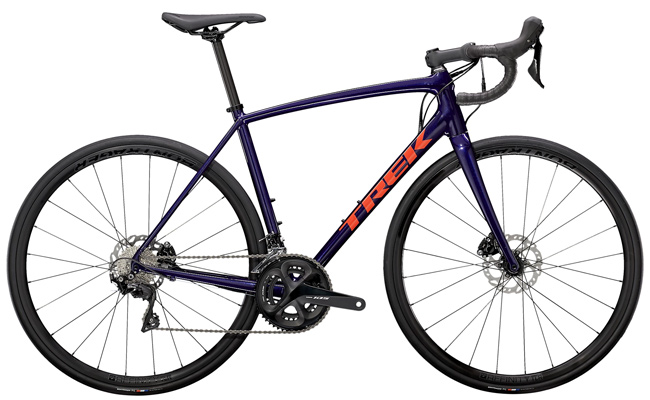 Trek has helped make carbon bikes look sexy again, you just have to go with the looks of this amazing bike. It is a genius blend of both aluminum and carbon, we thought it wouldn't be possible but here we are. Having a pitch-black construct, this bike is going to spin some heads and hearts!
Deemed as the "Lightweight Aluminum Perfection" it combines the best elements from both aluminum and carbon frame to construct something truly special. Its most highlighted features are the Shimano 105 groupset, powerful hydraulic disc brakes, and a strong blend of aluminum and carbon
Let me tell you this, if you are thinking that this is just an ordinary aluminum bike then you are mistaken, it is a bike that feels more carbon than aluminum and that is a really good thing.
With the best frame and components, you can ride this bike to your heart's desire and still not get tired from it. This is a bike that you have to try to believe.
Advantages
Disadvantages
Why I Like It: The Emonda ALR 5 from Trek is an amazing bike, both performance and design-wise. It features the best components and that blend of aluminum and carbon is just stellar. If you want an amazingly powerful bike for those long tours or races then this might be a perfect choice.
---
10. Ribble R872 Disc
Price: MRSP $2,162.79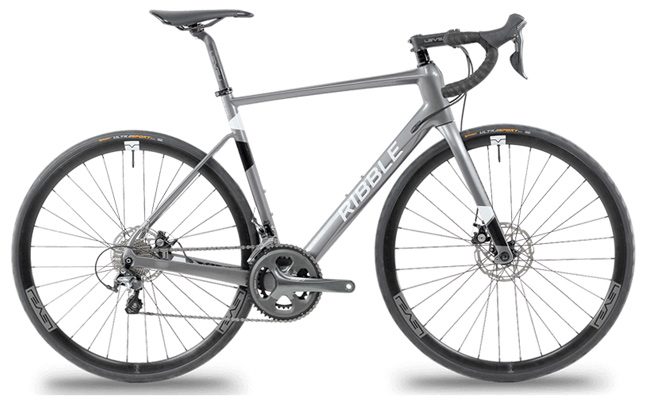 The Ribble R872 came as a surprise, we were hoping for less but got far more than expected. Many of the bikes that you see online or in the market offer that same factory-build but the Ribble allows you almost endless customization from the get-go. You just need to go to the official website and add the modifications that you want.
With that being said, it is recommended that you go for the available upgrades rather than just opting for the factory version.
There used to be alloy seat posts in the past but now they have been replaced with carbon seat posts and they feel a lot better. You can now actually go for longer rides without any kind of problems or disturbances. As I said, the bike builder option lets you choose a variety of upgrades and you should use that.
You can't change the Shimano 105 hydraulic groupset of the bike but I guess that is fine since you will still get that amazing standard performance. It features the 11-32 cassette, you would be able to change gears quite quickly without any kind of problems. The handlebar also feels good, it is ergonomically placed just as you wanted it to be.
Advantages
Mavic Wheels
Amazing Design and Performance
Disadvantages
Isn't A Big Brand( If That Matters To You)
Why I Like It: I always go for performance and design, brand is something that doesn't matter to me that much. If you love brands then you are not going to love the Ribble R872 but if you are a hearty person and love surprises then definitely check out this amazing bike.
Read more about Ribble Bikes here.
---
11. SAVADECK Warwinds 3
Price: MSRP $1,199.00-$1,299.00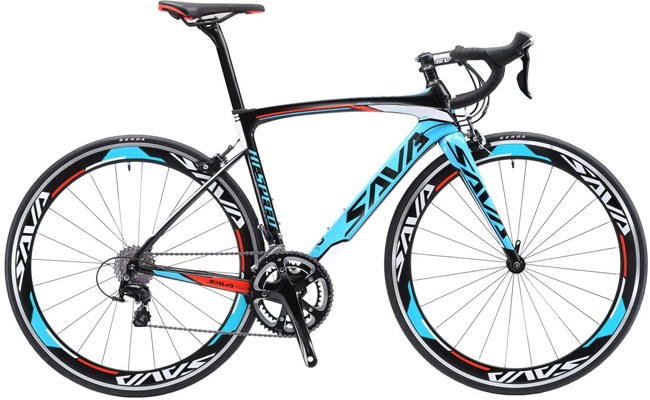 If you are a fan of Tron or Star Wars then you are going to love the SAVADECK Warwinds 3, it looks like a bike straight out of those movies. Although the Warwinds 3 is one of the most expensive entry-level options to go for, the value that you get for this bike is unmatched, it feels extremely lightweight and accurate.
The bike's frame is made from carbon fiber so that it can extend the performance to new levels, if you are looking for a really good road bike for easy transport and commutes then the Warwinds 3 is going to impress you.
Carbon is smoother than all the other materials and it can absorb almost all kinds of shocks and vibrations. This is a really good advantage over the other bikes because it allows the rider to fully focus on the ride rather than bumping into stuff.
As for the gear system, the Warwinds bike features a Shimano 6800 Gear System which is great for traversal of every kind of terrain. No matter what your destination is, with the Warwinds 3 bike, you will be able to reach there in a zap and without any kind of problems. You get maximum stopping power with the great Sava Warwind Shimano 6800 derailleur brake.
The Sava Warwind Hutchison tires do a great job of boosting the potential of the bike, you will always have the ultimate grip on the road.
Advantages
Easy Assembly
Value For Money
Disadvantages
Generic Pedals
Cheap Derailleurs
Why I Like It: The Warwinds 3 Bike is a great example of Carbon perfection, every bit of the bike is constructed to give the perfect performance/comfort combo to the rider. It had great components, such as the Shimano 6800 gear system, Hutchison tires, and much more. Although it is a bit pricey, you won't get another amazing bike like this one!
---
12. Schwinn Fastback Carbon 105
Price: MSRP $2,290.14
Schwinn is adept at making amazing bikes and accessories, they have been doing that for ages now and when the brand comes up, you better believe that it is going to be one amazing product. With the Fastback Carbon Road Bike, they have done it again.
The Fastback is one of Schwinn's most impressive bikes yet, it just makes you feel superior at all times. It's almost as fast as an endurance road bike.
As I mentioned, this is a full carbon bike, everything from the frame to the seat post is made from carbon, this is done to make sure that the bike delivers amazing performance while being extremely lightweight. With the Shimano 105 Groupset, you would be able to change gears almost instantly and with that be able to conquer any kind of terrain.
The powerful dual-pivot caliper brakes give you amazing stopping power whenever you need it, there is never a delay in that, we checked it ourselves. Another great benefit of the Schwinn Fastback bike is that you get a lifetime warranty, this gives you ease of mind whenever you are riding the bike.
Advantages
Perfect Fit
Lightweight
Incredibly Fast
Disadvantages
Difficult Assembly
Bike Pedals Sold Separately
Why I Like It: Schwinn is a name of quality and amazing performance, and their fastback bike is just spectacular. If you are looking for an amazing carbon road bike that will help you conquer the roads and fulfill your passion then this is the ultimate bike for you. With the amazing components and the lifetime warranty, I doubt that you will need another bike for a while.
---
13. Vitus Zenium CR
Price: MRSP $2,099.00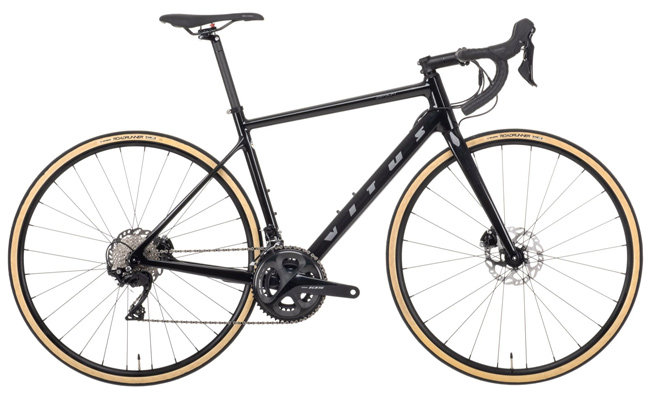 Vitus is one of the biggest brands to make amazing road bikes, and the Zenium CR is one of their best bikes yet. The Zenium comes in two models, the CR is for men and the CRW is for women, everyone gets to enjoy this amazing carbon road bike.
You must be wondering about the construction and the specifications of the bike now, right? Due to the economies of scale, Vitus has allowed itself to build this amazing bike and at an affordable price tag too.
The Zenium is one of those few bikes from Vitus to be made fully from Carbon Fiber, and that is one of the most special things about the bike. When you think about the price tag, the structure of the bike becomes a stand-out feature, especially if you combine the hydraulic brakes in it too.
When the brakes of the bike work so well with the Vittoria Zaffiro tires, you know that you invested in the perfect bike for yourself. There will never be a delay in the stopping power, you just need to try the bike to believe it. The frame and fork of the bike are made with true dedication, Toray T700 carbon fiber cloth was used to construct them and you can see the quality from there.
Advantages
Amazing Durability
Lightweight
Disadvantages
Why I Like It: Bikes from Vitus never seem to disappoint and the Zenium CR is no exception. It upholds the company's values of delivering a top-notch product to the customer. Considering the price point, features, and performance, the Vitus Zenium CR puts a lot of superbikes to shame.
Read more about Vitus Zenium Bikes here.
---
14. Trek Checkpoint ALR 5
Price: MSRP $2,249.99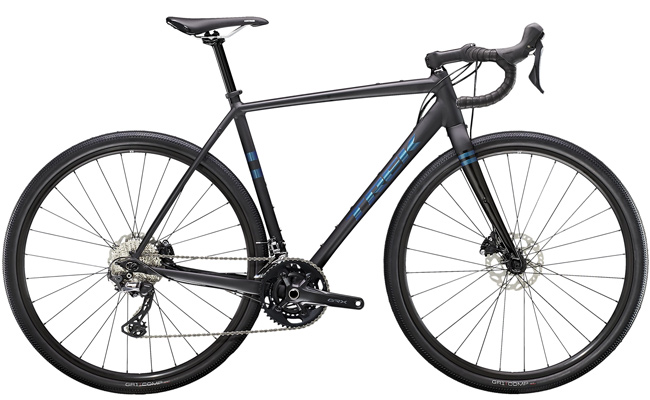 If you are looking for an amazing gravel-oriented road bike, then the Trek Checkpoint ALR 5 is going to do wonders for you. No matter what you throw at the ALR 5, it is going to handle everything like a professional bike. No matter if it is craggy trails, hills, or even smooth pavements, you are just going to be impressed by the quality of the ALR 5.
You can even customize the tires of the bike because of the clearance, the modification options are virtually endless.
If you want to customize or mod your bike, with the Checkpoint ALR 5, you have all the options. There are extra mounts on the frame of the bike that allow you to attach whatever you want, say if you wanted to have 3 water bottles with you, you easily have that with your gorgeous carbon steed.
With the powerful disc brakes of the ALR 5, you will be able to control your descents with more precision. It almost feels like riding endurance bikes. If you love your bike to be in different colors then you are in luck, the Checkpoint ALR 5 comes in different colors, although I love the golden aesthetics of the bike.
Advantages
Highly Accessorizeable
Fast
Sleek
Disadvantages
Why I Like It: Trek Checkpoint ALR 5 proves to be an amazing bike with that genius blend of aluminum and carbon. It is extremely lightweight, thanks to that strong carbon fork that makes the bike more durable. With the great components like the Shimano drivetrain and customization options, you are going to have a blast with this bike.
---
15. Priority Apollo Gravel
Price: MRSP $1,999.00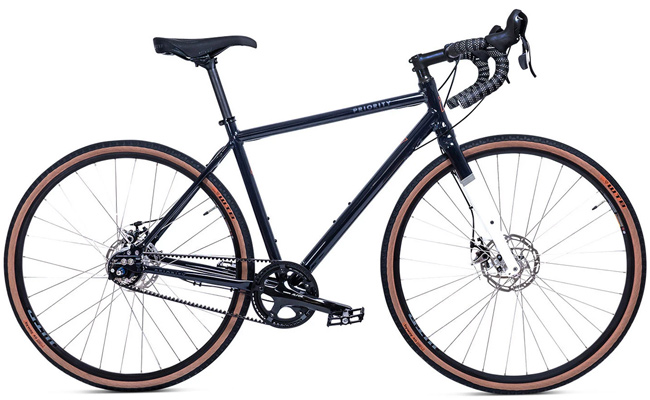 The Light and Versatile Priority Apollo Gravel bike are going to spin a lot of heads, this is a bike that you have to try out. We have come through a lot of bikes, people were loving cross-country bikes first, fat bikes, and even e-bikes but today it is time to give the spotlight to the amazing Priority Apollo Gravel.
Priority has made its first gravel bike, the Apollo is one special bike let me tell you that. It is still a road bike but beefier, they have drop-bar handlebars and leaning frames that kind of make them look like mountain bikes.
The Priority Apollo Gravel is best suited for both smooth pavements and jagged trails, the choice is yours where you want to use it. With the internal gear hub, you spend less time and money whenever there is trouble, you certainly won't have to deal with chains.
If you are planning on long tours or something like that then the forward-leaning frame will make sure that you have a comfortable ride. Did I forget to mention that the bike is extremely fast and durable too? There is never a delay with brakes and absolute stopping power in your hands.
Advantages
Versatile
Easy Maintainance
Durable
Disadvantages
Long Stem
Wheels Need Trueing
Difficult Shifting
Why I Like It: How would you react if you got a water-proof belt drive with the bike that you just got? The Priority Apollo Gravel is an amazing bike and you should be every bit as excited as I am. You won't ever have to worry about any kind of chains or derailleurs with this bike. The weight of the bike is only 10kgs so that still is under the realm of lightweight.
---
Road Bike Size Chart
| | | |
| --- | --- | --- |
| Size | Rider Height (Feet & Inches) | Frame Size |
| XX-Small | 4'10''-5'0'' | (47cm-48cm) |
| X Small | 5'0''-5'3'' | (49cm-50cm) |
| Small | 5'3''-5'6'' | (51cm-53cm) |
| Medium | 5'6''-5'9'' | (54cm-55cm) |
| Large | 5-9''-6'0'' | (56cm-58cm) |
| X-Large | 6'0''-6'3'' | (58cm-60cm) |
| XX-Large | 6'3''-6'6'' | (61cm-63cm) |
Note: You can easily find the perfect-sized carbon fiber road bike for yourself by simply following the size chart.
Why Choose Carbon Fiber Rather Than Other Materials?
Long before the technological advancement, carbon fiber was used in super expensive bikes or superbikes you would say. Now that there the manufacturing processes have been changed, there is more access to technology than before, and it is much easier to get your hands on a carbon fiber bike. You wouldn't need to break the bank to afford a great carbon fiber bike now and we will discuss why they are better than bikes made from Aluminum or Steel.
Extremely Light
Let's start with the most basic thing, weight! Yes, carbon fiber bikes are extremely lightweight, strong, and durable. No matter if it is the whole frame or just the fork of the bike, they are certainly going to boost the performance and feel of your bike. Using carbon fiber, manufacturers can modify the stiffness of their bikes in different ways, the carbon layers are aligned differently.
If it is a bike that is fully made of carbon then the head tube and bracket will ensure maximum power delivery while there will be unmatched comfort from the seat tube.
Comfortable Ride
It does not matter if you are a professional rider or not, you are going to love the comfort of carbon road bikes. Aluminum is not able to handle shocks and vibrations, that is where carbon fiber shines, they are adept at withstanding and not transmitting vibrations/shocks that result in a smoother and comfy ride.
You can always customize, if you don't want to commit to a full carbon bike, you can always install a carbon fork that will give you the same great comfort.
Stronger
Carbon Fiber is the type of material that gives the manufacturer more power and freedom to build whatever they want. A lot of technical improvements can be made and that results in a durable and strong bike frame. According to the tests and experiments, carbon outperforms every other kind of bike material.
Stability
We all know that carbon fiber used to be damaged by UV rays and that was a big problem for riders. That problem has been solved now, almost all the new bike frames that are made with carbon fiber have UV stabilizers in them, so there is no chance of damage.
If you want to use bike wash on a carbon bike, you can do that too without any kind of problems. Carbon is not susceptible to any kind of damage from these bike maintenance lubricants.
How To Choose The Perfect Road Bike?
The world of biking starts with road bikes, they are the means to enjoyment, exercise, and adventures. Road Bikes allow you to move here and there without any kind of worries, you meet new people along the way and life gets slower than a raging automobile, it is all for the good though!
Now reading that would have you excited, even that much that you would want to go ahead and shop for a road bike but we encourage you to wait and plan out everything ahead. Getting a road bike is easy but getting the best one, especially for you is going to be tricky.
Research is going to be a game-changer here, you need to know what makes or breaks a bike, and to get a really good road bike, what things are there that you need to focus on. So let us get started!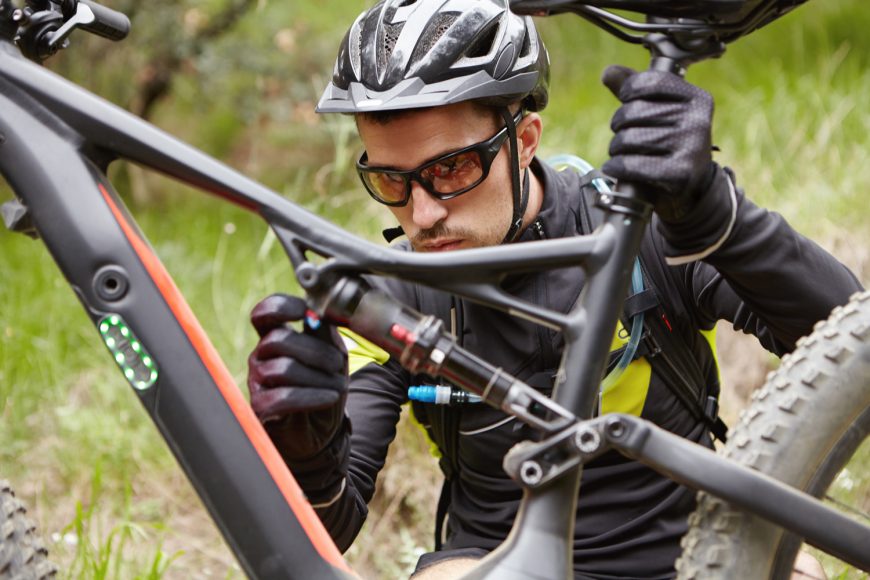 Frame Geometry Is Different And It Matters
You may be thinking that all bikes look the same and that is true to some extent but many of them differ. One road bike is very different from the other one. Each one of them has a different frame geometry that makes them unique, and if you figure that out then you would be able to understand almost 90% of their structure.
Most of the road bikes that you are going to come across will have sports geometry, this is best suited for those bikes that will be used 3-4 times a week, stretching up to almost 150 miles/week. These are recommended for casual users.
After that, there come road bikes with race/performance geometry. These are for the professional/competitive riders, they enhance their skills while asking the riders to be more flexible with themselves. These professional bikes are going to be lighter, have a strong frame, premium components, and an expensive price tag.
Look Out For The Materials
Now that frame construction is over and done with, you need to pay attention to the various frame materials. Bike frames usually come in two different forms and they are:
Carbon Fiber Frames
These frames are adept at providing comfortable and vibration-free rides. Comparatively, they are expensive because a lot of labor-intensive work is needed to construct them. They are the preferred choice of professional riders.
Aluminum frames
Aluminum frames also provide a good and comfortable experience but are way less expensive. They can be customized even more so to enhance the experience.
If you want to enjoy the best out of your bike and for professional purposes then it would be suggested that you go for carbon fiber frames. Although if you want the bike for casual and fun purposes then an aluminum frame would be more than good enough!
Choose Your Pedals!
You may be thinking that what are the pedals going to do and they come built with your bikes, well things have changed a bit! The basic bikes come with normal pedals that have toe cages but then there are the higher-end/premium models that come without pedals. This is because the company thinks that for a better and more personalized experience, you would choose the pedals yourself!
You can choose the pedals that go perfectly with your cycling shoes, after that just see that your performance gets better!
Brakes and Shifters
One would think that the brakes and shifters of a bike are different components, that was true at some point but with the newer models, these two components have become integrated.
Different bikes and different brands offer unique experiences and you must try them out before finalizing a choice. Both SRAM and Shimano have amazing shifters and brake sets, choose the one that suits you the most! The most important thing that you need to consider is that you have a good grip on the bike.
Other Key Components!
Apart from the frame and the geometry, there are other key components to look out for, choosing the right components for your bike greatly affects the performance.
Groupsets and Drivetrains
Let's start with Groupsets, they are a set of matching components provided by different component manufacturers for bikes. If a bike comes packed with a groupset, then they are going to have a stylish, and consistent look/design as compared to the bikes that don't come with these types of groupsets. This shows the utmost quality of a bike and the top-renowned suppliers of Drivetrains/Groupsets are SRAM and Shimano.
Wheels
Wheels are one of the most important components to consider because they directly affect the performance of the bike, they are the ones between the road and their quality will certainly go a long way. Wheels affect the following:
The overall weight of the bike
Acceleration and how well it handles
Resistance against the wind
The thing with wheels is that they are pre-built with the bike and you don't get to choose them except that your bike is custom-built. Although you can always customize your bike when you have already gotten it, upgrading goes a very long way. Carbon wheels add much more benefits than any other kind of wheels.
Gears and Cranksets
Gears are an important part of road bikes, they go hand-in-hand. The component that makes the pedal rotate the rear wheel is called a crankset and that is where we will start. Many of the road bikes are coming with different types of cranksets, things start with double and then go to compact.
Double/Compact Cranksets
Double/Compact Cranksets have two chainrings and 20 gears in total. They also come with a 10-speed cassette, and having few gears gives them various benefits.
Triple Cranksets
Triple Cranksets have 3 chainrings and 27 gears in total. They also come with a 9-speed cassette, providing this many gears to the rider comes with its own set of benefits.
You can always upgrade or customize whichever crankset you get with your bike, everyone has their preference after all. Other than that, if you are a beginner and are just starting with the bikes then a triple or compact crankset would be the best one for you, if you are a professional then you should go with a double crankset.
Read more:
How We Choose Carbon Road Bikes- Our Methodology
As a passionate enthusiast of cycling, I understand the challenge of finding a high-quality bike that fits within a budget. That's why I've dedicated countless hours to researching and analyzing the best carbon road bikes on the market. I've scoured the web for honest reviews and feedback from verified customers, and I've even tested some of the top contenders myself, including the editor's choice.
Using my extensive knowledge of bike components and their strengths and weaknesses, I've narrowed down the top options that offer the best value for your money. So whether you're a beginner looking to get into the electric road bike scene or an experienced rider seeking an affordable upgrade, you can trust that these bikes have been thoroughly vetted and carefully selected.
Without compromising on quality or performance, these bikes offer features such as excellent maneuverability, top-notch suspension, and a durable design, all at a price point that won't break the bank. So if you're ready to enjoy the ride of your life, these are some of the affordable carbon road bikes that you must consider.
FAQs
Does A Carbon Road Bike Make A Difference?
It is all about the components first, a carbon road bike without the right components won't do that much good. You need to combine a really good carbon bike with high-end components to make a good difference.
Are Carbon Road Bikes Good?
The evidence is all around you, you will see that all the bikes used in special races like the Tour De France used carbon race bikes. Their stiffness, performance, and strength cannot be matched.
What Is The Lifespan Of A Carbon Bike?
If you don't get into accidents or there isn't any other kind of damage, you will see that these carbon bikes last almost indefinitely.
Why Are Carbon Bikes So Expensive?
It is all about the layout, designs have to be tweaked, developing carbon bikes is very labor-intensive hence the high price.
Recap
Carbon Bikes are amazing, they are faster, stiffer, and stronger than any other bike material. They are also quite expensive as compared to the other bike so getting them under $2000 is a bit of a challenge. Still, that doesn't mean that you cannot get lucky sometimes. If you are interested in more rugged-style riding, you should opt for gravel bikes.
If you are looking for a really good carbon road bike then try out the SAVA HERD 6.0, it currently ranks the best on our list. There are other options to try out too tho!
May it be Aluminum or Steel, it cannot get any better than Carbon! These bikes are just amazing to look at, and once you get a taste of that performance, you won't ever go for any other kind of bike again! Happy Biking!
---