Super73 is one of the biggest and most innovative bicycle brands of today, and there are many reasons for that. For all the right reasons, they have been covered in the news and why wouldn't they be? They have been making strong and attractive machines, but apart from that they also offer customization like none other. It is because of this customization and the level of freedom which makes their machines find permanent homes. Also because of their performance and dedication they have become an international image of success.
Have you seen the new Barbie movie yet? I'm sure that you have already witnessed the cinematic masterpiece that is but did you notice the new Super73 bike in one of the frames? It is right when we get to see Ken sitting on the balcony of his model house, the details of that bike are still etched in my brain. At first, I thought that this electric two-wheeler is just a nod to Barbie but Super73 has actually made this bike a reality.
The New Barbie Bike is part of the Super73 Barbenheimer collection. One of the bikes is pink (Barbie-Themed) while the other one is a World War 2 Style Bike which is a nod to Oppenheimer and the first generation of motorcycles. You can go for either one of these options but we are here to discuss the Barbie-Themed Bike today.
If you have used a Super73 bike before then you can notice a lot of resemblance to the new Barbie Bike. This new bike is actually the ZXm hence Barbie ZX. It is an electric commuter bike made with aircraft-grade aluminum. It also comes with a removable battery so you don't have to wait while it charges itself back to power.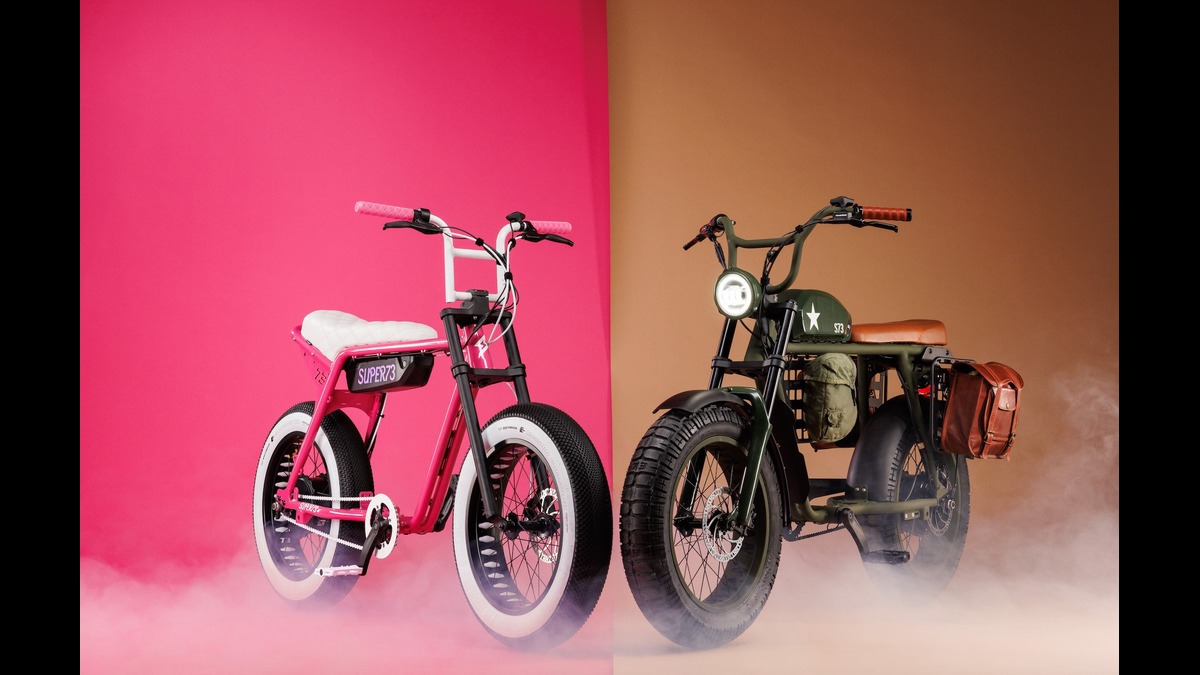 How Powerful Is The Barbie ZX?
No matter how stylish the new Barbie ZX looks, it also has to be powerful. Let me tell you this to get you excited, this bike is powerful enough to fly you around town at the top speeds. It includes a 250 W motor and a battery with 50 miles range (80 Km). These numbers will be affected by the road conditions, the rider's weight and the cargo carried (If any).
So what's new in the Barbie ZX? In case you didn't notice, it is PINK, I mean the whole construction of the bike is PINK and we are in love with it. Although it is targeted at women specifically, men can also rock it. Why would you ever let a color constrict you anyways?
Let me explain the Barbie ZX construction to you now. We are going to start from the bottom and then go to the top, the whitewall tires were actually made for this bike, there is no doubt about that. The bike also features classic Super73 rims and spoke job which enhance the overall beauty of this machine.
This bike is fully pink, it lets you embrace your inner Barbie, what else do you need to get excited? The leather seat and handlebar are there to complement the whole construction. The bike's white wiring is there to fill the gap and it succeeds at that. Now I know that you are really excited to try out the Barbie ZX, you will still have to wait though. The price hasn't been revealed yet and without knowing the price, we can't even pre-order this amazing bike.
The Secret Behind Barbie ZX?
So why did Super73 go all out with these themed electric bikes? What is the agenda here? Well, there is no specific agenda but the brand loves to be active in the lives of movie stars. Let me give you a few amazing options, Paris Hilton owns one, Justin Bieber owns one, and even ASAP Rocky. You might have even seen the bike in one of ASAP's videos.
Let me conclude this piece now, the bike is great, the performance is great and it looks amazing. Still, why do you need to get one? Barbie is one of the hottest trends right now and if you are a fan of hers then I see no reason for you to miss this amazing opportunity.
Pricing and Availability
As of right now, there is no official word about the pricing of the Barbie ZX. More will be revealed soon and then you can start with the pre-orders. If you have any questions or just want to add this bike to your wishlist then click here.
Also Read: Introducing Montague's M-E1: The World's First Foldable Electric Bike
Featured Image Via Super73