Getting a good bike for your kid that will suit him/her perfectly is what should be aiming for. There is nothing more exciting to your kids than having fun in the things they are engaged in regularly. Mountain biking is one of the catchy sports most kids will like to engage in because most of them have fun riding.
Here, we will be going through some ideal good bikes for you over time kids. After doing some reviews on these products, we have highlighted some of the things we noticed about them. The categories include 20-inch mountain bikes, budget-friendly 20-inch bikes, kids mountain bikes, and youth mountain bikes.
Best Lightweight 20-inch Mountain Bikes
| Best Feature | Bike Model | Price ($) |
| --- | --- | --- |
| Best Overall | Trailcraft Blue Sky 20 | 1,399.00 – 1,899.00 |
| Best Volume Tires | The Woom OFF | 799.00 |
| Best Unique Adjustable Frame | Carbon XS Mad 6 | 3450.00 |
| Best Balanced Geometry | Guardian ETHOS | 369 |
| Best Adjustable Brake Levers | Woom 4 | 499.00 |
| Best Consistent Gear Operation | Huffy Kids Hardtail | 218.98 |
| Best Brakes | Prevelo Zulu | 999.00 |
| Best Suspension | Commencal Ramones | 280.00 |
| Best Built | Spawn Raiju | 950.00 |
| Best Saddle | Diamondback Bicycles Cobra | 267.20 |
| Best Stability | Schwinn High Timber | 245.64-571.99 |
| Best Shifting | Mongoose Mech | 285.00 |
When kids cross the 20-inch mark, they tend to get acquainted with things that will give them pleasure. Kids' mountain bikes are a great option for them. There are several reasons for this. Kids around that age range are usually strong enough to cope with the extra weight added by the suspension. As a result, they have a newly established capability to operate gears, as well as the intense desire to use a more expensive bike.
Depending on their height and weight, kids hit the magical 20-inch mark at a variety of ages. Mountain bikes with a diameter of 20 inches are usually suitable for kids aged between 6 to 8. If your child is in that age group, use this list to help you choose the best bike for him or her.
Also, if you are not sure which bike is best for your child, this article will guide you in making a good decision. Our top three picks for the lightweight 20-inch mountain bikes are listed below. Let's take a look at them.
1. Trailcraft Blue Sky 20″ Mountain Bike
Price: MSRP $1,399.00 – $1,899.00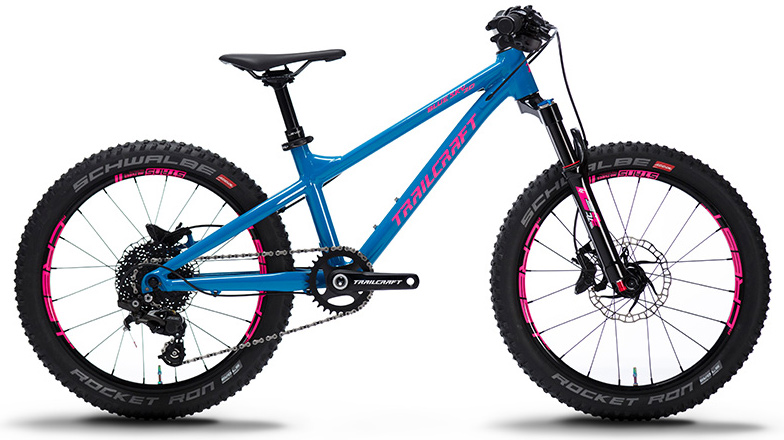 The Trailcraft Blue Sky 20″ mountain bike is undoubtedly one of the best 20-inch mountain bikes available today.
It is important to know that the pleasure of optimizing your child's growth and enjoyment of mountain biking cannot be quantified. Having this bicycle is an obvious good investment because it will develop your child's riding skills. He/she will be able to climb higher, travel farther, and conquer difficult terrain than ever before, thanks to the lightweight and high-quality components of this product.
The Seat tube length is 270mm which, in my point of view, is perfect for kids. The bike is almost 40 percent the weight of my boy and he absolutely enjoys riding it. It weighs only 19.9 lbs so the young riders can handle it easily. Even the grips are amazing with a Trailcraft Lock-on.
This suspension mountain bike is powered with mechanical disc brakes that deliver the shortest stopping distance possible. This is a must-have feature on any kid's bike.
Advantages
Lightweight
Tubeless-Ready Stans wheelset
Top-Shelf Components
Customizable
Quick-Release Seat Post Collar
Disadvantages
Lacks Thru-Axles
No routing for a dropper post
Expensive
Editor's Choice: What I love the most about the Trailcraft Blue Sky is that it is highly customizable. The top-quality components of the bike speak highly of its quality. I just upgraded the pedals and up til now, I have faced no issues with the bike whatsoever. It is truly a one-time investment.
---
2. The Woom OFF 20″ Mountain Bike
Price: MSRP $799.00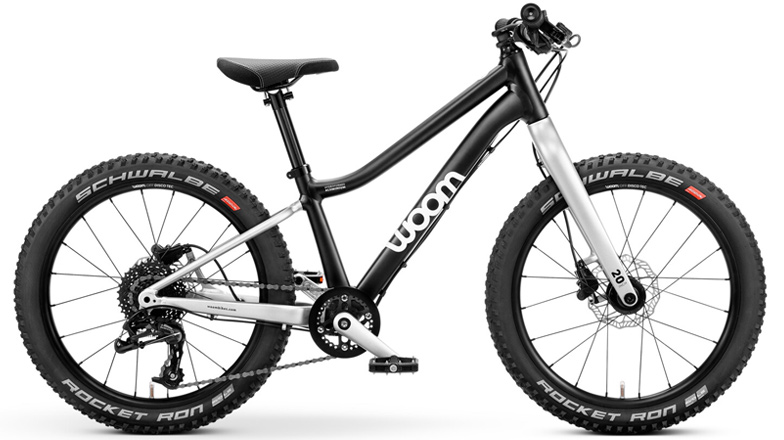 The Woom OFF 20-inch is a high-quality, budget-friendly kids mountain bike for kids. It has well-designed child-specific geometry and comes with amazing parts -just like all Woom bikes.
This bicycle, along with its rigid carbon fork, is an excellent alternative for kids who prefer smooth dirt trails and want to save weight. It is one of the most capable light mountain bike choices for kids. They're just ones that aren't too pricey.
The bike has a crank length of 110 mm and weighs 17.2 Lbs. The seat tube angle is 70° with a Steering angle of 68°. The Wheelbase – 33″ and what's even best is the fully integrated headset. The tires for this amazing bike are provided by the Schwalbe Rocket Ron.
The hydraulic disc brakes along with the front and rear thru-axles add more value to the bike. It also has a carbon fork and a suspension fork for an outstanding front suspension.
Advantages
Lightweight
High Volume Tires
Hydraulic Disc Brakes
Value For Money
Disadvantages
Wheels Aren't Tubeless Ready
Externally Routed Cables
Lacks Quick-Release Seatpost Collar
Why I Like It: What appealed to me the most about The Woom OFF is its high quality in an affordable price bracket. It is more of a cross-country bike that is perfect for boosting the confidence of young riders.
Related: Best Woom Bikes Review And Ranked
---
3. Carbon XS Mad 6 20″ Mountain Bike
Price: MSRP $3450.00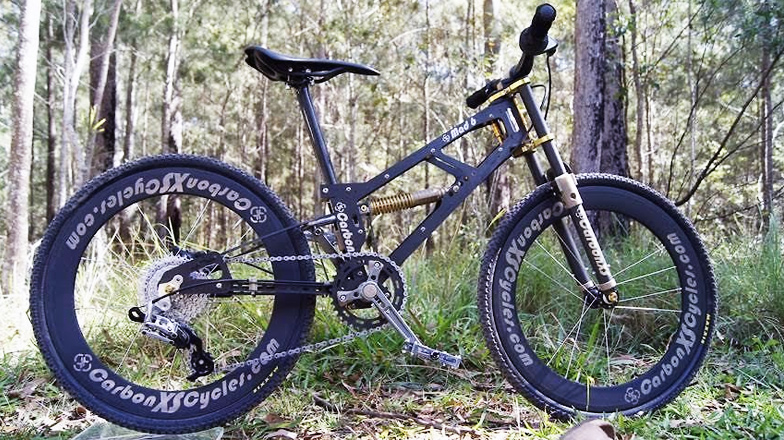 This 20-inch cross-country mountain bike is built for speed. It features full suspension, a full-carbon construction, and an adjustable frame that grows with your kid. It has amazing pedals and handles rocky and technical terrain. This bike is so cool that it's been a popular option among kids for a long time. The bike weighs – 17.5 Ibs much of which is due to the carbon frame. It has a great Gear ratio of 0.88 – 2.73. This is the lightest dual-suspension kids' bike yet!
The Vee crown gem tires have a diameter of 22.1 mm while the wheel diameter is 20mm. The bike offers comfortable rides with no problem in gear switching. Thanks to the high-quality Shimano Zee drivetrain the bike has all that you need!
Advantages
Unique Adjustable Frame
Lightweight
Comfortable
Dual-Suspension
Hydraulic Disc Brakes
Internal Routing
Allows Tubeless Setup Upon Request
Disadvantages
Lacks Quick-Release Seatpost Collar
Long Crank Arms
Lacks Thru-Axles
Why I Like It: The Carbon XS Mad 6 offers a unique look with fast-rolling carbon wheels. It's light weighted despite having dual suspension. The bicycle size is super adjustable so your little one can ride it from ages 3 until they are 8 years old. The bike grows with your child which we parents love the most.
---
Best Budget-Friendly 20-Inch Bikes
While most kids aged 6 to 7 years old would benefit from a 20-inch bike, they will differ greatly in size, price, and features. When your child is ready for a 20-inch bike, anything from gears to brakes to frame size will become a lot more complicated. I assume you will like to know which bike is best for your child. Check out the top picks for 20-inch bikes and their reviews using the lists below. Let's take a look at them in more detail;
4. Guardian ETHOS 20″ Bike
Price: MSRP $369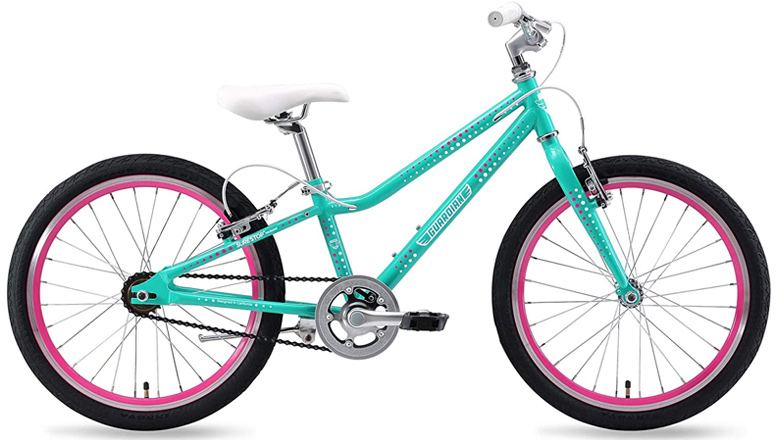 The lightweight steel frame of the 20″ Guardian Ethos makes it easy to manage and control. It will accommodate kids for a longer period because of the smaller frame. The Guardian Ethos is ready for any adventure thanks to its cool features. It comes with a high-quality kickstand, four reflector lights, a wrench, and a tool kit.
The bike was created with the protection of kids in mind. The custom geometry lowers your child to the pavement, and the extended wheelbase aids in their stability as they learn to ride a bike. Because this bike is combined with kid-specific parts, riding this bike becomes extremely safe and enjoyable for kids.
The bike has a seat range of 18.5 – 23.5 inches with a height of 40 – 46 inches. It weighs 22.9Ibs because the frame material is steel. But the seat is highly adjustable and the bike offers a well-balanced geometry. The wheelbase is wide which makes it safer for kids to ride. It is also equipped with hybrid bike tires so kids can ride it on any pump track.
Advantages
Adjustable Seat
Easy Control
SureStop Brakes
Safe
Easy Assembly
Disadvantages
Why I Like It: Although older riders may need gears to enjoy a trip on this bike, its safety and large wheelbase are surely a plus point. The fact that it has handbrakes instead of coaster brakes makes it easier for kids to transition onto adult mountain bikes.
---
5. Woom 4 20″ Bike
Price: MSRP $499.00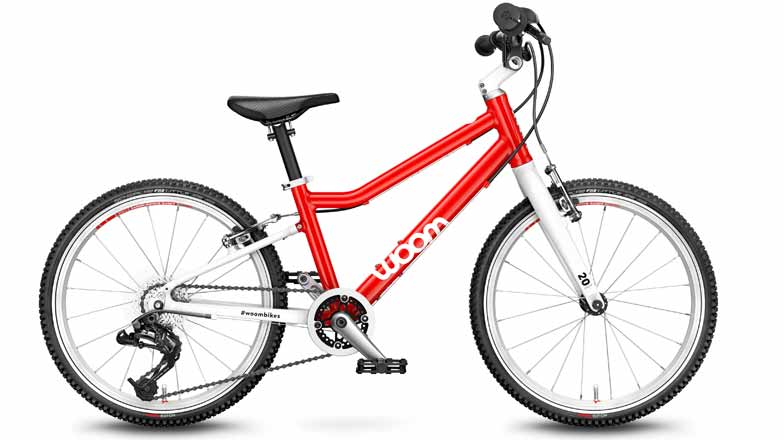 The Woom 4 20″ bike is ideal for kids aged between 6 to 8 years. This product's eight-speed gearing, coupled with its simple twist shifter, opens up a whole new world of exploration on two wheels. The superlight frame, combined with kid-specific geometry, provides a relaxed riding environment for your rider while also increasing his or her confidence. Your kid will be able to go places they have never been before and they'll be able to travel long distances and climb steep hills.
It is 20 inches in size with a handlebar height of 30.3 inches. The steering angle is set at 68° while the standover height of the bike is 19.5 inches. Overall the bike weighs 17.9 lbs. A wide variety of gear is available, from long paved rides to simple trail riding with easily adjustable brake levers.
Advantages
Easy To Ride
Lightweight
Minimum Seat Height
Ergonomic Shifters
Disadvantages
Long Kickstand
Fragile Headset For Aggressive Riding
Why I Like It: The bike is not only fun to ride but also comes in a variety of colors. This makes it more attractive for the children since they can get a color of their own choice. The thing I liked the most about the bike ergonomic grips. They make it easy to grip shifters while reducing wrist pressure.
---
6. Huffy Kids Hardtail 20″ Bike
Price: MSRP $218.98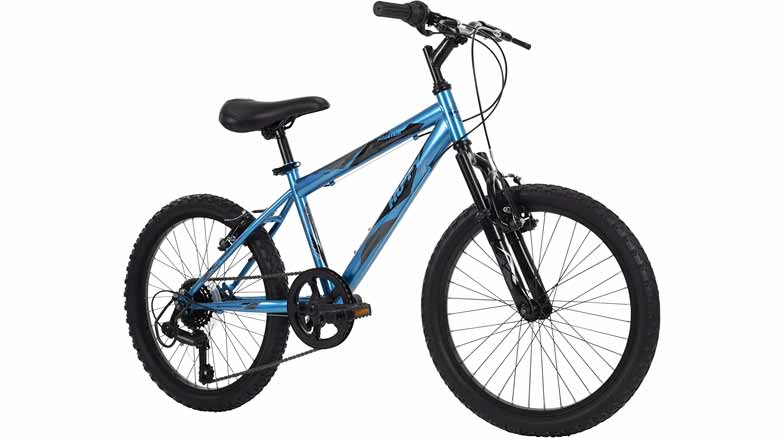 The huffy kid's Hardtail 20″ bike is a high-quality bike designed for kids aged between 5 to 9 years. The bike is designed for difficult trails. It is sturdy, durable, and built to provide hours of riding enjoyment. It can handle a variety of terrain and delivers a memorable performance while maintaining optimum comfort.
This mountain bike has a lot of gears and can easily find the right one to handle any direction. Its tires are also designed to endure harsh conditions and handle a variety of terrains. It responds appropriately to bumps, roots, potholes, and other road irregularities to provide a smooth trip. It also has ergonomic grips, which are beneficial to your kids.
It weighs 35.2 kg and is available in the color Metallic Cyan. This bike comes with linear-pull brakes and the number of speeds that you will get is 6. It is a front-suspension bike that provides easy seat height adjustment. The bike enables upright riding to minimize back and shoulder strain.
Advantages
Ensures Consistent Gear Operation
Kickstand Included
Powerful Braking
Disadvantages
Why I Like It: The bike handles dirt with such ease even I was left in awe of the smooth running of the Huffy Kids Hardtail bike. The narrow, racing-type seat might not be comfortable much but it supports the aggressive riding style. Moreover, the bike comes 90% assembled, what's left to ask?
---
Best Kids Mountain Bikes
There's nothing like tearing singletrack with your kids or watching their faces light up as they reach the bottom of a technical descent.
After testing and evaluating many kids' mountain bikes, we have been able to compile some good bikes that will be ideal for your kids. There are just a few brands that make great mountain bikes for kids, and they are at the top of this list. Let's take a look at our top three picks, along with their reviews.
7. Prevelo Zulu Three Heir 20″ Mountain Bike
Price: MRSP $999.00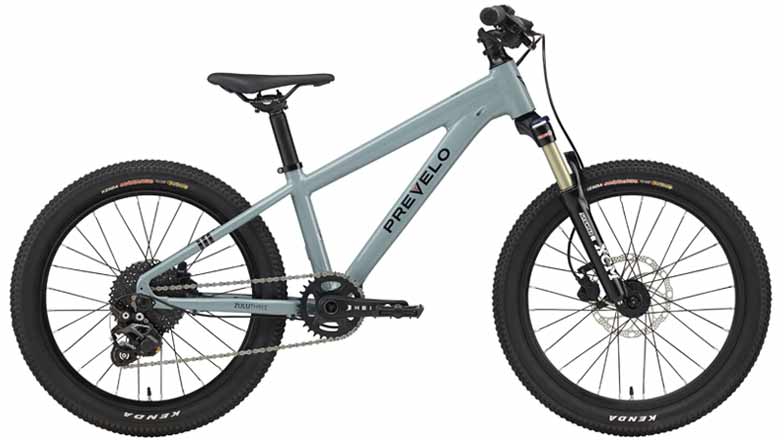 The Prevelo Zulu Three Heir is an excellent bike for kids. Your child will no longer have to endure trips on a completely rigid bike with sub-par parts and geometry. In reality, it has more technology than most mountain bikes available today.
It makes riding trails with your kids easier -thanks to its slack geometry, movement, and big handlebars. The bike also handles technical downhill trails which makes it very unique. While the bike weighs 22.2 Ibs, the seat tube angle is set at 24°. The bicycle frame is made of aluminum with Vee from Gem tires.
It has powerful hydraulic disc brakes with a slack geometry and wide handlebars. It also has front and rear thru-axles and tubeless-ready wheels.
Advantages
Lightweight
Powerful Brakes
High-Quality Drivetrain
Disadvantages
Heavy
Lacks Quick-Release Seat Post Collar
Limited Color Availability
Why I Like It: The bike is easy to unbox and assemble. Plus it handles technical downhill trails easily. Moreover, it's available in my favorite bike color, the Matte Radical Red.
---
8. Commencal Ramones 20 Inch Kids' Mountain Bike
Price: MSRP $280.00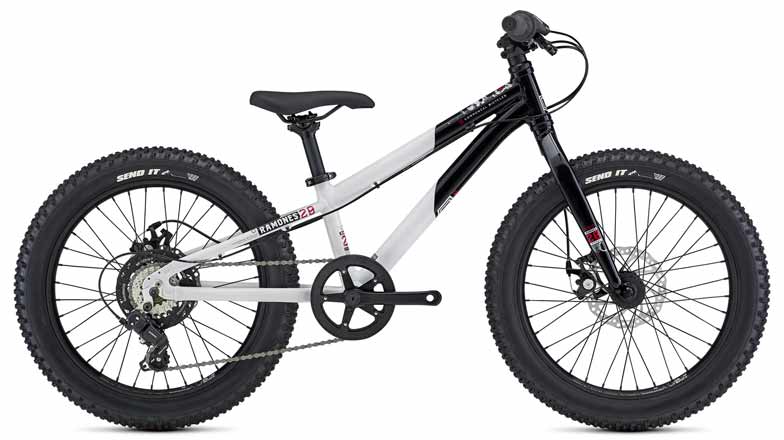 The Commencal Ramones 20-inch mountain bike is designed for mountain bike riders aged between 6 to 8 years. All of the components are designed to withstand the abuse that these bikes can receive over time from kids.
With its quality materials, stylish looks, and reliability, it's an excellent choice for a child's first geared mountain bike. Parents should be assured that this bike can provide their kids with all of the advantages of a modern mountain bike at an affordable price.
The bike has a standover height of 19 inches and weighs 22.26 lbs. The minimum seat height is 24 inches with an external headset type. The bike frame is made from aluminum and is durable. The suspension on this bike is highly capable with a relatively powerful drivetrain.
Advantages
Durable
Lightweight
Amazing Suspension
Affordable
Disadvantages
Why I Like It: The bike works effectively on high-speed tracks and rugged terrain. The outstanding suspension makes the ride bump-free and the brakes come with kids-specific Tektro levers and Jagwire cables!
---
9. Spawn Raiju 20″ Kids Mountain Bike
Price: MSRP $950.00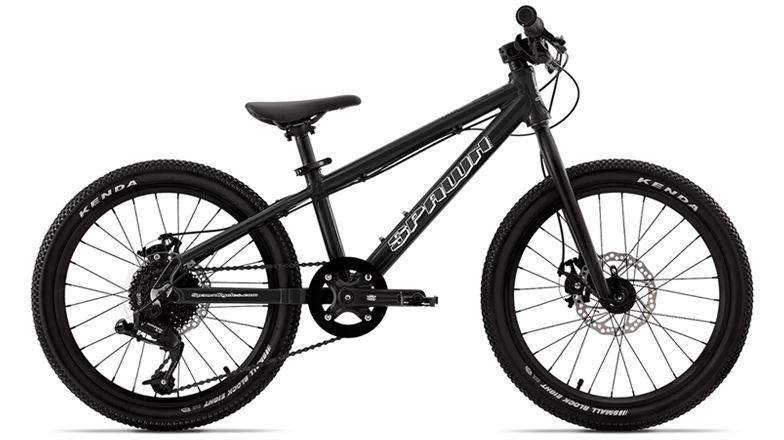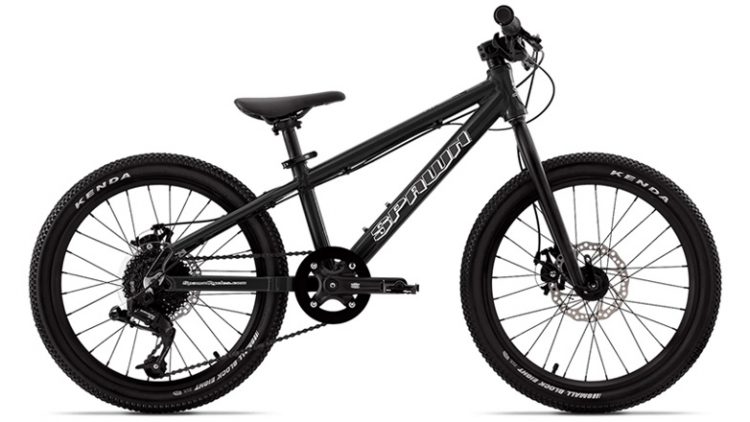 Spaw mountain bikes are among the best on the market today. Their smallest bikes are suitable for off-road use, but true mountain bikes begin at 20 inches. Spawn has something for everyone, whether you're looking for a cross-country bike or a serious downhill machine.
The Raiju 20″ kid mountain bike is designed for kids aged 5-7. Kenda small block eight tires, a 4130 Chromoly fork, and Tektro hydraulic disc brakes, among other features, ensure high-quality construction. The bike appears to be fantastic, so it's something you might consider having for your kid.
Advantages
Powerful
Durable
Well Built
Easy Handling
Disadvantages
Why I Like It: The Raiju supports a premium quality drivetrain with Kenda tires. What's amazing about this bike is the unmatchable traction it provides over different kinds of tracks. The bike feels amazing to ride!
---
Best Youth Mountain Bikes
Any parent would have their preferences when it comes to their child's bike. They would take into account their budget, their child's experience, and the bike features that fit their child's needs and desires.
So, if you're looking for a more affordable mountain bike, this section will help you narrow down your options for youth mountain bikes. If your kids are biking to school or making their first tracks, the thrill of riding a bike is an important and safe part of their growth. Let's have a look at our 3 picks for youth mountain bikes
10. Diamondback Bicycles Cobra 24″ Youth Mountain Bike
Price: MSRP $267.20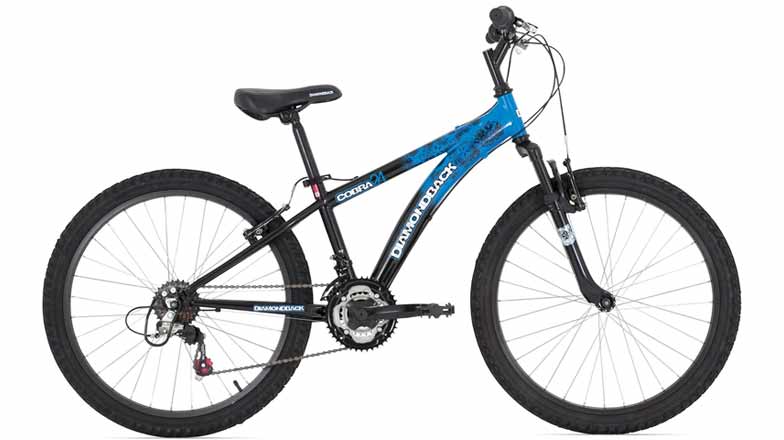 The Cobra 24″ Youth mountain bike is an ideal mountain bike for kids aged 8 to 12, bridging the gap between adult and youth mountain bikes. Small riders can overcome dirt trails -thanks to the 24-inch wheels that roll over obstacles without being too heavy to manage. It's perfect for pleasing your little dirt maniac, with a rugged steel frame and tough wheels.
The bike weighs 30Ibs because it is made of hi-tensile steel. Although it has a limited lifetime warranty, it promises durability and strength. The bike has linear-pull brakes and saddles that are well-equipped, and they feel comfortable and stable. The brake levers are also adjustable.
Advantages
Durable
Smooth Ride
Comfortable
Disadvantages
No water bottle holder
Has no kickstand
The weight seems to be heavy
Why I Like It: Thick tires for a smooth ride paired with powerful brakes for ensuring safety, this is the best combo you can find on any kid's mountain bike out there.
---
11. Schwinn High Timber 24″ Youth Mountain Bike
Price: MSRP $245.64-$571.99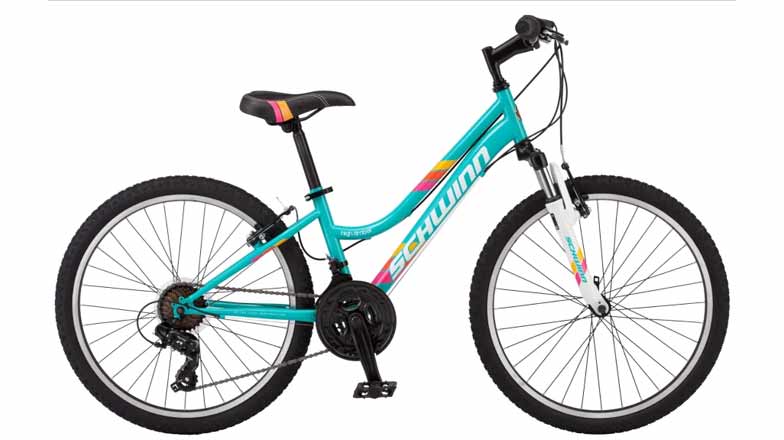 The Schwinn High Timber 24″ youth mountain bike features an oversized steel mountain frame and suspension fork for smooth and fast riding. It also features a 21-speed drivetrain and SRAM grip shift shifter for easy shifting.
Alloy wheels and alloy linear-pull brakes make this the ideal bike for easy riding on a variety of terrains. It is ideal for kids between 8-12 years.
This 24-Inch Wheels bike is made of steel and supports mechanical rim brakes. It has a lightweight design and allows for easy height adjustment. Moreover, it is swift and easy to assemble.
Advantages
Durable
Reliable
Lightweight Design
Excellent BrakingSsystem
Ensures stability
Quick Gear Change
Disadvantages
Uncomfortable
Lacks Water Bottle Cage
Why I Like It: The bike has an easy height adjustment system and it provides steady gearing. Many verified users have claimed that this bike required less maintenance as compared to the other models.
---
12. Mongoose Mech 26-Inch Youth Mountain Bike
Price: MSRP $285.00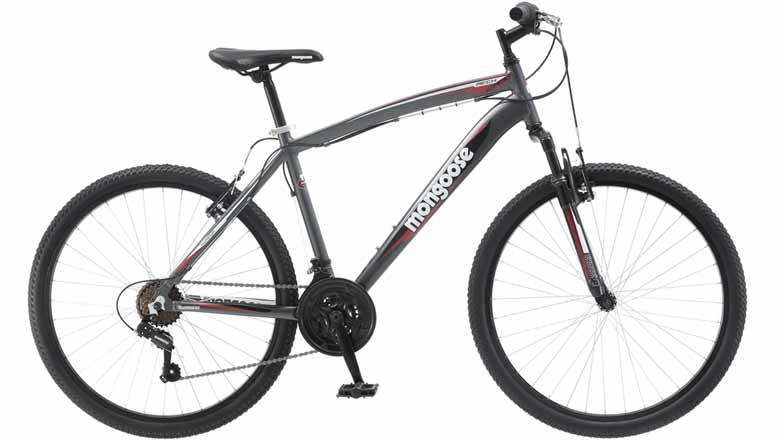 The Mongoose Mech 26-inch mountain bike is appropriate for kids aged 15 and above. The frame, on the other hand, is a little short, which can pose a problem for tall riders. The bike's overall consistency is excellent for offering a pleasant riding experience. With the hard brakes and suspension fork, you'll always have strong power and smooth bumps.
Because of its high quality and outstanding results, it is an excellent buy. You would have a pleasant ride because it has a decent pace and smooth bumps. Furthermore, when changing gears on the mountain bike, there is no noise. Changing the gear and speed level on the bike is very smooth. In conclusion, this is an excellent mountain bike for adventure seekers.
This 26- wheel inch bike weighs 40.7 Lbs. It has linear-pull brakes and offers a number 21 speed. The bike is made of aluminum and is strong and durable. The tires roll over almost everything with light alloy rims.
Advantages
Strong
Durable
Ensure quick stops out on the trail
Easy Shifting
Disadvantages
Heavy
Small Grips
Ineffective Brakes In Wet Conditions
Not Suitable For Tall Riders
Why I Like It: The bike felt comfortable to ride on flat terrain. It's a decent bike with a good build.
---
How To Pick the Right Mountain Bike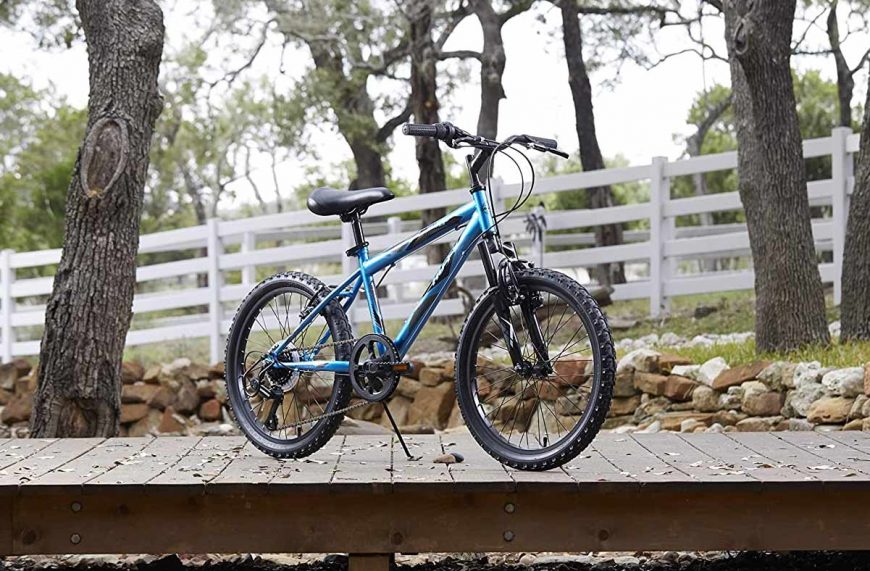 This solely depends on what you think is better for your child. To make things easier, let's have a look at some things you should look at while picking the right mountain bike for your child.
Make sure the bike is the right size for your child.
Determine the weight. It's crucial because if it's too heavy, it won't be enjoyable to ride.
Determine your budget to get what you would pay for. This is important so you don't end up purchasing anything you don't like.
Determine whether or not your child requires suspension for the type of riding he or she intends to do.
Examine the gearing to ensure that it is not too difficult but has a sufficient range of gears for climbing hills.
Check the major components of the bike such as tires, frames, brakes, saddles, and several others to know whether they are all working appropriately.
Read Also: Mountain Bike Size Chart and How To Select The Best Mountain Bike Tires And Rims
Mountain Bike Weight
If you are new to mountain biking, you may not realize that there are many distinct types to choose from. Downhill mountain biking, cross-country mountain biking, freestyle mountain biking, and enduro mountain biking (also known as all-mountain biking) are the most popular names for these activities.
Mountain bikes usually weigh 20 to 45 pounds. But each of the four major mountain biking disciplines affects the mountain bike's design, as well as how much it weighs. Since certain mountain bike features are interchangeable, you can modify any type of bike to make it heavier or lighter. Some of these modifications are simple to build, but others are much more difficult and costly to do on a mountain bike.
So, in addition to several other factors, you must choose the appropriate mountain bike for your riding style. Making a poor decision in this area could result in your mountain bike breaking down or slowing you down on the road. There are a variety of reasons why the weight of a mountain bike is important. Although the material of the frame is important, the size of the frame has an impact on the weight of the mountain bike. The bigger the frame, the larger the wheels that can be fitted to it. Taller mountain bikers can use bigger frames so that they don't end up looming over their mountain bike when standing and aren't scrunched up when getting on and pedaling.
Smaller mountain bikers, on the other hand, can choose a smaller frame size so that they can bring their feet down to hit the ground while standing over their bike. The size of the frame, as well as the material it is made of, are the two deciding factors that will account for the majority of a mountain bike's weight. The wheel size you should choose is a separate subject, but it is a critical component of mountain bike selection. Simply put, larger wheels can take a little longer to react to sharp turns as well as some of the trail's technical features.
The weight of a mountain bike can influence your speed to some extent. One of the key reasons why people want to reduce their bike's weight is that when trying to go uphill, the more you pedal, the more weight you have to carry up the hill. The weight of your mountain bike, on the other hand, is usually just a fraction of what you weigh. As a result, true mountain bikers can reduce their weight as much as possible rather than wasting money on a new bike component that weighs less. In reality, if you're a big guy, going with lighter parts for your mountain bike may be a bad idea.
The explanation for this is that, in most cases, lighter components are not designed to withstand higher pressures. When you weigh a lot, or even slightly more than you should, you put more weight on the bike, which puts more pressure on it. As a result, if you are heavy, your bike should also be heavy, or you risk losing a component of your bike. Overall, even though you are just going mountain biking, you should consider your weight when selecting a mountain bike.
How We Choose Bikes – Our Methodology
As an avid mountain biker, I understand the struggle of finding a high-quality bike that fits within a budget. That's why I've dedicated countless hours to researching and analyzing the best mountain bikes for kids on the market. I've scoured the web for honest reviews and feedback from verified customers, and I've even tested some of the top contenders myself, including the editor's choice.
Using my extensive knowledge of bike components and their strengths and weaknesses, I've narrowed down the top options that offer the best value for your money. So whether you're a beginner looking to get into the sport or a seasoned rider seeking an affordable upgrade, you can trust that these bikes have been thoroughly vetted and carefully selected.
Without sacrificing quality or performance, these bikes offer features such as excellent handling, top-notch suspension, and durable design, all at a price point that won't break the bank. So if you're ready to enjoy the ride of your life, these are some of the bikes that you must consider.
Read also:
Frequently Asked Questions
Is it Possible for An 11-Year-Old to Ride a 20-inch bike?
The 24-inch sizes are the most typical bikes for kids aged between 8 to 11 years. If your child is short, a 20-inch bike will be ideal for him/her. To find the right fit, you must first calculate your child's inseam and height. When doing so, make sure to calculate the bike's height with the seat completely down
How Do I Know What Size of a Bike to Buy for My Child?
The wheel diameter of a kid's bike is measured in inches which is between 12, 16, 20, and 24. You should be able to figure out what size of bike will be ideal for your child based on their age. Generally, a 2 to 3-year-old child will ride a 12″ bike, a 4 to 5-year-old child will ride a 16″ bike, a 6 to 8-year-old child will ride a 20″ bike, and an 8 to 12-year-old child will ride a 24″ bike unless they are taller than expected.
What Would I Do to Get My Child Interested in Mountain Biking?
Allow him/her to practice standing without a bike first, then progress to concrete paths and eventually dirt trails. When teaching your kids mountain biking, start with a dirt road or a parking lot so you can ride alongside them to see how well they can navigate and stop the bike.
Conclusion
To ensure your child has the most fun possible when mountain biking, the performance of their bike is crucial. A costly or fancy mountain bike is not necessary for enjoyment, but the bike must be lightweight, well-fitted, and functional. This is why the Trailcraft Blue Sky is our top pick for today.
Weight is a significant factor in how well a bike can work for your child, and the bike-to-body-weight ratio must be appropriate. A heavy mountain bike can cause your child to tire quickly, become easily frustrated, and potentially lose interest in the sport.
When selecting a kids' mountain bike, it is essential to look for appropriate geometry, easy-to-operate brake levers and shifters, and other high-quality components. It's crucial to choose a bike that will not quickly depreciate or break, so make the right choice for your child.